10 years ago we opened our virtual doors to the online world! I had no idea that I'd be writing this post 10 years later, but I am extremely grateful to be able to.
Back then, the company was called My SEO Tool and was started by Blake and myself as developers. We both left our jobs and decided we'd have one year to come up with something before we both ran out of money! Development began in late 2009 and launch was July 14, 2010. We made $500 that month, but wouldn't be able to take a paycheck until 2011.
A lot has changed in these 10 years. If you would like to hear about our journey, read on as I briefly outline how things got started.
A Brief Timeline
2010
Officially launched on July 14, 2010! After 3 months in beta, we realized we had something. We almost abandoned this project in favour of another idea which would represent the number of visitors you had as fish. Glad we didn't pursue that one!
2011
With the company growing simply from word of mouth, we continued to focus only on further developing the product. At this point, we were one of the few companies offering a saas solution for rankings and seo page optimization. We also launched our first integration with Google Analytics.
2012
We moved from working at Blake's kitchen table to an office in downtown Toronto. Our plan was to start expanding but turned out to take a little longer since we wanted to make sure the product was great before focusing on things like marketing.
2013
We hired our first employee, Jesse Smith, who remains with us today as our Product VP. I was fortunate to become friends with Jesse in University. Who knew that I'd be working with my high school (Blake) and university buds 10 years later. Also reached a milestone of 1,000 customers!
2014
Launched a new interface with more focus on reporting as we began to evolve our niche. Still focused only on the product as the 3 of us coded and provided support all day.
2015
We decided that we were no longer just an SEO tool and decided to change our company name from My SEO Tool to AgencyAnalytics. It took many beverages to arrive on this name which ended up being one of the first suggested. Maybe we just needed an excuse for more cold ones!
2016
Although we didn't think anyone except developers could provide support, we decided to take a leap and hire our first customer support agent. It obviously worked out great, so we continued with hiring when we added Christian as our marketing manager. Of course a company work trip to the Cayman Islands was the best way to mark this milestone.
2017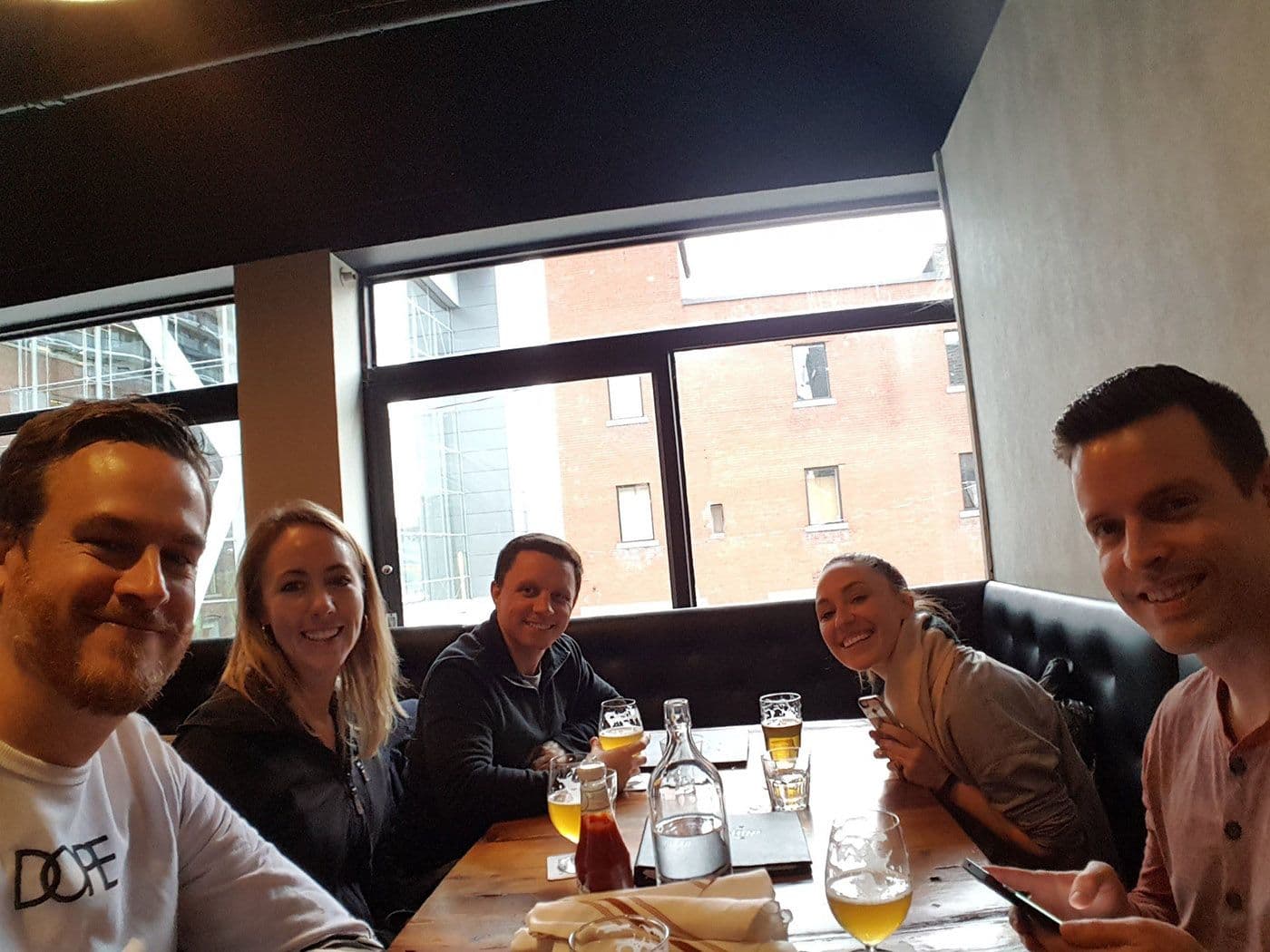 The team continued to grow to 7 as we focused more on marketing and support. Here we are with our American co-workers as we moved towards becoming a remote company. We also released over 15 integrations this year which pushed us further into reporting.
2018
Big improvements were made to our report and dashboard editor as we introduced more widgets and drag & drop controls.  This helped us reach our next customer milestone with 2,000 and again meant a company trip to reward ourselves. This time it was Las Vegas.
2019
It was finally time to visit the physical world by entering the trade show circuit. Here's Christian at PubCon with SMX East in New York to follow. This helped us reach another company milestone with 3,000 customers... Costa Rica company trip!
2020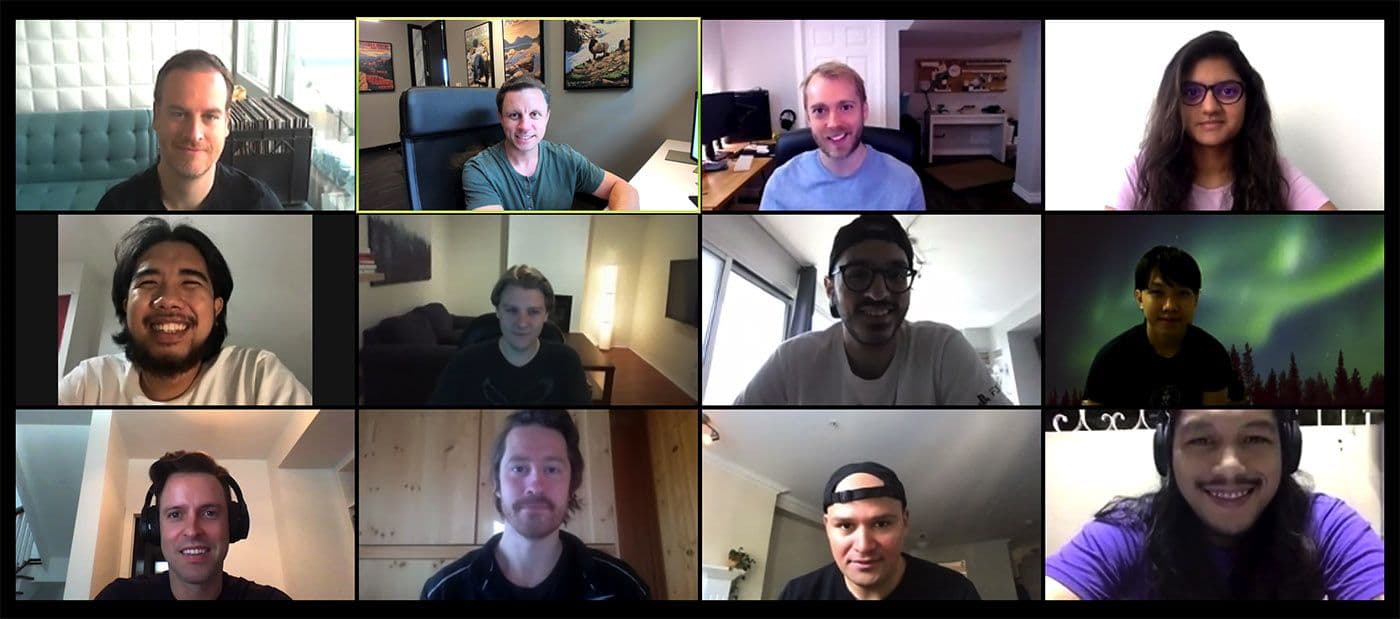 Our company continues to grow with a team of 22 people, 50+ integrations and over 3,500 customers. Given the presence of covid-19, we are lucky to be a 100% remote company and have actually been on a hiring spree. We have daily zoom calls and constant slack conversations. Here we are for friday happy hour!
2021 and Beyond
The future looks very bright for our company. We plan to continue to expand upon our great team and be able to offer even better customer service. We hope to do more trade shows once things are back to normal and get out to meet our awesome customers in person!
As for our product, we have a lot of big plans. We have never had this much engineering power behind the product and expect a ton of new integrations and major features. As I write this, we just released a huge upgrade to the drag-and-drop report editor. Stay tuned for more report improvements as we make it even easier to create beautiful reports that will keep your clients engaged.
Thank you Loyal Customers
Finally I would like to acknowledge all of our great customers that we've had over these 10 years. Financially speaking, it goes without saying that we would not be here without you. But just as important, we appreciate all of you that have provided us with the feedback we needed to get the product where it is today. We value your suggestions more than anything. Looking forward to being with you for your 10 year company anniversary!
Joe started his career as a developer and since has created many internet businesses. He has now moved on to the position of CEO and has enjoyed all the challenges it has brought.
Read more posts by Joe Kindness ›
Try AgencyAnalytics risk-free for 14 days. No credit card required.