Have you ever heard of Morning Brew, Robinhood Snacks, or Non-Obvious Insights? Also, have you ever wondered how these newsletters grew their audience's so quickly?
We have. In order to better understand how these companies grew their audiences so fast, we've analyzed several proven methods from leading marketers to create this 5 step guide on how to grow your own newsletter.
If you are here to read about technicalities and superficial information on creating the newsletter and magically making it work, you might be wasting your time. But, if you want to learn about (what we believe are) the crucial steps in gaining subscribers stay tuned because things are about to get interesting.
Building a newsletter can be a great way to grow your agency and develop a deeper relationship with the audience. That said, in this guide, we'll describe five key steps to growing your newsletter and provide instructions on how to accomplish them.
Let's get started.
1. Decide if you are an expert sharing your expertise or someone who shares their personal journey.
Newsletter subscribers are people looking to connect with you.
Before writing your newsletter, think of the audience you want in your subscribers' list.
What do they like, what interests them, and how can you relate? More importantly, what problem that they have can be solved by your content and you personally?
How to do it:
Humanize your avatar.
If you are not entirely comfortable with putting yourself out there, create your avatar, assign the tone of voice and personality. You can be a sassy, straight-to-the-point person who is always in a rush, or you can be an easy-going and informative person. The key is to stay authentic to the character or personality you decide to project
Codie Sanchez, a successful newsletter creator, assigned personality to her avatar when she started her first newsletter. This avatar was a heavy coffee drinker with no patience for nonsense. This was a brilliant move, and apparently, more than 100,000 people related to this character.
Personalize your sign-off signature.
Even large corporations are personalizing their email newsletters. Some use sign-off signatures to send personal messages, and some create personalized newsletters to better connect with subscribers. These newsletters are written by content creators who don't shy away from writing about their personal journeys, troubles, and successes.
IMPACT is a growth technologies company, but their newsletter writer Kathleen Booth, and content manager Liz Moorehead, grew their newsletter subscribers list by 70,000 in just a few months by sharing personal stories in their newsletter.
Newsletters delivering first-hand experience and educational content will always have better results in the long run compared to those containing basic, impersonal messages.
2. Leverage other people's audiences to build your own 
Businesses with a large following will often partner with their peers. A great place to start is by partnering with other companies at your level in similar niches.
How to do it:
Offer collaboration and ask for support.
The goal of every business owner is rapid growth. By including their stories in your newsletter, you don't have to rack your brain trying to think of exciting content.
Business owners mentioned in your newsletter will share your content and invite their audience to subscribe to your newsletter.
This is a two-way street. Reciprocate by sharing your journey with other newsletter owners and introducing your audience to their content
Share your journey with other newsletter owners and invite your audience to subscribe to theirs. 
Promote your newsletter in podcasts and mention other businesses.
Podcasts are a rapidly spreading medium, a perfect opportunity to raise brand awareness and allow new audiences to connect with participants.
Connect with podcast hosts and invite other newsletter authors to join.
3. Be obvious and mingle 
Just think about the influencer culture. YouTubers are constantly inviting people to push the subscribe button in their content. Some will find this pushy, but this method works as many influencers count their subscribers in millions.
How to do it:
Send your newsletter to contacts from your personal email list.
First, focus on your friends, family, and acquaintances. This is your ideal test audience. First of all, you will receive feedback, and second, it is a great practice to get out of your comfort zone and actually ask people to support you by sharing your content and subscribing.
Your audience will feel more comfortable clicking the subscribe button if you obviously ask them to do so.
Insert pop-up forms.
A pop-up form should be as simple as possible, but the timing is more important. 
Exit-intent pop-ups are perfectly timed. Instead of annoying pop-ups in the middle of reading, exit-intent pop-ups are calls to action after the person had a chance to browse through your newsletter and connect with your story. 
Observe your environment.
Some marketing techniques are so brilliant that you don't even notice them.
Simple grocery shopping can be an inspiration for your marketing strategy. 
Have you noticed that particular products are offered at the register? 
Imagine if you had a person interrupting your shopping by offering deodorant while you are picking your fruits. This would be an interruptive and pointless inconvenience in most cases. 
The same goes for intrusive pop-up forms; timing is everything. Statistically, the exit-intent pop-up has around a 50% success rate in subscribe button clicks.
Join Facebook groups dedicated to entrepreneurs. 
"The Hustle" and "My First Million - Startups, Investing & Side Hustles" are Facebook groups where business owners share their strategies and offer free advice. Feel free to start a conversation and ask for advice.
The Twitter group "Indie Hackers" is equally resourceful and newsletter-oriented.
Join substack.com and share your content. 
This is a similar platform to Reddit and Medium, but we find their business section more straightforward. 
Approach influencers for cross-promotion. 
By this, we mean bloggers, Instagram, Twitter, and YouTube influencers. Think of mutual growth potential and approach them with your ideas.
Ask your audience for feedback. 
Always include your audience in your content. Take an interest in their life stories and ask if you can write about these in your newsletter.
4. Offer giveaways and free webinars
People LOVE free stuff! Offering giveaways, webinars, and other promotional gifts is a great way to grow your audience.
How to do it:
Make small investments 
As your subscription grows, it is time for small investments that may pay off big time. 
To reward your subscribers and continuously grow your following, offer simple gifts such as stickers, printed items, or discounts. 
If you are not a skilled designer, hire a freelance designer on platforms such as 99 designs, Fiverr, or Upwork.
Once you have the design ready, you can negotiate with printing companies about the pricing and once again offer a cross-promotion. Bulk printing is very affordable.
Host a webinar to connect with your audience. 
At first, webinars should be all-inclusive, but this can be an exclusive event for your subscribers down the road. Q&A section during a webinar is the best way to connect with subscribers and better understand what they like to read in your newsletter.
5. Start using advanced automation
Look for an email marketing service that features advanced automation for newsletters and preferably includes additional marketing tools, like webinar software. 
Advanced automation should help you nurture your subscribers.
Automated welcoming messages and follow-up messages based on your subscribers' actions will eliminate time-consuming micromanagement and give you more time to focus on your content.
At this point, your time should be split 50/50 between creating content and marketing.
Well-integrated email marketing platforms should take the burden off your back and support your marketing strategies across media.
In addition, consider automating your email reporting and analytics with a dedicated dashboard or report. A dedicated email report, for example, can automate the process of tracking key metrics, including audience growth and engagement metrics.
Summary: How to Grow a Newsletter 
Building a newsletter is a great way to grow your audience and connect with a specific market. Whether it's to build your personal brand or to scale your agency, growing a newsletter takes time so keep in mind that consistency is the key to success. As you start to get the newsletter off the ground, don't forget to automate your email marketing reporting so that you can focus on creating great content and building your audience.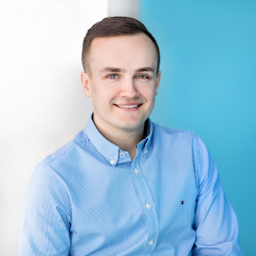 Written by
Michal Leszczynski
Michal Leszczynski is immersed in developing, implementing, and coordinating all manner of content marketing projects as the Head of Content Marketing and Partnerships at GetResponse.
Try AgencyAnalytics risk-free for 14 days. No credit card required.