UK-based digital marketing agency Addictivity has served clients for over 25 years and has faced their fair share of business challenges. From losing founding partners to a run-in with fraud that cost the agency over £80,000, growth was not always easy–but founder Alex Faiers pivoted, innovated, and evolved to continually forge a unique path forward.
Whether it was hiring employees at the right time, iterating on their agency's niche, or finding ways to add new value to clients, Addictivity has stayed nimble and adapted to the changing digital marketing landscape. 
First Mover Advantage in the Early Digital Marketing Field 
Faiers was first introduced to the digital marketing industry while still in school. He was studying typography and graphic communication at the University of Reading when a new emerging industry caught his attention. 
"It was a graphic design and typography degree, but that's when the internet was starting to become a commercial opportunity in 1997," Faiers says. "I was in my third year when they started talking about websites and this crazy new HTML thing. We were building very basic pages in code and publishing to the internet, and it blew my mind!"  
He decided to take a chance and left university, instead diving headfirst into the then-fledgling web space. He started his marketing agency in London, where he began learning the intricacies of web design. 
"People were starting to need and wanted to look into websites commercially," says Faiers. "It was a really exciting time, and there was very much a draw for me to explore this new industry." 
Alex took a role as a senior graphic designer at a publishing company to make ends meet in the early days of building his agency. He took on clients mostly in the evenings and weekends, with the goal of eventually having enough cash to quit his day job.
"I worked there for a little under a year and saved up enough money for my business to survive for three months," Faiers shares. "So I handed in my notice and officially went full-time with my marketing agency in 1998." 
Evolving Their Agency's Niche 
Faiers says that there have been two pivotal turning point moments that have contributed to Addictivity's success:
As with many marketing agency startups, finding a niche was less a singular end destination and more a journey that evolved over time. 
"We were fortunate to work with some high profile, blue-chip IT companies, the likes of Cisco and BT Ignite, for example," he explains. After being asked to investigate security hardware for an e-learning course, Addictivity decided to pivot and created a value-added reseller (VAR) division, selling security-based hardware, such as application firewalls. 
"While we were running the agency on one side, the VAR was also running successfully on the other," Faiers says. The additional income added stability and forward momentum until the bottom fell out: A credit card fraud incident cost the agency £80,000.
"That was a massive turning point for us back in October 2003, and we decided to ditch the reseller to focus solely on the agency side," Faiers shares.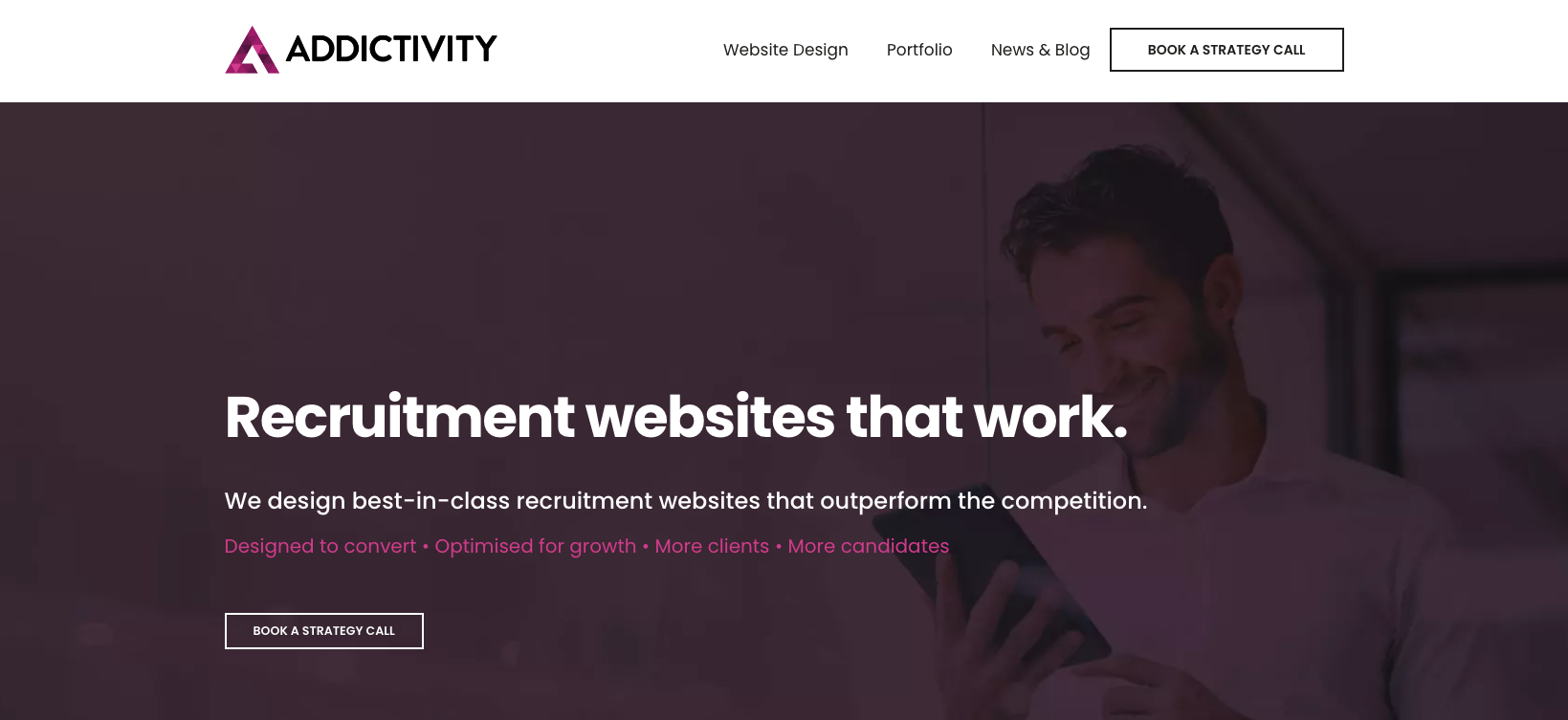 Image: Addictivity's website showcasing their expertise in the web recruitment industry
In 2013, Addictivity won a pitch to work with a recruitment agency, Resourcing Solutions, in Twyford, England. Though this was Addictivity's first time working with a recruitment industry client, it quickly became clear to everyone on the team that recruitment could be their potential niche. 
They worked with Resourcing Solutions for the next five years, taking their website from a basic brochure site that wasn't converting much to generating over a million pounds worth of business per month.  
"The results were so inspiring, so this led to more and more opportunities in this sector," Faiers says. 
After completing a project for a few more impressive recruitment clients (The Recruitment Network and the London Southbank University) Addictivity was introduced to one of the biggest players in the recruiting industry–The Recruitment and Employment Confederation. 
"When they became our client, that was when I realized the universe was telling me to specialize in recruitment!" Faiers smiles. 
"You need to really learn how your niche works, what unique problems they have, and how your agency can solve them," offers Faiers. "Your value proposition will evolve over time through that, and it's something you can keep coming back to and keep improving on." 
Founders Need Mentors Too
Faiers initially started his agency with two other directors, but they found it difficult to stick it out long enough for the business to become profitable. 
"When we decided to take the agency full-time, one of the directors decided to leave Addictivity rather than hand in his well-paid job at Dell," Faiers says. 
If their agency had had three directors from the beginning, Faiers feels that the agency would likely have grown faster. The workload would have been split three ways, the networking opportunities tripled, and the ability to infuse finances to speed up the agency's growth would have increased exponentially.  But, perhaps the biggest added benefit would have been the ability to bounce ideas off each other, and provide a–sometimes much needed–reality check to keep the agency from going off track.
Faiers grew his agency to five employees within the first four years. And shortly after that, they were up to 15 full-time employees by 2003.  
"We made mistakes where we were hiring full-time employees straight away rather than exploring freelance or contract opportunities or even potentially looking at outsourcing where possible," Faiers admits. 
"We definitely learned some lessons and realized we should explore all options we have on the table before going all in and hiring full-time employees," says Faiers. 
And it wasn't until 2018 that Faiers decided to reach out for help to seriously propel the growth of his agency. 
"After so many years of running the agency, I finally opened up and asked for help to work with a mentor," admits Faiers. "And that has been very transformational for our business in the last four to five years." 
Getting help from a mentor included implementing the Entrepreneurial Operating System (EOS) that gave them a clear 1, 3, 5, and 10-year business plan for agency growth. 
"As an agency, we've always stayed small over the years," says Faiers. "And we want to remain a small, focused, specialist agency. But EOS helps us determine how we want to grow in terms of team members, revenue numbers, and team culture." 
"Advice I would give to another agency owner, especially if they're a solo owner, would be to seek out a mentor or a coach from someone in your industry who has done it, been there, and succeeded," he says. "Find someone who can help you set goals, look at strategies, and keep you accountable." 
Faiers and the leadership team are working on growing their team benefits and what it looks like to work at Addictivity. They're always looking for ways to improve internal processes and are open to trying new things like the 4-day work week or profit-sharing incentives for their employees.  
"One of the key things we're focusing on at the moment is hitting specific revenue targets so we can take our annual trip to Monaco to the Grand Prix as a team," he smiles. 
Implementing a Leadership Model That Promotes Flexibility
With staffing and niching challenges behind them, Addictivity now has a lean leadership model that helps them stay on the path to success. 
"We're lucky in the way we structure our agency–which has taken many years to get to," Faiers laughs.
They have a senior leadership team based in the UK that drives the business and growth of the agency. And because their biggest sources of income are from website design and digital marketing services, they have two dedicated teams that can handle the ebbs and flows as work comes in. 
"Now, with our leadership model, we're able to expand and contract both of those teams to hit any workload that comes our way," explains Faiers. "We're able to do this successfully, meaning that our growth plans are not being held back by these two key teams." 
They've successfully retained their 35 active clients by delivering value and communicating their results via their digital marketing reports. 
"Keeping our clients engaged and understanding what we're doing and how we're working together is very important," Faiers shares. "One of the key elements of that is our reporting engine." 
Faiers uses AgencyAnalytics to communicate the results their agency brings to their clients' websites and campaign performance.
"We're using the platform to record a monthly 6-minute video in a custom dashboard, and our clients love it," he says. "It keeps them engaged, and it helps us clearly show the value in an easy-to-understand manner so that we're always highlighting our value." 
Addictivity enforces a high-touch model for client communication that is heavily focused on strategy and consultancy. 
"We're always aiming to deliver incredible value to our clients, and the best way to do that is by walking them through the projects and campaigns they're working on with us," Faiers says.
They also meet with their clients on a weekly and monthly basis with an additional quarterly marketing review. 
Innovative Services for Current and Future Clients
Addictivity has gotten to where they are today, mainly from strategic partnerships and referrals. However, they're more focused than ever on their agency growth plans by creating innovative services that benefit their clients. This has meant branching out from the standard agency services and experimenting with brand-new initiatives.
For example, Addictivity's top-tier clients gain access to an accelerator program, which is a high-touch model designed to deliver as much value as possible within a short time span. The program has served as the genesis for a number of different ideas for offerings that have since taken on a life of their own.
"Since we're always thinking of ways to deliver insane value to our clients, we started doing quarterly workshops for all of our clients on a call at the same time–something we've never done," he explains. "Everyone loved it, loved the format, so we've carried on doing that." 
Image: Alex Faiers during one of Addictivity's training sessions.
Addictivity decided to invest more time into these workshops, eventually creating an agency academy – an online space to house recordings of the training and workshops and provide even more value for their agency's accelerator clients. 
Eventually, Faiers would like to see the academy evolve into a community space that would serve both their existing clients and greener businesses that are not yet ready to work with an agency like Addictivity. It's a way to extend Addictivity's reach by connecting with an increasingly wider community, something that Faiers has personally found to be invaluable within his own journey.
"It's so important to find a community of like-minded individuals," he says. "Find your tribe and go hang out with people that are trying to do the same thing as you or, even better, that have done it and succeeded and would be willing to work with you and share their strategies for success."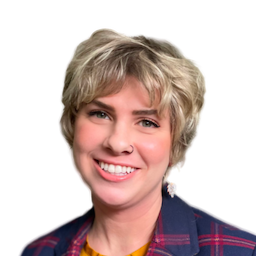 Richelle Peace is a joyful writer with a degree in Journalism. She loves writing web content, blogs, and social media posts. Whatever the topic, she's fascinated by learning and sharing.
Read more posts by Richelle Peace ›
Try AgencyAnalytics risk-free for 14 days. No credit card required.