It isn't typical for marketing agencies to stay in business over decades full of changes and continue to find success. In fact, most agencies in the US are under 20 years old. 
How do marketing agency owners steer through the tides of change that the digital marketing world brings? 
Sometimes, the biggest roadblock to success can be not knowing what success looks like. 
David Metcalf, Director of Distl, has been in the digital marketing business since the early 90s. After running three versions of his current agency, he locked down a successful business model by adapting to a digital landscape that has dramatically changed over the last 27 years, with 31 employees and 70 retainer clients.  
We sat down with him to learn a thing or two about how agencies can shift gears to keep pace with industry changes and stay relevant–and how to prepare for an everpresent future. 
Ability to Adapt In An Ever-Changing Landscape 
Surprisingly, David's background didn't include anything marketing-related. However, he went to accounting school and fell in love with the idea of entrepreneurship. 
"What I love is business. I'm really, really passionate about it. And I get excited about how a business works, the mechanics of it, and all the things you can do to make it work well,"  David shares. 
Image: David Metcalf going over a client's website data during a team meeting at Distl.
He says it became a bit of an obsession for him–which is why he has been so focussed on fine-tuning the way he runs his current agency.
"We got our foot through the door with CD-ROMS," David laughs, recalling his first marketing company, suitably named DiskBank. "It seems so long ago now, but it was actually quite a big demand back in the late nineties."
As he reflects on the roadblocks he faced over the years, David says he faced the common problems that any agency owner goes through: 
Finding the right, qualified employees to build his team 

Choosing the clients they wanted to work with

Creating good company culture to retain staff 

Nailing down a pricing model for services 

Financial awareness to scale the business 
However, David says his biggest roadblock to success was not being clear on what success actually meant to him. 
"If I were to go back to the early days of DiskBank, I was in my early twenties, and I was hellbent on growth," David explains. 
His number one goal was always growing his agency. But he cautions other agency owners against this: 
"Be careful what you wish for." 
His business DiskBank was thriving with four offices across Australia within less than five years. 
"I felt like I was living the dream. I was twenty-five years old with good company revenue, making good money. And then iTunes comes along," David laughs. 
Although he hadn't planned for this shift in the market, he recognized very quickly that the demand for physical marketing products like CDs was "tanking quickly." 
"I remember it as the most stressful point in my life," David shares. "All I was focused on was growing the business, and now that the market was dying, the future felt limited, and I didn't know what I was going to do next."
David had an existential moment when he was standing on a ladder painting the ceiling of one of the DiskBank office spaces that were closing. 
"I was standing in this empty room and asking myself, 'What was the point of all of this? Is this something I really want to do? And what matters most?'" he shares.
With his moment of clarity, and the fact that the internet wasn't going anywhere, David decided it was time to start building websites. That eventually turned into offering SEO and other early digital marketing services. 
"As that part of the business grew, we broke it off as a standalone business called BirdBrain," he explains.
Finding Your Agency Differentiators
Although DiskBank is still around today, the business looks a lot different. They specialize in digitizing analog film and video (home movies), and David eventually parted ways to focus solely on BirdBrain.
Taking the experiences and lessons learned with him, David knew he would scale his business with more focus.
"I lost sight of the market and ultimately the decline of it," he explains. "So when I created BirdBrain, I wanted the business to have a core belief." 
David has recently noticed that many local agency owners who are just starting out want to build and grow their businesses–a similar thought to his own when he first started.
"With my experience from DiskBank, I would probably challenge that thinking now," David says. "Growth might be a valid outcome that genuinely drives them, but I think sometimes we automatically make decisions about where we want to be without giving it enough thought." 
He also recognized that with all of these agencies popping up that it was crucial for his agency to have not only a clear purpose but also a differentiating factor. 
David set his agency apart by aligning his team with a clear mission statement: Build Australia's most unstoppable brands.
And one way that they deliver on this promise is by offering genuine, transparent advice that is always in the client's best interest. 
Image: Distl team meeting.
He says many agencies offer very similar services, so when a client approaches them asking for something like SERP rankings or website traffic, these are often metrics they think they need. 
"Rankings do not equate to revenue or profit, or success, but they are a significant part of a bigger picture. So it's important to explain that to clients for them to make informed business decisions," David explains. 
Simply put, your agency's differentiator should clearly show potential (and existing) clients why they should work with you and not the competition. 
"If I could give myself advice back then, I would say build an offering that's unique and offers real value to your clients. Make it clear what you provide, how it's different from what competitors do, why it's valuable, and why clients would want to work with you. - David Metcalf, Director of Distl 
Delivering Services That Align With Agency Value
Although David knew he wanted his agency to have purpose and deliver value to his clients, he says it was a process that took several years to iron out. 
"Our purpose has changed and evolved to arrive at one statement that guides our team, which is to build Australia's most unstoppable brands," he explains.
For David, an 'unstoppable brand' wasn't achieved by more leads, rankings, a flashy website, or even a ton of likes on social media. It was all about the services that they wanted to offer clients that aligned with their mission statement. 
"We have four core areas that we work within: strategy, branding, web development, and broader marketing that includes things like SEO, Google Ads, etc.," David explains. "We realized we couldn't deliver on our purpose just by doing one segment."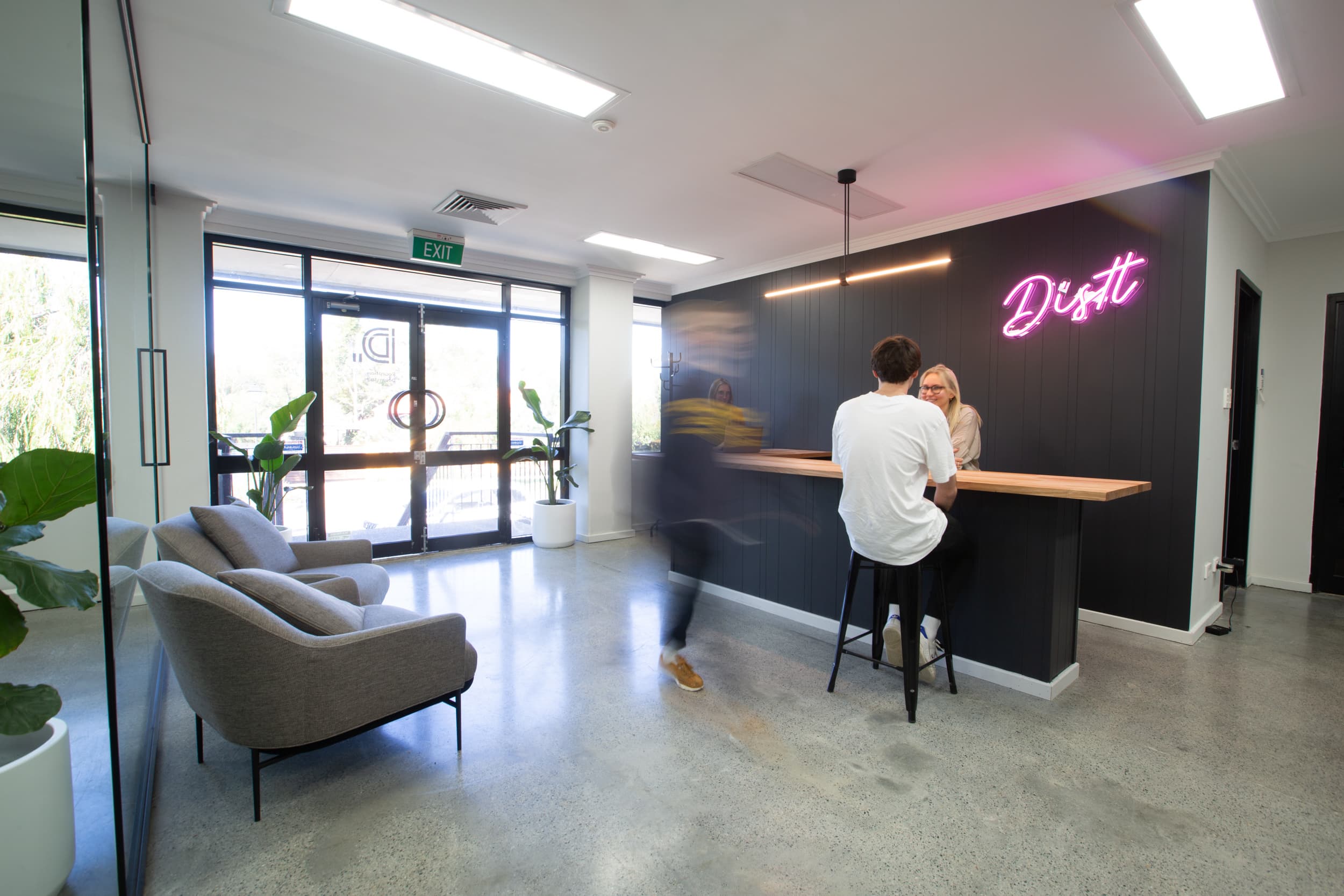 Image: Distl headquarters located in Jolimont, Western Australia.
After analyzing their competition, he recognized that many of them either focused on too many services or niched into a single service, like branding services. He says that none of these business models could deliver that one purpose of building an unstoppable brand like his agency could. 
"I've learned that if you combine those four attributes of strategy, branding, web development, and powerful marketing outcomes, you can build what we call brand equity," David adds. 
He says that if your agency effectively establishes those characteristics, your business will be well-positioned if you experience an economic downturn, another global financial crisis, or a fundamental change in the technological landscape. 
"You're going to be able to ride through that, and you won't suffer as badly compared to if you were just focused on getting leads for short-term clients," he shares. 
He explains that by building their agency's equity, they're actually building their clients' equity at the same time. 
"If we get those four attributes for our clients right, they'll also have the resiliency to power through any tough times and not be vulnerable to going under, having to fire people or cut back on services," David says. 
Re-Branding to be Unstoppable
It was officially time for BirdBrain to get a refresh in 2020. David wanted to show his real commitment to delivering his agency's purpose.
"We've done it with so many clients over the years, but having gone through it ourselves, it was a big step for us to change our name and relaunch as a whole new brand," says David.  
He and his team had been talking about it for some time but decided it was finally time to align their branding with their mission statement. They wanted their brand to reflect their professionalism and the high-quality work they produce. 
"BirdBrain felt like a juvenile brand. It felt very raw, organic, and had a casual tone. And the term 'bird brain' has those connotations of being humorous, light-hearted, etc., which was fine, but we felt like we outgrew it," says David.
Everything that could possibly be changed about BirdBrain, changed. Their strategy, messaging, tone of voice, positioning, photoshoots, new videos, a new website, logos, colors, and more. 
Image: BirdBrain branding vs. the re-branded Distl logo
"We had kind of this soapbox moment when we launched the brand where we got to stand up in front of everybody and say, 'This is who we are, and this is what we stand for. This is why we matter and what we offer. It's not for everybody. But if our approach aligns with your business direction, then fantastic!'" David smiles.  There were some bumps along the way, such as ensuring they were still gaining leads through their SEO efforts, as well as adjusting their messaging to resonate with their ideal client profile (ICP). 
"The type of client that comes to us now is just a bit different," David explains. "We now have clear personas for the people we want to speak to, and we're also finding that the inquires are clients who want a full suite of deliverables rather than just SEO services." 
Distl currently serves over 70 retainer clients (plus over 50 clients they provide a la carte services for like branding, web design, etc.) who genuinely want to build their businesses and develop their brands to the point where they're seeing growth year over year. 
David recalls a client they worked with in the past, GESHA Coffee Co., which has a diverse range of services. They're a coffee roasterie, wholesaler, cafe, barista training school, sell and service equipment, and supply parts. Basically, anything to do with coffee, GESHA Coffee Co. does it!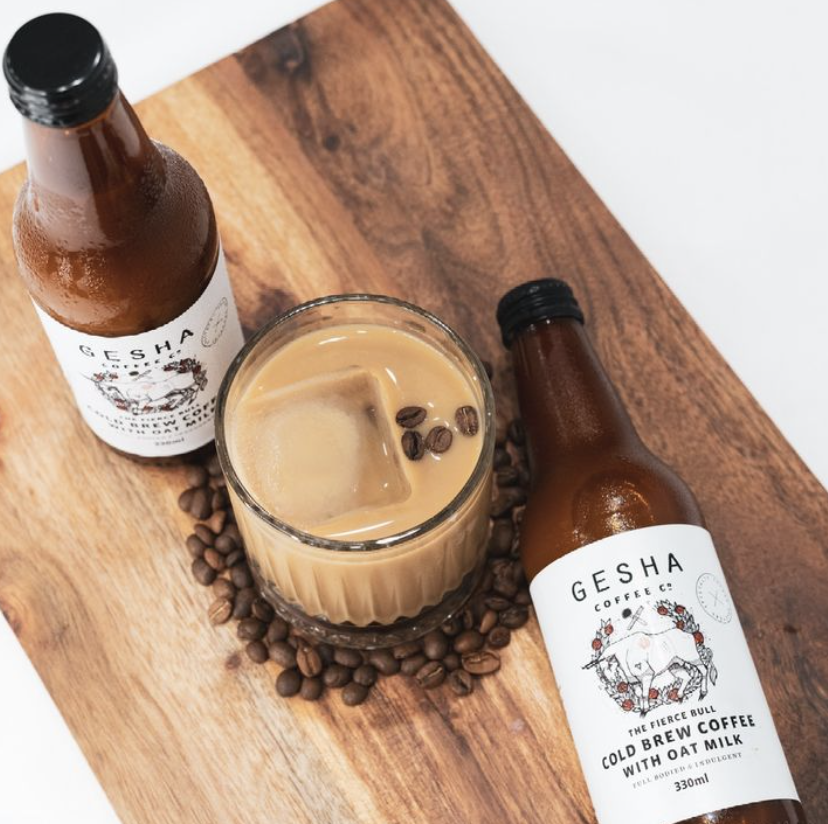 "Beyond all of those diverse services are their audience groups," David explains. 
The team at Distl has helped them target corporate patrons and supply coffee beans to multiple cafes, home users, and more. 
"Obviously, with a business like that, a generic approach will never work. You can't say, 'Let's get you ranking for coffee beans in Perth.' It's not a viable strategy," David laughs. 
Distl loves working with this client because they've built a trusting relationship from the beginning that led them to more opportunities in the future, such as photography and other marketing endeavors. 
"They're just a lovely example of how an engagement can be reasonably narrow, and as trust grows, much more additional work has happened. It's that long-term process of working with the client to build a brand that I believe is unstoppable," David smiles. 
Focusing On Sustainable Growth Momentum
David is certain that his future goals for Distl do not include rapid growth, and that's okay with him. His team is not at the stage of learning their craft anymore, and they are focused on steady and sustainable growth to create an ecosystem that will last for several more decades. 
"We're a mature agency that has processes in place with a clear purpose, so we want to get more cohesive with the range of services we offer to each client," he says.
They measure their success by the percentage of clients they've provided a holistic solution to and for how long. "We're aiming for clients staying on for a long period of time and engaging with us for the broadest range of services," David explains.
Some of Distl's clients are currently on smaller service plans, and he hopes to focus on building more unstoppable brands with complete offerings. 
So, whether your agency is in its tenth year in business or you're just starting out, consider some of David's tips: 
Think about what matters most to your agency (is it growth or something else?) 

Understand what your clients want versus need

Differentiate yourself from competing agencies 

Create service offerings that deliver value 

Build branding that resonates with your ICP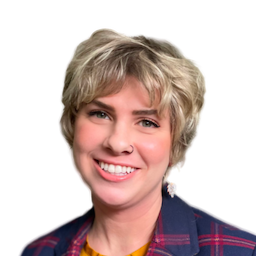 Richelle Peace is a joyful writer with a degree in Journalism. She loves writing web content, blogs, and social media posts. Whatever the topic, she's fascinated by learning and sharing.
Read more posts by Richelle Peace ›
Try AgencyAnalytics risk-free for 14 days. No credit card required.