Buying a marketing agency can be an exciting but daunting challenge for many. A misstep could put the future of your brand-new agency (and your investment) in jeopardy. But, with the right preparation, growing an acquired agency can also be a great opportunity. 
Claire Daniels bought Trio Media in 2019 and has faced the unique challenges of transforming job roles, shifting the company to a 4-day work week, and streamlining internal processes.
Those are just a few of the changes Daniels has made to her agency since acquiring it. But, she remains on the path to success with over 40 retainer-based clients by following these main principles: 
1. Eliminating inefficiencies,  
2. Providing growth opportunities to retain employees, and
3. Building long-lasting client relationships with meaningful gestures and constant communication.
It's not that she didn't have any stumbles along the way, but she has taken a "lead by example" approach and puts herself in the shoes of her clients or her employees. And she's not afraid to take risks and try something new.  
Take a page out of Daniels' book and find out new ways to make your agency as efficient and productive as possible.
Acquiring an Agency Means Hitting the Ground Running 
Trio Media was founded in 2017 by close friends of Daniels. She initially got involved in the business by doing consultancy work and eventually bought out the other partners in 2019. 
"One thing led to another, and I took on shares of one director who left initially when the business wasn't doing well," Daniels explains. "But I spotted the opportunity for growth and bought the remaining 50% of shares." 
Daniels tried starting her own business in the past, but it failed because she underestimated the amount of necessary startup work. So there were advantages to taking over the reins at an established agency.
"I'm grateful that I didn't have to do it the hard way of setting up from nothing," she admits. "You have to knock on every door to get somewhere compared to buying an established business with customers who are paying money, and you can take a wage from it immediately."
However, acquiring an established business also comes with its challenges.
I bought a train that was already rolling. I couldn't stop it just to figure everything out before I was driving it. I just had to take over driving and figure out the controls as I went.

–Claire Daniels, CEO of Trio Media. 
And not all of the controls even worked. Some of the processes before Daniels became the CEO were clearly unsustainable if the business grew–which was Daniels' intention.  
"One of their selling points was 'We have no contracts,' and that was because they wanted to make money from anyone," Daniels explains. "I continued that for a bit, but as we've grown and we've got more people and more overhead, we needed contracts and to be able to know what money is coming in."
Trio Media now has a hybrid approach for client contracts–all of their new clients have contracts, but some legacy clients still do not. Daniels and her team approached this change by looking out for their clients' best interests.
"We moved clients onto a contract by locking in their pricing for 12 months, which worked better for them," says Daniels.
Although there are pros and cons to client contracts, the lack of commitment was an issue for Trio–but at the end of the day, Daniels says it's all about being willing to evolve. And that goes for many aspects of running a successful marketing agency. 
Whether you're in marketing or another industry, if you're still doing the same things you did three years ago, you're going to get left behind. You have to continuously adapt and change.

–Claire Daniels, CEO of Trio Media
Daniels says a series of incremental steps have led to bigger changes that placed them securely on the path to success.
"Every person we hire, the role we created and why and bringing it on at the right time, the lessons we learn from winning and losing clients; all these constant changes add up to a lot," Daniels shares. 
Let's dive into the details.
Implementing Processes for Scale 
Another way Daniels has adapted since acquiring the business was through implementing marketing agency tools to promote efficiency. Their team is constantly looking at ways to improve their processes. 
"We're always trying to nail down our processes for every single thing we deliver," she explains. "And how we can clearly define them and describe them to the client." 
Her advice to other agency owners would be to put those systems in place sooner rather than later. 
"Without them, your business will really struggle because you're going to lose track of things and miss client deadlines. So, if you don't have a way of knowing what is being delivered when and by who, it will be really difficult to scale," Daniels says.
Their team tried a few different platforms before choosing Asana to keep all of their projects and communicate efficiently between team members. After implementing this software, they saw a clearer picture of what their processes looked like, helping them give clients an accurate timeline of deliverables. 
Trio Media is a full-service digital agency offering a number of services and works with many clients on website design projects.
"They often want to know how long that process is going to take, what's included, what's needed from them, and what the key milestones are," she says.
And the most efficient way to give an accurate project timeline to their clients is by referencing their project management software. 
"We line the scope of the project up with our own processes, and we can see a full timeline–who's responsible for what and when the launch date will be," says Daniels. 
Mapping out project timelines has also streamlined their entire client communication efforts–down to the specific details that help to form a successful partnership.
For example, they tell their client:
This week is when you're going to have a discovery call and what we're going to talk about with you on that call

This is what you can prep beforehand 

This is what information we need to leave the call with for us to get started 
After the initial discovery call to gather the necessary information, they request specific materials such as their brand guidelines, new logos, and anything else before Trio Media begins creating any designs.
Then, the team factors in the time needed for any technical integrations to execute the project.
"This is typically a conversation we have with a client who asks how soon the website build will be done, and we can map out our time and say it's maybe 12 or 16 weeks," says Daniels. 
She says it's also important to consider the back-and-forth communication with clients to avoid confusion about deadlines. 
"The deadline increases by a week every week the client delays or comes back to us with feedback," she says. "Because a lot of people don't count that in. You give them a date to start with, and they just think that's the date. But then, if they took two weeks to come back to you, that's added another two weeks onto the date. So, we get really clear with our clients on how that process works." 
Daniels also reinforces how important internal communication is to maintain an efficient and successful workflow.
"Using a tool like Asana is all about visibility. The more visibility we have as an organization, the more efficient we can be because we're not waiting for an answer from one person to the next. Anyone on our team should be able to update a client on what's going on because that information should be readily available," she says.
Making Headlines With a 4-Day Work Week 
With all of the buzz around switching to a 4-day work week in a post-Pandemic world, Daniels knew this was another business change she wanted to make at Trio Media. And because of the time and effort her team had put into streamlining processes, she felt that they were well-positioned to tap into this new trend.
"I'm a very forward-thinking person, and I like to be disruptive," she smiles. "If there is something new to try, I want to be at the forefront of that. We're not going to be left behind." 
So she began contemplating how to spend less money, still focus on growing the business, and become more attractive to future candidates to work at her agency.
"Switching to a 4-day work week wasn't about becoming a lifestyle company where you take it easy, not work very much and just see what happens," Daniels laughs. "It was actually about how we could become more productive as an organization, and of course, the underlying factor of that is profitability." 
She admits that the change also brought unexpected benefits that helped accelerate awareness of her business across the UK and beyond. 
The switch gave us more of a launch pad than we could have ever known. We joined the official pilot in the UK, and then we were featured in the UK press, TV, radio, print, everywhere online, and also media around the world.

–Claire Daniels, CEO of Trio Media
She wouldn't have made the change without doing her research first, though, to truly understand the impact it would have on her business and its profit margins. 
"Everything that I read said that the 4-day work week helps increase productivity, and businesses that do it are more likely to have better profit margins, happier employees, and everything seemed like a positive to me. It sounded too good not to try," says Daniels. 
When it comes down to the numbers, she says the results have been amazing. 
"We had 47% year over year revenue growth for the period during the 4-day work week, and we've also hit record sales during the times everyone was happier," she says. 
Additionally, they've had to recruit more employees, not to cover the time, but to cover all of the extra work coming in. 
"I know I can't necessarily attribute all of that to the 4-day week, but I do think having happier people makes them more productive and more committed to the workplace and the business, and they want to contribute. And then the results come from that, in turn," she smiles. 
Her advice for other agency owners wanting to give it a try: Go for it! 
"It's not about condensing five working days into four," Daniels explains. "It's about recognizing that we're not productive in the old five-day model. People that work nine to five are not productive one hundred percent of that time." 
She mentions that it's all about recognizing where your agency is not productive, eliminating that time, and bracing yourself for really high-performance, productive days from your employees.
"And in turn, you reward your employees with a three-day weekend, giving them a better work-life balance as well," says Daniels.  
Empowering Employees to Retain Them
Aside from retaining her employees with a 4-day work week and a good work-life balance, Daniels makes it a priority to understand the skills of her employees and lean into them. 
For example, they used to have a robust account management team that included senior account managers, account managers, and account executives.
As Trio Media grew, Daniels started looking at how their structure should be. She always hires based on culture and attitude–not skillset. 
"My view has always been you can teach skills, but you can't teach someone the right attitude," Daniels says. 
Hiring the right people has been the number one contributor to our success, as we have people who are committed to the journey and want to see the business succeed. With that mindset, they are prepared to adapt to change if it's for the growth of the business.

–Claire Daniels, CEO of Trio Media
Photo: Trio Media during a recent team building event 
She decided to create 'specialist roles' for employees who showed an interest in executing services and kept the account manager role dedicated to client relations. 
"Naturally, we're either people-oriented or task-oriented," she says. "And as we grow as an agency, it's good to be able to say, 'This is our specialist in SEO. This is our specialist in PPC. These are our social media specialists, etc.'"
Creating these clearly defined roles has come with other benefits–specifically when it comes to spending money on training.
"It helps to know where to invest in specific training instead of just a bit of a round robin of everyone knowing a bit of everything, doing a bit of everything without any real focus," Daniels says. 
"Our management team all works the 4-day week and were pivotal in helping to implement processes that would make it a success," Daniels says. 
Trio Media's management structure is also built for scale:  
CEO

3 department heads

Newly implemented middle management to keep up the personal management style as the business grows 
Additionally, Daniels wanted to examine her agency's structure because she was looking for growth opportunities for her team.
"We've found that if you're in an account manager role and doing a bit of everything, it's not something people want to do forever," she explains. "And naturally, some people become your go-to person in certain areas. So you want to be able to open the door for those people and give them an opportunity for specialization if they want it. That's the route we've gone down the past few years, and it's going well." 
Understanding where her employees want to grow comes from communication that doesn't feel forced. 
"I sit out on the floor with everyone, and I think I empower people by being a part of them and showing them how I do things," she says. "I won't ever ask someone to do something I'm not prepared to do myself." 
Although she says it's difficult to teach someone how to become a good leader, she says it's always best to learn from your experiences. 
"I look at my past experiences and think of ways I can do things differently," says Daniels. "People either go two ways: They see bad management and say, 'Good! That's the way to be a manager, and I'm going to replicate it.' Or, 'This bad management, how can I change it?' Ultimately just treat people how you would want to be treated. " 
She had that exact thought process when they switched to the 4-day work week. 
"It was a huge risk, but I thought, 'If someone offered me that as an employee, I would have jumped on it.' So why not give that opportunity to my people? 
Realistically, Daniels knows she has a business to run, and it will always come first, but her employees are a close second.
"Looking after them is really important to me, and building a workplace people enjoy coming to," she says. "We spend so much of our time here. We've got to enjoy it, and I would really hate if people have the Sunday night dread about coming to work in the morning. Thinking about all those things is what keeps you up at night as a leader." 
If her people were quitting, she would wonder what was going wrong and how to make it a better place that people want to be. Luckily, she's been fortunate enough never to find herself in that position. 
"The part of our culture that I'm most proud of is our people," Daniels shares. No one has resigned from the company since she took over at Trio. "I've never had anyone voluntarily leave, so that makes me super proud that we've built a workplace that people want to be a part of." 
Aside from growth opportunities, a shortened week, and little things like sitting out on the floor with her team, Daniels has put things in place, such as company values, to keep everyone connected.
"One of our company values is 'United.' We recognize that we are stronger together, have a genuine love for each other, and support each other and everything that we do."
For example, they support each other through monthly team meetings. She's found that positive recognition and rewards are the best way to motivate people. 
"During monthly meetings, I read out all of the shoutouts and little messages that people get from each other. The person that got the most shoutouts that month wins a bonus, and the bonus pot is made up of £10 for every shoutout," she explains. "Last month's pot was £460, so it's a nice reward they get, and it's not just recognition coming from me. It's from everyone within the business, and I do think people really like being acknowledged by their peers." 
Matching Account Managers With Clients To Build Long-lasting Client Relationships 
Daniels recently decided that customer service would be Trio Media's differentiator. So, she held a team meeting to discuss customer excellence, encouraging her team to communicate with clients in the same ways they would want to be spoken to.
"We talked about who their favorite customer is and why and that they need to treat everyone like their favorite customer," she explains.
She reminded them that customer service goes both ways. Most employees choose their favorite customers because they respond to their emails quickly, they're nice to work with, they get the right materials when they need them, and so on. 
"I told them, 'They're giving you good customer service, so you have to give it back.' Basically, you get whatever you put into the relationship," she says.
Their account managers have regular touchpoints with their clients to keep communication flowing through Whatsapp, emails, or phone calls. Daniels stresses the importance of constant communication, even when something doesn't go as planned. She encourages her team to pick up the phone, understand the client's challenges and think of how they can support them. 
"I tell my team, 'Don't save everything up until the end of the month. If you've changed the meta descriptions on their website or optimized a keyword, tell them!' And if we made a mistake, we send an apology and own up to it. Having those conversations is so important," she says. 
But, providing great customer service isn't enough to make it an agency differentiator. They wanted to dig deeper and create a 'memorable experience' for each and every client interaction.
"We asked ourselves, 'How can we lean into that more if that's what makes us stand out? How can we become known for it?' So we thought about the little things that matter the most to people like sending a card or a gift that makes people think, 'It's so great to work with Trio,'" Daniels smiles. 
She tested out this 'memorable experience' approach when attending a marketing event that educated clients about different marketing suppliers. 
"We considered the time of the event and put ourselves in the mind of the consumer. They're probably going to want a snack to keep them going," she says.
Although they were just supplying food to their potential prospects, the strategy behind the small gesture made the difference. Understanding what their customers were thinking helped them have more conversations that stood out amongst hundreds of other vendors.  
Expanding Internationally in the Future 
Trio Media recently revamped their company's vision to "revolutionary marketing for evolutionary brands." And that's exactly how they plan to move forward. 
"We've experienced amazing growth the past two years, so I want our growth to accelerate beyond that," she says. "Our aim is to expand our client base and build an international presence."
Daniels certainly isn't afraid to try out new strategies to propel her agency forward, and she recommends that other agency owners try the same open-minded approach. 
She keeps her ear to the ground to think of new ways to evolve her business by staying up to date with industry trends and leaders–wherever they might be. 
"You never know what you might learn from someone–business owners, marketers, or clients. Any time I see my dad, he always gives me a business lesson whether I ask for one or not! There is always lots of useful information, and I think it comes from all walks of life," Daniels smiles.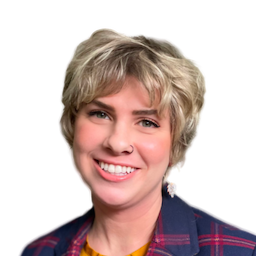 Richelle Peace is a joyful writer with a degree in Journalism. She loves writing web content, blogs, and social media posts. Whatever the topic, she's fascinated by learning and sharing.
Read more posts by Richelle Peace ›
Try AgencyAnalytics risk-free for 14 days. No credit card required.