In 1999, for Peter Jasniewski, the ability to communicate and instantly share content with anyone worldwide was a very compelling concept. In the late 90s, when people were still running around with pagers, using fax machines, and hosting servers in oversized closets, the internet was still in its infancy. While no one quite expected how things would change over the next two decades, Peter's vision was remarkably prescient. 
Dissatisfied with his corporate job, Peter joined the WSI franchise network, one of the pioneering organizations in the digital marketing space. In the initial start-up years, he worked in a small office space with a single employee and focused on web development and web design. The two of them handled every part of the business, sometimes learning as they went.
Fast-forward ten years, and WSI Comandix has become one of the longest-running WSI franchises and one of the top three licensed offices within WSI's global network spanning 80 countries.
But growing their business was far from smooth sailing. There is an ever-present adapt-or-die mentality that holds true for digital marketing agencies. With multinational tech companies such as Google monopolizing online search, marketing agencies are at the mercy of changes in algorithms, ranking signals, and new compliance criteria to remain relevant and up to date. 
"We constantly need to be aware of what is to come and have the ability to adapt and change our strategies to ensure we perform to client expectations," explains Mike Gualtieri, who began working at the company in 2009 and is now VP of Operations. 
Less than a fifth of marketing agencies are more than twenty years old. And that number gets even smaller when we're looking at the digital marketing space. "What worked a mere one to three years ago may no longer be a viable strategy or tactic to achieve results," comments Mike on the need to adapt to deliver quality results. "We're a performance-based digital marketing agency, meaning if we don't produce results, clients will not continue working with us." 
Developing a Strong Vision of Digital Marketing Trends 
The digital marketing space has become highly technical, so integrating solutions that combine web design, web development, and marketing strategies is increasingly important. 
Mike recalls how at a networking event, one of the participants said: "I just spent $25,000 on a website, and you know what? You can build the most stylish site, and they (customers) still don't come". 
Mike knew that this individual had come to an important realization: that a website is an important business tool, but you need to invest in digital marketing to generate business. "Digital marketing requires three components… an engine (website) which thus requires fuel (marketing) to take you to your destination (goal)," he says.  
To meet the increased technical skills needed from their team, Mike highlights the importance of various departments "working together to produce a machine that can perform, grow, be optimized and comply with the complexity that digital marketing requires."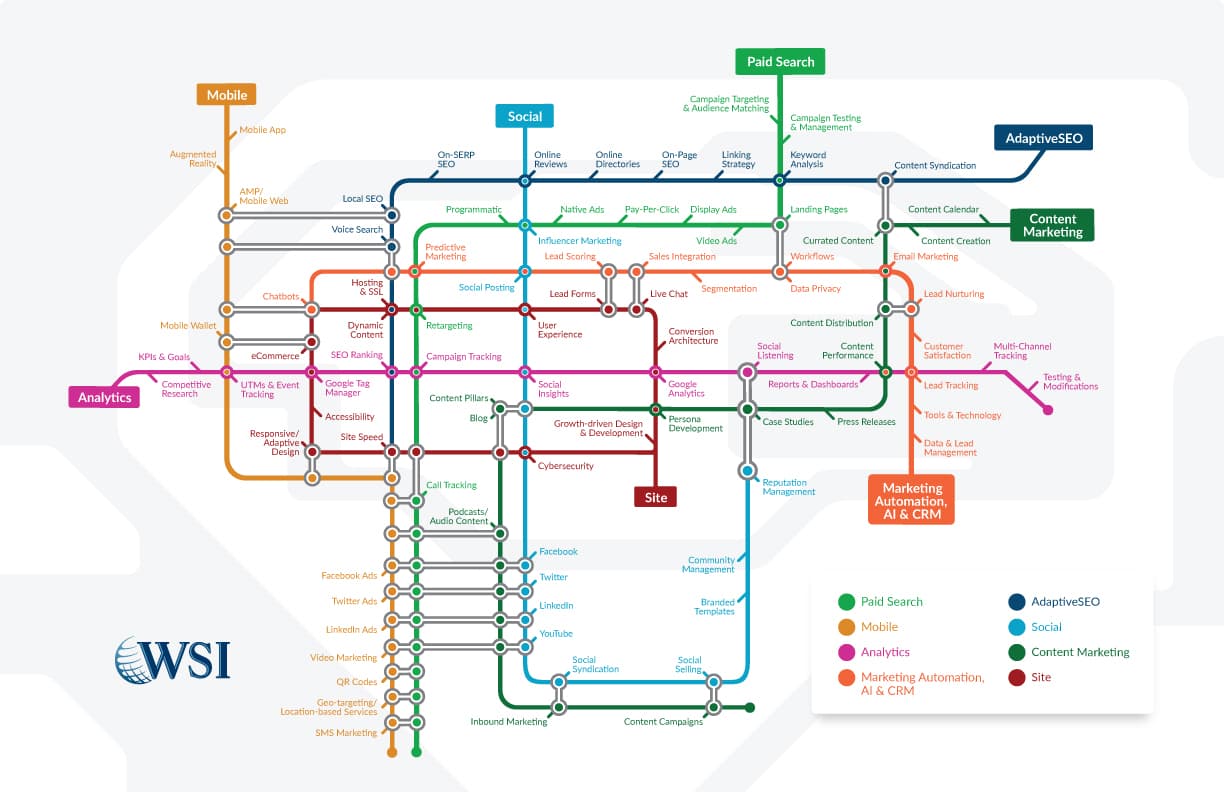 Agencies need to think many steps ahead and connect the dots to consider all elements. "Digital marketers are specialized individuals, and ones that have grown up in the industry through the evolution of technology have a stronger ability to demonstrate performance as it is NOT an easy industry to simply start in," he adds. 
WSI Comandix's founding philosophy to become an indispensable partner to their clients plus focusing on performance marketing was progressive at the time. It's also what got them kickstarted towards building a sustainable business model.
Specialization is an Agency's Superpower
Building a predictable sales funnel based on industry verticals takes time, however. Mike explains that "in early years as an agency, you take on anything and everything that comes your way as you are trying to grow your client base. Although effective for startups, this method causes staff burnout and dilutes your agency's focus if you take on too much." 
WSI Comandix took on a focused approach when targeting verticals. When you present yourself as a specialist, you set the expectation that your team will fulfill projects and put more effective strategies in place. 
Building a proven, replicable process saves agencies and their clients a lot of time instead of learning and trying new things from scratch in an unfamiliar area. 
You have to be specialized to be special to somebody. It's not good enough just to be good at something. In the digital space, there are too many subject matters–you can't be an expert in all of them.

— Mike Gualtieri, VP of WSI Comandix
Understanding which industries are the best fit for their services requires keeping up with the times. While this might seem like an obvious strategy, the true telling of success is finding a way to make it work for the long term.
Delivering Consistent Results at Scale  
In 2009, WSI Comandix reached a significant tipping point in its journey. SpiderTech, a well-funded startup just entering the global market, needed a full-scale digital marketing solution to achieve rapid market entry. WSI Comandix knew what needed to be done. 
The goal was to get an innovative product to the global marketplace and gain a presence in multiple countries. 
WSI Comandix used a multi-step go-to-market strategy that would also bring their future clients success:
Innovative website design & development

Advanced eCommerce presence & fulfillment center

Brand awareness campaigns

Reputation management

Increased organic traffic and visibility

Demand and lead generation, and

Aggressive paid ads campaigns
In 9 months, WSI Comandix took their client from zero to having full distribution in North America, Europe, Australia, South America, South Africa, Taiwan, and Japan.
Since that project, WSI Comandix has completed over 2,000 web design and digital marketing projects, and currently, they run a multi-million dollar agency operation.
Another enterprise-level client was struggling to create genuine leads for their sales team. Their previous agency had been running ads in the digital space but hadn't been doing much to explore new markets. 
WSI Comandix took over and rapidly transformed the existing marketing strategy. They optimized their client's online presence using advanced digital marketing strategies to capture the attention of their target market.
Soon the client's multiple websites began gaining traction. They also began collecting more data to understand better how their client's brand was being viewed online. This generated new leads that led to new revenue streams and built their client's confidence once again in online marketing within their sales team. Their client had better intelligence on where their leads were coming from and improved tracking for their ROI, as well as other metrics that improved their conversion rates.
Over the course of three years working with this client, WSI Comandix doubled the client's annual revenue to the tens of millions. "That just goes to show you how powerful digital marketing can be. And how it can fuel your business if done correctly," explains Mike. 
And while that client was a particularly high-value one, the real strength of their agency's strategy is that it is scalable.
Mike Gualtieri
Today, WSI Comandix is one of the largest WSI licensed offices with its own internal marketing and fulfillment departments. While many agencies in their field will run as lean as possible while outsourcing projects to independent contractors or resources overseas, Mike says that their advantage lies in having two designated departments internally: production and marketing, adding, "this facilitates many aspects of the strategy, consulting, project, and account management."
Consolidating the Agency-client Relationship With Data
20% of WSI Comandix's top clients currently generate 80% of the agency's revenue. The average lifespan of a WSI Comandix client account is five to six years–which is nearly double what is typically held as the industry average. 
Some of their clients have been with them for over 15 years of uninterrupted service. How does WSI Comandix manage to retain its clients better than most? According to Mike, the answer lies with how you build and maintain the agency-client relationship. 
Mike elaborates that if you treat your clients as your business partners, you have clear and open communication about their marketing metrics. Being honest and transparent with them about what they "need to do" and not what they think they "want to hear" is another secret of successful long-standing relationships. This allows them to track goals together and make strategic decisions about their business as a team. 
Education is a key aspect of this as an educated client is a great client to collaborate with on a Marketing strategy. Education also means being able to eliminate the complexity and noise of very detailed data which platforms can provide, and make it simplified so clients can understand.

— Mike Gualtieri, VP of WSI Comandix
Data-tracking for internal use is a thing of the past. Agency clients expect to see their results in front of them. And they expect a strong ROI if they are to continue employing your agency. As a performance-based digital marketing agency, Mike says that "clients expect results quickly. If you can't produce or demonstrate the confidence of tying web development + marketing + digital data and analytics to prove ROI – you won't survive."
One of WSI Comandix's more recent refinements as an agency is how they choose to present their marketing data to their clients. As a performance-based digital marketing agency, they need to clearly show the growth they provide for their clients with data-driven results. Not only that, "presenting our clients' marketing analytics came from a desire to create more grounded expectations from our clients," adds Mike. And as any agency knows all too well, managing client expectations is key for retention.  
With today's technology, everything is trackable. According to Mike, "an agency that can evaluate data and tie it back to marketing tactics, dive deeper into data to get more performance out of active campaigns will help confirm client's ROI." 
By having a strategy for tracking all their metrics and reporting their campaign results to their clients clearly, WSI Comandix has all their clients' key marketing metrics in one place and ready to present.
"AgencyAnalytics changed our reporting entirely," says Mike. "We use to produce reports manually/per month scraping data from various sources. This used to take a dedicated team member an exhaustive amount of hours to complete. The internal time/cost wasn't profitable, so we needed an automated solution to make reporting a task and not a project." 
Mike's team can now build robust reports the way they want: "with easy integrations to a whack of tools/accounts/platforms, we set our schedule for reports, and away we go." 
They no longer have clients asking for the status or ETA of their reports each month. This frees up their Account Managers, allowing them to focus on client performance evaluations and collaborations versus building reports.
Looking To an Agile Future
Nowadays, a data-driven approach gives agencies the tools to adjust their marketing campaigns, adapt to an ever-changing and highly competitive market, and clearly present their results to their clients.
Few digital agencies can say they've been in business for over twenty years. WSI Comandix's survival has relied on seeing change as a growth opportunity and catching the winds of change to carry them forward. 
By staying strong and agile, WSI Comandix has created a business that has endured. They plan to scale further with a gradual organic growth of 10-15% per year and continue to pursue their industry verticals to hone in on their mission to provide highly-specialized services for their clients.
Written by
Melody Sinclair-Brooks
Melody Sinclair-Brooks brings nearly a decade of experience in marketing in the tech industry. Specializing in B2B messaging for startups and SaaS, she crafts campaigns that cut through the noise, leveraging customer insights and multichannel strategies for tangible growth.
Read more posts by Melody Sinclair-Brooks ›
Try AgencyAnalytics risk-free for 14 days. No credit card required.