Each year, we love hearing which new features and integrations you need in the platform. Why? Because every request and upvote helps us engineer a better platform—one that assists marketing agencies like yours create exceptional client reports, faster. And one that helps you grow.
So what was new in 2022? (pardon the rhyme)
Let's take a look back at some of the top-requested features and integrations implemented over the past 12 months. Hopefully, your team is already using and enjoying them, but if you aren't yet, there's no time like the present! 🎁
1. Goal Tracking
Setting, tracking, and hitting goals is essential to any agency's success. It's easy in AgencyAnalytics to integrate this important marketing activity right into your daily workflow.
Simply set your targets for any campaign

Set your client's daily or monthly goals, and 

Display your progress in a visual way
The goal tracking widget updates automatically to highlight if your team is off, on, or ahead of pace to hit the goal by the end of that period.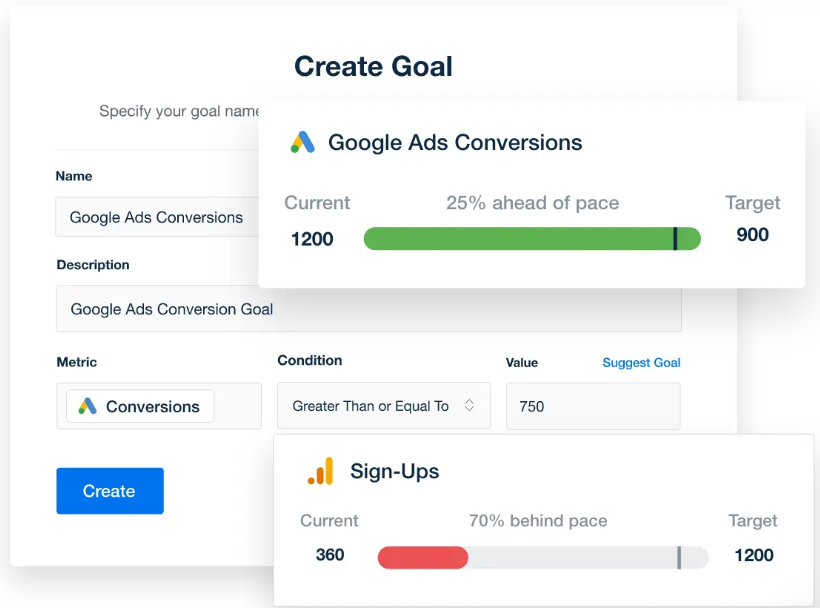 Prove you're moving the metrics in the right direction so you can impress your clients and keep them around for longer.
2. Stripe Integration
Driving new customer acquisition for your clients is pretty darn important. But new customers only really count if they actually pay, right? 
If you have clients using Stripe payment processing, this integration is definitely for you!
Pull insightful Stripe revenue and payment analytics data into a live dashboard and make it simple for your agency to manage the full acquisition process alongside your client's other campaign metrics.
We knew this was going to be a popular one, and you definitely proved us right. Stripe was our top new integration of 2022, followed closely by this next one…  
3. Salesforce CRM & Sales Integration
Great marketing reporting makes it clear just how much of an impact your agency is having on your client's bottom line. And if your client happens to use Salesforce, this new integration makes it easier than ever to track and display their live marketing and sales data, including:  
Leads

Opportunities

Accounts, and 

Campaigns
Customize and combine all of these Salesforce reporting metrics with your client's other key marketing channels for the most complete picture of your agency's performance.
4. Updated Report Builder
The easier it is for your agency to create insightful, customized reports for your clients, the better. It's kind of our whole schtick, after all. 
Everything your team needs for simple, drag-and-drop report building can now be found in a single, user-friendly workspace. 
Fewer steps and a better overall experience helps your team get their professionally designed reports in front of clients faster than ever. 
5. New Dashboard Permissions
The metrics your agency is concerned with monitoring on a day-to-day basis can differ from those your clients want or need to see. 
You can now easily manage permissions on any dashboard to make it visible to Staff Only, or for All Users. This helps your team create and leverage important dashboards of data without adding clutter or confusion for your clients.
And here's another new feature to help improve the user experience, both for dashboards and reports…
6. Dynamic Date Range Selector
Toggle on the date range picker on every new dashboard and report link you send to clients. It's a simple feature that creates some powerful opportunities for your team. For example:
Make it easy for your client to get live data without needing to become a platform user.

By bookmarking that link, your client can revisit it again and again, avoiding having to follow a new report link every month.

Add a date-range-enabled dashboard or report link to any automated communications you send to your client for easy access.
Simply share any date-range-enabled dashboard or report link and empower clients to view their automatically updated data whenever they need to.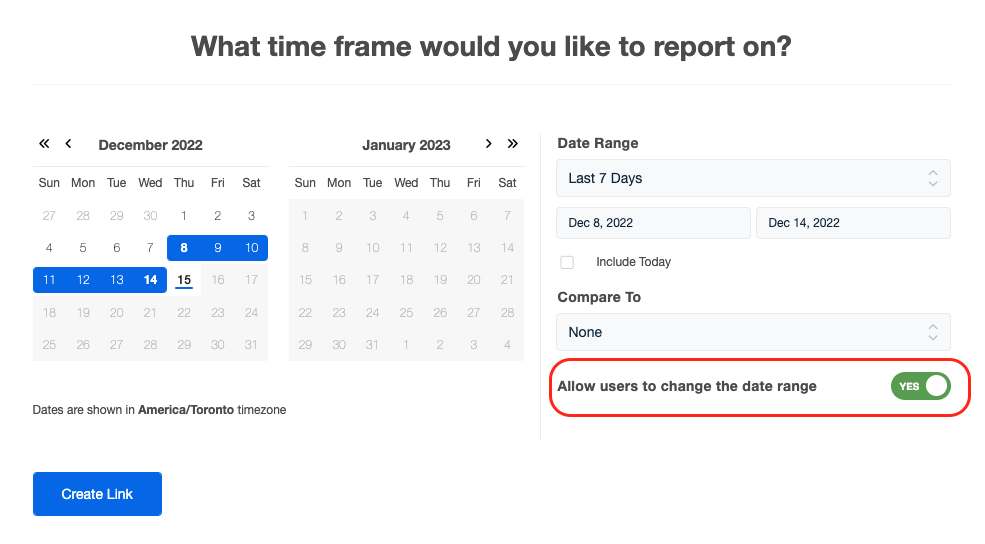 7. Spotify Ads Integration
Spotify Ads became another of our top integrations of the year. The platform itself is the world's most popular audio subscription streaming service, and clearly also a very popular paid marketing lever. 
Pull data from all your Spotify Ads and create campaigns directly into AgencyAnalytics to track your metrics and measure your impact alongside all your other marketing channels. 
8. Custom Metrics
The ability to track metrics from all your marketing platforms in one place makes AgencyAnalytics a powerful tool for your agency. Start blending those metrics, and you create custom data that adds transparency, flexibility, and deeper insights to your reporting.  
This feature—available on Agency and Enterprise plans—moves beyond the standard metrics and gives your clients a more personalized approach to their marketing reporting. 
9. Google Local Search Ads
Using Google Local Search Ads (GLSA) is a great way to drive local leads for your clients. Automatically display all that local lead data right in AgencyAnalytics. 
Create dedicated GLSA reports or live dashboards with metrics like:
Number of charged leads

Total amount charged for leads

Number of bookings

Booking rate, and

Return on ad spend (ROAS)
And of course, combine your GLSA reports with other key metrics like rank tracking, Google My Business insights, and more.
10. Rank Tracker Upgrade
For agencies that provide SEO services, a powerful rank tracker tool is key. And fast, accurate rank tracking has been a core part of AgencyAnalytics since it was founded back in 2010. 
Recent upgrades to the Keyword Rank Tracking tool make it even easier to:
See how many keywords you have ranking on a client's individual web pages, and

Tag your keywords to review Google and Bing rankings by categories
In addition to our other top features and integrations this year, this is one we're receiving a lot of positive feedback on.
Just wanted to reach out and say how much I enjoy the new rank tracking upgrades...saves us a lot of time and additional decision making/fatigue. - Matt Wacek, CEO/Founder at Landscape Marketing Pros
Stay tuned for even more upgrades to the Rank Tracker Tool in 2023.
Continuing To Grow Into 2023
We're continuing to build on AgencyAnalytics as a growth platform for marketing agencies with new features and integrations each year. And with this, our aim is always to improve the holistic view of everyone's marketing efforts. Everything we do should add value to your agency and your clients—so as we grow, you grow.
Keep all the fantastic feature and integration suggestions coming our way as we move into the new year. And if you have any questions or need a hand leveraging anything you've just read about, our support team is always available to lend a hand. 
Wishing you all the best in the new year, from all of us here at AgencyAnalytics!
Written by
Daniella Ingrao
Daniella is a product marketing manager with more than a decade of experience in strategic digital communication and story-telling. She specializes in helping B2B SaaS businesses grow and thrive.
Try AgencyAnalytics risk-free for 14 days. No credit card required.