AgencyAnalytics, the all-in-one client reporting platform for marketing agencies, has teamed up with WSI, the world's largest digital marketing agency network, to become the preferred marketing analytics software solution within their supplier network. This partnership brings all of AgencyAnalytics' advanced automated reporting and dashboard capabilities to WSI Agencies worldwide, helping them streamline their reporting processes.
Using AgencyAnalytics, WSI's network of digital marketing experts eliminate the time-consuming and redundant work of manually pulling data from multiple platforms and updating spreadsheets so they can spend more time servicing their clients and scaling their agency.
"We are excited to bring the power of AgencyAnalytics' growth platform for marketing agencies to the WSI world," said Jacob Varghese, Chief Marketing Officer at AgencyAnalytics. "Manually sifting through client data is time-consuming and inefficient. WSI members can now easily discover insights and report on their results with a full suite of automation & data visualization tools. Not only do WSI Agencies have access to AgencyAnalytics' customizable reporting and dashboard platform, but they will also tap into powerful campaign, client, and user management tools to accelerate the growth of their agency. We are looking forward to seeing how WSI's marketing experts leverage all these critical tools so they can spend more time doing what they love to do–helping their clients, and their agency, grow."
Valerie Brown-Dufour, President of WSI, says: "We are very excited about this new partnership with AgencyAnalytics. Providing meaningful and actionable metrics to our clients is a vital aspect of our service offering. WSI Agencies will sit down with clients regularly to go over the performance of their marketing campaigns, their website data, their review rankings, the reach of their social content, and more. Having access to a leading-edge reporting and dashboard tool like AgencyAnalytics, which helps to bring all this information together in one consolidated view, will make it easier to deliver these types of reports to our clients. We are looking forward to a long productive partnership."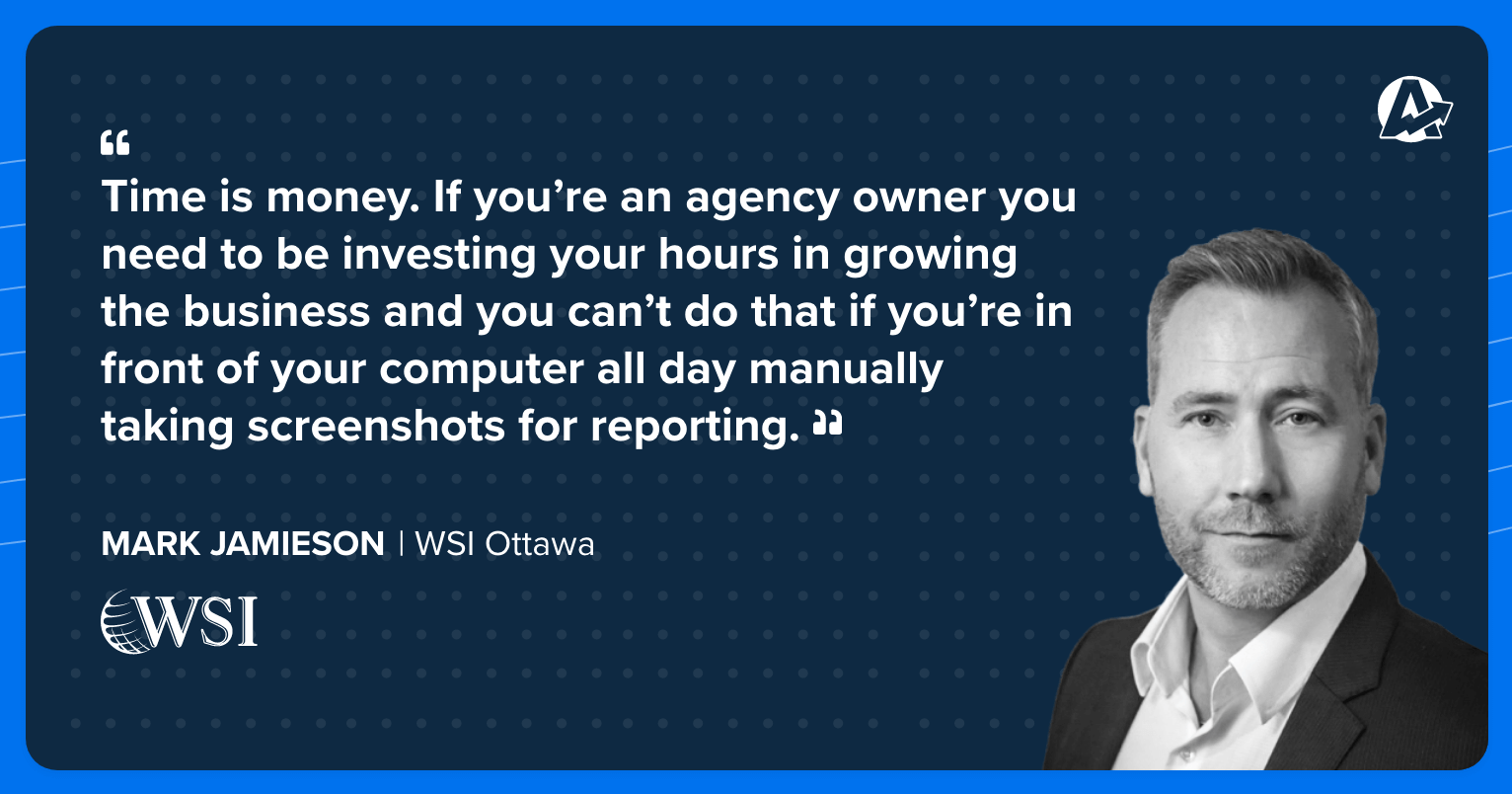 "AgencyAnalytics gives our marketing team an edge over the competition," said Mark Jamieson Managing Partner & Digital Marketing Expert at one of WSI's leading agencies. "Time is money. If you're an agency owner you need to be investing your hours in growing the business and you can't do that if you're in front of your computer all day manually taking screenshots for reporting."
About AgencyAnalytics
For over a decade, AgencyAnalytics has helped marketing agencies scale with automated reporting and easy-to-create dashboards. With access to 60+ marketing integrations, marketing agencies easily monitor campaign performance at scale and communicate success to their clients. Combined with powerful customization and white label capabilities, marketing agencies on the AgencyAnalytics platform provide their clients with the personalized experience they deserve.
Over 6,500 agencies and over 100,000 users trust industry-leading AgencyAnalytics to automate their digital marketing dashboards & reporting processes and create customized and visually attractive reports for their clients in minutes.Follow AgencyAnalytics: Instagram, Facebook, LinkedIn, YouTube, and Twitter.
About WSI World
WSI is the world's largest network of digital marketing consultants and agencies, with its head office located in Toronto, Canada. For over 25 years, WSI has been providing digital marketing services and comprehensive marketing strategies to businesses of all sizes and across various industries. WSI helps businesses to elevate their online brand, generate more leads and sales, and improve their overall marketing ROI. The WSI network has won more than 125 WMA Awards and has been named Top Agency twice by the Web Marketing Association.
Follow WSI: Facebook, Twitter, Instagram, and YouTube 
---
WSI Agencies are invited to start their 14-day trial and then complete the WSI partner application to access all of the features and benefits of this exclusive partnership.
If you need help with your digital marketing strategy or want to understand your marketing metrics better, visit wsiworld.com and request to speak to a WSI Agency.
Written by
Melody Sinclair-Brooks
Melody Sinclair-Brooks brings nearly a decade of experience in marketing in the tech industry. Specializing in B2B messaging for startups and SaaS, she crafts campaigns that cut through the noise, leveraging customer insights and multichannel strategies for tangible growth.
Read more posts by Melody Sinclair-Brooks ›
Try AgencyAnalytics risk-free for 14 days. No credit card required.