If you own or work at a marketing agency, you know that reporting your results to clients on a regular basis is essential to building trust, demonstrating value, and retaining clients over the long run.
When you're just starting out building the agency, you're probably doing most of your reporting manually, usually by piecing together a variety of free tools. As you grow your agency, however, the time spent manually generating reports each month can start to add up quickly.
The reality is, that while reporting is an essential part of managing and scaling an agency, it is not an activity that you should be spending too much time on. In particular, the process of creating reports manually is not improving the results of your clients and it's not helping you land new clients.
As a result, as agencies grow past the early stages of their business, reporting should be automated as much as possible using reporting tool software so that you can focus on scaling the agency.
In this guide, we're going to discuss exactly what automated reporting for clients means, why it's crucial for agencies, the different types of reporting tools, and - finally - we'll review a step-by-step process of how to automate your reports.
The guide on automated reporting is organized as follows:
Let's get started about the ins and outs of automated reports.
What Is Automated Reporting?
Automated reporting reduces the time-consuming task of copying data from multiple platforms to create marketing reports. Using an automated system, this data is populated into a single dashboard & reporting system to make creating client reports faster and easier.
The fact is that today's digital marketing landscape often involves dealing with many different data sources on a daily basis. You may be trying to rank your clients organically in search engines, running paid Facebook and Google Ads, or managing an email marketing campaign. Regardless of the type of marketing activities you're doing for your clients, you probably have more data coming in from each of these channels than you know what to do with.
To help solve this challenge for marketing agencies, and to save time, automated reporting tools allow you to simply connect your account to a variety of sources and automatically retrieve data on a daily basis.
Read More: 15 Marketing Dashboards To Help Your Marketing Agency Scale
Automated reporting tools do this by using APIs, or application programming interfaces, which allow two systems to send data between each other.
Since the data you need to be tracking is automatically being pulled in from each platform, this frees up a significant amount of time when it comes time for reporting. In other words, automated reports means greater efficiency and more scalable systems.
Remember To Personalize Your Client Reports
Before we continue, it should be noted however that even if you use an automated reporting software, it shouldn't necessarily be 100% automated. In particular, you should still be reviewing your clients' data and providing them with personalized comments and insights. After all, report automation isn't a substitute for providing more tailored insights when needed.
The process of personalizing each report is still much more efficient than generating the reports yourself and goes a long way in terms of providing value and retaining long-term clients. Make sure that whichever automated reporting tool you use gives your agency the option to review and approve reports before they are sent to your clients.
Why Report Automation Matters for Agencies
We've already discussed a few of the high-level reasons why automated reporting each month makes sense, but let's now look at these in a bit more detail.
Reporting Costs
Before you decide to implement an automated reporting system, you should first have a clear idea of what your current reporting costs are.
To give you an example, let's review the reporting costs that a typical agency might incur.
Let's say that the agency currently has 25 clients and you're sending reports on a monthly basis. If each report takes just 5 hours each month and you're paying your staff an average of $35 an hour, that breaks down to $4375 of reporting costs each month, or $52500 per year.
As you can see, the costs of manual reporting add up quickly. For example, Joey Randazzo of SEO Portland estimates that his agency saves 60 hours each month, which equates to over $100,000 in billable hours each year using automated client reporting.
It's difficult to quantify the true value of AgencyAnalytics...not only has it saved us time, but has also reduced client churn and helped us land new clients. The platform has been worth at least a few hundred thousand dollars each year for our agency. [Read the Case Study]

Joey Randazzo, Founder & CEO at Portland SEO Growth
An automated reporting system may cost you anywhere from $50 to $500+ each month, depending on the size of the agency, but as you can see a tool like this pays for itself very quickly. And that's the beauty of automated reporting tools.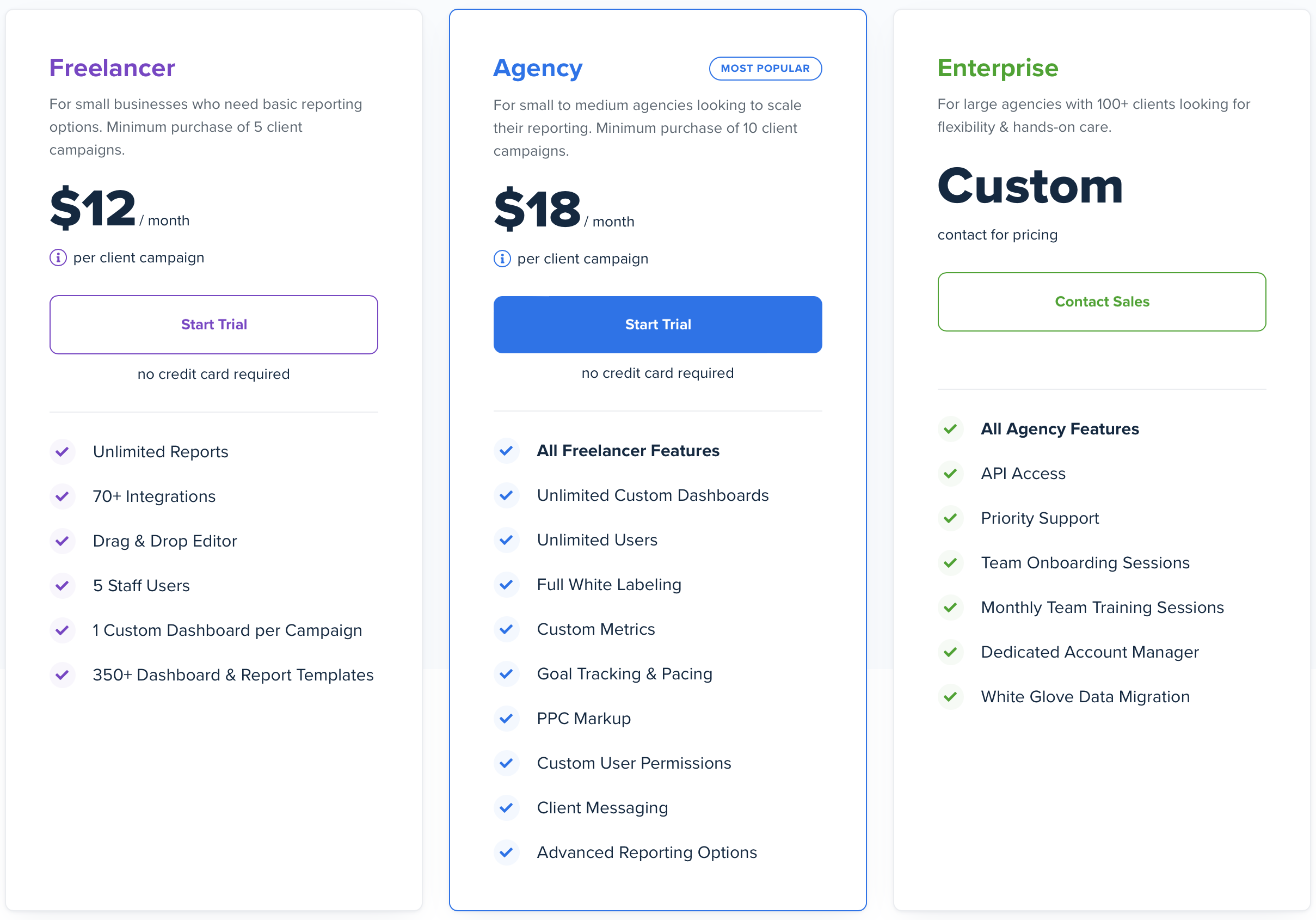 Curious about report automation and how it can save your agency billable time each month? There's no risk. Access a range of agency-focused reporting features on AgencyAnalytics–start your free 14-day trial today.
Scalability
Another reason that automated reporting is so important for agencies is the scalability it offers. If you're providing a valuable service to existing clients and working to generate new leads for the agency, it's only a matter of time before you start to scale.
Also, scaling an agency can happen very quickly, and if you're not ready with the right tools in place it can be disastrous. For example, if all your current employees are spending their time with manual reporting tasks, you may not have the time to hire more people to handle the influx of new business.
If you're using reporting software, on the other hand, scaling up your existing report generation workflow is often as easy as upgrading to a higher pricing plan.
Consistency
If you've tried manual reporting for any amount of time you know that when the reporting period is almost over, it can often be a scramble to get everything prepared and make sure it's sent off on time.
The employees who handle reporting may get sick, or a number of other projects may come up, whatever the reason may be without automating and scheduling reports in advance you're leaving an essential part of running the agency partly up to chance.
With an automated reporting tool, on the other hand, after you've set up each campaign initially and connected your data sources you know that regardless of what happens, you're consistently delivering the updates you promised to clients. And when you automate reporting, your clients will know exactly when to expect an overview of their business data.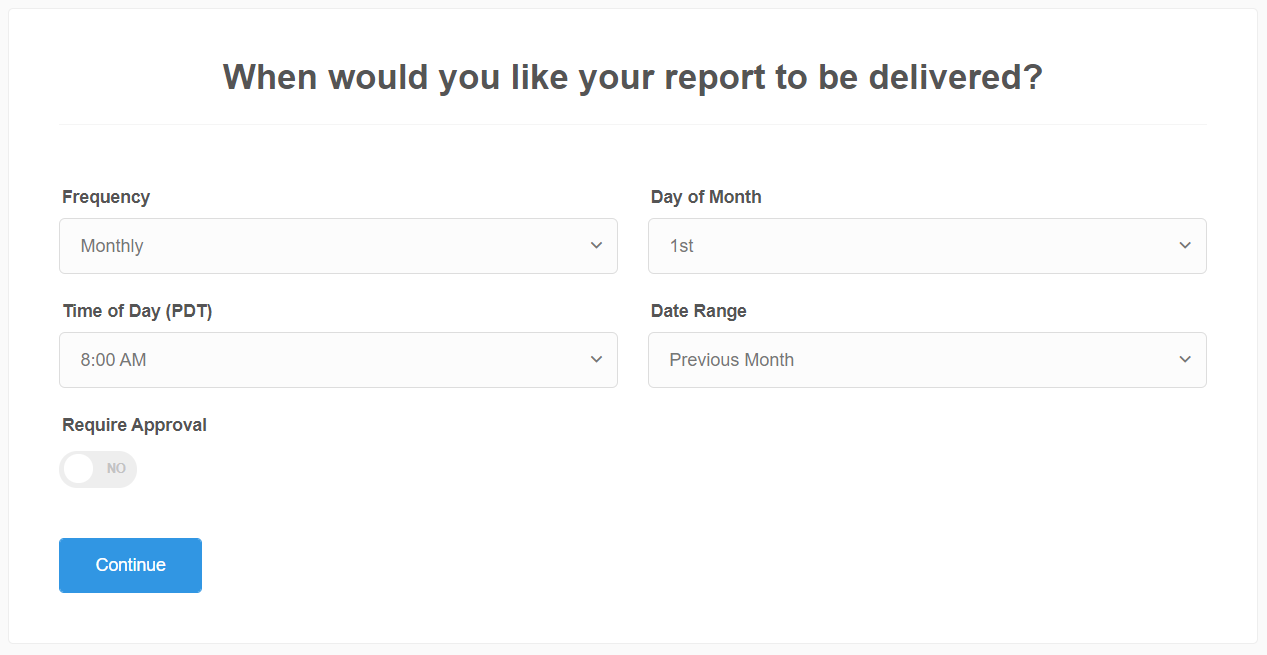 Set it and automate it. With the scheduling feature, it's easy to automate reporting and deliver your clients' business performance like clockwork. Try it on AgencyAnalytics free for 14 days.
Upselling Opportunities
Finally, delivering high-quality marketing reports is a great way to present new opportunities to your existing clients, which can often lead to upselling them additional services.
For example, if you're running PPC ads for a client and you see an opportunity for them to rank in search engines organically, you could then use a competitor analysis tool and show them exactly what this could mean for their business in your marketing report. By having a tool that can automatically pull in all this data from various sources, all you need to do is explain to your client why the service is valuable to their business.
And so, automated reporting saves both your agency and clients valuable time. Not to mention it reiterates your value proposition and professionalism.
Reviewing Different Types of Reporting Tools
Now that we've discussed why report automation matters for agencies, let's review a few different types of reporting and analytics software available including the pros and cons of each one.
DIY Reporting with Free Tools
A common way that many entry-level marketers get started is simply by piecing together various free tools. This will generally include tools like Google Data Studio, Google Sheets or Excel, Google Docs for writing report summaries, and maybe a PowerPoint presentation.
The obvious disadvantage of this approach is that it's incredibly time-consuming and the end result is often less than impressive for clients.
The only real advantage of this approach is that it's completely free, although if you add up the hours it takes to generate the reports, this really isn't the case.
Data Analytics Reporting Dashboards
The next type of reporting tool is data analytics dashboards such as Google Data Studio (now Looker Studio). While a platform like this is certainly a step in the right direction from a spreadsheet, it can still be quite time-consuming to learn how to use it effectively.
Another one of the main disadvantages of a platform like Google Data Studio is that it has limited integrations with other marketing platforms. In fact, if you read through reviews for Data Studio a common theme is that connecting to platforms that aren't owned by Google is very challenging.
Business Intelligence (BI) Platforms
Business intelligence platforms such as Tableau and Domo are incredibly powerful tools when it comes to data analytics.
One of the major issues with these BI tools, however, is that they require a serious investment in terms of learning how to use them, especially if you are not a data analyst. If you are a data analyst though, the benefit of these business intelligence platforms is that you can use them for extensive analytics of big data across any industry.
That said, this can also be seen as a disadvantage for agencies since the platforms are not specifically focused on marketing data. While you can analyze any type of data with these business intelligence platforms, the lack of specialization in terms of data connections often makes them less than ideal for marketing agencies.
Automated Reporting Platforms
Finally, automated reporting platforms like AgencyAnalytics are built specifically for marketing agencies, which means the data connections are focused on the platforms that your clients are using.
These platforms are also built much more intuitively than most BI platforms, which means that both technical and non-technical marketers can get value from them. As discussed in the previous section, after you set up your initial data integrations, the main benefits for agencies are the consistency of your reporting, the scalability of generating new reports, and the value they present to clients.
From reporting automation to client login access, AgencyAnalytics has a full stack of time-saving features for agencies like you. Put billable hours back in your day and sign up for a free 14-day trial today.
Step-by-Step: How To Automate Your Reporting Process
Now that we know what report automation is, why it's important, and the different types of analytics tools at your disposal, let's look at a step-by-step process of automatically generating reports with AgencyAnalytics and highlight some of our features.
Step 1: Preparation
Before you start your report automation process in any capacity, it's generally recommended to have the following processes in place:
KPIs & Metrics: The first step to reporting is deciding what KPIs and metrics you need to include in the report. As discussed in our SEO tracking guide, you can often figure these out by asking each client a set of initial questions regarding their business during the client onboarding stage.

Reporting Frequency: Next, you want to decide the reporting frequency you'll be using. A lot of agencies go with monthly reporting, although if you're using a report automation tool you can take things a step further and easily send daily or weekly reports. In addition, you can always choose to use a real-time live marketing dashboard and provide 24/7 access to your clients.

Assigning Roles: As mentioned earlier, even if you're using a reporting software, it's generally best practice to personalize each one with commentary and insights into the reporting period. Deciding who will provide these insights for each client is another important step before implementing report automation. If you choose to go with sending periodic reports instead of a dashboard, this can easily be done with a report summary as shown below:
Step 2: Creating Your Report Design
Access Reports directly from your AgencyAnalytics platform homepage. Simply click 'Reports' on your lefthand side drop-down menu.
The next screen has two tabs that separate your "Scheduled" reports, and your "Not Scheduled" reports. This makes it easy to filter between these two columns to track your report automation workflow. 
When you go in to Create a Report or Edit a report, simply choose from an existing client report template to enter the report builder. This brings you right into the report builder where you can click between three different tabs: Design, Schedule, and Activity. 
The Design tab is where you easily add and remove sections that you want to show up in your report.
On your lefthand side, easily rearrange the order of each section on your report and navigate between the pages. 
The widgets bar slides out on the right-hand side of your screen. Choose the metrics from all your client's integrations and simply use the drag and drop editor to put them where you want. Each report page is fully customizable. Remove widgets, copy them, and bring in new widgets as you see fit. 
Once you've created your custom report design, simply hit Save and you can re-use it later. This also helps to speed up the report automation process by enabling easy replication.
Step 3: Schedule Your Report
Navigate to the Schedule tab and choose from a number of report automation options such as:
Report Frequency: Daily, Weekly, Biweekly, or Monthly

The Day of the Month you'd like your report to be sent out

Time of Day 

Date Range of your report: Previous Day, Week, Month, Quarter, Year, etc. 

Compare it to a previous period or year

Whether it requires approval or not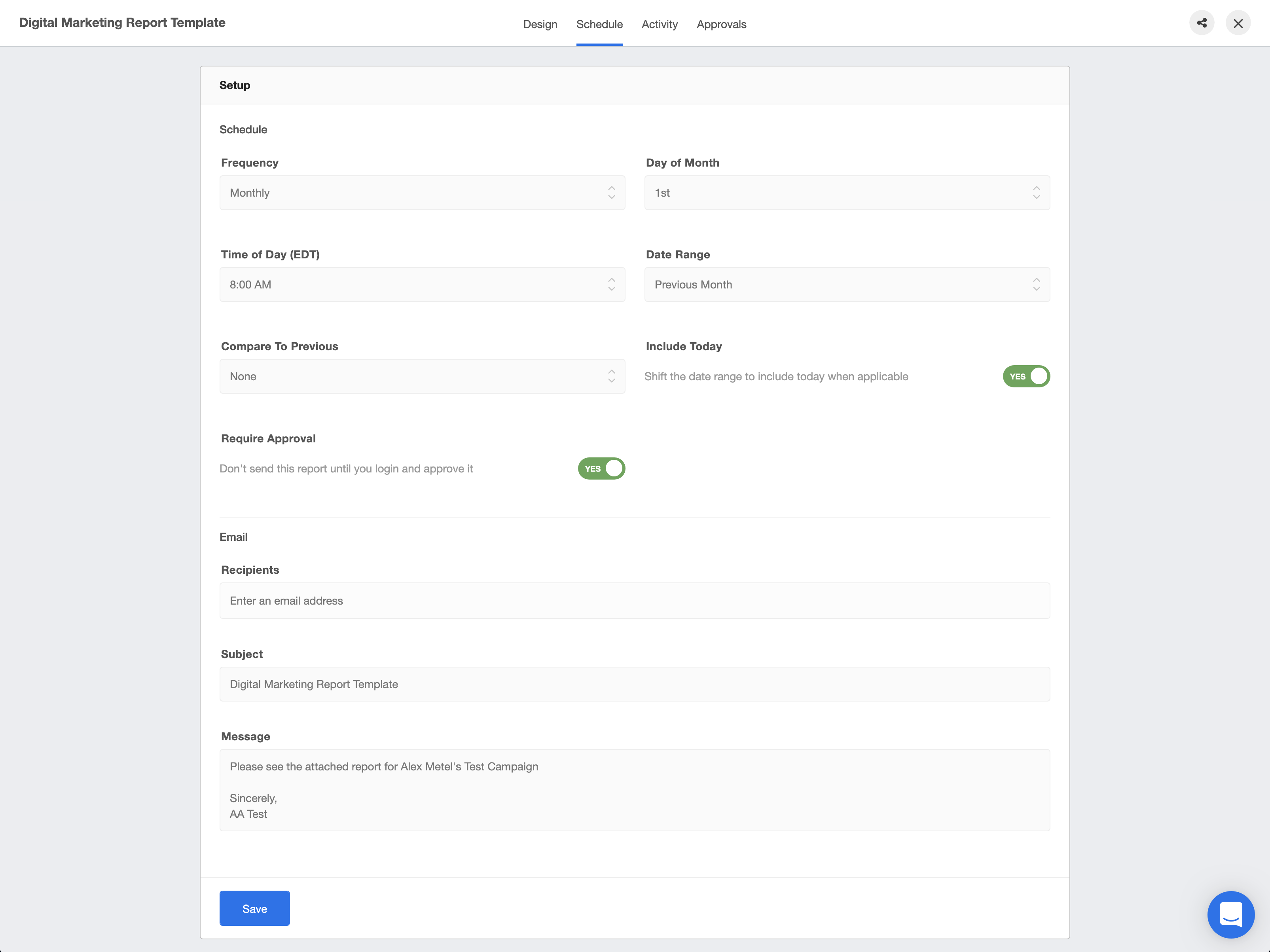 Write your message, hit Save, and you're set: report automation saves the day!
The Activity tab allows you to view how your clients engage with your reports–which is your number one method of showing your agency's value. It is especially handy to see your clients' engagement to gauge whether you need more 1:1 time and improve your client retention.
The Emails tab shows you the open rates and click rates of your reports.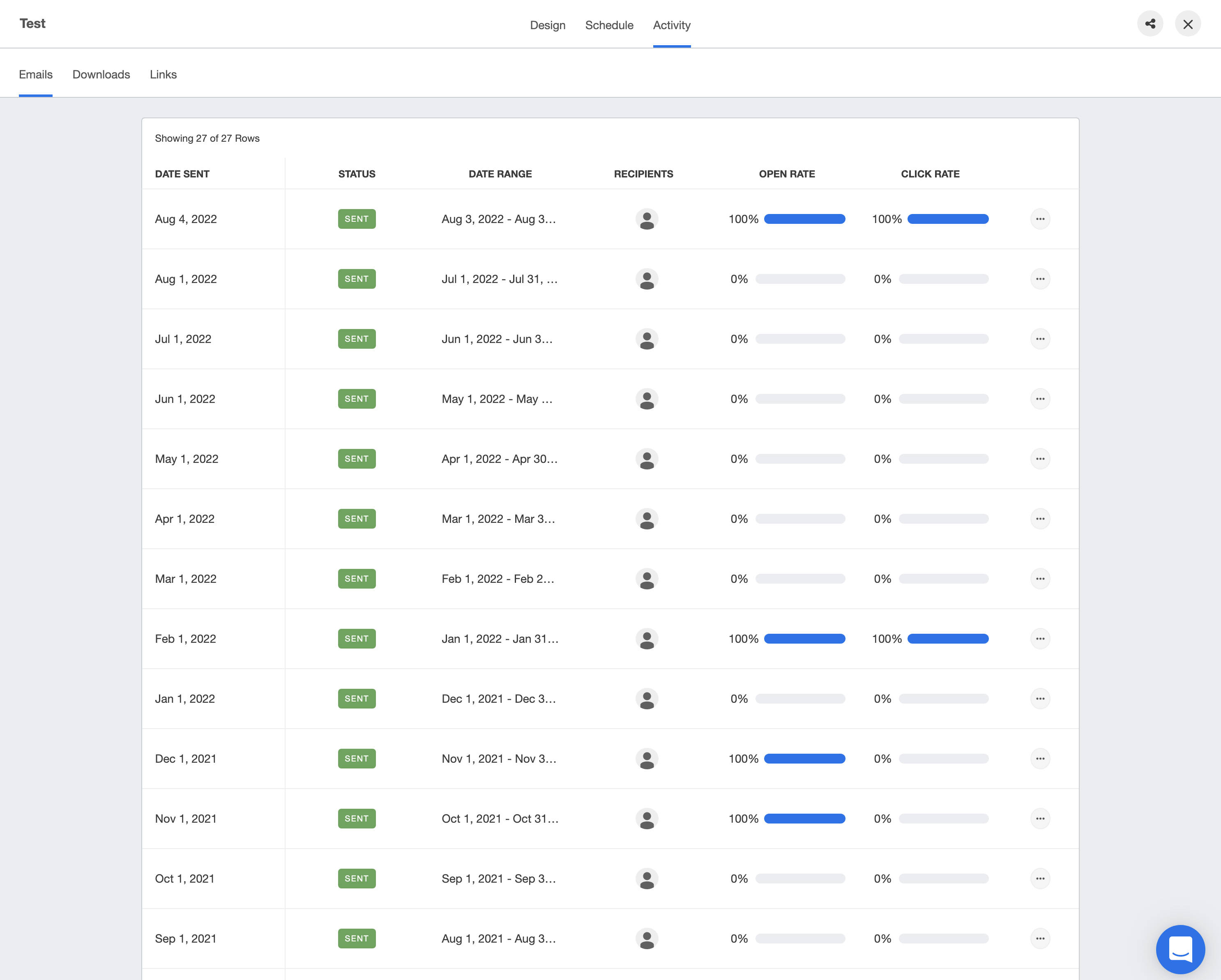 The Downloads tab shows when your clients downloaded a report. 
Go to the Links tab keeps track of and view your previous reports.
If you want to get your reporting up and running as quickly as possible, you can make use of our dashboard and report templates.
Below you can see an example of a dashboard template for Facebook Ads using the AgencyAnalytics Facebook Ads reporting tool: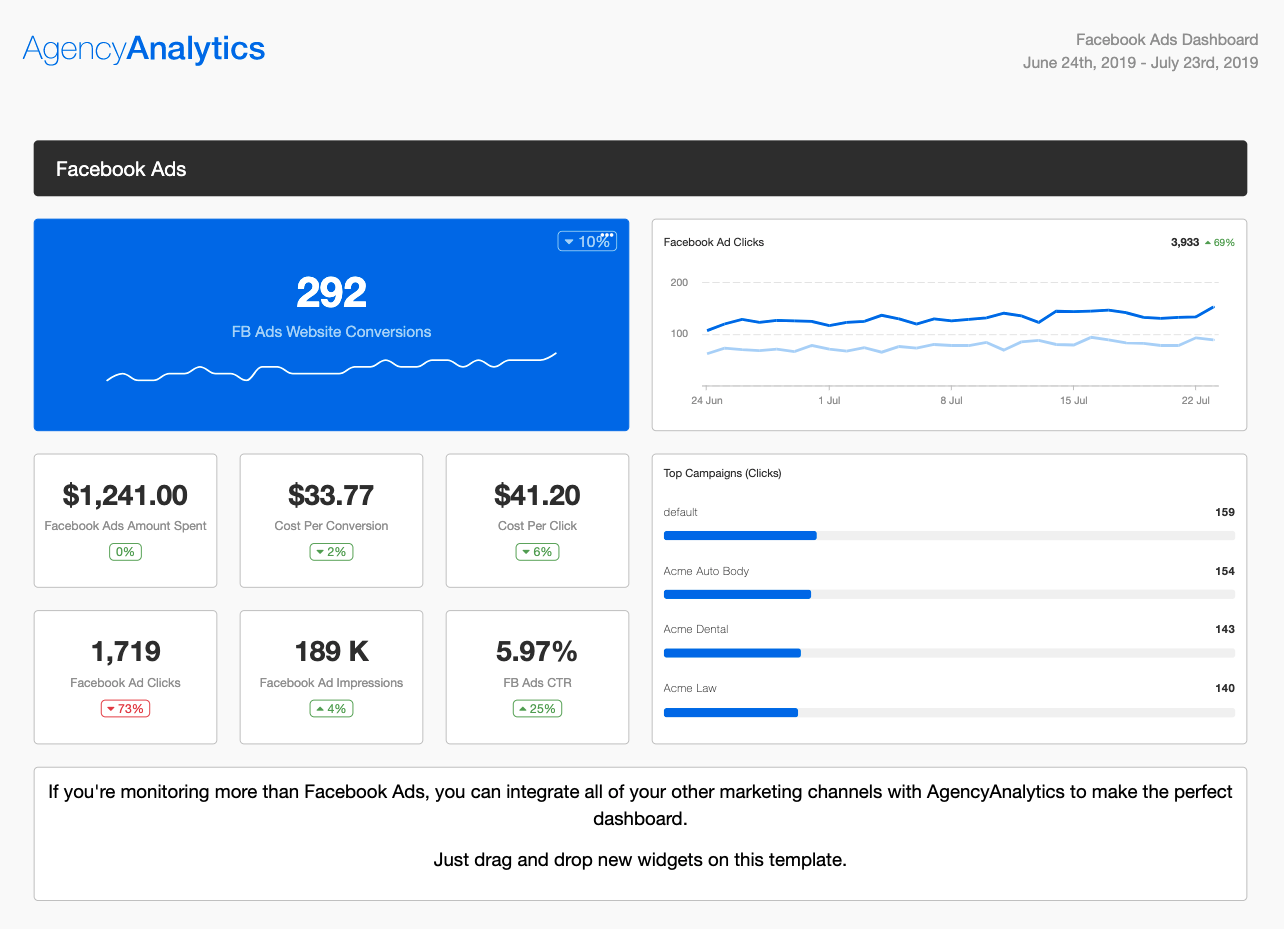 Some of the other pre-built dashboard templates available include:
If instead, you want to use a report template, here's an example of a Facebook Ads report template.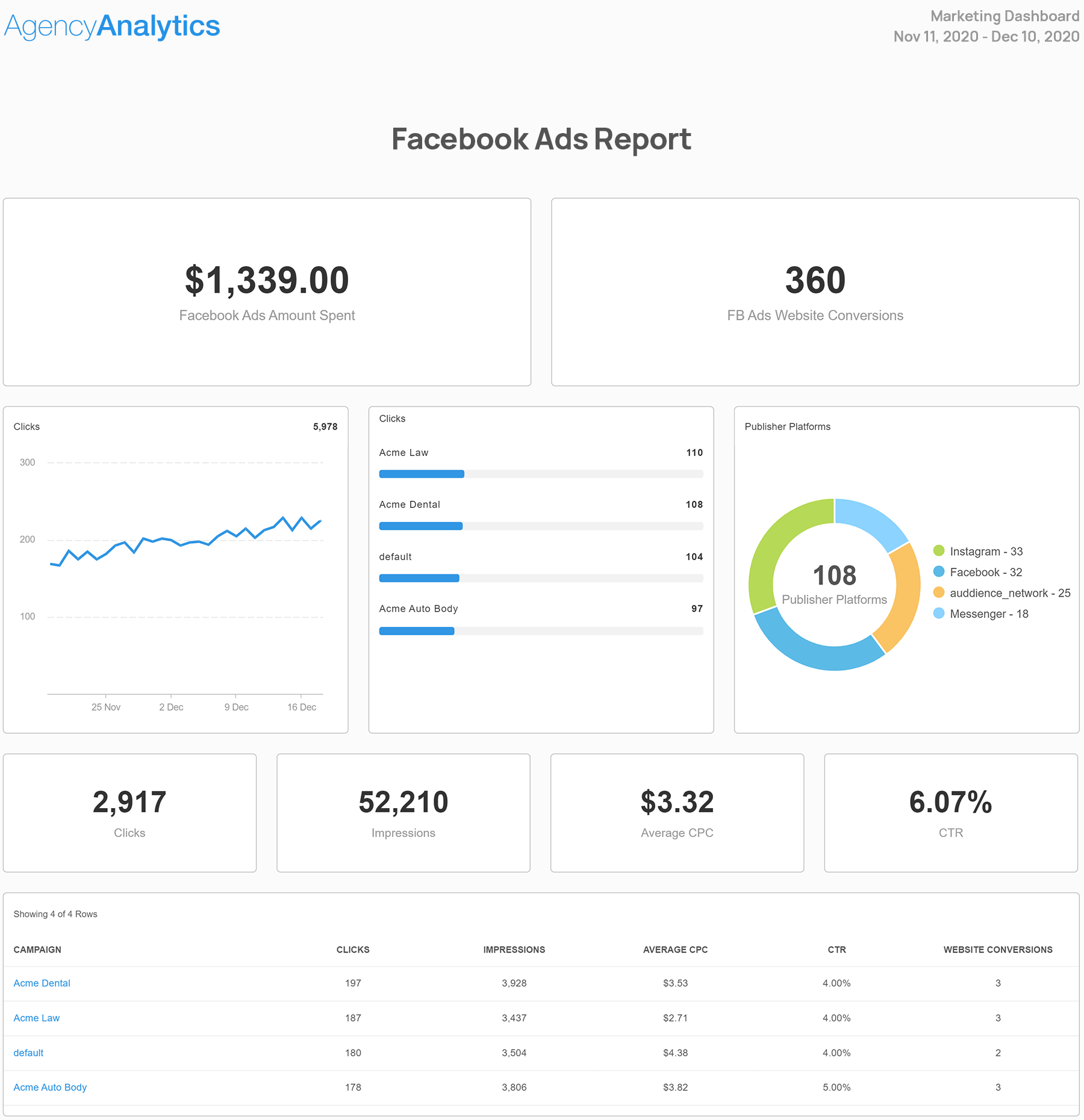 Other popular report templates include:
All of these dashboard and report templates are available for free as part of your AgencyAnalytics subscription. Get started with your 14-day free trial.
Step 4: White Label Your Reporting with Your Agency's Branding
If you haven't already, add the cherry on top to your report by white label it with your agency's branding. The white-label features of AgencyAnalytics include the ability to customize logos, color schemes, if you're on the Agency plan or higher you can add your own custom domain and email, and if you're on the Enterprise plan you can configure white label profiles for each one of your clients.
Select your Profile, go to Settings, and click White Label to upload your logo and brand colors, Subdomains, and Custom Domains.
Read More: How to Quickly & Easily Create White Label SEO Reports
Summary: Automated Reporting for Agencies
As we've discussed, while reporting is an essential part of running an agency, the act of manually creating reports each month can be incredibly time-consuming and inefficient.
Instead of piecing together various tools and trying to manually track data, automated reporting automatically pulls in accurate data through an API so that you can focus on the campaigns themselves.
While there are other types of data analytics and BI platforms available, since they're not focused on marketing agencies this means that the data connections are often not there. Not only that but these business intelligence tools are often designed for data analysts whose sole job is to learn how to use the platform. And so, not all automated reporting tools are built equally.
On the other hand, a client reporting tool like AgencyAnalytics has all the marketing data connections already in place, so all you need to do is connect your accounts to start automating your reporting.
In summary, use a report automation tool like AgencyAnalytics to:
Deliver consistent and professionally designed reports

Scale your agency more efficiently

Ensure data accuracy and transparency

Access ready-to-use marketing report templates offer for intuitive data presentation and easy replication

Demonstrate the value of your agency's services
Invest in the automated reporting tool used by over 6,500 agencies and counting. Maximize billable hours and increase operational efficiency with AgencyAnalytics, free for 14 days.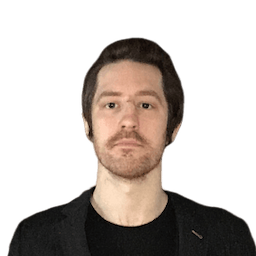 Peter Foy is a content marketer with a focus on SaaS companies. Based in Toronto, when he's not writing he's usually studying data science and machine learning.
Read more posts by Peter Foy ›
Try AgencyAnalytics risk-free for 14 days. No credit card required.