With an estimated 66 thousand orders per hour and 1.6 million items shipped every day, Amazon is can be an incredibly powerful sales channel to grown an eCommerce business.
Although it's easy to set up an Amazon store, with this level of competition it can take a significant amount of time to gain exposure and generate sales. That said, allocating some of your advertising budget to Amazon Ads is a no-brainer for sellers of all sizes.
In this guide, we'll discuss everything that marketers and eCommerce business owners need to know about getting started with Amazon PPC advertising, including:
3 Types of Amazon Ads

How to Create Your First Amazon PPC Campaign

Amazon Ads Metrics & Reporting

5 Amazon Ads PPC Strategies
Let's get started.
3 Types of Amazon Ads
Before we get into specific PPC strategies, let's first review the different types of Amazon Ads available to third-party sellers. There are three main types of ad formats to choose from:
Sponsored Products
Sponsored Product ads are the most common type of Amazon ads and work on a self-service, pay-per-click (PPC) basis. These ads are quite simple to set up and involve selecting the products you want to promote, choosing relevant keywords, and setting the target cost-per-click (CPC) for the campaign. Sponsored product ads have also been reported to boost organic rankings through the increased sales and can in turn create a flywheel effect for your overall revenue.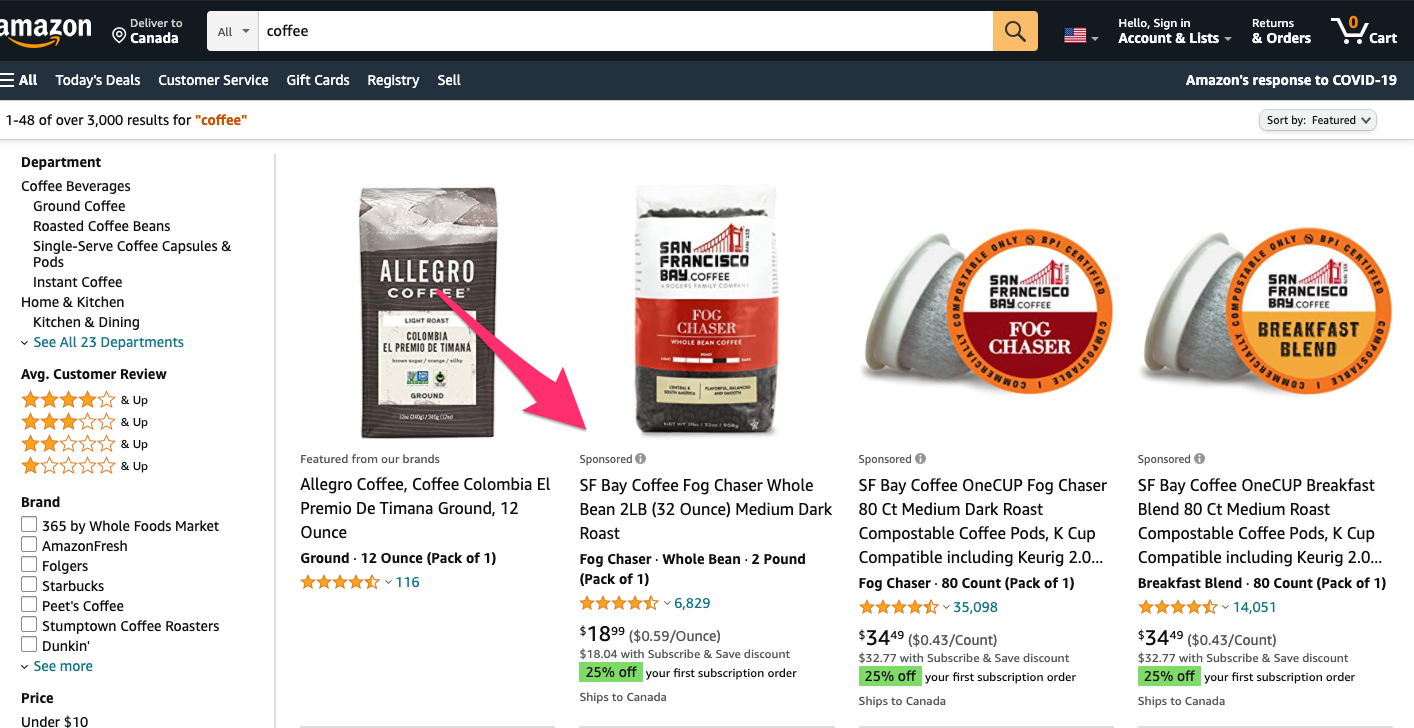 Sponsored Brand
Sponsored Brand ads, formerly known as 'Headline ads', are banner ads that appear in the top, left, and bottom of the search page. Unlike Sponsored Product ads, Brand ads can redirect to your store or a custom landing page. It's important to note that in order to run Brand ads you'll need to have a vendor central account or a professional seller account set up with the Amazon brand registry.
Sponsored Display 
Sponsored Display ads are those that appear both on and off Amazon's main site and can be particularly useful for retargeting. Not to be confused with the demand-side platform Amazon DSP, Sponsored Display is a self-service option that automatically generates ad creative that includes product images, pricing, deals, and more.
How to Create Your First Amazon PPC Campaign
Now that we've reviewed the three main Amazon ad types, let's look at the step-by-step process to create your first campaign. 
1. Navigate to Campaign Manager
Assuming you've created an Amazon Seller Central account, the first step to create a campaign is to log in and select Campaign Manager from the Advertising dropdown: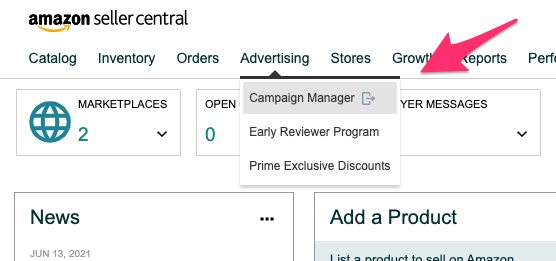 2. Create a campaign & choose the ad campaign type
Within Campaign Manager, you'll then have the option to create a new campaign, name the campaign, set a start and end date, and choose the type of ad campaign you'd like to run. 
3. Set a Daily Campaign Budget
The next step is to set the daily campaign budget. The amount you end up spending each day will fluctuate based on the available traffic and competition that day, although it will be averaged out over a month to hit your daily goal.
4. Choose Your Campaign Targeting
Targeting determines who will actually see your ads. There are two options:
Automatic: Automatic targeting uses keywords and data from your product listing and chooses who to show the ad to based on relevant searches. This type of campaign can be useful at the beginning of advertising a product as it allows you to collect data, although it can lead to less accurate targeting.

Manual: Manual targeting allows you to choose the keywords, negative keywords, and match type for your ads. There are three main match types including broad match, phrases match, and exact match, which tell the platform how closely the search should be to the campaign's target keyword. 
If you want to learn more about how to optime campaigns for automatic vs. manual campaigns, check out this guide from Seller App.
5. Select the Product(s)
The next step is to choose which product (or products) should be included in the campaign. Typically, it's recommended to start by advertising one product per campaign as it makes tracking the campaign's performance more efficient and accurate.
6. Set a Default Bid
Next up, you'll need to choose a default bid for the campaign, which is the maximum you're willing to pay for a click. If you're just getting started with Amazon PPC, you may want to start with Amazon's suggested bid and then adjust it after getting some initial campaign data.
7. Review and Launch Ad
After following these steps, you can do a final review of the campaign and launch it after ensuring all the information is correct. After launching a campaign, it's generally recommended to let it run for one week before making any changes.
8. Track and Report on the Results
Finally, after launching the campaign and letting it for a week, it's time to monitor and review the campaign's performance. Inside Seller Central, you can find your campaign's analytics, or Brand Analytics, under the Reports tab. Alternatively, if you're managing Amazon Ads campaigns for clients, you can use a reporting platform like AgencyAnalytics to automatically collect and report on each campaign's performance. This Amazon PPC data can also be added alongside other marketing metrics in a dedicated eCommerce dashboard.
Amazon Ads Metrics & Reporting
With our recent integration with Amazon Ads, you can now create a dedicated PPC dashboard or report for each client that uses Amazon. In order to track your Amazon PPC results within AgencyAnalytics, the dashboard is broken into four main sections:
Campaigns

Ad Groups

Keywords

Product Ads
In addition to filtering through campaigns with these four tabs, you can filter the results by ad type, including Sponsored Brands, Sponsored Display, and Sponsored Products.
Inside of the dashboard, the Amazon PPC metrics that you can track and report on include:
Conversions

Sales

Cost

CPC

CPM

Conversion Rate

Cost per Conversion

Units Sold
5 Amazon Ads PPC Strategies
With these Amazon PPC metrics being automatically tracked and reported on, let's now look at several Amazon Ads PPC strategies that you can use to optimize performance.
Lower Bids on Certain Keywords
As the Amazon PPC management agency Kenji ROI suggests, one mistake that many sellers make is immediately adding lowering performing keywords to a negative match list. Instead of adding these keywords to a negative match list, if they are still relevant but low-volume keywords, you may want to try reducing the bids by 25% first to see if they are getting better results. As Kenji ROI writes:
Often these keywords will perform profitably at a lower bid, and negative matching it leaves one more keyword for your competitors to drive traffic from that you aren't.
Try Different Keyword Match Types
Another strategy the Amazon PPC agency suggests is making use of all match types in all campaigns, including broad match, phrase match, exact match, and broad modified match. Since all keywords behave slightly differently, there's no general rule for when to use a match type. Instead, try creating an ad group for each match type within a campaign and let the results speak for themselves.
Start with Long Tail Keywords
Another Amazon PPC tip from SellerApp is to start with long-tail keywords before going after broad, generic terms. This advice applies to nearly any PPC platform that you're using as you'll have a tough time competing with more established advertisers in the market early on. With significantly less competition, long-tail keywords allow you to start small, hone in on your brand's messaging, and build up your sales history over time.
Leverage Negative Keywords
We mentioned lowing bids on certain keywords before adding them to a negative keyword list, although at a certain point you'll want to remove them entirely if they're not performing. The reason is simple—negative keywords free up more of your budget for keywords that convert, which will ultimately lower your Advertising Cost of Sales (ACoS). 
Bid on Your Brand Name
Finally, bidding on your own brand name can go a long way. If you're just starting out and don't think anyone is searching for your brand name, you can always keep the budget small. Since many competitors may bid on other brand names, the key here is to make sure you own the search results for your own brand name.
Summary: How to Run Amazon Ads
Even if you use your own eCommerce website as the primary sales channel, Amazon can be a powerful platform for the brand to gain additional exposure and revenue. That said, with the sheer volume of competitors on the platform, ranking organically for competitive keywords can take a significant amount of time. To speed up this organic ranking process and build your sales history, Amazon Ads are a great option for sellers of all sizes.
Just like every other ad platform, the key to success is tracking your results and optimizing campaign performance over time. With our Amazon Ads integration, you can now automatically track and report your campaign data alongside other critical marketing metrics with a dedicated eCommerce dashboard.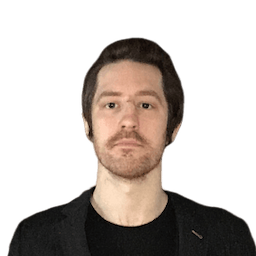 Peter Foy is a content marketer with a focus on SaaS companies. Based in Toronto, when he's not writing he's usually studying data science and machine learning.
Read more posts by Peter Foy ›
Try AgencyAnalytics risk-free for 14 days. No credit card required.