What do Halloween, Thanksgiving, Black Friday, Cyber Monday, Hanukkah, Christmas, Boxing Day, and New Year's all have in common? They are all at the end of the year and offer an opportunity to boost revenue for your clients.
While everyone else is getting ready to set up their out-of-office emails, it's a busy time for marketing agencies. It's your last chance to blow the roof off your clients' revenue goals for the year. Holiday marketing is its own beast and involves more tact than creating cute social media posts and increasing your paid ad spend. 
If you plan it ahead of time, you'll be ringing in the New Year with a bang. But to cruise through your clients' Q4 goals and end the year off strong, you will need to tap into all that holiday spending and stay ahead of the competition.
In this guide, we will cover the following topics: 
What is holiday seasonal marketing?

Setting goals for successful seasonal marketing for agencies

The essential holiday campaign checklist for your agency

Holiday SEO
Let's dive in. 
What is Holiday Seasonal Marketing?
Holiday seasonal marketing is the practice of adjusting marketing efforts around key dates. This is to keep up with seasonal changes in consumer demands. Mark your campaign calendars: gift-giving, celebrations, and generosity are in the air, and people are shopping with intent. 
No matter the holiday, you can bet that there will be a major shopping event inextricably linked to it like Thanksgiving is to turkey. 
Some shifts in holiday consumer behaviours include: 
Shopping online more, resulting in more impulse buys

Discovering brands and buying on social media more than ever 

Shopping for the holidays earlier each year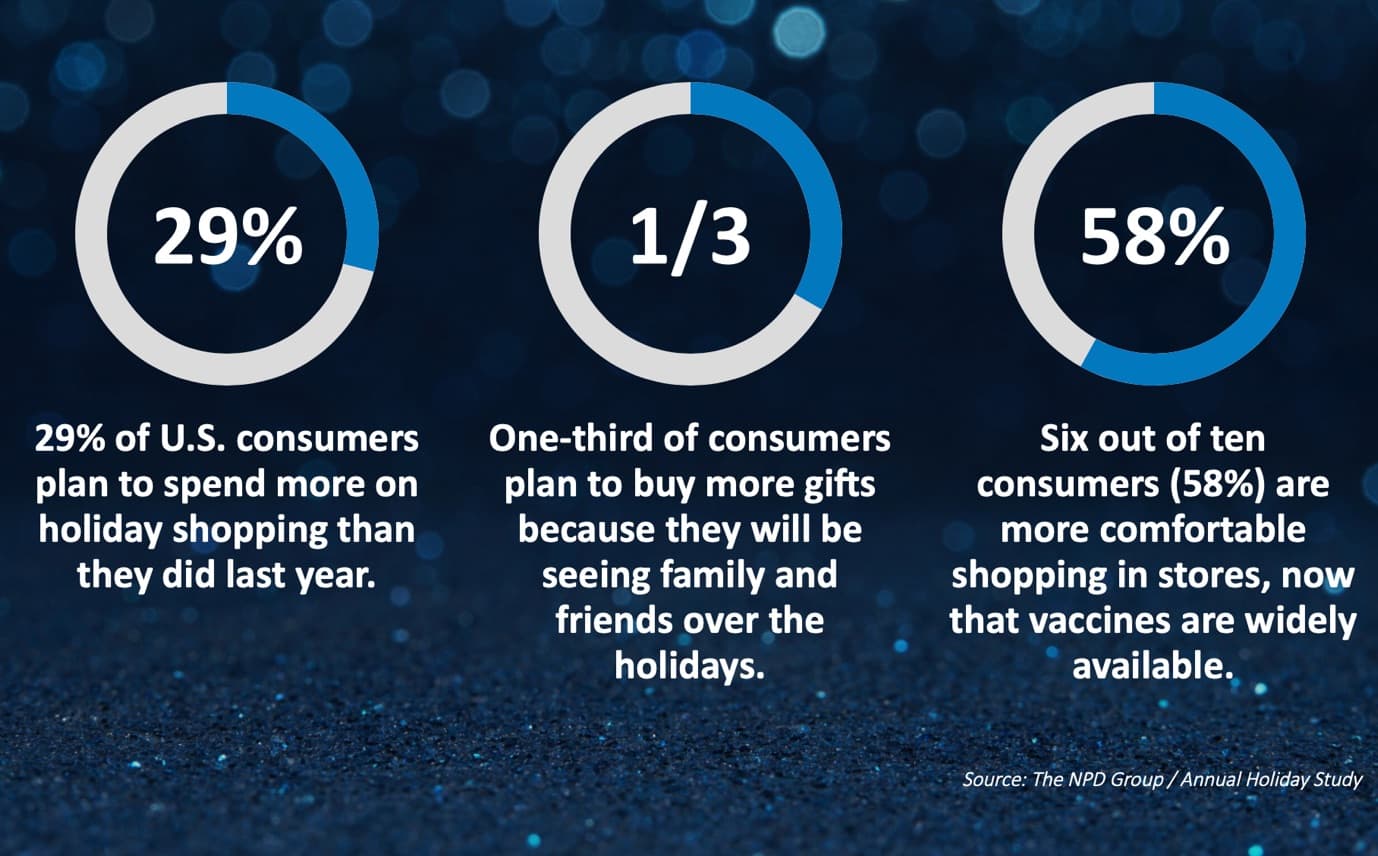 'Tis the season when consumer behaviours shift in nearly every sector. What with marketing trends changing every year, your marketing strategies should too. 
We asked Joey Randazzo, founder of SEO Growth Partners to tell us what marketing trends and changes in consumer behaviour they will be taking into account during this year's holiday marketing campaigns:
There are many shifts in consumer behaviour this year. TikTok is a massive digital platform where consumers are spending a lot of time. However, from our perspective, people will be leveraging Google this year the same way they did last year. Searching for things like: 'Best gifts to get a 25-year-old guy', 'Oregon-related ornaments' or 'Organic cotton t-shirt Las Vegas Golden Knights'

People spend a LOT of time searching around the holidays and we don't expect that to change."
Seasonal marketing for agencies is essential, no matter who your clients are. By keeping their target audience in mind, you can create successful holiday campaigns that'll knock their stockings off. 
What Marketing Goals Do You Want to Achieve Around the Holidays?
The holidays are a great time to focus on specific goals that can keep paying off in the year to come. Ask your clients what goals they want to focus on during the holidays and see if they're a bit different than the rest of the year. They might want to:   
Retain existing customers

Attract new audiences

Boost web traffic

Improve brand awareness

Promote sales

Collect consumer data
CASE STUDY
Here's what Joey Randazzo from SEO Growth Partners had to say about key metric changes they usually notice in their client reporting around the holidays:
There are a couple of things that we notice: 

1. Depending on the industry, traffic can go WAY up or WAY down. For example, many of our local SEO clients are medical clinics. December, for most of them, is a slow month. However, we have a flower shop as a client that sees a huge uptick in traffic and sales in November and December because people are buying flowers and gifts for the holidays.

2. We notice that for our e-commerce brands, conversion rates go up the two weeks before Christmas. Why? It's hard to say exactly, but it's likely because people are buying gifts for others. There's a time crunch. A gift must be purchased and people have a "buy now" mentality.
As you can see from the example above, the medical clinics might have different goals than the florists around the holidays. 
Agency Tip: Make the most of slow times!
Dental & chiropractor clients can pick things up around the holiday season by encouraging their patients to use up their health benefits by the end of the year before their eligible annual benefit amounts expire. That can help them get appointments booked in the slower season.
Once you set clear goals with your clients, the real work begins. Enter the checklist that will boost your agency's seasonal marketing strategy.
Essential Holiday Campaign Checklist for your Agency (You Can Use It For All Your Clients!)  
With eCommerce on the rise, consumers are in buying mode year-round, ready to act when the right message hits at the right moment. Luckily, the holidays are a great time to reach your target audience, but to make sure you ride that holiday wave to success-land and have your clients calling you drunk on New Year's eve, you'll need the right strategy. 
It's easy to miss the boat in a sea of information-overloaded consumers. The competition is high. 
And if you don't want to miss the boat, get here early. 
1. Stretch out your holiday campaigns
There is no longer an official start date to begin holiday shopping. Gone are the days of rushing to the blackout sales and risk being trampled by a crowd of people hungry for a deal. According to Adweek, nearly half of shoppers started their holiday shopping early in 2020, and often instead of the classic doorbuster sales. 
When does SEO Growth Partners start planning their clients' end-of-year holiday campaigns? Hint: Because of the long-term impact of SEO, it's earlier than you'd think! 
Here's what Joey had to say:
We are heavily focused on the SEO side of things, so we start planning for the holidays 6 months in advance. The amount of people that call us in October and November saying 'Hey, we want to get our SEO in the right place for Black Friday and for Christmas. Can you help?'

... it is absurd! That's not how SEO works.

Therefore, when we build out our client campaigns and calendars, we're thinking about the holiday season in May and June since we know that SEO takes time to stabilize and perform. With more consumers buying before November, marketers need to plan ahead of time.
Agency Tip: It's never too late to boost your biz dev by signing up more clients during the last days of the year! 
Our sales team usually had several clients who wanted to sign on or renew in December to have the invoice paid for the end of the year to take advantage of tax benefits" says Lindsay Casey, AgencyAnalytics Paid Campaign Manager, of her previous agency.
Some clients are less busy during the holidays and are looking to max out their business expense-related tax credits for the year.
2. Create value for the customer with deals and unique shopping experiences
Ecommerce sales historically go up by 47% during the holiday season. But while there's more traffic to capture, there's more competition too. After all, you're all competing for the same eyes, and will need to come up with new ways to promote purchasing behaviour with incentives like: 
Discount incentives

Exclusive shopping 

Creative and engaging ads
As you see in the chart below, online purchasing behaviour is quite different than in-person shopping. In-person buyers select the store before shopping. Online shoppers search for a product before a store, leaving it to the brands to battle it out to reach the consumer.  
Tip: Studies show that discounts work. It'll also allow your agency to promote it in your holiday campaigns. 
Sounds simple enough? There's more. 
According to Nielsen IQ:
...the relevance of standalone sales events is dwindling in favor of developing platforms and communities centered around exclusive shopping experiences, across both e-commerce and brick and mortar storefronts.
In other words, driving massive traffic to your page doesn't translate to higher conversions anymore. You must keep customers engaged. 
It is no longer a numbers game, but a game of quality and wit. 
In an evolving digital marketing landscape, the best way to ensure your clients are uniquely positioned is to use creative ads. It's all about intelligently driving conversions. Without a good customer experience online, your clients may have a great product/service, but they'll be left like a bird without wings... Like an owl without feathers... You get the gist. 
With more brands competing for the same eyes, the competition is getting greater than ever before online. 
So how do I get peoples' attention, you ask? The answer partly lies in video.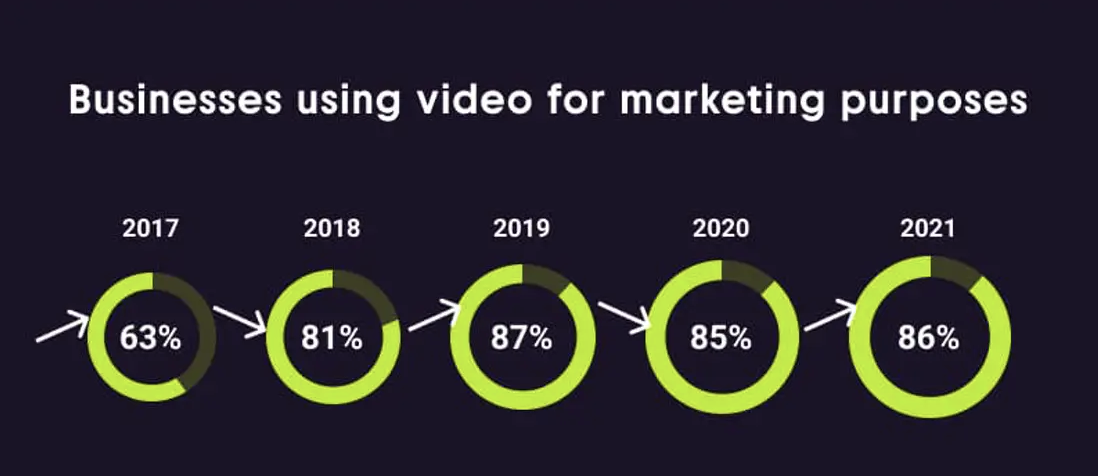 The digital landscape is constantly changing, and video is here to stay. Even on a low budget, your clients can engage with people on a variety of platforms in a unique way. And if the content is good, it's shareable and fun for everyone.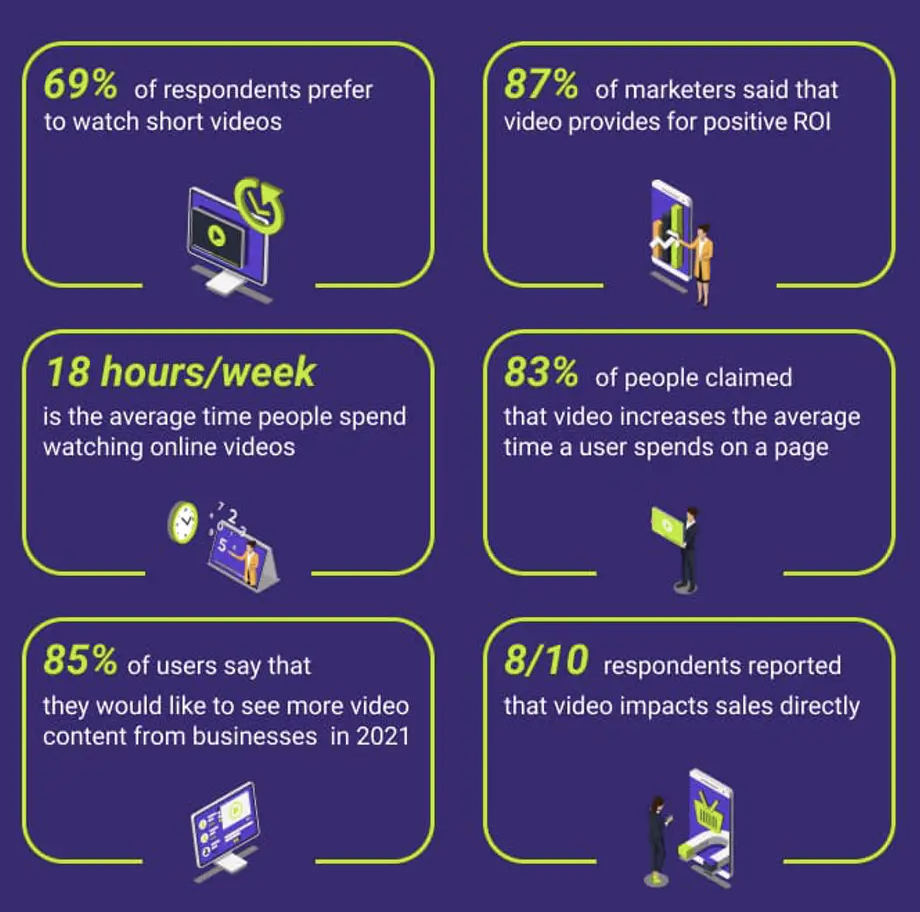 Ensure your clients are well-positioned with creative ads that intelligently drive conversions.
Tip: Send personalized videos in email campaigns so you can get as specific as you like with your audience.
3. Get aggressive with your bids
During the holiday season, there is much to celebrate for marketing agencies:
Click-through rates double

Ad impressions are shown to 1.5 more people

Conversion rates go up by 60%
(Source)
There's no such thing as social distancing in digital marketing. Ad space gets crowded around the holidays, and so does the competition. Inflow recommends getting aggressive with your PPC bids during the holidays, especially around high transactional or commercial intent keywords. By increasing the budget, you milk the rise in click-through rates that are higher than any other time of year.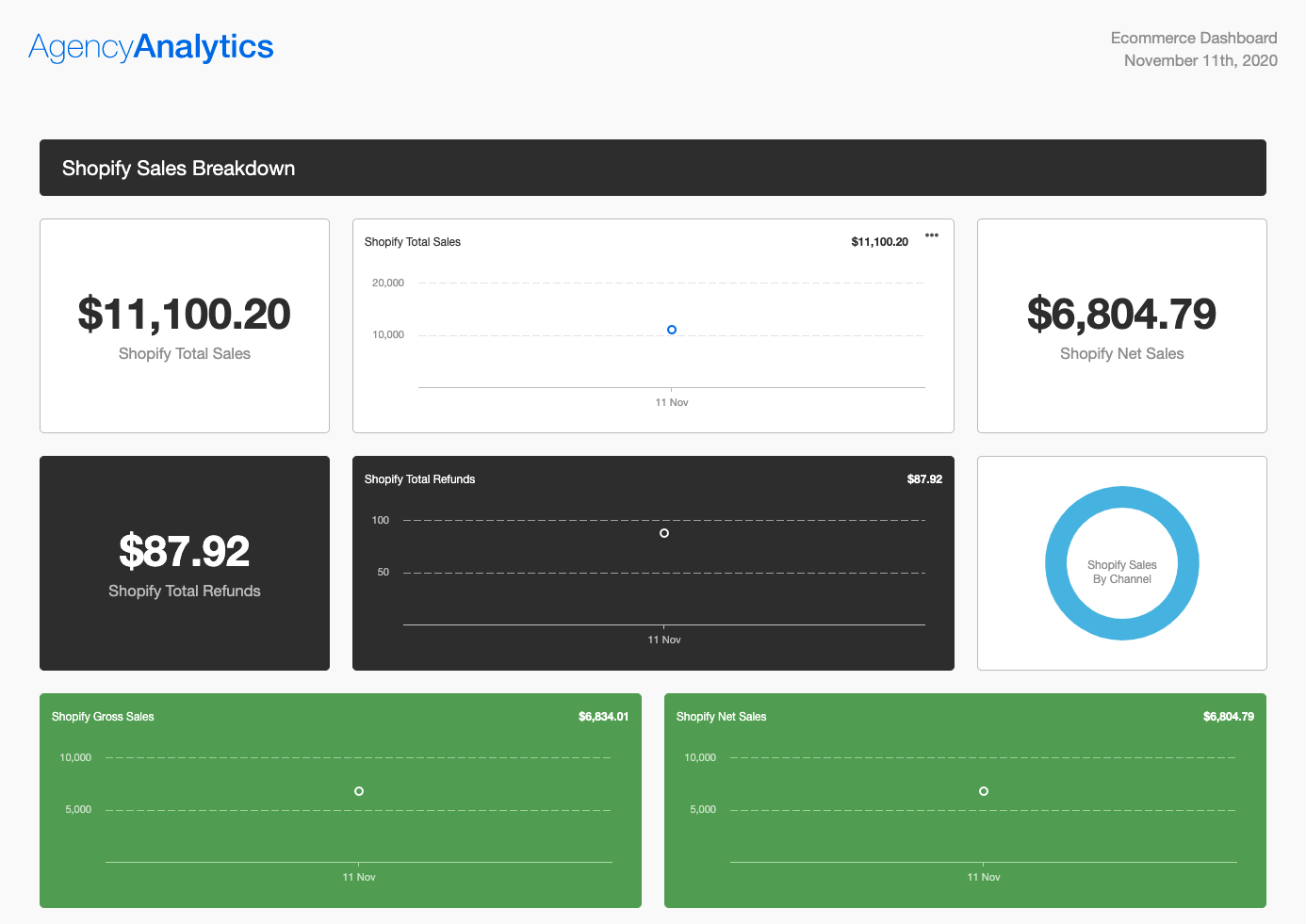 Tool: Track all your PPC, SEO, and eCommerce conversions
4. Set up your email marketing campaigns for success 
The holidays are no time to ease up on the email marketing front. 
Why? Because email marketing efforts tend to convert better than any other method. Studies show that email has the highest conversion rate when compared to social media, direct mail, and other marketing message sources. 
Here's another stat just to bring that point home. 
Get creative, have fun, and remember to test.
Tool: Track your email marketing campaigns and redefine your clients' reports with AgencyAnalytics' personalized email marketing report.
Lastly… Don't Forget the Three Magic Letters: SEO!
If you want to increase organic traffic to your clients' websites in the first place, you need to stay up to date with the latest keywords around the holidays too. Keyword trends change with the seasons, so it's no time to ignore the holiday chatter.
Tip: Use Google's Keyword Planner to see what words can help improve your content's ranking. Including words like "seasonal" can help you increase traffic during the holidays. 
Even though people still love to shop in brick-and-mortar stores for the human experience, they need to be able to find you. Mobile is the door to the store, so if your client has a local business, be sure to optimize for local SEO. 
Tool: Track key marketing metrics with our white label SEO reporting tool
Summary: Boosting Holiday Seasonal Marketing for Agencies is Key to Happy Clients
The holiday season is the annual culmination for your clients. With consumers savvier than ever, you need to provide an engaging customer experience and take advantage of an influx of consumer traffic. 
To take advantage of holiday seasonal marketing:
Re-assess your clients' marketing goals during the holidays

Create an engaging customer experience with unique campaign ideas

Use measuring tools to adjust campaigns as needed 
Happy clients, happy agency, happy holidays. 
Written by
Melody Sinclair-Brooks
Melody Sinclair-Brooks brings nearly a decade of experience in marketing in the tech industry. Specializing in B2B messaging for startups and SaaS, she crafts campaigns that cut through the noise, leveraging customer insights and multichannel strategies for tangible growth.
Read more posts by Melody Sinclair-Brooks ›
Try AgencyAnalytics risk-free for 14 days. No credit card required.