It's a familiar balancing act. As an agency owner, it's vital to remain aware and open to adopting new technology and services. But with so many options entering the spotlight at any given time, how do you gauge what's just a flash-in-the-pan, versus the areas that are worth the time and investment?
Since 2012, the founders of seoplus+ have placed an emphasis on innovation to remain relevant and competitive. Brock Murray, Co-founder and COO, has a natural proclivity for emerging tech and an openness to testing new services that's proven to be an effective strategy for growth. seoplus+ has grown from a team of 2 to an agency with 52 employees serving 180+ clients.
Most recently, seoplus+ has begun testing a ChatGPT service offering that, once launched, will allow them to scale client content for a fraction of the price. 
Today, Brock is sharing his 6-step framework for choosing and launching innovative client services that leverage new tech. Whether your agency is currently working with AI, planning to work with AI, or even decidedly resisting it, Brock's framework can be applied to your decision-making process for any kind of new service launch, helping you determine whether an offering has the chops to push through the noise and deliver long-term ROI.
| Name | Agency | Agency Stats | Location |
| --- | --- | --- | --- |
| Brock Murray | seoplus+ | 52 employees, 180 clients, Est. 2012 | Ontario, Canada |
Observe, Adapt, Pivot
seoplus+ launched with a focus on website design, right around the period when Google was shaking up the SEO industry with the Penguin algorithm update to combat webspam techniques. 
"I didn't know back then that it was such a good time to start the business," Brock says. "A lot of our local competing agencies had clients who had been penalized by Penguin. So all of these businesses were looking for help and needed an agency that would create high-quality content." 
Brock and his team read the room and decided to pivot from focusing solely on website design and development to providing SEO services that addressed the current client concerns. They started by creating a blog package that would push client websites back onto search engine results pages. 
Since then, the agency has adapted and pivoted several more times.
"When we first started, business blogging was the thing to do if you wanted to drive traffic," he says. "And then, especially with Instagram, the content shifted to more imagery and now we're seeing a boom with TikTok, IG Reels, and YouTube Shorts."
Image: Short-form video services that seoplus+ offers their clients to stay relevant and reach their intended audiences. 
With each pivot, seoplus+ has been able to remain relevant and competitive, even during the frequent shake-ups that characterize the marketing industry. As a result, the agency has consciously placed innovation as a primary value, keeping their eyes consistently on the horizon, watching for clues regarding what the next opportunity will be.
Early Adoption of AI and Automation Tools 
As AI was slowly creeping into the spotlight, Brock had his ear to the ground taking in early discussions surrounding AI tools in SEO circles. The seoplus+ leadership team was discussing OpenAI for years prior to the AI company bursting into the headlines with GPT-3.5 and began testing out the capabilities and potential use cases early. 
"I would use ChatGPT whenever I felt stuck installing a plugin on a WordPress site, and I needed some guidance," Brock explains. "I pasted in snippets of code, and it actually helped me work through a challenge."
After testing out the tool himself and hearing other industry leaders talking about how AI is going to "change the content game," Brock decided to roll the program out to the managers and leaders at seoplus+.  
"It was a big investment at $30 US per month, per user. It adds up quickly," Brock laughs. "So we started off just with the managers and got them to work with and understand it." 
Once he had the leadership on board, they rolled out ChatGPT to the entire team. Some team members were more open than others. 
"It's a challenge when you're working in a high-volume agency because there's a lot going on at all times," he shares. "Sometimes when you're busy working on the day-to-day and someone tells you about something new, it doesn't feel like it's an important thing to focus on right now." 
To work through this challenge, Brock and the leadership team hosted a weekly "Training Thursday" presentation to look at how each department could use ChatGPT. 
"We actually showed them examples of how every single role could use it and talked about the pros and the cons of it as well," Brock explains. "We wanted to show the team the benefits of automation, like, for example, code interpreter to help us with different files, image conversions, and code editing." 
seoplus+ also looked into leveraging ChatGPT to streamline their paid ad services. 
"The fact that you can feed in historical information about your clients' campaigns is really exciting," Brock explains. 
"We can go back 10 years and export all of our Google ads campaigns for our clients, feed it in GPT, and then fill in the results. Then you could say, 'Okay, if I'm building a campaign for a roof builder or in this location, and I want to have a successful campaign for this type of service, can you build it for me? Or what is the target keyword I should track?'" 
Looking at a client's historical marketing data and building a campaign with automation is just one way they've experimented with speeding up manual processes. Being a customer of AgencyAnalytics since 2015, the seoplus+ team had long seen the value in using automation tools to streamline processes like their client reporting. 
"Our centralized marketing dashboards not only save us valuable time but also empower us to proactively address and flag any concerns, fostering a proactive and efficient workflow," Alexa Rees, the SEO manager at seoplus+ shares.  
Image: The seoplus+ team at their annual golf tournament at the Emerland Links Golf & Country Club
Experimenting With An AI Content Creation Package 
"Honestly, last year was challenging for us because we were lucky enough to see growth during Covid, but now we're seeing clients starting to tighten budgets a little bit due to a fear of a recession," Brock confides. 
In response, the seoplus+ team turned their attention to exploring the ways that AI might be leveraged to remain a viable option for existing and future clients. "Clients want to be able to scale their campaigns, but transparently, at our price point, it's hard to make that happen without cutting the quality," Brock admits. 
Thinking about ways to produce large amounts of content at a reduced cost for their clients, seoplus+ knew they wanted to experiment with AI.  
"We're talking about huge publication clients who want to create thousands of pieces of content and how our team can achieve that at scale," Brock says. "Because there are clients who need that amount of content to rank and stay competitive. We want to help them reach their target audience but not put their business at risk." 
To reach this goal, seoplus+ is currently testing a ChatGPT package with the intention of a formal launch at the end of 2023. The package involves:
Training ChatGPT to use information provided by clients and create "templates" for repeatable prompts.

Building a content strategy at half price that will build transparency with clients knowing that this is a new service and specific results are not guaranteed from the trial.

Generating content at scale by first focusing on the editing process and quality before anything gets published.  
The pilot isn't without its concerns, however. While  Brock is cautiously optimistic about the future of AI at marketing agencies, he's worried about Google eventually penalizing ChatGPT content in the future, and conscious that his team may spend more time editing AI content than if they made the pieces from scratch initially. 
These concerns have made it all the more important to carefully test and measure the ChatGPT pilot before launch.
A 6-Step Framework To Identify and Test New Service Offerings
To ensure a seamless launch followed by long-term ROI, Brock and the seoplus+ team have developed a process for identifying and testing new service offerings. Here are his top tips.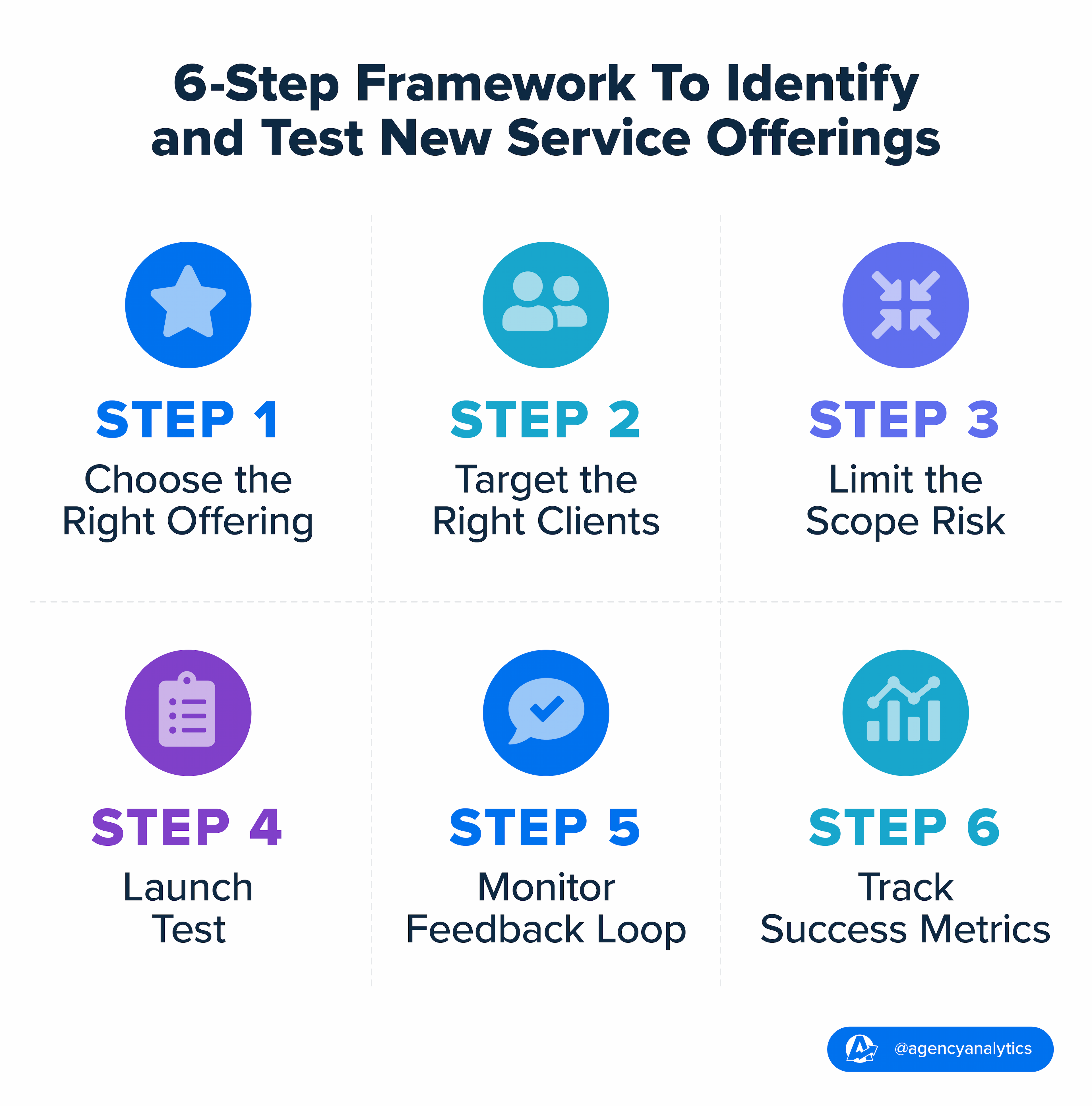 1. Choose the Right Offering
While it's tempting to hop on every trend that piques your clients' interest, you'll need to consider if a "trendy" service is well-suited for your agency. Ask yourself:
Is this trend complementary to our current service offering? (For example, a social media agency offering vertical video production is a logical extension.)

Does this trend benefit our current or potential clients?

Does our team have the skillset and capacity to offer this new service?

Are our competitors likely to offer this service? Will we need to explore this trend to remain competitive?
"There are certain services that are your core offering," Brock explains. "For us, those are obvious things like SEO, content, web design, and web development." 
Others are "nice to haves" that may not be worth the time investment to launch in-house, but might make an excellent focus for building strategic partnerships with other marketing agencies as you scale.
Currently, 78% of marketing agencies are using AI for content creation, and by the end of next year, that number will jump to 91%. Given that seoplus+ already focuses on creating large amounts of content for their clients, testing the waters with AI technology was a worthwhile investment to help them scale.  
2. Target the Right Clients 
Rather than offering a new pilot service to all your clients, pick a small, select group to experiment with the rollout. 
For the ChatGPT program, seoplus+ chose "safer" clients who have been working with them for many years. The trust has been built, they have a great relationship, and their business is more stable, making them more willing to take a chance on something new.  
Clients should also be selected based on their long-term growth goals. A client who wants to expand their business is more inclined to purchase more services to achieve this. The seoplus+ ChatGPT ideal client profile includes multi-location businesses with different target markets across Canada. Each business will need large amounts of content produced to scale their SEO for multiple locations, including their Google Business Profiles, location landing pages, and social media and review platforms.  
"We partner really well with organizations where we can handle the scale of those campaigns," Brock says. "We've had a lot of success working with them because we work hard to understand the challenges and learn to speak the language of each of those businesses." 
These multi-location clients want to scale and are perfectly suited for the AI service offering. 
3. Limit the Scope Risk 
Next, choose your projects wisely. For example, rather than starting out on a huge website and a massive rollout, work on a microsite or one piece of content at a time. When rolling out a new service offering, seoplus+ breaks it apart into manageable chunks where the risk is minimal. 
"Just like setting any goal. It's the micro steps you take to achieve those goals that get you where you want to be," Brock smiles. "It's never going to happen overnight." 
Rather than testing 100 pieces of ChatGPT content on one of their biggest clients, they're conducting smaller, focused tests with one piece of content at a time. Once they have proof that the program is working, it can be scaled accordingly.
4. Launch Test 
If your client is willing to be your guinea pig, consider giving them the service for free or at a discounted cost during the trial run. You don't want to make clients pay full price for your agency's experimental services. When running a trial, you should expect to give a little. 
Right now, as seoplus+ beta tests its AI content package, clients are receiving the service for free.
"We're not charging for it right now because we're testing the product," Brock explains. "And when we roll it out officially, we're aiming for the package to be at half the price point of what we would charge if we were manually generating content." 
seoplus+ has also practiced this system in the past with the rollout of short-form video content. They started by testing it out on their own platforms, and then enticed some clients with 50% off the service price. 
"There's a little bit of wiggle room, and clients are more patient to work through the process to see what works." 
5. Monitor Feedback Loop
Throughout the trial process, connect with your clients to ask how they're finding the service. Then, make tweaks and adjustments to the process along the way.
"You want to see what works, what doesn't and get feedback on things until you get to a place where you feel confident," Brock says. 
When testing a new service, it's easy to become myopic and lose sight of the big-picture goals. Having regular check-ins with clients allows your agency to understand granular details regarding quality, as well as address any concerns your clients may have about the efficacy of the service offering. 
6. Track Success Metrics
Establish success metrics ahead of time and keep an eye on them as the experiment unfolds. This way, your agency will know when the service is ready to launch. 
For seoplus+, their success metrics for the AI package are:
Is the content high quality and up to the standards of the client?

Is the content ranking?

Will the content continue to rank over the long term or will Google penalize it? 

Is it helping seoplus+ achieve their goals: providing quality content services at scale, and catering to larger clients who they currently don't have the bandwidth to provide ample manual content for? 
Once the results have been measured and are hitting targets, your agency begins the exciting next steps of officially launching your innovative service offering and seeing where it takes you.
The Delicate Balance of Planning and Pivoting
Innovation presents myriad benefits, but can also make planning for the future challenging. When you know that a big part of your business ethos revolves around adapting to current trends, you need to keep your options open.
Brock advises creating big-picture goals to work towards and focusing on building confidence in your decision-making skills. When you want to offer a new service at your own agency, trust that your experience makes you uniquely qualified to identify opportunities and go after them. And when other people doubt your plans, it's important to celebrate small wins along the way to the big-picture goal.
"Knowing who you are and staying true to your values is really important," he says. "If your confidence is wavering, it can hurt you when trying to approach new challenges. But if you're just going with the rest of the crowd, you're never going to stand out and you'll miss out on a lot of opportunities."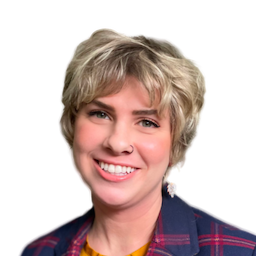 Richelle Peace is a joyful writer with a degree in Journalism. She loves writing web content, blogs, and social media posts. Whatever the topic, she's fascinated by learning and sharing.
Read more posts by Richelle Peace ›
Try AgencyAnalytics risk-free for 14 days. No credit card required.