Three areas of AgencyAnalytics get updates today: We've added some powerful new reporting features, a huge range of new date range options, and funnel widgets for a number of integrations!
Some of these updates would be big news on their own. All together though, today represents a huge step forward for our platform, and a huge step forward for your client reporting!
First up, you'll notice some great new reporting functionality. Our biggest update is the ability to add data from multiple campaigns to one report! Reports now also have a "send now" button, an "approve before sending" option, and you can pause any scheduled report. Plus, you can instantly email reports from any dashboard.
On top of this, our date range options have had a huge overhaul to give you more choice! All of the previous options are still there, but you can now also choose rolling custom date ranges, fully custom comparison periods, and apply a range of new date options to individual widgets.
And last but not least, you can now show funnels for a lot of different SEO, PPC, and Google My Business integrations. Access intuitive visual representations of how many impressions or searches lead to clicks, and how many clicks lead to conversions. Add these to reports to give clients an instant picture of how you're moving their audience towards their specific marketing goals.
That's a lot of new features! Let's take a look at all of the details now.
Report Updates
Multi-campaign reports
One of today's biggest update is the ability to include multiple AgencyAnalytics campaigns in one report. Quite a few agencies have asked for this feature, so we're excited to release it!
To build a multi-campaign report, go to "Reports" from your root Campaigns dashboard.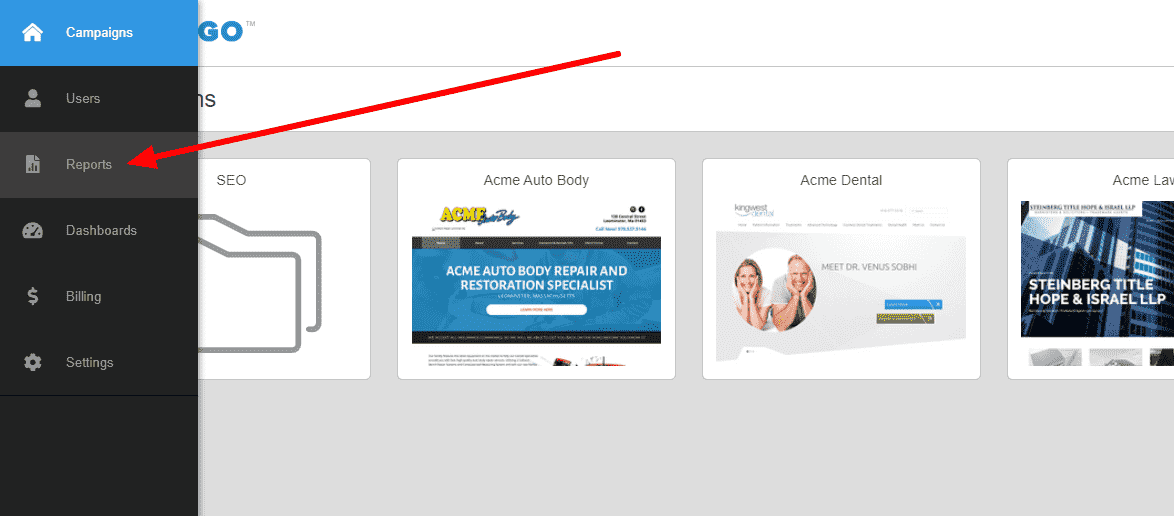 Start a new report there, and choose "Multiple Campaigns" when specifying the campaign you'd like to report on.
In our report editor, you'll have the ability to specify a campaign when you add a new report section, and also when editing any individual report widget. If you get stuck, there's more detailed instructions here.
This is perfect for clients with multiple websites, multiple locations, or multiple accounts with an integration (e.g. multiple Facebook accounts). You'll be able to add all of this data to a single client report!
It's also great for agencies who want to give themselves a quick overview of multiple clients at once. For example, you can send yourself an automated weekly report showing rankings for multiple clients, their web traffic, or any other key metrics, to ensure your entire team is on top of any changes.
The new multi-campaign reporting feature is available to customers on our latest Agency and Enterprise plans. If you're not sure whether your plan covers it, just reach out to our support team.
Report approval
Our next reporting update is another one that agencies have been asking for: You can now choose to approve reports before they're sent out to clients.
When you're scheduling a report, you'll see a "Require Approval" drop-down option. If you need to set this for an existing report, just open the report's scheduling settings.
The report approval feature allows you to check all of the data in your reports before they're sent to clients. You'll be able to make changes, add extra metrics for context, or include comments explaining anything unexpected.
All of this gives you more control over your client reports, and helps avoid any surprises or panicked client calls.
The ability to approve reports is available to customers on our latest Agency and Enterprise plans. If you'd like to know whether your plan gives you access to this feature, reach out to our team.
Pause reports
If you have a scheduled report, you can now pause it whenever you need. Simply open the report's scheduling settings, then choose "Paused" in the frequency drop-down. Easy!

Send reports now
Need to push an email report out to your clients? You can now do this anytime, via our new "Send Now" option.
Choose any report, click the "Export" button at the top right, then hit "Send Now". You'll be prompted to choose the report's date range and recipients, and they'll then receive an email right away.
Email from any dashboard section
Today's next reporting update gives you the ability to automatically email a report from any dashboard within our platform.
Just click the "Export" button at the top right of any dashboard, and choose "Send via Email". You'll be prompted to choose the date range and recipients before the report is sent. See here for more information.
Reports sent with the "Send via Email" dashboard option will contain all visible widgets on the dashboard.
This is very similar to our "Share Link" option, which allows you to instantly create a shareable web link to the dashboard you're viewing. Now though, you can easily email it as a report.
Report log changes
Speaking of that "Share Link" option, we've made some changes there as well. You can now see a full list of all reports you've shared as a live web link. You can view, edit, and delete these web links, to ensure you're only giving access to those who need to see it.
We've also implemented a small UI change to your report logs: Use the "Email", "Download", and "Links" options (shown above) to browse those different report log options.
"Links" is for the links to web reports we've just covered.

The "Emails" section shows you the send status of each report, including reports that are awaiting approval.

The "Downloads" section gives a full list of PDF reports you've exported (with the option to view or delete them).
Date Range Updates
We've already covered a lot, but there's more! We've rolled out a huge range of new date range features to go along with today's reporting improvements. Let's take a look now.
New "Last __ Days" and "Last __ Months" date range options
First, our brand new "Last __ Days" and "Last __ Months" options mean you can specify the exact number of rolling days to show on your dashboards, and for any widgets in your reports!
Just fill in the blank with the exact number of days or months you'd like to show.

We know that agencies can have very specific reporting needs for some clients. This update allows you to do almost any type of reporting, giving you full control over what each widget shows.
Need to add some data on the last 60 days within a weekly report? Easy. Want a chart showing a 14-month trend in that same report? No problem!
This update allows you to add long-term context to short-term reports, show multiple timeframes side by side, and automate your own fully custom date ranges.
The options are available as a global setting on dashboards via the date range selector at the top right. You can also change each individual widget's date range on custom dashboards and in reports (via the widget's settings).
New "Include Today" date range option
You now have the choice to include or exclude today's data in your rolling date range options (e.g. date ranges like "Last 7 Days"). Simply check the box in the date range selector, and you're good to go.

Note that the "Include Today" checkbox only appears when it's applicable. For example, it won't appear for custom date ranges.
Fully customizable comparison periods
You've always had the choice to compare to the previous period or the previous year. Now, you can also set any custom comparison period you like!
Just choose "Custom" under the "Compare to Previous" option, and use the calendar to specify your date range. Your comparison choice will be shown in gray on the calendar.

This is helpful if you need to lock in a specific comparison period, for example to compare your agency's work to your client's previous agency, or to show current sales (or traffic, engagement, open rates, etc.) against a particularly good (or bad) benchmark period.
Keep in mind that you can also easily compare to a custom rolling "Last __ Days/Months" date range by simply choosing to compare to the previous "Period". When doing this, the comparison period will always match your rolling date range.
Other date range updates
You'll also notice a few more preset date range options, including "Last Month", "This Year", and "Last Year".
And, importantly, we've added all of the above date choices to individual widgets on your custom dashboard and in reports! This means you can easily customize the date range of a widget via the widget's settings, as well as setting a global dashboard date range.
New Funnel Widgets
Today's final update is for our brand new funnel widgets, available in all reports and custom dashboards.
These new funnel widgets include:
Google Search Console (still known by some as Google Webmaster Tools): Impressions and Clicks Funnel

Bing Webmaster Tools: Impressions and Clicks Funnel

Google Ads: Impressions, Clicks and Conversions Funnel

Facebook Ads: Impressions and Clicks Funnel

Bing Ads: Impressions, Clicks and Conversions Funnel

Adroll: Impressions, Clicks and Conversions Funnel

Google My Business: Searches and Clicks Funnel
The fastest way to find them is to search for "funnel" when adding a widget.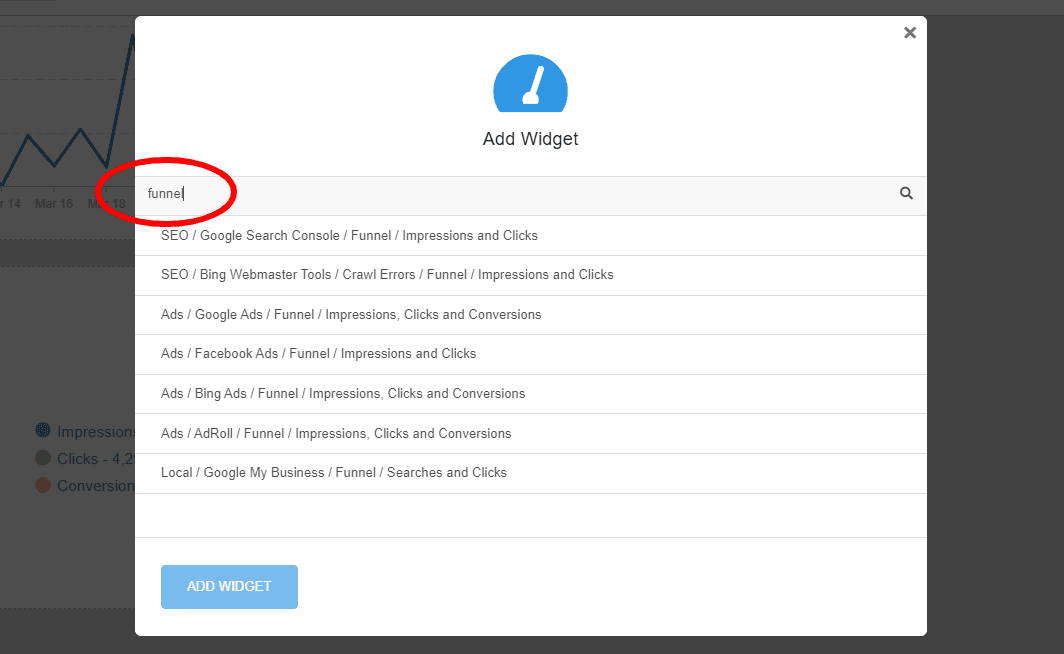 Once you've added your funnel, you'll see a clear visual representation of how one metric (e.g. impressions) leads to another (like clicks). This helps you show clients the exact proportion of people that move along a path towards traffic or conversions.
Use the funnel widget's settings to filter PPC funnels by a specific PPC campaign, or to filter a GMB funnel by a specific business location.
That's A Wrap!
We hope you're as excited as we are about today's updates.
If there's something else you'd like to see with AgencyAnalytics, don't hesitate to let us know. We've got more plans in the works, but we also love to get suggestions from our subscribers to help guide everything we do.
Leave your comments about today's updates below, or reach out to support@agencyanalytics.com to start a conversation.
Matt brings over a decade of experience managing customer-facing teams, projects, and research across a wide range of industries. He now leads the customer support and customer success departments within AgencyAnalytics.
Read more posts by Matthew Davis ›
Try AgencyAnalytics risk-free for 14 days. No credit card required.