The number one question and concern we hear from agency owners is: How can I grow my agency and get more clients?
Reaching new clients is an essential (and often time-consuming) part of running a successful agency.
With the continuous increase in the costs of marketing needed to stay a step ahead of your competitors, every ounce of energy you put in matters. That said, there is one proven strategy to acquiring new clients that stands apart: referrals.
According to a recent Nielsen report, recommendations remain the most credible form of advertising, with 83% of people saying they trust the recommendations of friends. What's more, 84% of B2B buyers are now starting the purchasing process with a referral.
The most important part of this strategy lies in what you are already doing—delivering excellent results to clients.
However, many agencies still fail to actively leverage referral marketing. Perhaps it feels uncomfortable to ask for a referral. Or you simply think that your clients will naturally refer you on their own, which often isn't the case.
Below are five suggestions on how to get more client referrals and leverage your existing network.
1. Offer a Referral Reward Program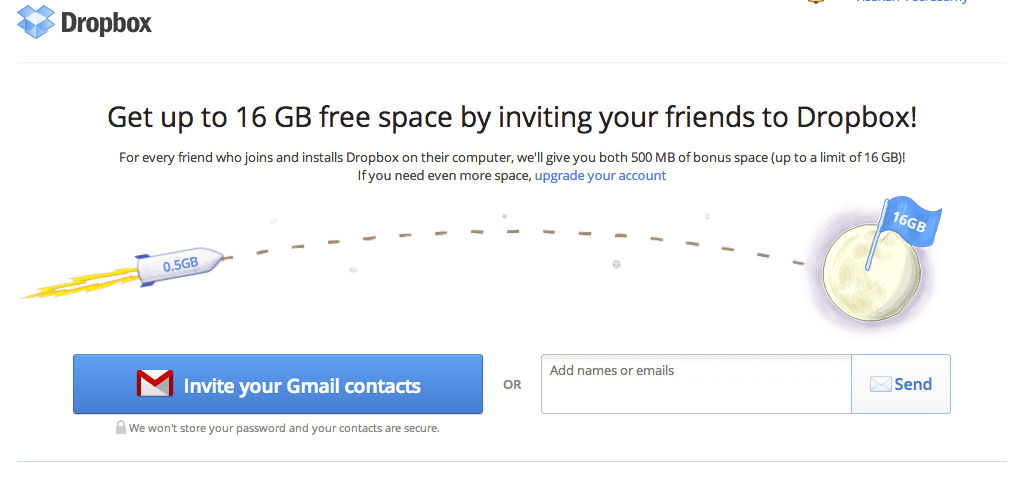 Dropbox famously got 4 million new users in 15 months from their referral program.
Creating a referral reward program doesn't have to be limited to eCommerce sites and subscription service—it's also a great strategy way to get more clients to your agency.
There are very clear benefits of this strategy that apply to all businesses:
First, it's a simple way to ensure that you don't miss out on showing gratitude to your clients for each referral.

Second, anyone in your agency can use it without having to ask you how it works.

And finally, there's no confusion for your clients on what they'll get in return for their referrals as expectations are set from the get-go.
In creating a referral reward program, you should design a system that is simple enough to be understood by anyone and sustainable for you to offer it to anyone that's interested.
What you offer as an incentive depends on who you reach out to for referrals. If it's an existing client, a discount on their next month of service is a strong incentive to refer your agency. For previous clients, offering gift cards or a catered lunch for their team is a great way to say thank you.
2. Find Service Partners with the Same Client Profile
Partnering with people that work with the same client profile as your agency can create a constant stream of new referrals.
Do you offer PPC and SEO but not web design? Give a local design agency a free SEO audit and on-site optimization. Establishing yourself as an expert can generate long-term payoffs as the local design agency will remember your agency when their clients ask for SEO recommendations.
If you are a full-service digital agency in a specific niche, find partners in a completely different industry that work with your ideal clients. For example, a digital agency that provides SEO, PPC, and web design for with real estate agents, can partner with real estate photographers or interior designers for referrals.
Make a list of other service providers for your niche and then reach out to them offering a free consultation or audit in order to establish yourself as an expert in your industry.
3. Cultivate Your Relationship with Top Clients
While a basic rule-of-thumb is to nurture your agency-client relationship with all your clients, it's also a common to pay more attention to those who bring in more business to you or to those who are very well connected (the same idea works with local reviews).
This is why a lot of agencies go the extra mile in taking care of these clients. Some efforts include treating them to lunch or sending them company swag. Although these may seem frivolous to others, showing that you value their business can often pay off in the form of qualified referrals.
For digital-based agencies, some ideas may include sending personalized "Thank You" cards or gifts. Your tokens of appreciation may be free updates or upgrades to their subscriptions. You can also mention them in your content to send them additional traffic. Regardless of the nature of your business, the main thing to do is to be more proactive in anticipating the needs of these VIP clients.
4. Work on Your Reputation First and the Referrals will Follow
For agencies that are new to the industry, it's important to establish your reputation first.
Remember, referrals are considered social currency—no one would want to endorse you and put their names on the line without a guarantee that you won't embarrass them with your service or product. That's why it's crucial to set a remarkable standard for everyone in your company to follow and stick with them in all your endeavors.
Newcomers, especially those with limited previous experience to fall back on, must constantly monitor their work regardless of how big or small the projects are. It's also equally important to know how the rest of the world sees your brand, so it would be a good idea to set up alerts on apps like Google Alerts or Mention.
You can also ask your clients for feedback via email, a survey, or phone interviews. Last but not least, social media sites are great platforms to gather information on your customer service and brand reputation.
5. Be Specific About Your Target Customer
A major roadblock in obtaining referrals from your clients is that they don't really know how to send one—they're unsure about how to recommend you and who exactly to recommend your products or services to (once again, this is especially true for agencies). For some, it might appear too risky to blindly vouch for your agency. Eliminate this risk by being specific on what you're looking for in a customer.
Describe your services or products and explain how these could help your ideal client. Share your pricing plans and point out examples of customers who would most likely be interested in what you have to offer.
Strive to make it clear and simple for a client to recommend your agency to a friend.
How To Ask for a Referral From a Client
When you do a great job for your clients, they are generally happy to recommend your services. Some of them may even offer to refer you to their friends and business associates.
But if you don't purposefully ask for referrals, these happy clients might not think about introducing others to the benefits of your work. Asking for referrals is one way that you can tap into this wellspring of future business opportunities. Here are 5 tips on how to ask for a referral from a client:
Make it easy for clients to refer you - this can include an easy-to-cut-and-paste email template.

Thank clients for referrals - which may or may not include a referral incentive

Ask at the right time - don't ask too early (or they won't be comfortable referring you yet) or too late (long after the deliverables were completed).

Personalize your referral request - including their name and concrete examples of what your team accomplished

Follow up on referrals - most clients are busy, so they may have forgotten about the first request
And of course, the most important thing to do when it comes to asking for referrals is to actually ask. Some people feel awkward about asking for a referral, as they worry that it makes them sound desperate for business--but that is not the case.
Growing a business is something that every owner understands, including your current clients.
Try wording your referral request email in such a way as to position this as something you are doing to grow the business, and not to fill gaps in your cash flow. For example, here is one client referral email template that focuses on growth and success, which is a nice way to position your request for a referral.
Hi [client name],
Thanks for being a great client! We've truly enjoyed working on [campaign example(s)] and look forward to continued success!
I wanted to let you know that we're always looking for our next success story, and one of the best ways to find new clients is by getting referrals from happy partners.
If you think any of your business associates would benefit from our services, I would really appreciate an introduction. And if we can achieve for them what we have achieved (so far) for you, I'm sure they will appreciate it too!
If you have any questions, don't hesitate to let me know.
Thanks again, and I hope to hear from you soon!
Sincerely,
[Your name & agency contact info]
The Takeaway
Referral marketing has the potential to become one of the most reliable sources of quality clients for your agency. A client who is referred by one of your own customers' is much more likely to have trust and confidence in your agency from the beginning. Add to this by delivering outstanding results and you're set to have a long-lasting client relationship.
Joe started his career as a developer and since has created many internet businesses. He has now moved on to the position of CEO and has enjoyed all the challenges it has brought.
Read more posts by Joe Kindness ›
Try AgencyAnalytics risk-free for 14 days. No credit card required.