White Label SEO Audit Tool
The only white label SEO audit tool designed for marketing agencies. Quickly identify and resolve on-site SEO issues. Improve rankings, search visibility, and user experience. Create beautiful, automated SEO reports your clients will love, in minutes.
Improve Rankings
Identify and resolve technical on-page issues and watch keyword rankings climb
Prioritize Issues
Save time by focusing on the most critical technical issues and site errors first
Schedule Audits
Never miss a site problem or SEO error with recurring website audits
Share Reports
Share white labeled SEO analysis reports detailing how you improved your client's SEO
Comprehensive technical SEO audits
Quickly Identify and Resolve Site Issues
Use the SEO checker to automatically crawl multiple client sites at once to find and resolve over 40 types of on-page technical SEO errors and issues. Quickly locate and correct issues like duplicate content or title tags, missing meta tags, broken images, bad sitemaps, server errors, and more. 
Don't let common but critical SEO mistakes hamper your clients' performance. Our cutting-edge SEO tool is designed to give you full control over your SEO strategy, fostering improved site performance, better rankings, and satisfied clients.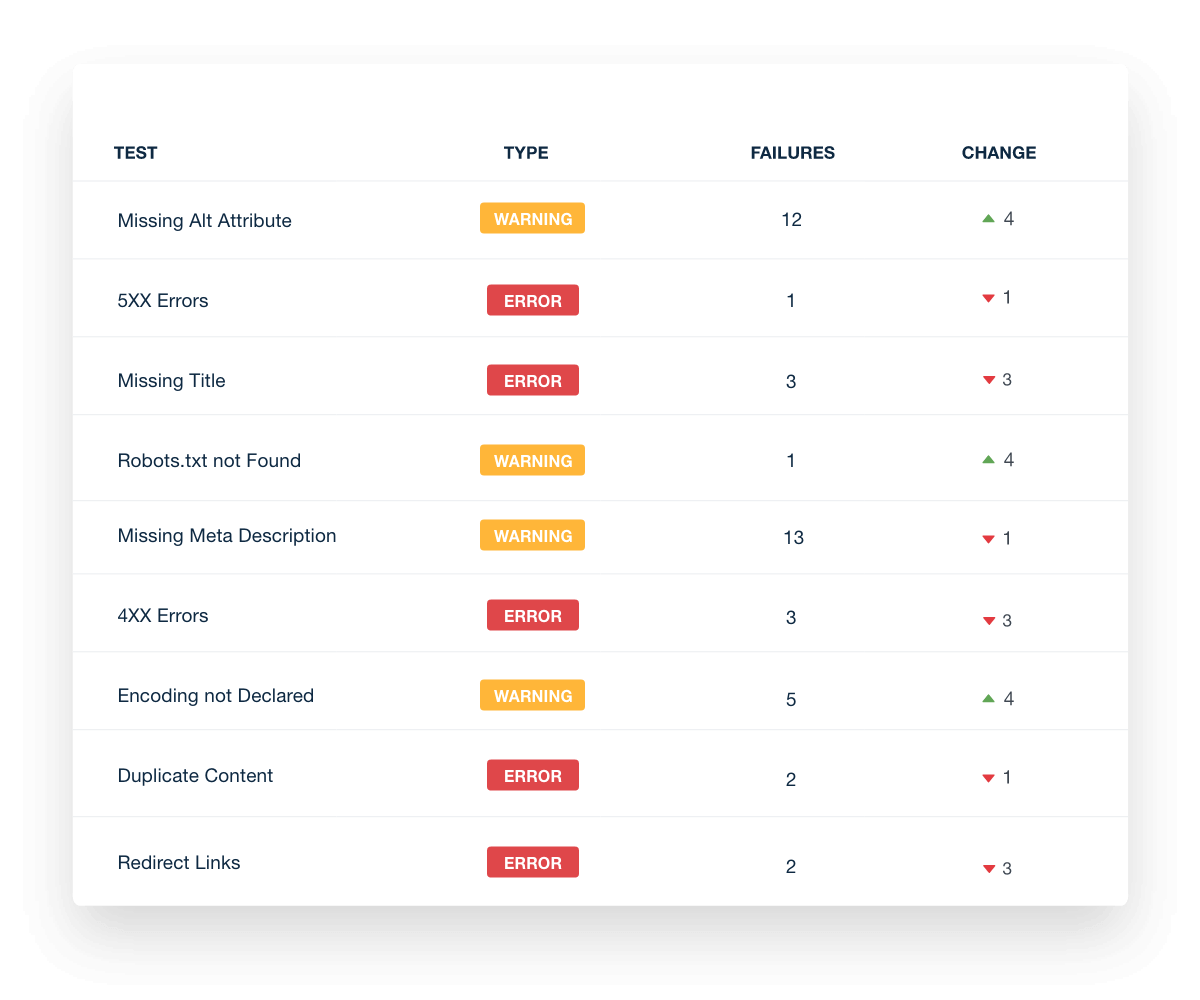 Continuous On-Page SEO Improvement
Continuously Monitor for New Issues and Opportunities
Schedule weekly or monthly site audits to detect site issues and optimization opportunities before they impact your client's keyword rankings. White-label SEO audit reports let your clients know that you're keeping constant tabs on their core vitals and any website performance issues that can impact their keyword rankings. 
Your clients' needs and search engine algorithms are always evolving. That's why our SEO tools don't stop at identifying problems; they help you stay ahead of the curve, adjust, optimize, and perfect your clients' SEO performance.
Issues categorized in order of severity
Prioritize SEO Issues To Deliver Quick Wins
The site auditor automatically categorizes and prioritizes technical SEO issues in order of severity. SEO agencies seize quick wins and drive immediate improvements with a prioritized list of critical SEO tasks.
Save time by tackling the most critical SEO errors first, and provide your clients with provable SEO gains right out of the gate.
FIX SLOW PAGE LOADS, BROKEN LINKS & MORE
Schedule Automated Site Health Scans
Run automated scans on a weekly or monthly basis to detect embarrassing SEO and usability issues before site visitors—or your clients—see them. Part of a full suite of white label SEO tools, the site health dashboard stands as your agency's first line of defense against problems that can undermine SEO performance. Whether it's broken links, missing image alt tags, URL structure, sluggish page load times, or internal linking issues, nothing escapes the tool's vigilant website audit.
Scheduling regular weekly or monthly scans provides consistent, proactive monitoring that alerts your team to issues before they become problems. Turn potential problems into positive performance with the power of AgencyAnalytics.
Powerful Historical Comparisons
Highlight Your Improvements
Make every SEO report become a compelling story, highlighting your marketing agency's expertise and commitment to superior results. Easily report on all of your team's on-site improvements and compare your current site audit results against any previous audit. Use page and site-level scores with other intuitive visuals to clearly highlight your team's work in a way that makes sense to your clients.
The SEO reporting tool showcases your team's success in maintaining and improving the site's SEO health and improving search engine results, further building trust and confidence in your agency.
Understand Your Clients' Websites Like Never Before
Built For SEO Optimization
Go beyond the basics of search engine optimization and dig into each page's internal link structure (including in-links and out-links) and full-page depth information to ensure key pages are easy to find on the top search engines.
Measure load times, text-to-HTML ratios, word count, meta descriptions, page size, and more on-page SEO issues. Our website crawler helps you improve every single one of your client's web pages to maximize their SEO impact.
Combine the power of on-page optimization with other SEO tools, including keyword rankings, backlink checker, Google Search Console, and Google Analytics, to create a comprehensive white label SEO platform for your marketing agency and your clients.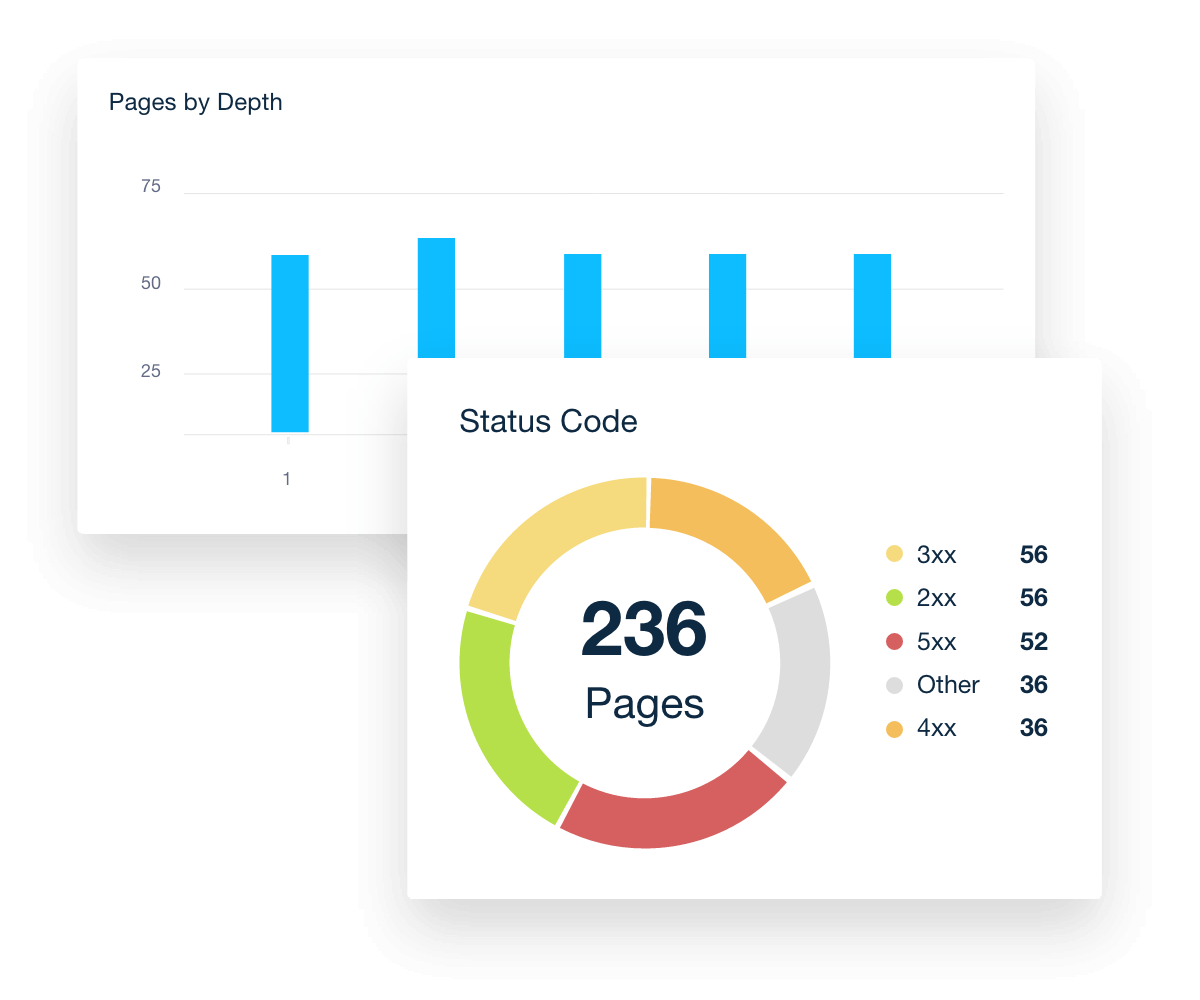 WHITE LABELED PDF REPORTS FOR YOUR CLIENTS
Easily Generate Technical SEO Reports
Who said technical SEO reports couldn't look pretty? Designed for simplicity and ease of use, add your agency's logo and branding and automatically send white label reports on your schedule. Have them emailed to your customers or web development team, or create a live SEO dashboard on a custom domain.
Report on every issue that could be impacting your client's ability to achieve the search engine rankings they covet. As part of a powerful set of branded SEO reports, the website auditor helps keep your agency on top of every one of your client's SEO health, in time, and on brand. Every time.
Impress Clients with Real-Time Results
Customizable White Labeled Dashboard
Most clients are business owners with hectic schedules: they need to see results instantly. Impress clients with their own custom website audit dashboards, showing real-time results 24/7.
Pull all of your client's key SEO site health metrics together using a professional reporting tool that highlights technical issues, core web vitals, and other on-page SEO optimization opportunities. Simply drag and drop them into place, and save your custom templates for next time.
Best of all, white label your client's dashboard with your agency branding and host it on your own domain to continuously reinforce the value your team adds to their bottom line.
Generate Leads With an SEO Proposal Template
Fast and Easy SEO Proposals
Use the white label SEO tool to drive growth for your agency's SEO services. Generate leads by quickly creating and distributing client proposals using the pre-built SEO proposal template.
With the click of a few buttons, use the white label platform to turn cold prospects into warm leads by showing their current website rankings, site health, and backlink profile.
More than just SEO software and automated reports, this powerful platform helps your agency scale and acquire new customers.
CUSTOM CLIENT REPORTING MADE EASY
Report Smarter, Not Harder
Connect the Site Audit Tool integration in seconds to streamline your client reporting.
If you're an SEO agency, I HIGHLY recommend AgencyAnalytics. It contains the best reporting tool out there... by a mile.
Everything Your Agency Needs
Try AgencyAnalytics risk-free for 14 days. No credit card required.