ServiceTitan Reporting Dashboard
Track, manage, and report on your client's entire pipeline by displaying their primary ServiceTitan KPIs alongside their other key marketing metrics.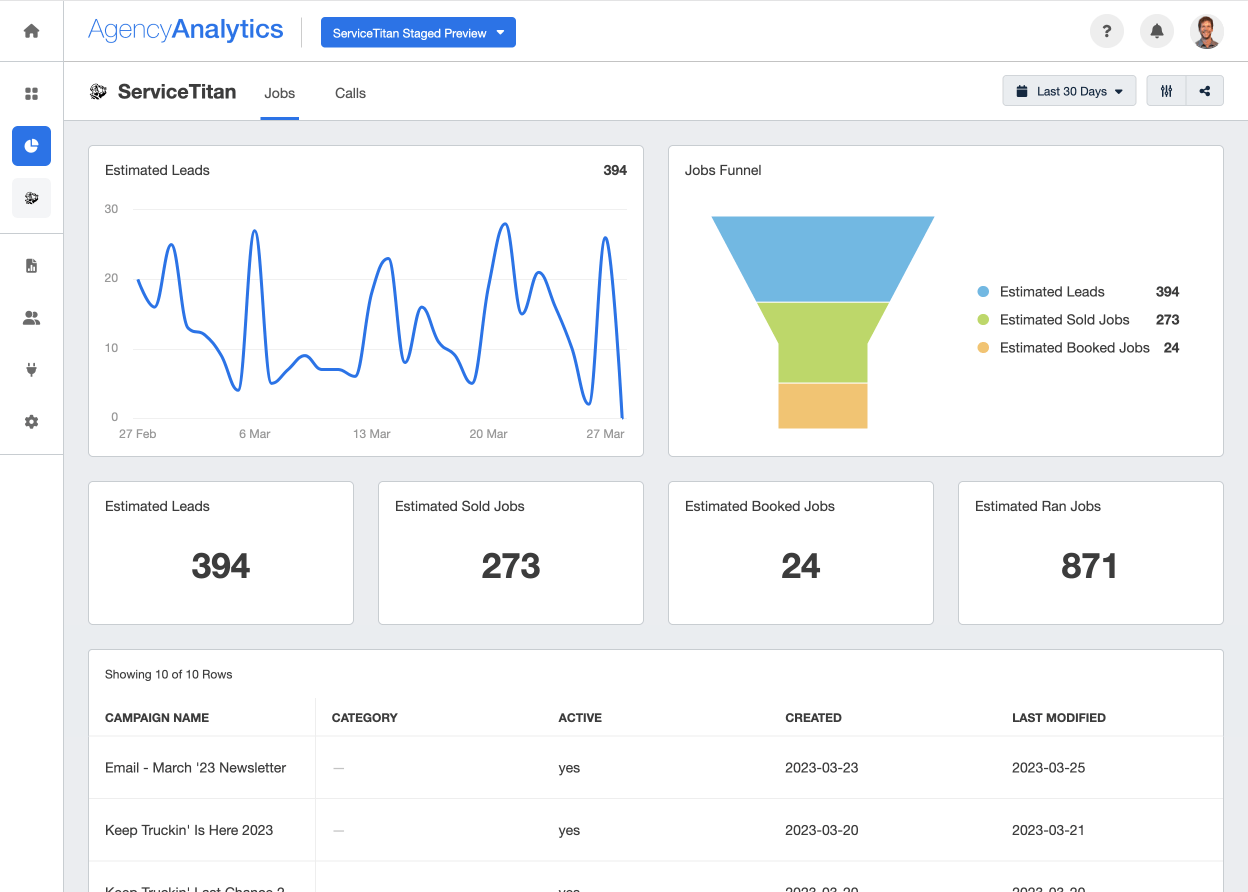 Monitor Leads
Keep a watchful eye on the number of leads you're driving for your clients over time
Track Jobs Funnel
Showcase the quality of leads coming in by displaying how many progress to sold jobs and then booked jobs
Report on Call Metrics
Track total, inbound, and outbound call numbers, as well as how many calls led to bookings and which agents are closing more deals
Display Top Campaigns
Visualize which campaigns are top performers in terms of driving the most calls and bookings
AUTOMATED TRACKING & REPORTING
Create a Complete Pipeline Picture
Make it easy for your clients to see how many new leads your agency is driving into their jobs funnel over time. Monitor the quality of leads by displaying how they progress to sold, booked, and ran jobs. Show which campaigns you're actively running to communicate precisely which marketing efforts are moving the needle.
Explore All Available ServiceTitan Metrics
Add any of these metrics to your client reports and marketing dashboards with ease
Abandoned

Average Duration

Booked

Booked Jobs

Calls

Completed

Date

Excused

Inbound

Jobs

Leads

Not Lead

Outbound

Ran Jobs

Sold Jobs

Total Duration

Unbooked
CALLS, BOOKED, & DURATION
Analyze Your Client's Call Tracking Analytics
Communicate your clients' call performance at a glance. Monitor metrics like total calls, booked calls, calls marked not lead, and average call duration. Automatically identify and display top campaigns based on events like total and booked calls. Help your team and clients understand precisely which marketing efforts are making the biggest impact.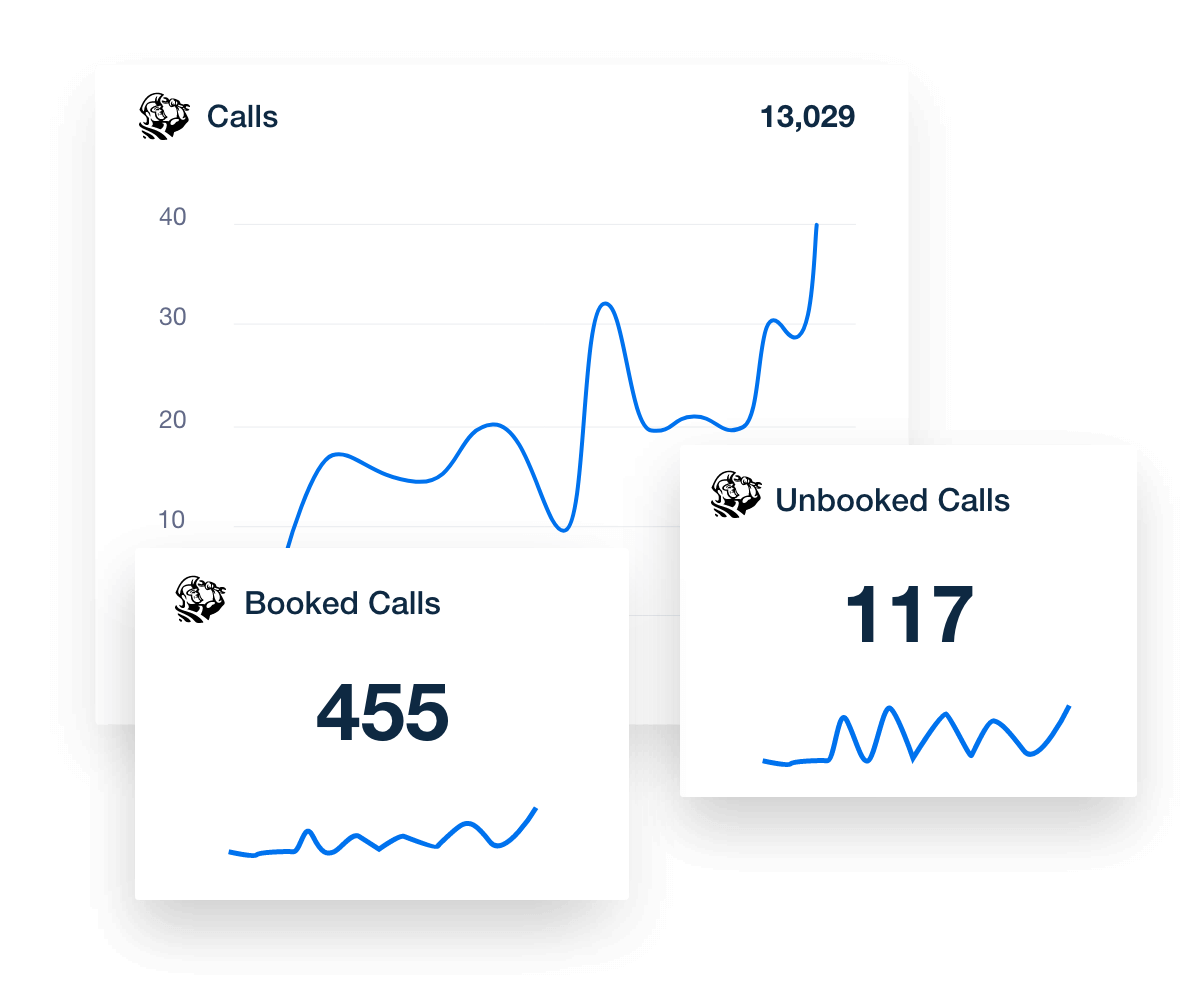 Keep Your Call Team on Pace
Include a list of your top agents in your custom dashboard to keep your team on pace with call goals. Track who's making the most outbound calls, who's taking the most inbound calls, and most importantly, who's calls are leading to the highest number of bookings.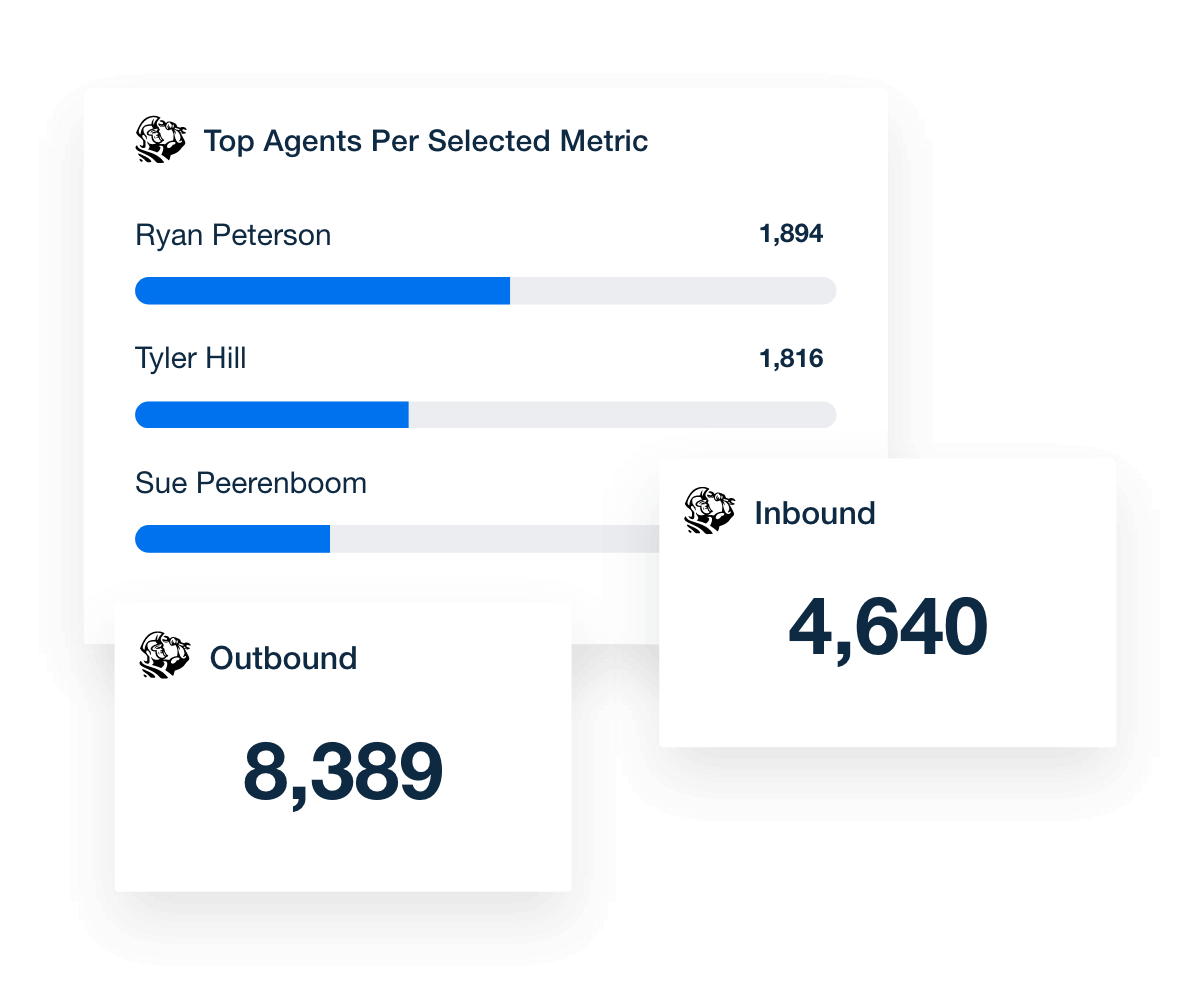 LIVE SERVICETITAN DASHBOARD
Give Clients a Custom White Labeled Dashboard
Impress your clients with on-demand access to their live ServiceTitan data—not to mention all of the other marketing data they care about most. Deliver a professional, custom dashboard that offers transparency without data overload, giving your clients the information they need when they need it. Brand it with your logo, color scheme and more for the best experience possible.
MARKETING DATA FROM 75+ INTEGRATIONS
Centralize All Your Client's Data
ServiceTitan is just one facet of tracking your agency's impact for your clients. No need to punch in your ServiceTitan login details, or keep track of dozens of other account and password details, every time you need to create client reports.
AgencyAnalytics' powerful reporting platform integrates with more than 75 channels, giving your clients a holistic view of their overall performance. Stop bouncing back-and-forth between platforms. Add data from any available integration to your custom dashboards and reports at no extra cost.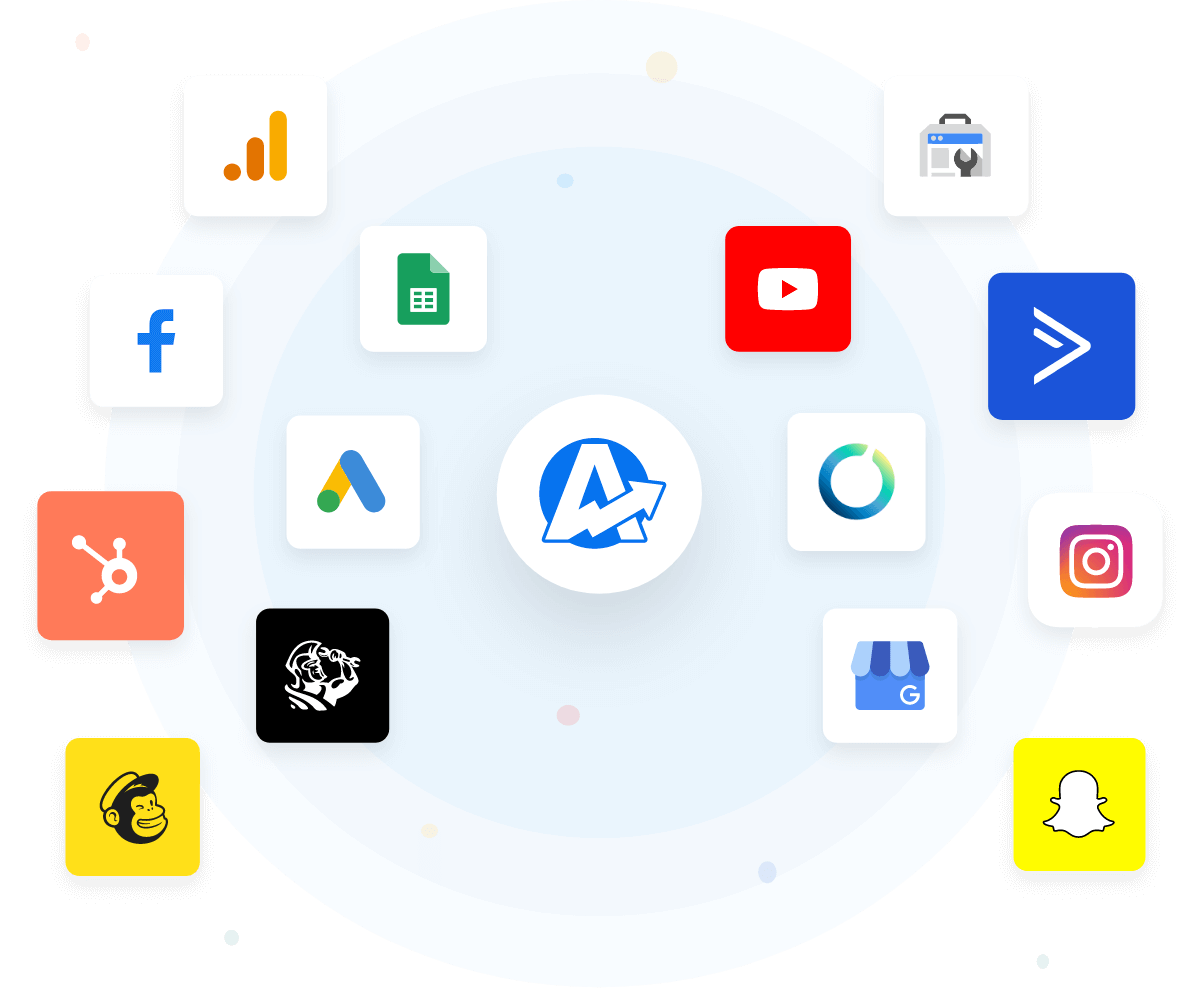 BOOST PRODUCTIVITY, STREAMLINE CLIENT MANAGEMENT
All-In-One Agency Management Tool
Manage your agency's clients and staff efficiently with AgencyAnalytics' comprehensive, user-friendly platform. Create custom login credentials for your team and clients, and set specific access and permissions for each user. Optimize performance by assigning tasks and tracking workflows for each client campaign. Streamline communication by integrating with your current messaging tools and scheduling regular client reports.
Everything Your Agency Needs
Try AgencyAnalytics risk-free for 14 days. No credit card required.