Never miss a beat with automated SEO reporting software built for agencies. Real-time updates on backlinks, keyword rankings, website analytics, SEO site health, and more in a comprehensive SEO dashboard. SEO reporting for agencies has never been easier!
Keyword Rank Tracker
Accurate search engine rankings for target keywords updated daily.
Backlink Analytics
Comprehensive backlink analytics for every client's website
Website SEO Audit
Identify on-site technical and SEO errors to improve SEO rankings
Automated Reporting
Streamline workflows by creating live SEO dashboards and scheduling client SEO reports
Built for Marketing Agencies
Powerful SEO Reporting That Drives Client Retention
The best SEO reporting tools not only empower agencies to execute effective SEO campaigns but also play a pivotal role in nurturing and maintaining robust client relationships. A comprehensive SEO report creates transparency, fosters trust, and improves client retention rates.
By sharing reports that clearly illustrate the impact of your SEO campaigns, clients are always in the loop about their website's organic performance and the value your digital marketing agency provides.
Strengthen your client relationships and drive the success of your SEO strategy–that's the power of great SEO reporting.
Accurate Keyword Position Reporting
Track thousands of keyword rankings across Google, Google Maps, and Bing. Show clients how your SEO efforts are improving their positions in the SERPs over time using the white label SEO reporting tool. Rankings are updated in a dynamic SEO dashboard every day for your agency to make decisions with the most up-to-date data.
Detailed Backlink Analytics
Track all of your link building campaigns. Discover new and lost links and highlight the most important links using advanced Trust flow metrics. Show clients a high-level report highlighting their backlink profile, with metrics for each specific link. Get free access to Majestic backlinks, or choose to integrate Ahrefs, Moz, and SEMrush.
Perform a technical SEO audit for each of your clients to identify common SEO issues, including broken links, missing metadata, duplicate content, and more. Create white label SEO audit reports and dashboards to quickly prioritize the most urgent on-site issues and give clients a quick win with organic search.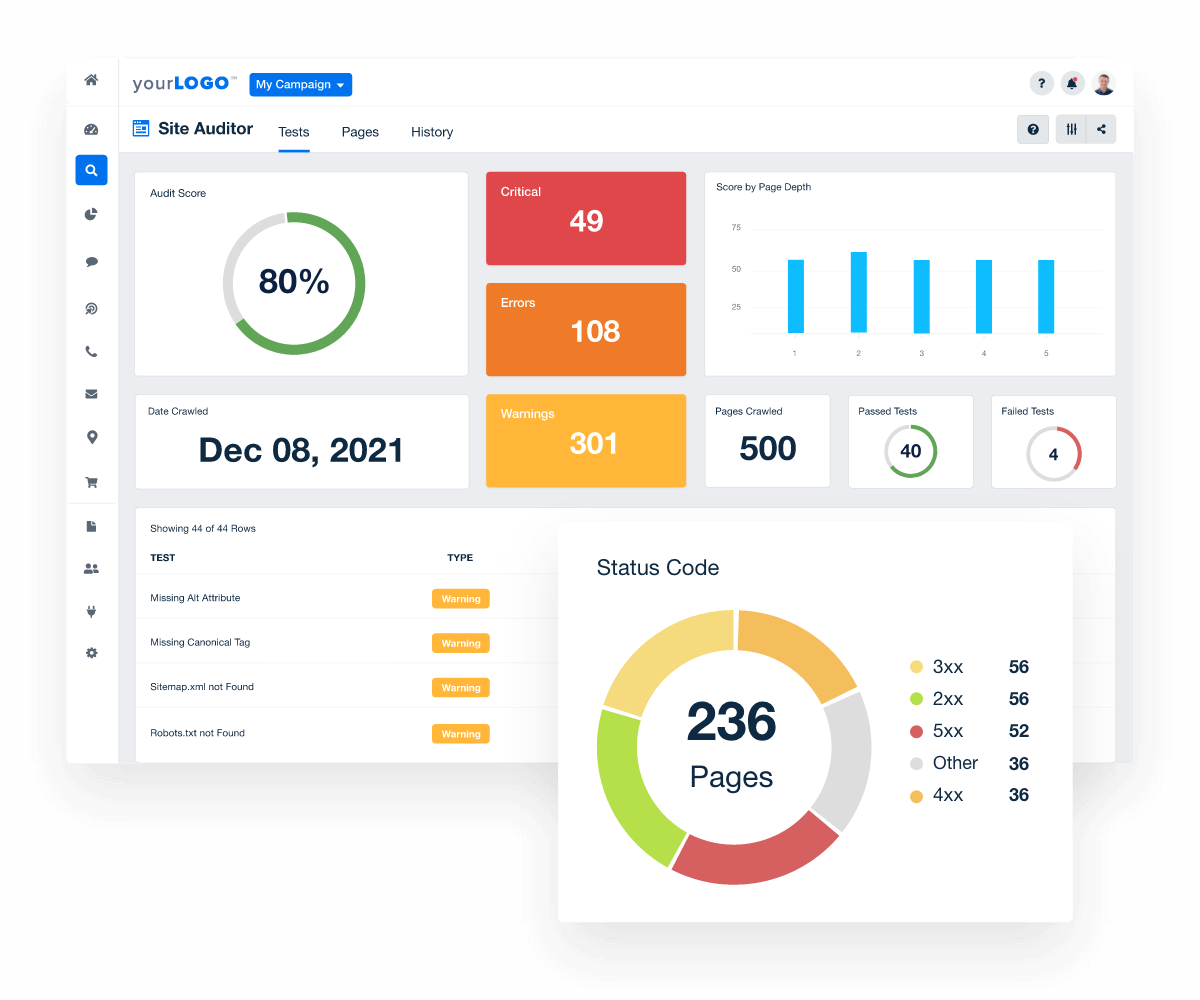 100% White Label SEO Reporting
Add your agency's logo and color scheme to harness the power of white labeling and connect your brand with outstanding performance. 
Include insights and commentary for an even more personalized reporting experience. Your reports will look like they were custom-made by your team of SEO experts, underscoring your agency's professionalism.
Between ease of use, user interface, configuration, and customer support, AgencyAnalytics is the industry gold standard in reporting software. We'll be customers for life!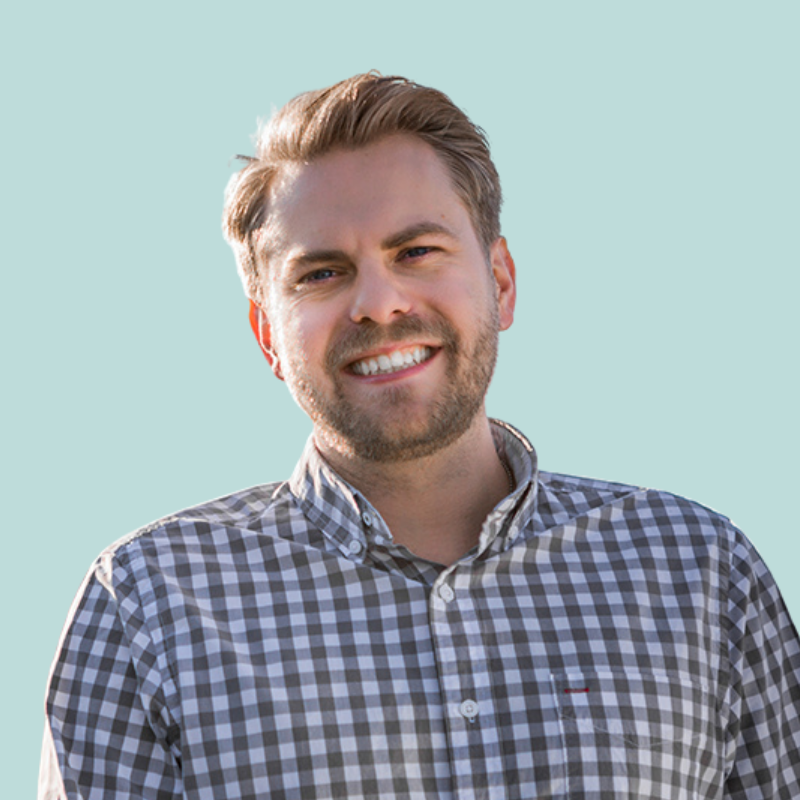 Create Customized SEO Reports That Reinforce Your Agency's Value
Breakdown Total Organic Traffic
Integrate with Google Analytics to show clients how your SEO campaign has impacted their bottom line. Add traffic reports, goal completions, conversion rates, and everything else Google Analytics offers. Filter by organic traffic so clients see precisely how SEO contributes to business growth, including traffic, leads, and sales.
View the Top Pages in Google
Analyze Top Impressions and Clicks
Connect Google Search Console to your clients' SEO dashboards and analyze their top pages. View each page's average ranking and click-through rate to identify areas of improvement. Show clients exactly which pages are generating leads and sales for their businesses. Use this data to clearly display how your content is performing and optimize pages that need attention.
Customizable SEO Reporting Tools
Build Dashboards & Reports Your Way
We get it. You like to build client reports your own way. With a customizable SEO reporting tool, including dashboard widgets, custom metrics, and more SEO tools, you have everything you need to show off the impact of your agency's SEO strategy as your client ranks higher in the top search engines.
Take your SEO reporting up a notch and impress clients with a suite of SEO reporting tools designed for marketing agencies.
Tell A Story With Your Data
Add Expert Commentary & SEO Insights
Tell a compelling visual story with your data by adding annotations and goals to your line charts and date-based column charts. Your clients will appreciate the personal touch. For example, note when SEO updates went live, add your monthly traffic goals, call out new organic traffic records, and much more. This feature opens a whole new world to your reporting, highlighting important information directly within your charts.
SET GOALS AND HIT PERFORMANCE TARGETS
Show Clients You're Hitting Their SEO Goals
Communicate your marketing strategy success at a glance with the Goal tracking widget. The visual progress bar shows exactly how the client's SEO performance is trending against growth goals.
Break down the targets of all SEO strategies into day-to-day action items and keep your team on track. Apply goals to any of the SEO services you offer, including backlinks, traffic growth, site health score, and more, to show clients exactly how you're helping them build their organic reach.
Less Time Reporting, More Time Optimizing
Schedule Automated SEO Reports
Solidify client confidence and satisfaction by creating fully automated and professional SEO reports in minutes. These high-quality, detailed reports reinforce your digital marketing expertise and showcase tangible results as your clients gain more organic traction.
Say goodbye to manual updates, spreadsheets, and screenshots! Save hours every month by scheduling automated reports from your comprehensive SEO reporting tool. Create an SEO report template in minutes and easily apply it to every client campaign.
Generate Leads With an SEO Proposal Template
Fast and Easy SEO Proposals
Use these SEO reporting tools to drive growth for your agency's search services. Generate leads using the pre-built proposal template.
With the click of a few buttons, use the built-in SEO tools to turn cold prospects into warm leads.  Show their current website rankings on top search engines, site health, and backlink analysis.
More than just reporting software, this powerful growth platform helps your agency acquire new customers.
Customer Support Is Our Top Priority
At AgencyAnalytics, we're committed to helping your agency succeed. Through our dedicated customer support team, you have all the assistance you need to effectively use your SEO reporting software and deliver top-notch services to your clients.
Accessible 24/5, our live chat support is renowned for lightning-fast response times, usually under 3 minutes, ensuring you're never kept waiting. But speed isn't our only virtue–we pride ourselves on the outstanding quality of our service, reflected in our customer satisfaction ratings consistently soaring above 95%.
CUSTOM CLIENT REPORTING MADE EASY
Report Smarter, Not Harder
Go beyond SEO metrics by automatically including the most critical marketing metrics from over 75 other data sources in a comprehensive white label SEO platform.
Pull in key analytics from Google Ads, Facebook, Google Business Profile, and more to give clients a complete picture of their marketing success. Use performance data from Google Ads as part of your keyword research process to identify keywords to target. Include email marketing and CRM data to show how the organic leads convert to paying customers. 
Customize each report template or digital marketing dashboard and quickly clone them to speed up client onboarding as you bring on more and more clients. 
If you're an SEO agency, I HIGHLY recommend AgencyAnalytics. It contains the best reporting tool out there... by a mile.
Streamline Your Agency's Client Reporting
Try AgencyAnalytics risk-free for 14 days. No credit card required.