Automated Client Reporting for Marketing Agencies
Put your client reporting on autopilot with automated reports and customizable dashboards. Built for marketing agencies.
Save Time & Streamline Your Agency Workflows
Automate Your Client Reporting in Minutes
Say Goodbye To Manual Reporting
Spend less time manually updating spreadsheets and more time scaling your business with an easy-to-use, automated client reporting platform built for marketing agencies.
Get Started In Minutes With Report Templates
Building custom marketing reports doesn't need to take all day. With dozens of templates and a drag-and-drop report builder, you can automate your client reporting in minutes.
75+ Marketing Integrations
Access All Your Clients' Data Under One Roof
Stop Switching Between Marketing Platforms
Switching between platforms is a pain—at least it used to be. With over 75 marketing integrations, you have access to all the data you need to help clients succeed. From SEO, PPC, Social, Email, Call Tracking, and more, you've got access to all your clients' data in a single, intuitive interface.
New Integrations Released Each Month
Marketing moves fast, and so do we. With new integrations released each month, we'll keep you up to speed with all your data in one place. Get started integrating all your client's marketing data in seconds with dozens of prebuilt report templates and dashboards.
Create Custom Marketing Dashboards
Build Dashboards & Reports Your Own Way
Impress Clients With Custom Dashboards
We get it. You like to build client reports your own way. With a full suite of customizable widgets, custom metrics,  annotations & goals feature, drag-and-drop report builder, embeddable content, and white label capabilities, you have everything you need to call the platform your own.
Give Clients A Personalized Experience
No two clients are the same. Add comments, tell stories with your data, create custom metrics, and provide unique insights for each campaign.
From automated dashboards to monthly reports to a mobile reporting app, we've got all your reporting needs covered. With AgencyAnalytics, you can give clients the personalized experience they deserve.
Add Custom Metrics & Goals
Easily Track Your Clients' Success
Custom Metrics
Consistently extract the right data points and report on your success with custom metrics. Create your own formulas that combine multiple data points for easy goal-tracking. Show total PPC ad spend across multiple platforms or calculate gross profit to show how your ad campaigns are converting to sales–the possibilities are endless! Drag and drop your custom metrics as widgets into the bar charts or graph of your choice. 
Goal Tracking Progress
Visualize your success with the goals feature. Keep your team on track and show clients how well your campaigns are converting by adding them to your custom dashboards and client reports.
Take Control Of Your Agency'S Branding
White Label Your Marketing Reports
TIE YOUR RESULTS TO YOUR AGENCY'S BRAND
Take control of your branding with fully white-labeled dashboards and reports that match your agency's brand. Upload your agency logo, use your brand's color palette, and more. With AgencyAnalytics, you have everything you need to call the platform your own.
TAKE YOUR AGENCY BRANDING EVEN FURTHER
On the Agency plan and higher, create multiple white label profiles for different client-facing brands, including different logos & color schemes. For a complete white-labeled experience, host your marketing dashboards on your own custom domain and send reports from your own email. 
Rankings, Site Audits, & More
Full Suite Of Seo Tools
Track keyword rankings, perform a site audit, and monitor backlinks. Our suite of SEO tools helps you land new clients and improve your clients' performance in search engines.
AUTOMATE YOUR SEO REPORTING
Add all your clients' data to a dedicated SEO report and schedule them to send on a daily, weekly, or monthly basis. You've got access to everything you need to grow your agency under one roof.
Manage Your Entire Agency
Client & Staff Management
Give Clients Their Own Login
Provide each client with their own login to a real-time marketing dashboard they can access at any time. With granular user permissions, you're in complete control over exactly what each client can see. Integrate with your favorite messaging tools to chat directly from within your client-facing dashboards.
Streamline Your Staff Workflows
Save time and scale your agency by streamlining your staff's workflows. Assign tasks, track workflows and create one-off or recurring to-dos for each campaign. AgencyAnalytics gives you everything you need to put your client reporting on autopilot.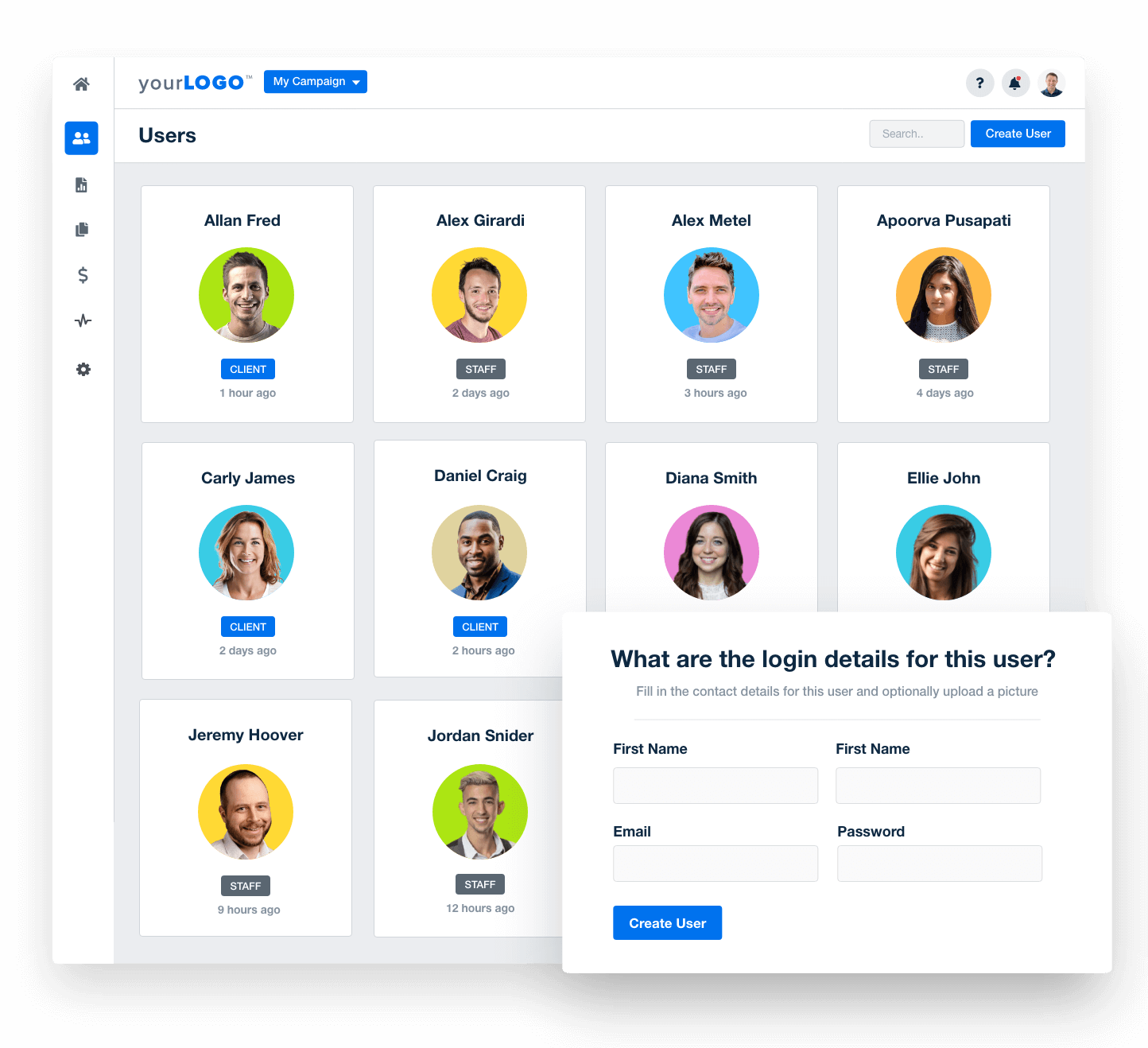 Everything Your Agency Needs
Enhanced Reports for Growing Agencies
Try AgencyAnalytics risk-free for 14 days. No credit card required.