Custom Marketing Dashboards
Reduce time spent on client reporting and seize back billable hours. Custom marketing dashboards are the perfect tool for busy marketing agencies. An easy-to-use interface combines data from multiple sources to create clean, attractive dashboards and reports you and your clients will love.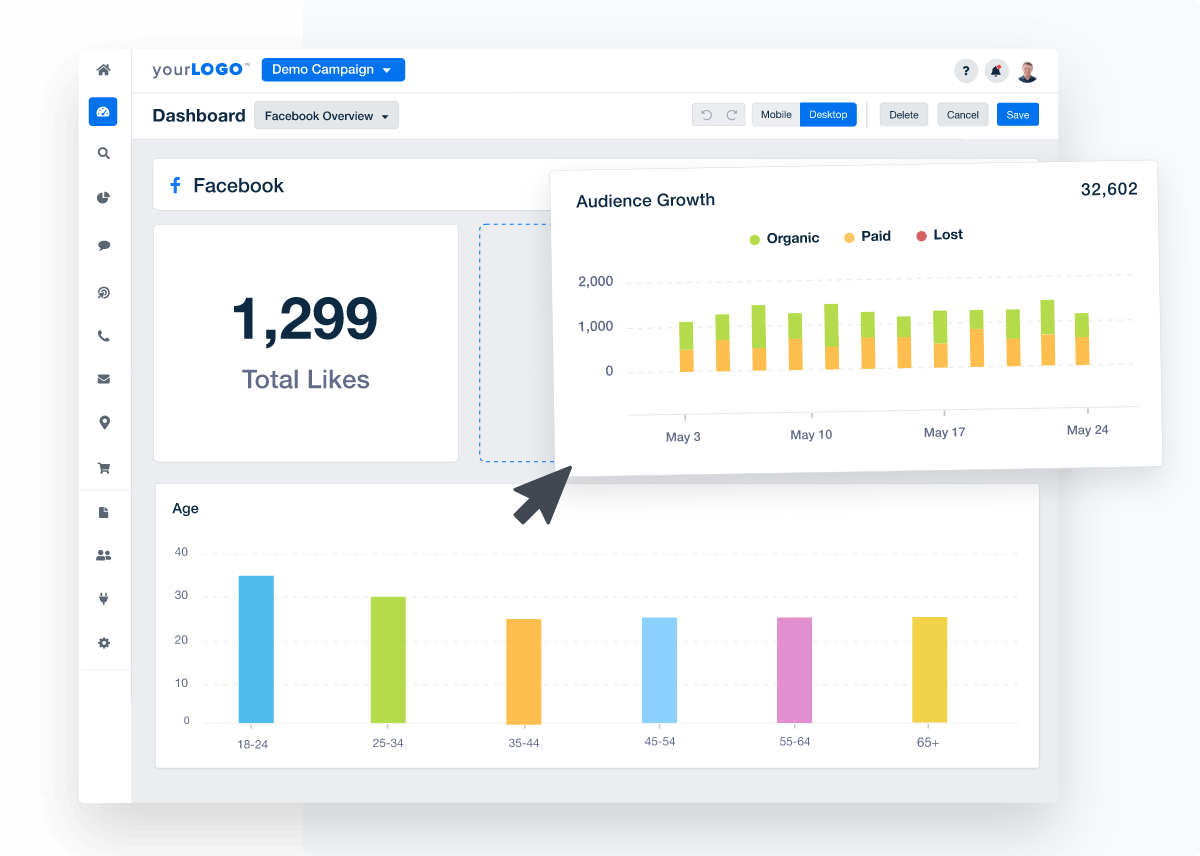 CREATE CUSTOM DASHBOARDS & REPORTS IN MINUTES
Build Custom Client Dashboards Your Own Way
We get it. You like to build client dashboards and reports your own way—and without too much effort. Each marketing dashboard and report is easily personalized to match your client's needs.
100% Customizable
Build fully customizable client dashboards and reports with complete flexibility and control
White Labeled
Create professionally branded dashboards and reports featuring your logo, colors, and even host them on your own domain
75+ Integrations
Access all your clients' marketing data under one roof with a ever-growing selection of integrations
Dashboard Templates
Start with pre-built dashboard templates or quickly clone an existing custom dashboard for a new client
IMPRESS CLIENTS WITH A CUSTOM DASHBOARD
Design Dashboards Based on Your Clients' Goals
No two clients are the same. With a full suite of customizable widgets, a drag and drop report builder, and white labeling capabilities, give clients the personalized digital marketing dashboard experience they're looking for.
IN-DEPTH REPORTING & INSIGHTS
Provide Granular Insights with Custom Metrics
Take each marketing dashboard a step further by creating custom metrics for the most in-depth client reporting possible. Combine  data points from 75+ integrations into custom blended  metrics. With this extra layer of customization, add elevated insight and transparency to your client reporting.
Set Goals and Hit Your Performance Targets
When working with clients, it's essential to clearly define goals and set performance targets. With the Goals widget, establish monthly targets and track the performance on a day-to-day basis in one easy visual. Build trust and transparency and reduce churn by showing clients exactly how they're progressing towards their business goals.
TELL A STORY WITH YOUR DATA
Add Context to Your Data with Annotations
Add context to your clients' marketing data and clearly communicate campaign changes with annotations on your date-based charts. This feature allows you to highlight important campaign changes, set performance thresholds, add key performance indicators, and tell a story with your data.
By consolidating all of our tools into dashboards, we have saved so much time and money—it's truly been invaluable. As an agency owner, I don't know of a better platform than AgencyAnalytics.
COMPLETE CONTROL OVER YOUR CLIENT ACCOUNTS
Configure Individual Client Permissions
Some clients may be more tech-savvy than others and want access to all their data on their own schedule. For other clients, it may make sense to restrict access to prevent information overload. Whatever you decide, you have complete control over each clients' permission settings. You choose exactly what you want them to see.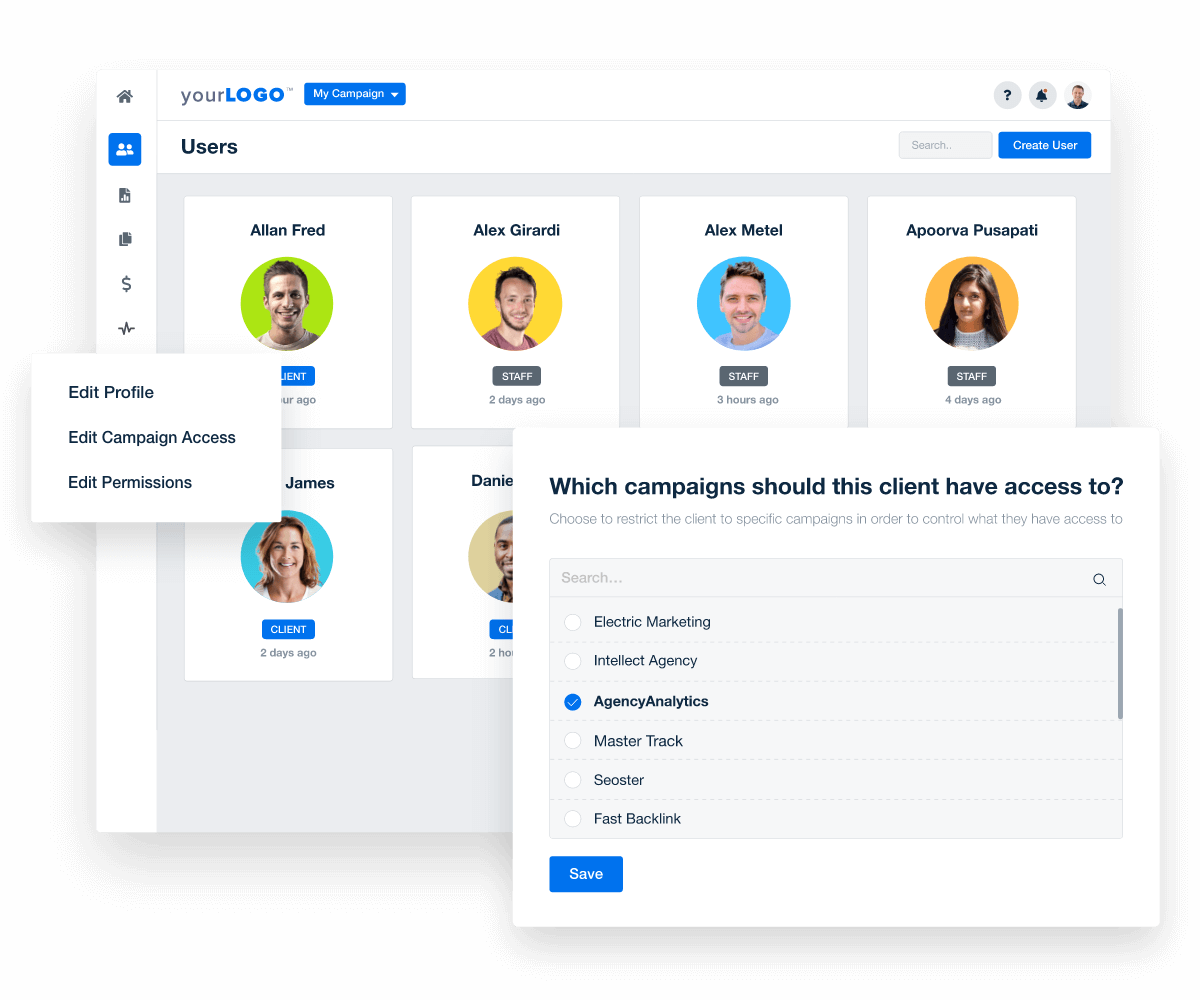 After automating your reporting process, customize your dashboards and reports to match your agency's branding. Upload your logo, choose your own color scheme, and even host it on your own domain. Our full suite of white labeling capabilities gives you everything you need to call the platform your own.
75+ MARKETING INTEGRATIONS
All Your Clients' Data in One Place
Stop wasting time switching between platforms. With 75+ marketing integrations, including PPC, SEO, social, and more, you've got access to all the data you could possibly need under one roof.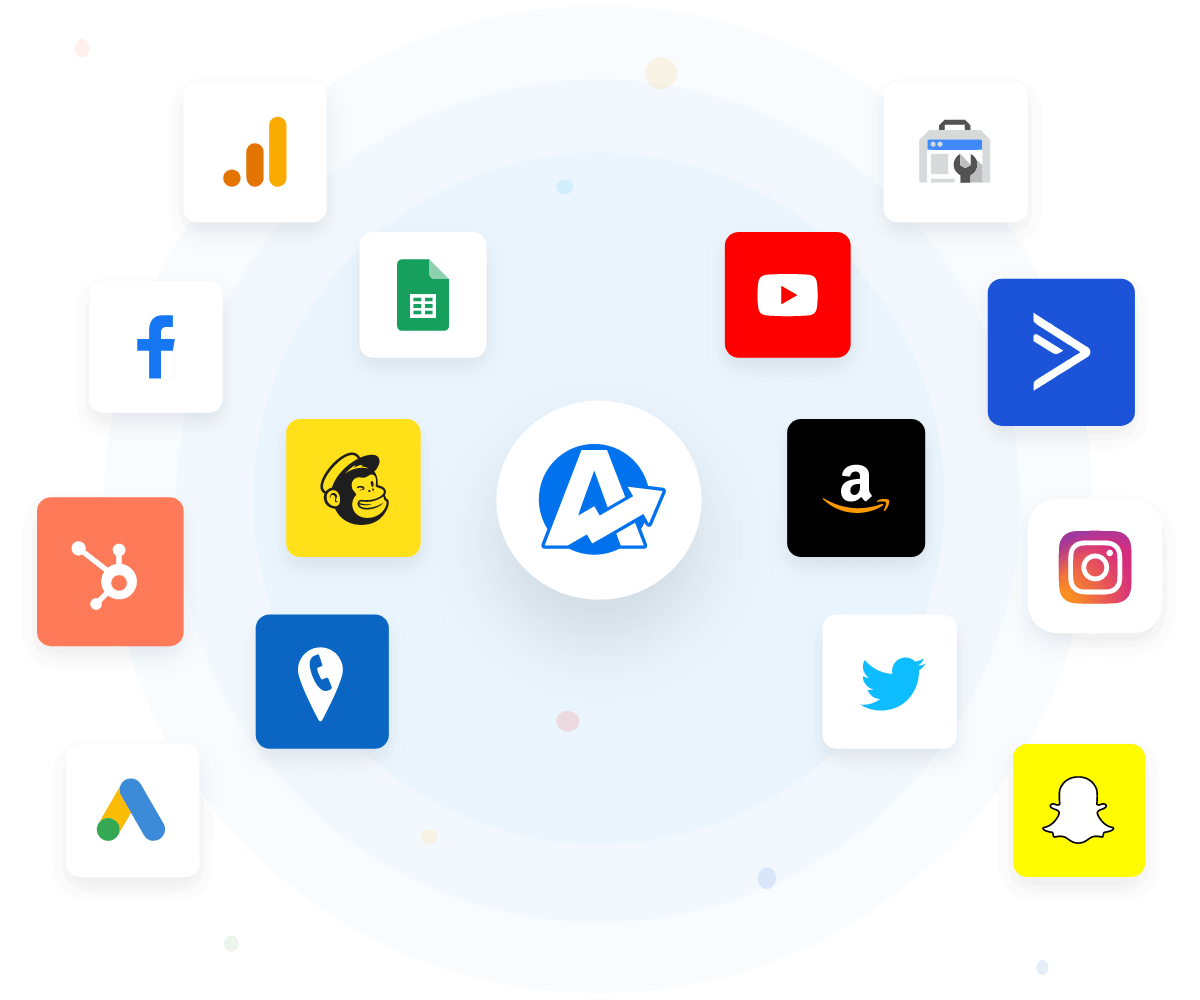 Streamline Your Agency's Workflow With Powerful Reporting Software
Try AgencyAnalytics risk-free for 14 days. No credit card required.