Put Your Client Reporting on Autopilot
Tired of wasting billable hours manually creating client reports each month? Build automated marketing reports in minutes to speed up your agency's data-retrieval and reporting workflow.
CREATE MARKETING REPORTS IN MINUTES
Automated Client Reporting for Marketing Agencies
Streamline your client reporting to scale your agency. Set up your marketing reports for each client and put the entire process on autopilot with a simple and scalable report scheduling and approval process.
75+ Integrations
No more switching between platforms. Automatically include all your clients' latest marketing data in one place
Fully Customizable
The drag and drop report builder offers complete customization so you can build reports how you want
White Labeled
Create fully branded reports featuring your logo and colors—even host them on your own domain
100% Automated
Automate your clients' data collection and simplify reporting by scheduling reports to go out on a date and time customized for your clients
DASHBOARD & REPORT TEMPLATES
Create Customized Client Reports in Minutes
Choose from dozens of prebuilt reports and dashboard templates, including SEO, PPC, Social Media, and more. Paint a picture of your clients' entire marketing strategy with customized white labeled dashboards and reports. Turn live marketing dashboards into professional marketing reports in a few clicks.
SAY GOODBYE TO LAST-MINUTE CLIENT REPORTING
Automated Report Scheduling & Approval
Easily flip powerful client dashboards into beautiful reports in minutes with all of your clients' marketing data automatically populated. Use the report scheduling feature to create automated marketing reports that are sent on a customized schedule. On select plans, get notified before each report is sent out for your final approval and expert commentary.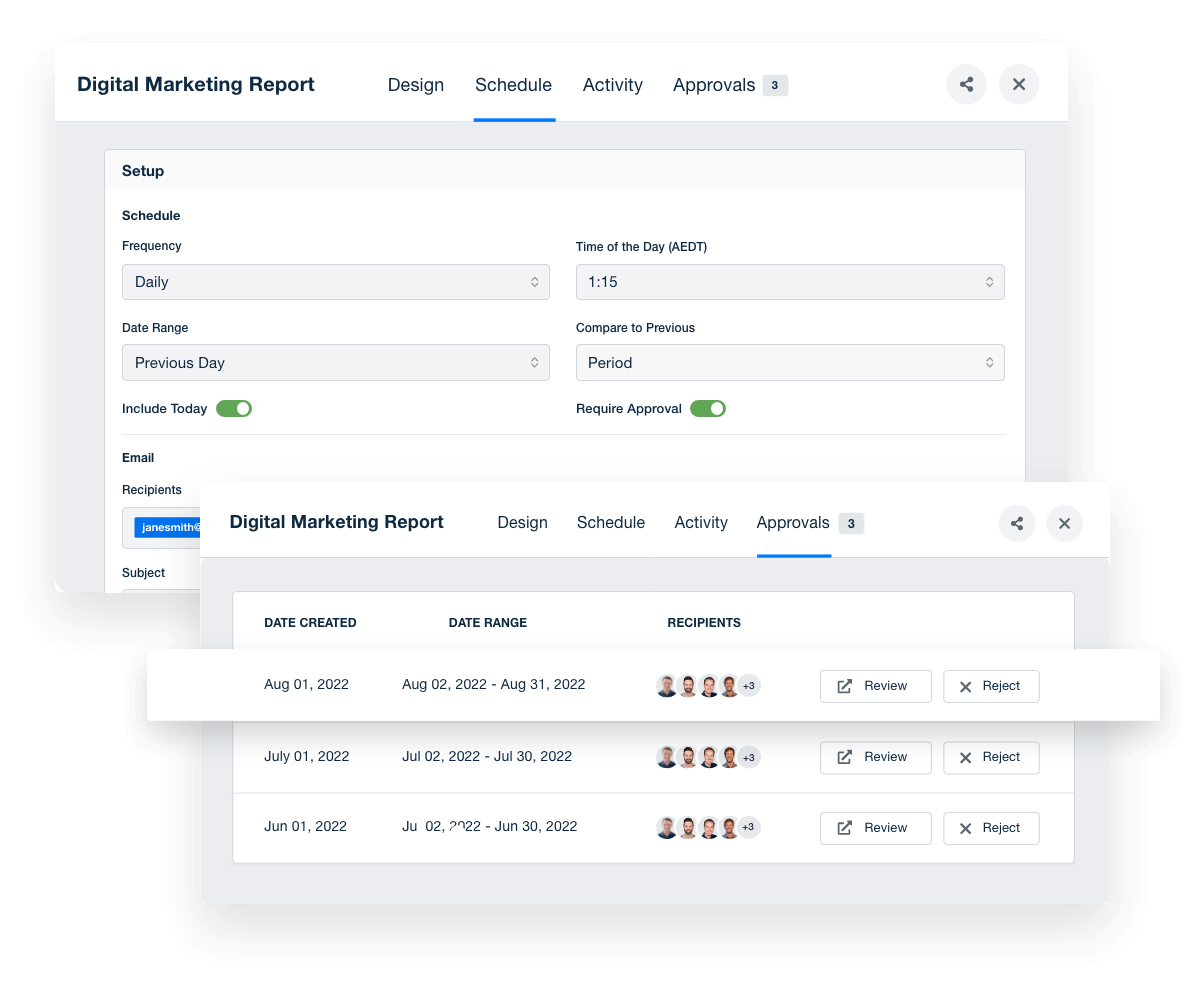 Design Your Cover Page & Report
Build aesthetically impressive marketing reports that leave an impact and tell the story of the great ROI your agency delivers. Adjust the background color or upload a custom designed image. Add and adjust your title and image widgets to suit your style. Save your favorite report designs as templates your agency can use again and again.
Choose from 75+ integrations
All Your Clients' Marketing Metrics In One Place
Stop wasting time switching between marketing channels and bring all your clients' data under one roof with automated marketing reports. Connect to any of the 75+ integrations, including today's most popular marketing platforms, for real-time data automatically updated in live dashboards. Create custom metrics to blend data across campaigns to showcase growth and ROI.
ADD YOUR OWN INSIGHTS & COMMENTARY
Personalize Your Automated Marketing Reports
Give every client a personalized experience by adding your expert commentary to each report. Craft an executive summary, make recommendations, and tell a story with their digital marketing data. With automated data-retrieval and report creation processes, use a digital marketing reporting tool to focus your time on providing personalized insights, actionable context, and professional advice.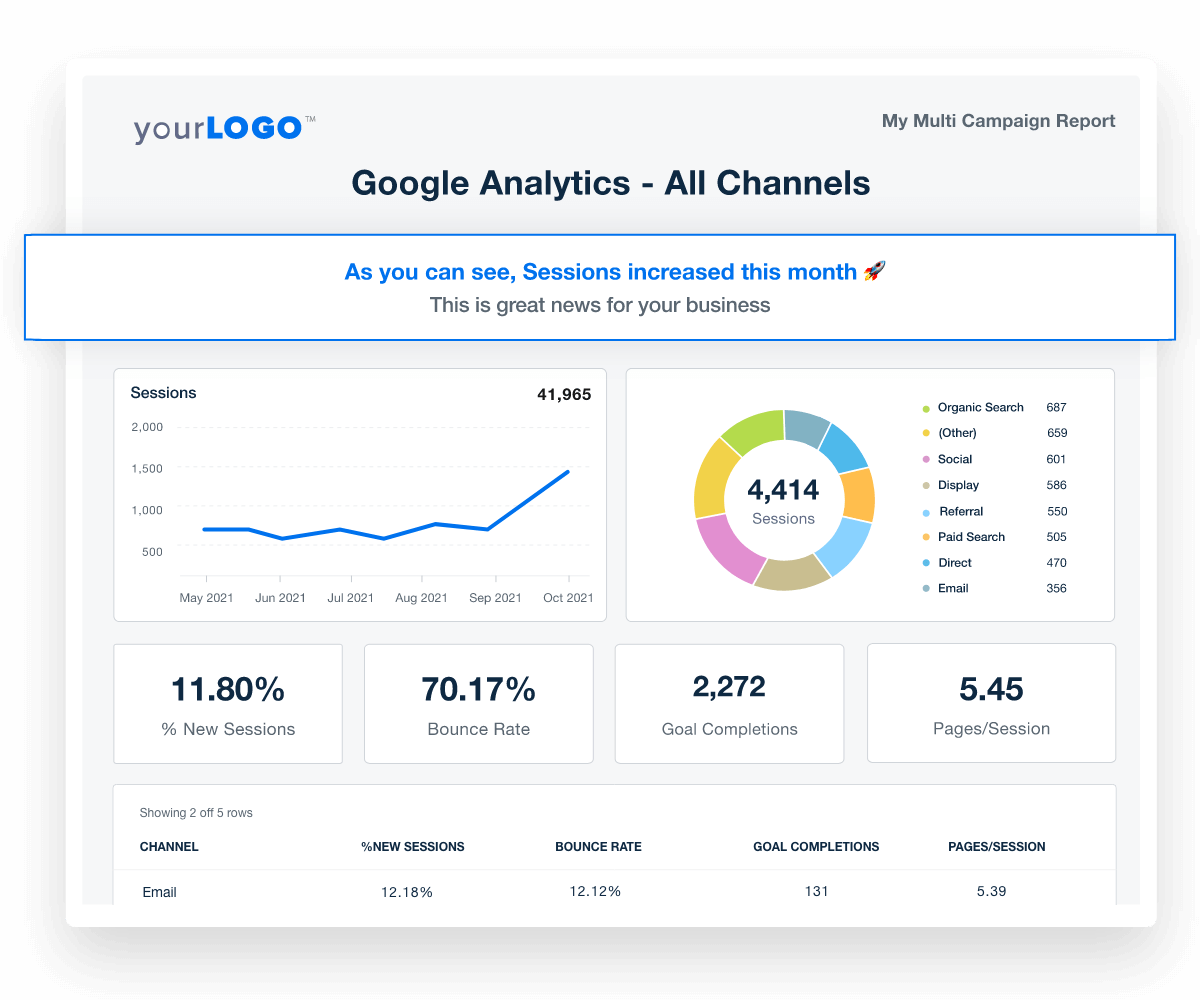 There are so many features and they are all very easy to use. Having monthly reports sent to clients automatically couldn't be better. Clients are happy, I'm happy!
Automate Client Marketing Reports for Accurate Data and Eliminate Human Errors.
FULLY CUSTOMIZABLE CLIENT REPORTS
White Label Dashboards & Marketing Reports
Stand out from the competition. White labeled marketing reports showcase your digital marketing agency's professionalism and strong brand identity. A full suite of customizable widgets, the drag and drop report builder, and white label capabilities helps your agency build credibility and long-lasting client relationships. 
MULTIPLE CAMPAIGNS, ONE REPORT
Cross-campaign reporting keeps your team updated on all of your clients' marketing campaigns in one place, covering each client's key metrics to ensure you're hitting all your goals. For clients with multiple websites or locations, aggregate their marketing analytics into a single client report to provide a complete overview of your agency's work.
SET GOALS AND HIT PERFORMANCE TARGETS
Show Clients You're Hitting Their Marketing Goals
Communicate your marketing strategy success at a glance with the Goals widget. The visual progress bar shows exactly how your efforts are trending against key marketing objectives. Break down your monthly performance targets into day-to-day action items and keep your team on track. Apply Goals to any metric and show clients exactly how you're helping them progress towards their performance targets.
INSTANTLY SEND REPORTS TO CLIENTS
Stay On Top of Your Reporting
With report automation, your marketing agency's client report scheduling and delivery is done via email. Alternatively, send them instantly from any dashboard to promptly notify your clients or team of real-time changes. Provide on-demand access by sharing a link to a specific report or dashboard with a dynamic date range and date picker. Retain control by seeing exactly when reports have been opened or clicked to make sure your clients are engaging with your agency reports.
WE'RE HERE WHEN YOU NEED US
Customer Support Is Our Top Priority
At AgencyAnalytics, we're committed to helping your agency succeed. Through our dedicated customer support team, you have all the assistance you need to effectively use your automated reporting software and deliver top-notch marketing reports to your clients.
Accessible 24/5, our live chat support is renowned for lightning-fast response times, usually under 3 minutes, ensuring you're never kept waiting. But speed isn't our only virtue–we pride ourselves on the outstanding quality of our service, reflected in our customer satisfaction ratings consistently soaring above 95%.
With AgencyAnalytics, we headed into a new era of reporting. It is no longer seen as dreadful work, we save lots of time, and our reports have become way more valuable to our customers. We keep growing, and our reporting needs to grow with us.
Try AgencyAnalytics risk-free for 14 days. No credit card required.