Drag & Drop Report Builder Built for Agencies
Connect to over 75 marketing channels from one intuitive report builder. Easily customize the look and feel of your marketing dashboards and reports so they're ready in minutes.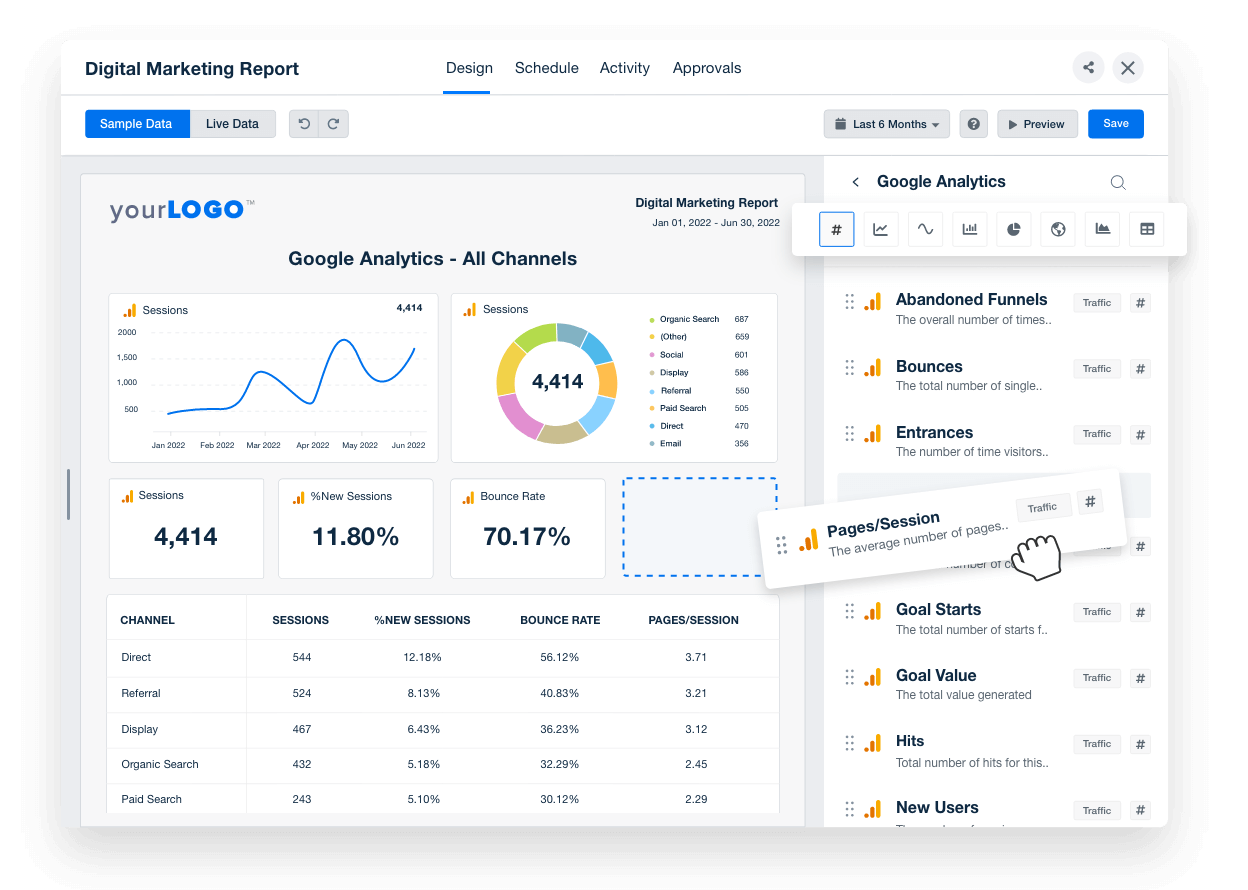 Highlight What Matters Most to Each Client
Quit fussing with screenshots, pasting metrics around, and creating the same bland report for each client. Simply drag the metrics you want to highlight and drop them into your client reports where they make the most impact. Build trust to retain clients with marketing dashboards and client reports that clearly show your agency's consistent transparency and expertise.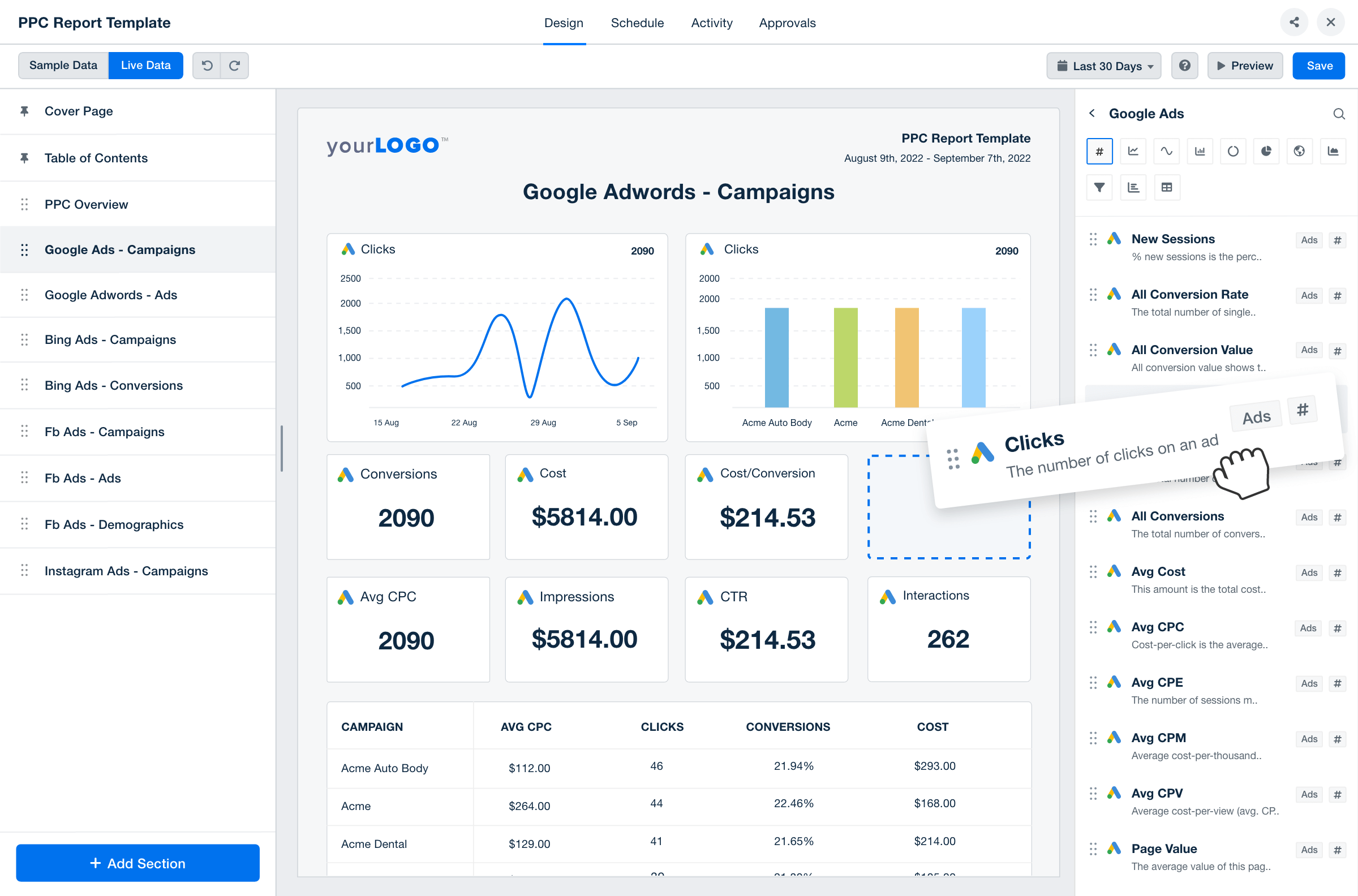 Customizable & Scalable
Build dashboards & reports based on your clients' unique needs, then copy sections or reuse your favorite templates easily
White Labeled
Put your agency's brand at the forefront–even host your dashboards and reports on your own domain
75 Integrations
Connect all your clients' marketing channels directly from your report builder with only one login
Automated Reporting
Set your report scheduling and forget it–the latest data gets updated automatically to the time period of your choice
70+ Integrations Ready to Go
No more logging in and out of multiple platforms to get your clients' latest report metrics ready. Navigate between design, scheduling, and viewing how your clients interact with your reports–all from one interface. Streamline your workflows and simplify your reporting processes to scale your agency.
REAL-TIME DATA AT YOUR FINGERTIPS
Build Custom Marketing Reports and Dashboards in Minutes
Building custom marketing reports doesn't need to take all day. Drag and drop your clients' latest key metrics straight from your report builder. Select your desired time period and your report will automatically update itself! With dozens of templates and an intuitive and easy-to-use report builder, automate your client reporting in minutes.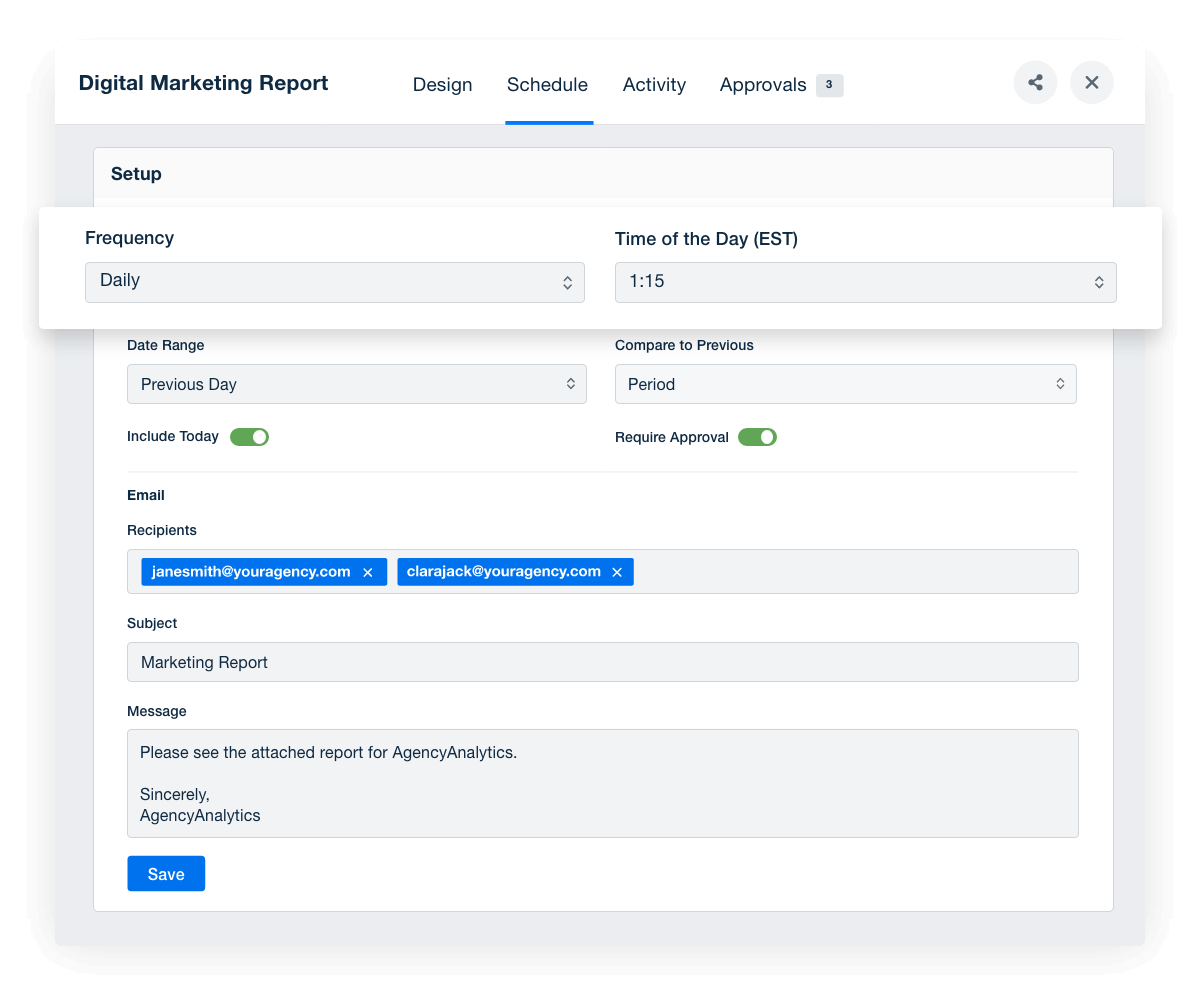 FULLY PERSONALIZED REPORTING
Complete White Labeling Capabilities
The drag & drop report builder is just the start. With a full suite of customizable widgets and white label capabilities, you have everything you need to call the platform your own. You can even tell clients it was built in-house, we won't tell!
Data Storytelling Made Easy
Automating your reports frees up time to add the finishing touches and work on what drives results. Use the executive summary to make recommendations and add commentary next to the data to explain your results in plain English. The easy report creation and approval process help you scale your agency's workflow while still providing personalized advice to your clients.
Between ease of use, user interface, configuration, and customer support, AgencyAnalytics is the industry gold standard in reporting software. We'll be customers for life!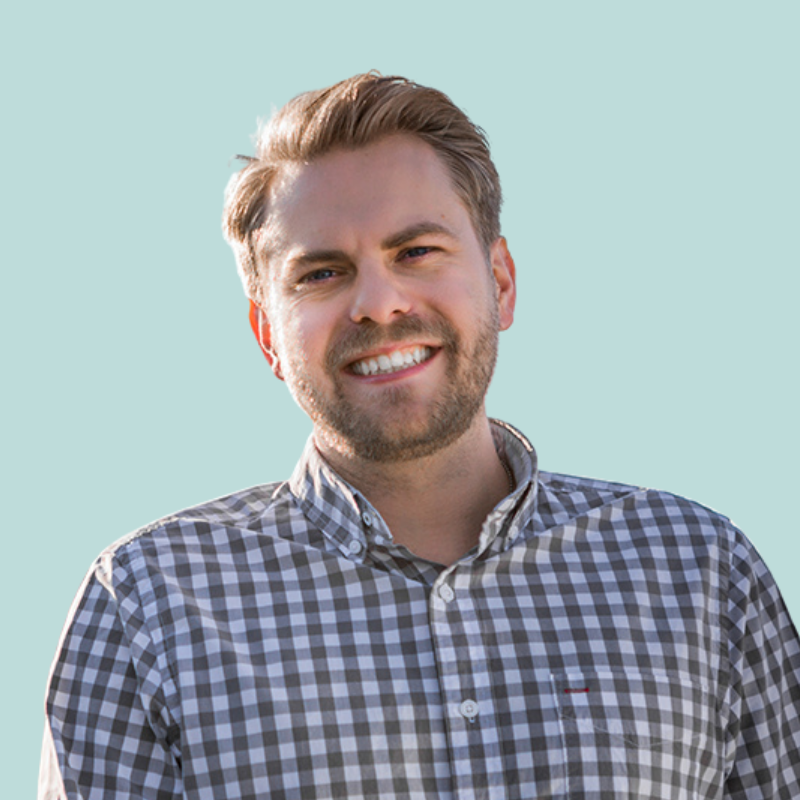 Try AgencyAnalytics risk-free for 14 days. No credit card required.