Google Ads Reporting Tool
White labeled Google Ads reporting designed to turn your agency's PPC management services into a seamless experience.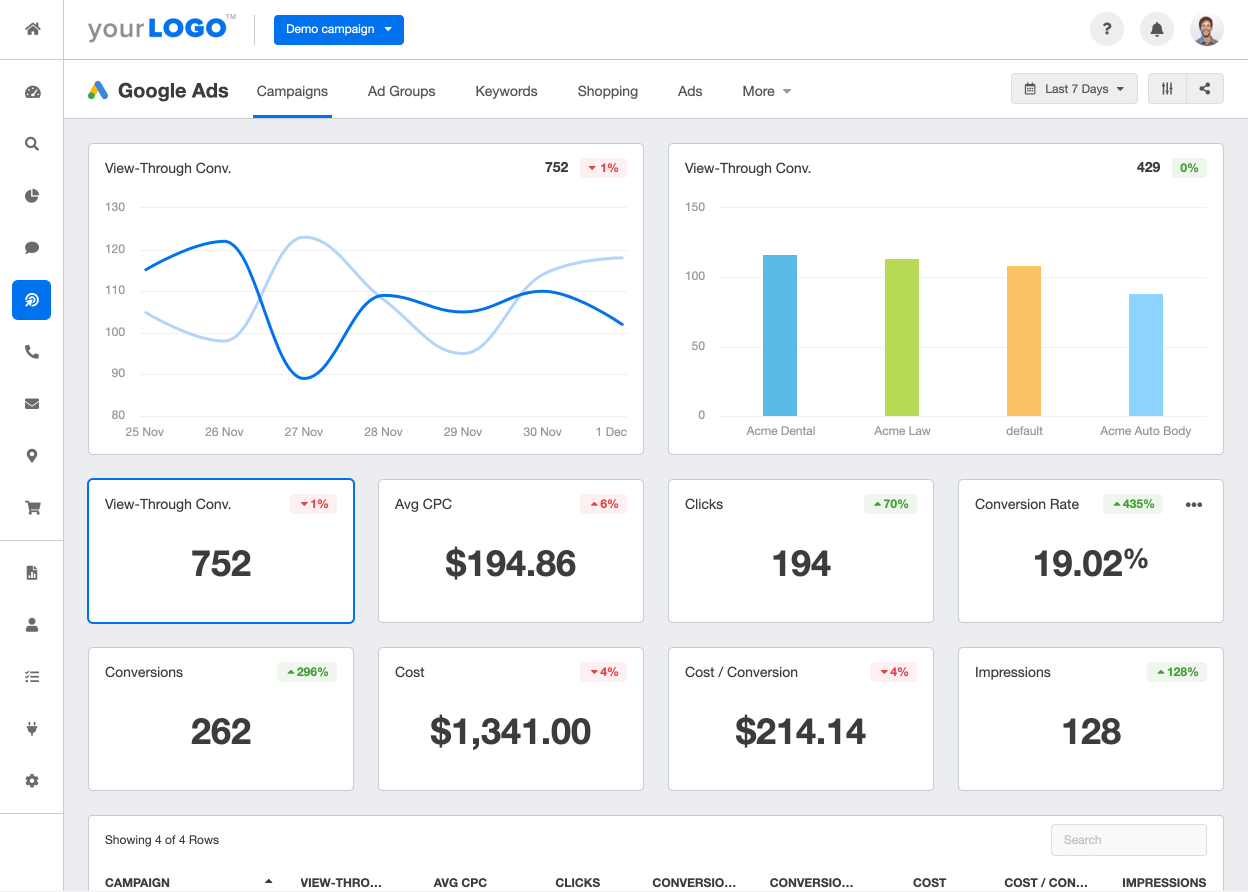 Campaign Analysis
Account level snapshot of critical campaign-based KPIs & metrics
PPC Metrics
Monitor clicks, impressions, conversion rate, cost, CPC, and much more
Keyword Reporting
Keyword-level analysis for every term that generated clicks or impressions
Conversion Tracking
Track campaign performance and the ROI of each conversions
Say Goodbye to Manual Reporting
Automated Google Ads Reports
For many agencies, monthly Google Ads reports involve collecting, aggregating, and visualizing data manually with spreadsheets. Our automated PPC reporting software lets you build reports in minutes and put the entire process on autopilot. Using free templates, build a report or dashboard in minutes and clearly showcase the value of your PPC management services to clients.
Explore All Available Google Ads Metrics
See all the Google Ads data you can easily add to your client reports and marketing dashboards
All Conv

All Conv Rate

All Conv Value

All Conv Value Per Click

All Conv Value Per Cost

Avg Cost

Avg CPC

Avg CPE

Avg CPM

Avg CPV

Avg Pageviews

Avg Time On Site

Bounce Rate

Calls

Clicks

Content Impr Share

Content Lost Is Budget

Content Lost Is Rank

Conv Value Per Click

Conv Value Per Cost

Conversion Rate

Conversion Value

Conversions

Cost

Cost All Conv

Cost Per Conv

CTR

Date

Engagement Rate

Engagements

Gmail Clicks

Gmail Forwards

Gmail Saves

Impr Abs Top

Impr Top

Impressions

Interaction Rate

Interactions

Measurable Cost

Measurable Impressions

Measurable Rate

Missed

Percent New Visitors

Phone Calls

Phone Impressions

Phone Through Rate

Received

Search Abs Top Impr Share

Search Budget Lost Impression Share

Search Impr Share

Search Lost Abs Top Is Budget

Search Lost Top Is Budget

Search Rank Lost Impression Share

Search Top Impr Share

Unknown

Value All Conv

Value Conv

View Rate

View Through Conv

Viewable CPM

Viewable CTR

Viewable Impressions

Viewable Rate

Views
Put the ROI your agency provides in the spotlight
Prominently Display Conversion Metrics
Conversions are king! Put your clients' PPC conversion metrics front and center in your reports to ensure they know exactly how much value your agency provides. Show conversions by campaigns, ad groups, keywords, ads, and more. Prominently display conversion rates, cost per conversion, and ROAS in live PPC dashboards and automated reports.
Reporting at the Individual Keyword Level
Analyze Campaigns at the Keyword Level
Impress clients with a keyword-level PPC analysis. Start with a full color graphical overview, and then dive deep with clicks, impressions, conversions and a number of other granular metrics.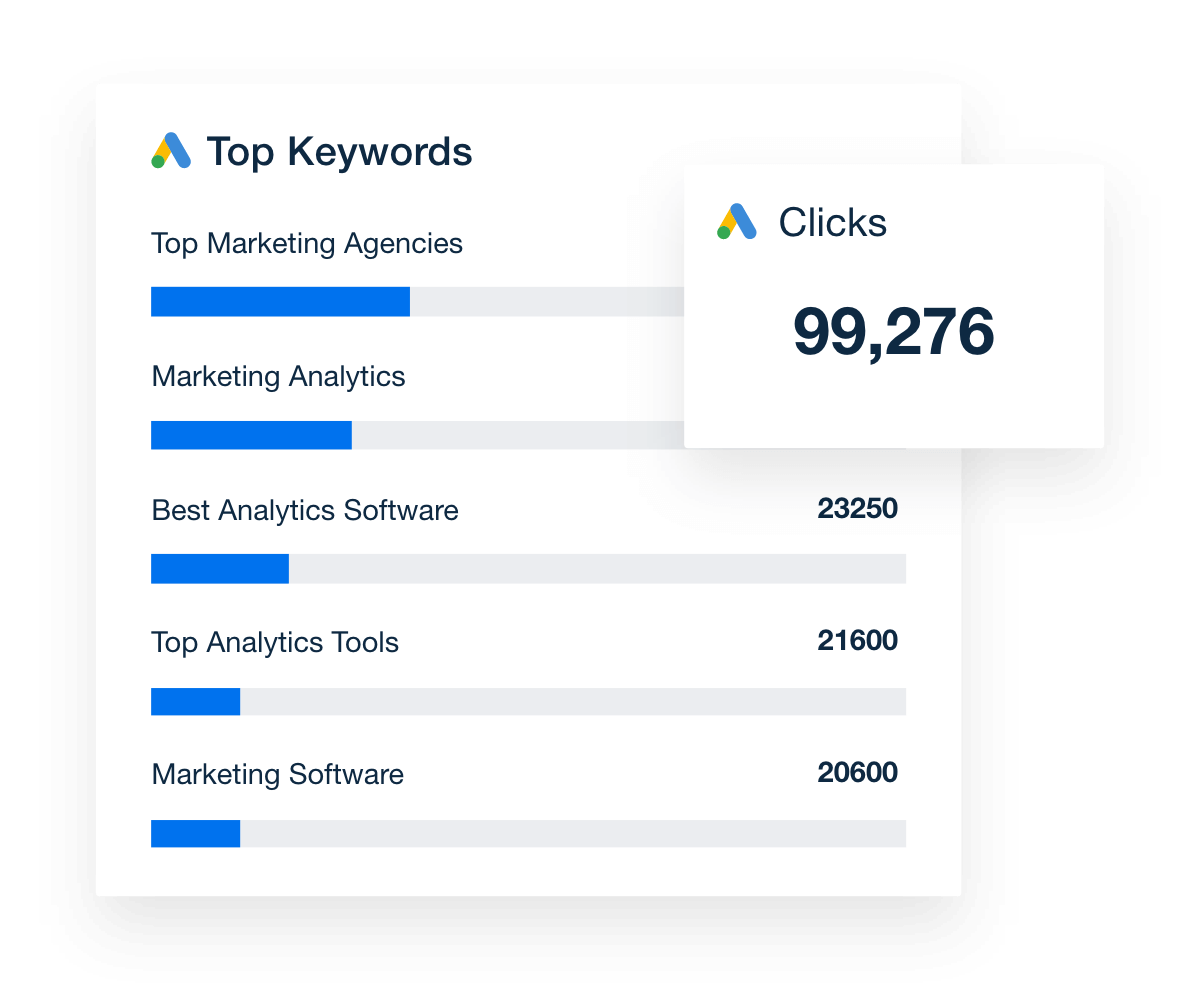 Approachable, High Level Campaign Reporting
Simplified Campaign Metrics
Clients aren't necessarily marketers, and for many of them, it's easy to get overwhelmed by too many stats available in the Google Ads interface. Provide them with live dashboards and automated PPC reports that offer a high-level overview of their Google Search, Display, YouTube, Performance Max, and other PPC campaigns. Customize your Google Ads report templates to highlight essential metrics that convey just the right amount of marketing data to keep your clients informed but not overwhelmed.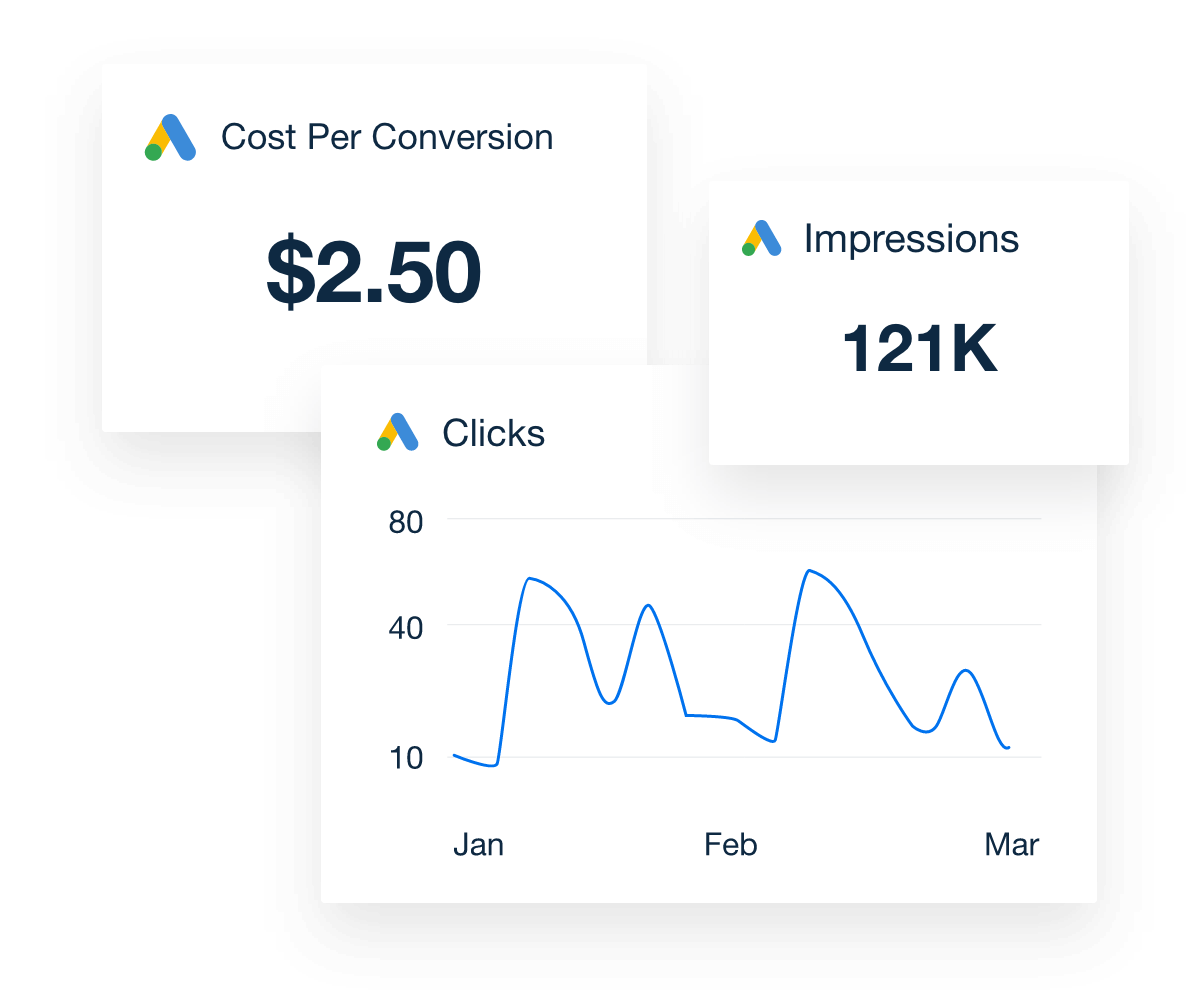 Add Your PPC Markup to Each Report
Many PPC agencies add a markup to the Google Ads cost. To avoid confusion with your clients, use the PPC markup tool to configure a single account-wide markup on each Google Ads account you manage, or add custom markups for individual clients & channels. This will automatically add your agency's PPC management fees to their Google Ads report templates for a seamless experience.
Many clients love having access to live PPC data they can review on their own schedule. Providing clients with their own login to a live dashboard is the gold standard for trust and transparency. Many clients find the native Google Ads dashboard overly complex and confusing. Your Google Ads reporting platform is designed to give clients live data in an intuitive and easy-to-use interface.
Custom Google Ads Reporting
Every client is unique and has their own reporting needs. One might be thrilled with a simple Google Ads report template summarizing their clicks and conversions. Another might look forward to poring over exhaustive keyword-level data. Whatever your clients' needs, the intuitive reports editor makes it easy to quickly build customized Google Ads report layouts.
AgencyAnalytics takes digital marketing campaigns to the next level. The dashboards empower agencies and clients, providing a one-login solution to understand campaign performance across SEO, Google Ads, Social Media, and more.
Connect the Google Ads integration in seconds to streamline your client reporting.
Your Logo, Your Branding, Your Layout
Enhance your brand presentation by white labeling your PPC reports with your own branding. Your custom-branded reports meet the high standards of many of the worlds' largest agencies, while offering a simple setup process that is designed for agencies of all sizes.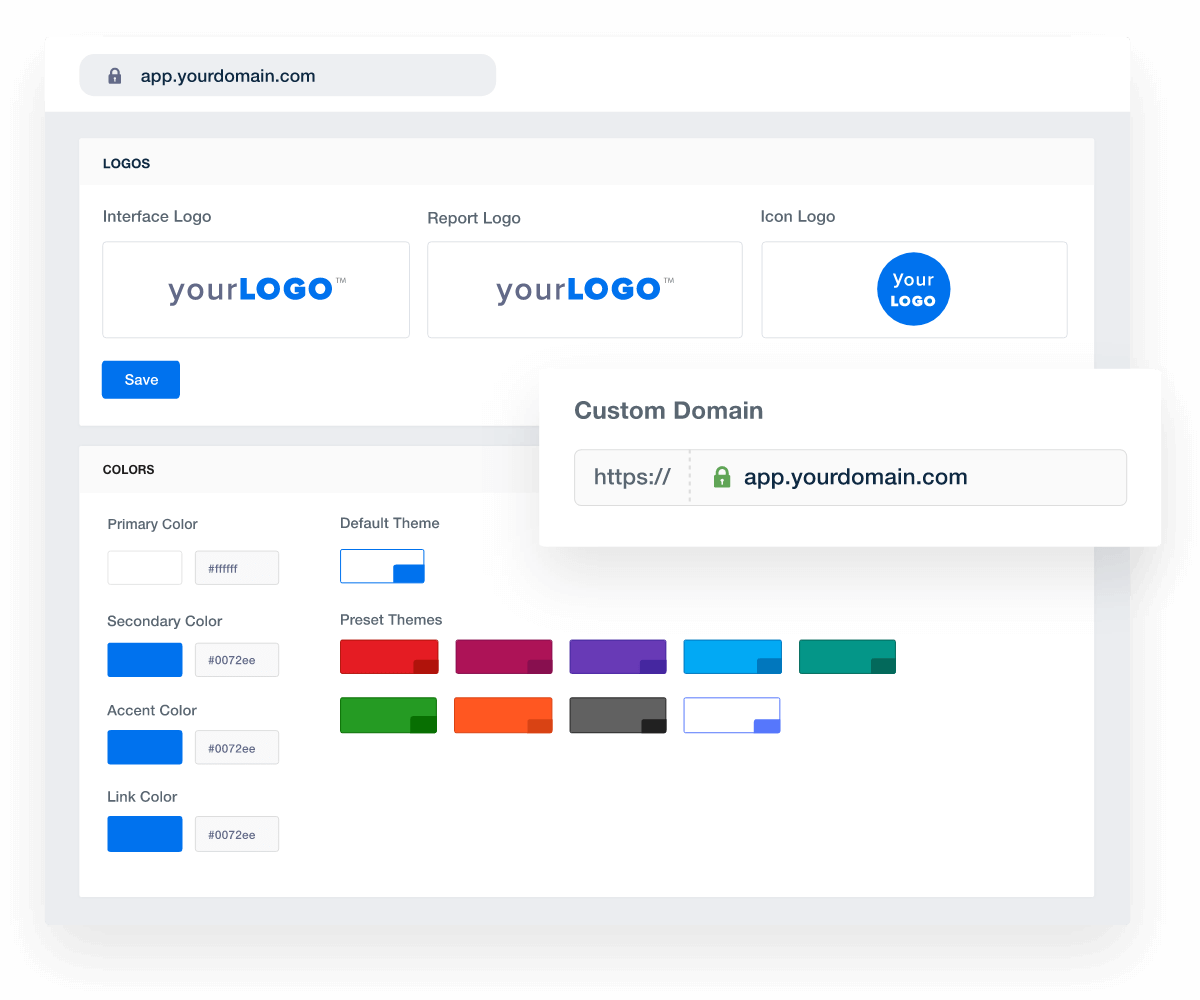 CONNECT THE DOTS BETWEEN 75+ INTEGRATIONS
All Your Client Data in One Platform
Your clients use more than just Google Ads to grow their businesses. Bring all their important KPIs into AgencyAnalytics' powerful reporting platform to show the complete picture of their performance.
Easily combine performance data from Google Ads with all of their other digital marketing campaigns, including Google Search Console, overall SEO metrics, social media, and more.
Adding a Google Ads dashboard is easy! Create custom dashboards and reports using the drag-and-drop editor or use the predefined reports available in the free template library.
A Customizable Reporting Solution Makes Agency Life Easier
Build Client Dashboards & Reports Your Way
We get it. You like to build client reports your own way. With a range of customization options, including dashboard widgets, custom metrics, and a drag-and-drop report builder, you have everything you need to customize client reports to show off the impact of your agency's marketing expertise.
Create better, faster, reports featuring your own branding and impress clients with a suite of reporting tools designed for marketing agencies.
CUSTOM CLIENT REPORTING MADE EASY
Report Smarter, Not Harder
If you're looking for an all-in-one reporting tool for your agency that manages various marketing tactics and channels, AgencyAnalytics has to be your go-to reporting solution. Create stunning automated reports and dashboards in just a few minutes.
Everything Your Agency Needs
Try AgencyAnalytics risk-free for 14 days. No credit card required.