Track & analyze your clients' paid advertising metrics in a dedicated PPC report. Make PPC reporting easier and retain clients with a professional white label PPC report template.
Why Your Agency Needs a PPC Report Template
Paid advertising data can be overwhelming and complicated for clients who don't have any marketing experience. This is especially true for PPC campaigns, which often involve a significant amount of data, metrics, and acronyms.
However, when you use AgencyAnalytics' PPC report template to gather and present this data, you do so in a way that is simple and easy for your clients to understand. This PPC report template has many benefits, like analyzing your campaigns and formulating new strategies to improve performance.
While one of the best parts of using a PPC reporting tool is the amount of time you save, it can also help you build your clients' trust and confidence in your agency's services. Our PPC reporting software gives you the ability to present clean data to your clients on a regular basis in the most professional way possible.
We also have a PPC dashboard template available if you want to provide clients with data in real-time.
9 Sections Included in Our PPC Report Template
1. Cover Page
The cover page of a PPC Report is the first touchpoint when presenting your client's ad campaign data. Use the Report Cover and Section Design Customization Feature to choose a background color or upload a custom image that reflects your agency's brand. Apply that design concept page-by-page. And continue this branding through customizable title and image widgets throughout the report.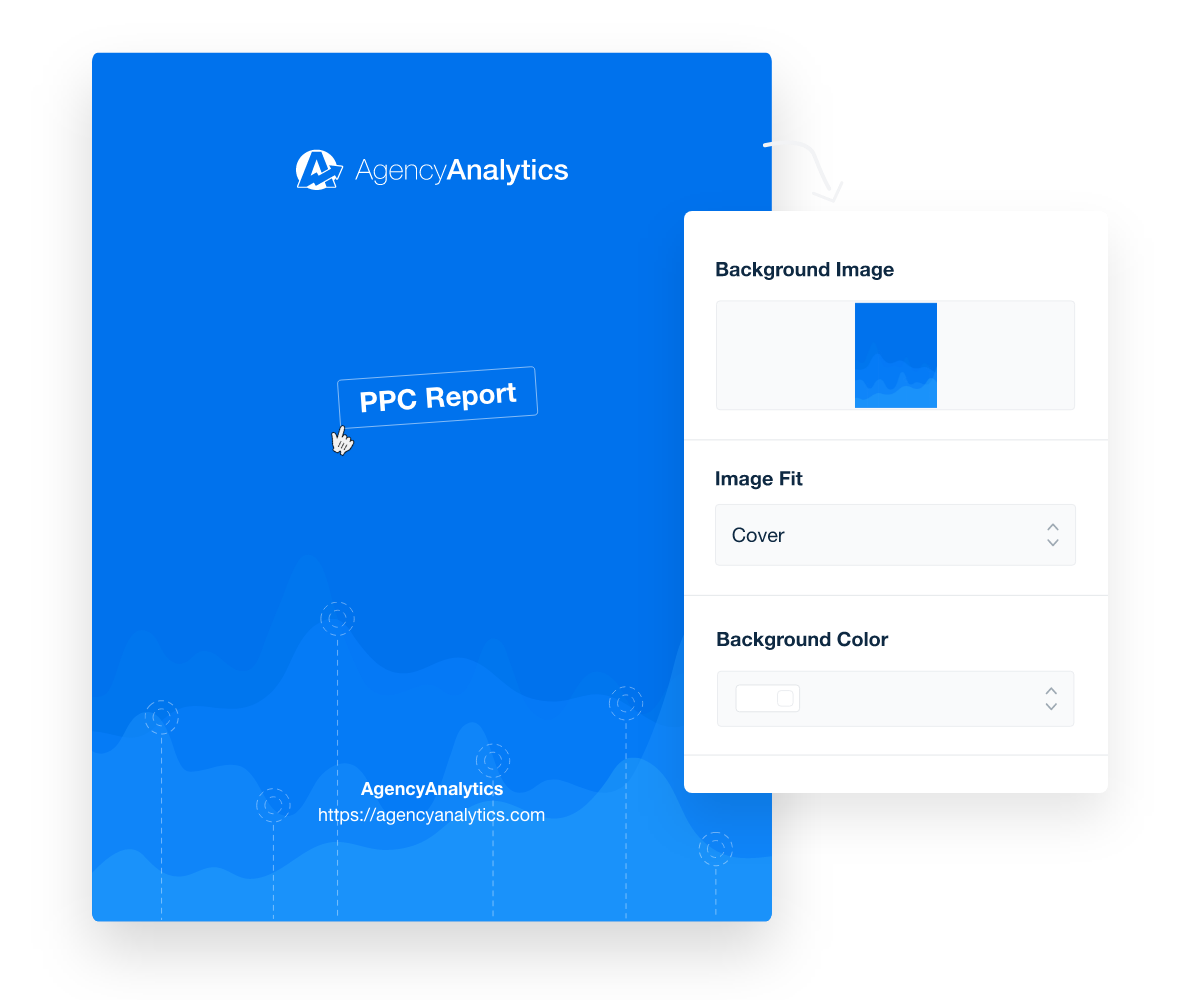 Saving a well-executed design as a template ensures consistent branding and streamlines the reporting process for future projects.
The first page of a PPC Report template sets the initial tone for the in-depth analysis and insights that follow. And a professionally designed report, from start to finish, serves as a critical tool for establishing your agency's credibility and enhancing the overall client experience.
2. Report Summary
In the monthly write-up section of the PPC report, there is a custom text field for you  to provide an overview of the reporting period. We recommend you use this section of the report to analyze the past month's overall performance to show your clients how the budget is looking and how you plan on optimizing individual ads or campaigns to improve their performance.
Use the monthly write-up section to strategize for next month and give your clients an idea of the action steps you're going to take to improve upon their account's performance. You can also use this section to show how you're planning on meeting your clients' long term goals moving forward.
3. Google Ads – Campaigns
This section of the report template tracks the performance of your Google Ads campaigns, compiling the performance of each individual ad in an easy-to-read, intuitive way.
The first part of this section displays a summary of important KPIs including the number of conversions, the total cost, impressions and clicks, among others. It also displays the average of metrics like click-through rate (CTR), cost per click (CPC) and cost per conversion. The second section displays these metrics per individual campaign.
You can use this section to show your client how well the campaign is performing on Google, especially in relation to other ad platforms. The Google Ads Campaigns section also allows you to compare the performance of individual campaigns against one another to see where you can make adjustments.
4. Google Ads – Ads
While measuring the overall success of your Google Ads campaigns is important, it's just as essential to measure the performance of individual ads within these campaigns. And that's exactly what this section of this report provides.
In this section you'll see a list of all the ads you're running, along with individual KPIs like cost, CPC, conversions, clicks and more. You'll also see an overall summary for all of your ads at the top of the page, including the URLs that are visited the most from your ads. Use this section to show your clients what kind of ads work best so you can capitalize on them in future iterations.
5. Facebook Ads – Campaigns
This section shows you how well your FB ads campaigns are performing. You'll have access to the usual metrics like clicks and CPC, but you'll also get data like cost-per-thousand impression (CPM) and total impressions, both of which are integral pieces of the PPC puzzle.
A major mistake that people make with Facebook campaigns is not keeping on top of them constantly. It's easy to overspend and waste money if you're not monitoring them closely. By running this report regularly you can keep on top of everything going on in your FB ads account.
Also take a look at our Facebook Ads report template if you're only providing FB ads services to your clients.
6. Facebook Ads – Ads
It's important that your clients actually see the kind of ads they're showing to their followers on social media and how well those ads are performing. This way, they know exactly what they're paying for and what kind of return it's giving them. This section of the report displays the exact individual ads you're running on Facebook, along with their associated KPIs like conversions and clicks.
Apart from seeing how well each ad is performing, the Facebook Ads section can help you get creative with your clients moving into subsequent months. This is an excellent opportunity for you to get ideas for new creative content on Facebook to drive more engagement and traffic.
7. Bing Ads – Campaigns
Like the Google Ads Campaigns section above, the Bing Ads Campaigns section displays the overall performance of the PPC campaigns you're running on Microsoft's search engine. In this section, you can show your clients important metrics like conversions, total spend, clicks, impressions and more.
As you're probably well aware, most clients want to focus on Google most, since that tends to be the more popular search engine, but this can cause them to miss valuable leads who use Bing. Use this section to show your clients that Bing is just as useful as Google and social media platforms, but that it just targets a different demographic overall.
8. Instagram Ads – Campaigns
The Instagram Ads Campaigns section gives you the opportunity to show your clients how well your campaigns are performing on this popular social media platform. You can show your client KPIs like click-through rate, impressions and clicks, among others.
This section pulls its data from the Facebook Ads dashboard with the Publisher Platform filter enabled to display Instagram only.
9. Google Analytics – PPC Landing Pages
Paid ads are, of course, the bread and butter of PPC campaigns, but it's also just as important to show your clients the individual landing pages you're using for these campaigns and how well they're performing.
The Landing Pages section of the PPC report template pulls data directly from Google Analytics and displays key metrics like bounce rates, goal completions, session duration and total number of sessions. You can see an average of this data as well as the same metrics per individual landing page.
Use this section to show your client which landing pages are working and which aren't. That way you can create a strategy for ways to improve individual landing pages, whether that be updating content or the page's visuals.
Need more sections or custom metrics? No problem, AgencyAnalytics lets you easily drag and drop new sections to your Instagram report for a fully customized, white label experience.
Powerful PPC Reporting Software Built for Agencies
Win Back Billable Hours By Streamlining Your PPC Reporting
Spend your agency's time delivering results, not just reporting on them. Drag and drop key metrics into visual graphs and configure your PPC reports in minutes! They'll always be ready to go while you're working on your revenue-driving activities.
Campaign or Account-Wide PPC Markups
Avoid unnecessary questions and misunderstandings. With the PPC markup feature, only show clients their total ad costs including your agency's margin.
Show the Big Picture of Clients' Online Performance
What completes a PPC report better than SEO? Access a full suite of SEO tools to complement your PPC results. Automatically track keyword rankings, perform a site audit, and monitor backlinks. Schedule them to send on a daily, weekly, or monthly basis even if you don't manage a client's SEO... yet!
A comprehensive digital marketing report template consolidates all your client's marketing data into one centralized hub, driving efficiency, improving targeting, and maximizing conversions.
White Label Your PPC Reports
Create complete white-labeled PPC reports that match your agency's brand. Upload your agency logo, use your brand's color palette, and even send reports from your own email. 
By consolidating all of our tools into dashboards, we have saved so much time and money—it's truly been invaluable. As an agency owner, I don't know of a better platform than AgencyAnalytics.
Try AgencyAnalytics risk-free for 14 days. No credit card required.