Retain clients in the long run with an impressive white label SEO report template.
Why Your Agency Needs an SEO Report Template
Writing client reports is an unwelcome chore for many SEO professionals. It can be difficult to pick out the key information that belongs on a monthly report, let alone figure out how to present it in a way that will make sense to your clients.
AgencyAnalytics is built to help agency owners simplify and automate their reporting process with beautifully designed templates. Whether or not you use AgencyAnalytics as your SEO reporting software, the sections included in this page will give you a solid starting point for a comprehensive SEO report.
Once you've covered all the basics, you can add more information on a case-by-case basis, depending on each individual client's goals and level of involvement. The goal is to create the perfect SEO report for each client based on their unique needs.
7 Things to Include In Your SEO Report Template
1. Report Summary
It can be intimidating to dive straight into a report full of charts and technical terms, so it's best practice to give your clients an overview in plain English first.
Keep it simple and concise. If your client has only a few minutes, they should be able to read this introduction and have an overall understanding of what your report contains, even if they don't know much about the technicalities of SEO.
A good introduction lends structure and context to the rest of the report, so be thorough. Provide a breakdown of the following:
Project goals and KPIs

Tasks completed

Results overview
After reading the report summary, your clients should understand the project focus and results. For example, they should know from the first page of the report that organic traffic increased by 15% and generated 50 new leads.
Finish the overview with a few notes on the next steps you're planning to take towards your clients' goals.
2. Traffic Overview by Channel
Where is your client's traffic coming from? One key section to include in your report is a breakdown of which channels – such as organic search, direct traffic, referrals, and paid search – are bringing visitors to your client's site.
Don't just provide specific numbers for each channel – compare them to each other, and look for trends on how their traffic is changing over time.
Too many SEO rank reports provide data without any context. Provide the full picture of website performance, to put the SEO and organic performance in perspective for your clients.
Clients will also want to see how traffic has changed since you began a campaign. This is your chance to show just how much traffic you are now generating, as well as the value your agency is providing.
If your agency's focus is on SEO, be sure to highlight changes in organic traffic so your client understands the overall impact in relation to their other marketing channels.
In the next section, we will dive further into the organic traffic results themselves.
Sudden increases in traffic may indicate that something is either working very well, for instance a viral blog post or new PPC campaign started bringing in a lot more traffic, while a decline may indicate something abruptly stopped working and needs to be fixed. To account for these changes, it is always a good idea to use the annotation feature to provide explanations about these noteworthy increases and decreases.
3. Conversions via Organic Traffic
Ultimately, clients want to see the results that impact their bottom line. This is probably the most important section of your report as it can clearly demonstrate the value you're bringing to the table.
First, it's important to set up the Goals you want to track, which measure things like leads and conversions.
For example, every time someone visits your "/thankyou" page, they probably purchased something and therefore they completed what you wanted them to complete. You can learn more about setting up Goals here.
Once you have your Goals setup, you can see how often your web visitors from organic search completed those goals. Below illustrates an example of this type of report:
In this section, zero in on your client's organic traffic based on their Goals. Look at how these visitors behave on the site. Do they stick around, or do they bounce right away? Are conversions from organic traffic increasing, decreasing, or holding steady?
While more organic traffic is generally better than less, the key is the quality of the traffic. A low conversion rate coupled with high organic traffic might mean that your client isn't currently attracting the kind of customers they need and you should reconsider the keywords that you're targeting.
Send this report over with a short analysis covering these key points to help keep things clear for clients and move things forward toward their end goal.
4. Landing Page Report
If you are writing content or creating new pages for clients, you'll want to include a report section on landing page performance.
A landing page report provides additional insight into which pages generate the most traffic, leads, and conversions. Filter this report by "Organic" channel for a report that is specifically focused on SEO.
This is also a particularly valuable section for any client that you manage a blog for as they can quickly see which blog posts generate traffic, conversions, and gauge overall interest via the bounce rate.
5. Keyword Rankings
Keyword rankings are an essential part of any SEO report. They're a good indicator of whether your overall organic search strategy is working, or whether you need to test something else.
When you onboard a new client, you want to identify a handful of target keywords you begin tracking from the beginning of the campaign. Add these keywords to your SEO client report template to easily show progress in the SERP.
In addition to the keywords that your client is ranking for, look at the search terms that are actually bringing traffic in. Is there a lot of overlap between the two groups?
If your target keywords aren't also generating enough traffic, you may need to revise your strategy to focus on keywords with a higher search volume or look at your click-through rate in Google Search Console to see if you need to better optimize your titles and meta descriptions.
While keyword rankings are a strong indicator of performance, you don't want to send a keyword ranking report alone. Including overall search traffic for your clients and organic conversions is a far stronger indicator of a great campaign ROI.
6. Google Search Console
You know which keywords your client is ranking for now, but how many clicks are they actually generating in Google?
Google Search Console provides tons of valuable information on how Google interacts with your client's site. There's plenty of information here that you can quickly fold into a report template for clients.
Give your client information on which search terms people are clicking to find them. You can find this under "Search Analytics" in your Search Console Account. It is also accessible in your AgencyAnalytics SEO dashboard.
In addition to showing an overview of all the keywords that are generating clicks, also show impressions, click-through rate (CTR), and average position for each. It will cover any keywords you aren't currently tracking in your keyword rank tracker.
Google Search Console also provides warnings if a site has any problems, such as issues with indexing or security. If you get any of these warnings for your client's site, include that information in your report as well as a summary of how you fixed the problem.
7. Backlink Overview
Building a healthy backlink profile is one of the biggest challenges SEO professionals face. If you are providing link building services to clients, then you want to report on your progress.
However, you don't need to provide a giant list of all the backlinks a client has. Remember: too much information is only going to distract from the success of your SEO!
The backlink overview section of your SEO report template should contain:
The number of backlinks you gained for your client that month

The quality of the links you gained

Top Anchor Texts

The number of links lost

How much traffic your new links are bringing in (referral traffic in the Google Analytics Report)
If you want to show clients the exact backlinks you built for them, check out our backlink manager tool. This can let you keep track of all backlinks you've built for a website and then quickly add them to your SEO report.
Also if you offer a service focused solely on link building, you may be interested in our link building report template.
Other General Considerations
Every report you write should be tailored to the individual client's goals and their understanding of SEO. That's not to say you can't use a template – templates can save you a lot of time. But don't send the same cut-and-paste report to all your clients.
Clients who like to be more involved in their SEO will probably appreciate having more information to dig into, while more hands-off clients might simply be happy knowing that their campaigns are moving along in the right direction.
Do your best to structure each report in a meaningful way. Depending on the data you're working with, this may be easier in some months than others.
In general, always provide context for the numbers and data you're reporting on. Demonstrate your progress by comparing current data to past months' data, and point out how this progress translates towards a client's goals. Show your clients how you're helping them make continuous progress.
It's okay to highlight flattering data in your reports, but don't use it to cover up problems. A client has the right to know about failures as well as successes. If something didn't work out the way you thought it would, it's okay to say that you need to change direction or give it more time. As with anything else, honesty is the best policy.
The Takeaway
Creating a process for SEO reporting is going to save you hours every month. But there is a lot of information you could include! Use an SEO template that highlights the most important data, without overwhelming a client with information overload.
There's no question that putting together insightful reports is key to retaining long-term clients. Clear, well-written reports help your clients understand how your agency's hard work is helping them. They also give both of you a clear idea of what you've already accomplished and what needs to happen next.
AgencyAnalytics is an easy way to automate your data collection and visualization process in order to provide clients with a comprehensive report. Get started with your own SEO template in minutes with our 14-day free trial today.
Client SEO Reporting. Built For Agencies.
75 MARKETING INTEGRATIONS
Access All Your Clients' Data Under One Roof
Getting all your clients' SEO data takes time when you have to do it manually. AgencyAnalytics integrates with over 75+ marketing integrations so you have access to all the SEO data under one roof. Connect your favorite SEO tools like Ahrefs, Google Analytics, Google Search Console, SEMrush, Moz, Majestic, and many more, to bring all your clients' SEO data into a single, intuitive interface.
TAKE YOUR AGENCY'S BRAND FURTHER
White Label Your Client-Facing Dashboards & Marketing Reports
YOUR BRAND, YOUR RESULTS
With AgencyAnalytics, you have everything you need to create a professional reporting system for clients. Put your brand front and center with fully white-labeled dashboards and reports with your brand's color palette and logo. 
Take advantage of multiple white label profiles on the Agency Plan and higher if you have different client-facing brands. Even host your marketing dashboards on a custom domain and send reports from your own email.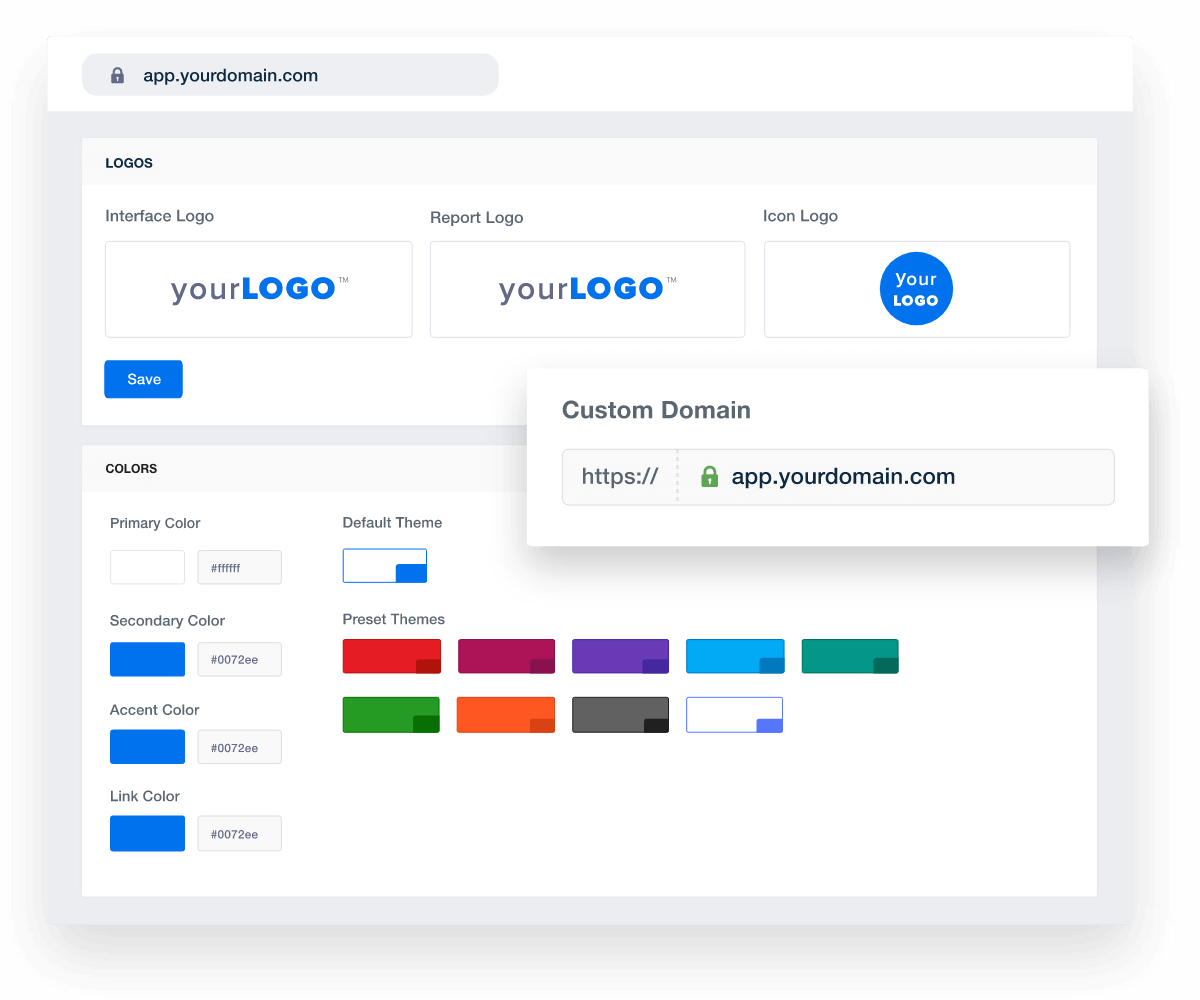 ADD KEY INSIGHTS WITH ANNOTATIONS
Tell A Story With Your Client's Data
Telling a story about your client's data is much better than just showing them the numbers. Instantly keep clients up-to-date with your progress by adding annotations and goals. When you add marketing insights to your line charts and date-based column charts, you make it easy for your clients to understand important changes in their campaigns, and how your efforts are progressing toward their business goals.
Put Your SEO Reporting on Autopilot
Use your SEO dashboard as starting point to effortlessly build and schedule automated marketing reports. The visual-first format turns complex SEO data into an easy-to-understand presentation that your SEO clients will enjoy.
APPROVE REPORTS BEFORE SENDING
Give Your SEO Clients a Personal Touch
On Agency plans and above, pair your report scheduling with the report approval feature for the best of both worlds: streamline your agency's efficiency while providing clients with a personalized experience. You'll get notified before your scheduled reports go out in order to add extra insights to your automated reports and ensure that are no surprises.
If you're an SEO agency, I HIGHLY recommend AgencyAnalytics. It contains the best reporting tool out there... by a mile.
Try AgencyAnalytics risk-free for 14 days. No credit card required.