Our SEO Proposal Template streamlines your workflow and helps your agency succeed! Create professional SEO proposals in minutes. Conduct comprehensive site audits, analyze keyword performance, and evaluate backlink profiles quickly and easily. Impress potential clients with data-driven proposals that win more business.
Why Use an SEO Proposal Template?
Business proposals can be tricky. A winning SEO proposal is essentially your agency's sales pitch—it's your chance to convince a new client that your company is the perfect fit for their SEO needs.
Writing effective proposals is crucial to landing new clients, but writing an SEO proposal for each prospective client from scratch is incredibly time-consuming.
You don't need to spend hours crafting the perfect SEO proposal. Instead, use our FREE proposal template as a starting point. Then, add customization for every potential client so that it speaks directly to their pain points and business goals.
Below we'll review the top sections to include in an SEO client proposal, although keep in mind this can be adapted to whichever type of marketing services you're pitching to prospective clients.
5 Sections Included In Our SEO Proposal Template
1. Proposal Summary
The proposal summary is perhaps the most important section of the entire proposal template. Since this is the first section your prospective client will read, this is your chance to impress them with your technical knowledge and differentiate your agency's SEO services from the competition. A great introduction should include your experience as a marketer or SEO agency, introduce your team, and most importantly, let them know how you're going to grow their business.
2. Website's Current SEO Audit Score
Next, the free SEO proposal template includes a section to demonstrate your search engine optimization expertise by showing prospects their website's SEO score. This section features key insights, such as a site audit. Our site auditor automatically scans over 40 technical issues that can harm your prospect's search engine visibility and affect user experience. Running SEO audits builds your agency's credibility because it provides a high-level overview of current issues to then highlight your plans to fix them.
3. Keyword Rankings
Next, we have a section for keyword rankings. You can do this by quickly entering a few target keywords in our rank tracker, and we'll show where the website currently ranks in search engines and the organic search volume. These rankings are essential to understanding where your prospective client currently stands in SERPs. In this section, highlight your plans to implement certain website changes or produce new content, both of which can push the business well above your competition.
4. Backlink Overview
The next section of our free proposal template consists of an overview of the prospects' current backlinks. Backlinks are critical to your new client's keyword rankings as search engines take backlinks into account when deciding whether to display your prospect's website higher than the competition.
In this section, demonstrate your technical expertise by including key backlink metrics such as Trust Flow, Citation Flow, as well as the new and lost links over time. Also, be sure to mention the fact that your search engine optimization team only focuses on links from high-quality websites that are relevant to their industry.
5. Next Steps
Finally, every business proposal should conclude with the next steps that you want the prospect to take. In this section you can reiterate how your SEO strategy will address each of their business goals and fix any weaknesses that were uncovered above. In addition to the goals you have for the client, this section is where you can highlight the timeline and investment that's required for your services.
Keep in mind that a great business proposal should always include a call-to-action at the end to let prospects know exactly what to do next. If you want to learn more about the best practices for writing an SEO proposal, check out our recent article on the subject here. We also a detailed Help Center article that shows you exactly how to setup and customize this report template.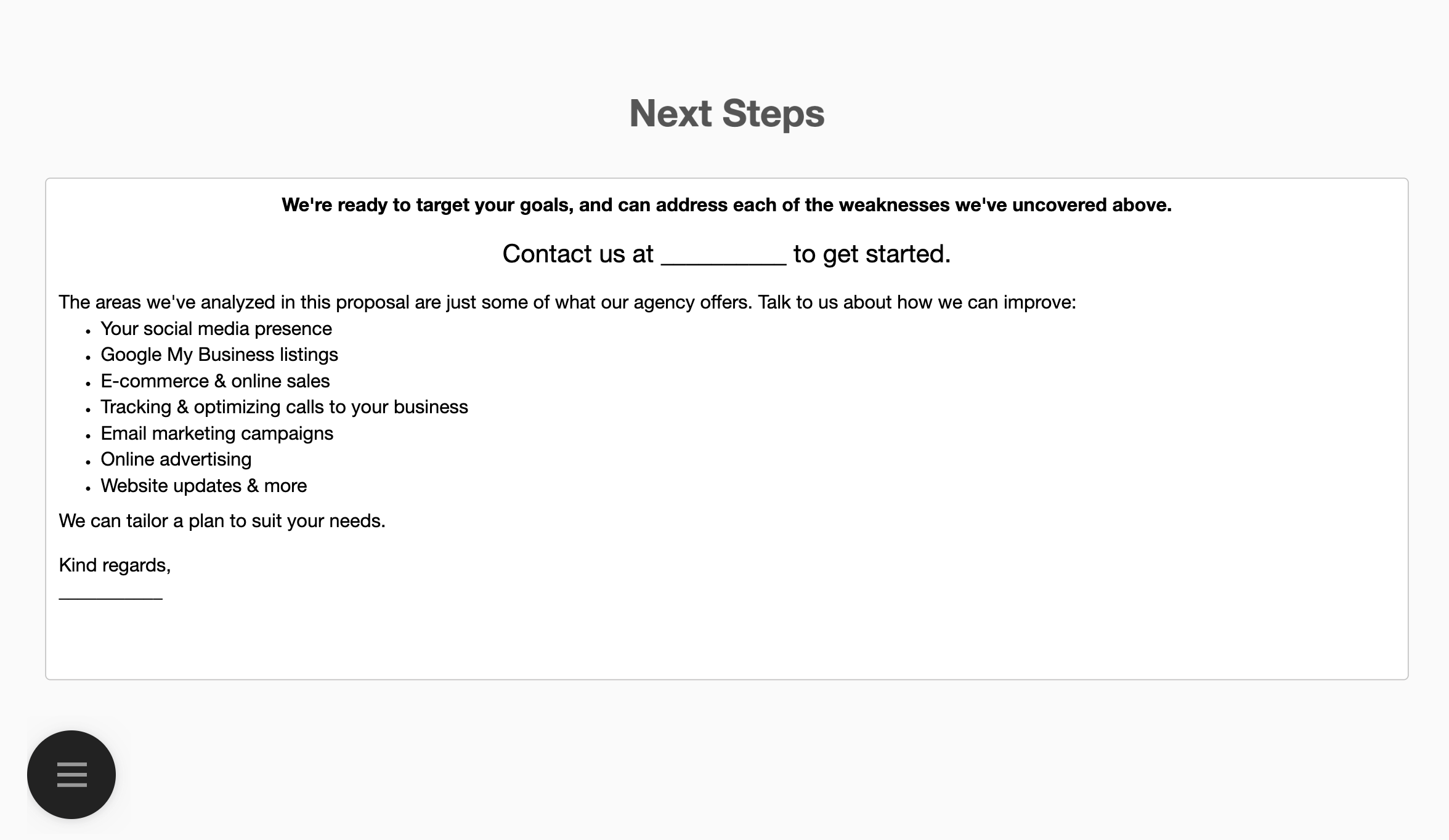 Need more sections or custom metrics? No problem, AgencyAnalytics lets you easily drag and drop new sections to your customizable proposal template.
Powerful SEO Tools Built for Agencies
Land New Clients & Scale Your Agency
Your prospective clients are likely reaching out to multiple SEO agencies. A clear, actionable proposal is your chance to stand out from the pack. Our suite of SEO tools helps you land new clients and improve your clients' performance in search engines. Convert leads into customers with a well-crafted SEO proposal.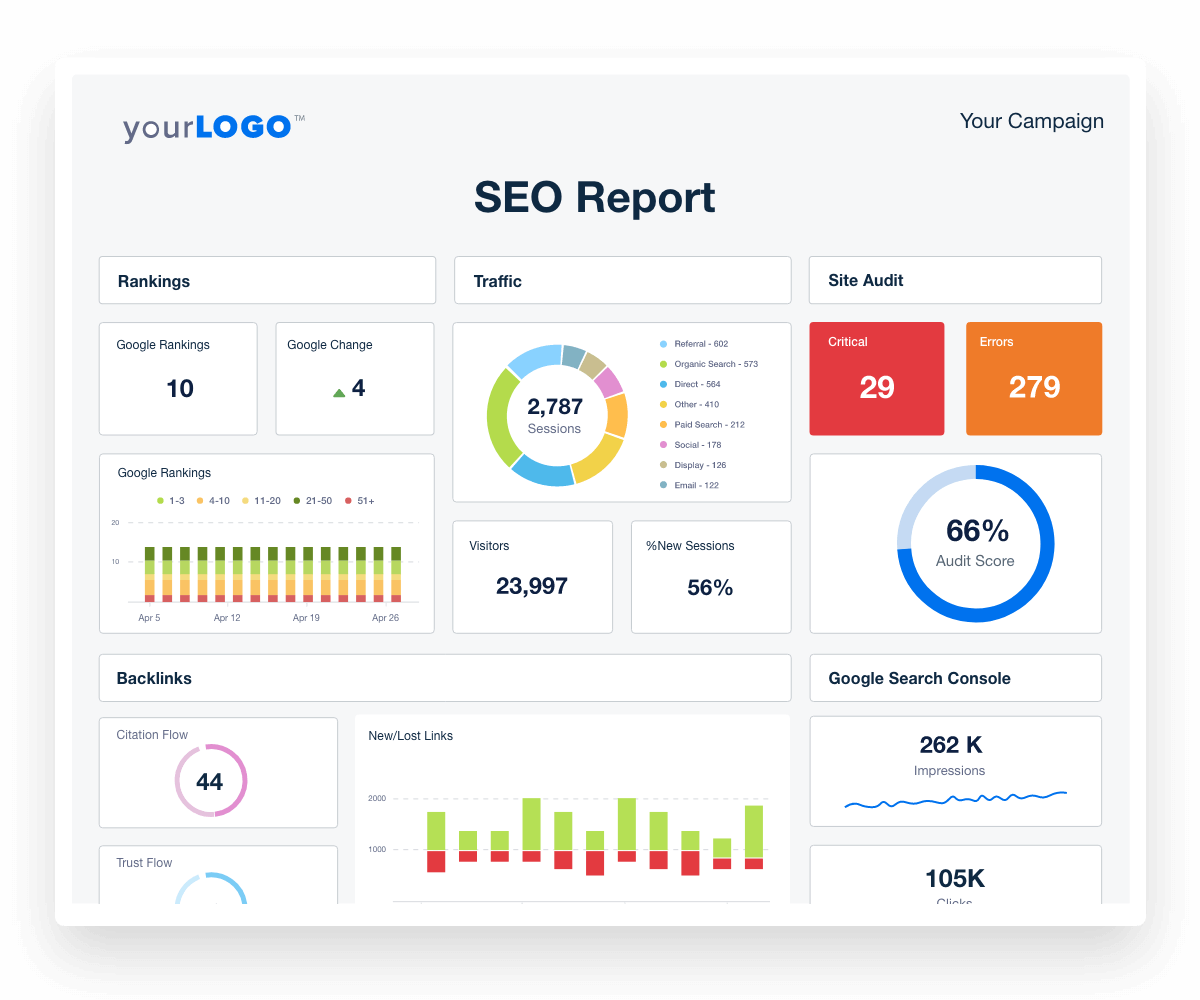 STREAMLINE YOUR PROPOSAL WORKFLOWS
Create Unlimited Client & Staff Accounts
With granular user permissions, you're in complete control over exactly what each user can see. Integrate with your favorite messaging tools to chat directly with prospects from within client-facing dashboards. Once you've closed the deal, Assign tasks and track workflows and create one-off or recurring to-dos for each campaign. AgencyAnalytics gives you everything you need to put your client proposal writing on autopilot.
Automated Client Reporting
Scale your agency with an easy-to-use, SEO proposal and reporting platform built for marketing agencies. With dozens of templates and a drag-and-drop report builder, automate your proposal writing and client reporting in minutes.
MAKE YOUR BRAND UNFORGETTABLE
White Label Your SEO Reports & Proposals
Put your agency's logo and distinct colors at the forefront of your client acquisition efforts. Create multiple white label profiles for different client-facing brands, including different logos & color schemes. With complete white labeling features, your reports and proposals will look like they were built in-house! We won't tell.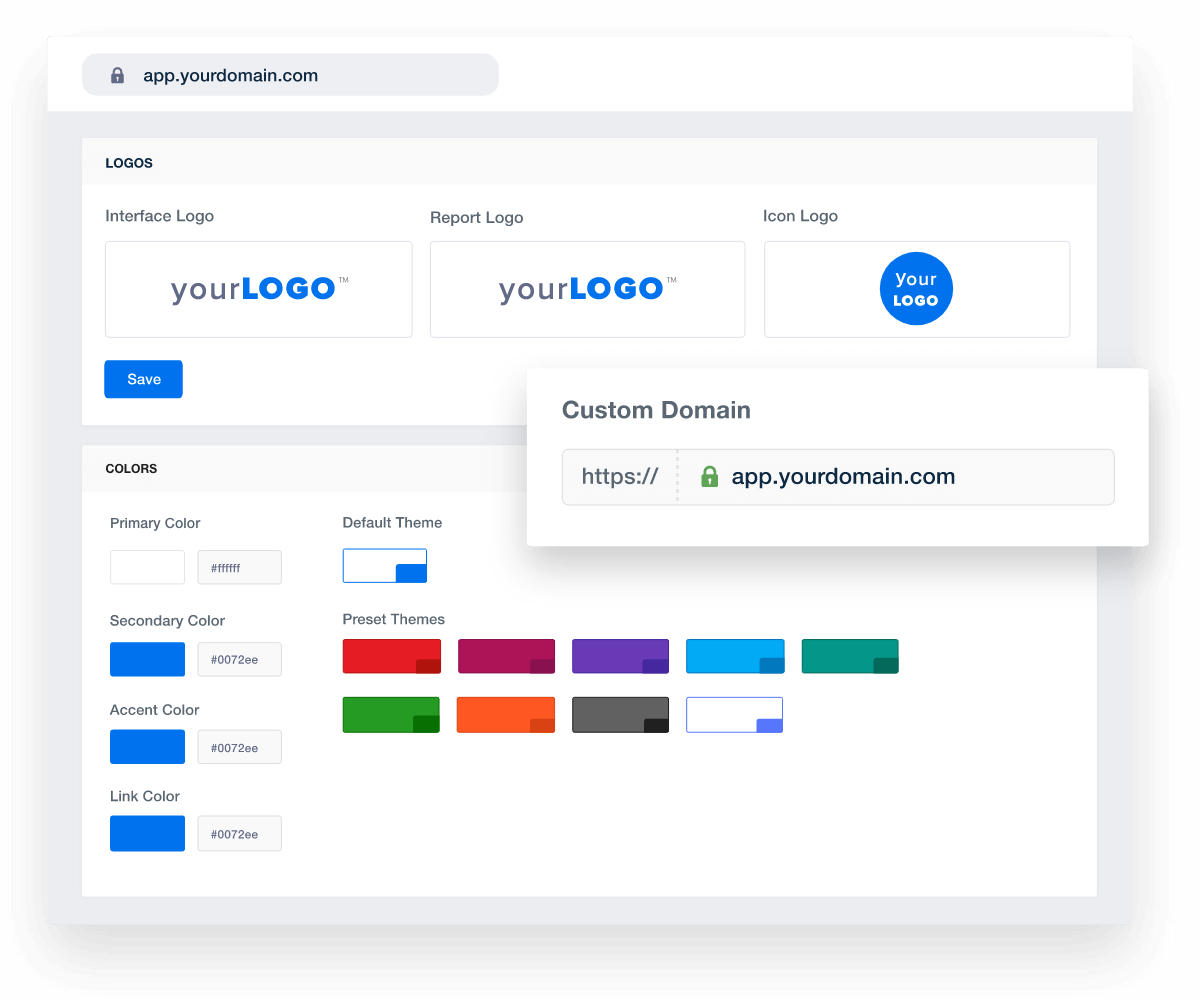 Nothing is more important to us than results and relationships, AgencyAnalytics assists us in reaching new heights.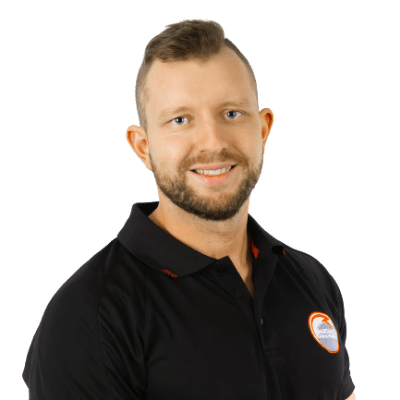 Try AgencyAnalytics risk-free for 14 days. No credit card required.