Use the social media report template to show clients trends in audience demographics, follower growth, and website traffic, amongst other KPIs.
Why Your Agency Needs a Social Media Report Template
Social media is a major source of growth for your client's business, if managed properly. Agencies that consistently deliver on their promises and increase their clients' online presence are those that continuously track changes in social media performance and engagement metrics. The AgencyAnalytics social media reporting template allows agencies like yours to know exactly what's going on with each of your client's social accounts at any point in time. It also makes it easy to communicate your client's performance in a way that's easy to understand and interpret, regardless of their level of expertise.
Use your clients' social media reports to demonstrate the ins and outs of their social media metrics for them while backing up the strategic choices your agency makes with data that ultimately contributes to their bottom line. Presenting your clients' marketing metrics in a concise and understandable manner builds transparency and trust, leading to greater client retention and less churn.
With AgencyAnalytics, easily set up real-time social media dashboards to accompany your periodic reports so your marketing team–and clients– keep a finger on the pulse.
6 Key Sections Included in Our Social Media Report
1. Monthly Summary
An important aspect of running any kind of social media or marketing campaign is keeping your clients informed on the progress and results in a way that's easy to digest. The Report Summary section gives you the opportunity to inform your clients in plain English exactly what happened over the last month and whether or not you're on track to meet their business goals.
Also use the Report Summary to discuss new marketing strategies that you plan to implement in the coming period. Was there anything that just didn't work this month that you want to change next month? This is a great place to discuss your objectives and key results (OKRs) that will help grow their social media presence.
2. Google Analytics - Social Breakdown
Following the Report Summary, the Google Analytics - Social Breakdown section provides essential marketing metrics that drive real business results as opposed to vanity metrics like followers and likes.
First, you'll see the number of web sessions coming from social displayed in a line graph that tracks total traffic over time. To the right you'll find a bar graph that displays how many sessions are coming from each individual social media account. In addition to total Sessions, the report displays the average number of pages customers visit per session.
This section also differentiates between repeat visits and new sessions so you can see if you're attracting new customers with your social media marketing strategy. Like the number of web sessions, the Social Breakdown section displays the total number of conversions, or Goal Completions, generated from social media.
To analyze your client's social presence in more depth, you can see each of these metrics broken down per social media account on the bottom part of this page. Use these data points to show your client which social media channels are driving results for their business, and which platforms represent an opportunity for growth.
3. Facebook
Next up, the social media analytics report template includes a section dedicated to Facebook, including Facebook Insights and Facebook Posts. This provides insights into the overall performance of your Facebook marketing initiatives, as well as a breakdown of your individual posts.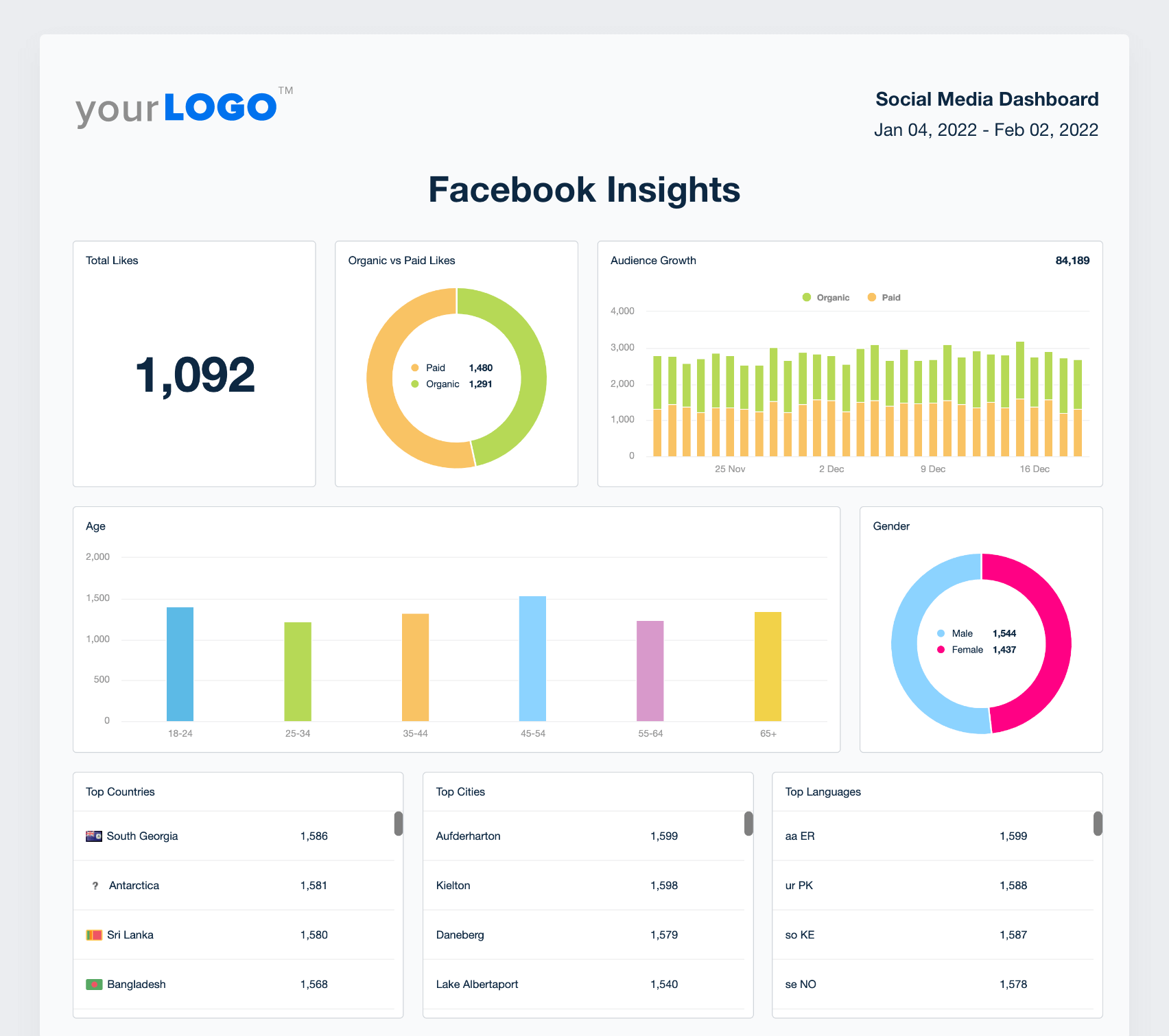 The Facebook Insights page focuses on your clients' follower growth and activity on their business pages. To start, you'll see the total number of Likes on a page, along differentiating between paid and organic Likes. You'll also see a graph that displays the change in audience growth over the past month.
The Insights section also displays audience demographics data of your clients' followers on Facebook. You'll be able to see data relating to gender, age and geographic information. This information keeps you informed about your clients' audiences and whether or not you're reaching the intended target demographics.
The Facebook Posts section of the report provides your agency with an overview of each of your clients' individual post performance and engagement. The page displays a full list of the Facebook posts you've made, along with the total reach and number of Likes, Shares, Clicks or other reactions followers have left. This section helps you and your clients understand which types of posts are resonating with their target audience at a glance, providing key insights that helps your agency create an informed content strategy in subsequent months.
Use AgencyAnalytics' dedicated Facebook report template to get all your clients' Facebook reports set up and automated in a few clicks.
4. Twitter
The social report also includes a dedicated Twitter section that provides growth insights for each account as a whole, as well as individual post analytics.
To begin with, you'll see the total number of Twitter followers, including a bar graph that displays the change in follower count over the past month. The Twitter Insights section also displays the total number of Likes, Retweets and Tweets for the overall account.
Below that, you'll find a section for audience demographics, including language, gender and geographic location. If you're targeting a specific location or demographic, use this section to see if you're on the right track or if your strategy needs refining.
The Twitter Posts page displays a full list of each Tweet during the past month, including the text and image. This section is especially useful if your agency has a client agreement to provide a certain number of Tweets per month. It also provides an overview of the type of content that resonates with your clients' target audience and what can be improved next month.
5. Instagram
The next section is dedicated to Instagram and provides analytics into the overall account as well as individual post performance. To start, you'll see a section for Instagram Insights, which displays metrics for the overall account including the number of total followers and follow growth over time. Below that you'll find line graphs displaying the number of Likes, Comments, and Posts over time.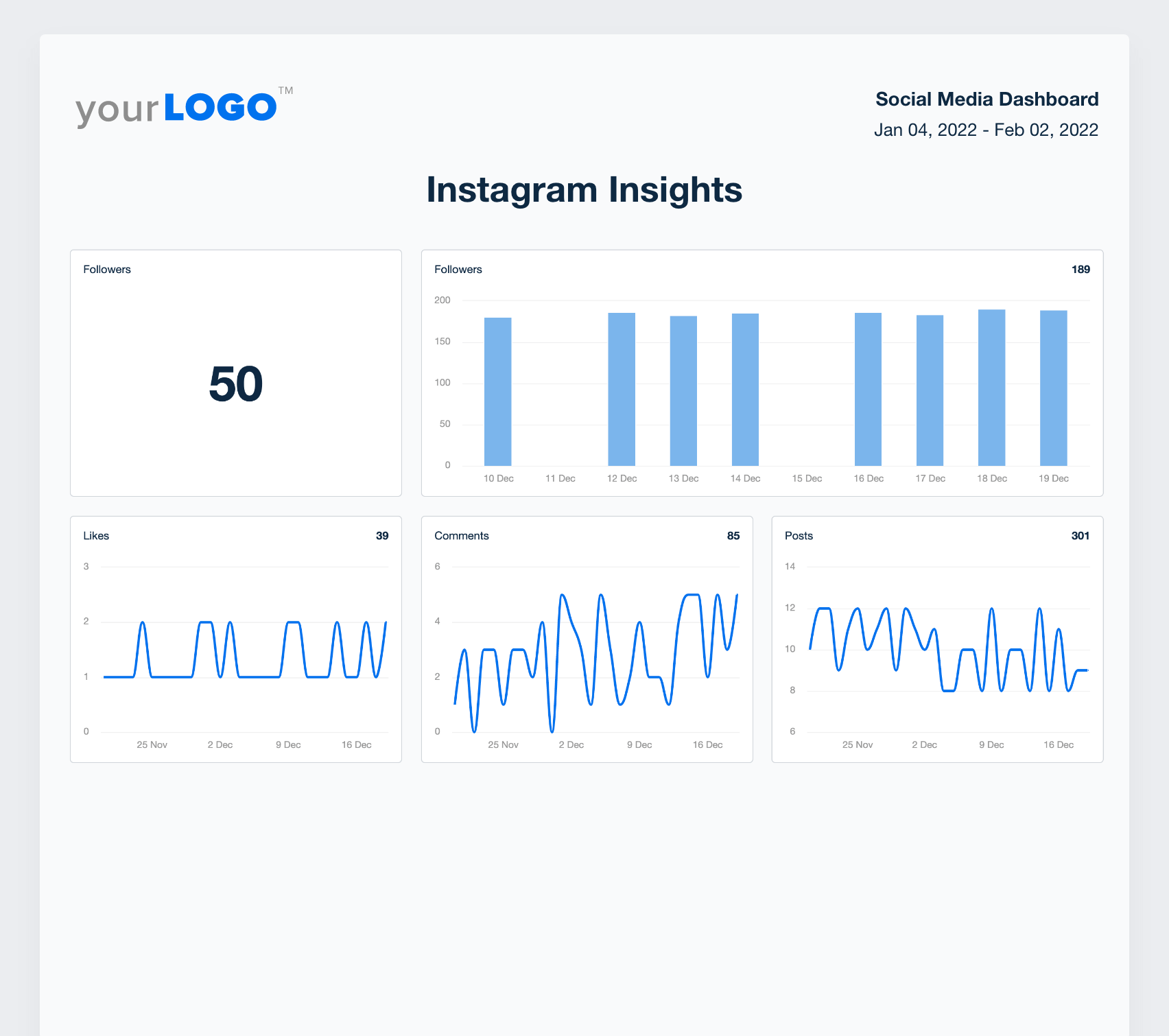 Below the Insights section you'll find a page dedicated to individual Instagram posts, along with the number of Likes and Comments each post has received throughout the month.
Just as with Facebook, if you're running ads on Instagram, this part displays all relevant KPIs for a particular campaign. Much like demographics data, you can use this information to re-adjust your marketing strategy as necessary to maximize your clients ROI.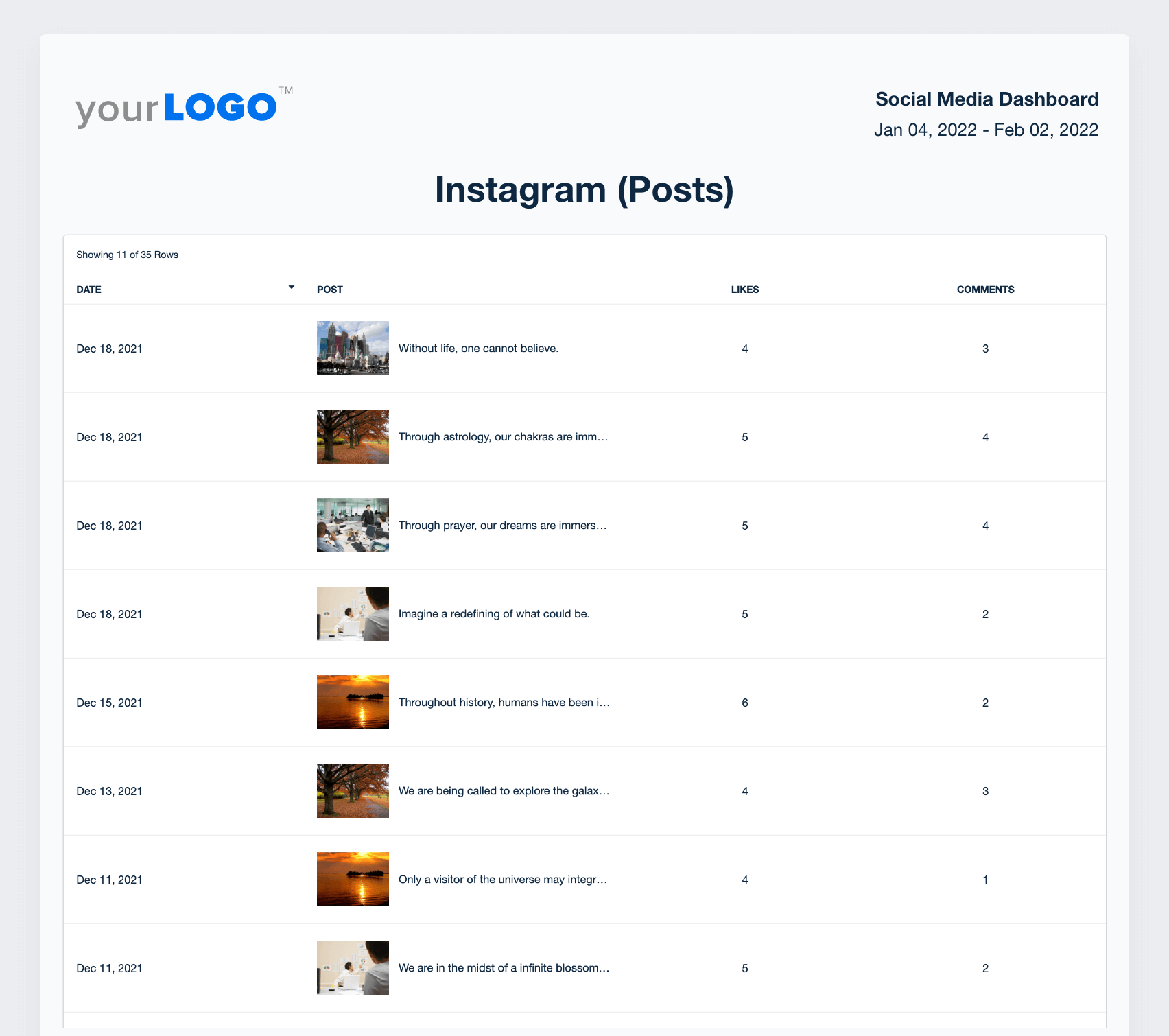 6. LinkedIn
Last but not least, the social media report template includes analytics for LinkedIn. First, the Insights page presents the total number of followers and whether they're organic or paid. Tracking the change in followers over time with the bar graph is an easy way to identify if your LinkedIn strategy is resonating with the audience or if it needs improvement.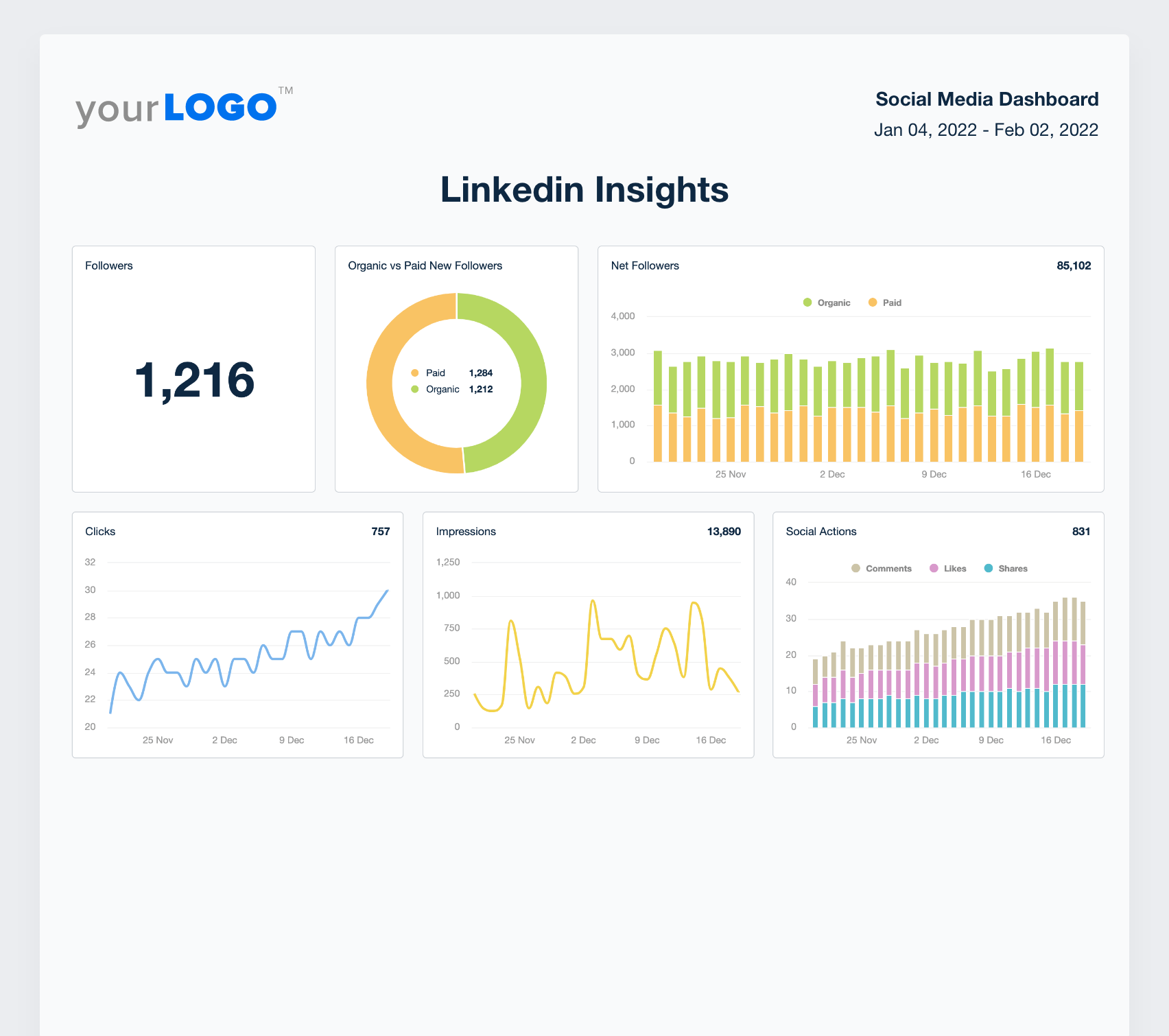 Just like the other post sections in this report, the LinkedIn Posts section displays a list of each post you made during the month, along with the number of Comments and Likes your clients are getting.
Summary: Social Media Report Template
As your agency continues to grow its clientele, the time it takes to collect, aggregate, and report on each clients'  social media metrics each month quickly adds up.
A social media report template solves this by automatically pulling data from each platform, displaying the data in a way that's easy to digest. And by automating the process of sending periodic reports to clients, your agency scales its operations.
Putting together an automated social media reporting system in place streamlines your agency's entire analytics and reporting process. It instantly shows your marketing team and your clients  everything that's taking place on each channel in real time. This not only saves your agency countless hours each month, but demonstrates the value of your agency's services to clients by clearly displaying exactly how much traffic, conversions, and revenue you're driving to their bottom line from your social media marketing efforts.
Social Media Reports as Unique as Your Agency
75+ MARKETING INTEGRATIONS
Instantly Access All Your Clients' Social Media Data
Switching between multiple social media platforms is a pain. Not with AgencyAnalytics! Access all your clients' social media channels from one streamlined platform: Connect to Facebook, Instagram, LinkedIn, Twitter, Snapchat Ads, YouTube, and many more. Managing your client's social media metrics has never been easier.
SAVE TIME & STREAMLINE YOUR AGENCY WORKFLOWS
Create Social Media Reports in Minutes–Not Hours
AUTOMATE YOUR SOCIAL MEDIA REPORTING
No more screenshots and Excel spreadsheets! All your client's real-time data is right here waiting for you. With an easy-to-use, automated client reporting platform built for marketing agencies, focus your time on creating content that moves the needle.
EASY-TO-USE PLATFORM FOR YOUR SOCIAL MEDIA CLIENTS
With dozens of templates and an intuitive drag-and-drop report builder, set up your client reports in no time, with thumbnails of their latest posts and all! That leaves you more time to optimize client campaigns, scale your agency, and focus on building relationships with your clients, not on reports.
TAKE CONTROL OF YOUR AGENCY'S BRANDING
White Label Your Marketing Reports
SEAMLESS BRANDING 
Match your agency's brand to your professional reports with fully white-labeled dashboards and reports. Just upload your agency logo, use your brand's color palette, and you're set!
SUPPORT FOR MULTIPLE AGENCY BRANDS
On the Agency plan and higher, create multiple white label profiles for different client-facing brands, including different logos & color schemes. Even host your marketing dashboards on your own custom domain and send reports from your own email for a complete white-labeled experience.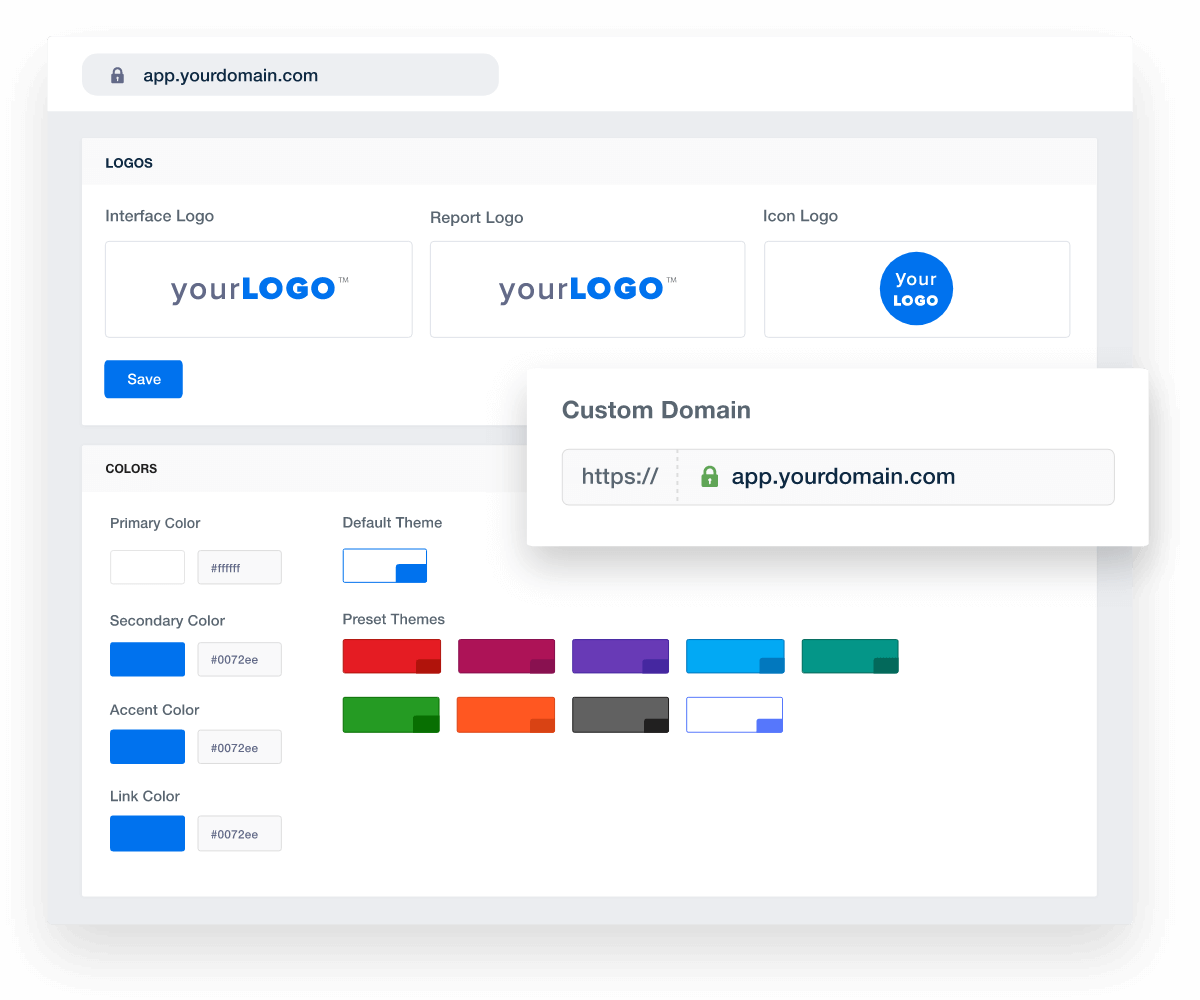 The reports we send to clients look a lot more clean and professional as we're able to white label them. We always know the data and charts are up-to-date and that each report is visually appealing and straight to the point.


Try AgencyAnalytics risk-free for 14 days. No credit card required.