Elevate your agency's game with a comprehensive social media dashboard template. Gain valuable insights with a powerful social media management tool that gathers key metrics across multiple platforms. Join over 6,500 satisfied customers and experience the benefits of using social media dashboards!
Boost Your Marketing Strategy with a Social Media Dashboard
Agencies need data-driven insights to back up their clients' social media strategies. Optimize your social media team's performance by effortlessly keeping tabs on all your clients' social media accounts in one place. Track your agency's success with a social media marketing dashboard, and easily report on your clients' social media analytics in a way your clients will actually understand. 
Why Your Agency Needs a Social Media Dashboard
Without the right social media reporting tools, it's easy to get lost in a sea of data. Especially when your social media team has to collect, analyze, and report on campaign performance metrics across multiple social media campaigns. 
That's why agencies need a single, comprehensive dashboard that automatically collects and visualizes marketing data under one roof. Your agency's social media managers will thank you, as they see everything taking place on clients' social channels like Instagram, Facebook, Twitter, TikTok, LinkedIn, and YouTube to better gauge social media engagement. 
Spend less time reporting and more time optimizing campaigns that drive success. A real-time social dashboard gives you deeper analytics on each social media platform to see which one is receiving the most engagement, traffic, and conversions. Show clients the exact benefits their social accounts are providing for their business, including how much each platform is contributing to their bottom line.
To save time, send out custom reports with bulk scheduling tools with the social media report template.
9 Sections To Include in a Client's Social Dashboard
The following social media dashboard examples show you how to easily track common social media metrics from one dashboard and analyze the data. 
Want to compare ad spend to complement your clients' social media campaign conversions? Just drag and drop the widget into your dashboard from any of 75+ integrations. Save your ideal combination as a template, and clone it to easily onboard your next new client. 
1. Subscribers/Followers
The number of subscribers or followers on an account is often the first thing clients notice. Tracking the number of people following your clients' multiple social media platforms gives you a good gauge of their brand's popularity amongst very different audiences. Easily identify whether one of your clients' accounts has fewer followers while the others are going strong to adjust your social media strategy accordingly. 
Tip: Highlight your clients' follower growth by comparing current and past periods in a concise report. Pair this data with key engagement metrics for a comprehensive view of follower quality and overall social media performance.
2. Conversions (from Social)
To run ROI-driven campaigns as part of your social media strategy, social media marketers need to track the number of conversions coming from each platform. This metric is a quick performance indicator, showing how close you are to reaching your clients' business goals. Report conversions to your clients for goal-setting and KPI tracking.
Conversions from your clients' social networks offer a wealth of actionable insights, whether it's customers completing a form or purchasing a product from social media posts. You define the conversion parameters, and the dashboard, integrated with Google Analytics–tracks it for you.
By pulling in data from Google Analytics, monitor conversions across multiple channels. A low conversion rate might indicate an ineffective call to action (CTA) or a lack of follower engagement with your client's brand. Use this key performance indicator to guide strategy adjustments and optimize outcomes.
3. Revenue (from Social)
Revenue from social tracks the exact amount of money your clients are earning through each social channel. If you're running campaigns for an eCommerce client, for example, this is an essential metric to track. Without social media dashboard tools, it can be difficult to separate social revenue from other sources.
Knowing just how much money your clients earn from each platform gives you insights into which platforms are contributing to the bottom line and which ones may need more attention. If there's a drastic difference between the revenue you're bringing in on different platforms, you tweak your approach and fine-tune your strategy to lead your clients toward success.
4. Web Traffic from Social Media Posts (Sessions)
The dashboard also shows you the number of sessions your followers have initiated on your client's website, via the Google Analytics integration. This metric gives you and your clients a better idea of how effective your content is at driving people to your offer. It pulls in traffic from all social sites, including Facebook, LinkedIn, TikTok, Instagram, and more.
This is also another good indication of how engaged your clients' followers are. If you're experiencing low web traffic, take a closer look at the CTAs on your social posts. While some web traffic comes from a customer clicking on a link in your profile bio, most will come from you actively telling them to click and visit the website.
5. Comments on Social Media Platforms
One of the most important marketing metrics to track when it comes to follower engagement is the number of comments your clients get on posts. If your followers aren't leaving comments on your posts, it can mean one of two things: either current and potential customers aren't that interested in your content, or your followers are of low quality or not real.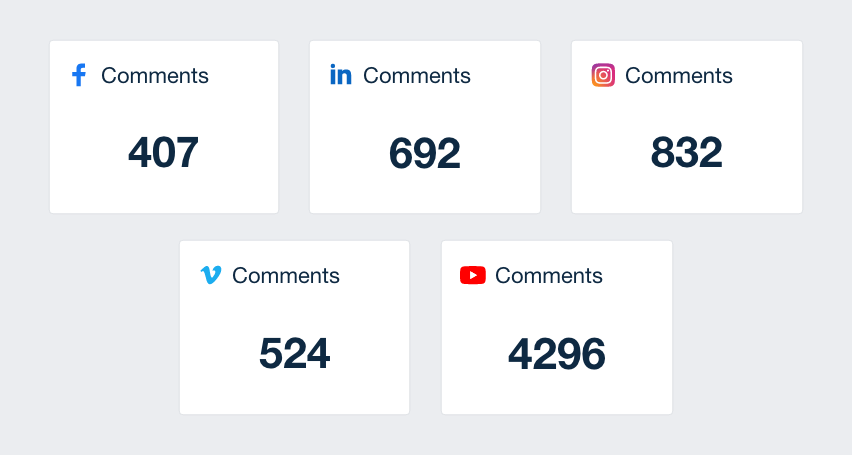 Low engagement can wreak havoc on your clients' social media channels. It also makes it harder for potential customers to find your clients' brands and can even lessen their brand authority.
Fortunately, the social media dashboard displays the comments your clients are getting on various platforms in a single view, making it much easier to respond to everyone and create posts that resonate more with the target audience.
6. Likes
Likes on your clients' posts serve as a key engagement metric across their social media platforms. They not only reflect audience approval, but also influence the post's exposure. When a user likes a post, it often becomes visible to their network, broadening their reach to potential customers. 
As you cultivate a client's audience, it's crucial to meet their quality expectations consistently. Tracking likes allows your agency to plan social media posts that resonate with the target audience. 
This metric, displayed on your dashboard, offers a direct insight into customer engagement. It can swiftly signal if there's a need to enhance the quality of your posts, ensuring you maintain a strong connection with your clients' audiences.
7. Posts/Videos (Stat) Across Social Media Channels
How often you schedule posts for your clients depends on your client agreements.
The dashboard conveniently displays this data for each account, making it easy for both you and your clients to track how your agency is validating its client agreements and ensures you schedule posts according to the best-performing posting frequency.
8. Posts/Videos (Feed)
As a marketing agency, you should also be keeping up with what's posted on each account on a daily basis. The social media dashboard provides a feed for each platform in a single place, so you don't have to switch back and forth between different apps.
As you scroll through this feed, be sure to pay attention to the content your team is posting. Take full advantage of that instantaneous market research to improve your engagement and conversion rates.
9. Demographics and Geographics of Subscribers
The social media dashboard enables tracking of vital demographic information on platforms like Facebook and YouTube. Access data such as country, city, gender, and language with ease. This information helps assess whether the target audiences of your clients are effectively reached.
For local businesses aiming to engage customers in their immediate geographic area, this metric is crucial. If followers are located elsewhere when targeting New York City, for instance, it's a clear signal to adjust content and posting habits.
However, for online businesses, geographic data might be less critical unless the client doesn't ship to certain regions. In such cases, focus more on the gender, age, and language of followers, especially if the client has a specific target audience. If this audience isn't being reached, it's likely time to tweak ad campaigns.
These are the nine sections recommended to include in your social media dashboard template–it's easy to add or remove sections with the drag-and-drop editor. Ready to get started?
Why You Need AgencyAnalytics' Social Media Dashboards
SOCIAL MEDIA MANAGEMENT TOOL
Improve Your Workflow & Give Clients What They Want
Key features such as granular user permissions give agency owners and managers complete control. Assign staff members to clients and create one-off or recurring tasks for each campaign. Give your more involved clients their own login to real-time social media analytics tools they can access at any time.
MULTIPLE CAMPAIGN MONITORING
Easily Access KPIs Across Multiple Social Channels
Monitor all your clients' social platforms with real-time stats. With cross-campaign reporting, identify optimization opportunities at-a-glance to improve your campaigns and share key insights with your clients.
ALL-IN-ONE MARKETING DASHBOARDS
Highlight What Matters With Custom Dashboards
Customize your marketing dashboards and client reports for each of your clients' needs. The drag-and-drop report builder makes it easy to pull all your clients' metrics under one roof–and make it look good. 
PROFESSIONAL WHITE LABELING
Tie Your Agency's Results Back to Your Brand
Make the AgencyAnalytics platform your own in-house marketing reporting machine. Upload your agency logo, use your brand's color palette, and more white label options for larger agencies. 
SAVE TIME ON CLIENT REPORTING
Automated Client Reports Ready in Minutes
It's time to say goodbye to creating tedious manual reports. Spend less time fiddling with spreadsheets and more time scaling your business. The easy-to-use client reporting platform is built for busy marketing agencies. Choose from dozens of report templates and schedule your client reports in an instant.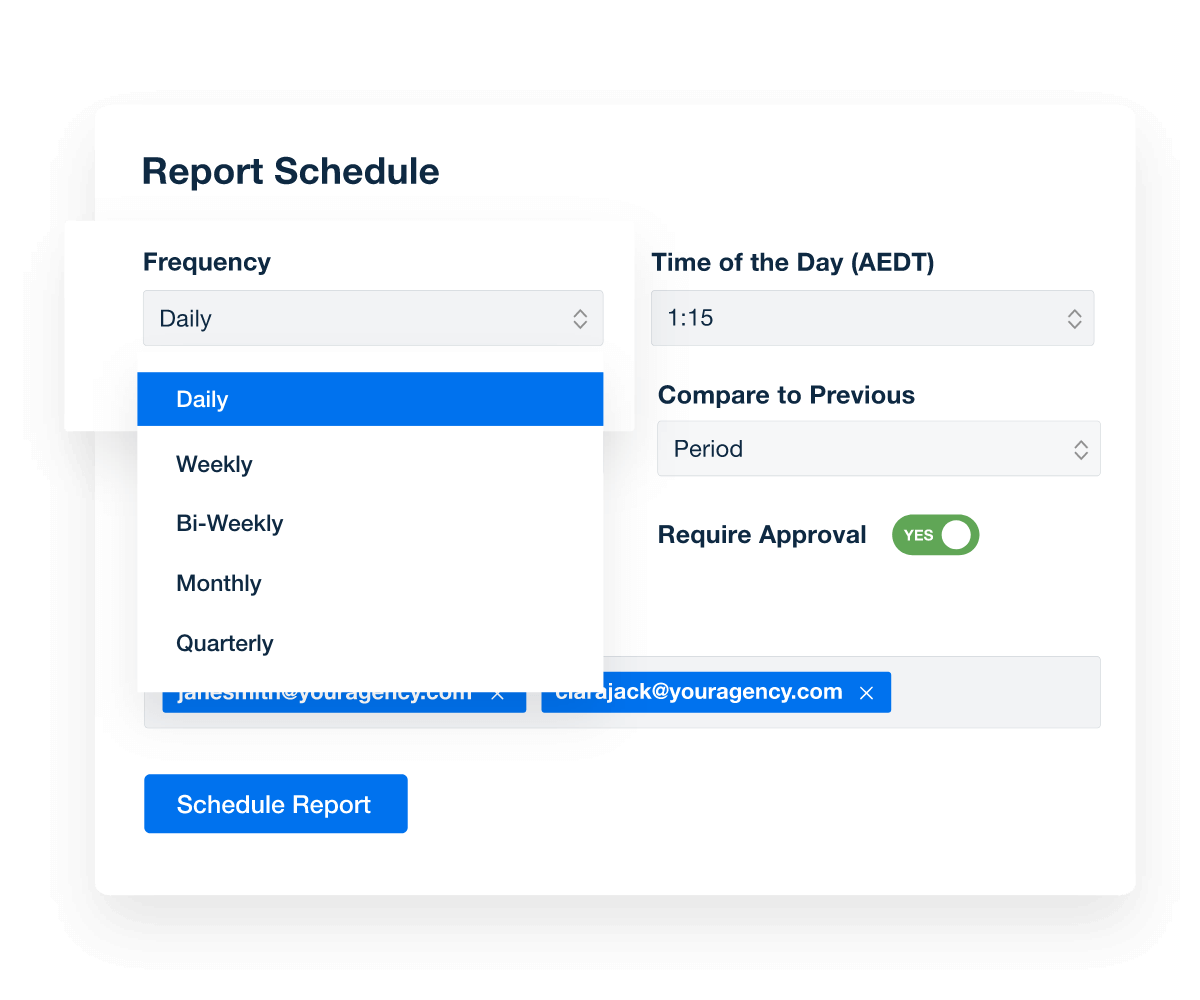 AgencyAnalytics has helped me enormously with 'taming the tiger' of too much information and not enough time to do something useful with it.
Try AgencyAnalytics risk-free for 14 days. No credit card required.