Track Likes, Engagement, and Reach for all of your client's Facebook pages with a single dashboard.
Monitor Likes
Impress clients by showing audience growth over time
Track Engagement
Analyze what drives the most engagement to your client's page
Demographics
Gain a clear understanding of who makes up your client's audience
Post Insights
Identify top performing posts across all pages
Manage All of Your Facebook Reporting
Stop logging into multiple Facebook accounts. Analyze all of your client's social media performance in a single dashboard. Give your client their own login so they can see this data without bothering you. Or use a customizable social media report template to create stunning performance reports that reinforce your agency's contribution to the client's business growth.
Explore All Available Facebook Metrics
See all the metrics you can easily add to your client reports and marketing dashboards
Date

Engaged Users

Engaged Users Comment

Engaged Users Like

Engaged Users Link

Engaged Users Other

Page Engaged Users

Page Fans

Page Fans Gained

Page Fans Gained Paid

Page Fans Gained Unpaid

Page Fans Lost

Page Fans Net

Page Follows

Page Impressions

Page Impressions Viral

Page Post Engagement Rate

Page Post Engagements

Page Views Total

Post Impressions

Post Impressions Viral Unique

Post Reach

Post Reach Organic

Post Reach Paid

Posts

Review Negative

Review Positive

Reviews

Users Reached

Users Reached Organic

Users Reached Paid

Video Views

Video Views Paid

Video Views Unpaid
Monitor your client's audience growth and Facebook page trends. Understand what drives new followers with metrics like paid vs. organic "Likes". Use these insights and impress clients with a clear dashboard showing audience growth over time.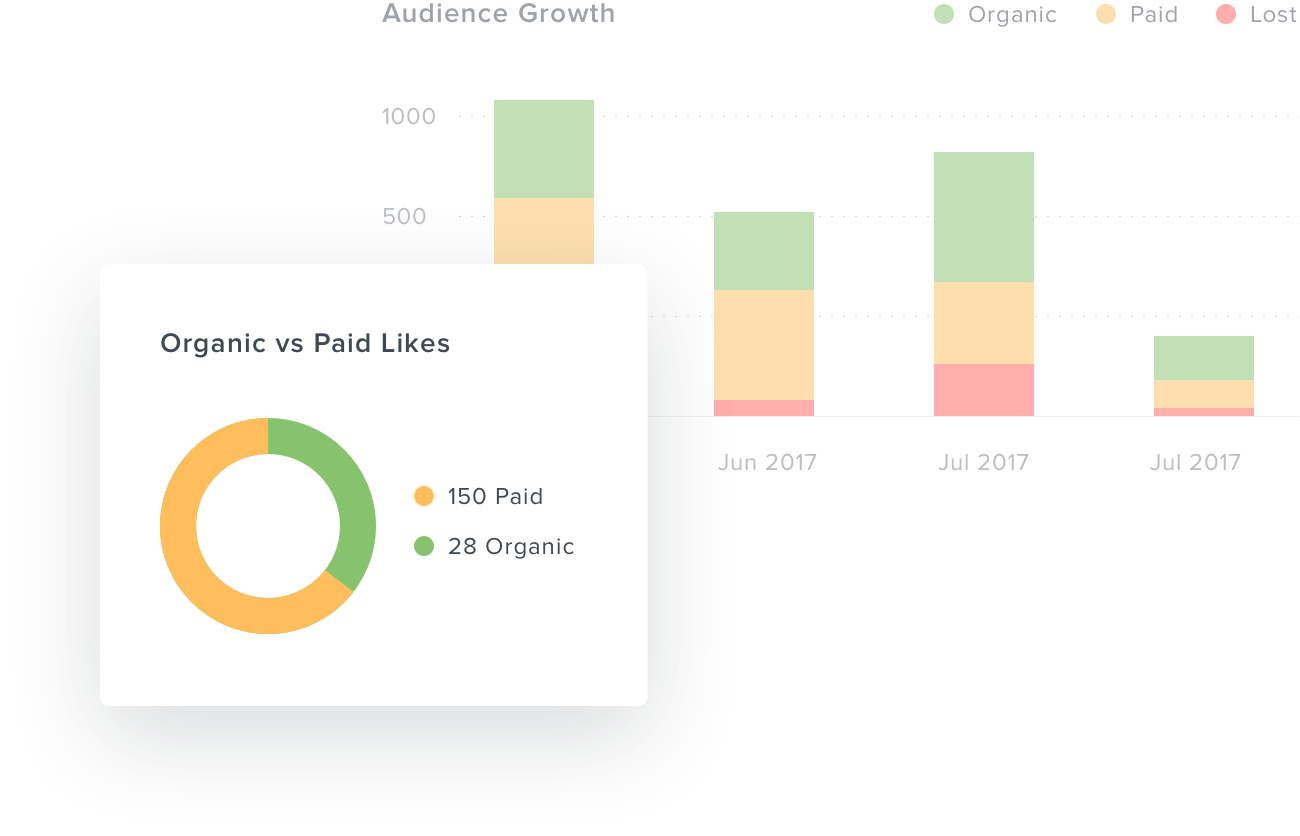 View Shares, Likes and Comments
Measure Audience Engagement
Gain deeper insights on how your audience engages with your page. View shares, likes, and comments in your Facebook dashboard for each post. We make it easy for you to analyze these key metrics, so you can focus on your campaign strategy.
Understand What Drives Growth
Quickly identify Facebook posts with the highest reach in our dashboard. Analyze the audience demographics for your client's campaign. Then easily share these KPIs with your client to show them the impact of your campaign.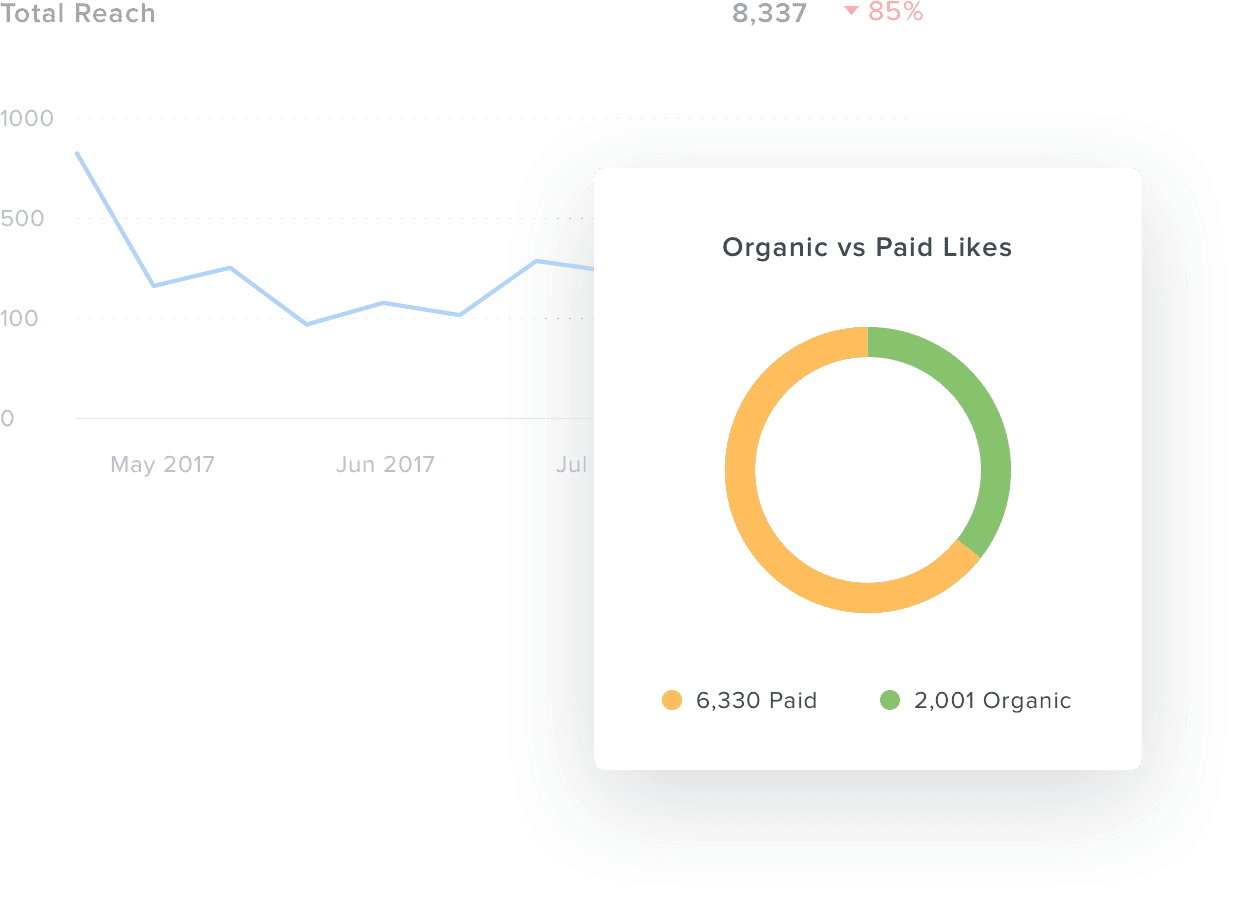 Identify Your Client's Top Performing Posts
Discover which posts deliver the most engagement and highest reach, so you can focus on the content that works. Staying on top of the feeds for all of your clients can be a challenge. We simplify the process with quick access to post analytics for every page you manage.
Age, Gender, Location & Language
Learn more about the audience that "Likes" and engages with your page. View the locations, languages, gender, and age groups that make up your Facebook demographic so you can fine-tune your strategy.
Build Beautiful Facebook Reporting Templates in Seconds
Schedule Automated Reports
Streamline your reporting process and save hours of time every month. With just a few clicks, create a Facebook report that sends automatically to clients every day, week, or month. Add our other social integrations for an in-depth social media marketing report or live social media dashboard.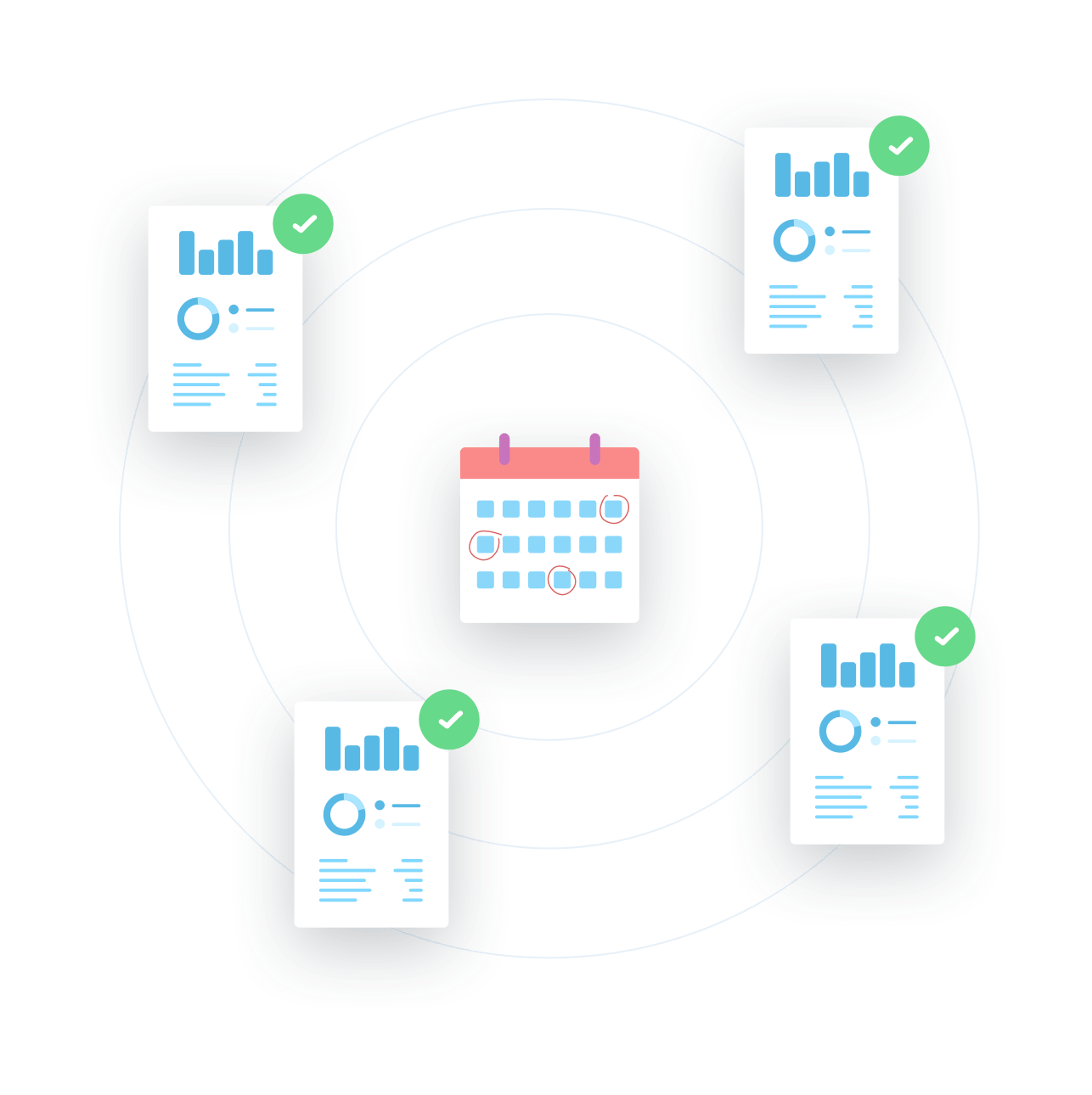 Give Clients their Own Login
Branded Facebook Dashboard
Impress your clients with their own login to monitor their Facebook results in an easy-to-understand dashboard. You can customize the dashboard with your agency's branding, color scheme, and logo. Even host the dashboard on your own domain!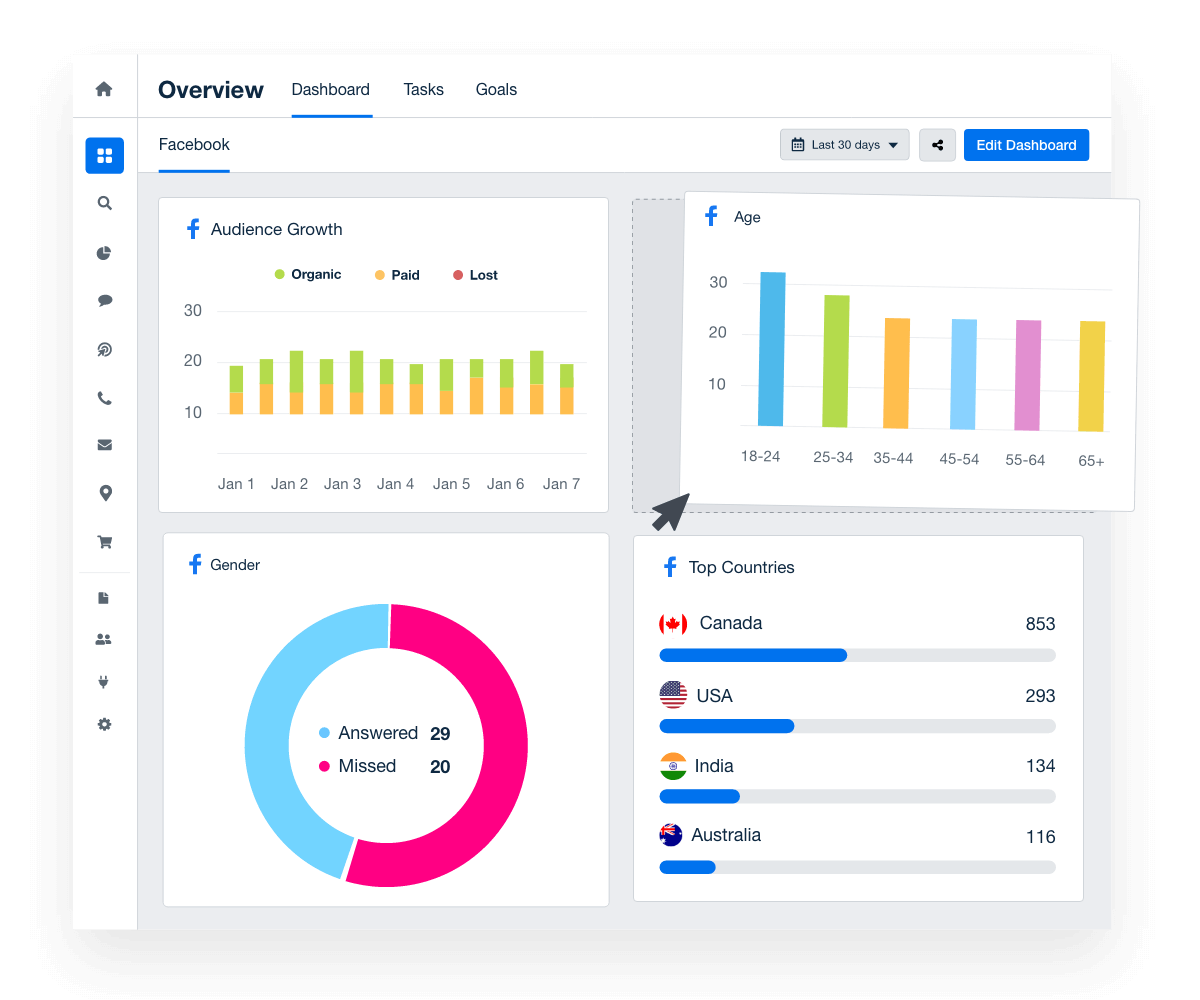 Connect the Facebook integration in seconds to streamline your client reporting.
Everything Your Agency Needs
Try AgencyAnalytics risk-free for 14 days. No credit card required.