Help your clients succeed in search engines with our suite of SEO tools—track rankings, monitor backlinks, and perform a technical site audit.
Site Audits, Rank Tracker, and Backlink Monitoring
Help Your Clients Succeed in Search
Our suite of SEO tools are designed to help improve your client's organic rankings in search engines.
Rank Tracker
Accurate search engine rankings, updated daily for any location or language
Backlink Monitor
Keep track of your new and lost links with our backlink monitoring tool
Site Auditor
Identify and resolve over 40 on-site SEO issues to increase organic rankings
Automated Reporting
Put your SEO reporting on autopilot with report scheduling & approval
MONITOR DAILY CHANGES IN SEO RANKINGS
Easily monitor changes in SEO rankings for your clients with our keyword ranking tracker. Updated on a daily basis, the rank tracker allows you to track keywords for any location and language on both Google and Bing. Add these organic rankings to a Keyword Ranking Report to keep your clients up-to-date with your campaigns in the most automated and scalable way possible.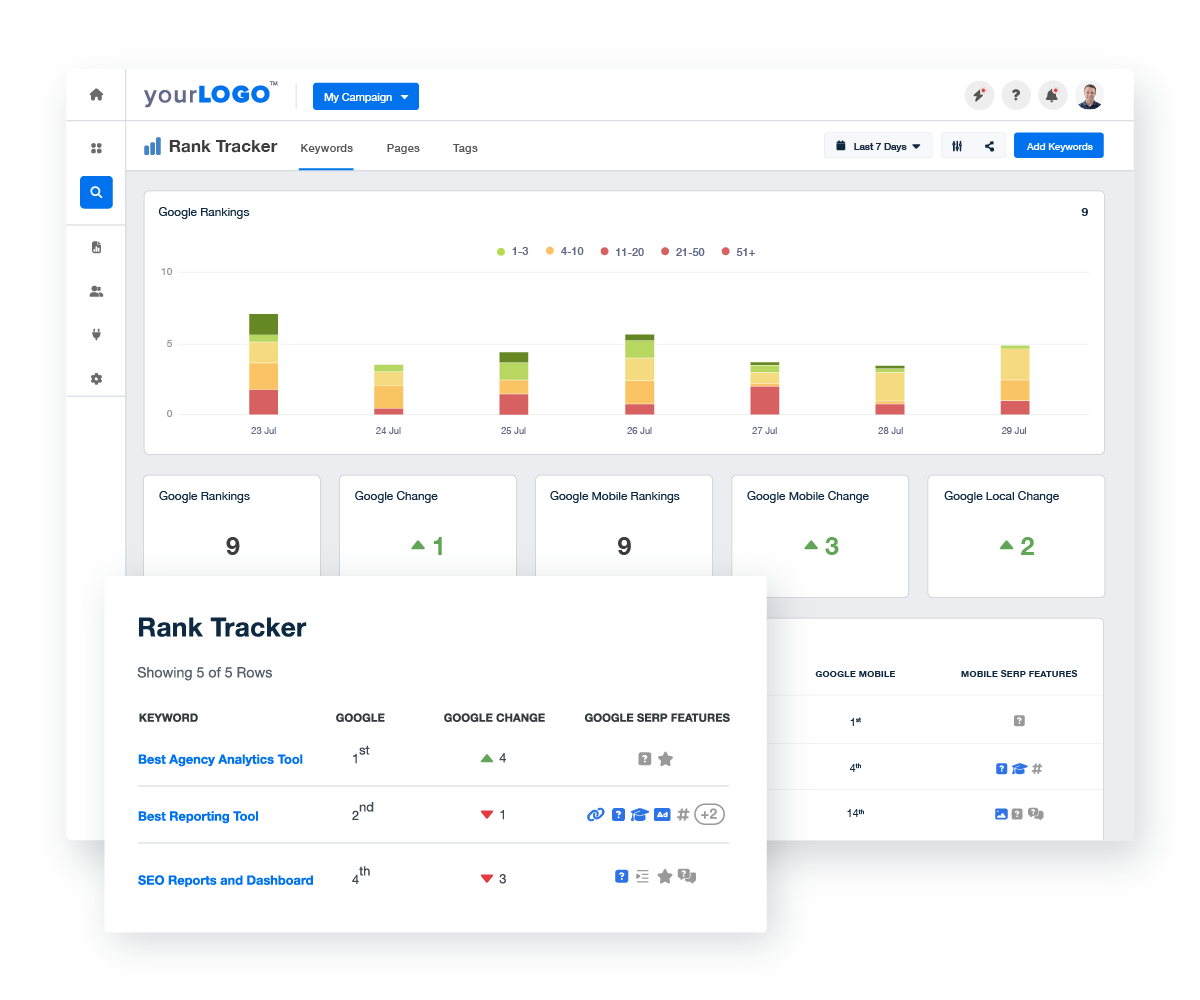 In-Depth Backlink Reporting
Backlinks are an essential part of any SEO campaign. Keep track of new and lost links and report on the results with our detailed backlink checker tool. Analyze key backlink metrics such as anchor text, Trust Flow, and Citation Flow to identify the quantity and quality of links to your client's website. Keep your team and clients up to speed on your link-building campaigns with an intuitive SEO dashboard or report that is easily shareable.
IDENTIFY & RESOLVE TECHNICAL ON-SITE ISSUES
Identify and resolve common website issues that may impact your client's search engine rankings with our site audit tool. Discover technical on-site issues like 404 errors, duplicate content, broken links, and more. Automatically check over 40 technical errors on a one-time or scheduled basis to ensure your client's website is performing well and aligned with SEO best practices. A website audit is also a great way to land new clients to your agency and deliver immediate value to these new customers.
SCHEDULE REPORTS DAILY, WEEKLY, OR MONTHLY
After you've added all your SEO data to a client report, automate the entire process by scheduling reports to send on a daily, weekly, or monthly basis. With the Report Approval feature, you get notified before reports go out allowing you the opportunity to add your own personalized insights. With all your clients' data in one place--including backlinks, site audits, and more—you put your entire SEO reporting on autopilot.
TAKE YOUR BRANDING TO THE NEXT LEVEL
White Label SEO Reporting
Add your own logo, brand colors, send reports from your own email address, and even host dashboards on your own domain. With our full suite of white labeling capabilities, you have everything you need to call the platform your own.
UNLIMITED STAFF & CLIENT USERS
Manage Your Entire Agency
Manage your entire agency with our full suite of agency tools. Give clients and staff their own login and choose exactly what they can and can't see within the platform. Assign tasks to your staff, monitor campaigns, and provide seamless communication to your clients by integrating with messaging tools like Intercom and Zendesk. With AgencyAnalytics, you have access to the toolkit you need to save time and streamline your entire agency.
ACQUIRE MORE CUSTOMERS & GROW
Effective SEO Proposals Made Easy
A compelling SEO proposal is key to winning new clients by showcasing your agency's expertise and dedication to meeting their specific needs. Save time and effort with a customizable SEO proposal template. Deliver tailored proposals that set you apart from the competition and drive business growth.
Try AgencyAnalytics risk-free for 14 days. No credit card required.