Google Business Profile Reporting
Whether your clients are looking for business insights into consumer behavior or simply want to show off your agency's progress, Google Business Profile Reporting is the perfect solution. Provide clients with professional, custom SEO reports and marketing dashboards. Track & showcase every KPI from one easy-to-use platform with accurate data that's populated in real time.
Search Metrics
Analyze direct vs. discovery searches, searches over time, and more
Visitor Actions
Highlight clicks to website, requests for directions, and more
Phone Calls
Track phone call trends by date or by hour to optimize future campaigns
Ratings & Reviews
Monitor customer sentiment by analyzing GBP ratings & reviews
How do visitors find your client's page?
Data Rich, Search-Based KPIs
Provide clients with a wealth of local search data. Include metrics such as direct vs. discovery searches, search vs. map views, and historical searches/views of their local business listing by date. Give clients valuable business insights by comparing recent trends with previous periods and monitor broad changes in your client's target market.
Explore All Available Google Business Profile Performance Metrics
Easily incorporate these top GBP metrics into your client reports and marketing dashboards
Average Rating

Bookings

Call Clicks

Conversations

Date

Direction Requests

Field Status

Food Menu Clicks

Food Orders

Impressions

Impressions Desktop Maps

Impressions Desktop Search

Impressions Mobile Maps

Impressions Mobile Search

Interactions

Reviews

Website Clicks
What actions are visitors taking?
Measure Customer Engagement
While searches and views are crucial, customer engagement is the next step in any GBP page conversion funnel. Measure customer actions, including website clicks, requests for directions, and phone calls. Demonstrate your agency's value by communicating exactly how their audience is engaging with their business online.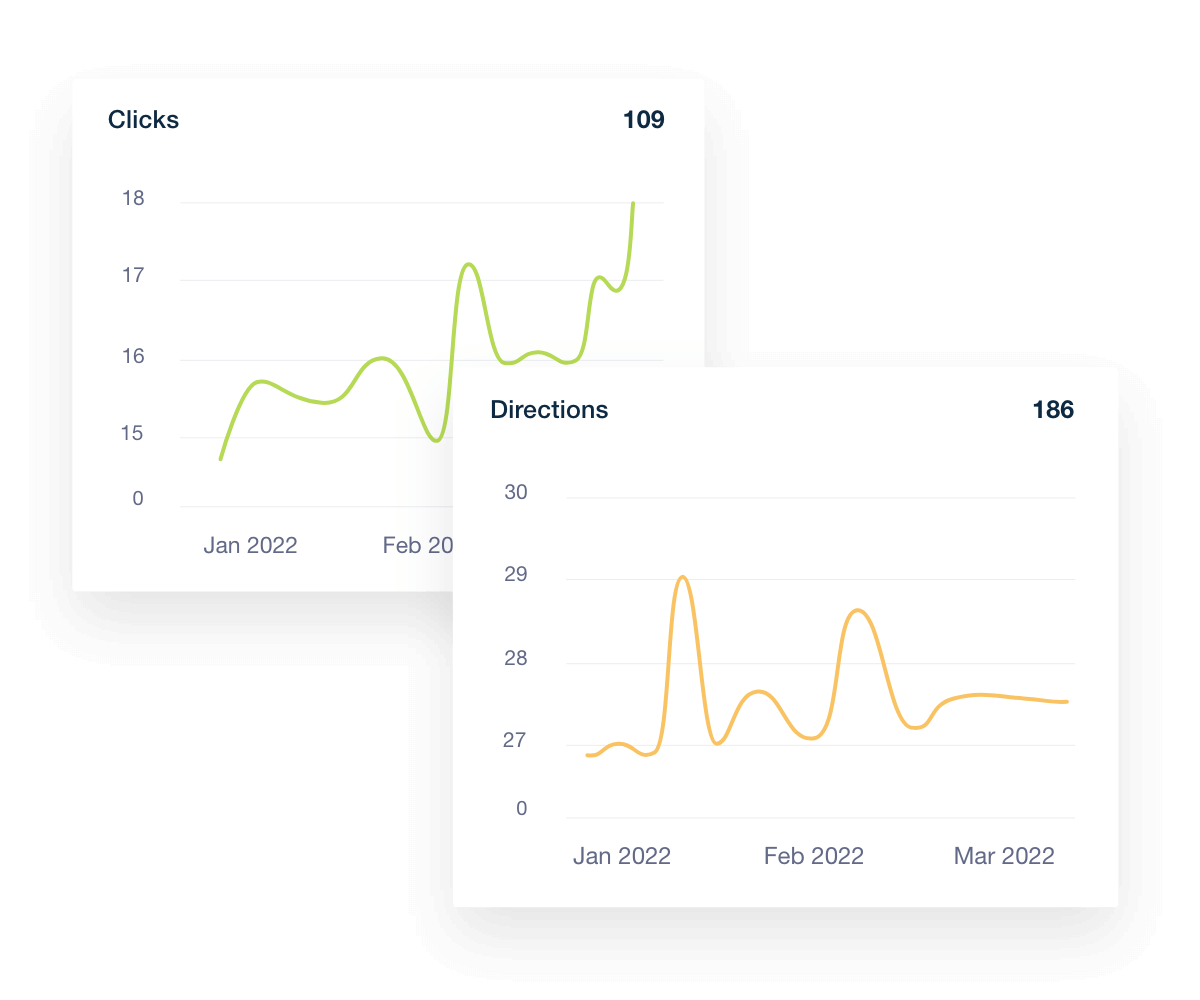 Analyze Individual and Aggregate Reviews
Measure audience sentiment for your clients with Google ratings and reviews. Show clients their average rating and all reviews in a given time period. Even better, watch reviews as they're generated in real time with the feed-style reviews dashboard.
Built for multi-location clients
Combine Multiple Locations
Are your clients managing multiple different business locations? Plug them all into one dashboard or report! With AgencyAnalytics,  combine Google Business Profile pages: display aggregated data, or filter widgets for one specific location in one streamlined dashboard or report. Give your clients a full overview of their local search performance.
Outrank the local competition
Google Business Profile Rank Tracking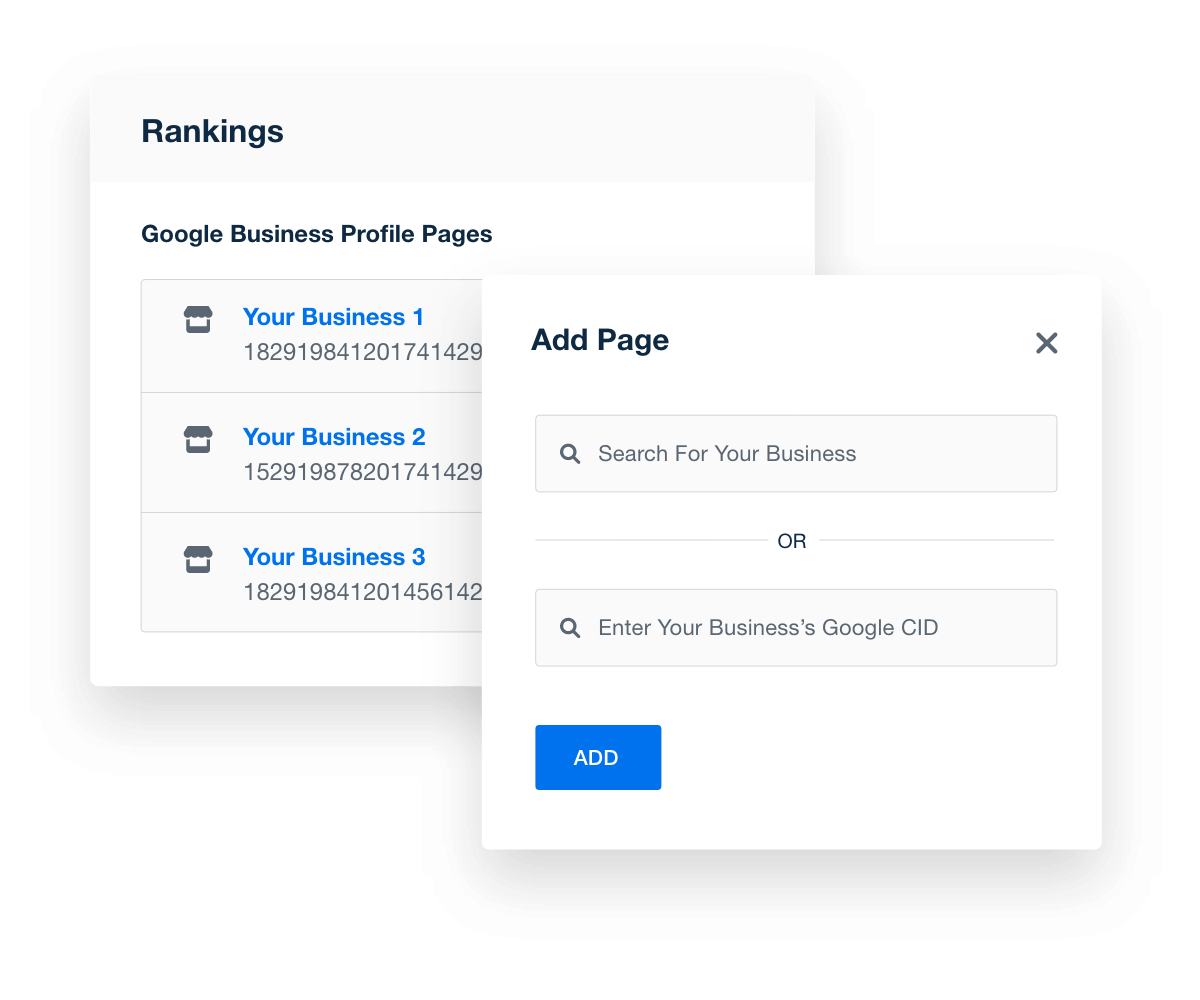 Share and Monitor All Posts
Google Business Profile Posts
Is your client using GBP posts to promote events, special offers, or generate more customer engagement? Easily share and monitor all of their posts - including the post status, post content, and images. Give clients access to a 24/7 live dashboard, so they're always up to date!
We were wasting so much time setting up and editing reports for clients each month using Google Data Studio. Our team of account managers hated it. We were blown away once we started using AgencyAnalytics. The responsiveness and speed of the platform are amazing.
Connect the Google Business Profile integration in seconds to streamline your client reporting.
Give Clients Their Own Login
Customized Client Dashboards
Clients want data on their schedule, even if that means 3 am the night before a big business presentation. Put an end to those frantic, late-night client emails and give your customers a customized SEO dashboard with all their GBP Performance Metrics. Best of all, you choose exactly what data points they see in their live dashboard. Combine other marketing platforms your clients are using, such as Google Analytics, to optimize their complete local search campaigns.
Automated Google Business Profile Reporting Tool
Show clients their Google Business Profile Reporting data in intuitive reports, alongside all their other important marketing channels. Customize reports in seconds, then schedule them to send on a daily, weekly, monthly, or quarterly basis. AgencyAnalytics makes automated client reporting fast, powerful, and easy for marketing agencies of all sizes.
Your logo, your color scheme, your URL
White Label Google Business Profile Reporting
Create a seamless branding experience with a fully white labeled interface. Use your marketing agency's logo and color scheme on dashboards and reports, and have clients log in with your custom-made URL. Streamline your reporting processes and impress clients with white labeled reporting software.
Create Custom Marketing Dashboards
Build Dashboards & Reports Your Own Way
WE'RE HERE WHEN YOU NEED US
Customer Support Is Our Top Priority
At AgencyAnalytics, we're committed to helping your agency succeed. Through our dedicated customer support team, you have all the assistance you need to effectively use your automated reporting software and deliver top-notch marketing reports to your clients.
Accessible 24/5, our live chat support is renowned for lightning-fast response times, usually under 3 minutes, ensuring you're never kept waiting. But speed isn't our only virtue–we pride ourselves on the outstanding quality of our service, reflected in our customer satisfaction ratings consistently soaring above 95%.
Save Time and Increase Client Retention
Report Smarter, Not Harder
Go beyond a Google Business Profile insights by automatically including the most critical marketing metrics from over 75 other data sources in a comprehensive white label reporting platform.
Combine platform-specific data with website behavior from Google Analytics, Google search metrics from Search Console, and more to create an end-to-end reporting system that wows clients.
Customize report templates and the Google Business Profile Insights dashboard and quickly clone them to streamline client onboarding and improve client retention.
AgencyAnalytics is an easy-to-use tool that simplifies our reporting to our clients. Time is the most important thing that we have as a services business. The more time we can give back to our strategists, the more clients they can manage. This benefits everybody.
Everything Your Agency Needs
Try AgencyAnalytics risk-free for 14 days. No credit card required.