Local SEO Report Template
Simplify your local SEO reporting with a dynamic white-labeled local SEO report template highlighting your clients' organic growth. Make local SEO audits and reports easier and retain clients with a professional white label local SEO report template.
Why You Need a Local SEO Report Template
When it comes to local SEO reporting, combining client data from various sources into a comprehensive report can be challenging and time-consuming. It can be even harder to highlight their ROI when the data is broken down by geographic location. 
Running local SEO campaigns for clients involves tracking keyword rankings, backlinks, site audit results, Google Business Profile insights, reviews, organic traffic, call tracking, and more. When pulling these metrics together manually, that's far too much data for agencies to effectively handle with manual processes.  
AgencyAnalytics is built with agencies in mind, to streamline reporting processes with customizable white label templates. The robust local SEO reporting template enables you to create a comprehensive local SEO report in minutes–showing the big picture view of your clients' marketing activities, right down to the granular details of location metrics. 
Provide actionable insights, track new leads, and report results in a fast, efficient, and scalable way that saves time and money. This Local SEO Report template is a great starting point. It includes all the vital local SEO metrics that clients care about. Choose which additional data points to show and how to represent them using different types of graphs, tables, and charts. Use the drag-and-drop feature to put your data in just the right spot. Then, simply schedule the reports to be delivered when your clients expect them. 
11 Things to Include In Your Local SEO Report Template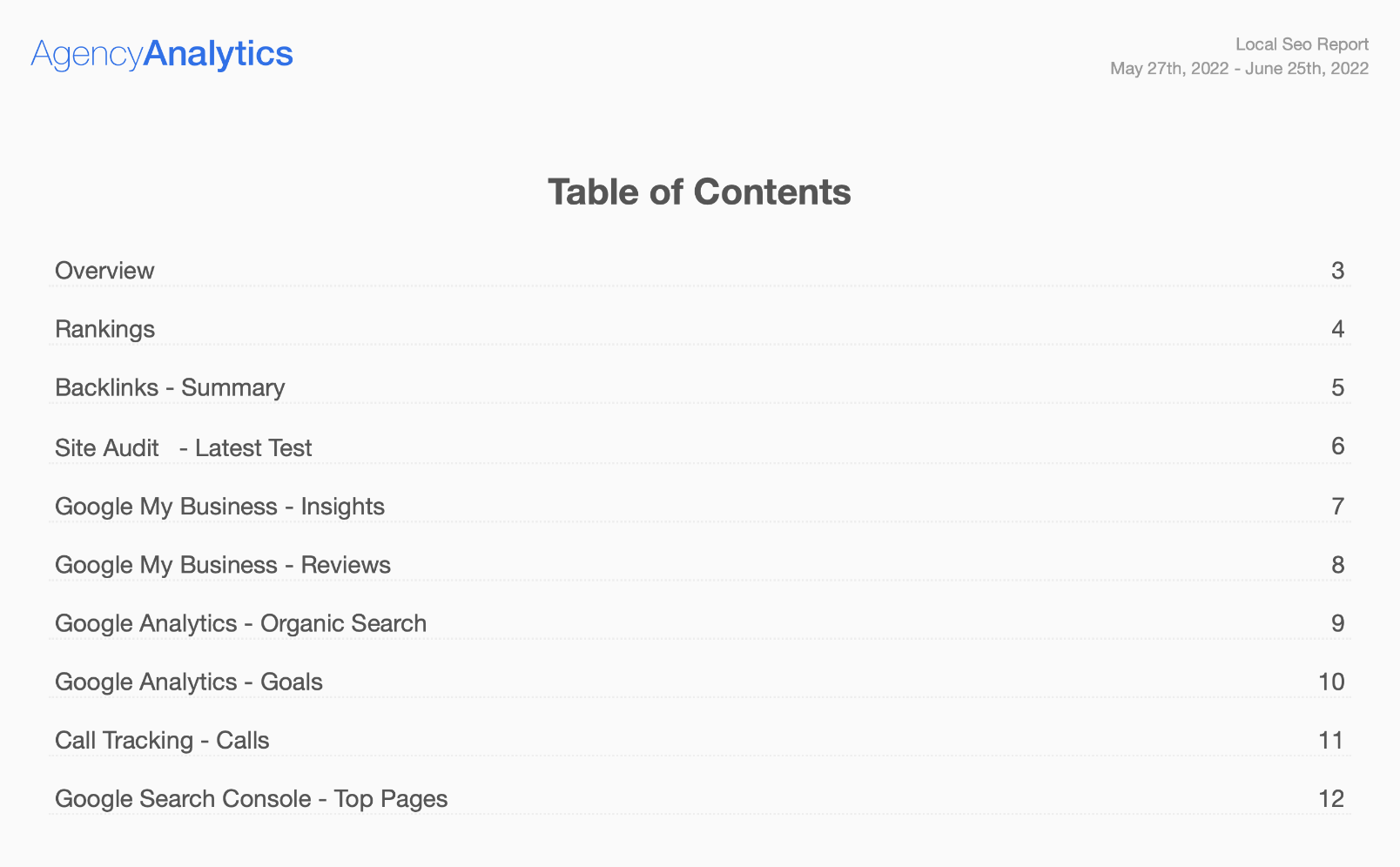 1. Report Summary
Want to add a narrative to your report? Consider attaching an executive summary to your report. This gives clients an overview of their campaigns before they dive into the data and helps provide context so that clients know what improvements to look out for in the following pages. 
Many clients don't have the technical local SEO knowledge to grasp what's most important–so your agency uses this section to tell them what the report contains and why it matters. The introduction in your local SEO report should provide: 
A thorough overview of your local campaign goals and KPIs

What you've completed in the past period

A summary of your results 
Focus on your actions and your key results. For instance, this is where you'd highlight your major successes, like local organic traffic increased by X% generating X amount of new leads. Then end your report summary outlining the next steps and projects you'll tackle for the following reporting period. 
2. Local SEO Overview
The Overview section of your local SEO report is just what the name suggests: it shows a birds-eye view of your client's local campaign KPIs. This template includes:
Google local ranking changes

Organic sessions and their geographic breakdown

Google My Business Searches, Views, and Clicks

Traffic sources (whether they came from Social, Organic Search, Direct, etc.) to see how your local SEO is contributing to the overall picture of your client's web traffic 
The local SEO overview essentially shows how much local traffic is coming, from where, and whether it's increasing or decreasing over time. This section provides a quick summary of overall performance before going into the detailed areas of the report. 
3. Local SEO Keyword Rankings
Your local SEO rank tracker lets you know whether your local search strategy is effective. It's an integral part of your report because it clearly shows how you're improving your clients' local results on the SERP.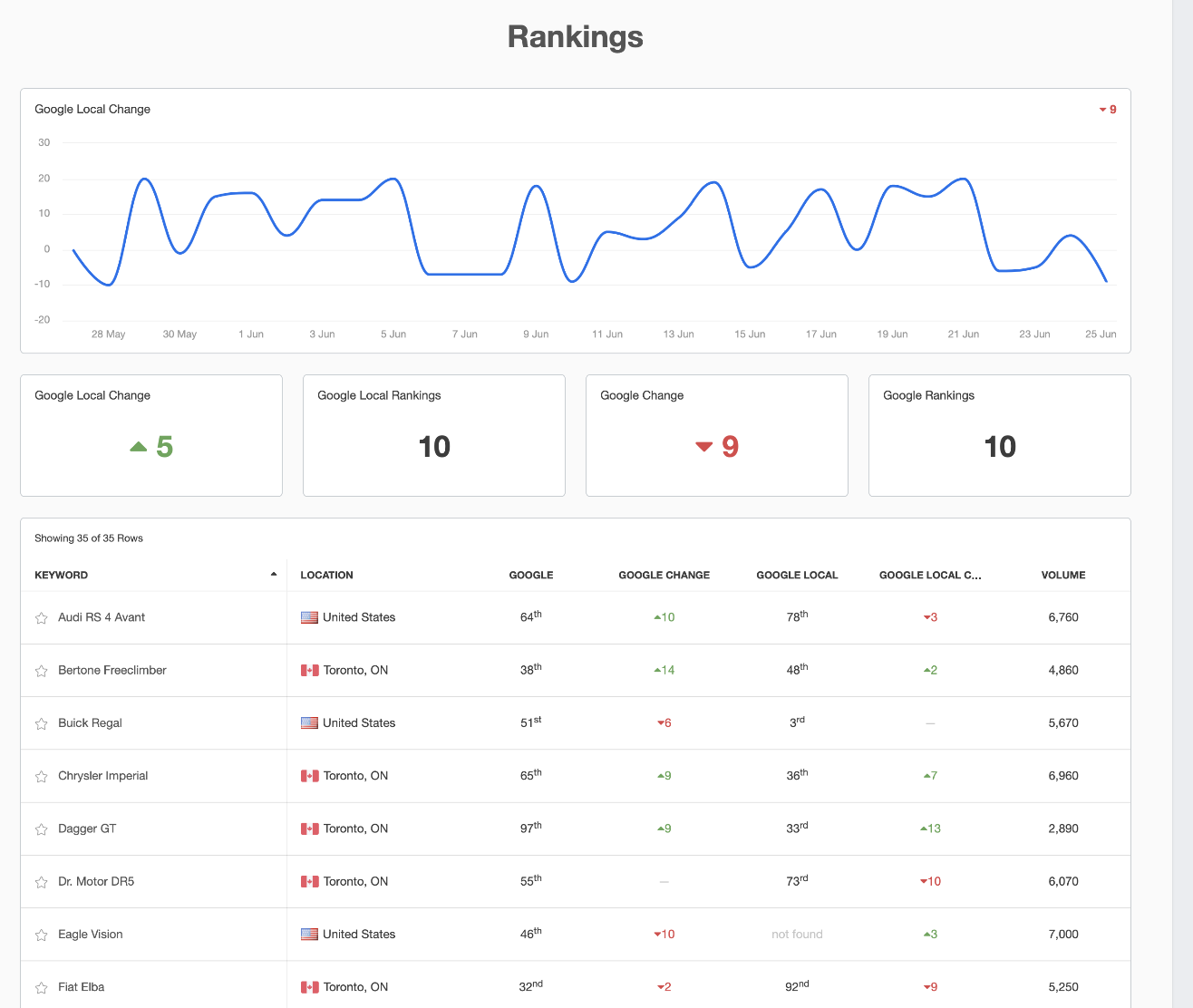 Quickly report on which keywords are ranking and where, and showcase the search volume to understand the traffic potential from each keyword. Use this data to adjust your keyword strategy and ensure your agency is bringing in enough keyword-focused traffic to your client's website.
4. Backlinks Summary
Setting up backlinks may be a slow-going process, but it's essential to show progress over time for client retention. Luckily, keeping track is easy with the backlink manager tool, which is also summarized in your Backlinks Summary section. 
The backlinks Summary section of your local SEO report lets your clients know that you are working towards increasing their online presence. This section shows the number of backlinks you gained and lost for your local clients in the previous month, the quality of your links, and the top anchor texts. 
If your agency specializes in link-building services, check out the link building report template, which dives even deeper into this strategy. 
5. Local SEO Audit
Running regular site audits is an important part of maintaining a healthy, SEO-friendly website for clients. Including this section in your local SEO reports assures clients that their website's SEO health is in good hands. 
The data from the site audit tool automatically gets updated for each report to highlight the progress made as you improve your clients' audit score and prioritize issues that need to be addressed. 
6. Google Business Profile
Google Business Profile (formerly Google My Business) insights show how you improve your clients' visibility, reviews, ratings, and leads using one of the most powerful local SEO tools. 
This section shows an overview of:
Direct searches using your client's business name or address vs. Discovery searches based on category, product, or service  

Number of Searches

Searches vs. Map Views

Number of Views

Number of Clicks, Directions, and Calls 

Number of Reviews and Average Rating

Calls Tracking Insights
This information tells your clients that their online reputation is being closely monitored, their visibility is increasing over time, and most importantly, that your agency is driving quality leads to their local businesses. 
7. Google Business Profile Reviews
This next section goes into more detail about the Google Business Profile reviews–and helps you track whether the reviews have received a reply or not. 
If your clients are in charge of responding to reviews, this will help them locate and manage their reviews from one platform. 
8. Google Analytics Organic Search
As with any SEO campaign, local SEO relies heavily on organic search. This section summarizes your clients' Google Analytics data on one page. 
It includes the following important local SEO metrics:
Number of Sessions over time

Pages per Session

Top Keywords

Bounce Rate

Goal Completions

And more. 
This page can be modified to include your clients' most important key metrics, just like any part of this local SEO report. Simply drag and drop the widgets and choose how to present the data yourself. 
9. Google Analytics Goals
This section digs deeper into your clients' conversions from organic traffic. Set up goals to show your clients how you're reaching your targets–whatever they may be. 
Your goals–or conversion–metrics show:
The number of goal completions and their conversion rate 

What types of conversions were occurring (i.e., phone calls, signups, orders, etc.) 

The $ value of the goals completed that month  
This section of your local SEO report is crucial to show how your agency contributes to your client's bottom line. 
10. Call Tracking
Call tracking is vital to local SEO marketing campaigns because they indicate high-intent leads. Track these to show the quality leads you are driving to your clients' business. Your clients can also pick up the relay and ensure their team is answering calls, and returning any missed ones with their contact information provided.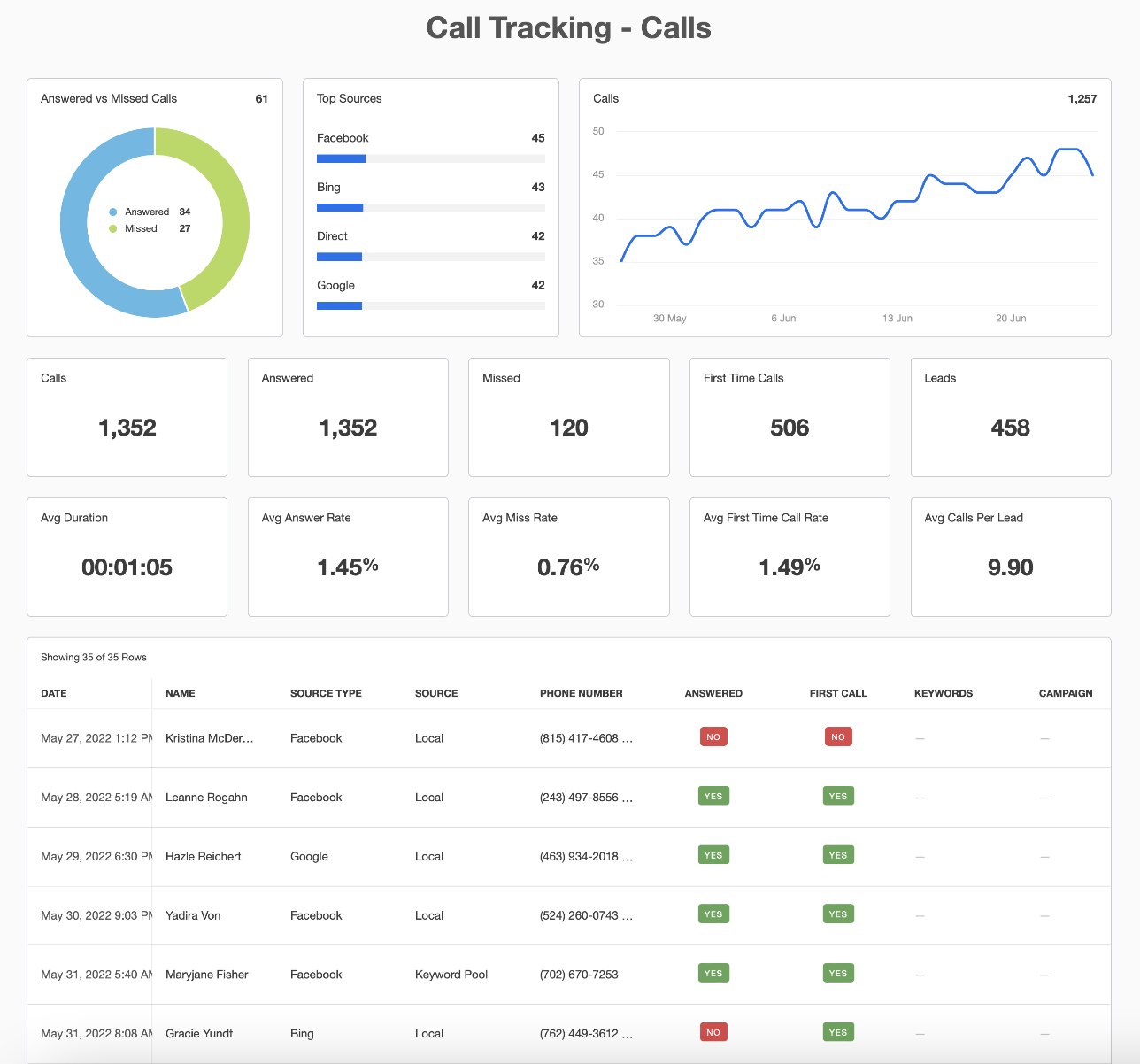 AgencyAnalytics integrates with Call Tracking software such as CallRail, Twilio, WildJar, and more. With these integrations, automatically pull in details of local phone calls from their name, phone number, and source.
11. Google Search Console Top Pages
This part of your local SEO report shows you which pages are getting the most impressions, their average position on the SERPs, and how engaged visitors are. 
Benchmark against industry averages for click-through rates, and optimize each page if they are underperforming – especially if they are bringing in more traffic.
General Considerations for an Effective Local SEO Report
With AgencyAnalytics, you choose to automate your local SEO reports so that they are sent out on the date of your choice. However, it's always a good idea to review your reports beforehand. This gives you time to write up your report summary and ensure that there are no surprises. 
Your local SEO report is the ideal communication tool that'll clarify the value your agency brings to the table and what clients can do to improve their business operations. For instance, they'll know when to have someone available to answer phone calls, ensure they stay on top of responses to online reviews, and know what to do to improve. They can even use keyword trends to identify products to stock up on to avoid being sold out when peak demand hits.   
Your report should clearly indicate that your agency is bringing clients towards their goals. It's up to you to show how you're driving more traffic to your clients' websites and that your local SEO strategy is working. 
Easily add or remove sections to the report template to customize it for each client, and walk through each section with them during your meetings to show the impact of their local SEO campaigns. 
The Takeaway
Having this local SEO report template on hand saves agencies billable hours every month. Automating your agency's data retrieval process and simplifying how you structure your local SEO reports gives you everything you need to scale your business operations and provide actionable insights to your clients. 
Open communication, consistency, professionalism, and accountability retain your clients in the long run. Showing them the ROI from their local SEO campaigns is essential to their success. 
Read more about what to include in local marketing reports or get started with your local SEO template with a 14-day free trial.
Local SEO Client Reporting Built For Agencies
Access All Your Clients' Data Under One Roof
Manually retrieving all your clients' local SEO data is time-consuming. Access all their relevant data in live dashboards and build comprehensive local SEO reports in minutes. Connect your favorite local SEO tools like Google Business Profile (formerly known as Google My Business), Google Analytics, Google Search Console, Google Local Services Ads, and many more to bring your clients' local SEO data into a single, intuitive interface.
BRANDED LOCAL SEO REPORTS
Professional White Labeled Client Reporting
Put your brand's color palette and logo front and center to create local SEO reports that are so professional and streamlined that it'll look like you built them in-house! 
Have different client-facing brands? Use multiple white label profiles on the Agency Plan and higher and host your marketing dashboards on a custom domain. Even send local SEO reports from your own email.
Add Context to the Numbers
Tell a story about your client's data instead of bogging them down with numbers. Add key insights using the annotations feature to your line charts and date-based column charts to explain key data points, understand noteworthy changes in their campaigns, and how you're progressing toward their goals.
Automated Local SEO Reporting
The local SEO report template is designed to transform complex local SEO data into an easy-to-understand report that your clients will look forward to receiving. The template quickly sets you up for success by automatically pulling in your clients' real-time metrics. Use the drag-and-drop editor to customize which KPIs to feature more prominently. Once you've customized a local SEO report for each client, put it on autopilot and forget about those deadlines.
Give Your SEO Clients a Personal Touch
Approving your reports before they get sent is always a good idea to ensure that there are no surprises. On Agency plans and above, pair your report scheduling with the report approval feature to streamline your agency's workflow. You'll get a notification before your local SEO report is scheduled to send, giving your team the go-ahead to add extra insights before they're sent out.
AgencyAnalytics is an invaluable asset for any SEO agency. The platform has seamlessly scaled our reporting processes, enabling us to efficiently handle a growing client base without compromising quality.
Try AgencyAnalytics risk-free for 14 days. No credit card required.