Google Local Services Ads Reporting Tool
Our Google Local Services Ads (GLSA) reporting tool provides full visibility into your clients' ad spend and marketing performance.
Campaign Analytics
Account-level snapshot of key GLSA campaign-based metrics
Monitor PPL Metrics
Number of leads, total lead cost, lead location, and much more
Reputation Management
Track your clients' Google Reviews, ratings, and online reputation
Report Automation
Automatically pull in GLSA data and set your reports to send daily, weekly, or monthly
SAY GOODBYE TO MANUAL REPORTING
If you're managing Google Local Services Ads for clients, the time it takes to manually collect and report on the data adds up quickly. Use our GLSA integration to automate your agency's entire data collection, visualization, and reporting process. This means no more spreadsheets or last minute client reports. Build a dedicated GLSA report or live dashboard in minutes and easily communicate the performance of your campaigns to clients.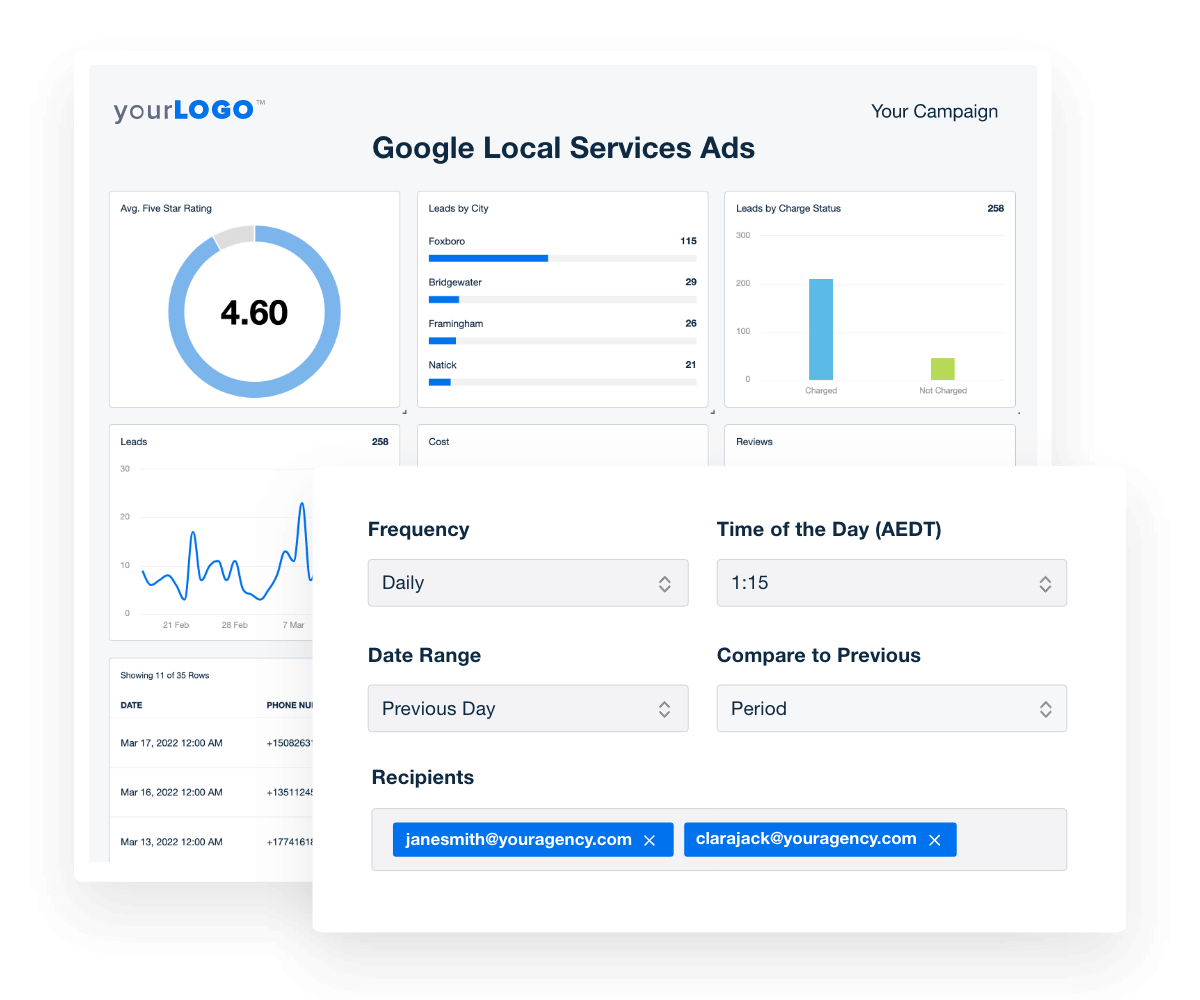 Explore All The Available Google Local Services Ads Metrics
See all the GLSA metrics you can quickly & easily add to your client reports and marketing dashboards.
Cost Per Lead

Date

Duration

Leads

Messages

Phone Calls
GIVE CLIENTS A PERFORMANCE SNAPSHOT
With our real-time data connection to GLSA, agencies can easily monitor the results of their pay-per-lead (PPL) campaigns and provide clients with an easy-to-understand summary of the overall performance. The PPL metrics in the dashboard include the total number of calls and text messages, lead details, lead costs, lead location, and more.
HIT YOUR PROFITABILITY TARGETS
Monitor Lead Costs in Real Time
Monitoring the cost-per-lead for clients is crucial to hit performance targets and achieve profitability with each campaign. Use our GLSA integration to build a 24/7 live dashboard that monitors lead costs in real-time. Track advertising budgets and optimize your clients' campaigns quickly and efficiently.
KEEP YOUR CLIENTS' PHONES RINGING
Drive More Local Leads to Your Clients
With a dedicated GLSA dashboard you will be able to provide your clients with an easy-to-understand visual representation of the leads you're driving to their business, including the number of leads over a specific time period, leads charge status, and much more. Supercharge your clients' marketing campaigns by adding Google Ads and Google Business Profile integrations to the Google Local Services Ads platform. 
CLEARLY DEMONSTRATE THE VALUE OF YOUR SERVICES
Prominently GLSA Display Campaign Results
Give clients a complete picture of their ad spend with a dedicated GLSA reporting tool. Allow your clients to easily determine conversion rate, conversion value, and other key campaign metrics. This enables you to tie all your marketing efforts back to marketing qualified leads (MQLs). The call leads are supported by dates/times/duration of calls and location, while message leads include the contact name.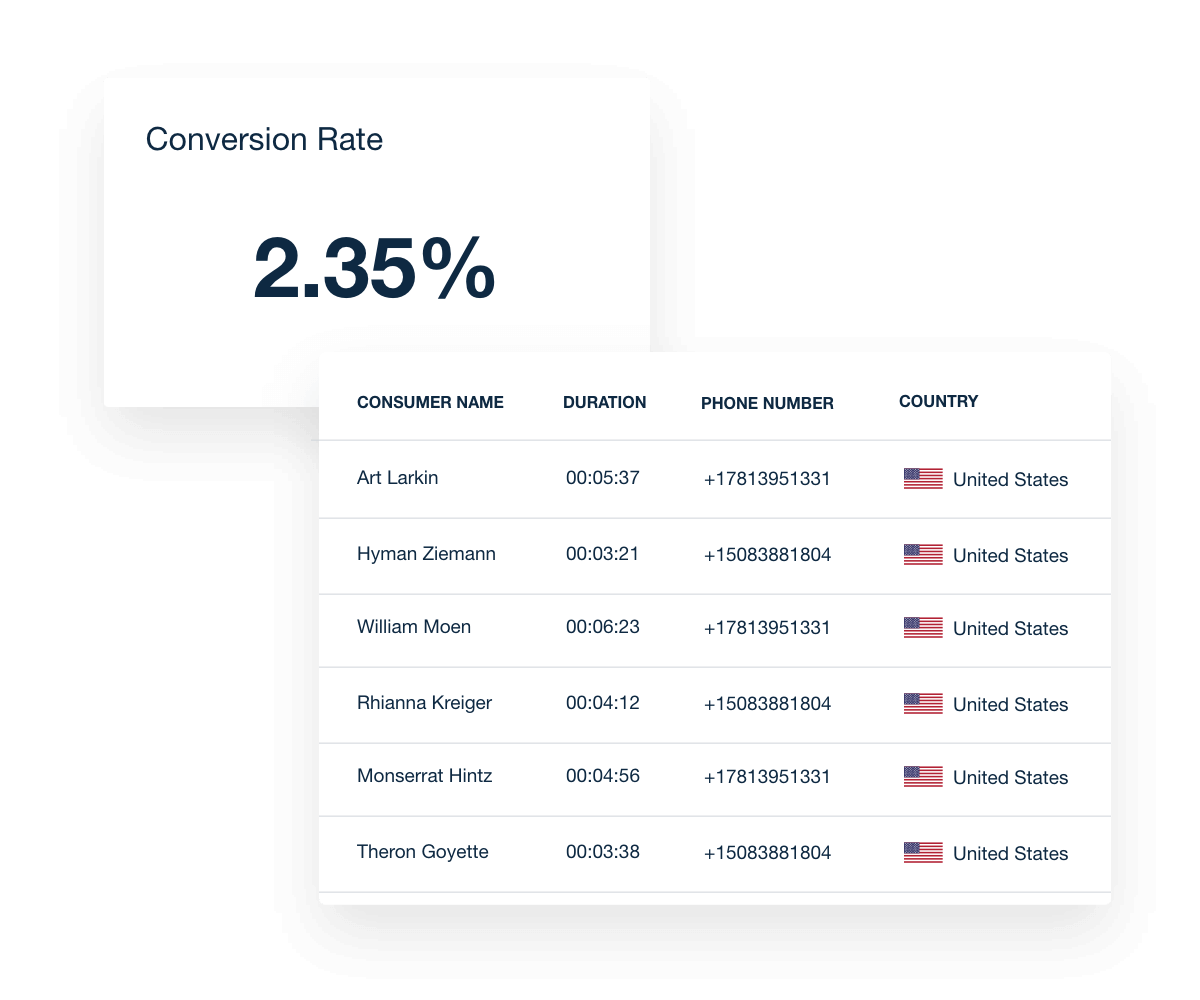 ACCESS 75+ MARKETING INTEGRATIONS
Combine GLSA With 75+ Integrations
If you're already managing campaigns for clients with Google Ads or Google Business Profile, adding GLSA integration provides clients with a more holistic picture of your marketing activities and ad spend on Google. Provide your clients with a complete overview of your PPL and PPC campaign metrics in order to optimize campaign performance and efficiently report on the results. With access to 75+ integrations, you're able to put your agency's entire reporting process on autopilot.
PUT YOUR CLIENT REPORTING ON AUTOPILOT
Deliver Clients Reports On Your Own Schedule
The GLSA integration allows you to save countless hours of manual work gathering daily lead contact details, lead location, and lead cost. With a GLSA reporting platform, there is no need for you to update your records daily as the integration not only collects and visually represents that data instantaneously, but also updates it in real time. With this data readily available, you can choose to either give clients access to a live dashboard or send periodic reports on daily, weekly, monthly, or any other frequency of your choosing.
Connect the Google Local Services Ads integration in seconds to streamline your client reporting.
Everything Your Agency Needs
Try AgencyAnalytics risk-free for 14 days. No credit card required.