Our digital marketing report template allows you to easily gather and communicate key metrics like web traffic, conversions, SEO ranking and ad campaign performance.
Why Use a Template For Your Digital Marketing Reports?
A digital marketing dashboard enables you to measure the overall campaign performance of your marketing efforts across various channels from a single, unified platform. Better understand and optimize the performance of your digital marketing campaigns with the right marketing dashboard for agencies. Track important metrics like PPC costs, keyword rankings, conversion rate, and online revenue with ease.
Why Your Agency Needs a Dashboard for Digital Marketing Reports
AgencyAnalytics prevents you from spending too much time manually compiling data from each campaign. Instead, our digital marketing report automates the whole process for you. After that, all that's left for you to do is add your insights and commentary and send it off to your client.
If you prefer displaying this data in a live dashboard, we also have a digital marketing dashboard template available too!
7 Sections Included In Our Digital Marketing Report
Below you'll find the top 10 marketing metrics we've included in this digital marketing dashboard example. You can also add or remove metrics from our 75+ integrations with our intuitive drag and drop editor.
1. Report Summary
The report summary section is where you can write out your analysis of the past month's performance for your client.
Since your digital marketing strategy spans across several different tools and platforms that your client likely isn't familiar with, it's important that you give them a monthly overview of all the changes associated with these things.
This is also the place to talk about your wins and losses for the past month. Did you have a particularly great month with your social channels? Maybe you increased the SEO ranking of your client's website. Celebrate these wins with your client here and tie those wins to the adjustments you made in the previous month. It's also smart to discuss things that didn't go so well during the month, as long as you show what you're going to do to fix them in subsequent months.
Your goal here should be to communicate the appropriate information and analysis for the month, but also to continue building trust with your clients throughout the entire process. When you take an approach of transparency, your client will continue trusting you to make the big decisions and lead their company to increased ROI. Use this section to discuss your progress toward existing goals and any new goals you want to target moving forward.
2. Google Analytics - All Channels
Your first order of business when measuring the overall success of a digital marketing campaign is to track how many people are visiting your client's website as a direct result of your marketing efforts. When you know this information, you can make changes to your broad strategies to maximize effectiveness.
This section of the report helps you see, in broad strokes, how well your campaign is running through showing you all the KPIs associated with site-wide traffic.
For starters, this section displays the total number of visitors to the site over the past month, broken down into the channels through which they arrived, including social media platforms and emails. This number helps you understand where customers are coming from and if there are any channels that need a little more attention or optimization.
You'll also get to see some nitty gritty KPIs like average session duration, bounce rates and total goal completions, or conversions. Again, these are broken down per channel so you can which ones are performing best and which ones need work. Use this information to adjust what you're doing in each individual part of your overall marketing strategy. For example, if you see that your conversions are low across all channels, you might want to adjust the copy on the website's landing pages so they have a clearer call to action (CTA).
3. Google Analytics - Goals (Conversions)
The number of conversions completed on the website is one of the most critical KPIs to track, as it often directly impacts your client's revenue. This section displays the total number of conversions you've gained across all the channels, as well as conversion metrics per individual conversion type. The report also gives you a more detailed look at your goal completions with metrics like the goal's dollar value and conversion rate (total number of conversions divided by total site visitors).
Our digital marketing reporting dashboard pulls this data from Google Analytics and shows you traffic from all channels so you get an instant overview.
4. SEO Rankings
Search engine optimization (SEO) is an integral part of many digital marketing campaigns. If leads can't find your client's website, then you'll never experience any success. This is why it's so important to track the changes in the website's SEO ranking. In early months, it's understandable if your client's website doesn't rank as high as you'd like. However, if you're not seeing positive change throughout the month, something is wrong with your SEO strategy.
Our digital marketing report template displays overall rank changes each day of the month on both Google and Bing, along with the actual rank for your client's website. You'll also see how you rank for the keywords you're targeting. All of this information gives you an idea of whether or not you're targeting the correct keywords. If things aren't performing as well as you thought, work with your client to create better copy and improve technical issues with the website. Also be sure to check out our SEO report template if you're only providing SEO to your clients.
Want to help your clients improve their keyword rankings? Use the white label SEO audit tool to identify and report on top SEO issues that are hurting your client's growth.
5. Social Media Overview
The social media overview section of the report shows you the most important metrics for each of the social media platforms you're managing for your client. Most importantly of all these metrics, you'll see overall customer engagement on each social channel you manage, giving you the information you need to prove to your client that social media is critical to marketing success.
Engagement here is broken down into total followers and total post engagement. For example, if you're tracking Instagram, you'll see how many followers on Instagram your client has and the total number of likes you're receiving on all of your posts. Of course, you'll want to maximize the amount of engagement you get through each of your client's social media accounts, but it's more important that you show your client you are increasing this engagement month over month. It's also incredibly easy to include any other metrics in this part of the report as needed.
You can also track the feeds for each social platform in this portion of the report template. If you've made an agreement with your client to post a certain number of times throughout the month, this section helps you prove that you actually did.
More followers mean more credibility and reach. It's important to communicate to your clients how you're driving more audiences to your client's brand, increasing their awareness and online popularity. But keeping track of all your clients' follower growth on several social media accounts for each client can get cumbersome if you don't have an automated dashboard in place.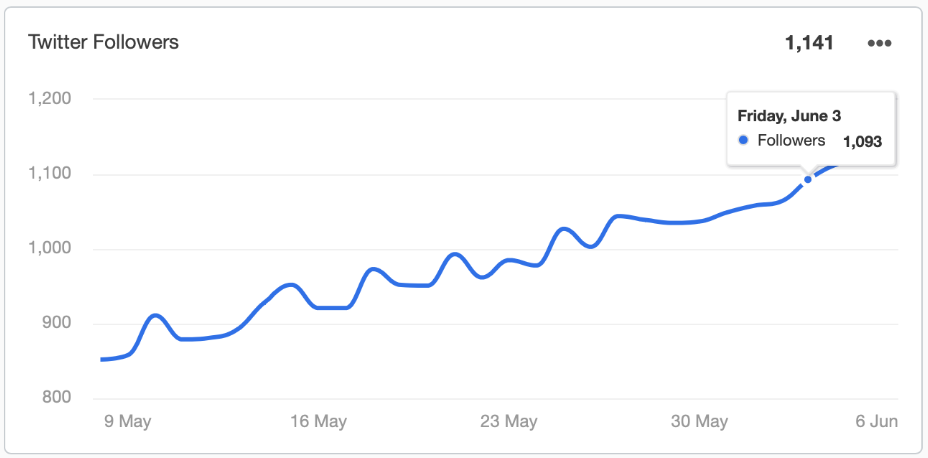 Use our widgets to choose how you'd like to represent follower growth over time.
6. PPC Overview
This section of the report is entirely customizable to include metrics that matter most to you and your clients. You can include total ads cost (which is calculated only when someone clicks an ad), cost-per-click, conversions, impressions and more. Each of these metrics helps you understand exactly how well your PPC campaign is performing, as well as the areas that need work.
Use the information here to make adjustments to your campaigns in order to maximize ROI and minimize total cost. You can also break this information down and organize it by specific ad groups or different campaigns. This is incredibly helpful when you're running multiple campaigns simultaneously for your client.
7. Email Overview
Email marketing remains an essential aspect of any marketing campaign, even though it often gets overlooked for the newer and flashier marketing tools. When you're running an email campaign for your client as a part of your digital marketing strategy, you'll want to know how many people are reading the emails you're sending and whether or not those people are doing what you want them to do with the emails.
To track these things, this section of the report will display metrics for each campaign like open rates, click-through rates, unsubscribed, and the number of emails that bounced. These individual metrics give you an idea of how compelling the offers and calls to action in your emails actually are. Use this section to explain to your client how well certain campaigns are performing and why they're doing well or not so you can target better strategies moving forward.
The email overview section also shows you the total number of customers on your client's email list, along with a chart tracking the change of subscribers through the month. Hopefully, this number is growing, but if it isn't, you can work with your client to figure out a new way to attract more people to the email list.
Need more sections or custom metrics? No problem, AgencyAnalytics lets you easily drag and drop new sections to your digital marketing report.
Powerful Client Reporting Software Built for Agencies
STREAMLINE YOUR AGENCY'S WORKFLOW
Automated Client Reporting
Say Goodbye to endless spreadsheets and screenshots and Hello to an intuitive client reporting platform built for marketing agencies. Getting your client reports out the door doesn't have to take all week! With dozens of templates and a drag-and-drop report builder, set up your client reports in minutes and watch as they get sent out with your clients' latest metrics–automatically.
75+ MARKETING INTEGRATIONS
Access All Your Clients' Data Under One Roof
A FULLY-CONNECTED MARKETING PLATFORM
No more switching between countless tabs and client accounts or retrieving hundreds of passwords. Connect all your clients' marketing channels and bring all their data to you! With SEO, PPC, Social, Email, Call Tracking, and more, get instant access to all your clients' marketing metrics in one place.
NEW INTEGRATIONS ADDED EACH MONTH
With new integrations added each month, we're always working to keep all your clients' data in one place. Don't see a marketing channel your clients use? Request it! We're always open to feedback from our customers.
The Complete PPC Reporting Tool
Easily report on all your clients' cross-channel PPC metrics, including Google Ads, Facebook Ads, Amazon Ads, and many more. PPC markups can be hard to explain to your clients. Present the full picture of their marketing activities, minus the confusion by including your PPC markup in all client-facing PPC reports.
UNLIMITED CLIENT & STAFF USERS
Transparency is key to retaining clients. Give them their own login to a live dashboard so they can access their data on their own time. With the right plan for your marketing agency, create unlimited client and user accounts and manage what each one sees. Improve your workflows and reduce the back-and-forth phone calls by offering clear data at everyone's fingertips.
White Label Your Marketing Reports
PROFESSIONAL BRANDING OPTIONS
Match your dashboards and reports with your agency's brand. Upload your agency logo, use your brand's color palette, and more. With AgencyAnalytics, your reports will look like they were built in-house! 
HELP YOUR BRAND GO THE EXTRA MILE
Have more than one brand for your marketing agency? Create multiple white label profiles including different logos & color schemes for different client-facing brands on the Agency Plan and higher. Host your marketing dashboards on your own custom domain and send reports from your own email for the full white-labeled experience.
AgencyAnalytics has made our jobs so much easier. It works so much better for us and for our clients. It's just such a relief to find software that is seamless from the beginning and allows us to communicate how we are doing to our clients.
Linda Rooney
/ Founder & CEO
Try AgencyAnalytics risk-free for 14 days. No credit card required.