Link Building Report Template
Use our link building report template to show your clients new and lost backlinks, rankings, and more.
Why Use a Link Building Report Template
Whether you're a link building agency or you provide it as a service, your agency needs a way to efficiently report your results to clients. This backlink report template is an easy way to show off the work you're doing. With AgencyAnalytics, you can generate this report automatically each week, month, or any other interval of your choosing.
The report wraps up all the key link building data in an intuitive package, all you need to do is add your own commentary and analysis and send it off. This incredibly helpful tool gives agencies an edge up on your competition by creating more opportunities to build trust with your clients.
You can also display your backlinks in a live SEO dashboard instead of a periodic report with AgencyAnalytics.
What's Included in the Link Building Report
1. Monthly Summary
The monthly summary section offers an open space for you to add your own commentary and analysis of everything that happened in the last month with your clients' link building campaigns. This is the perfect section to discuss overall performance trends and ranking change, among other key metrics.
You can also use this space to discuss your strategy moving forward and track against the goals you've set. Show your clients what your link building strategy looked like for the previous month and what pieces of that strategy you're going to adjust for next month. You can talk about the research and outreach you did this month to identify new websites that will vibe well with your client's audience.
The monthly summary is also the perfect place for you to outline the active link opportunities you're pursuing with potential prospects. Are you planning on guest posting more or paying for sponsored posts? This summary can further highlight the efforts you're making to maximize ROI, rankings and link quality.
2. Published Links
Generally speaking, most link building services will be based around a number of published links for a given month. Our report template clearly lays out the total number of published links at the top of the report, making it easy for clients to understand.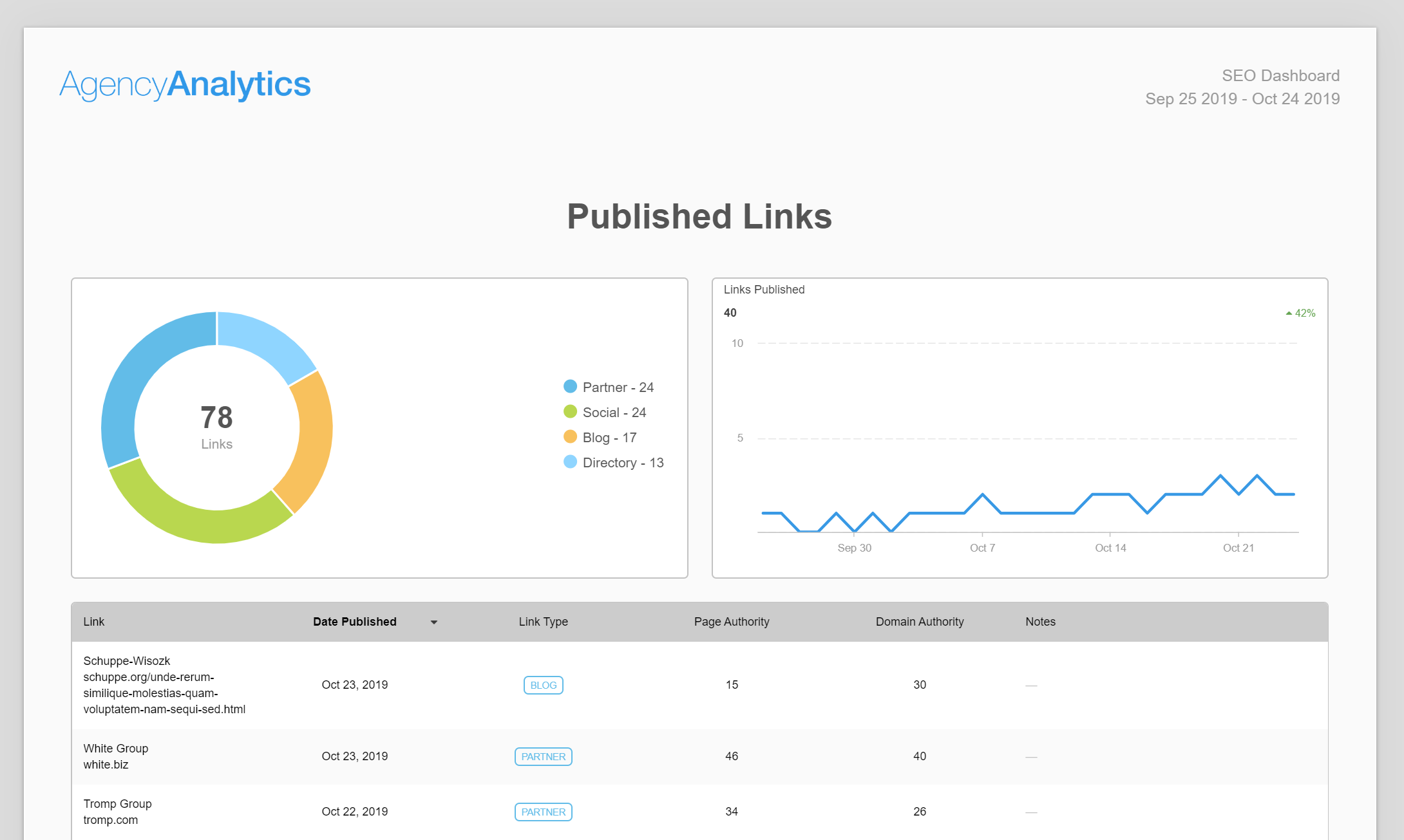 3. Backlink Summary
This section of the link building report template pulls in all of your clients backlinks across the web. You'll get a look into how many new and lost links for the month. We also pull in things like follow vs. no-follow which is an important metric for any website to report on.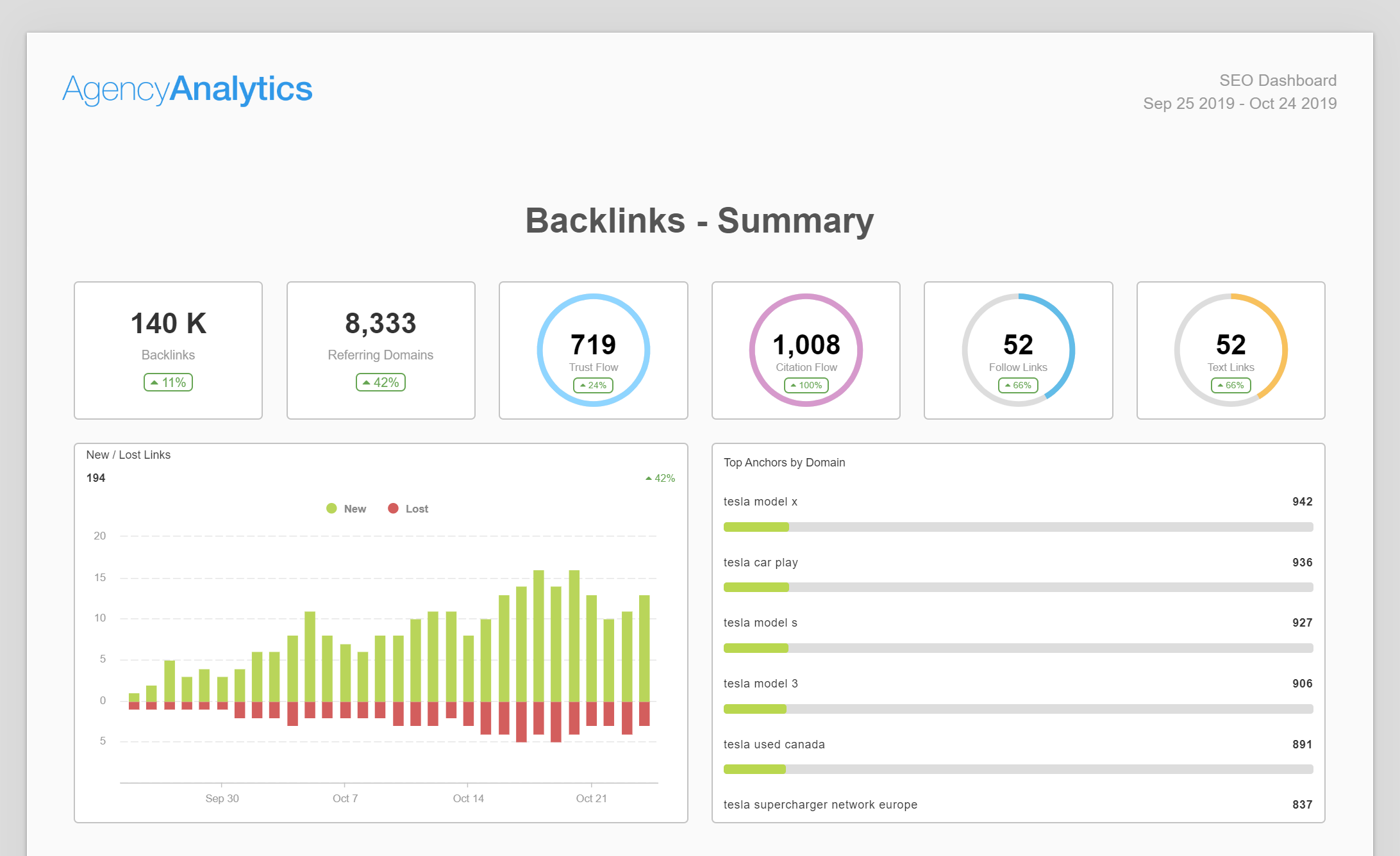 You'll get to see the overall trust flow and citation flow of your clients' websites. These are pulled in from our integration with Majestic. Finally, the backlinks summary page also displays the top anchors by domain. If you're in the link building business, you'll know that anchor text is an important thing to keep an eye on. 
4. Rankings
This is an optional section and might not be right for every situation. If you're just providing links and nothing else, you may not want to include it. But if link building is part of a bigger SEO campaigns, you may want to correlate links with ranking changes. You may want to just build out a full SEO report instead if you're including rankings too!
With our rank tracking tool you can automatically include local or global rankings for keywords. When paired with an anchor text report it gives your clients the full picture of their SEO.
Need more sections or custom metrics? No problem, AgencyAnalytics lets you easily drag and drop new sections to your link building report.
Powerful Google Analytics Reporting Software Built for Agencies
Efficient Link Building Reports
Automate Your Link Building Reporting
Save time and build trust with your clients. Present your clients' key link building data in an intuitive report. All their data updates automatically! Track your progress by adding annotations & goals, and hit Schedule!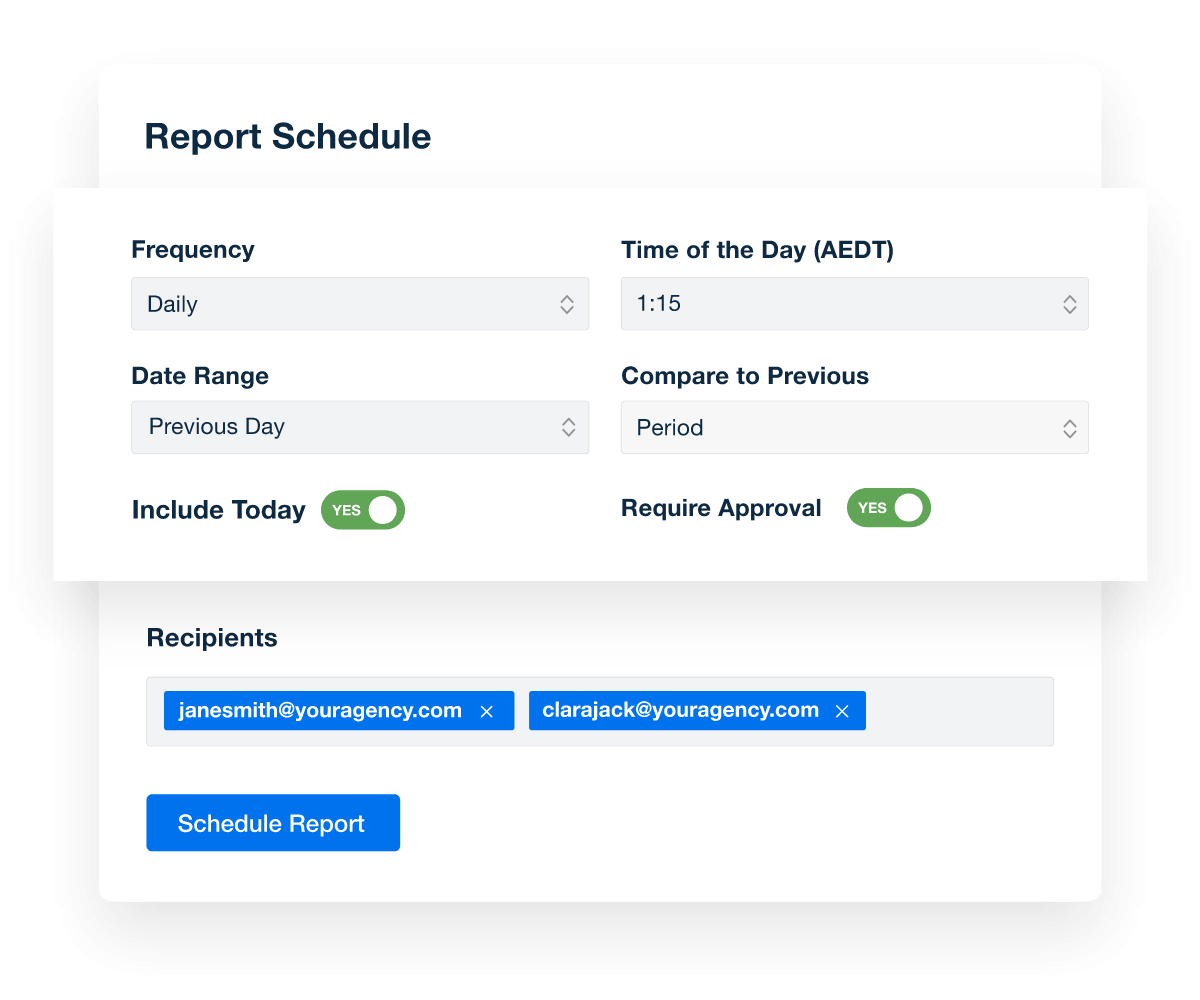 75+ MARKETING INTEGRATIONS
Cross-campaign Reporting Made Easy
Combine client data, tables, and graphs from multiple campaigns into a single report. Showcase your agency's link-building efforts alongside all your other marketing activities to provide an intuitive overview of all your client campaigns.
Streamline Your Agency's Workflows
Whether your team is working on link-building campaigns or social media, give your staff access to just the projects they're working on and streamline your agency's processes.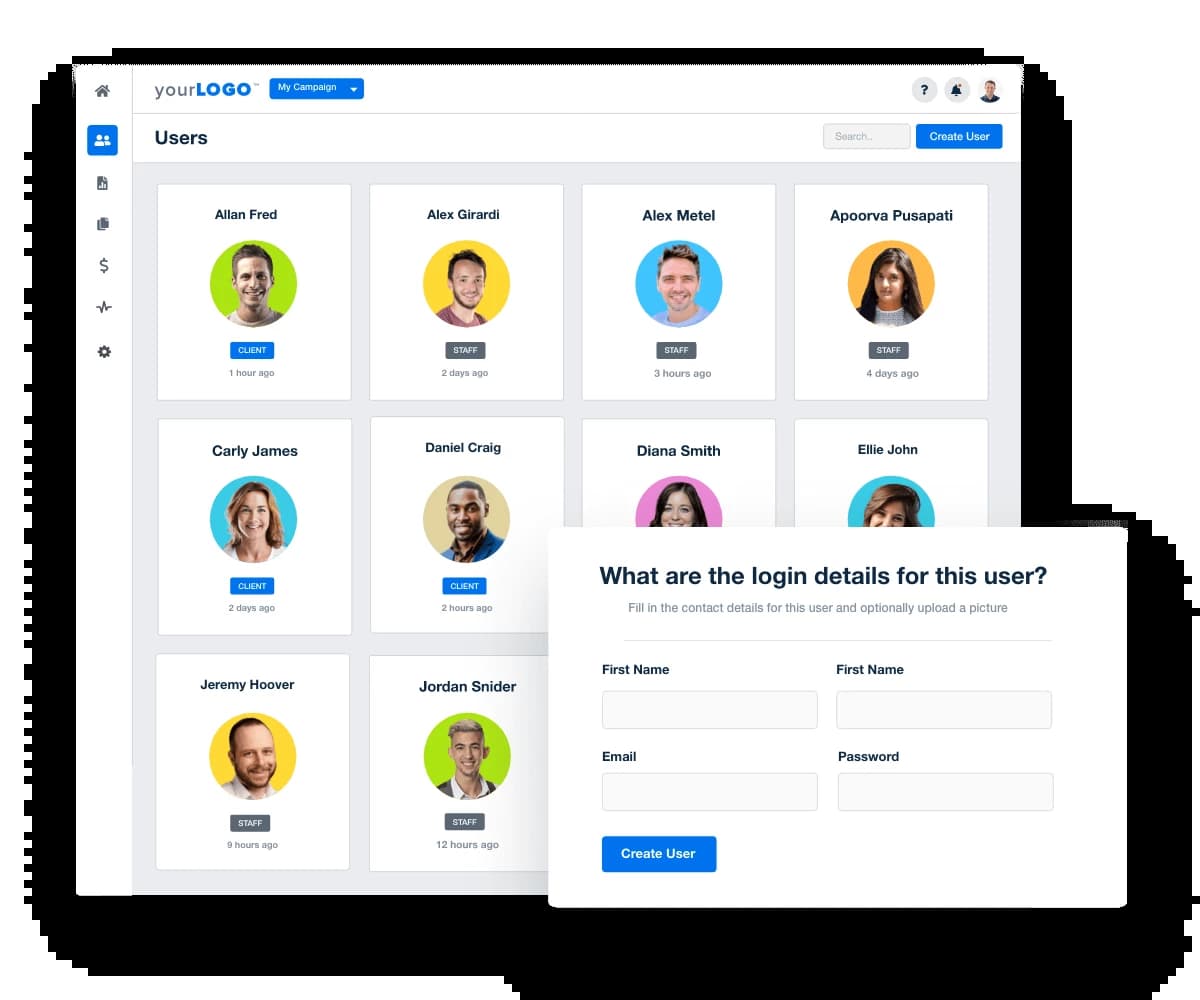 Complete White Labeled Reports
Upload your agency logo and use your brand's color palette across your link-building reports and dashboards. Have different client-facing brands? On the Agency plan and higher, create multiple white label profiles. You have everything you need to call the platform your own.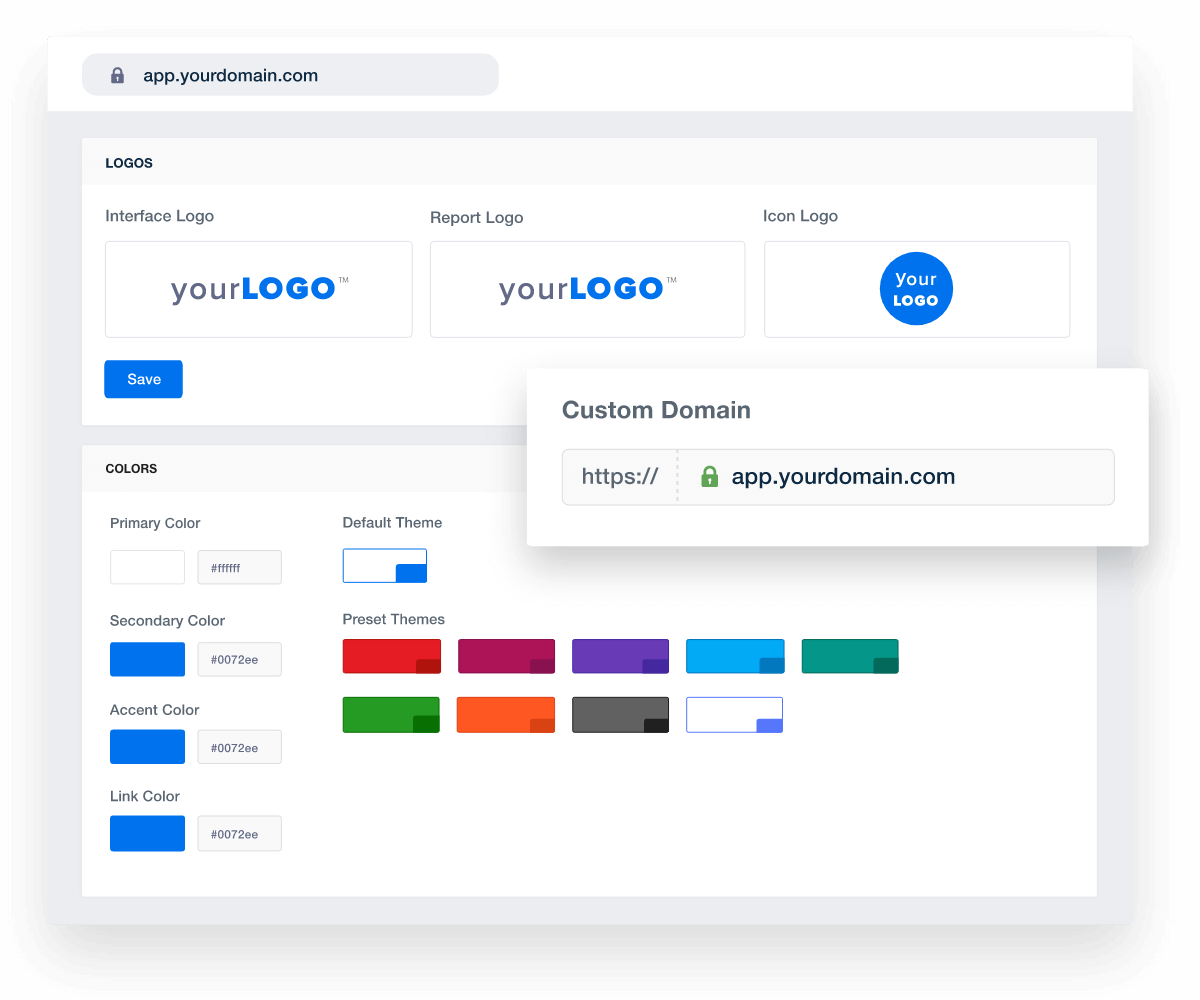 If you're an SEO agency, I HIGHLY recommend AgencyAnalytics. It contains the best reporting tool out there... by a mile.
Try AgencyAnalytics risk-free for 14 days. No credit card required.