Streamline your client reporting with the only PPC Dashboard built for marketing agencies. This all-in-one reporting tool consolidates real-time metrics from Google Ads, Bing Ads, Facebook Ads, and more. Track essential KPIs, showcase your agency's performance, and improve client retention.
What is a PPC Dashboard?
A PPC dashboard displays data from all of your pay-per-click campaigns in real-time. Data is automatically collected from multiple ad platforms including Google Ads, Facebook Ads, Microsoft Ads, Instagram Ads, Spotify Ads, and more. Give your agency and your clients a single place to monitor the performance of all of their paid campaigns in one place.
Harness the power of customization with this PPC dashboard, designed to adapt to your unique needs and those of your clients. Create custom dashboards tailored to each client's PPC campaigns, providing them with a unique, comprehensive view of their campaign performance. Impress clients with live, white labeled dashboards, streamline client onboarding, and make client reporting a breeze.
Why Your Agency Needs a PPC Dashboard
When you run a PPC campaign for clients, you're more than likely running it across several different platforms. Because of this, it can be incredibly difficult to keep track of all the moving parts. And if you want to measure your campaign's success, you don't want to miss a single point of data that could contribute to the bigger picture.
Take your agency's success to new heights with a scalable PPC dashboard designed for growth. Say goodbye to the hassle of manual monthly reporting and dive into streamlined data analysis. With costs, click-through rates, conversion rates, and more at your fingertips, comparing and interpreting data has never been easier.
Spend less time creating client reports and more time optimizing your clients' PPC ad spend on Google Ads, Facebook Ads, LinkedIn Ads, and more. Using a PPC dashboard sets your agency up for success. 
If you prefer to send reports to clients periodically, convert this data into a white-labeled client report in seconds using the PPC report template.
Seamlessly Integrate Data from Top PPC Platforms
Our PPC dashboard integrates with the leading PPC marketing platforms, giving your agency real-time tracking and reporting capabilities for all of your PPC campaigns across multiple platforms.
No more cutting and pasting to create client reports. Provide a comprehensive view of your overall campaign performance and return on ad spend by consolidating all your PPC data into one convenient dashboard.
Make more informed decisions, identify trends, optimize your strategies for maximum impact, and give clients access to their live dashboards to enhance trust and transparency.
Start with the robust PPC dashboard template and utilize an intuitive drag-and-drop dashboard builder to customize the dashboard to meet your clients' exact needs. Highlight specific KPIs, rearrange data visualizations, or add unique campaign elements. The dashboard builder gives you the power to create PPC dashboards that provide the most value to your clients and showcases your agency's expertise in managing PPC campaigns.
8 Sections Included In Our Template
1. Cost
How well is your ad spend trending against your budget? You'll typically have a predetermined budget before starting your PPC campaign, and you'll always want to be aware of how much you've spent of the budget. Our dashboard displays the cost of all of your client's PPC ad campaigns in a single place, making it easier for you to track your overall cost vs. budget.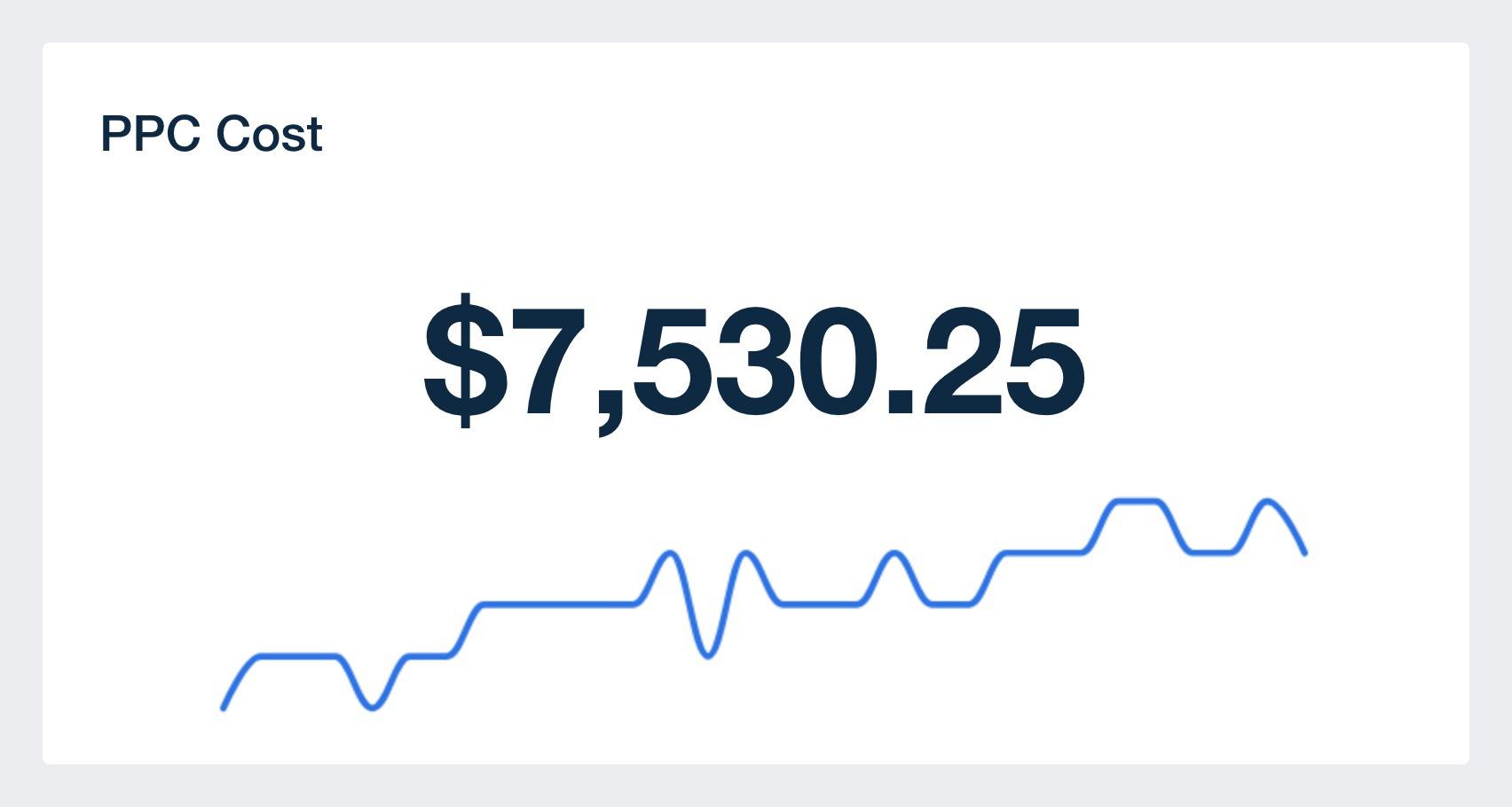 It's important to remember that some platforms, like Google Ads, will sometimes exceed your daily budget in order to maximize the number of clicks you get. This is why it's more important to consider the total monthly cost displayed on your dashboard to ensure you're sticking within your budget.
2. Conversions
The number of conversions is one of the most important numbers to include in a client's PPC dashboard. Ultimately, you want to drive as many conversions as possible from your PPC campaigns. This number is calculated by counting the number of times someone clicks on one of your ads and completes your CTA (call to action). This number could represent how many customers have purchased a product, or signed up for your client's newsletter.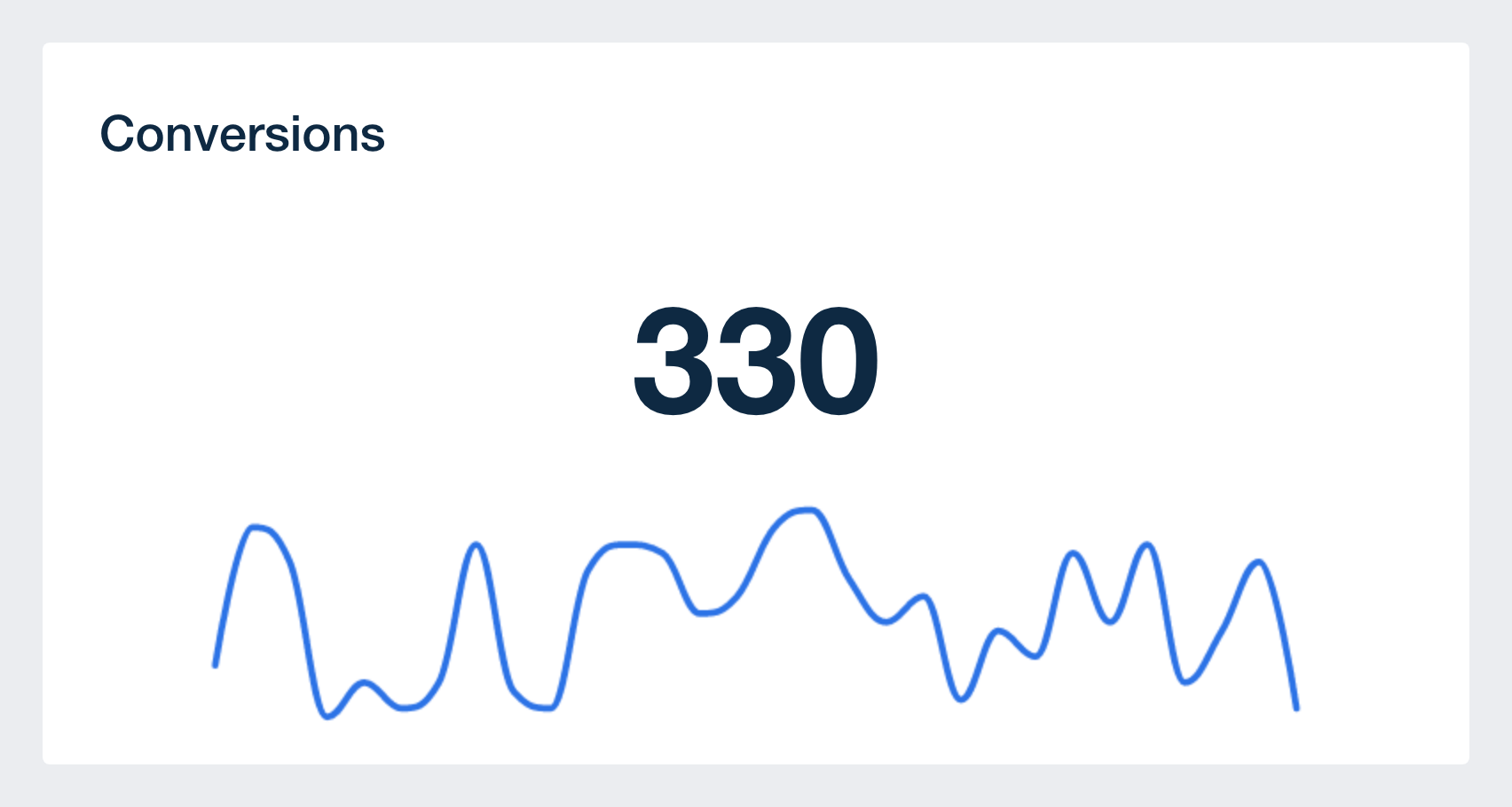 The PPC dashboard simply shows you the number of conversions your campaign is gaining, which can be a solid indicator of how well your strategy is working, but it's up to you to decipher what that means based on the rest of the information your dashboard displays. If you're not getting a high number of conversions, but other key metrics are performing well, you can start tracking down where the disconnect is happening.
3. Cost Per Conversion
You should use cost per conversion in tandem with the overall cost of your PPC campaign and your client's budget. This metric tells you how much it costs to win a new customer. If the customer doesn't purchase enough to make up for the cost it took to get them to convert, you'll likely end disappointing your client.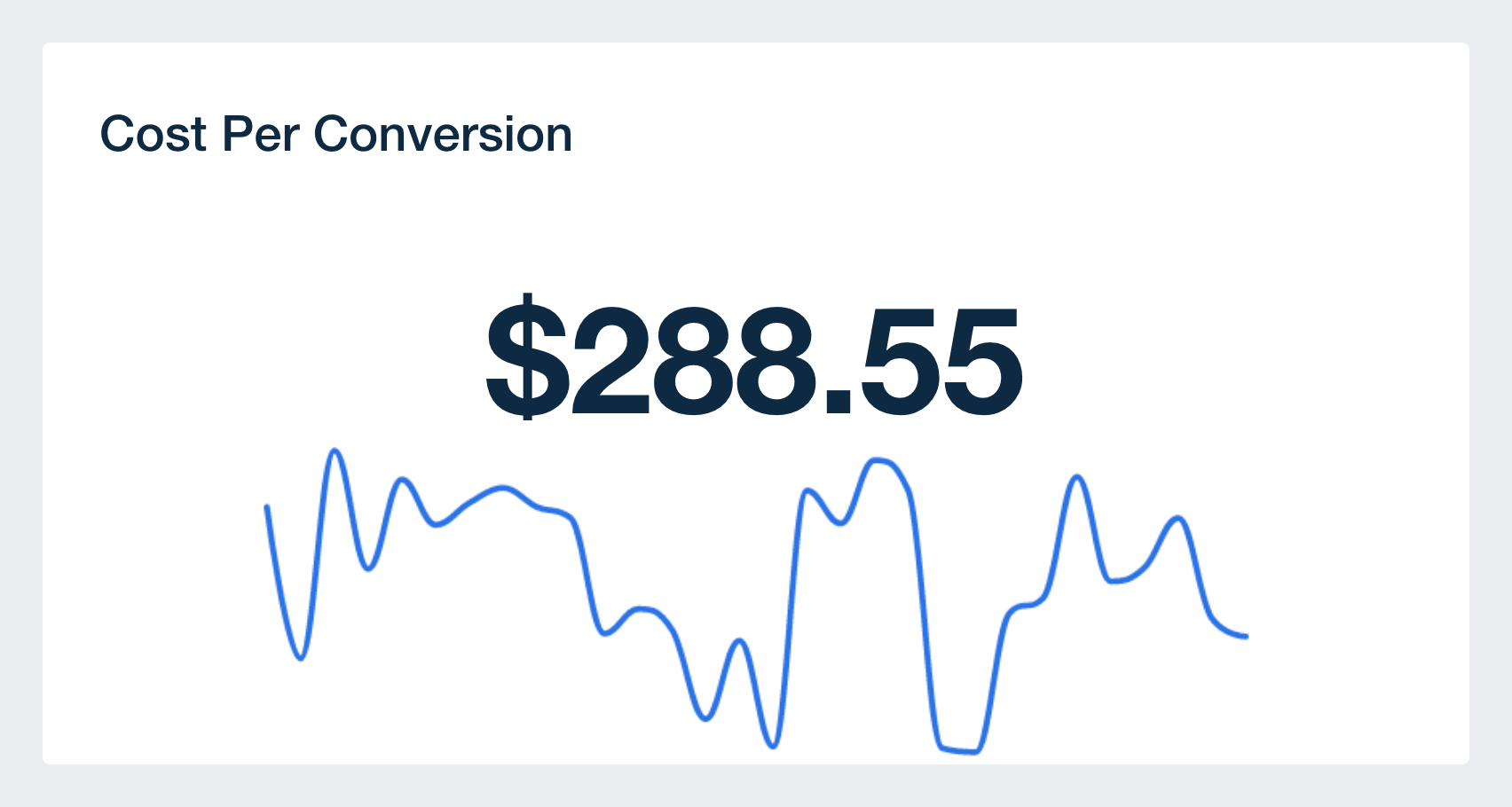 Monitor this number closely and keep it within the range that your client wants. That way, you can temper their expectations and show that your campaigns are actually working. And if your campaigns aren't gaining any return on investment based on this number, you can tweak your campaigns appropriately.
4. Conversion Rate
While the conversion rate may seem like the same thing as the number of conversions your campaign is gaining, it's actually quite a different number. Your conversion rate is measured as a percentage, and it gives you a deeper look into the efficiency of each campaign.
For example, if you have a low conversion rate but a seemingly high number of conversions, you can confidently determine that your ads have the potential of doing more. When you look at your conversion rate and number of conversions together, you can more easily tell how effective your campaign's CTA is and if your offer is actually interesting to potential customers.
5. Impressions
The number of impressions you receive tells you how many people are viewing your ad. While this metric alone doesn't tell you how well your campaign is performing, it's still an essential KPI to measure in tandem with other KPIs like conversion rates and click-through rates.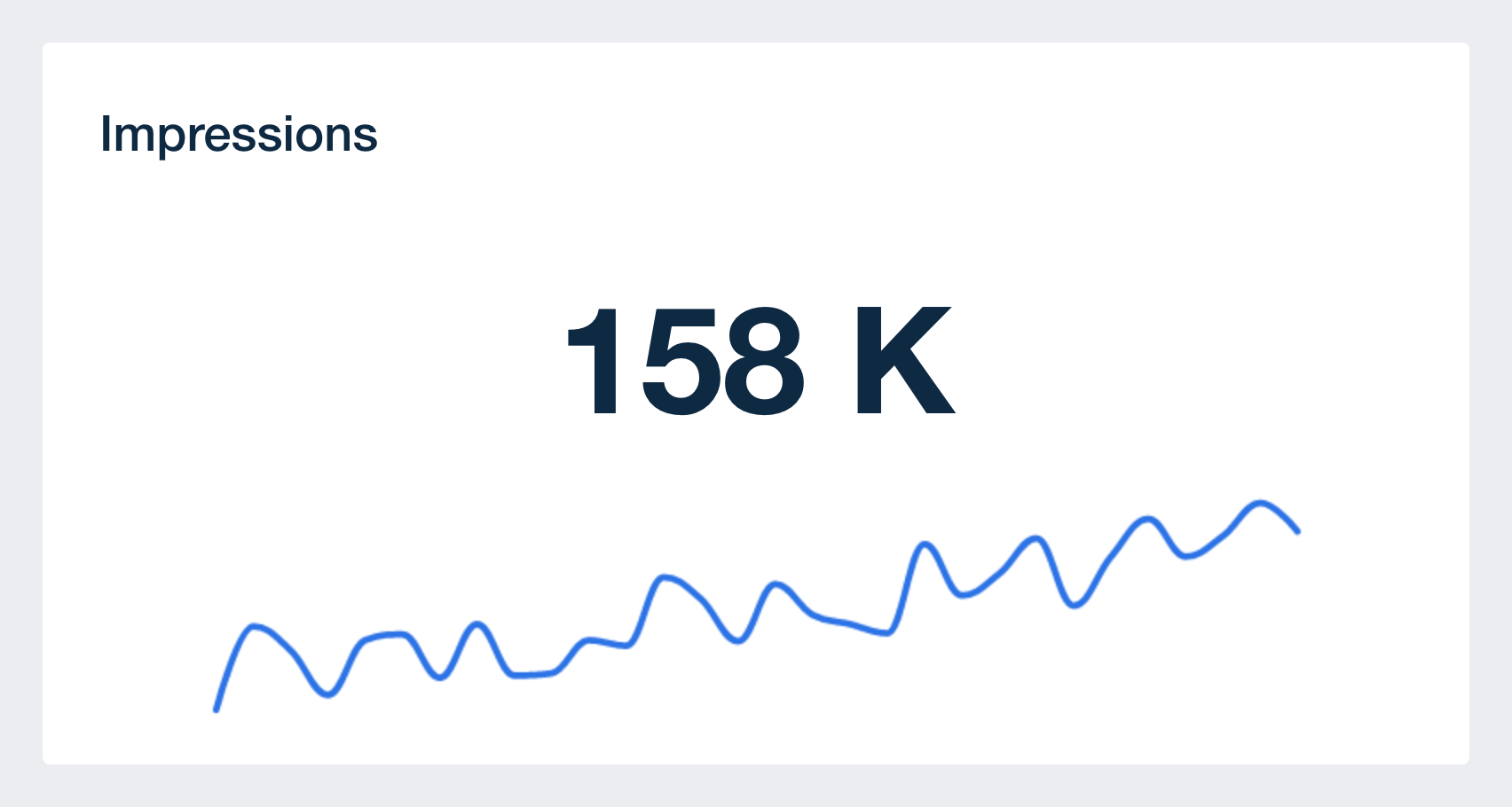 If you have a high conversion rate, but disappointingly low impressions, you can know that your campaign has room to grow and reach more people. This gives you the kind of actionable insights you need to make the appropriate adjustments in order to achieve maximum campaign success.
6. Clicks
Clicks are the bread and butter of pay-per-click campaigns. You don't get any conversions without any clicks, so this KPI is something you absolutely cannot ignore. This metric simply measures how many people are clicking on your ads. Going further, the number of clicks give you an idea of how much interest your ads are gathering online.
Remember that a high number of clicks early in your campaign can be a good indicator of success, but they aren't the only thing you should be considering. We recommend using the number of clicks for a quick campaign performance check. If you notice ads that aren't getting enough clicks, you can pause them and allocate more budget to more successful ads.
7. CTR (Click-Through Rate)
You know impressions measure how many people are looking at your ads and clicks measure how many people are actually clicking on those ads. Your PPC dashboard will divide the number of clicks by the number of impressions and give you the click-through rate (CTR).
In the end, this number tells you how effective your ads are in getting potential customers to act. If this number is low, there's likely something wrong with your ads. Either your CTA isn't clear, or your ad copy and offer aren't compelling enough.
Take note that your CTR is not the same as your conversion rate. Just because people are clicking on your ads doesn't mean they are converting once they reach your client's website. Like other KPIs, look at your CTR in comparison to other performance metrics. For example, if you have a high CTR but a low conversion rate, you might be targeting too broad of an audience.
8. View-Through Conversions
View-through conversions (VTC) happen when someone sees your ad, doesn't click on it, but comes back to the site within 30 days and converts. This is a relatively new KPI in the world of PPC campaigns, but it's an important metric to include in your client's PPC dashboard, especially when it comes to your display ads.
Since display ads often have a minimal CTR, it can be incredibly difficult to determine how effective they are. Your VTCs help you understand how well these kinds of ads are performing so you can determine the best websites to target in order to maximize overall conversions.
Why AgencyAnalytics Makes The Best PPC Dashboards
All Your Online Advertising Data in One Place
Integrate All Your Paid Channels
Say goodbye to spreadsheets and manual reporting! Integrate all of your PPC marketing channels: Facebook, Google, Spotify, Bing, AdRoll, and more. Add engaging graphs and widgets for each channel to create a complete dashboard. Start saving time and impress clients with beautiful, customized reporting.
Expand your agency's value by including performance metrics from multiple data sources inside customized reports. From Google Analytics to SEO, Social Media, and more, all of your client's digital marketing metrics are combined in powerful marketing reports to show off everything your agency has to offer.
Unlimited Number of Users
Easily share your PPC performance with clients by giving them their very own dashboard login. Create a custom PPC dashboard that shows the metrics in a digestible format that clients understand. Or send your clients automated PPC reports directly to their inbox.
Impressions, CTR, Clicks and More
Include as little or as much data as you want! Give your hands-on clients an in-depth breakdown, or create a simplified high-level overview for others. Show impressions, cost, conversions, clicks and much more for every marketing channel.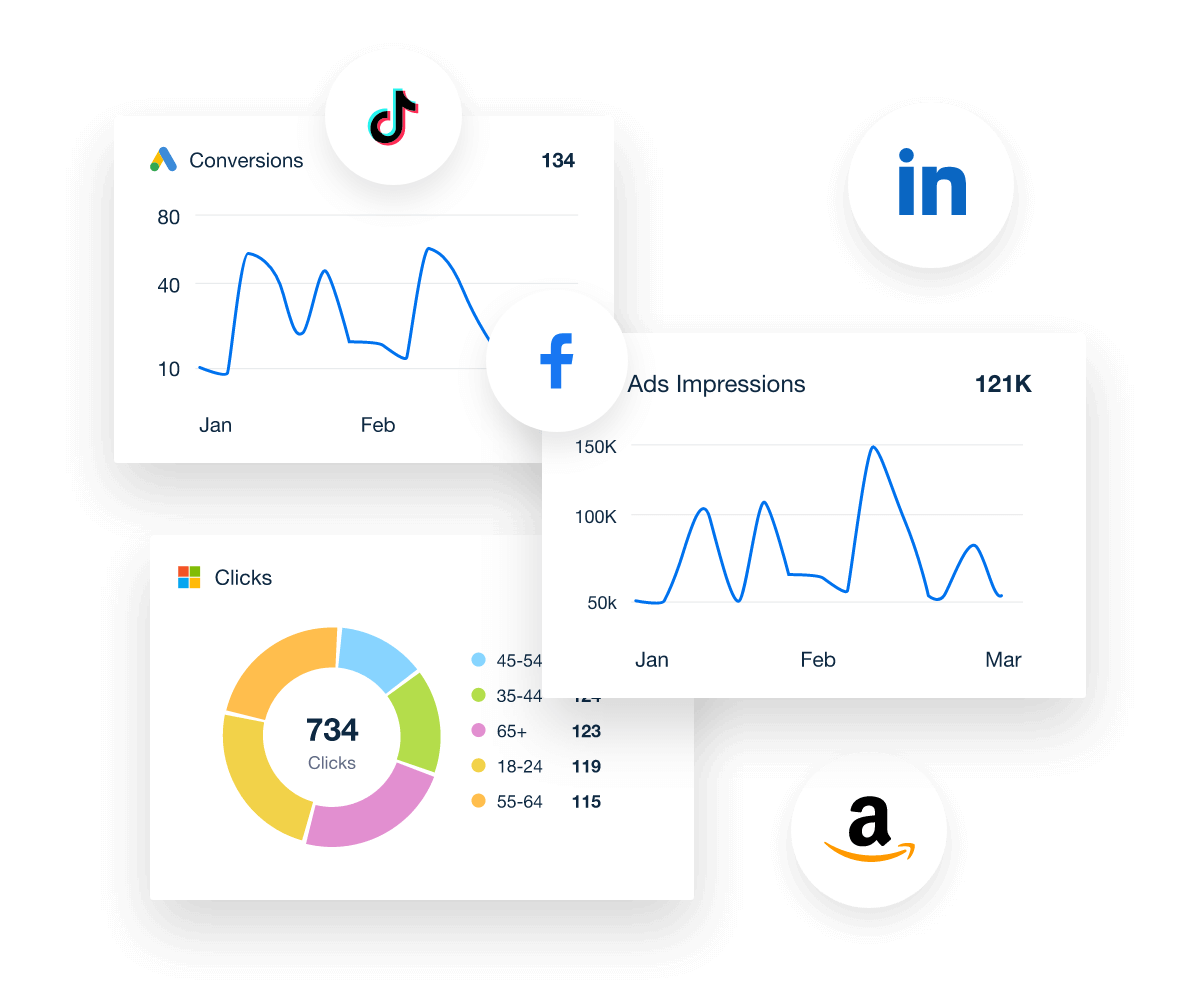 ADD KEY INSIGHTS WITH ANNOTATIONS
Tell a Story With Your Client's Data
Telling a story about your client's data is much better than just showing them the numbers. Instantly keep clients up-to-date on the gains driven by your agency's PPC strategy by adding annotations and goals. When you add marketing insights to your line charts and date-based column charts, you make it easy for your clients to understand important changes in their campaigns and how your efforts are helping them achieve their business goals.
That's just part of what makes this the best PPC Dashboard for marketing agencies.
Including Your Margin in All PPC Data
Add a Custom Markup to PPC Cost/Spend
Most clients only need to know their total cost which includes your agency fee markup. Automatically add a custom PPC markup to all client-visible data with just a few clicks.
Show The Metrics That Matter Most
Clients ultimately want to see the metrics that affect their bottom line: cost & conversions. Highlight total conversions and cost per conversion for each channel in your PPC dashboard.
100% White Labeled PPC Dashboards
Feature Your Logo & Branding
Add your company logo and color scheme. You can even specify a custom domain like "clients.yourcompany.com" to use for your very own white label login page.
SAY GOODBYE TO LAST-MINUTE CLIENT REPORTING
Automated Report Scheduling & Approval
Easily flip powerful PPC dashboards into beautiful marketing reports in minutes with all of your clients' digital marketing data automatically populated. Use the report scheduling feature to put your reporting on autopilot and send client reports on a customized schedule. On select plans, get notified before each report is sent out for your final approval and expert commentary.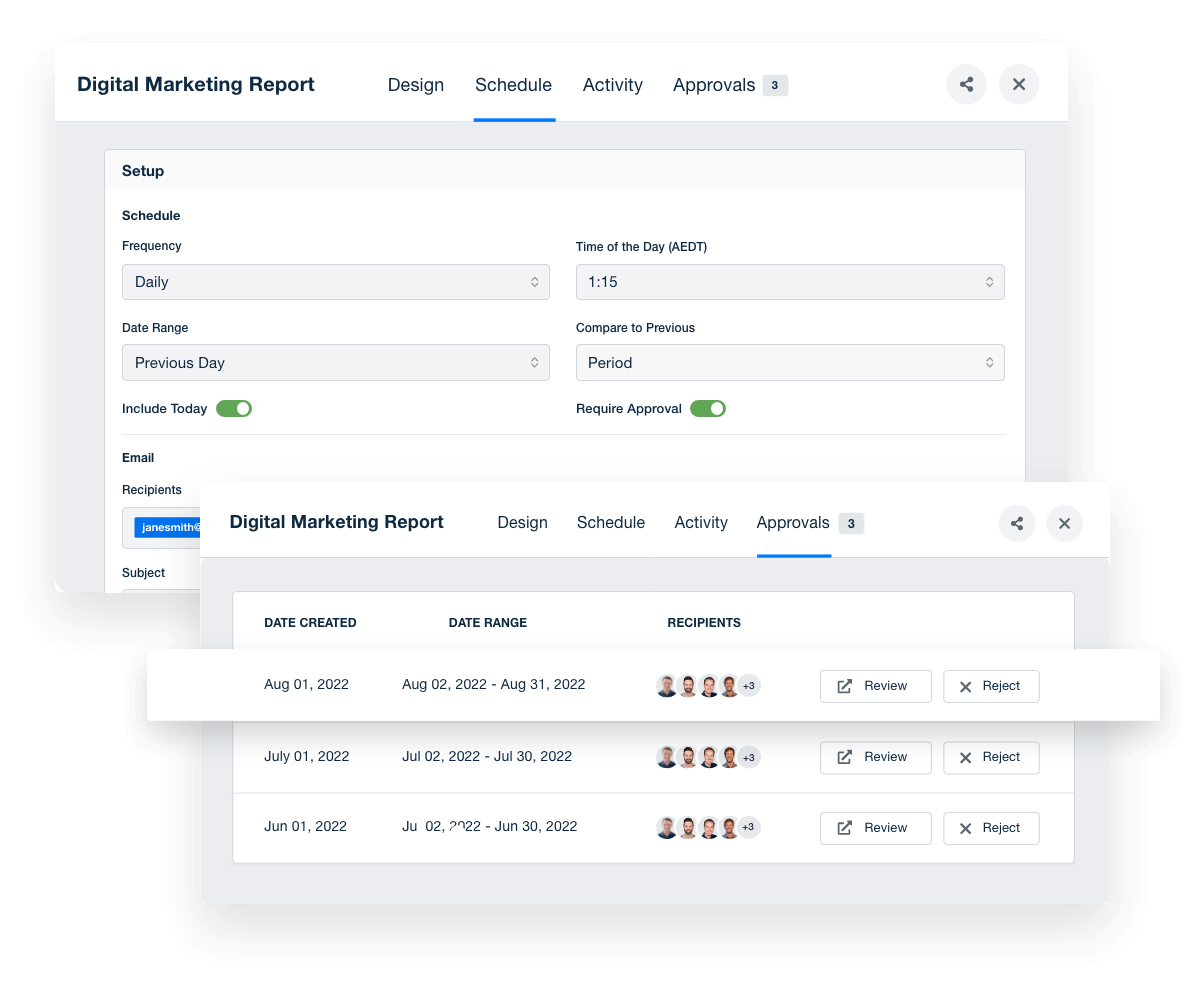 Give Your Clients Exactly What They Need
Unlimited Reports On All Plans
At AgencyAnalytics, we believe in flexibility. Create unlimited reports for each client on every one of our pricing plans. Send reports on a daily, weekly, bi-weekly, monthly, quarterly, or annual basis, or give clients access to live dashboards. Send reports internally to your team so they stay on top of each client, all at no extra cost.
And no more paying for each platform integration. All of the 75+ marketing platforms are included!
Makes multi-platform reporting simple. Adding users and setting access level is literally a tick up. Setting up dashboard integrations is easy.
Try AgencyAnalytics risk-free for 14 days. No credit card required.