Digital Marketing Dashboard
Track progress across your clients' social media, PPC, SEO, and other marketing channels from a unified reporting platform. Create client reports faster & easier with this professional white label digital marketing dashboard.
What Is a Digital Marketing Dashboard?
A digital marketing dashboard is a real-time snapshot of your clients' marketing performance across their various platforms. Agencies use digital marketing dashboards to measure the overall campaign performance across multiple channels and easily report results to clients. With this all-in-one digital marketing dashboard, your agency's marketing team tracks key marketing metrics like ad spend, SEO keyword rank, conversion rate, and revenue, from one place.
Get a top-level view of everything that's happening across a variety of digital marketing platforms for each client. Plus, dig deeper into individual marketing strategies with more than 12 other online marketing dashboard templates, 14 pre-built marketing report templates, and 75+ automated channel integrations.
Why Your Agency Needs a Digital Marketing Dashboard
Digital marketing campaigns are often made up of various marketing platforms, channels, and activities, each of which you need to track and report to your clients. Tracking multiple KPIs at once across several different data sources takes a significant amount of your agency's time when done manually.
To solve this, use an automated reporting tool to keep track of each online marketing campaign you're running for all your clients. Key metrics like conversion rate, revenue, and cost fluctuation are all combined in easy-to-duplicate marketing dashboard templates, making client onboarding a breeze! Quickly identify trends and make the necessary adjustments to ensure your campaign's success.
This digital marketing reporting dashboard is updated from up to 75+ data sources in real-time, so your clients see exactly how their campaigns are performing. Whether your agency is running SEO campaigns, Google Ads, social media, or email marketing programs, track them all in a single digital marketing dashboard. Otherwise, send scheduled reports to your clients using the digital marketing report template.
Include Key Performance Indicators Across All Your Clients' Marketing Channels
As a digital marketing agency, your success hinges on your ability to access, analyze, and act upon the wealth of data generated across numerous platforms. A digital marketing dashboard transforms the data collection processes, providing a central hub that integrates all of your clients' data sources, including Google Analytics, built-in SEO tools, social media platforms, email marketing software, PPC campaigns, and much more.
Use the drag-and-drop report builder to add widgets and highlight the metrics your clients need to see. Then watch as that data is automatically populated. Customization and accurate, real-time data are just two of the reasons why this is the best marketing dashboard tool for marketing agencies. 
No more hopping between different marketing platforms to gather data or struggling to manually collate and make sense of disparate data points. Tailor the digital marketing dashboard to highlight the metrics that matter most to your clients, providing them with clear, concise, and impactful reports that showcase your agency's value.
Use the sections provided as part of the dashboard template, or customize it based on your clients' needs and then quickly clone the dashboard as you onboard more and more clients. 
Website Performance Overview
Automatically include Google Analytics data to highlight the most crucial key performance indicators, or add additional widgets to include the data your clients want to see. With this clear, concise overview, you reinforce your agency's efforts, spotlighting the tangible impact of your strategies through robust website analytics. Your clients' successes and the value your agency brings will be impossible to ignore.
SEO Performance Overview

The AgencyAnalytics digital marketing dashboard tool uses advanced data visualization tools to put critical SEO indicators at the forefront. Watch as website traffic trends and SEO performance metrics come to life in your client-facing SEO analytics dashboard, offering a compelling demonstration of your agency's impact. With clear, striking visualizations, your SEO efforts and results become the focal point of your client reports.
Email Marketing Performance Overview
Seamlessly integrate email marketing analytics by including crucial email performance KPIs that showcase the impact of your agency's email marketing strategies. Vividly illustrate the effectiveness of client campaigns, reinforcing your agency's pivotal role in driving results. The power of email marketing has never been clearer.
Social Media Performance Overview
Underline the effectiveness of your agency's online marketing campaigns. This digital marketing dashboard puts a spotlight on the most crucial social media metrics by automatically integrating social media analytics. Leverage the customizable dashboard template to effortlessly analyze data and present a compelling narrative of your agency's impact.
PPC Performance Overview
A cornerstone feature of an online marketing dashboard, this section highlights your clients' most critical PPC key performance indicators, such as conversion rate, cost per conversion, and top keywords. Getting a concise overview of PPC campaign performance provides clients with immediate insight into the effectiveness and return on investment of their advertising spend.
AgencyAnalytics takes digital marketing campaigns to the next level. The dashboards empower agencies and clients, providing a one-login solution to understand campaign performance across SEO, Google Ads, Social Media, and more.
Unlike many other online marketing dashboards and reporting tools on the market, AgencyAnalytics is built for marketing agencies. For over a decade, more than 6,500 agencies just like yours have helped guide improvements to AgencyAnalytics. This is one of the reasons why the platform provides the most comprehensive collection of integrations and customization options, all within an easy-to-use interface.
Highlight Key Metrics With a Customizable Digital Marketing Dashboard Template
Spend less time manually updating spreadsheets and more time scaling your agency with an easy-to-use, automated client reporting platform. This template comes pre-built with the 25 key metrics every agency should be monitoring for their clients but is customizable so your team can add or remove widgets as needed.
Here are some of the top digital marketing metrics automatically included in the pre-built digital marketing dashboard.
1. Goal Completions (Conversions)
Regardless of the type of marketing campaign you're running for your clients, one of the most important KPIs your digital marketing dashboard should include is the number of goal completions, also known as conversions. Once you set what's considered a conversion in Google Analytics, this data will automatically be pulled into your dynamic dashboard. This can include anything from a customer filling out a form, purchasing a product, and more.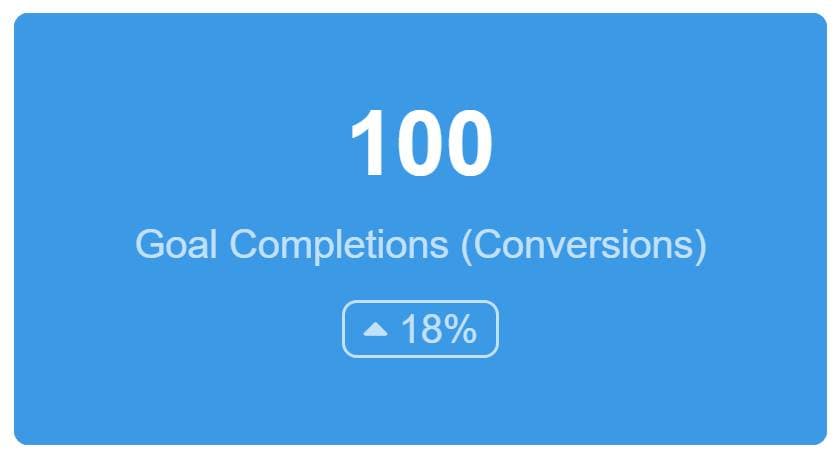 It's important to track conversions against the targets you've set with your clients as a general measure of your marketing performance. While this number is helpful in determining overall performance, it can also be incredibly helpful when compared to other KPIs in the campaign. For example, if your goal completions are suboptimal, you should take a look at the other metrics below to identify where the campaign can be improved.
2. Revenue
As with any kind of marketing campaign—whether online or offline—it's absolutely essential you track how much revenue your agency is driving. Our digital marketing dashboard template gives you a quick look at how much money each client campaign is earning, which you can then include in your marketing reports.
Revenue is a crucial KPI in building your clients' confidence in your agency's marketing services, as well as in identifying where you can do better. If you're meeting or exceeding your clients' revenue goals, you can happily report your progress. If not, you can take this time to identify where you can adjust your strategy to better achieve your their goals.
3. Web Traffic (Sessions)
Tracking the number of people visiting a client's website - and its growth over time - tells you how well several key components of the campaign are performing. For starters, this KPI can indicate how compelling your client's offer is. It can also indicate whether or not you're targeting the correct channels to drive maximum growth. Finally, the number of sessions a client's website receives can also show how effective your ads' call to action (CTA) is.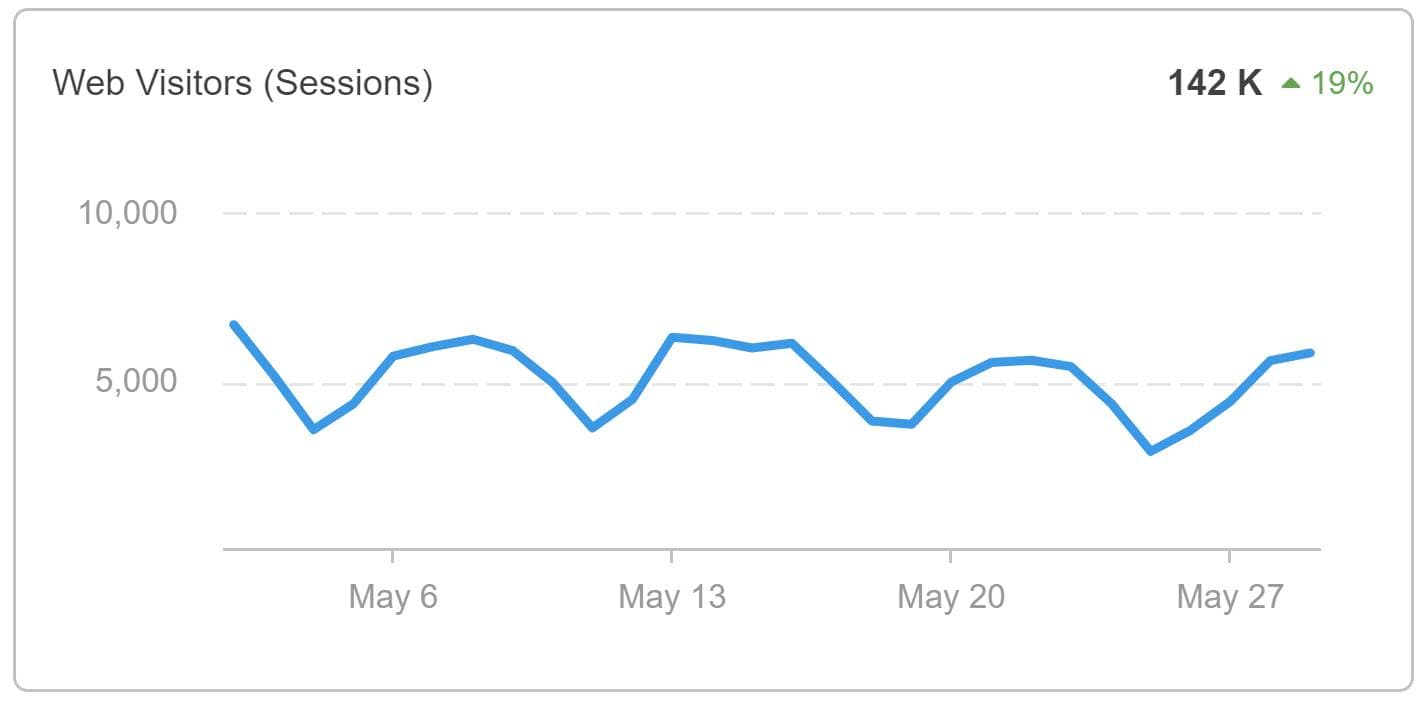 This digital marketing reporting dashboard pulls data from across all traffic channels via Google Analytics so you get a big-picture view of the client's website performance.
4. Conversion Rate
While similar, the conversion rate KPI is a little different than the goal completion KPI. Instead of tracking the number of customers converting, conversion rate gives you a look at how many people are converting compared to the total number of people visiting your client's website. This metric is measured in the form of a percentage and is calculated as the number of conversions divided by the number of total web sessions.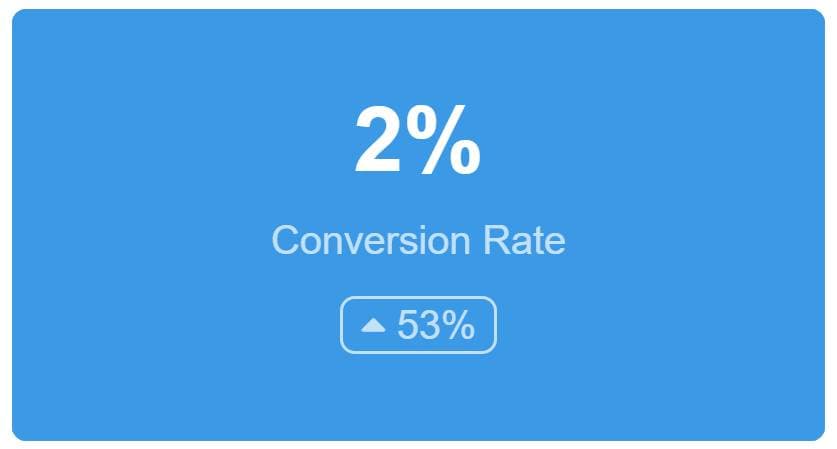 This percentage is perhaps more indicative of a campaign's success than any of the marketing metrics above because it accounts for a combination of two other KPIs. For example, if your conversion rate is low, you might infer you're targeting the wrong audience, or it could indicate a website issue that's leading to website or cart abandonment. This specific kind of analysis enables you to make more strategic adjustments to your campaign.
5. Links Published (SEO)
An essential facet to search engine optimization (SEO) is acquiring backlinks or links from other websites that lead back to your client's website. These are also called inlinks or inbound links. The best digital marketing dashboard allows you to easily report on the links you've built throughout your SEO campaign.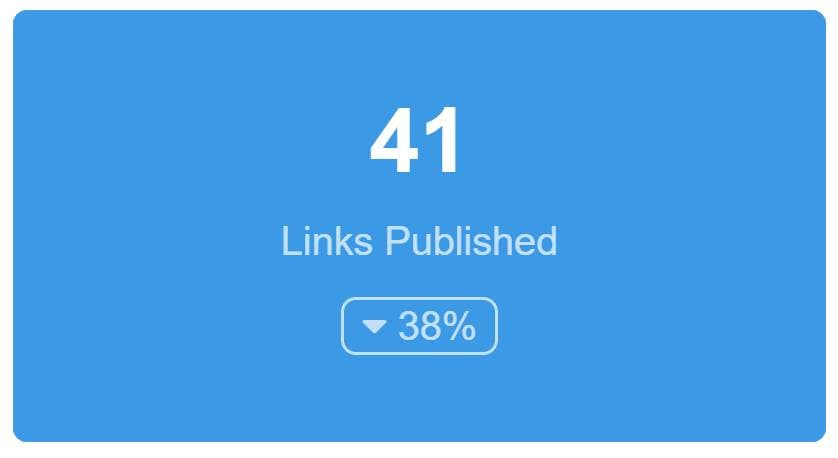 This metric on your marketing analytics dashboard displays the exact number of backlinks you've built during your campaign. If you're struggling to increase this number, consider offering to guest post or blog for other relevant websites in your client's industry. Or you can even outsource link building to another agency.
If your agency offers SEO services to clients, take a look at this SEO dashboard.
6. Email Subscribers
Email marketing is an essential part of your digital marketing campaigns. Building a healthy email list has a variety of long-term benefits for your client, especially when it comes to connecting with new and existing customers. In fact, you're much more likely to get higher click-through and conversion rates with email campaigns over other avenues like social media. If your customer wants to build a robust email list, tracking the number of new email subscribers is an essential metric to report to your client.
7. Email Opens
After building up your client's initial email list, you'll want to track how many of those subscribers are actually opening the marketing emails that you send. This is a long-term metric to track, especially since email subscribers often open fewer emails as time goes on.
If you see a decline in the number of emails opened over time, you might have a problem. Perhaps you're sending too many emails over a short amount of time. More likely than not, your emails aren't interesting or engaging enough for your email subscribers. A decline in this metric provides you a unique opportunity to re-engage with your clients' customers.
8. Social Media Followers
When it comes to social media, there's power in the number of followers you have. A higher follower count can mean your client's brand is growing in popularity. It can also mean your marketing campaigns are helping drive more people to your client's brand.
Different social media platforms gather different audiences, so you'll want to track how many followers you have on each. The digital marketing dashboard tracks how many followers you have on each platform so you can know where to focus next.
9. PPC Cost
Pay-per-click (PPC) cost measures how much money you're spending across all of your PPC campaigns. The digital marketing dashboard template compiles all of the data between ad networks, including Google Ads, Facebook Ads, LinkedIn Ads, and more. Throughout your PPC campaign, a dedicated dashboard helps to ensure you're staying within your budget to accurately report what you're spending on PPC ads to your clients.
10. PPC Conversions
If you're running a PPC campaign within your overall digital marketing campaign, the number of PPC conversions you get is a quick indication of the campaign's success. A higher number of conversions means more people are clicking on your ads and buying your client's products, while a lower number means the opposite.
However, there's more to glean from PPC conversions than you might think, especially when compared to other marketing KPIs. For example, you might be getting a high number of PPC conversions, but you might not be reaching as many potential customers as you could. Or, maybe you're getting a low number of conversions, meaning your ads aren't as effective as they could be. Whatever you learn from this number, you communicate more clearly with your clients when you have a clearer look at this metric.
Want To Add Sections or Custom Metrics to Your Digital Marketing Dashboard Template? It's Easy!
With the AgencyAnalytics drag-and-drop editor, add new sections, charts, graphs, or other metrics to your agency's custom dashboard in minutes, saving time and money on client reporting and onboarding.
Customize your digital marketing dashboard and watch as your marketing agency streamlines reporting and supercharges client onboarding. Harness the power of Google Analytics, SEO Tools, social media analytics and much more within your personalized marketing performance dashboard.
Gain crystal-clear, real-time insights into your marketing efforts across a variety of channels and proudly demonstrate your marketing team's wins, giving clients a direct, unambiguous view of their stellar work.
Creating the best marketing dashboard–that perfectly reflects your agency and empowers your marketing team–drives efficiency, fuels agency performance, and boosts profitability.
Digital Marketing Dashboards as Unique as Your Agency
Drag & Drop Dashboard Builder
Customize Your Marketing Dashboards Your Way
Building custom marketing dashboards doesn't need to take all day. Start with one of the pre-built templates and use the intuitive drag-and-drop report builder to customize exactly which metrics your clients will see. Easily turn these custom marketing dashboards into emailable marketing reports in minutes.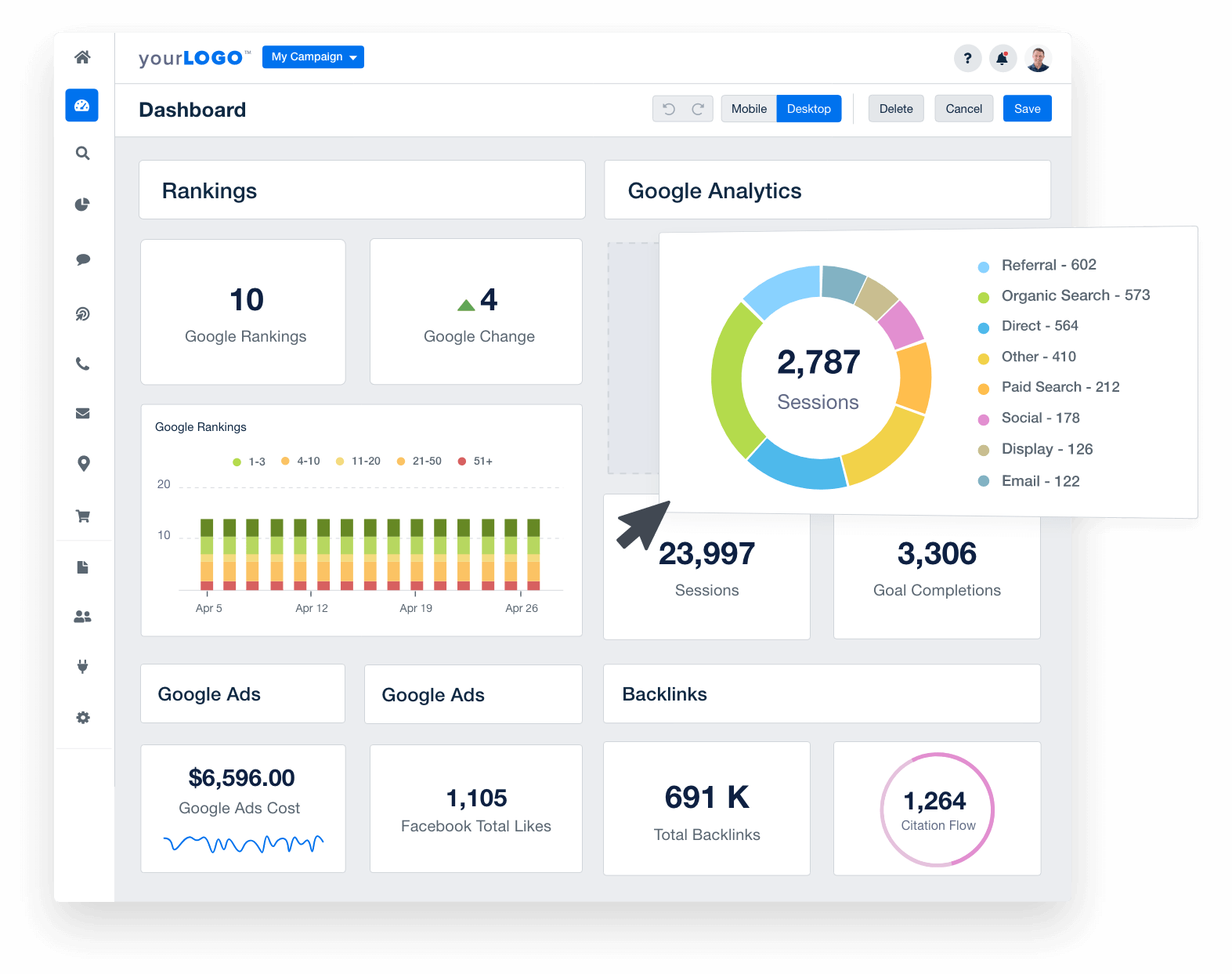 TAKE CONTROL OF YOUR AGENCY'S BRANDING
White Labeled Digital Marketing Dashboards
TIE YOUR RESULTS TO YOUR AGENCY'S BRAND
Take control of your branding with fully white-labeled dashboards that match your agency's brand. Upload your agency logo, add your brand's color palette, and more. With AgencyAnalytics, you have everything you need to call these digital marketing dashboards your own.
TAKE YOUR AGENCY BRANDING EVEN FURTHER
On the Agency plan and higher, create multiple white label profiles that showcase different logos and color schemes for different client-facing dashboards. For a complete white-labeled experience, host your digital marketing dashboards on your own custom domain and send reports from your agency's email address. 
MANAGE YOUR ENTIRE DIGITAL MARKETING AGENCY
Client & Staff Management
GIVE CLIENTS THEIR OWN LOGIN
Provide each client with their own login to a real-time digital marketing dashboard they can access at any time. With granular user permissions, you're in complete control over exactly which metrics each client sees.
STREAMLINE YOUR STAFF WORKFLOWS
Save time and scale your agency by streamlining your staff's workflows. Assign staff members to clients and create one-off or recurring tasks for each campaign. AgencyAnalytics gives you everything you need to put your client dashboards and reporting on autopilot.
Dashboard & Report Templates
Create Custom Marketing Dashboards & Reports in Minutes
Get your client metric monitoring up and running right away with dozens of prebuilt dashboards and report templates. Plus, each of our 75+ marketing integrations comes with its own pre-built metrics dashboard, giving your agency plenty of options to build a comprehensive reporting platform for your clients.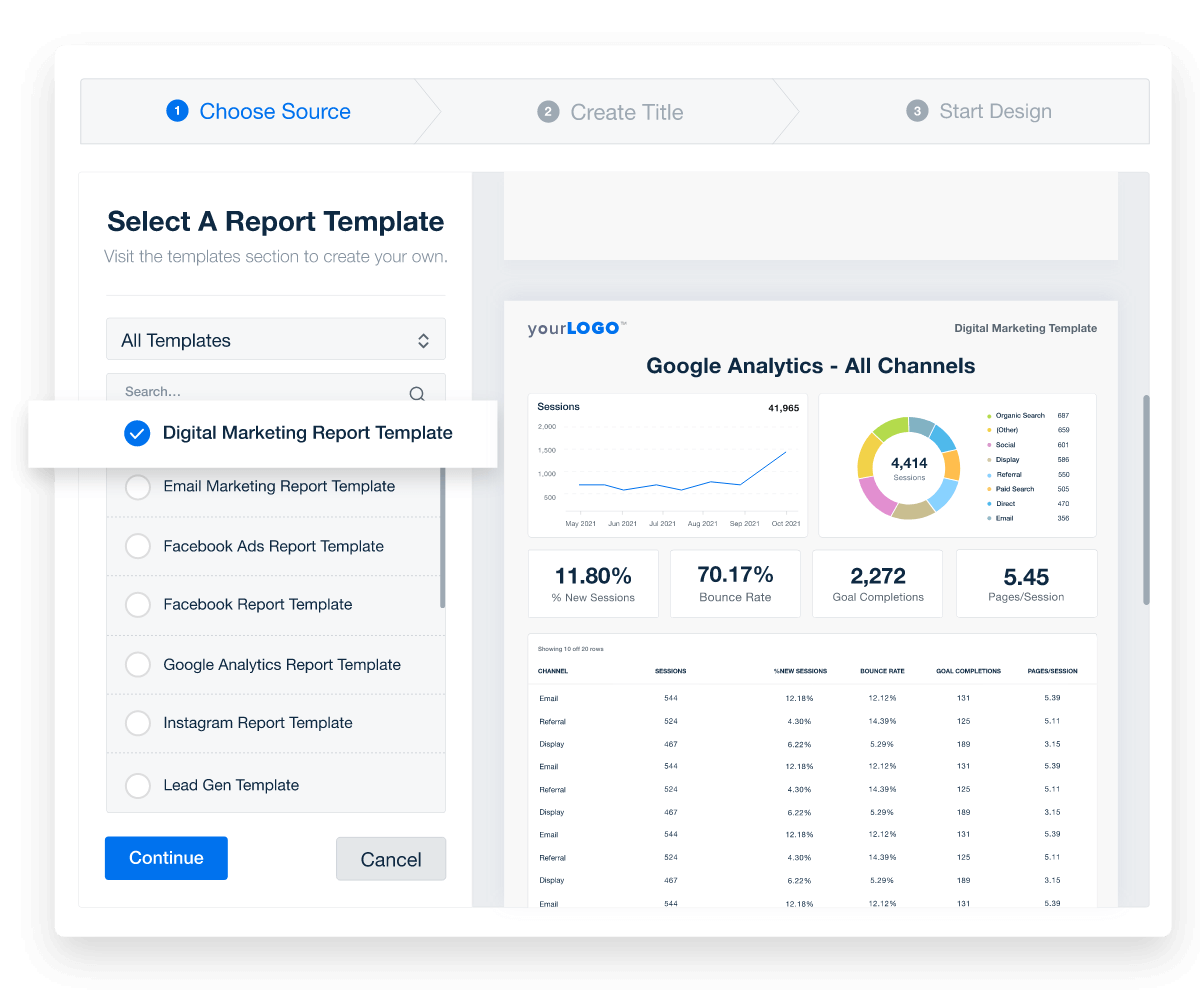 Put Your Reporting on Autopilot
Use your digital marketing dashboard as a starting point to effortlessly build and schedule automated marketing reports your clients will actually look forward to reading.
This is my favorite digital marketing dashboard because it integrates almost every tool I use. I use this daily and it saves a ton of time with my 20+ digital marketing clients.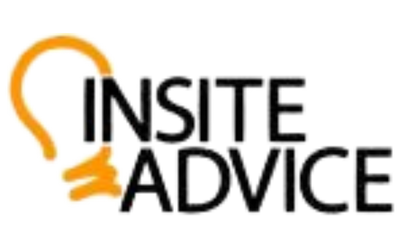 Try AgencyAnalytics risk-free for 14 days. No credit card required.