Track the marketing metrics that matter most to your clients with a web analytics dashboard. Get real-time insights to monitor user behavior, digital marketing efforts, and traffic sources. Enhance your agency's marketing strategies with key metrics like Google Analytics data alongside 75+ marketing platforms in one comprehensive digital marketing dashboard.
​​Why Your Agency Needs Web Analytics Dashboards
Analyzing customer behavior and user engagement to generate performance reports for your client's website can be tough, especially when you have to sift through web data from different sources. 
Using a custom analytics dashboard that integrates Google Analytics data, social media insights, and other essential metrics allows you to analyze, share, and report website insights simply and concisely. 
Analytics dashboards make gaining actionable insights accessible by sorting pages based on key metrics like top exit pages, bounce rate, and website sessions–all without having to sift through complex platforms like Google Analytics manually. 
Provide clients with a login to a custom web analytics dashboard with key insights into their Google Analytics data so they can view user events in real-time. Alternatively, send them scheduled automated reports (using our web analytics report template).
From organic traffic to paid ads, the AgencyAnalytics dashboard shows all the important Google Analytics data in one place.
Top Sections To Include in Your Web Analytics Dashboard Template
1. Event Count
With the Google Analytics 4 integration, it's easier to understand user interactions via the Event Count metric. This metric quantifies the number of times a specific event, like a button click or form submission, occurs on a website or app. 
Your clients' Event Count metrics provide a clear picture of user interactions, allowing you to track trends and understand the frequency of particular behaviors across your clients' sites to guide your campaign optimization efforts. For instance, changes in the count after modifying a call-to-action button can indicate the change's effectiveness. 
Track specific user interactions, such as clicks, form submissions, video plays, and more to gauge user engagement and identify what resonates. Set up your custom Events in Google Analytics to capture the data that matters most and easily present it in your web analytics dashboard. 
While the event count offers valuable quantitative insights, it's essential to analyze it alongside other metrics for a comprehensive understanding. A high event count for one action might not necessarily mean more value than a lower count for another, more crucial action.
2. Conversions
In Google Analytics, Conversions refer to the completion of key activities on your client's website or app. These are essentially the same as what were called "goals" in Universal Analytics. Conversions can be anything from a user making a purchase, signing up for a newsletter, downloading a resource, or any other action that's valuable to your business.
Unlike Universal Analytics, where you had to define goals based on specific conditions (like destination URLs or event categories), Google Analytics is built around event-based tracking. This means you can mark any event as a conversion.
One of the advantages of GA4's event-based model is flexibility. You can retroactively mark an event as a conversion and see historical data, something that wasn't possible in UA. To set up a Conversion in Google Analytics 4, you first need to ensure the event you want to track as a conversion is being sent to Google Analytics. Once the event is being tracked, you can simply go to the "Events" section in the Google Analytics interface and mark that event as a Conversion.
In your web analytics dashboard, Conversions are in the top Toolbar, allowing you to assess Total Users, Active Users, User Engagement, and so forth. 
Tracking conversions for your clients is pivotal for measuring and optimizing the return on investment (ROI) of their marketing campaigns. It offers transparency and accountability, enabling you to refine your strategies based on tangible data. 
Conversion insights guide budget allocation, foster clear agency-client communication, and aid in setting measurable goals. By understanding user behavior and performance metrics, agencies build trust, ensure long-term client relationships, and craft future marketing strategies with precision.
3. Revenue Metrics
Google Analytics 4 makes it easier to delve into the financial aspects of your clients' campaigns. AgencyAnalytics' integration with Google Analytics makes it easy to track the following profitability metrics. 
Total Revenue: Google Analytics provides a comprehensive view of the total revenue generated from various channels, including organic search traffic, paid ads, social media, and more. By segmenting revenue sources, identify what's driving the most sales and where to focus your marketing efforts.
Average Revenue Per User (ARPU): ARPU is a critical metric that helps you understand the revenue generated per user or customer. Google Analytics tracks ARPU across different segments, such as New vs. Returning Visitors, Traffic channels, or User Behavior. This insight allows you to tailor your marketing strategies to maximize revenue from specific audience segments.
Ecommerce Transactions: If your clients operate online stores, Google Analytics' eCommerce dashboard offers detailed insights into transactions, conversion rates, product sales, and more. 
Easily present these as widgets in your web analytics dashboard.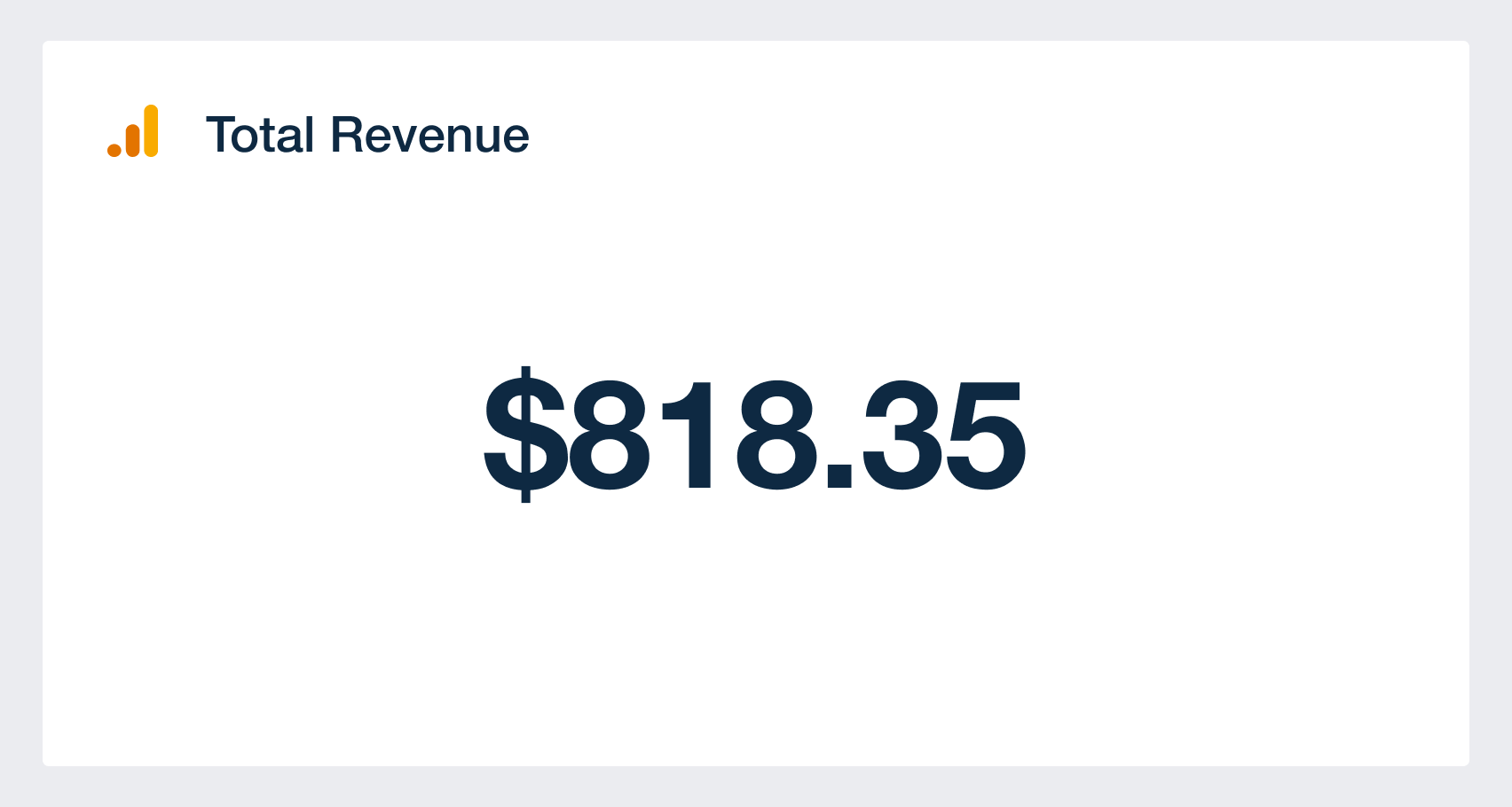 Monitor the entire sales process, from landing pages to checkout, and identify areas for improvement to boost conversions and revenue by adding widgets from the Google Analytics integration into your web analytics dashboard. 
Cost Per Click (CPC) and Ad Spend: Track the efficiency of your paid advertising campaigns by monitoring metrics like CPC and total ad spend. By understanding the cost associated with acquiring customers through different channels, you can optimize your budget allocation to achieve higher ROI.
Custom Revenue Metrics: Create custom revenue metrics tailored to your clients' unique business goals and industry standards. Google Analytics data pulled into your web analytics dashboards ensures you have the latest insights to make informed, timely decisions for your client campaigns. Whether tracking revenue from email campaigns, subscription services, or other specific revenue streams, present data in a way that resonates with your clients.
4. Views
The Views metric is found under the Pages tab in your web analytics dashboard and is measured in Google Analytics as the total number of pages viewed by visitors. This metric, however, does not reveal the number of visitors who viewed the page or how often the pageviews occurred in each session. Using this KPI alone to determine how viral a post is may provide inaccurate results.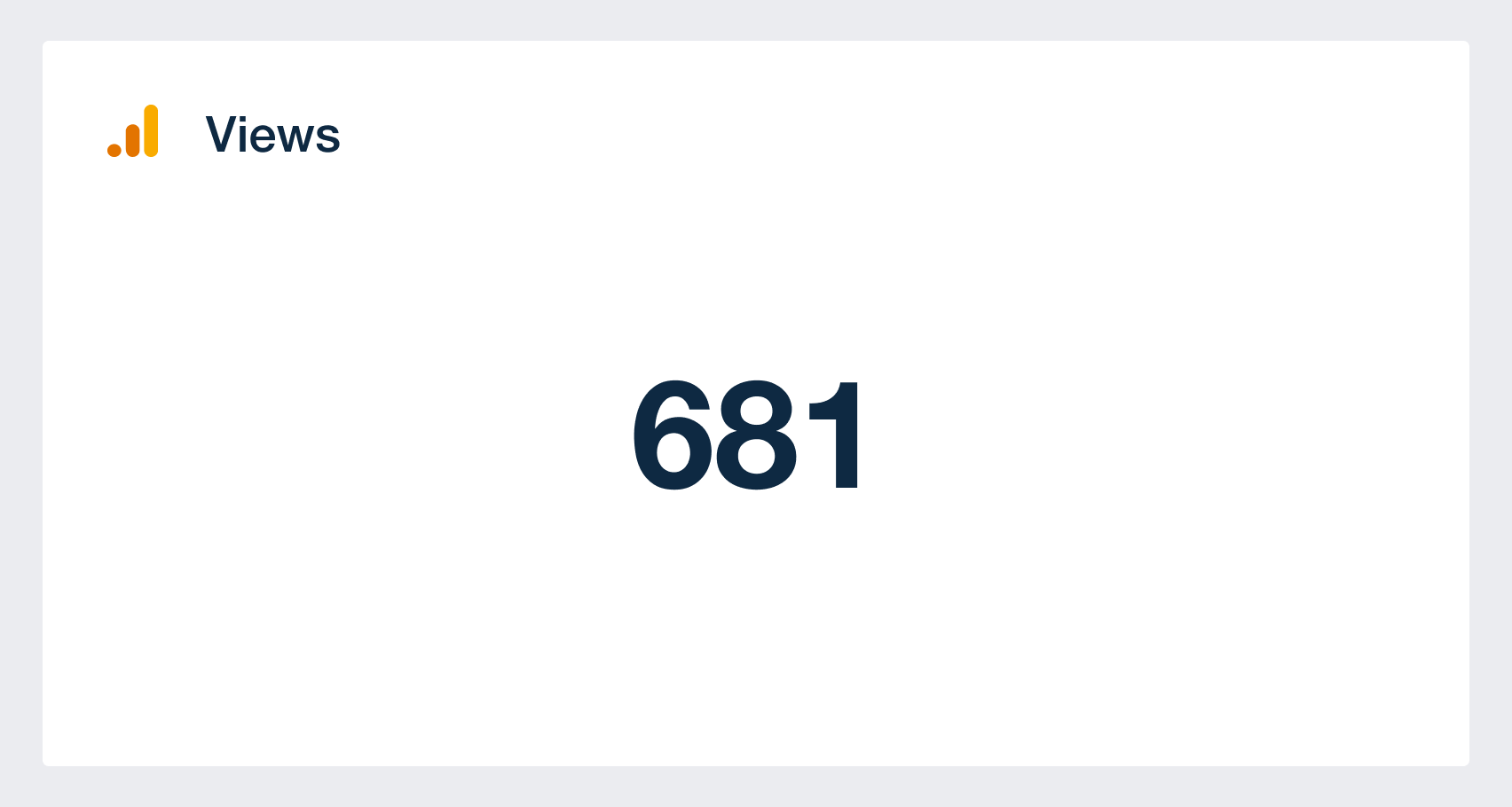 For instance, a single visitor may be responsible for multiple page views, and a particular page can be viewed many times in each session. While this metric in Google Analytics can indicate a post's popularity, having high page views doesn't necessarily equate to post popularity. So, you want to measure pages loaded or reloaded in a web browser. Combine it with unique page visitors and other metrics for accurate results.
5. Engagement Rate
Engagement Rate in Google Analytics 4 quantifies the level of user interaction and involvement with your clients' content. This metric offers a nuanced understanding of how users are connecting with your digital assets.
High engagement often indicates content relevance and effectiveness, while low engagement may signal a need for optimization. To understand how user engagement translates into desired actions, such as sign-ups, purchases, or downloads, link the Engagement Rate to specific conversion goals.
Analyze Engagement Rates across various channels, such as organic search, social media, and email campaigns. This will help you allocate resources effectively and guide your agency's content creation and optimization efforts to refine your clients' multi-channel marketing strategies.
6. Engaged Sessions 
In Google Analytics, the traditional "Bounce Rate" metric from Universal Analytics has been replaced with the "Engaged Sessions" metric. Bounce Rate was a measure of the percentage of single-page sessions where users didn't interact with the page. However, it often didn't provide a comprehensive view of user engagement, as a user could still find value in a single page without further interactions.
The Engaged Sessions metric offers a more nuanced understanding of user engagement. A session is considered "engaged" if it lasts 10 seconds or more, if the user viewed at least two pages, or if an event was triggered. This shift aims to differentiate between fleeting and meaningful interactions.
In your web analytics dashboard, find this under the Pages tab. 
In essence, while Bounce Rate focused on non-interactions, Engaged Sessions in Google Analytics emphasizes positive engagement. By comparing Engaged Sessions to total sessions, businesses can gauge the depth of user interactions on their site, guiding content and user experience optimizations. This new metric provides a clearer picture of genuine engagement, moving away from the sometimes misleading nature of the traditional Bounce Rate.
7. Traffic Sources
Analyzing the breakdown of traffic channels–like SEO, direct traffic, referral traffic, PPC, and social media traffic–helps pinpoint effective marketing campaigns to send more traffic to a client's website. AgencyAnalytics' web analytics dashboard pulls in this data straight from Google Analytics and presents it visually for instant insights into where your clients are getting their web traffic. 
8. Sessions
The session metric in Google Analytics 4 measures user interactions with a website or app within a specific period. A single session can have numerous views, social interactions, purchases, and events. 
Sessions are like the container of the actions visitors take on the website. One user can have multiple sessions, which can happen on the same day, over weeks, or months. When one session expires, another one begins. 
Agencies need to identify the user's journey to conversion by monitoring their interaction with the website to know what events they carried out and what pages they spent the most time on.
Measure user interactions within specific periods, as sessions can end in two ways:
Time-Based Expiration: Time-based expiration occurs at midnight based on your time zone setting or after 30 minutes of user inactivity. However, you can adjust it to several hours or some seconds.

Campaign Change: A session can end if a visitor lands on the web page through one campaign, exits, and arrives again via another campaign.
9. Users  
Users in Google Analytics 4 are the number of unique website visitors. This metric is definitely one your clients want to see on their web analytics dashboard, as it tracks whether their websites' audiences are rising, stagnant, or decreasing, as well as whether your marketing efforts are attracting new potential customers.  
Users are broken down as such in your web analytics dashboard template: 
Active Users: These are users who have interacted with a website or app during a specific time frame and are usually broken down into different categories based on the period of activity ranging from 1 day to 28 days.  

New Users: Individuals visiting your clients' websites for the first time during a specified date range.

Total Users: Represents the total number of unique users who have visited your clients' sites during a specific timeframe and is a great metric to benchmark against to assess website growth.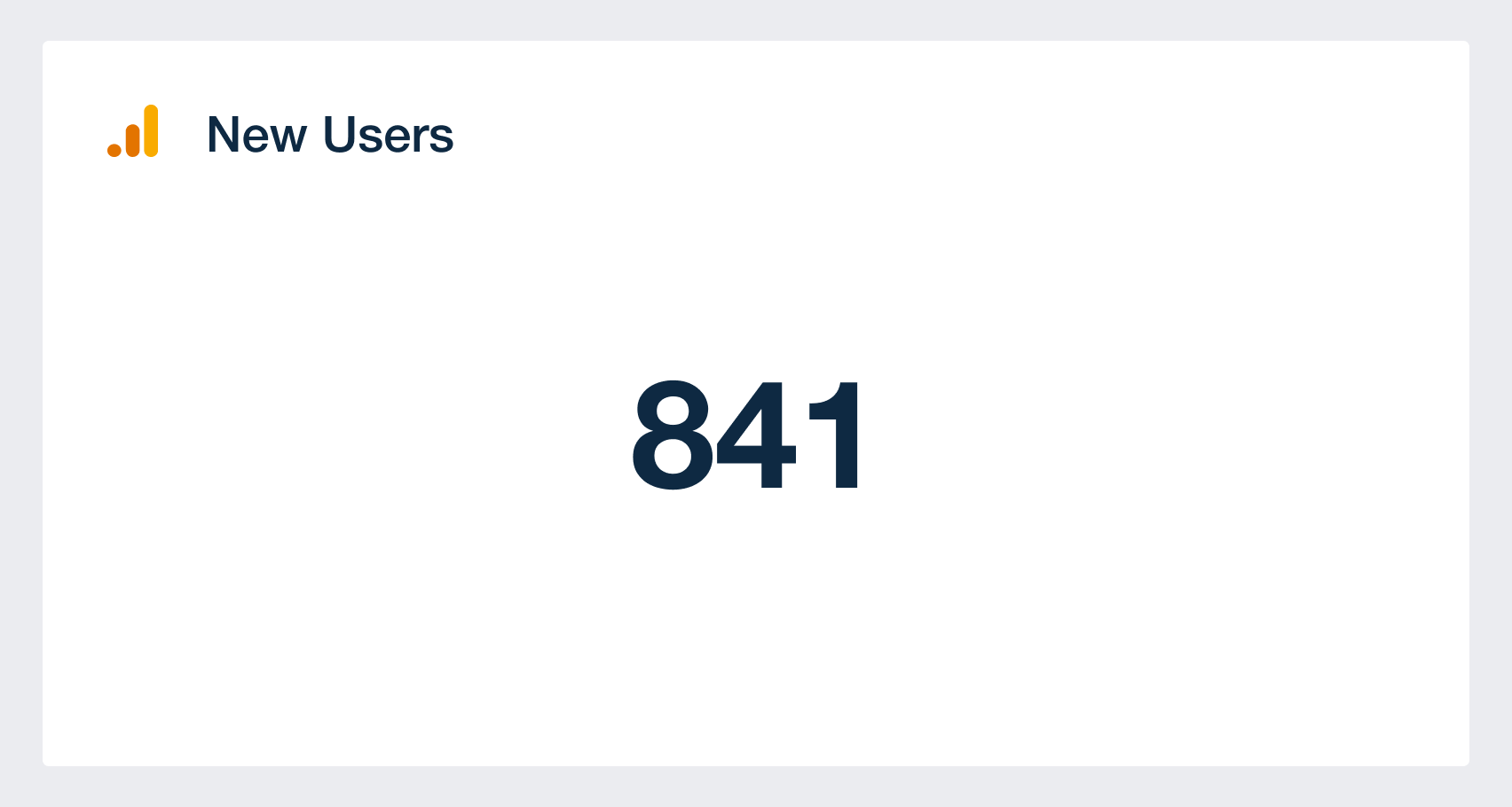 Be careful when considering the number of users because a rise in unique visitors might not necessarily mean an increase in web audience. A single user may come to the site today, leave, and come again tomorrow. This would appear as a unique visit on both days, so understanding both new and returning users is vital for a comprehensive view of website engagement. 
10. Sessions per User 
The "Sessions per User" metric in Google Analytics 4 represents the average number of sessions initiated by each user during a specific period. It's calculated by dividing the total sessions by the total users. 
A higher value indicates frequent user returns, suggesting strong engagement and loyalty, which is why your clients will want to see this in their web analytics dashboard. Monitoring this metric over time provides insights into user retention and the effectiveness of content or campaigns. Additionally, segmenting "Sessions per User" by parameters by landing page reveals which user groups are most engaged with your clients' websites or apps.
11. Views
In UA, "Landing Pages" was a primary metric, showing you which pages users first landed on when they visited your site. This helped you gauge the performance of different entry points to your website.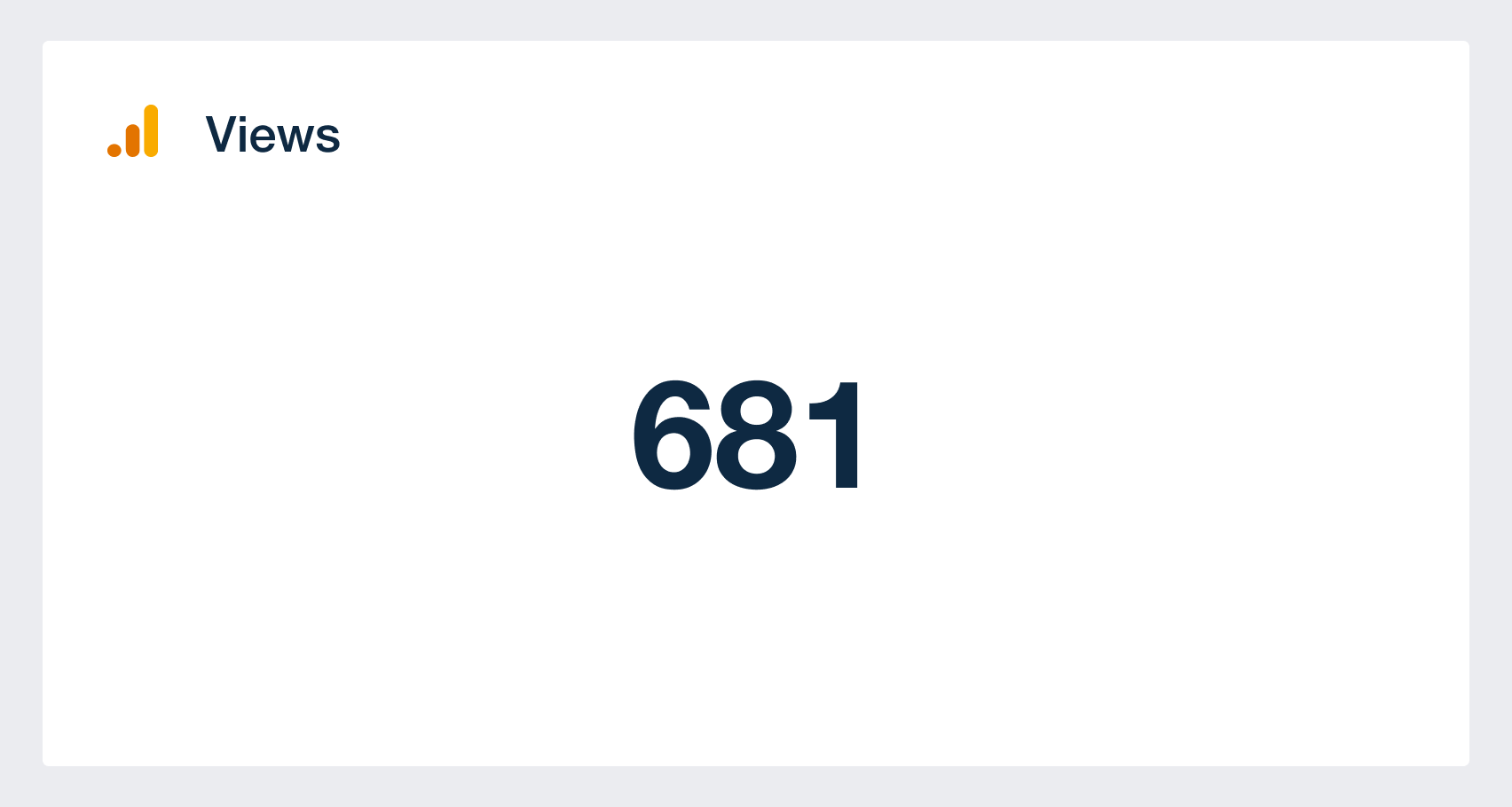 In Google Analytics 4, instead of focusing on "Landing Pages," the focus has shifted to "Page Views" and "Engaged Sessions." In essence, GA4 places more weight on what the user does after they've landed on a page. So, while you still get information on where the user landed initially, Google Analytics gives you richer data on user interaction and engagement throughout their journey on your clients' sites.
In your web analytics dashboard, you'll find the Views metric under the Landing Page tab. It tells you whether visitors were satisfied with the content they saw after landing on the website. Once you identify top landing pages by page views from Google Analytics 4 data, replicate tactics on poorly performing landing pages to understand what attracts your clients' target audiences.
Need more sections or custom metrics? No problem, AgencyAnalytics lets you easily drag and drop new sections to your dashboards from over 75 marketing platforms, like Google Analytics, Facebook Ads, Instagram, Google Ads, and more. Watch your marketing strategies unfold in real time.
Benefits of AgencyAnalytics' Web Analytics Dashboards
Live, Customizable Dashboards
Marketing dashboards show all your client data in an intuitive way. Plus, they're easy to build. Start with one of our templates, then drag and drop the sections you want your clients to see. Your client's stats are updated live, and ready for you to turn into marketing reports at the drop of a hat.
DISCOVER INSIGHTS EFFORTLESSLY
Manage Multiple Campaigns from a Single Dashboard
Keep track of all your clients' campaigns, including those across multiple locations or websites, all in one place with our custom dashboard. Cross-campaign reporting simplifies the process of monitoring various marketing efforts, identifying optimization opportunities, and sharing essential metrics and key takeaways. 
Whether it's SEO, social platform engagement, or Google Ads, gain a comprehensive view and drive actionable insights to enhance your digital marketing strategies.
DIGITAL MARKETING AGENCY MANAGEMENT TOOL
Control Who Sees What Web Analytics
GIVE CLIENTS AND STAFF THEIR OWN LOGIN
Let your more hands-on clients access their marketing dashboards without having to go through you. Choose to show them a separate client-facing dashboard that'll keep them up to date between scheduled reports.
STREAMLINE YOUR AGENCY WORKFLOWS
Scale your agency by reducing communication barriers. Assign your marketing team to clients. Even create one-off or recurring tasks for each campaign or at the account level. When your dashboards and reporting are on autopilot, there's less human error and more time for creativity.
REPORT SMARTER, NOT HARDER
Flip Your Analytics Dashboards Into Automated Client Reports
Sit back and watch as your digital marketing dashboards effortlessly turn into marketing reports. Schedule them in advance to free up agency time to focus on your marketing strategies.
With 75+ marketing integrations, including Google Analytics, social media dashboard insights, and key performance indicators, your scheduled reports offer a comprehensive view of your clients' marketing performance across multiple channels and platforms. Harness the power of automation, actionable insights, and custom dashboards to focus on delivering exceptional digital marketing results, driving conversion, and enhancing user engagement.
Full White Labeling Features
Match your web analytics dashboards and reports to your agency's brand. On the Agency plan and higher, take advantage of more features like multiple white label profiles. They'll look like they were built in-house.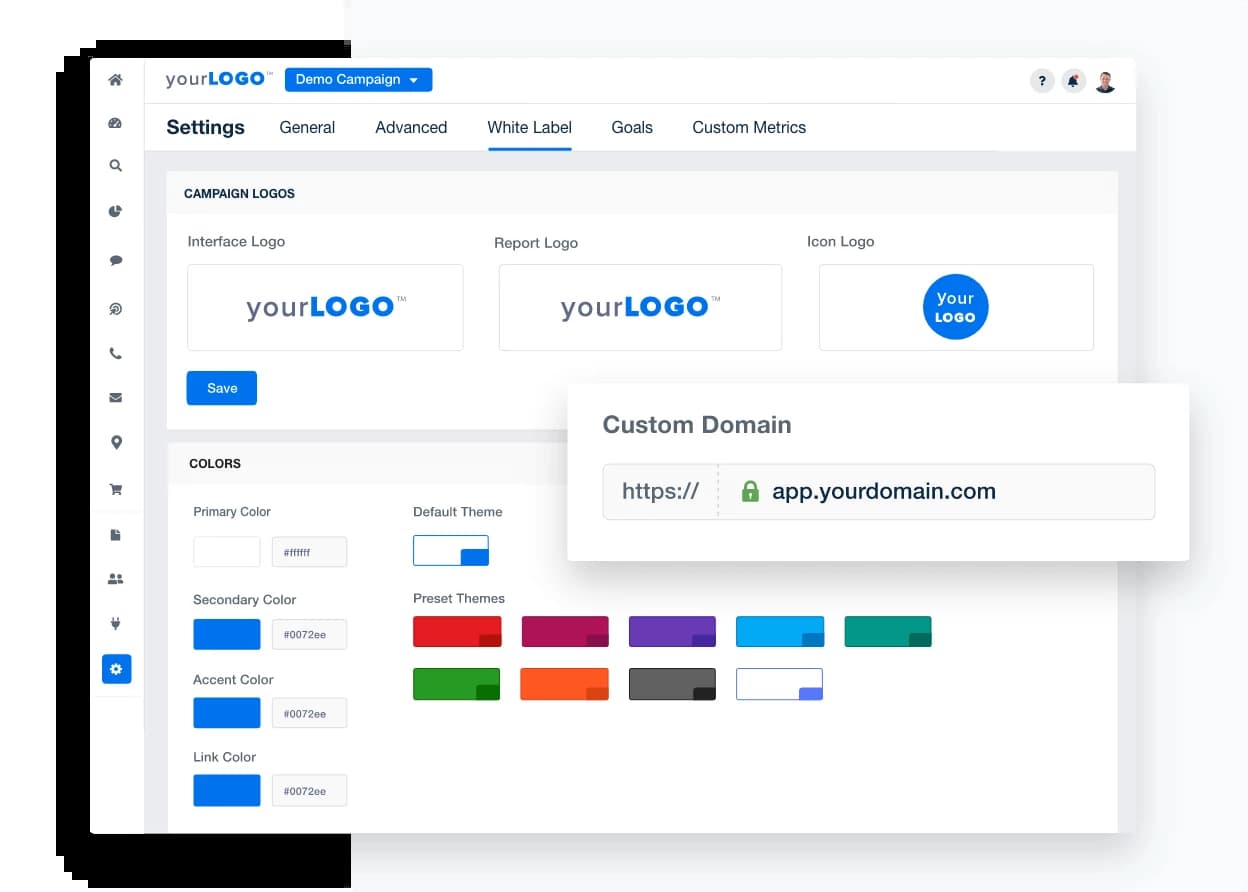 I was looking for a reporting tool for my clients, but I found a whole lot more. My business is SEO focused, so the added tools, such as rank tracking were a big plus.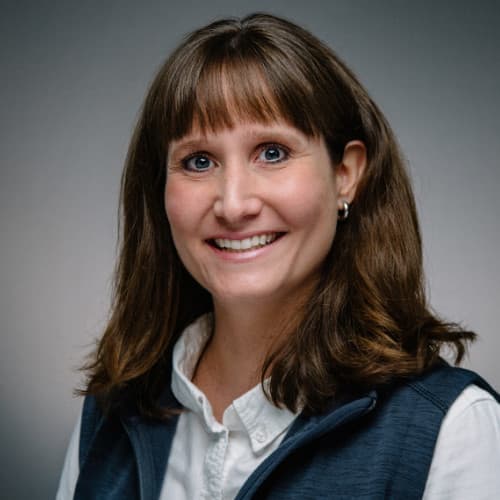 Try AgencyAnalytics risk-free for 14 days. No credit card required.