Access Facebook insights, monitor ad performance, and manage engagement for all your agency clients with a Facebook Ads dashboard. Gain a competitive edge and make data-driven decisions to boost Facebook ad campaigns like never before. Effortlessly report campaign success with user-friendly reporting tools, showcasing the impact Facebook ads have on your clients' bottom lines.
Why Do Agencies Need a Facebook Ads Dashboard?
Within the Facebook Ads Manager lies a wealth of invaluable data and insights just waiting to be tapped into. The user-shared posts, follower engagement, and ad interactions all contribute to the critical Facebook Ads data agencies must monitor to enhance their ad performance and achieve remarkable results.
With a Facebook Ads dashboard, marketing agencies effortlessly track all essential metrics without the cumbersome task of logging in and out of multiple accounts. Access and monitor Facebook ad campaigns seamlessly within a single platform, eliminating the confusion of scattered Facebook Ads data and transforming it into a clear and actionable overview. The intuitive interface facilitates a deep understanding of the audience, making it a breeze to craft stellar advertising strategies and gauge campaign success effectively.
In addition to the powerful features of a Facebook Ads dashboard, take advantage of a ready-to-use Facebook Ads report template that simplifies your agency's client reporting by easily sharing periodic performance insights. Showcase your clients' Facebook Ads metrics with a reporting tool that presents performance data in a compelling and professional way.
Unlock the full potential of Facebook Ads with a reporting dashboard, and let data-driven decisions elevate marketing agencies' ad campaigns to new heights.
What's Included in Your Facebook Ads Dashboard Template
1. Custom Conversions & Events
A conversion is the ultimate end result when a prospect engages with your Facebook Advertising campaign by viewing and clicking on an ad. The types of conversions vary depending on your clients' specific goals.
Tracking conversions in your Facebook Ads dashboard is undoubtedly one of the most critical performance data points. It provides essential insights into how effectively you're drawing people into your clients' customer journey funnel and determines the success of their Facebook ad campaign.
For instance, having a high Click-Through Rate (CTR) on a Facebook ad CTA but low conversions on a landing page would highlight the landing page as a potential issue. In such cases, your next course of action should be to investigate and optimize the landing page CTA to boost conversions.
2. Cost Per Conversion
Are your clients' Facebook ads yielding profitable results? Cost per Conversion (CPC) is the crucial metric that determines the value of ad clicks and measures whether the money spent is delivering desirable outcomes. 
Paying for impressions or clicks is one thing, but understanding the costs associated with achieving a specific action is entirely different. By linking ad spend to conversions, you make Facebook data more actionable and insightful.
It is essential to set a target cost per conversion that aligns with your clients' objectives and leaves them content with the returns on investment. Continuously monitoring and reporting this metric to your clients with your Facebook Ads dashboard demonstrates you are diligent in managing their ad accounts, ensuring they receive optimal returns without overspending.
3. Impressions
The impression metric is crucial for assessing your agency's Facebook ad campaign performance, revealing how frequently Facebook users encounter your ads within a specific date range. It's important to differentiate between impressions and reach–while impressions reflect the total number of times users viewed an ad within an ad set, it includes multiple views from the same person, not just unique views.
Understanding this vital metric provides valuable insights into your campaign's total number of views, enabling you to gauge its effectiveness. Suppose your Facebook ads dashboard displays high impressions but lacks the desired total number of clicks or conversions. In that case, it serves as a clear indicator that adjustments are needed to optimize performance.
4. Reach
Reach in Facebook ads refers to how many people have viewed your clients' content on Facebook. It's different from impressions as it only counts the number of unique users that see the ad, regardless of the number of times they see it.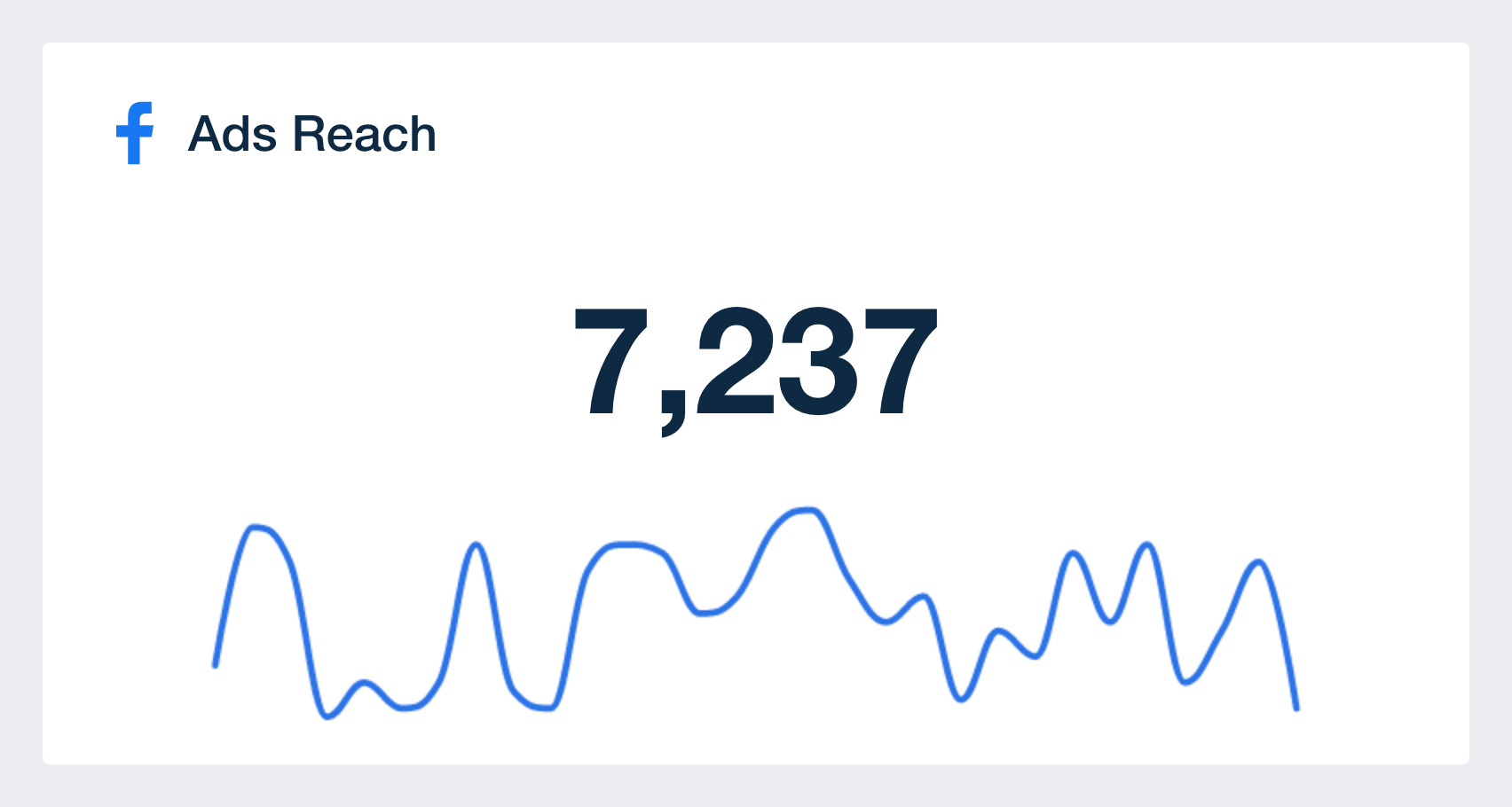 To know how well your marketing campaign is doing, you need to know how many people you have reached out to and what percentage of your audience has engaged with your offer. Easily visualize this metric as a widget in your Facebook Ads dashboard.
5. Frequency
Ad frequency is an important Facebook metric that is ignored by most agencies. It's the number of times each user (on average) has seen an ad, calculated as Impressions/Reach.
If users are seeing the same Facebook ad over and over again without engaging, you know something needs to change. Frequency plays a big role in how Facebook serves ads because it wants to display as few ads as possible for the most number of clicks. So if your frequency is high, Facebook is repeatedly displaying your ads to the same person.
Monitor your frequency data by dragging and dropping this widget in your Facebook Ads reporting tool or your Facebook Ads dashboard. If your Facebook Ads campaigns are continuously showing the same ad to your client's audience, you will need to change things up. A great way to decrease ad frequency is to create numerous versions of your Facebook ads. Rework the visuals or have a different write-up of each version.
6. Clicks
One of the main goals of most campaigns is Clicks. When people click on ads, they're showing interest in the offer you're presenting and may be on the path to convert.
The aim is often to get users to your client's landing page, but that's not always the case with Facebook Ads. There are multiple kinds of clicks, and each one denotes a different form of interaction, including click-to websites and click-to-call.
Segment the different types of clicks when optimizing a campaign. When reporting to a client, keep it simple and just display all clicks so as not to overwhelm them with unnecessary information in your Facebook Ads dashboard.
7. Total Spend
Tracking "Amount Spent" is essential for any agency-client relationship. It gives a straightforward view of the budget used in your campaigns, ensuring no surprises when it comes to costs.
By keeping an eye on this, agencies fine-tune strategies to maximize ROI. Plus, it offers a clear link between what's spent and the results achieved. This not only fosters trust but also sets the stage for smarter decisions in future campaigns.
8. CTR (Click Through Rate)
CTR shows you the percentage of consumers who have viewed your ad (impression) and clicked it and is calculated as Clicks/Impressions.
Having a high CTR is vital for an efficient campaign, so ensure your ads are being clicked, or Facebook will stop serving the ad. Low click-through rates happen when the target audience is simply viewing Facebook ads without taking any action which will end up costing you more per click.
This is such an important metric to keep your eye on as it influences your ad campaign's relevance score. If your Facebook ads are receiving impressions void of clicks, Facebook concludes that the target audience does not see your ad as relevant. Keep an eye out for this metric and add it to your Facebook Ads dashboard template.
9. CPC (Cost Per Click)
CPC is your cost per click and is calculated as Cost/Clicks. Tracking the CPC metric is a way to get the most out of your client's ad budget and is one of the best barometers to see if your campaigns are becoming more or less costly over time.
The Facebook ad landscape is a dynamic arena where agencies not only compete with bids but also with ad relevance and quality. Every ad enters an auction, and while the highest bidder has an advantage, the ad's relevance to the user can tip the scales. Factors like ad fatigue, audience overlap, seasonal trends, and market saturation also influence the cost-per-click (CPC). 
While engagement metrics like click-through rate (CTR) are essential, they're just part of the equation. Agencies must use a holistic approach, balancing bid amounts with ad quality and market dynamics to ensure efficient ad spend. Easily showcase your CPC in a widget in your Facebook Ads dashboard.
10. Engagement
Engagement reveals the number of times Facebook users took action on your clients' posts. These actions could be sharing your post, posting a comment, clicking a link, or reacting with an emoji. Engagements show your target audience isn't simply ignoring the ads you're showing them.
When experimenting to discover what resonates best with a specific audience, closely monitoring this metric is essential in your Facebook Ads dashboard template.
Low engagement on a post indicates your clients' audiences may be looking for something different. Conversely, high engagement on another variation signifies the ad perfectly aligns with your target audience.
11. Video Ad Engagement
On Facebook, unlike some other platforms, impressions are reported only when users see the video ad in motion. This metric provides invaluable insights into the type of video content that resonates with your clients' target audiences. While it's often said consumers require multiple touches to convert, this metric serves as an initial indicator for retargeting strategies, helping agencies discern which viewers to focus on and which to potentially exclude.
However, it's important to remember this isn't the only video engagement metric available on Facebook. For agencies that prioritize video content, other critical metrics include the percentage of the video watched—with benchmarks at 25%, 50%, 75%, 95%, and 100%—and the average watch time. These metrics provide a more granular understanding of viewer engagement. 
For instance, if a significant number of viewers exit after just three seconds without reaching the ten-second mark, it's a clear sign the content might need adjustments. But, by also considering the percentage of the video watched and average watch time, you gain a comprehensive view of how their content is performing in your Facebook Ads dashboard and where improvements might be needed.
12. Demographics
Understanding demographics is akin to having a roadmap for your clients' Facebook ad campaigns. When agencies delve into details like age, gender, and location, it's not just data collection; it's strategic insight. Instead of a broad approach, agencies pinpoint the exact audience that matters most in your Facebook Ads dashboard template.
This ensures every budget allocation is intentional and every message is finely tuned for its intended audience. For agencies managing client campaigns, leveraging demographics is paramount for efficient and impactful advertising.
Incorporate all these essential Facebook ads metrics (and more!) into your Facebook Ads dashboard with AgencyAnalytics. Effortlessly drag and drop each metric as a widget to instantly visualize your clients' real-time performance. Transform the data into a professional client-ready report within minutes using the Facebook Ads Report Template.
Why Use AgencyAnalytics To Track Facebook Ads
Monitor Clicks, Impressions, and Conversions
Track Performance Over Time
No more digging through Facebook Ads Manager or downloading spreadsheets to analyze performance. Track conversions, clicks, impressions, and cost at a granular level. The dashboard reporting tool is quick and easy to set up too.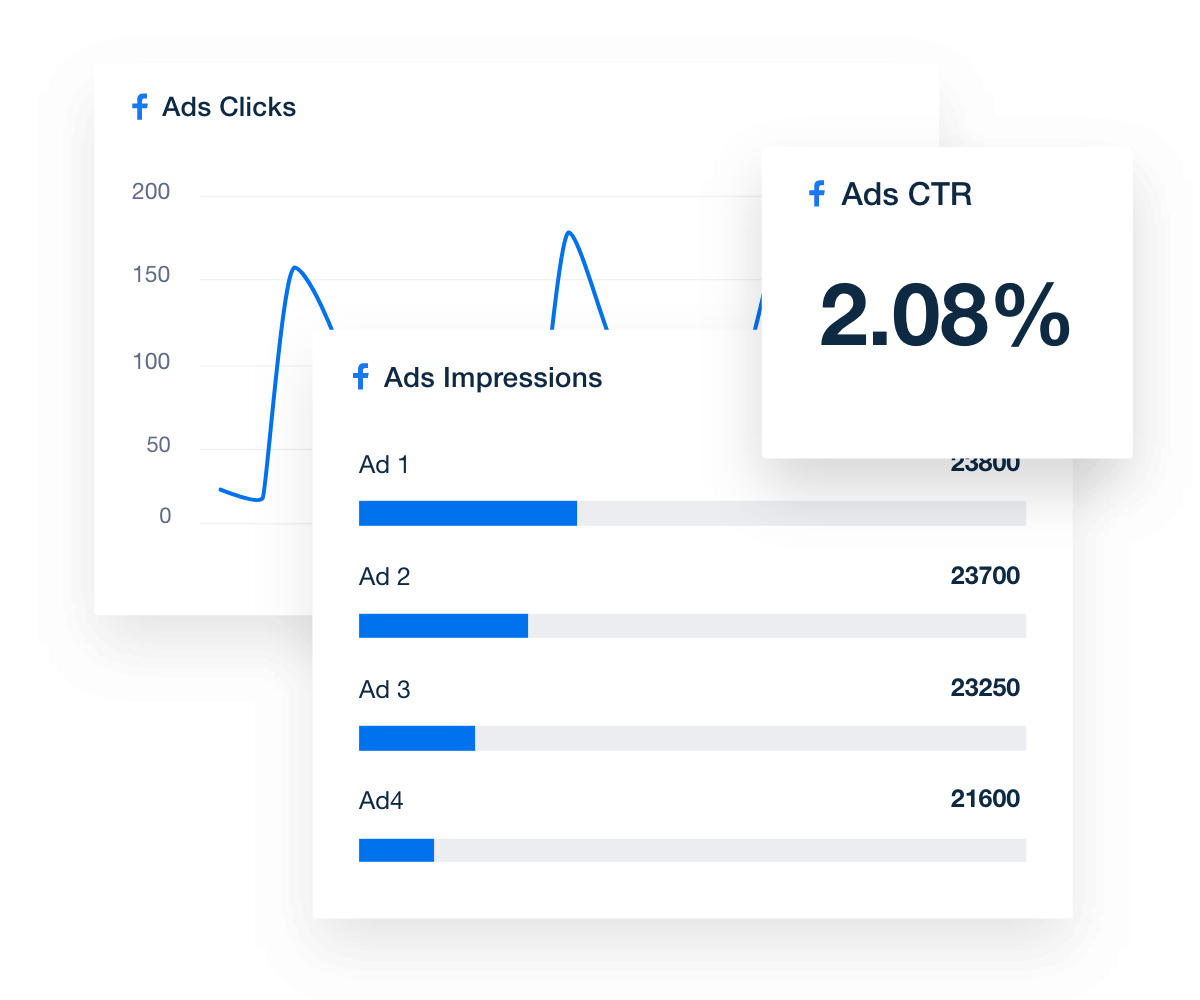 Just The Right Amount of Data
Intuitive Customer Dashboards
Your clients are individuals. Some may be tech-savvy marketing wizards, others may be great at running their business but not be familiar with marketing. Save time and frustration on both ends by controlling exactly which data points each client can access in a custom Facebook Ads dashboard.
Prominent Focus on ROI-Based Metrics
Website conversions at a reasonable cost–isn't that what your clients really care about? The Facebook Ads module prominently features ROI-based metrics (CPC, conversions, conversion value, etc.), drawing focus to the value your agency provides.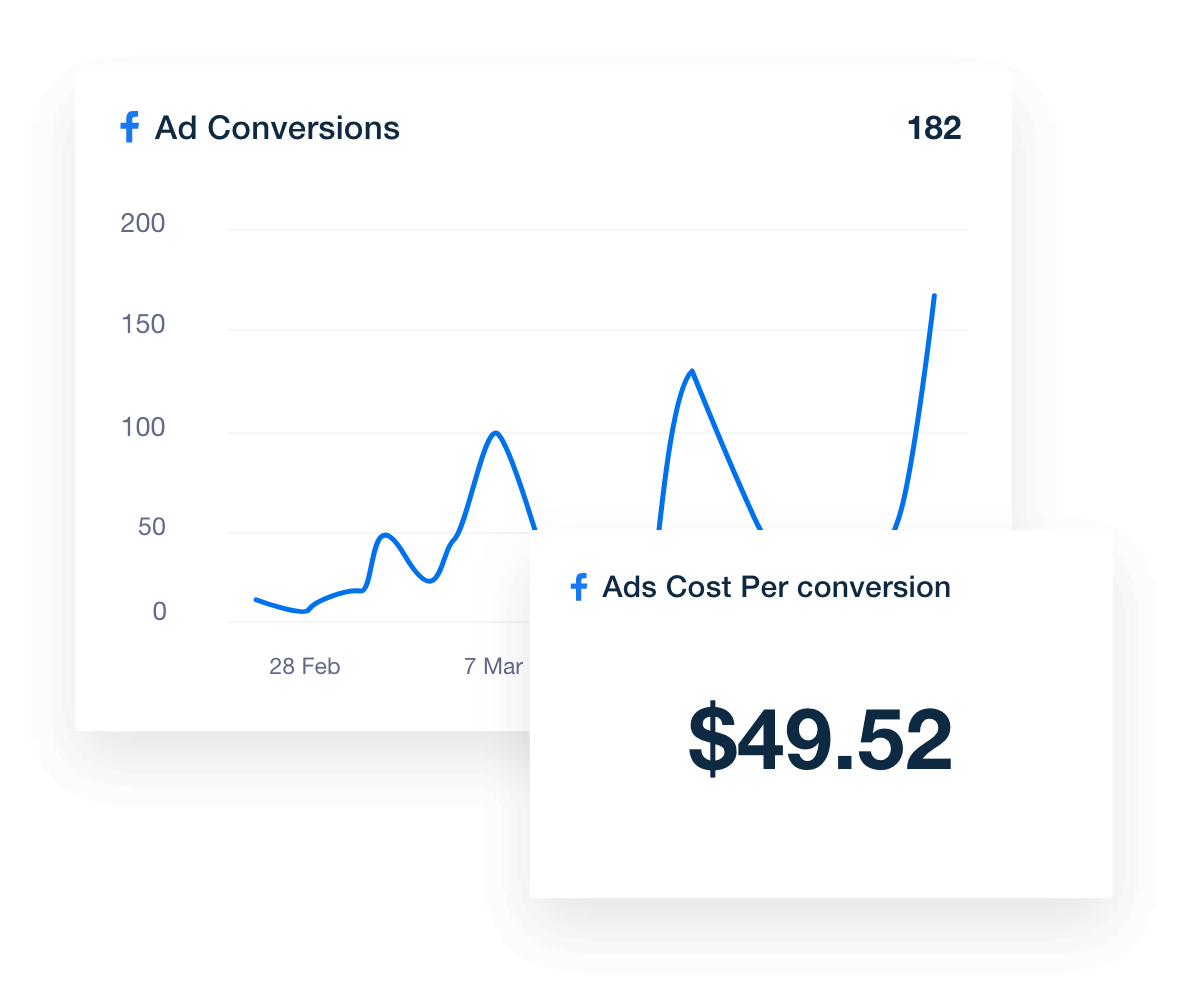 White Label Facebook Ads Dashboard
Give Clients Live, 24/7 Data
Clients want real-time campaign performance data. You want to enhance your brand presentation. AgencyAnalytics is a win-win! Give clients their own login to a live, custom white label dashboard seamlessly branded with your agency's logo, colors, and domain.
Include Your Margin in All Client Reports
Add Your Markup to Client PPC Data
Grocery stores don't show customers their wholesale pricing. So why should you show your agency's clients? Automatically add a custom Facebook Ads markup to all client-facing dashboards and reports so they see the total cost in a seamless report.
AUTOMATED FACEBOOK ADS REPORTING
Report Smarter, Not Harder
Make reporting a breeze for your agency! Streamline report generation and delivery on a daily, weekly, or monthly basis. Embrace the power of automation and focus on delivering exceptional marketing results for your clients.
With over 75 marketing integrations at your fingertips, you'll get a comprehensive view of your clients' marketing performance across various PPC platforms like 
Facebook Ads, Google Ads, and more. Say goodbye to manual reporting and hello to more time for strategic tasks, all while keeping your clients engaged with regular, automated reports!
AgencyAnalytics is scalable, it's reliable, and it's easy to use. We have growth goals in our company, and knowing that AgencyAnalytics can scale to the number of campaigns or clients we have without problems is exactly what we need moving forward.
Try AgencyAnalytics risk-free for 14 days. No credit card required.