Instagram Report Template
Track, monitor, and report on your clients' Instagram performance with a dedicated Instagram report template.
Why You Need an Instagram Report Template
A dedicated report template allows you to automatically build a custom social media report with all your clients' important data in one place. Rather than wasting time manually tracking all your clients' Instagram account growth, ad spend vs. revenue, and individual post performances, set up an Instagram report with a ready-to-use template to save time on your monthly reporting.
Not only does it save you countless hours each month, but a proper Instagram report also impresses clients with intuitive data visualization and easy-to-understand metrics. Providing clients with a dedicated Instagram report helps retain them over the long run while automating the process of collecting and visualizing data each month.
Keep in mind that this data can also be displayed in a live Instagram marketing dashboard as well.
4 Sections In Our Instagram Report Template
1. Monthly Summary
The monthly summary section of the report is the place to give your client a high-level overview about everything that happened with their Instagram account over the past month. You can use this section to explain everything you did during the month to move their social media goals and marketing strategy forward. You'll want to discuss the goals you did and didn't reach here, as well as any deliverables your agency completed.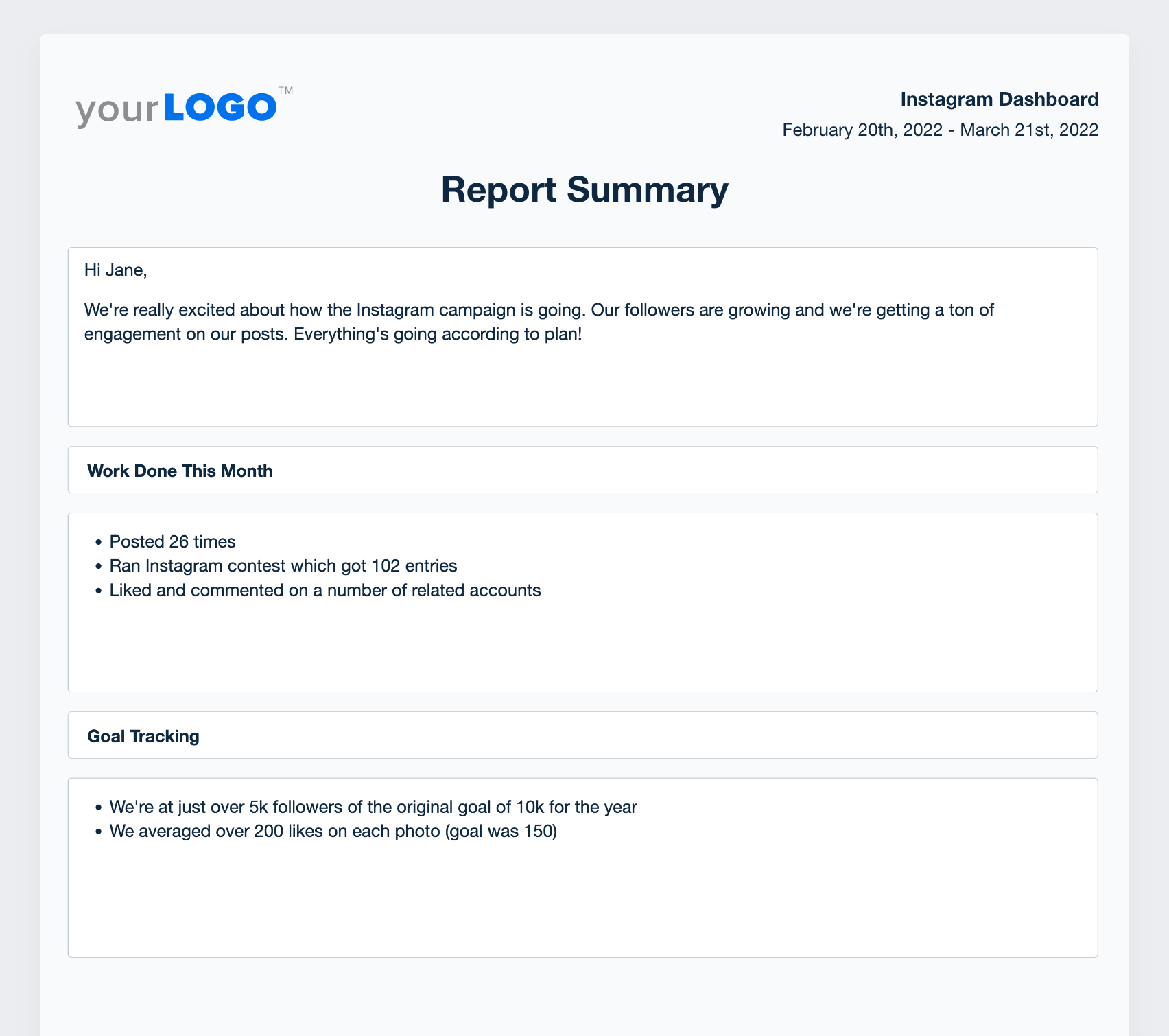 You should also use this section to talk about the upcoming month. What are your goals, KPIs, and strategies moving forward? If something didn't go as you planned, explain to your client how you plan on fixing those problems in the next month. Set new goals here so you keep your strategy as transparent as possible with clients.
2. Instagram Insights
It can be hard for many clients to understand the intricate details of Instagram and social media marketing in general. KPIs your clients surely do understand are followers, comments and likes. The Instagram Insights section of the report displays all of these data points in a single place. The best part about this section is that each of these numbers is displayed in individual, visual charts that are easy to read and understand. It's a quick way for your clients to see general trends happening with their followers.
You can use the Instagram Insights section to give your client a general idea of what's going on with their account. Correlate the data in this section with other metrics like post performance and click-through rates to provide an overall picture of account performance for your client.
3. Instagram Feed
Most social media marketing contracts stipulate that your agency will create a certain number of Instagram posts per month. For one, you can use this section to show your client that you're meeting that service level agreement (SLA). It displays the number of Posts, Stories and Reels you've made during the month, including details like the post title and description.
More importantly, however, are the post engagement details you'll see here in this section. For each post made during the month, the report also displays the number of likes and comments your client's followers have left.
Use this information to show your client what kinds of social media posts work best with current and potential followers on Instagram so you can both create new content ideas and strategies that maximize engagement and ROI. Again, it's best to compare the data in this section to data in other sections of the report to create a comprehensive approach to the next month.
Also use our social media report template to integrate your clients' other accounts if you're providing services for other social media platforms.
4. Instagram Ads
In-depth marketing data from Instagram is one area that many of your clients won't fully understand, which is why the Instagram Ads portion of the template is so important. Marketing metrics like click-through rates (CTR), impressions, clicks and goal completions are shown here.
Use this section to show your clients which ads are performing best and give them analysis as to why you think they're doing so well so you can mirror that in future ads. Another great aspect to this part of the report is to showcase the key metrics found here in conjunction with everything else on the report and provide a more comprehensive explanation of overall Instagram performance and ROI.
Need more sections or custom metrics? No problem. AgencyAnalytics lets you easily drag and drop new sections to your Instagram report for a fully customized, white-label experience.
Powerful Instagram Reporting Software Built for Agencies
STREAMLINE YOUR AGENCY WORKFLOWS
Automate Your Instagram Reporting in Minutes
Tired of logging in and out of your clients' Instagram for Business accounts? Get all their real-time data updated in one streamlined platform. Drag-and-drop their key metrics to create custom Instagram reports in minutes! Then schedule it and forget it.
ACCESS 75+ MARKETING CHANNELS
In-depth Client Reporting Made Easy
Chances are your clients are on a lot more platforms than Instagram. Combine their Instagram data with all their other marketing channels to build custom reports that reflect your agency's overall efforts.
A comprehensive social media marketing report or digital marketing report template consolidates all your client's data into one centralized hub, driving efficiency, improving targeting, and maximizing conversions.
Unlimited Client & Staff Users
Easily Manage Your Agency Accounts
Save time and scale your agency by streamlining your staff's workflows. Integrate with your favorite messaging tools to chat directly from within your client-facing dashboards. Assign tasks and track workflows and create one-off or recurring to-dos for each campaign.
CUSTOM LOGO & BRAND COLOURS
Add Your Agency's Flair to Every Instagram Report
Upload your agency logo, use your brand's color palette, and more. With AgencyAnalytics, you have everything you need to call the platform your own. For the added touch, host reports on your own custom domain and send them from your agency's email.
Gorgeous interface. Simple, elegant, without sacrificing features. And SO MANY features. Plus, integrated marketing. Now we have a single platform to manage and report SEO, SEM, and Social Media.
Try AgencyAnalytics risk-free for 14 days. No credit card required.