When you come across something that you don't like and you're confident that you have the solution, you go out and make it happen. That's exactly what Katy Gillies and Hayley Peters, Co-owners of Oh My Digital did. 
After working together at a local digital marketing agency in Queensland Australia, the pair knew there were things they wanted to do differently in the industry. Their agency was born out of aspirations of creating a great company culture and enjoying the benefits of the #WFH lifestyle. And even having a real-life Barbie house filled with pink decor and accessories to create content–it was the obvious solution for them to create their own distinct brand identity.
Branding That Resonates With Their Ideal Customer
If you scroll through Oh My Digital's website or Instagram, the first thing that you'll notice is a consistent theme of pink. From the pink digital camera to the pink fluffy pens, everything is fun, bright, and definitely nostalgic. Did you happen to notice their social media guide resembles the burn book from the movie Mean Girls?!
Oh My Digital wasn't always this laser-focused on their branding, though.
"When we first started the agency, we felt sort of pressured to brand really neutral. Which is the biggest marketing mistake you could ever make, but when you just start out, you think you need to attract leads and work with anyone. We felt like we needed to make our agency feel really neutral and not too feminine to appeal to everyone," Gillies shares.
When they were struggling with their brand identity, they thought back to some of their inspirations–current and past. 
Business Chicks, a membership-based organization that supports women in business, was a great source of inspiration for Oh My Digital's branding. 
"They unite so many women and have really strong messaging and a clear identity," says Gillies. "We also love iconic brands like Frank Body for their branding, copy, and of course all the sass." 
Gillies and Peters also joke that their branding is inspired by a mashup of 90s and 00s throwback films of Mean Girls, Professional Barbie, and Bring it On, all mixed into one.
After testing out a few different styles, they decided to just go for what they wanted and knew that the clients would follow.   
Over time, the two owners realized that many of the clients they were attracting were women business owners. They were part of groups and small business circles, and they began connecting with other like-minded women. Over time, they knew this was who their ideal customer would be. 
When Oh My Digital got their brand identity, they began to attract the clients they actually wanted to work with. Their brand image has helped vet clients and serves as a good example of 'practicing what you preach.' An agency's branding and content should resonate with its target audience. 
And if you think Oh My Digital's branding could limit them in any way, it's done quite the opposite. 
A lot of serious business professionals come to us as well because they want us to lighten up their brand. They want someone who can put a more edgy, fun tone of voice to their content.

Hayley Peters
They also attract businesses that want to cater to specific audiences: 
"We get a lot of men who come to us because they want a feminine touch on their brand, and they want someone who understands the women's psyche, which is quite interesting," says Peters. 
The results they achieve for their clients have seen them land a  variety of clients ranging from lawyers to government health-related businesses. 
"We also love working with millennials who really want to be taken back to a time and place where everything was simpler, easier, fun, and everything made you happy. That's what our branding is, essentially," Peters smiles. 
Finding the Numbers to Ease Growing Pains 
Something that Gillies and Peters struggled with early on was balancing the amount of work coming in and hiring the right amount of staff they needed. 
"We were having that feeling of 'We can't take on any more work,' but we were getting so many inquiries coming in that we were turning people away. It was a really stressful burnout period where we didn't know what to do," Peters admits. 
So they tried the freelancing route, which worked temporarily but wasn't profitable in the long run for their agency, especially while they were still figuring out their pricing structure. 
They knew they needed some help, so they turned to another businesswoman for financial advice.
Jen Waterson, from Simply Smarter Numbers, is a business profit coach and podcaster who helped Oh My Digital with their finances. 
"We had a session with an amazing woman named Jen, and what she basically did was put together this holy grail spreadsheet with all of our data," Peters shares. 
This spreadsheet housed all of Oh My Digital's services, hourly rates, value calculations based on the amount of work, and more. 
It was a really big eye-opener for us because we were able to clearly see what the bread and butter was. We thought the things that were our biggest profitable services actually weren't.

Hayley Peters 
It also helped them determine if they could hire more staff, and what they needed to do in order to scale the business. It felt like a "less risky" way for them to make business decisions with the numbers right in front of them. 
The two business owners now sit down together every month to discuss finances, where their agency is at, what they need to focus on that month, and just check in with each other, creating a safety net of sorts so nothing falls through the cracks as they scale.
These monthly meetings are a great way to ensure they're both still enjoying the process of scaling their agency and are not doing things they are uncomfortable with, like not keeping clients informed of their marketing efforts and losing that personal connection.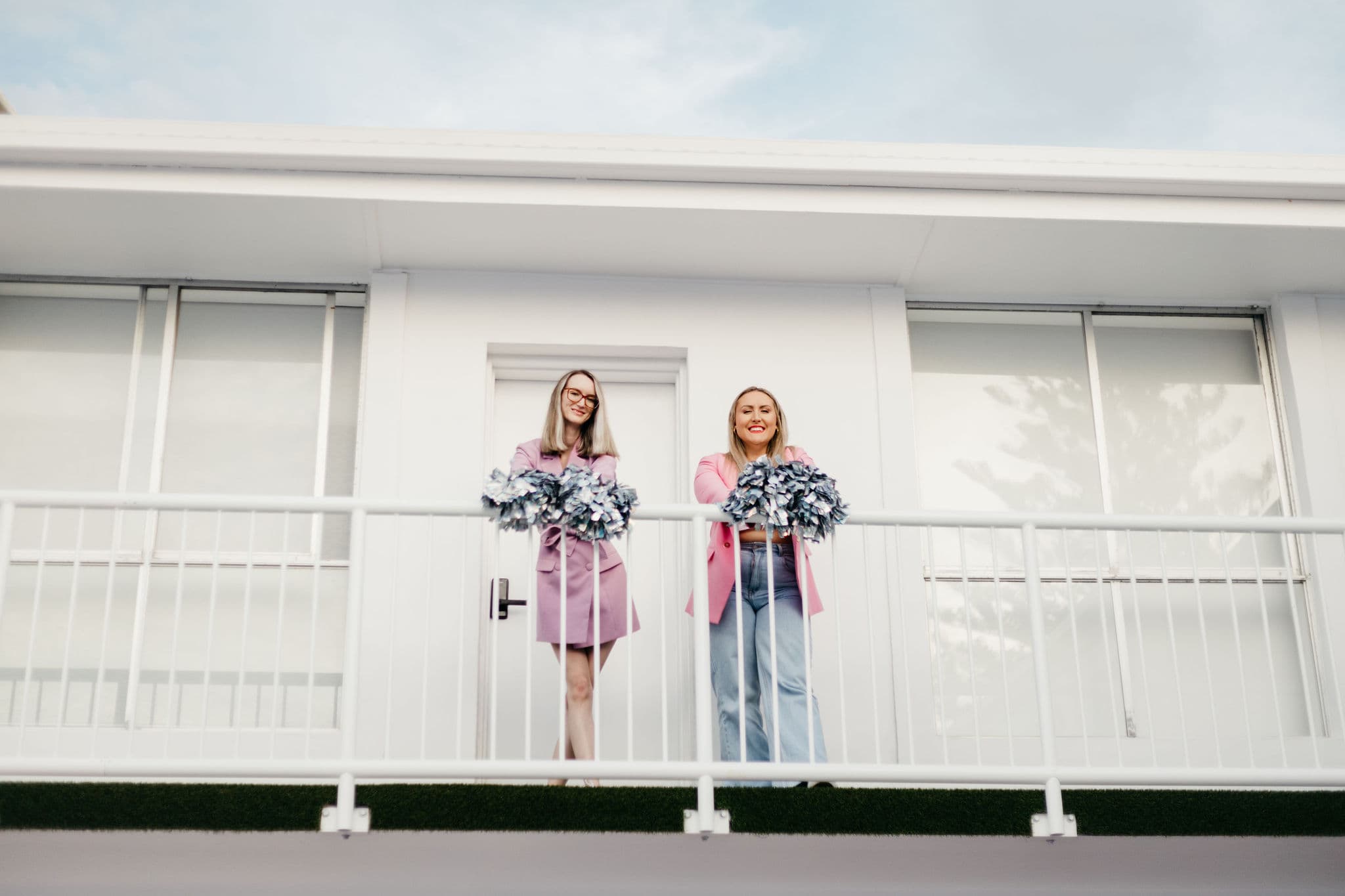 Image: Gillies and Peters at a recent business retreat
"We're very, very open with each other, which has been part of our success. Because we've been able to really openly communicate with each other and about how we're feeling, we're able to determine what direction we'd like the business to go in," says Peters.
Tapping Into Industry Experts (Through Instagram)
As Oh My Digital was getting off the ground, there were a lot of late nights networking on a platform they know best–Instagram! 
"There are some amazing people that we still really admire in our industry, and we'd comment on each other's posts, and they'd be DMing us saying, 'Oh my God, you're awake too?'" Peters laughs. 
A partnership doesn't need to be a large, complicated arrangement for a long period of time. Sometimes you might partner up just to create a piece of content and cross-promote it. But at the end of the day, the support is what Gillies and Peters found the most valuable to propel their agency's growth.
The two business owners joined an Instagram group chat that is full of female Facebook ad managers from all around Australia. This group has not only helped them stay ahead of frequent social media changes but also supported their team. 
"One time when we were really busy, we outsourced the training of our Facebook Ads to one of our industry peers because we didn't have the time to train one of our new people," Peters shares. 
The group is great when anyone has questions or needs feedback on something, too. 
"It's just this fantastic group of women chatting every day saying things like 'Oh, did you see this update? It's crap, and I don't like it!' We all just support each other, and it's a great community to be a part of. We learn a lot from this group," Peters laughs. 
One client they've seen success with is a similar networking group of women that sells memberships for female business owners. Oh My Digital took a holistic approach with them to increase their membership signups. 
One thing we identified was that running generic ads all the time that says 'Sign up for a membership' wasn't going to work.

Katy Gillies 
So, they recommended more specific offers and campaign-focused ideas to drive more signups and strategically run ads during key times throughout the year. 
This client is a great example of how they look at the bigger picture for their clients. Although this client knew they wanted to run ads to get more signups, Oh My Digital offered their expertise and recommendations. 
"We work with clients to say, 'Hey, I think you actually need to do this to your website, or maybe you need to consider tweaking this because you've had a lot of feedback from customers about it.' We want them to have success. We're just one piece of the puzzle," Gillies shares.
Finding a Niche by Focusing on Small Business Owners 
When Gillies and Peters were working together at an agency prior to launching Oh My Digital, they noticed there was a lack of understanding from the clients that were paying for services.
"They weren't very empowered about what they were investing in and what the results actually were and what they were getting out of it," Gillies shares. "We wanted to do it in a way that was more transparent and in a more cooperative way."
However, they recognized that there was a lot of competition in their local area, and they needed to focus on a specific niche that other agencies seemed to be missing. 
"There were a lot of agencies, but they were offering really high-ticket solutions, and there weren't a lot of agencies offering options for small business owners that really needed help in the earliest stages of business. That wasn't something that was around at the time," says Peters.
Image: Gillies and Peters celebrating Oh My Digital's 5-year anniversary
It felt daunting at first for Gillies and Peters because it was something new that they wanted to try. They didn't know a lot of people in the industry, they didn't have any contacts, and they were just trying to make their own way. And as any business owner knows, a lot of trial and error is needed in order to find out what works best. 
We had to eventually face our fears and take that step. And since we did, we haven't looked back.

Katy Gillies 
Instead of focusing on a specific niche, Oh My Digital has found success by aligning with the needs of a variety of small business owners. For them, it's all about clients being passionate about what they do and providing a valuable product or service to their customers. 
Creating Digital Products That Offer Flexibility 
Because Oh My Digital works with some clients who are on the smaller side of budgets, they wanted to make sure that they could help businesses at any stage.
"We learned quite quickly that when a business is just starting out, it doesn't always make sense for them to outsource straight away because they're just not going to get a return on investment," says Gillies. 
So, Gillies and Peters decided to have services available that would help this size of a client. 
"If someone inquires with us and they need some help but they're not quite at the space where it makes sense for them to hire an agency, we still have the resources that are going to help them," says Gillies. 
Oh My Digital has three different service offerings to help clients of all sizes: 
They've even found that sometimes a client will purchase one of their digital products to guide themselves, and then they realize they need a bit more guidance. 
Over the years, they've learned they cannot say yes to every request they get from clients and that it's better to be realistic about what you think you can achieve. Otherwise, you and your team can end up feeling really burnt out.
This seemed to be a common theme among their group of entrepreneur friends. Everyone would try to please any potential lead because they didn't want to turn work down. But the lesson they learned is by saying no, they were able to focus on the clients that aligned with their business goals.  
Over time, you learn when to say no. If you're always saying yes and you're doing absolutely everything, that's where we've fallen down in the past. It's our job to tell the clients what's the best thing to do.

Katy Gillies 
Having these flexible service offerings available has allowed Oh My Digital to grow their agency alongside their clients' businesses. 
"We want to help everyone, no matter what stage they're at, and figure out what they need so they can grow with us as well," Gillies smiles. 
Streamlining Workflows For Unmatched Efficiency
At Oh My Digital, everyone takes teamwork to another level. Gillies and Peters are still very much involved in the day-to-day workflow and this has worked to their advantage. 
"We oversee everything. And because of the way we work, when a team member is sick, we're able to jump in and just take over. So it gives us a little bit of a safeguard as well," Peters shares. 
It not only helps from an internal standpoint but also gives an extra personal touch to their projects which their clients appreciate. 
"It shows clients that we care and gives them that extra strategic advantage knowing that they've got extra eyeballs on their campaigns that we're all working on together," says Peters. 
One of the pain points they noticed clients experiencing at the previous agency they worked at was having a middle person to talk to about their campaigns. 
"We felt that having an account manager sometimes makes you lose that personal touch when it comes to digital marketing in particular. Based on our experiences, account managers didn't always understand the nitty gritty and weren't able to communicate the client's message accurately," says Peters. 
They found that account managers could cause a breakdown of communication, and delays in workflows and were essentially a middle step that made room for errors. When they started their own agency, they knew they wanted clients to have direct access to the people running their services. 
We wanted to make sure that our clients felt really appreciated and looked after and it's something we decided was a big priority for us.

Hayley Peters
Great Communication Internally and Externally  
Another priority for Gillies and Peters was company culture. And they knew they wanted to achieve this through solid communication–internally and externally. 
"We're really honest with each other and make sure that if someone has too much on their plate that they always reach out," Peters shares. 
Some other strategies they've implemented to foster good company culture include: 
Setting priorities on projects, so the team knows how to organize their schedule 

If someone is sick, they actually take a sick day (this is something that often gets overlooked for permanent work-from-home employees) 

Empower team members to come up with their own strategies 

Trusting team members to do the right thing by the client and trust in their skills to do the job they've been given (no micromanaging!) 

One day a month, they all work together in person, go out for lunch, and of course, film a lot of Instagram Reels
"I line us up too many Reels and by the end of the day, everyone is like 'Surely that's the last one!' and we've actually got another 3 or 4 to go and I'm like 'I swear we're nearly done!'" Peters laughs. 
The team has a lot of fun together whether they're working remotely or sharing Peters' home office by brainstorming, sharing funny memes, and constantly collaborating. 
A Bright (Pink) Future Ahead
Oh My Digital's future plans include a pink Barbie dream house converted into a fun office space to bring dogs to and make all the social media content they could ever dream of. And they intend to keep their unique branding style of Oh My Digital to continue attracting the exact clients they love to work with. 
But ultimately they want to maintain their original goal of keeping open, transparent communication with their clients and scaling their agency. 
Gillies and Peters want to focus on expanding their current services and building their teams' skills up so they can offer more specialized services to their clients. They also want to improve their membership services for small business owners and are currently working on a course for social media managers. 
We really love what we're doing at the moment and that's the goal–keep loving what we're doing.

Hayley Peters 
Image: Peters and Gillies will always be the cheer squad their clients need
How Oh My Digital has found success over the years:
Creating agency branding that resonates with their ideal customer profile (ICP)

Contacting a business profit coach for financial advice (hiring staff, service prices, etc.)

Leaning on a group of industry experts to stay up-to-date with platform changes, outsource Facebook Ads training, and support other business owners 

Focus their niche on small business owners 

Creating digital products that offer flexibility to clients of all sizes

Streamline workflows so all members of the team can work on a project for maximum efficiency

Build great company culture through clear communication internally and externally
Gillies and Peters will continue offering their help and support to other agencies who may be just starting out because they can relate to the challenges and know the support will be there for them as well. 
"Sometimes these women might be like, 'I've got this lead. Can anyone take it?' Or 'I've got availability if anyone's got spare leads.' So it's a really great community to be a part of," Peters says.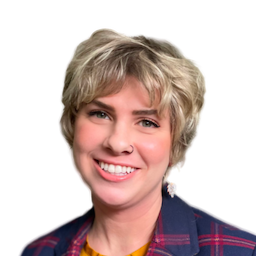 Richelle Peace is a joyful writer with a degree in Journalism. She loves writing web content, blogs, and social media posts. Whatever the topic, she's fascinated by learning and sharing.
Read more posts by Richelle Peace ›
Try AgencyAnalytics risk-free for 14 days. No credit card required.