Social media is the go-to place for brands to bring in new leads and build brand awareness and loyalty, which is priceless in a sea of online competition. There are numerous reasons why they've turned to your agency for professional help.
For one, you bring the experience–and the social media analytics tools–to glean actionable insights to improve their online presence. And second, because they have realized they can't do it all themselves.
If your clients aren't on social media by now, they are missing out on the potential of reaching their audience among the 3.96 billion social media users on an average of seven different social platforms.
Oftentimes agency clients are established but "they're often lacking in the time and skills to run their social media accounts as effectively as they could," says Hayley Peters, Co-Owner of OhMyDigital. The most common mistake she notes about new clients is that they are "trying to do all the things." 
And it's easy to get overwhelmed. Hayley says that their clients "often think that because they see their competitors jumping on trends and posting daily that they need to do it too. So they burn themselves out trying to mass-produce content, instead of slowing down and taking time producing less content, but at a much better quality."
Let's take a look at the ins and outs of social media analytics in 2022. We'll also get advice from our friends at OhMyDigital, a high-powered social media marketing agency on how they deliver social media success to their clients. 
What we'll cover:
What Is Social Media Analytics?
First things first. Social media analytics, or SMA, refers to collecting data from various social media platforms, evaluating that data, and extracting actionable insights that drive business decisions. Actionable insights are the key differentiation here because when the ultimate goal is to drive more leads, and convert them, data that you can't do anything with are just numbers.  
"We rely completely on social media analytics," says Hayley Peters, Co-Owner, OhMyDigital.  "They help us make better decisions (backed by data). Otherwise, we'd be winging it and you shouldn't be winging it when it comes to the success of your clients' businesses."
As such, agencies should use social media analytics to answer the following five questions for their clients: 
1. Are you staying on top of the social media trends that are relevant to your space?
Imagine social media as a living organism in a constant state of change: millions of users make split-second decisions based on a number of factors that are difficult to quantify and predict. This is because individual reactions can create massive motion in a matter of minutes. It can split up, connect, amplify, and even erase (think cancel culture).  
When asked about the changes their agency noticed since 2020 in the social media space, Hayley Peters, Co-Owner, OhMyDigital talked to us about how so much has changed in two particular aspects:
1- In terms of brand culture:
People demand more authenticity and they crave brands that have strong values and actually live and breathe those values. Customers look for them at every touchpoint and they aren't afraid to call brands out if those values are lacking.
2- In terms of technological advances:
There's also so much more reliance on keeping up with changing technology. From moving storefronts online to providing a better customer experience throughout the whole journey and automation to make processes more efficient.

In fact, marketers are bound to the technology that they so heavily rely upon. Not only do they need to stay on top of metrics, but technology trends too.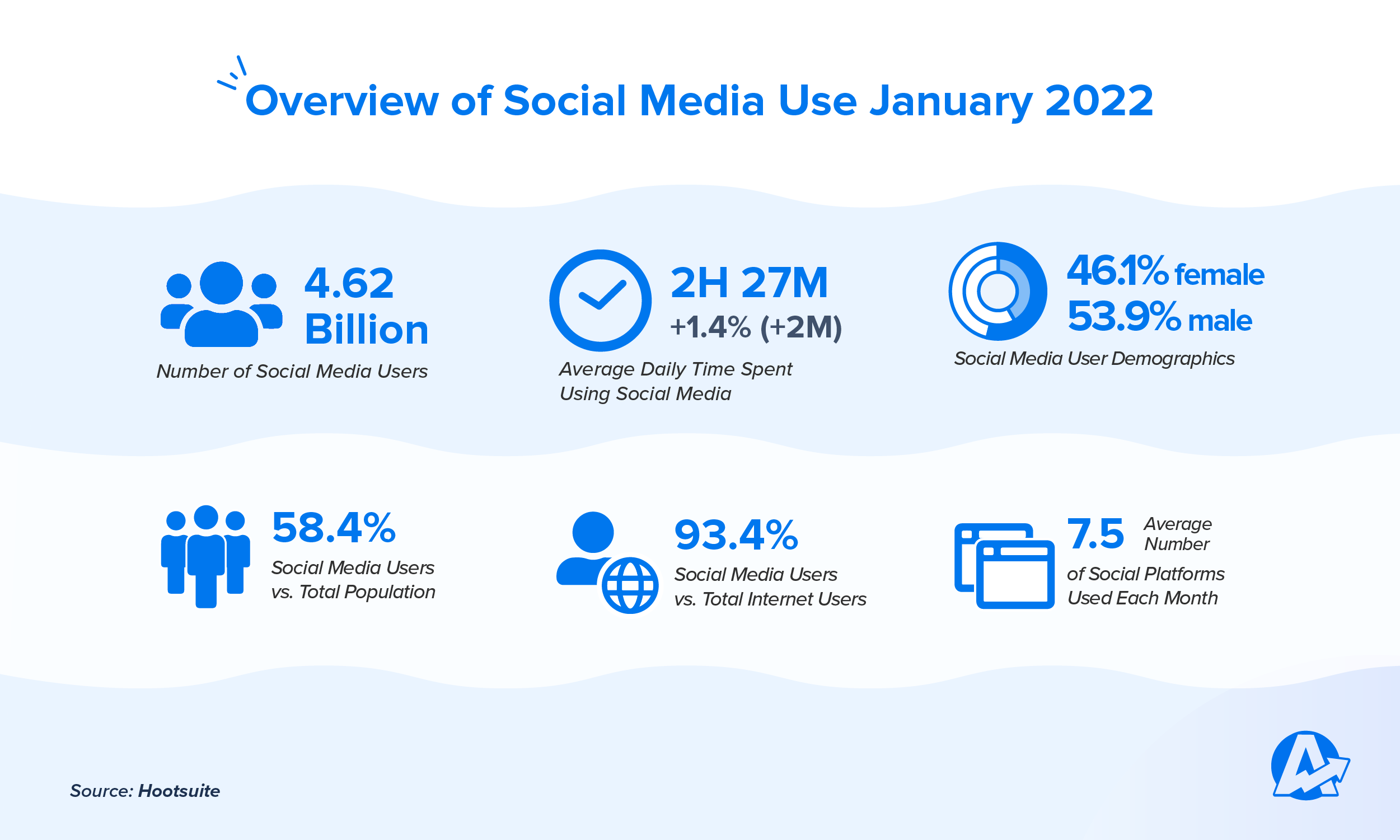 Here are some recent changes that are affecting marketing agencies in 2022: 
The past few years have shown us that a global crisis can unfold whether we're prepared or not– social media has become a company's PR platform for their corporate communication strategy to provide customer care, clear up controversy, communicate values, and be proactive around potential crises that require real-time reactions.

2022 trends are very much influenced by the growth of short-form videos seen on TikTok and humorous bite-sized Reels that showcase brands and products in more creative ways. 

Upcoming changes in Privacy laws and Google's phaseout of Cookies are also impacting agencies' social media campaign planning, reporting, and client communications. While updates such as IOS-14 have made it tricky to navigate and report on accurate social data, Hayley, Co-Owner at OhMyDigital says, "it's been manageable with good communication, tracking tools, and measurement efforts." 

The creator economy is growing, and it's becoming increasingly important to include them in your social media marketing strategy.

73% of businesses are already participating in social commerce, and it is continuing to grow. This has brought forth live stream shopping as an eCommerce trend which is already huge in China and is expected to grow in the US. According to McKinsey, 35.6% of live streams are in the fashion and apparel industry. 

Social audio is on the rise, and you don't need to look further than Twitter to expand your reach with Spaces.

Consumers are more skeptical and conscious than ever about their buying decisions–especially Gen Z adults looking for authenticity and transparency from brands. Gen Z is concerned with climate change and is quick to oust brands who do corporate greenwashing, for instance.

Social media platform usage continues to shift as new players enter the space, although the major players such as Facebook and YouTube remain at the top. 
2. Are you reaching the right audience at the right time?
There are many theories about the best times of day, and days of the week, to post on social media. Of course, there's no set rule for this–it also depends on the audience's timezone and demographics. You'll know what time is best for your client once you do your research. 
However, if you're wondering where to start, Sprout Social suggests the following posting times (times noted are in CT): 
Facebook: Mon-Fri at 3:00 am & Tues at 10:00 am and 12:00 pm 

Twitter: Mon, Tues, Wed & Fri at 9:00 am – talk about early birds!

Instagram: Mon at 11:00 am, Tues & Wed from 10:00 am-1:00 pm, and Thurs & Fri between 10:00 am-11:00 am

All social media in general: Tues-Thurs at 9:00 am 
While these times are a starting point when you don't yet have data, OhMyDigital relies on social media analytics to identify their clients' best posting times: 
We look directly to social media insights for that, however we also take into account the type of content we're posting and the lifestyle of the intended audience. We make sure that the audience is actually primed to receive the content in the best way possible before scheduling.

— Hayley Peters, Co-Owner, OhMyDigital
It's important to understand your target audience when determining your client's best posting times as well. For example, Mon-Fri at 3 a.m. may not be the right time for a US-focused business, but with the time difference, it could be the sweet spot for the European market.
The best time to post really depends on when your audience is most active. For example,  Instagram insights let you know the most active times (hours and days) that your audience is online. We recommend posting just before that peak time so your post is live right before they are more likely to engage with it. 
Also, B2B social media users tend to behave differently. Using a social media management tool like Hootsuite can predict the best times to post for your brand or your client's brand based on when your posts have received the most engagement (comment, likes, saves, shares) in the past. By posting at the right time, you can track (month over month) how it impacts your likes, engagement, reach, impressions, clicks, etc. all within your social media dashboard in AgencyAnalytics. 
Hootsuite lists the best time to post on LinkedIn as 9:00 am on Tuesdays and Wednesdays. This is early enough if the week to gain traction but doesn't bury your client's message in the "back-to-work Monday" or "wrapping up the week Friday" mindset. 
Apart from these posting times, you can choose to do paid social media campaigns and remarketing campaigns to effectively reach the right audience at the right time. Track your progress in a live PPC dashboard by plugging in all your clients' paid social media platforms in minutes. Choose from Snapchat Ads, Facebook Ads, LinkedIn Ads, Twitter Ads, and TikTok Ads, and combine them with insights from Google Analytics for a full overview. 
Put all your clients' paid social accounts in one place with our PPC reporting tool. Just one login for all your clients' marketing analytics. Try it free for 14 days. 
3. How are you quantifying the kind of ROI you're bringing with each social media campaign?
This is where social media analytics tools come in–to make sense of the noise and get right down to what your clients care about: their bottom line. This will depend on the conversion metrics you set up in the beginning, what information you learn from the hard data, and how you present it to your clients in an easy-to-understand package. 
Keep vanity metrics to a minimum. Be sure to always show your clients how your efforts are paying off, and what you are doing to work towards their business goals. 
4. What does your audience expect and want from your content?
Creating good content means crafting the right messaging that is targeted to your client's target audience. This is also the factor that will differentiate your clients from their competitors and help build a strong community that not only buys a product but recommends it to their connections too. 
Creating personas helps guide your content creation. Keeping a close eye on demographic data from your client's social media channels checks that you're actually reaching who you sought out.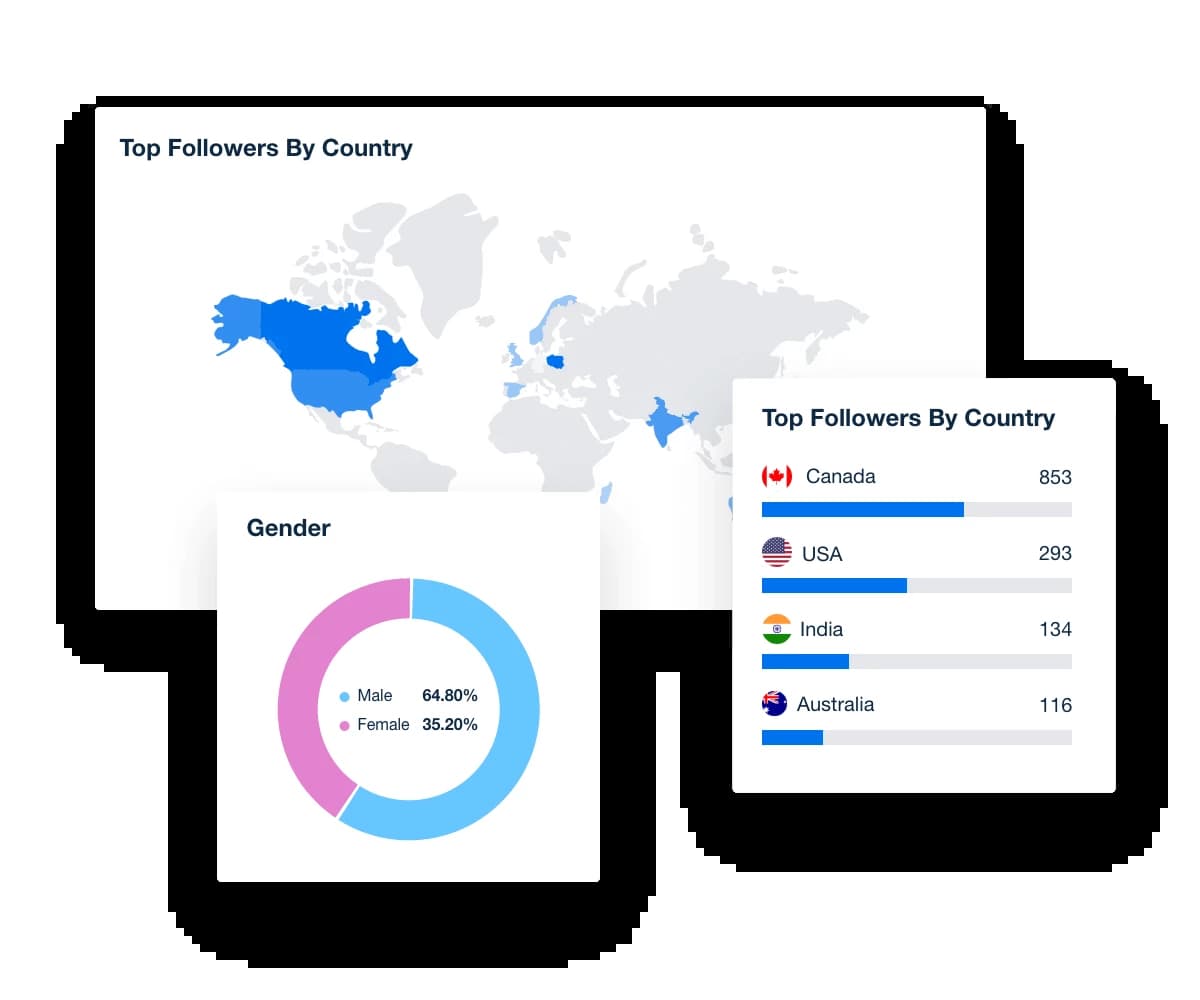 Analyze followers, reach, audience demographics, and more. Track campaign performance in real-time with our all-in-one social media reporting tool. 
5. How does your social media performance compare with the competition?
Measuring success based on your own growth is one thing, but seeing how you stack up against the competition is what'll really tell you if you're broadening your market reach. We'll get more into this when we talk about Competitive Analytics. 
Social Media Data vs Social Media Analytics–What's the Diff?
Let's make one thing very clear: social media analytics and social media data are inextricably linked but are not one and the same. Every social media platform has its own section with metrics–aka social media data. 
Social media data is the classic gathering of basic metrics such as 'Likes' and 'Shares'. Social media analytics, on the other hand, takes that data to another level by making it actionable. It's a bit like the vanity metrics versus the actionable metrics debate. 
Knowing this difference will make or break your client reports: you can either inform your agency's future social media marketing efforts and give clear business insights for your clients, or report on the fluffy stuff that makes your client feel good in the short term, hurting client retention down the road when they see no actual ROI.  
Here are some examples of the difference between social media data and how they translate to social media analytics:
Social Media Data: The "What"

Social Media Analytics: The "So What?"

Engagement Metrics

Your engagement metrics are an indicator that the content you're creating is hitting the target. 

It answers: Is my content resonating with my client's audience? 

What types of content should I keep doing more of, and what's not working as well? 

Reach Metrics

Reach metrics indicate your campaign's success at getting in front of a target audience–and at pleasing the algorithms. 

If you see an immediate drop in these metrics, ask yourself: 

Should I boost this post? 

Is my content targeting the right audience? Am I posting at the right time for the target audience?

Does my format match the latest standards on this platform? 

Conversely, if you see a significant reach but a low engagement from your client's ideal customer persona, that could mean that you've pleased the algorithm but not the target audience. 

Conversion Metrics

Your conversion metrics will depend on your clients' business goals. 

They should answer the question: Are my campaigns really doing what they are supposed to do? 

Aka: Am I driving results that are in line with my client's business goals? 
The real challenge (disguised as an opportunity for your agency to shine) is not only showing the numbers that matter but what to do about them. After all, they hired you not just to create exceptional social media content, but also to make sense of the data. 
So what do clients look for in their reports?
"Definitely the highlights and improvements in each month," says Hayley, Co-Owner of OhMyDigital. "They look to see what our recommendations are and the key highlights that we've found interesting, and how we're using that social data to make informed decisions for the next month."
Why Is Social Media Analytics Important?
In short, it just is. If there's one goal to marketing, it's to expand your client's reach. But with social media, you reach the right people, in subtler ways, at times when they are more receptive to new information.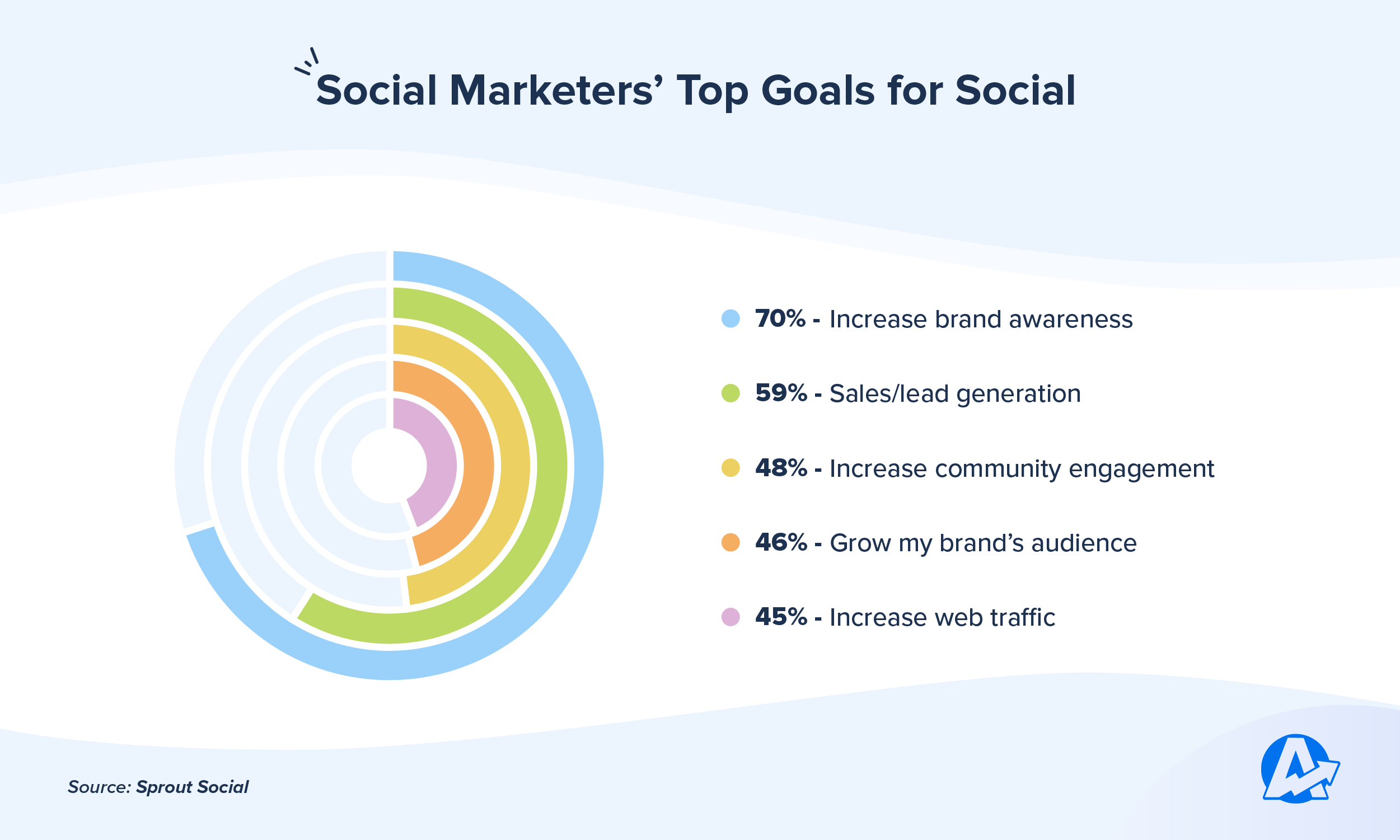 It's about getting them at those touchpoints where they're most likely to be influenced. What better way to be influenced than by social proof, word of mouth, and content that connects deeply and directly with the target audience? 
With all that potential on the line, agencies should create social media content that:
Educate. Create tips or how-tos to show off your clients' products/services.

Innovates. Adjust your approach in the fast-changing world of social media

Is relatable. This is key to retention, shareability, and going viral. 

Builds the brand image. Sell the image of what the audience wants to achieve around the brand's philosophy and values. 

Works on that "Street Cred." Use social media management as the client's PR rep to build credibility and trust. 

Grows the audience base. Creating social content that nobody consumes is a recipe for disaster.
What social media analytics really boils down to–and what makes it so important–is that it helps explain how social media performance translates to a client's bottom line and core objectives. 
Data and metrics are great. But if you don't know what to do with them, learning opportunities are missed. Agencies that do advanced social media analytics reporting actually utilize social media metrics as a means to continuously fine-tune their strategy in the fast-changing world of social media and social commerce.
This empowers your agency to provide actionable advice to your clients and better inform their business decisions. So what are some examples of this in practice? 
9 Use Cases for Social Media Analytics
Your agency's role is to stay on top of its clients' social media analytics and to ride the tide of the everchanging social dynamics. That in turn drives purchase behavior. But you'll need to keep fine-tuning your social media strategy to not miss the next wave.
Using social media analytics reports means boiling down lots of data for clear insights. We'll first go through the data, touch upon key metrics, then show you how to put it all together.
1. Build and Maintain Customer Relationships
There is one thing inherent to social media that also helps provide excellent customer service–and that's immediacy. It is also increasingly becoming the preferred method when reaching out to brands for questions. Customers contacting your client's brand on social media expect a timely response. 
If monitoring comments is not covered by your social media marketing services mandate with a client, this is a chance to upsell. Alternatively, ensure that there's someone on your team in charge of responding to DMs and comments to provide the speed and convenience customers love. This kind of customer care will ultimately improve sales and brand loyalty.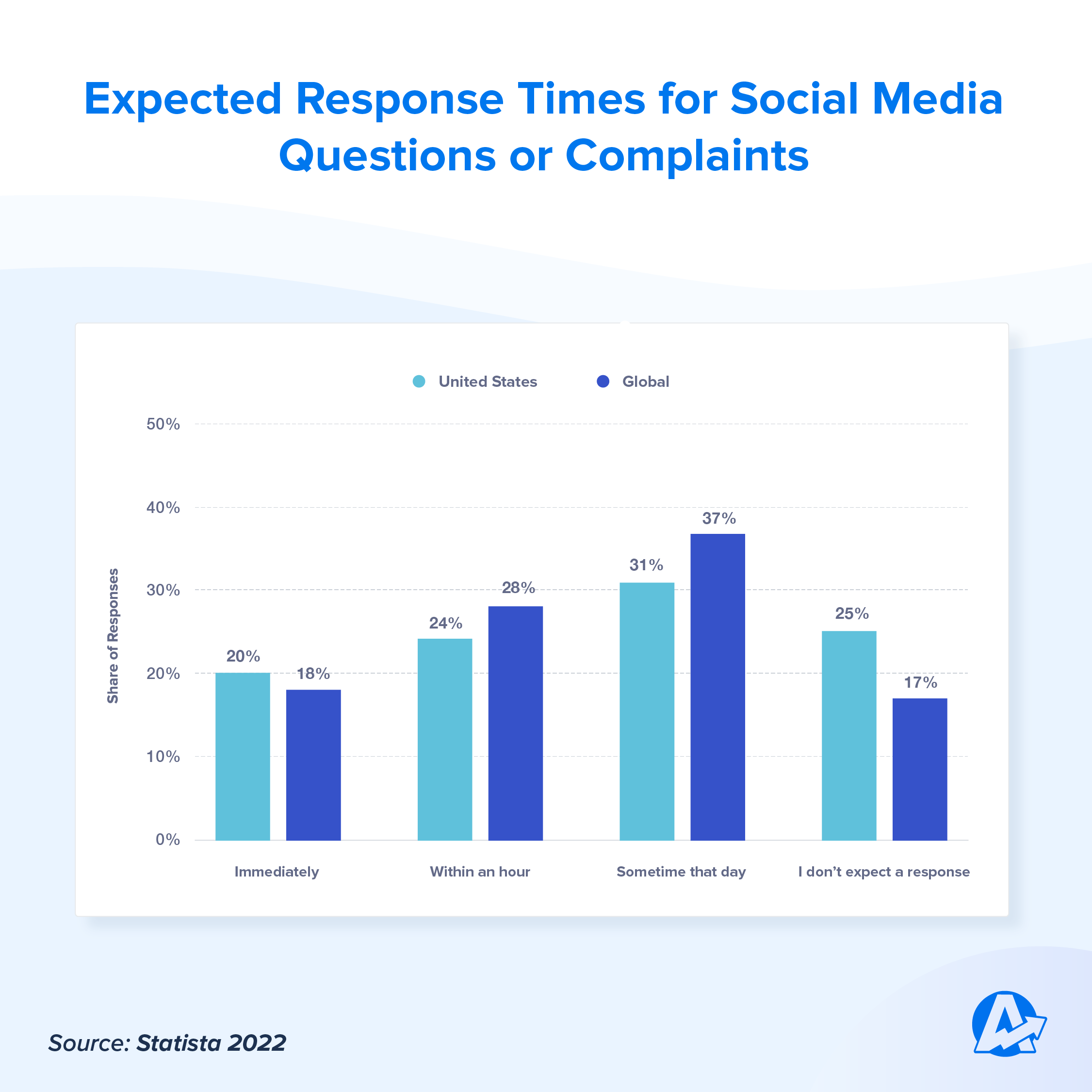 Another important aspect of customer relationship management is monitoring who is talking about your clients on social media and whether it's neutral, or negative. It's always nice to jump into the conversation and respond with a 'Thank you' here and there, just as it's important to respond quickly to complaints. They are both examples of engaging with customers to build trust and even turn a frown into a smile. 
Agency Tip: DYK? Hyundai is the most commonly misspelled brand online even though it's so popular. Ensure you also monitor common misspellings of your client's brand or product name to not miss a beat in the online conversation. 
2. Drive Innovation
What better place to do a little market research than the very place 3.6 billion people live and breathe their reactions? Social media analytics takes the power of data and applies it to get constructive feedback on what customers want–without the additional spending of market research. 
Work with your clients so that once they launch a new product or service, you review the response on social media. Many are quick to respond by suggesting a product improvement opportunity or a missing feature that they'd like. You can even set up online polls and quizzes to drive that engagement. 
Here's an example of how H&M tapped into Instagram Story polls to decide what their followers liked best: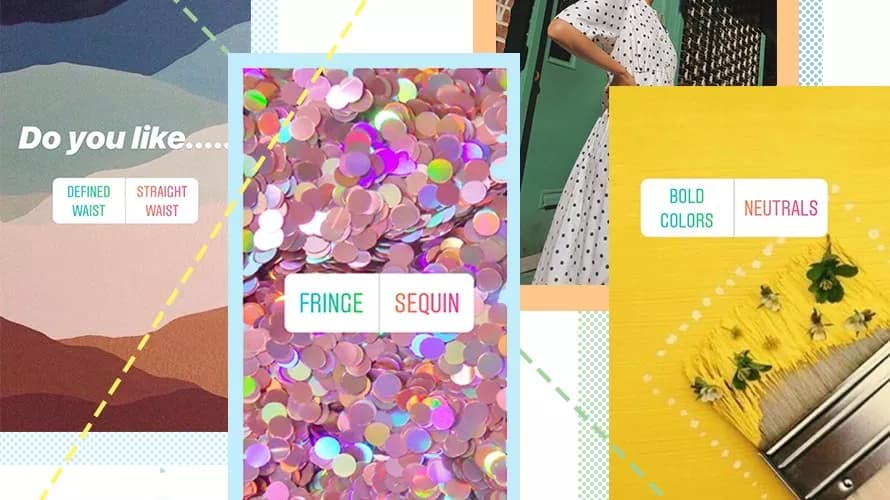 3. Measure Brand Health
Social listening is done for a reason: to understand public sentiment and manage brand image. Your agency isn't in its clients' boardrooms–they're already on the battlefield to get input straight from the public. 
Social media analytics uses the data from the eyes and ears of social media to know what's happening around a client's brand and can report on that information to provide insights into brand health. Measure the sentiment around brand mentions by calculating the total volume of mentions, and benchmark them against their competitors to see how they do.
Read more: 5 Twitter Social Listening Tools for Your Agency
4. Identify Influencers
The creator economy is only on the rise, and even micro-influencers can help elevate a client's brand and reach a target audience without having to spend a ton on advertising.  
Finding the right collaborations involves identifying the best influencers who can provide the maximum amount of engagement around your client's product, topic, or industry to help connect with untapped customers. 
Key influencer metrics to track are: 
Audience size and most frequently-used hashtags will help you determine the reach of your influencer campaigns 

Total interaction per 1000 followers–this will tell you how well they engage with their audience

Number of posts per week–it's important to see that they are reasonably active by posting regularly 

Past collaborations–if you have examples of these, or can see past results, you'll better predict the success of your partnership  
5. Optimize Marketing Spends 
Social media analytics tools allow agencies to optimize their campaign spending by identifying: 
The platforms where their client's audience is most active

The topics and themes that bring about most conversions

The type of content that drives the most engagement

The optimal social media posting times, as well as the right months to run a campaign
Social media spending continues to rise, and with it comes a need to properly track and optimize these channels. 
With consistent social media reporting, track these trends and themes and better plan out your content calendar for the year.
Social PPC campaigns are also essential to track and continuously optimize. Paid Campaign analysis is your key to ensuring that your clients' ad dollars are well-spent. You can't let this one slip, because the last thing you want is to spend your client's money using ineffective content, timing, or targeting. 
Our PPC dashboard combines all your clients' paid channels into an easy-to-understand dashboard so you can automatically monitor real-time developments in their campaigns all in one place.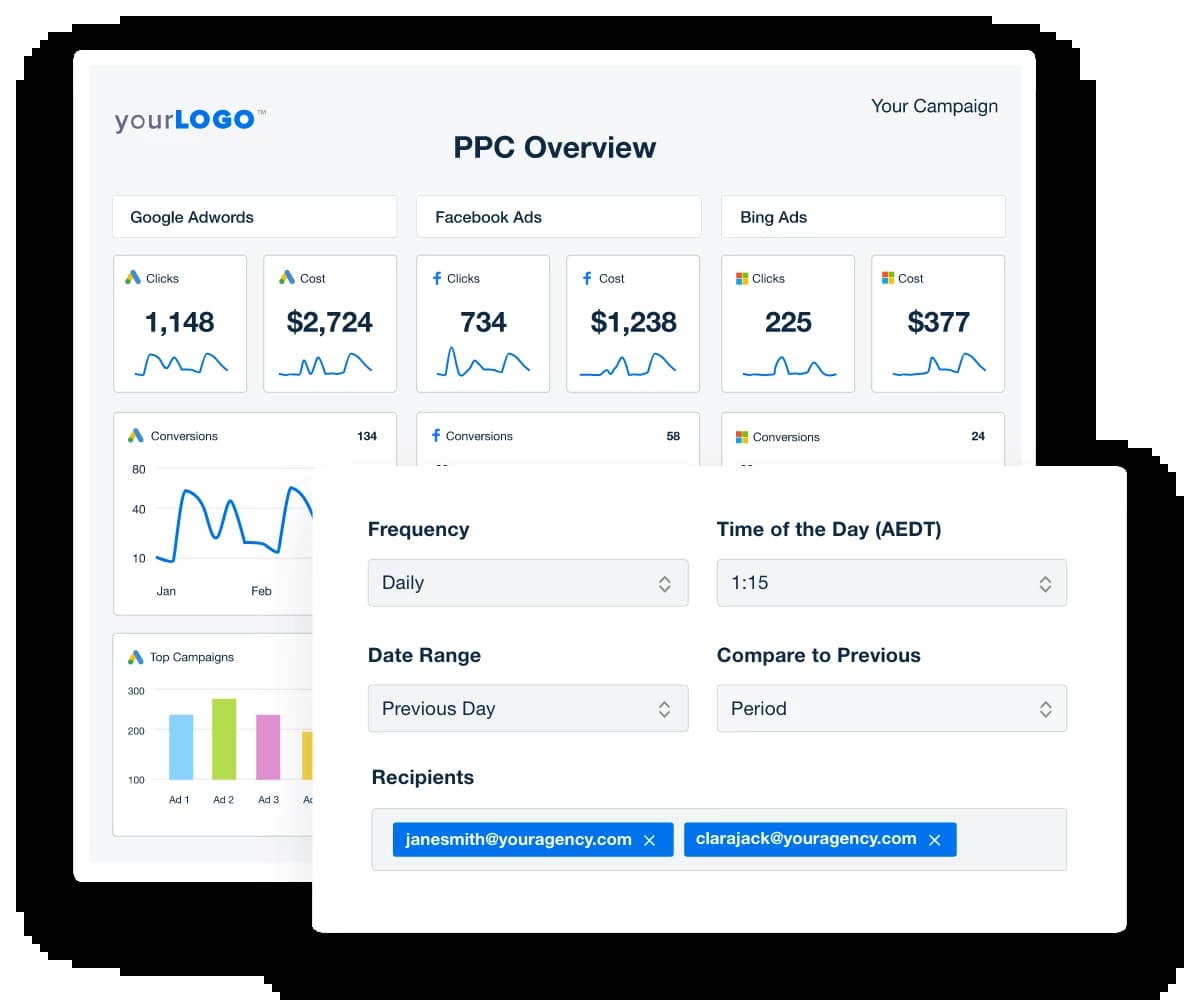 Managing all your clients' PPC campaigns is made easier with our PPC reporting tool. Create comprehensive PPC reports in minutes to show your clients just know you're delivering results. Try it free for 14 days. 
6. Track Campaign Performance Metrics
Measuring a campaign's performance is perhaps the more obvious aspect of social media analytics. However, make sure the data is translated into a story, and answer key questions such as: 
Is the content properly engaging the audience? Track interactions across various platforms over time. 
Are we making consistent progress across platforms? Track the number of followers over time to see if it's increasing. 
Are we properly driving traffic from social media channels? Track click-through rates for link clicks on posts and see how they stack up against your benchmarks. 
Agency Tip: Take advantage of your monthly reports' executive summary section to highlight these key points. Use our annotations and goals feature to tell a story with your clients' data. They'll appreciate it!
7. Do a Competitive Analysis
Determine how your clients stack up to the competition means understanding each competitor's social media performance and share of voice–and then benchmarking against that. There are many social media analytics tools out there that help you compare brands head-to-head and also categorize them by industry. 
Hayley from OhMyDigital says: "We'll often have a little look at ads that might be running, directly through Facebook's own Ad Library to get inspiration from brands that are killing it." 
Pick the right benchmarks and set realistic goals to beat the competition. You can highlight these in your client reports. 
8. Use AI for Audience Metrics 
Clearly defining the target audience and creating personas is an important part of a social media marketing strategy, as it is the foundation upon which you create your content. 
Audience data can be easily tracked across various platforms using AI-enabled tools to help make behavior analytics more predictable. Predictive analytics is really what gets you ahead of the curve to see how a client's audience changes over time.
9. Optimize Delivery of Your Client's Message
To really optimize your agency's efforts, you need to know just how to reach the right people, at the right time, using the right content. Use social media analytics to identify the best platforms for your audience and demographics, the best posting times, and the right messaging. Knowing what types of content resonates with your audience is ultimately what will help your clients grow their reach and make the most of your time and effort. 
And Always Be Testing!
Agency Tip: Doing these types of advanced social media analyses for your clients gives your agency major bonus points–they might not even know some of these insights are possible unless you tell them! It's also a win for you, offering valuable upselling opportunities and the authority to keep your clients' trust.
What Should Your Social Media Analytics Tool Include?
With the latest changes in technology, marketing agencies needed to adapt their social media campaign planning, reporting, and client communications.
The right tools are your agency's intelligence center for monitoring social media, society-wide conversations, and the trends that emerge as a result of this. It means you need a tool that keeps a constant finger on the pulse but organizes a mountain of data into a digestible format. And at scale. 
But what if the pulse isn't singular, but one giant pulse that relies on millions of smaller pulses? How can your agency predict what people will love? What they will hate? What they will love to hate? And, perhaps worst, what they are indifferent to? These are all important questions that will resonate with the viewer, drive engagement and even help a piece of content go–dare I say it–viral.
The tools should make the data collection and reporting easy, giving you more time and energy to uncover insights that will ultimately help your agency:
Drive intelligent content 

Help your clients make informed decisions about how they run their business

Demonstrate the value you're bringing to the table with ROI
To do this, there are several types of social media analytics that your agency should dig into to provide a complete picture of your client's social presence. The best social media analytics tools measure the following data, so your agency saves even more time putting everything together. 
1. Audience Analytics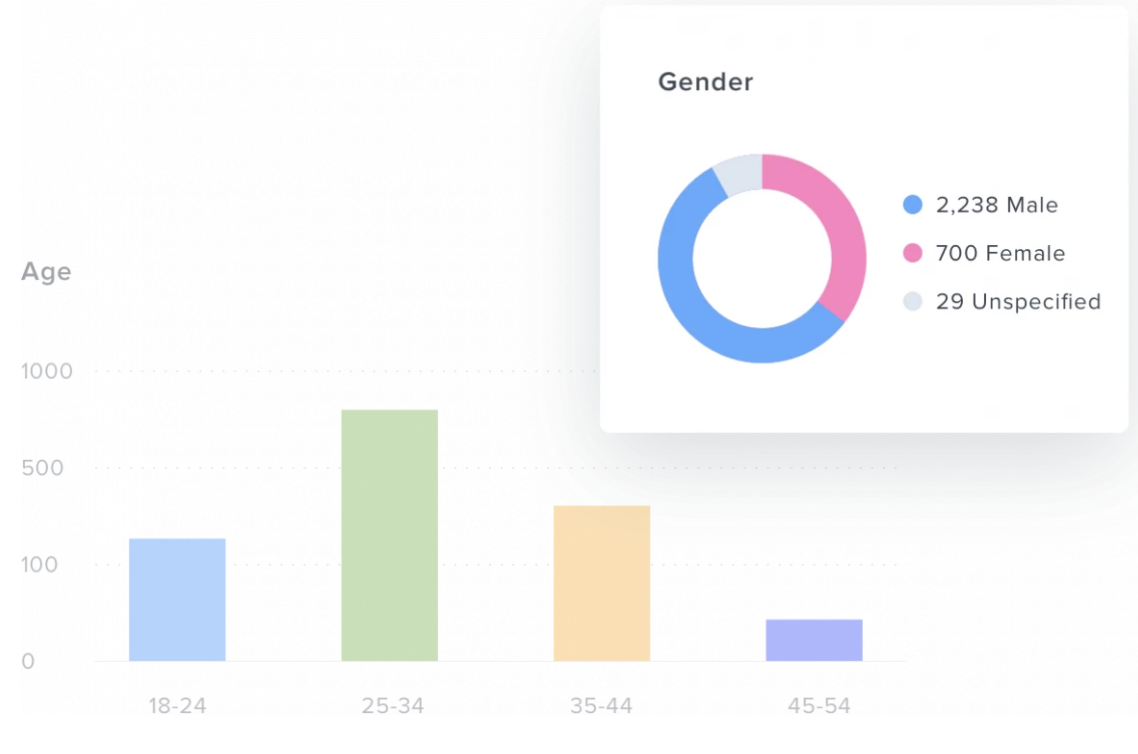 If there's one thing that makes or breaks your clients' social media presence, it's their audience. Their account goes only as far as their audience is willing to go–so everything revolves around them. Especially if you want to engage them in social commerce. 
While your clients might think their audience demographics are pretty much the same year-round, you'll need to show any changes as their behaviors change–especially since the pandemic. You'll need to analyze follower data by location, age, gender, and language to ensure you're reaching the right people.
Having demographics data at your fingertips will not only help you create better content targeted to your audience, but also segment by personas and vary the content across different platforms. Keeping consistent track of this information will help you show your clients their audience growth trends over time, while seeing how their demographics are changing will show you whether you're reaching who you ought to be. 
It can also help your agency spot issues if the campaigns start attracting the wrong audience for the wrong reasons.
Agency Tip: Audience demographics also help influence what other social media channels your clients should consider. For example, if you notice that both IG and TikTok are successful channels and Gen Z is the majority age, it may be worth it to branch out to Snapchat.
2. Brand Analytics
Brand analytics is important to ensure that you're meeting the consumers' expectations from the brand experience. It's also to pivot your client's marketing strategy and improve their branding as needed. Your social media analytics tool needs to be able to condense the information generally found in the 'Insights' panel on platforms such as Instagram and Facebook to show you: 
Social reach metrics–like seeing how many people saw a post–tell you how well your clients' social media accounts are attracting new members to their audience.
Referrals tell you whether your content is doing its job at driving traffic to your client's website. This ties into the Organic Performance Stats we will touch on in a bit. 
Agency Tip: Instead of manually copying the data from your client's Google Analytics Acquisition > Social reports each time – just add the Google Analytics dashboard to your social media reports to show these metrics and KPIs.
Your clients will appreciate seeing how their social platforms are contributing to more website traffic–and ultimately, conversions. 
Follower growth rate is a clear indicator of audience growth and should show a steady increase over time. 
Engagement rates are important to show that people are "picking up what you're putting down" on various social networks. Take a look at your top-performing posts and try to gauge what made them most successful at garnering more Likes, Shares, or Comments.  
Your social media analytics tool should include all your clients' recent social media posts, tweets, pins, and more so you can track and present these easily, without the screenshots and spreadsheets.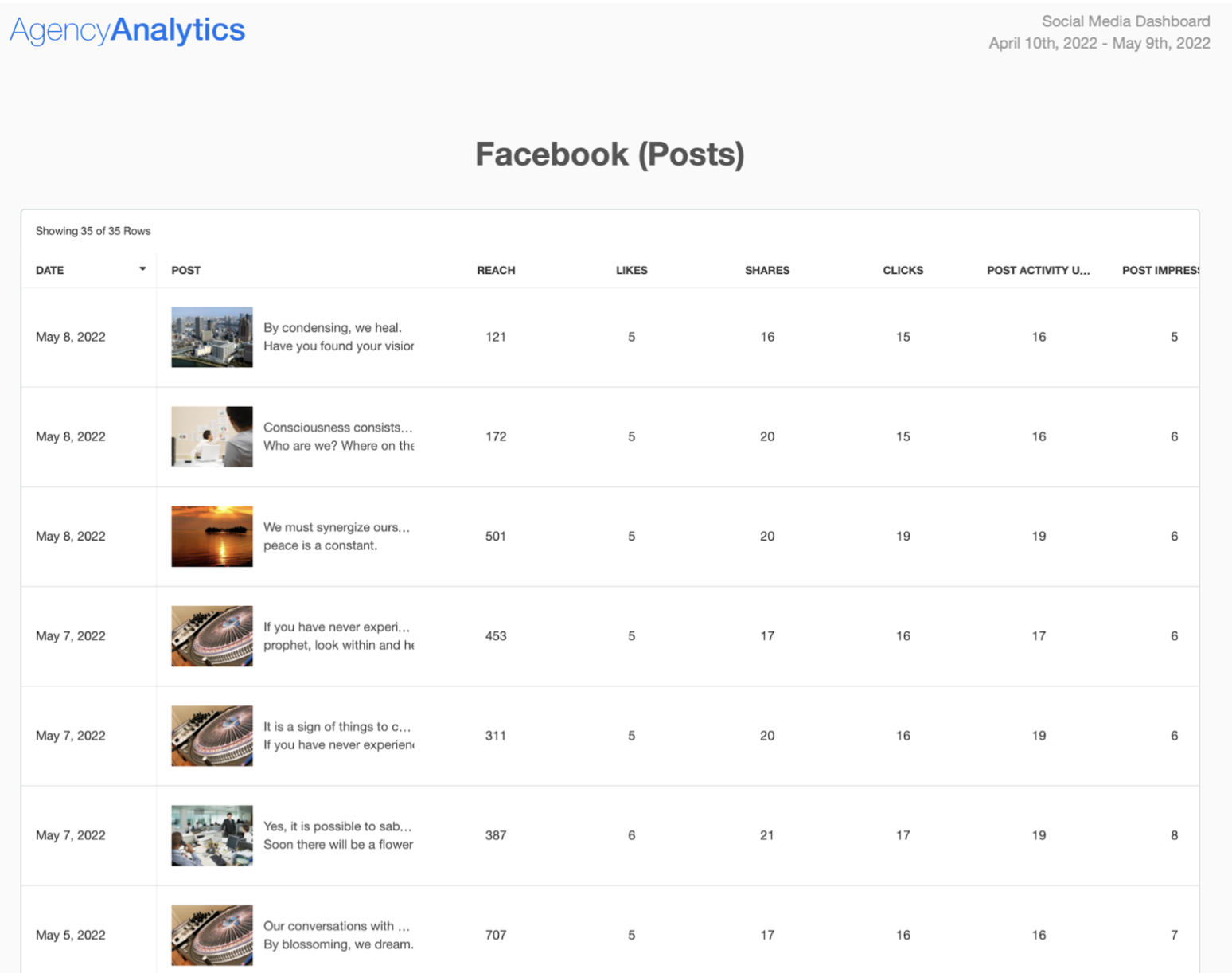 For instance, this section is included in our Facebook report template. Try it free for 14 days! 
Fan base stats tell you how your clients' top-tier followers are growing over time. Fans are like your ambassadors–and having a loyal following that promotes your content is important to keeping those engagement rates high. If your clients don't yet have a loyal fan base, see what their competitors are doing to engage with their audience. Use that as inspiration for your own content strategy to gain people's interest in your client's brand. Measure fanbase metrics by tracking how many people tag, mention, or share content on social media. 
Agency Tip: Start an authentic conversation with your client's followers by commenting on their posts to help build that relationship. This will help show them you care!
3. Organic Performance Analytics
Unless your clients are solely reliant on social commerce–selling directly from their social media–you're going to want to measure their overall website traffic. Correlating social media growth with increases in website traffic will do wonders for your agency's credibility. 
By demonstrating their referrals from social media, and conversion rates, you're giving clients what they truly want by putting their ROI front and center. 
You can also start to correlate your agency's social media efforts with the impact on other channels. For example, a strong social media presence typically leads to an increase in direct and branded search traffic. 
Show their top landing pages, bounce rates, and conversion rates, along with their $ value and more using our handy Web Analytics Dashboard 
4. Paid Social Ads Analytics
No social media campaign is complete without paid advertising. As such you need to be keeping track of your client spend, and how it's contributing to the broader social media strategy, as well as how social advertising is contributing to your clients' overall business. Your social media analytics tool should quickly track all your PPC campaigns on social media in one place–easy to analyze, easy to present.
Give your clients maximum visibility on their paid social media accounts with our PPC reporting software that integrates with all major social media channels–from Facebook Ads to LinkedIn ads, and more. 
5. Competitive Analytics
Keeping a close eye on your clients' competitors is a must–but takes time unless you have the right tools. Use competitive analysis tools to keep an eye on your competitors. How can you include these stats in your reports? 
Include goal-tracking to benchmark your results against your client's competitors. Compare:
Audience growth

Engagement

Posting frequency

Top posts
6. Customer Satisfaction Analytics
As noted earlier, nearly half of consumers expect a response from a brand within an hour of reaching out to them on social. How your clients respond online is really important to their brand image. Tracking this will help your social media team–or your clients, depending on whose mandate this is under–to better manage their response times. 
Keeping track of what's happening on review platforms, which can be considered part of the social media landscape, will give your clients a good understanding of their performance and manage their reputation. But it can be easy to miss an opportunity to respond to customer reviews unless your social media analytics platform has an all-in-one management system to track them.  
Our reputation management reporting allows you to respond to queries and comments from one central location. Give your clients their own login and they can respond directly through the platform!
7. Influencer Analytics
Influencer Marketing Analytics involves 8 Key Metrics to Track Performance to measure the success of your influencer marketing campaigns. However, identifying whether an influencer boosted your clients' Instagram impressions overnight is hard to present without the right tools. 
Use our Annotations feature in your time-based charts to track when something was launched or posted–this will immediately show your clients the results of working with a particular influencer, and whether to continue working with them. 
With all these metrics to track and more, the question remains: how do I put this all together in a way that makes sense? The answer lies in what you qualify as social media performance and how your agency puts it all together in a nice package. 
How to Track Social Media Performance With Social Media Analytics Tools
While many businesses use some sort of social media management tool, most of these baseline scheduling tools don't go far enough to provide the in-depth metrics and data points that social media analytics tools can deliver–and they don't combine that data with the rest of your client's marketing metrics.
Find meaning in the metrics and let the numbers lead you to the right conclusions. To do this, you'll need to be able to compare time periods, contrast channels, see commonalities and trends, and then adjust your plan accordingly. To do so will require robust social media reporting.
Agency Tip: Consistency is key. Social media analytics won't likely change overnight, so it's important to keep an easy-to-understand format that shows your clients the changes that are happening month after month, as well as a positive upward trend.
There are many metrics that you can track at every stage of your social media sales funnel. What social media analytics allows you to do is cut through the noise and boil it down to the essentials–the ones that will show just how you're tracking against your set goals–and what they mean.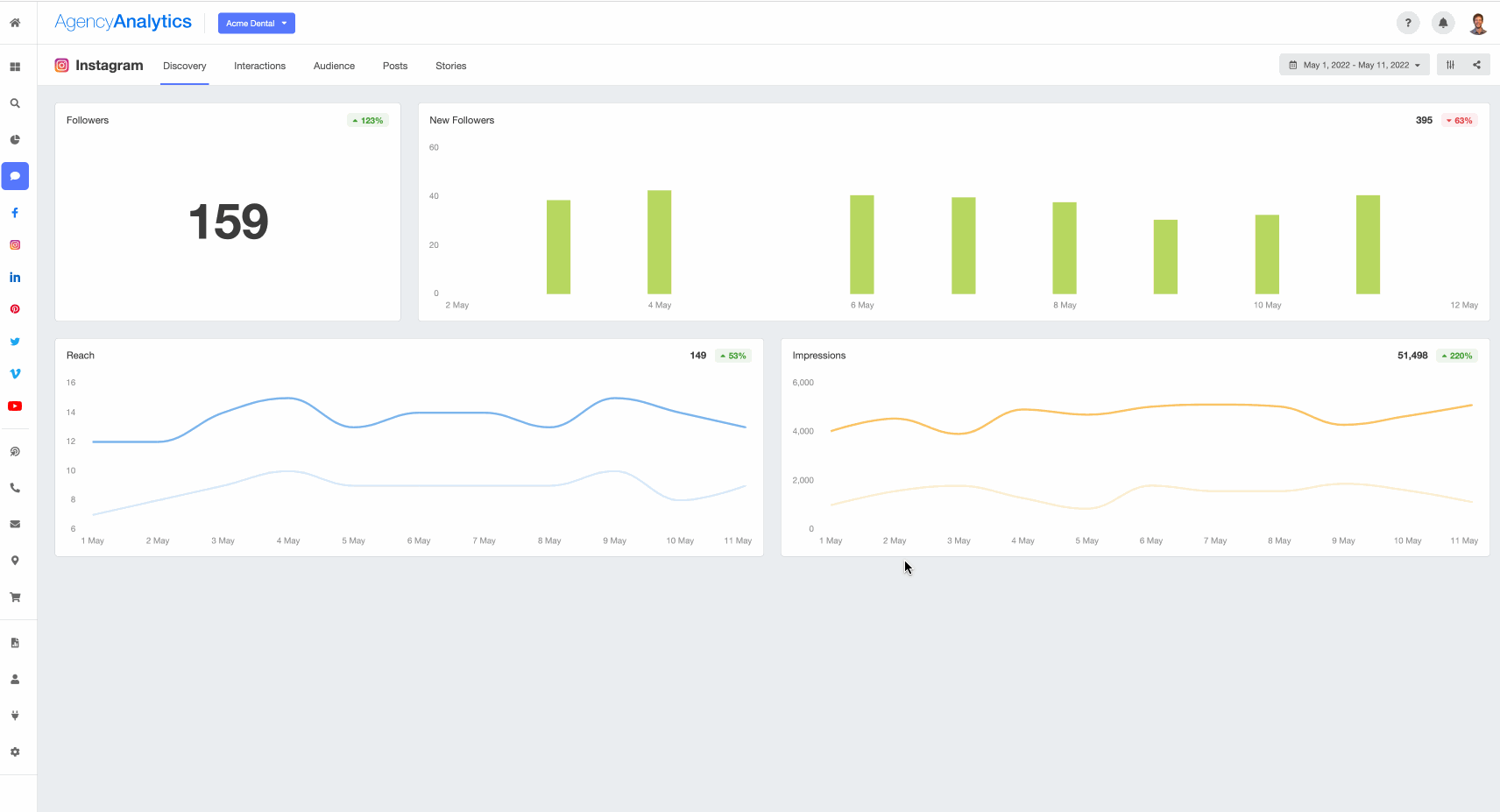 However, as a busy marketing agency juggling multiple clients, it is time-consuming and inefficient to manually track and report on them all with spreadsheets, screenshots, or using Google Data Studio (now Looker Studio). 
Even once you've decided on the key social media metrics to track, and meticulously put them in your report–you still need to make sense of the data in a way your clients will understand. And then prove your ROI–a clear indicator of your client's social media performance. 
Luckily, doing all this and tracking your social ROI is an integral part of our social media report template. It'll help you get budget request approvals, retain your clients, and even land new ones for your agency. 
AgencyAnalytics has saved us hours every month in reporting time. Now we can provide far more thorough reporting for our clients, and it's faster and easier to pull together. It also gives our agency a much more professional touch. -Hayley Peters, Co-Owner at OhMyDigital
Track your key performance insights quickly and easily with our social media reporting tool. Start your free trial today.  
Combining Social Media Analytics Across Multiple Platforms
Social media analytics involves data from multiple sources–there are important Facebook Ads data to consider, Instagram metrics to track, LinkedIn analytics to measure, and a bunch of other platforms to consider–depending on your client. 
Social media is the go-to place for insights into your client's consumer behavior and provides direct insights into your client's business strategy. How your agency quantifies and qualifies that data to prove the ROI of its social media campaigns is what will keep your clients coming back for your agency's services. 
The data is all there–you just need to know how and when to use it. When you do so, your clients will keep coming back to you as marketing experts and an essential part of their business operations.
Our all-in-one reporting platform makes it easy for you to show the full picture of your client's marketing campaigns. Choose from 75 integrations and drag-and-drop your clients' real-time metrics in any order. Use our marketing dashboard templates and report templates to get a head start–you'll have them up and running in no time!
Try out our social media report template and get your client reports set up in no time! Try it free for 14 days for your next reporting period.
Written by
Melody Sinclair-Brooks
Melody is a marketing manager, writer, and startup consultant. She builds communication bridges thru multichannel storytelling, strategic partnerships, advertising, and go-to-market strategy.
Read more posts by Melody Sinclair-Brooks ›
Try AgencyAnalytics risk-free for 14 days. No credit card required.