With the right influencer partnership, it's easy to tap into engaged audiences, increase brand reach, and generate new creative assets for your clients in the process. That said, tracking the exact return on influencer marketing is notoriously challenging for marketing agencies. 
Unlike traditional ad platforms, there are typically several additional steps to track ROAS such as creating referral links, assigning discount codes, and so on. With these extra (and often manual tasks), influencer marketing is much more difficult to scale than PPC advertising. 
Influencer marketing has the potential for high ROI if leveraged correctly. So whether you're running an influencer marketing agency or want to test out new advertising channels for your clients, we'll outline exactly what you should track to determine influencer marketing ROI.
Read on to learn about:
Let's get started.
Tracking Influencer Marketing Attribution
When testing new influencers as part of a marketing campaign, it's important to start with a small group and have processes in place to scale tracking. From the beginning, compare each influencer's engagement rates, conversions, and other key metrics (which we'll explore next). 
There are two common practices for attribution of influencers with subsequent user actions, these include:
Custom URLs: By creating a custom URL using a service like bit.ly, monitor direct traffic coming from a certain social media post or blog post.

Discount Codes: This useful tracking technique provides the influencer's audience with an incentive and is also easy to attribute sales back to a specific person. 
With attribution tracking in place, be sure to define clear goals and a timeline for measurement.
If you're simply looking to increase brand awareness, not every metric below will apply to your clients' campaigns. However, it's still important to know how to measure success before launching. Let's explore below.
8 Key Influencer Marketing Metrics to Measure Performance
Now that we've discussed attribution tracking of influencer marketing, here are the top metrics to monitor influencer marketing performance across a variety of platforms. It's worth noting that integrating social media analytics can offer additional layers of insight. These analytics help you not only gauge the direct outcomes but also understand user behavior and engagement in a more nuanced way, thereby improving your future campaigns.
Reach & Impressions
Two of the first metrics to look at in analyzing influencer marketing performance are:
Reach: Use this metric to understand the total number of actual people that saw a post or video.

Impressions: This metric counts each time the content was displayed, regardless if it was viewed multiple times by the same person.
Use a marketing dashboard to monitor influencer reach in real time. Create live dashboards in minutes with AgencyAnalytics. Prefer a monthly report? No problem, customizable social media reporting templates make creating and sending reports a breeze. Start your free 14-day trial today.
One of the main advantages of influencer marketing over more traditional paid advertising is access to a massive audience, engaged audience. In many cases, influencer marketing reach is much more valuable than the same amount in paid ad spend, since an influencer's audience is much more receptive to their content.
Audience Engagement
Before and after investing in influencers, audience engagement is one of the most critical social KPIs to analyze. It's especially important since many social media algorithms use engagement to determine how many people will see a post.
Below is an example of how you can monitor engagement for Instagram posts, reels, and stories with an Instagram dashboard.
Access all your clients' IG metrics in an Instagram Dashboard with one single login. Try AgencyAnalytics free for 14 days.
When evaluating influencers, keep in mind that you don't necessarily want to compare this metric solely based on raw numbers. Instead, compare an influencer's engagement relative to the size of their audience. For example, smaller "micro-influencers" should typically have a much higher level of engagement than those with 1M+ followers.
Audience Growth Rate
Another key metric to track after an influencer post goes out is your client's audience growth rates. Assuming the influencer's brand is aligned with any given client, there will likely be spikes in audience growth aligned with their post schedules.
Need tangible proof of influencer marketing ROI? Track increases in audience growth rates to show what's happening. Try it on AgencyAnalytics, free for 14 days.
Brand Mentions
Another important metric to track is the number of brand mentions your clients receive before and after influencer campaigns.
Use a tool like Mention to correlate influencer posts with an increase in brand mentions.
Traffic from Social
Although audience growth and reach are important, most influencer campaigns will include a CTA to drive audiences off social media and onto your clients' websites.
Use a Google Analytics dashboard to see exactly how social media affects website traffic. Track these insights and much more on AgencyAnalytics, free for 14 days.
Analyzing traffic from social will give you an idea of how receptive audiences are to influencer brand partnerships. In many cases, it may be the first time an audience is exposed to a client's brand.
However, keep in mind that users landing on a client's website can be retargeted with brand-building content, which ideally leads to conversion later on. 
Conversions from Social
Similar to traffic from social, tracking conversions is key to determining the ROI of influencer marketing.
Again, attributing conversions from social to a specific influencer is easy. Use trackable links from bit.ly. then viewed these insights on your Google Analytics dashboard under "Conversions".
Get the Influencer Marketing Launch Checklist ✈️
Use this template to kickstart your new campaigns!
Revenue from Social
Finally, revenue from social is of course essential to measuring the return on each influencer and each social channel.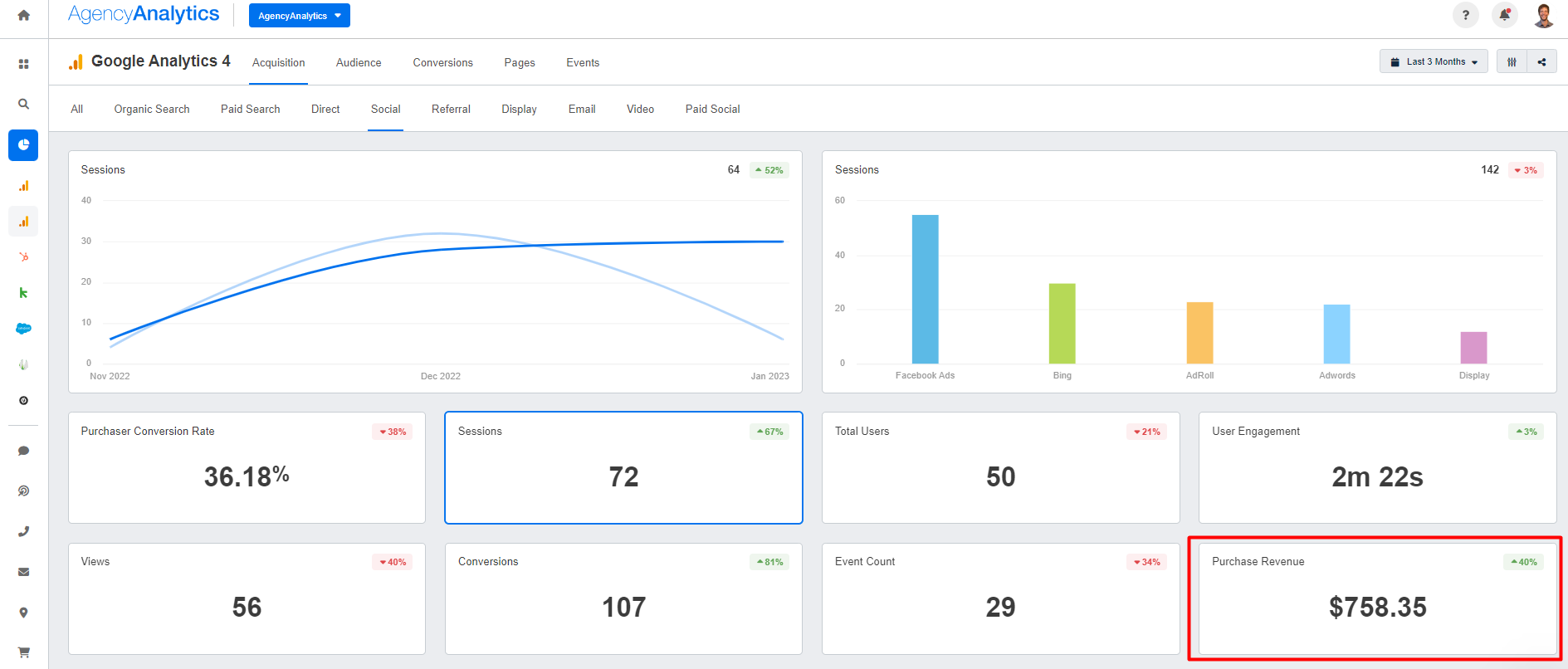 This can be tracked with Google Analytics using their Goal Value metric, which is an optional value you can assign to a conversion. In the context of influencer marketing, if you're providing tracking URLs or discount codes for each influencer, you'll then be able to attribute an exact amount of revenue they're generating for the brand.  
Using Annotations to Track Influencer Marketing  
With the above-mentioned challenges of calculating influencer marketing ROI, one of the most important parts is to see exactly when a certain post went out and who posted it.
Instead of relying on a manual spreadsheet to track this, add annotations to time-based charts on AgencyAnalytics.
Wondering how it works? Let's take an example. Say our primary goal is to increase brand awareness for a client through the use of Instagram influencers.
In this case, create a line chart that tracks impressions over time. In order to correlate impressions with increases in impressions, click on "Edit Widget" and add an annotation with the influencer and the time posted.
Easily align the influencer posting schedule with whichever metric you're tracking.
Track Influencer Marketing Metrics With Ease
Influencer marketing has quickly become one of the most important marketing techniques for brands in the last several years. What will separate you from other agencies, however, is demonstrating the exact ROI you're achieving.
And the only way to do that is by tracking these marketing metrics consistently. No need to rely on copying and pasting screenshots into a spreadsheet!
With an AgencyAnalytics social media dashboard, it's easy to track attributions, monitor brand traction, and show progress each month. The best part? Data retrieval is automated! All you have to do is set it up and get on with your day.
Tracking influencer marketing metrics doesn't have to take all day. Use an AgencyAnalytics dashboard to save time and track campaign progress. Sign up for a free 14-day trial today!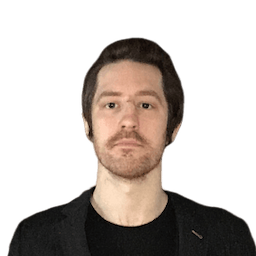 Peter Foy is a content marketer with a focus on SaaS companies. Based in Toronto, when he's not writing he's usually studying data science and machine learning.
Read more posts by Peter Foy ›
Try AgencyAnalytics risk-free for 14 days. No credit card required.