'Make that a double shot of espresso, please – It's Hell Week.'
That chaotic period when your clients expect your agency to deliver their usual monthly marketing reports.You take a deep breath and scroll through the never-ending sidebars of Facebook Business Suite, Google Analytics, and various other marketing channels, copying and pasting those handy metrics into a manual spreadsheet. After pulling all that information, you're now tasked with formatting and data storytelling. 
Phew! What a tedious process (we know). 
If you're reading this article, you're likely searching for marketing agency spreadsheets or tips on improving an existing Excel marketing report.
Whether you're a seasoned marketing agency or in the early stages of growth, a manual spreadsheet may seem like an intuitive option to track client data.
As with all platforms, there are distinct advantages and disadvantages to explore.  
The Pros and Cons of Manual Spreadsheets
Spreadsheets have been around for over 40 years and certainly come in handy for various functions such as bookkeeping, data visualization, and forecasting. With such a longstanding history, it's no surprise that marketing agencies have coined spreadsheets as a 'thing.'
Here's where manual spreadsheets excel.
Marketing Spreadsheets Work Well for Managing a Small number of Client Accounts
In the early phases of establishing an agency, it's quite likely you started with a small number of clients (or even one). In this case, it's much easier to sift through data and create reports for a handful of accounts.
Once there's sufficient tabular data, it's relatively simple to utilize a spreadsheet application's range of capabilities, such as pie charts and bar graphs. After all, visuals help create a narrative of what your numbers are saying and are essential for client reporting.
The average agency spends about 1.5 hours creating manual reports for each client. When you only have a few clients, that adds up to a day (or maybe two) focused exclusively on reporting. That's not so bad, really.
Manual Spreadsheets Are Cost-effective
Google Sheets is a free cloud-based platform and comes with seamless access to other Google applications (such as Google Drive and Gmail). Even Excel is available at a relatively manageable monthly cost or one-time payment for lifetime access, which helps keep overhead costs down when trying to establish a profitable agency.
It is no surprise that 44% of marketers still rely on Excel spreadsheets to track data, perhaps for these same reasons.
Marketing Agency Spreadsheets Are Great for Outlines and Strategizing
And that's another reason why an Excel marketing report could be a preferred option.
A manual spreadsheet can be an indispensable tool for content planning, such as developing a social media template or a monthly blog content calendar. And it's easy to swap and update content as needed once you've set up a template. When it comes to managing budget, forecasts, and expenditure, marketing agency spreadsheets can also provide some measure of standardization per month. Not to mention that you can easily keep tabs on your monthly, quarterly, and annual trends.
The Downside of Manual Spreadsheets: Errors, Revenue Loss and Scaling Challenges
An Excel marketing report sprinkled with inaccuracies can severely misrepresent what's happening with a client's marketing efforts. This has a snowball effect, resulting in incorrect metrics, skewed data, and even questions from your clients on marketing ROI. 
Will Your Clients Excel With Inaccurate Data in Their Marketing Spreadsheets?
If you're doing any form of trend analysis, you may rely on a tool such as Excel to collate this data. While utilizing formulas may seem like a significant time-saver or a way to avoid manual calculations, it's easy to miss a cell or value.
It's tedious to pull data from different platforms and paste it into a manual spreadsheet. Aside from the excruciating number of hours that may take, it widens the possibility of human error. 
In fact, according to a study published by University of Hawaii professor Ray Panko, 88% of Excel spreadsheets contain 1% or more errors within formulas (on average). 
Three main types of spreadsheet errors were observed:
1. Mechanical errors: mistyping characters or pointing to an incorrect cell
2. Logic errors: entering an incorrect formula because of an error in reasoning
3. Omission errors: leaving something out 
The rate of logic errors was higher than mechanical errors, which means there's a higher likelihood of having an incorrect calculation than a typo within a manual spreadsheet. And, unless you get the dreaded #Ref error, incorrect calculations are much harder to spot.
Omission errors were noted as the 'most dangerous' as they were also notably challenging to detect. 
When it comes to manual spreadsheets, it's easier than we may think to type the wrong number of impressions for an ad set or overlook a cell when doing a SUM calculation for total marketing spend. You may even mistakenly omit the number of qualified leads for a particular campaign without realizing it.
Human Error Can Lead to Reduced Revenue
When it comes to marketing agency spreadsheets, the likelihood of human error has the potential to become astronomically high and comes at a cost. 
A recent study showed that 37% of businesses waste marketing spend because of inaccurate data, which again can be a result of human error. And Forrester Consulting called out some of the consequences of human error in spreadsheets.
If we're talking dollars and cents, inefficient spending within marketing campaigns can significantly add up. Inaccurate data not only affects marketing budgets; it can also result in wasted time and reduced overall performance. 
Manually managing data quality is a time-consuming exercise that can become increasingly unmanageable when you factor in the other important daily activities required to run a successful marketing agency. Forrester Consulting also found that decision-makers/influencers responsible for marketing performance agreed that high-quality data was the most critical factor when evaluating success. 
After all, a data-informed decision is a powerful one.
As you know, clients rely on reporting to make strategic decisions and measure ROI.  Do you really want to paint an inaccurate picture because of a formula miscalculation or a copy-paste error on a manual spreadsheet?
Spreadsheets Aren't Ideal as Your Marketing Agency Scales
Picture this - business starts booming, and you now have more clients to manage. Some of these clients may have various initiatives to report on (such as Facebook Ads, Google Ads, and Mailchimp newsletter performance, for example). While this scenario results in increased revenue, it means increased demands on your resources and output. Here's a breakdown of how manual spreadsheets slow you down in this instance:
1. There's an increased likelihood of data-based errors as you manage multiple client marketing spreadsheets, negatively affecting media spend and even causing customer retention issues.
2. When it comes to real-time updates, clients won't have access to their data until you manually pull those metrics from various marketing platforms and send them off for review. This means spending even more time creating and sending marketing spreadsheets, replying to client e-mail threads, and answering phone calls.
3. A manual spreadsheet isn't intuitive and doesn't have real-time customer support, such as a live chat. Because it's not a customer-oriented interface, you're likely spending even more time Googling "how-to" tutorials and fixes (we've been there too).
4. And let's face it – the Excel marketing report you spent hours doing probably wasn't the sleekest of documents. When it comes to the work your marketing agency produces, aesthetics matters. 
If you're relying on Excel or Google Sheets for client reporting at this point, it's safe to say you're on your way to spreadsheet hell.
At ten clients, your agency is likely spending a minimum of 15 hours a month on manual client reports. Once you reach 30 clients, that's now sitting at 30+ hours. By the time your agency grows to 100 clients, you're up to nearly four full weeks of the month focused exclusively on reporting.  
Automated client reporting saves time, and it also helps to scale your agency long-term as it gives your team more time to focus on revenue-generating activities. Over 6,000 growing agencies have done it through AgencyAnalytics, and you can too!
Automated Reporting: An Efficient Alternative to Manual Spreadsheets
As a growing and successful marketing agency, time is of the essence. As we all know in business, time = money.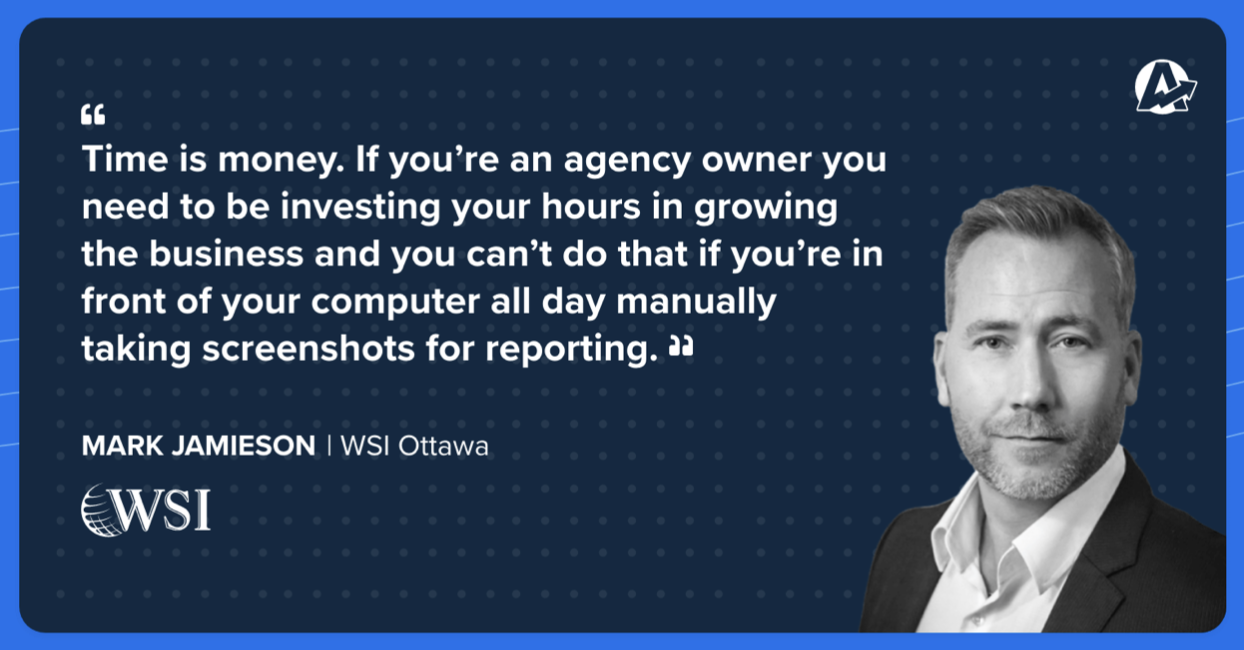 Luckily, there's a solution to save on both, and it's through automated reporting with AgencyAnalytics. No more getting lost in the number maze of impressions, CTR, and conversions!
I really love using AgencyAnalytics. I used to spend hours and hours writing marketing reports and taking screenshots of campaigns. But since I found AgencyAnalytics, I set up weekly, fortnightly, and monthly marketing reports for ALL my clients automatically. This not only frees up a lot of your and your staff's time, but clients also appreciate the beautiful, easy-to-understand reports.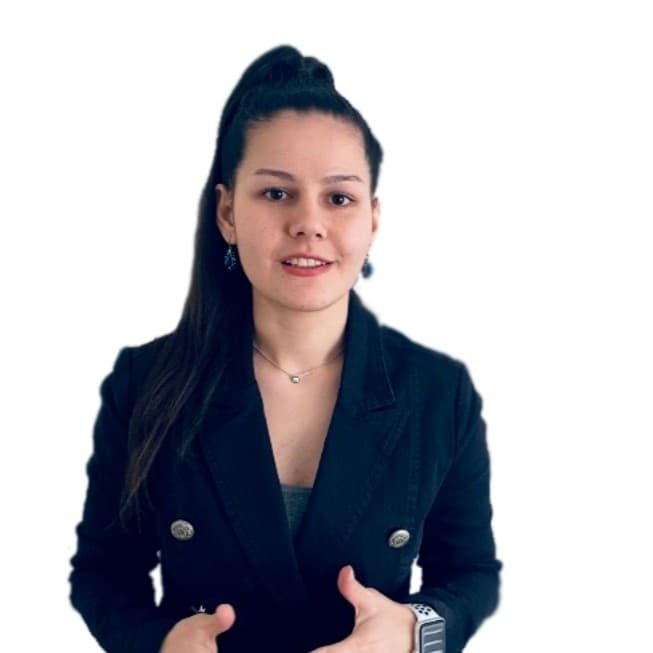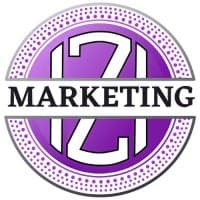 Automated Client Reporting Means Increased Performance, Time, and Revenue.
If we're considering optimizing efficiency, a recent study shows that 63% of companies with automated marketing processes had greater performance than competitors. 
78% of successful marketers also agreed that marketing automation was the most significant contributing factor when it came to revenue.  
Marketing automation has several key advantages. In fact,
A useful time-saving feature of AgencyAnalytics is the ability to provide each client with a login to see their performance reports directly through the platform.
Streamlining reporting and communication means avoiding never-ending follow-up threads or answering phone calls. 
That's a win-win situation for both you and your clients!
Automated Reporting Enables Your Marketing Agency To Scale
We know it's challenging to ensure data accuracy if you're manually managing a wide variety of data sources and soaring data volumes, especially when you've got multiple client accounts to oversee. 
With over 75 marketing integrations, it's easy to create live marketing dashboards, utilize reporting templates and manage multiple clients' metrics through the AgencyAnalytics platform.
| Feature | Microsoft Excel | Google Sheets | AgencyAnalytics |
| --- | --- | --- | --- |
| Custom Dashboards | ☓ | ☓ | ✓ |
| Report Customization | ✓ | ✓ | ✓ |
| Real-time Updates | ☓ | ✓ | ✓ |
| Client & Staff Management | ☓ | ✓ | ✓ |
| Automated Reports | ☓ | ✓ | ✓ |
| Marketing App Integrations | ☓ | ☓ | ✓ |
| SEO Reporting Tools | ☓ | ☓ | ✓ |
Aesthetics Matter When You're a Marketing Agency
That's why AgencyAnalytics has a customizable white labeling feature to allow the upload of your agency client's brand collateral for a sleek finish, including logos, icons, and colors. A professional client experience through the AgencyAnalytics platform:
Increases your marketing agency's brand authority

Elicits a positive outlook from your clients, and

Shows that you mean business!
Happy Clients Don't Only Make Your Agency Go Round
They come full circle with rave reviews and referrals. Early in the game, it's essential to establish client reporting best practices. After all, word of mouth is one of the most powerful marketing tools. Client retention keeps your business thriving, but a referral goes a long way in scaling your business.
Keeping a high reporting standard increases your brand reputation and prepares you to take on new clients in the future.
Last but Certainly Not Least–Marketing Agencies Matter
AgencyAnalytics was created specifically to meet your agency's needs, and we understand your struggles. You shouldn't have to spend endless hours on manual spreadsheets and tedious fact-checking. Save time by utilizing agency automation to concentrate on other vital parts of your day.
We know that you know the importance of customer service. Take advantage of 24/5 customer support, ready to answer any inquiries and provide additional support.
Interested in our free 14-day trial? Sign up now to get hours back in your day so you can focus on being a rockstar agency!
Not ready to move away from Google Sheets, check out the Google Sheets Export Extension: The easiest way to get your marketing data from over 75 top marketing platforms into Google Sheets for extra handling and analysis.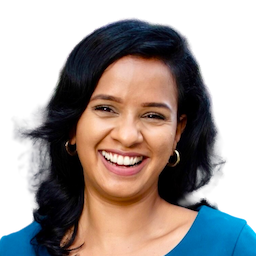 Faryal Khan is an experienced marketer and brand photographer with a passion for content creation. She creates value for brands through storytelling and captivating visuals.
Read more posts by Faryal Khan ›
Try AgencyAnalytics risk-free for 14 days. No credit card required.