As a marketing agency, you need the right tools to help make informed decisions, streamline your workflow, and communicate with your clients. 
Let's face it–in today's digital world, there is no lack of marketing analytics that your agency can use and report to clients. To do a great job of data storytelling, it's important to consolidate all that information into a single marketing dashboard, without the hassle of copying and pasting marketing data from multiple platforms. 
Because copying and pasting data can be a pain. So much so that many agencies refer to the process of manually creating and distributing reports to their clients as "Hell Week."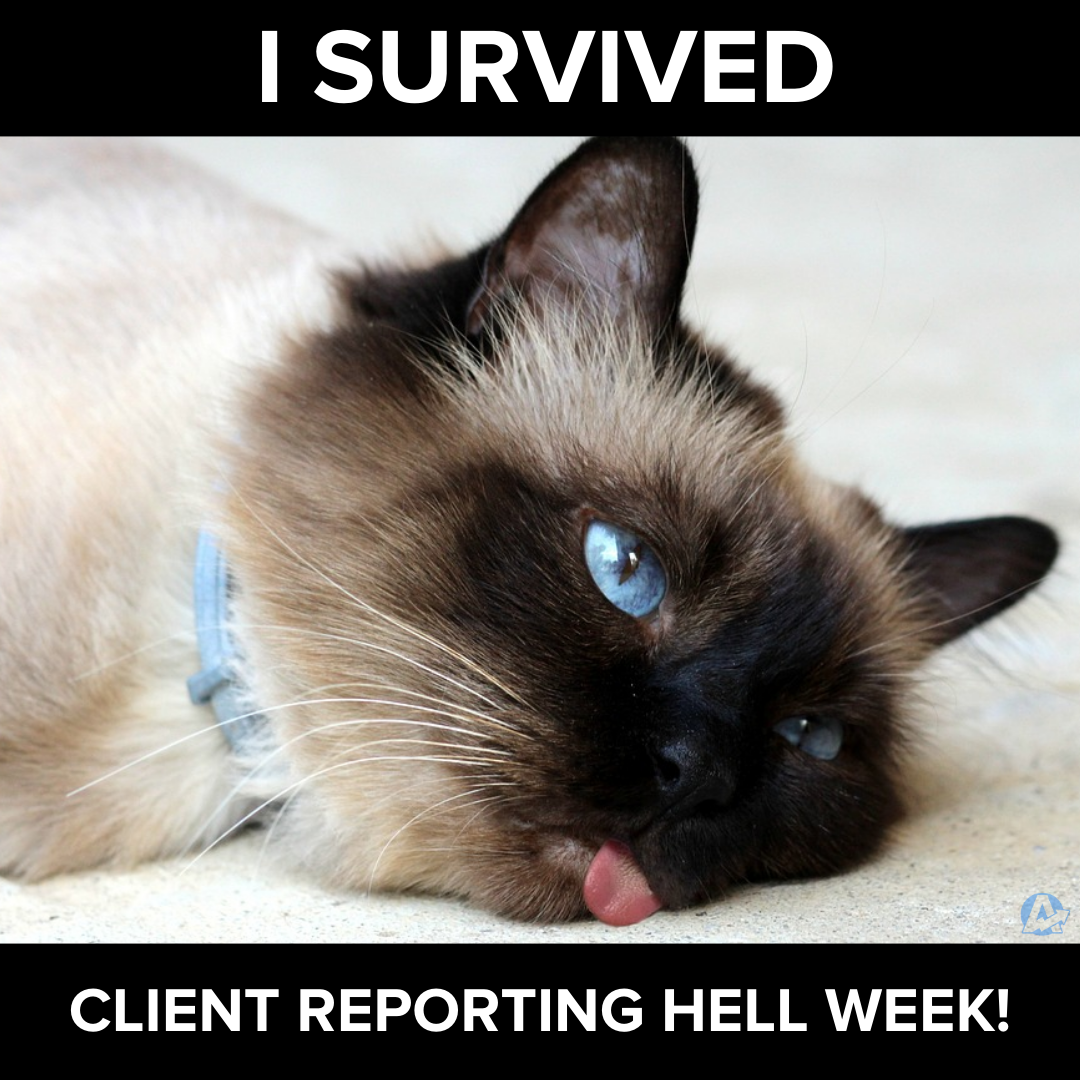 Not to mention, it can be difficult to make sense of all that data if it's not in one place. With bits of information scattered among dozens of platforms, it is almost impossible to craft a story that outlines precisely how much value your agency brings to its clients.
The good news is that well-designed marketing dashboards can provide you with all the data you need in one place. Track your client campaigns, measure their success, and report on the benefits your agency brings to your clients quickly and easily.
Time is valuable, with a great dashboard to give a quick overview in perfomance of client we could spend more time on improvements. As an agency, that is a very important aspect to continue our growth and give our clients the best services possible.

Kim Meissenheimer, Ads Specialist, Expand Agency
That's why marketing dashboards are essential for any marketing agency. They provide a single source of truth for all your marketing data. And they make it easy to track your campaigns, measure their success, and report your agency's progress against set goals. 
In this blog post, we will explore the best marketing dashboards that will improve your digital marketing agency's workflow and productivity.
15 Marketing Dashboards Built for Marketing Agencies
The AgencyAnalytics dashboards you use with each of your clients will depend on what types of programs and campaigns you are running for them. But the best part of all of these dashboards is that they are fully customizable. 
Since we offer custom marketing solutions, we need a reporting tool that can report on those easily! We love being able to customize each report and dashboard to our client's specific goals.

Christina Cypher, Director of Marketing, Click Control Marketing
With this customization, your agency decides which metrics to include in client dashboards and which to share only with the internal marketing team members.
White labeling your dashboards gives your agency authority and keeps your brand top of mind as a resource for future marketing needs, which improves client retention. 
Here is the list of 15 digital marketing dashboards that your agency can start taking advantage of today to master your clients' marketing data sources and save countess billable hours:
To access any of these dashboards, simply sign in to your AgencyAnalytics account and pick the marketing dashboard templates you want to start working with. Not an AgencyAnalytics client yet? Get started with a 14-day free trial.
Benefits of Marketing Dashboards for Tracking KPIs
There are many benefits that marketing dashboards bring to digital marketing agencies for tracking key performance indicators.
Data collection automation reduces manual effort & reduces human errors
First, marketing dashboards automate the process of client report creation. This means spending less time worrying about gathering data from multiple sources to create reports and more time working on marketing campaigns and strategies. 
We can get an entire reporting system together now in under 1-hour. This includes a variety of dashboards and automated monthly reports. It has saved us a TON of time.

Tim Akers, Founder, Akers Digital
With these dashboards, all of the data from over 75 integrations automatically populate into your agency dashboards without a single copy or paste.
Easily share data & KPIs internally and with clients
Second, marketing dashboards make it easy to share reports with clients. With AgencyAnalytics, easily send your marketing dashboard URL or create weekly or monthly reports that get delivered to your clients automatically.
Our reporting process has undergone a remarkable transformation, bringing newfound ease, efficiency, and client satisfaction. The platform's user-friendly interface has made it incredibly easy to navigate and generate comprehensive reports with just a few clicks.

Joseph LeBlanc, Marketing Specialist, Studio Eighty-Eight
Tell data-driven stories with data visualizations
Third, marketing dashboards help you tell a data-driven story. By consolidating all your client's marketing data into one place, easily see which campaigns are performing well and which ones need improvement. 
It's very difficult to explain the value of a service to a client without visuals. Using the web analytics report and the SEO reports side by side, helps us show our clients a correlation between SEO and Traffic. We merge this data with a custom template that tracts conversions, and stripe data to show that traffic growth–from SEO and PPC–does have an impact on the number of conversions and revenue (Their bottom line).

Ruben Roel, President, Investigator Marketing
Craft an executive summary supported by key metrics and data visualizations to help communicate what is working, what is not, and what your agency plans to do to help create even more success.
All of your client's data in one place
Fourth, marketing dashboards improve your decision-making process. With all the marketing data on a single platform, your agency can quickly identify areas of opportunity and make changes to your client campaigns accordingly.
The dashboards provide a clear overview of our performance throughout the month, giving us enough time to make a change to improve our clients' ROI at the end of the month.

Kim Meissenheimer, Ads Specialist, Expand Agency
Save time and money
Fifth, marketing dashboards save time and money. By automating the report creation process, you avoid the costly and time-consuming process of manually creating reports.
We manage close to 200 partners, and AgencyAnalytics is how we do our digital marketing reporting. When you are tracking SEO, PPC, Social Media, and email marketing campaigns, it can be time-consuming. This is why having a template and dashboard that efficiently does it all is a game changer.

Justin Hual, Co Founder + COO, HIP Creative
In fact, one SEO agency saved over $100,000 per year using the marketing dashboards & reporting tools provided by AgencyAnalytics.
Control access to the data with powerful user permission options
Sixth, using powerful admin features, control how your agency, staff members, and clients use the AgencyAnalytics platform.
Having the ability to share access to the live dashboards with clients allows them to dive deeper into the analytics without needing us to dig up specific metrics on their behalf. This has reduced the number of requests/calls we receive from clients throughout the month.

Bryan Lozano, Vice President of Operations, Ad-Apt
Manage your internal team with efficient user permissions at the client campaign level.

15 Core Metrics To Include In a Marketing Dashboard
Of course, which key metrics you showcase in your marketing dashboards will depend on the type of campaigns you are running for your clients and the integrations you have connected.  
AgencyAnalytics enables our clients to view key reporting metrics at any time while also giving our team one centralized dashboard where we can get both high-level and detailed insights about our clients' key performance indicators. It's been a massive win for our business.

Garrett Kite, President, Kite Media
However, the most popular metrics you should consider adding to the marketing dashboards you create for clients are here.
Progress Against Goals: It's important to track against the goals you've set with your client as a way to measure your agency's overall marketing performance. 

Leads: Show off how your agency is helping fill the sales pipeline by highlighting leads & form fills from marketing qualified leads.

Conversions: Report the sales that you are generating for your clients, so they can immediately see the ROI your agency provides. 

Campaign Revenue: Track how much revenue is coming in as a direct result of the campaigns your agency manages. 

Micro Conversions: Create unique goals that show key points along the buyer journey, such as cart adds or free trial signups.

Conversion Rate:  Go beyond just tracking the number of customers converting; the conversion rate gives you a view of how many people are converting.

Cost Per Conversion: Track how much it costs to acquire a new customer for your client, as that directly impacts ROI.

Call Tracking: Easily report how many calls your client's business is receiving, broken down by missed and answered calls.

Website Traffic: Report on the number of people who visit your client's website to assess how well various elements of the campaigns are performing.

 SEO KPIs: Whether or not your agency is handling a client's SEO, it's good to include the core metrics such as rankings, backlinks, site health, and organic traffic. It also provides an excellent upsell opportunity if your agency is not currently managing these SEO efforts!

 Social Media Analytics: From reach to engagement, to followers, these social media KPIs showcase how well your agency is managing the client's social media presence. Even if you are not managing these marketing channels, it's another great set of metrics to include to indicate areas of opportunity for both your agency and the client. 

 Email Marketing Metrics: Your email marketing dashboard should not only show off how current CRM & email campaigns are performing using sent, open, and click data but should also showcase any work your agency is doing to help build the subscriber database.

 PPC Metrics: From impressions to clicks, to lead generation, to cost, to conversions, and even ROI, a good marketing KPI dashboard will show a complete picture of the PPC campaign's performance in an easy-to-digest manner.

 Reputation Management: It's always a good idea to keep an eye on customer reviews. AgencyAnalytics' dashboards put your clients' ratings and reviews on one page for a bird's eye view of their online reputation. 

Geographic Data: Whether your client is hyper-local or international, it's always helpful to understand where the traffic, customers, calls, and revenue are coming from.
Agency Pro Tip: Depending on the savviness of the client or marketing dashboard user, dig much deeper into the individual metrics for each campaign and marketing strategy using a customizable dashboard.
Create custom goals inside any marketing dashboard to make it easy for your agency–and your clients–to track against key targets. Try AgencyAnalytics free for 14 days!
Types of Marketing Dashboards (with Examples)
From general digital marketing dashboards to specific dashboards that dig deep into a particular marketing strategy or platform, picking the right dashboards will help your digital agency streamline its data collection process and present the important online marketing metrics in a way all stakeholders can benefit from.
Here are the pre-built (yet customizable) marketing dashboard examples available to all AgencyAnalytics customers. All of which can be set up in a matter of minutes.
Bing Marketing Dashboard
The Bing dashboard combines and presents all of the necessary data from your Bing SEO and Bing Ad campaigns for your clients. The goal of displaying all of this information in a single location is to let you evaluate how well or poorly a campaign is performing so that you spend less time reporting and more time optimizing the campaigns.
Call Tracking Dashboard
Call tracking is one of the most effective methods to get exact performance data. It is especially important for your clients with local businesses. However, monitoring each call's performance and evaluating the results over time without an automated solution is challenging. 
Using a call tracking dashboard, your agency can automatically gather data from various sources, visualize it, and report on the findings in real-time with a dedicated call tracking dashboard.
Digital Marketing Dashboard
With a digital marketing dashboard, your agency tracks its digital campaign performance without having to use complicated or expensive tools.
To better understand the ins and outs of your digital marketing activities, use this digital marketing dashboard to measure important metrics such as cost, SEO rank, conversion rate, and online revenue with ease.
Prefer sending monthly reports? Use the digital marketing report template instead, or check out the digital marketing reporting tool to create automated client reports they'll love.
Ecommerce Marketing Dashboard
Running campaigns for an eCommerce business involves managing a number of platforms and tools. When you're managing marketing campaigns for eCommerce clients on Shopify, WooCommerce, or any other eCommerce platform, tracking your results is crucial to the store's profitability and growth.
The eCommerce dashboard saves your agency time and money by tracking all your marketing efforts in one centralized platform from PPC and SEO to sales and revenue.
Facebook Ads Dashboard
By utilizing a Facebook Ads dashboard like the one available from AgencyAnalytics, effortlessly track everything you need to optimize and report on the Facebook Ads campaigns you are running for your clients.
Connecting all of your agency's Facebook Ads campaign data in a single platform unifies jumbled-up data and insights into a coherent picture.
Facebook Dashboard
You may fall into one of two categories as a Facebook account manager for your clients: you might spend too much time producing reports or not enough and miss out on some important insights.
Regardless of which category you belong to, a Facebook dashboard or Facebook report template are excellent ways to establish an effective reporting process.
Google Ads Dashboard
The Google Ads dashboard includes data pulled directly from Google Ads (formerly known as Google Adwords), which provides visualizations to help analyze performance, spend, and easily identify optimization opportunities.
It can also save hundreds of hours of manual work by automatically updating the Ads metrics & provide you and your clients with up-to-date data. The Google Ads dashboard reduces the Agency reporting cycle while providing clients with fast answers and actionable information.
Instagram Marketing Dashboard
The Instagram marketing platform has quickly become one of the most effective places to market a client's business. And like any other social media platform, to be successful, you need to be able to track your progress and analyze your results.
An Instagram marketing dashboard does just that by giving you a clear overview of all your client's important metrics in one place. By tracking posts, followers, engagement rate, and more, you'll see which areas are performing well and where there is room for improvement.
General Marketing Dashboard
If you're providing a wide range of marketing services to your clients, a general marketing dashboard will track, gather, and display all the pertinent metrics and KPIs for the various marketing campaigns you are running. 
A streamlined marketing dashboard like this keeps your in-house team informed of every detail so they can make adjustments to your client's marketing strategy as needed for maximum success.
PPC Marketing Dashboard
When you run PPC campaigns, you're more than likely running them across several different pay-per-click platforms. Therefore, it can be incredibly easy to lose track of all the moving parts. If you want to measure and report on your campaign's success, you don't want to miss a single point of data.
An all-in-one PPC dashboard or displays data from all of your PPC campaigns in real-time. Available integrations include Google Ads, Facebook Ads, Bing Ads (aka Microsoft Ads), LinkedIn Ads, Instagram Ads, and many more. This gives your agency and your clients a single place to check up on the performance of all of the campaigns without having to open dozens of PPC platforms.
Quickly flip those live stats into a monthly report using the customizable PPC report template
SEO Dashboard
An SEO dashboard provides an up-to-date view of the full scope of an SEO campaign in a visually appealing format. Keyword rank tracking, organic traffic, web conversions, backlinks developed, and other search engine metrics are easily included with just a few keystrokes.
An SEO dashboard supplies your agency with all the data you need to enhance your clients' organic search performance, track your progress towards key ranking goals, and highlight the long-term benefits of SEO to the client's bottom line.
Plus, with reporting and prospecting tools, such as the SEO Report Template and ready-made SEO proposal, they help your agency grow beyond its current customers.
Social Media Marketing Dashboard
When you have to collect and evaluate data from several social media accounts, it's easy to get lost in a sea of metrics. This is why it's crucial to give your agency the ability to manage all of your client's social media marketing accounts from a single all-in-one social media dashboard.
The powerful digital marketing dashboard displays everything that is going on with your clients' social media accounts, including Instagram, Facebook, Twitter, LinkedIn, YouTube, and more, in a single and streamlined social media reporting template.
Twitter Dashboard
Reporting your agency's Twitter campaign performance to clients can be a drag. It is time-consuming and draining to dig through multiple Twitter accounts and have to update spreadsheets one after the other. Giving your clients a real-time Twitter dashboard keeps them in the loop and helps you save countless hours of drudgery.
Using our dashboard–which integrates Twitter analytics automatically–your agency simplifies the reporting process by creating reports and dashboards for all its clients in minutes instead of hours.
Web Analytics Dashboard
Quickly and easily analyze, communicate, and report website data using a Web Analytics dashboard. The AgencyAnalytics platform streamlines and presents website performance metrics from Google Analytics by sorting web pages based on important statistics such as total traffic, top locations, exit pages, page views, bounce rate, revenue, goals, and user sessions.
Give your clients a login to the digital marketing dashboard so they may access real-time data, or send them scheduled reports using our web analytics report template.
YouTube Marketing Dashboard
The YouTube Dashboard from AgencyAnalytics tracks key metrics and generates reports based on the success of your agency's video marketing campaigns. It also provides your clients with instant access to campaign information, allowing them to see how their video marketing is performing in real-time.
It's critical that your agency tracks the proper YouTube metrics for your client campaigns to succeed. You need to be able to see the most important metrics to quickly assess the performance of your clients' YouTube accounts and content.
How to Customize a Marketing Dashboard For Your Clients
Most agencies want the ability to customize internal and client dashboards to showcase the data they want in the way they want. Luckily, each AgencyAnalytics marketing dashboard can be quickly modified to match your agency's and your client's demands, allowing you to construct the precise dashboards your client wants and your agency needs.
With a broad range of configurable widgets, graphs, a drag-and-drop report builder, and white labeling capabilities, provide clients with the custom marketing dashboard experience they didn't even know they needed. 
AgencyAnalytics Marketing Dashboard Customization Options Include:
Metrics from 75+ marketing integrations using a drag-and-drop editor

White-labeled marketing dashboards by adding your agency's logos and colors to match your branding

Create custom metrics that highlight key performance indicators

Configure permissions to show different sets of data to different clients (or internal users)

Add context to your data with annotations that communicate campaign changes or other notes that help tell the data story

Set goals that showcase how your agency is hitting its performance targets

Automatically add your agency's PPC markup to your dashboard's cost data

Embed almost any online content with just a few clicks, including videos, presentations, Google Sheets, and more.

Select the campaign language for the dashboard

Utilize presentation mode during meetings and Zoom calls to remove distractions
How to Share Your Marketing Dashboards With Clients
To generate a link to any dashboard, simply click the "Export" button at the top right of your screen, then click the "Get Link" option in the drop-down menu.
You'll see your link appear right away. Click the "Get Link" button to copy that link to your clipboard.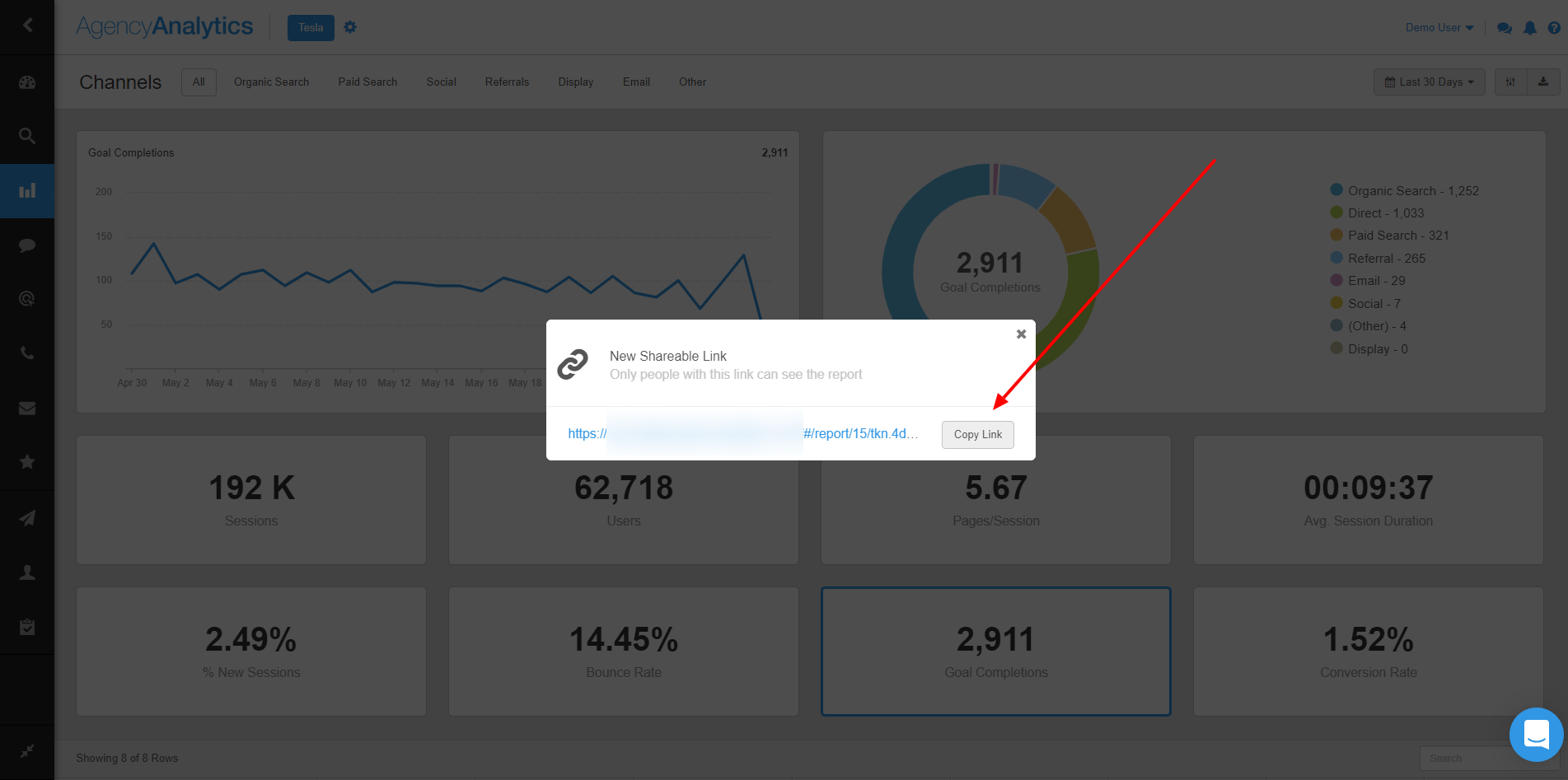 That's it! Share the link with your clients or internal team, and they'll instantly see all of that data that's available to them within that dashboard. The data you share is based on the exact date range you've selected and includes all of the metrics and widgets you see on your screen.
How To Create Client Reports From a Marketing Dashboard
If you don't want to provide your clients with direct access to a real-time dashboard, AgencyAnalytics helps you produce and schedule automated marketing reports for your clients as well. 
With minimal time and effort, your agency can create and schedule a report once and then send it automatically based on your agency's reporting timetable. Choose to be notified before the report goes out so that you can add notes, craft an executive summary, and include more details on a specific campaign before it arrives in your client's inbox. 
Automated reports allow agencies to capture a snapshot of data based on a specific date range. This is different from the marketing dashboards, which update in real-time with the most recent data available. 
These powerful reports are white-labeled to show your agency's logo. The report's URL and "sent from" email address can be white-labeled on select plans. Best of all, you actually see when your clients have opened the email and viewed the report. This way, you ensure that they are receiving and reviewing the data. 
Creating reports using the AgencyAnalytics dashboards is easy. When browsing any dashboard, click the export button (at the top right) to add that marketing dashboard to your report as a new report section.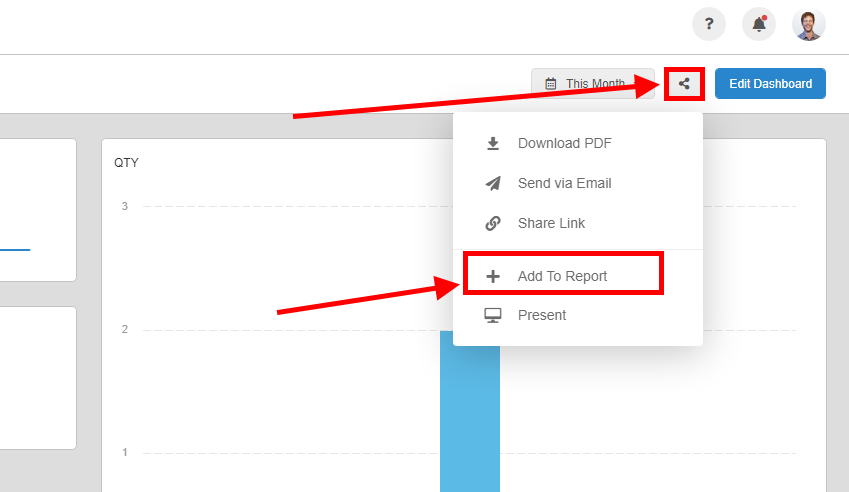 Then just select the report you would like to copy your marketing dashboard to.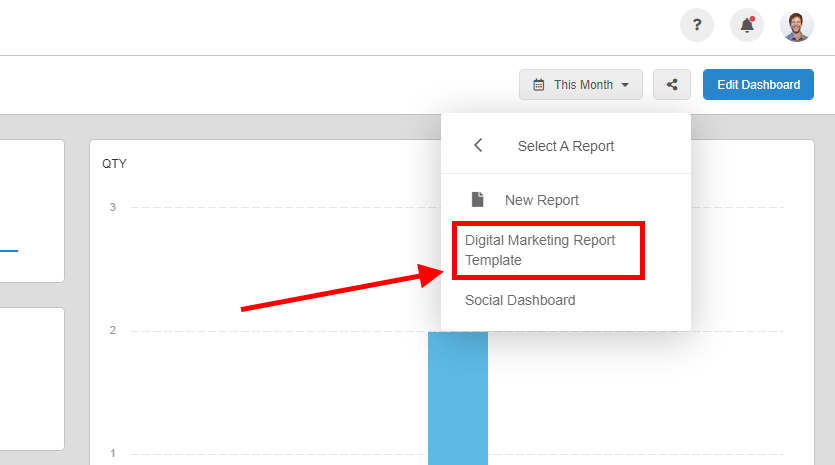 You've now added important metrics to your new client report. Compare that to the old-school method of copying and pasting and copying and pasting and copying and pasting for hours on end, and you'll understand why over 6,500 marketing agencies use AgencyAnalytics. 
Why Use Marketing Dashboard Templates?
Marketing dashboard templates are an essential tool for any marketing agency. They allow you, your team, and your clients to quickly and easily see all of the critical marketing data in one place without having to build each digital marketing dashboard from scratch. This makes it faster & easier for your agency to identify trends, optimize campaigns, and make better decisions.
AgencyAnalytics makes client reporting a breeze. Dashboards can be copied to create a template for future client reports, and the data just feeds directly into the interface without any heavy lifting. Our clients absolutely love our reporting capabilities!

Adam Allen, CEO, LeaseMyMarketing
AgencyAnalytics' marketing dashboard templates are designed to help your agency get the most out of the data by providing a starting point for building custom dashboards that meet your clients' specific needs.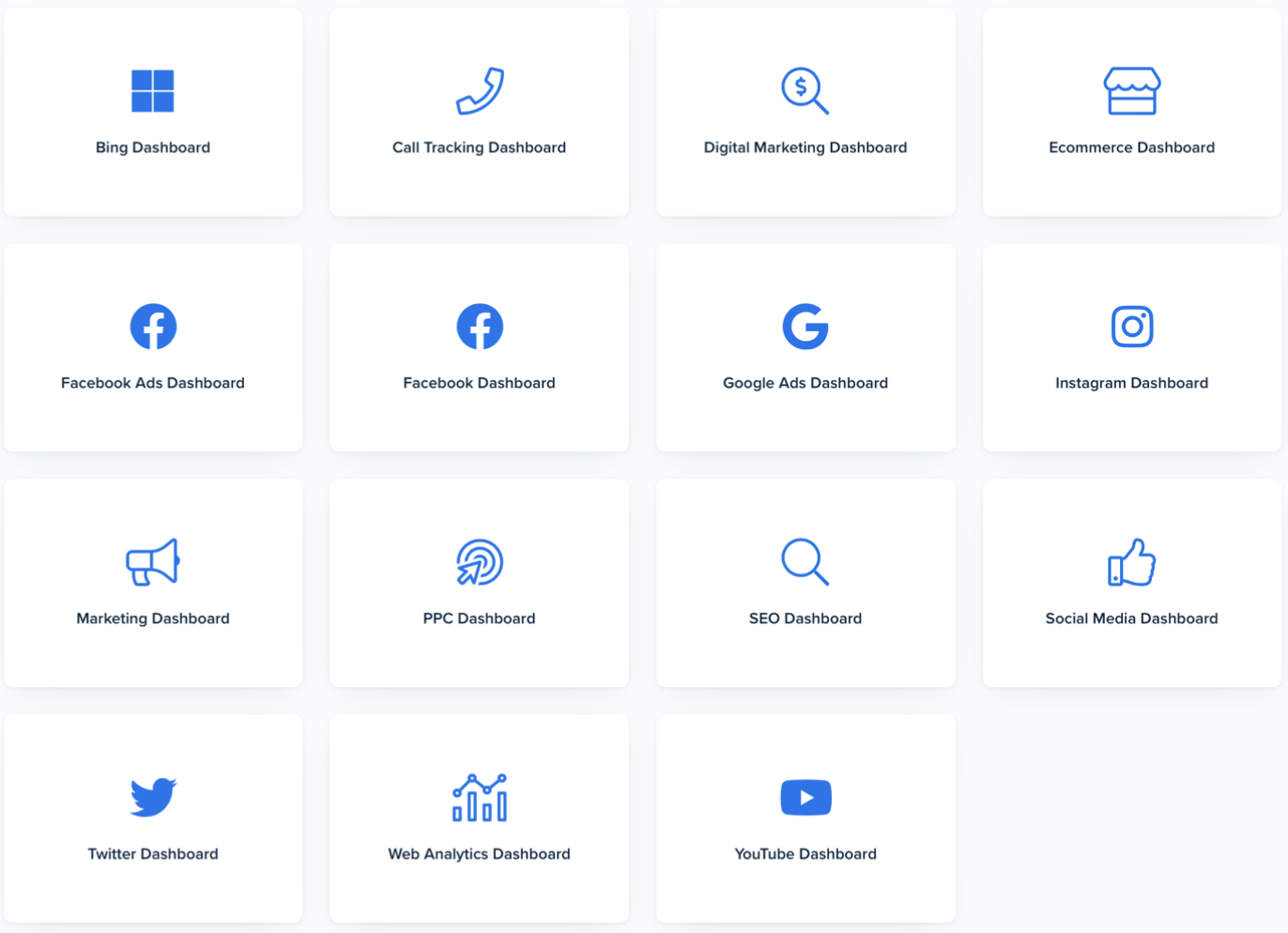 This all-in-one reporting tool has got you covered whether you're trying to figure out how to build a social media dashboard, an SEO dashboard template, or create a comprehensive marketing performance dashboard tool.
Each AgencyAnalytics Marketing Dashboard Template Includes:
A pre-built marketing dashboard layout with essential metrics and charts

The ability to add custom metrics and charts to the marketing dashboard using a drag-and-drop editor

The ability to white label the marketing dashboard to match your agency's brand

The ability to share the marketing dashboard with clients or internal users, with custom permission settings to show or hide specific data points based on the individual user
How to Choose the Best Marketing Dashboard for Your Agency
Not all marketing dashboards are created equal. When choosing a marketing dashboard platform for your agency, it's important to consider your specific needs and requirements.
Some of the factors you should consider when choosing a marketing dashboard include:
Ease of use: How easy is a marketing dashboard to set up and use? Does it require any coding or technical knowledge?

Functionality: What features does the marketing dashboard offer? Does it support custom metric creation, report building, white labeling, etc.?

Flexibility: Is the dashboard flexible enough to meet your changing needs? Can you add or remove metrics and charts as needed?

Pricing: How much does the dashboard cost? Is it a one-time fee or a monthly subscription?

Scalability: Can the marketing dashboard scale with your agency as it grows?

Innovation: Does the platform continually expand its integrations, features, and marketing dashboard capabilities?
The AgencyAnalytics marketing dashboards are the perfect solution for marketing agencies of all sizes.
I love that you can make the reports and dashboard as personalized as you want them. This allows us to include specific widgets in specific client reports in seconds.

Joshua George, Founder, ClickSlice
They are easy to use and offer a wide & ever-growing range of features and customization options. Plus, the entire AgencyAnalytics platform is affordably priced and built to help marketing agencies scale.
Get started with AgencyAnalytics today and see how our marketing dashboards help improve your digital marketing agency.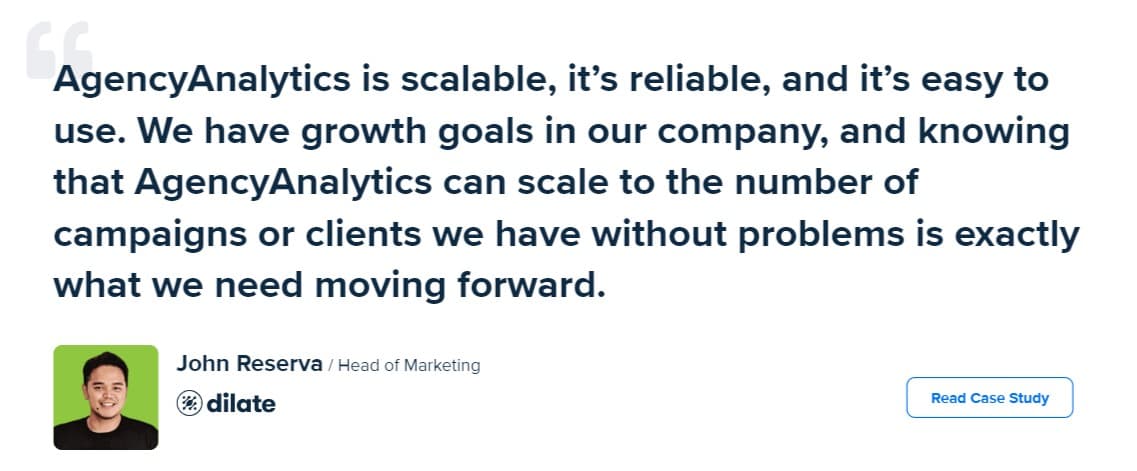 Get Started with Marketing Dashboards
A marketing dashboard is an invaluable tool that visualizes and centralizes all your data in one easy-to-understand interface. These dashboards collect data from various marketing tools, web analytics, and social media platforms, making comprehensive and efficient analysis faster and easier. Easily track and report your key marketing metrics, ensuring you share all the crucial data points.
An effective marketing dashboard should be flexible and customizable, catering to your agency's needs and your client's campaign goals. This is where marketing dashboard templates come in handy. They provide a reliable foundation for creating a detailed and comprehensive marketing KPI dashboard, effectively highlighting your team's digital marketing efforts.
These templates focus on the metrics that matter most for your campaigns, eliminating irrelevant information and bringing the insights you need to make informed decisions. They are handy for agencies managing multiple campaigns, where tracking and analyzing metrics quickly becomes very time-consuming.
Before we used AgencyAnalytics, we were spending a lot of time manually creating and updating customized spreadsheet reports in Google Drive. It accomplished the end goal of sharing results with clients, but it was incredibly time-consuming. When we found AgencyAnalytics, we were able to cut our time spent on reporting by over 80%. Thanks to templated and automated reports, we no longer have to spend hours and hours on a monthly basis on analytics.

Graham Lumley, Director of Marketing, Blackhawk Digital Marketing
Marketing dashboards are instrumental when creating client reports. They visualize complex data into understandable insights, making it easier for clients to understand the results of the marketing campaigns under your control. A well-designed and customized marketing campaign dashboard displays campaign performance over time, highlights critical successes, and identifies areas for improvement, along with actionable insights for future strategies.
From a social media dashboard that provides a deep dive into the engagement, reach, and conversions on various social media platforms to a PPC dashboard that gives your team clear insights into what is working and what is not, these marketing dashboards help you make timely changes to your strategies and improve results.
Combine these with Google Analytics for a straightforward analysis of web analytics. Easily view the number of page views, bounce rates, session duration, conversion rates, and other key website performance metrics. This way, marketing teams promptly react to trends and tweak their strategies accordingly.
Adopting marketing dashboards is no longer a luxury but a necessity for any forward-thinking marketing agency. By centralizing all your data, simplifying complex marketing insights, and offering customizable reporting tools, these dashboards empower agencies to optimize their digital marketing efforts, delivering high-quality, data-driven results for their clients.
If you're not already using marketing dashboards, now is the time to get started. Sign up for a free 14-day trial today.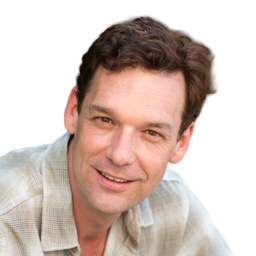 Paul Stainton is a digital marketing leader with extensive experience creating brand value through digital transformation, eCommerce strategies, brand strategy, and go-to-market execution.
Read more posts by Paul Stainton ›
Try AgencyAnalytics risk-free for 14 days. No credit card required.