There is little doubt in a digital marketing professional's mind that SEO is one of the most important aspects of any inbound marketing strategy. But every now and then, there's a client that is just looking for quick results and is hesitant about investing in SEO. How can you outline the benefits of SEO? What impact can an effective SEO strategy have on your client's ROI beyond the organic metrics? 
This article will outline the direct benefits of SEO to convince your clients, and discuss how your agency should include the complete picture of SEO ROI in your next SEO proposal. We'll also talk about some tangential benefits that many business owners don't think about but should consider!
In this post, we'll cover: 
Search engine optimization is essential for a variety of reasons. First and foremost, it can tremendously impact your client's website traffic. By optimizing their website for search engines, your agency ensures that they appear as high up in the search results as possible. This, in turn, leads to more website visitors, leading to more sales and conversions.
But measuring SEO ROI isn't just about more traffic–it's also about better quality traffic. By appearing in the top search results for targeted keywords, you're not just attracting any old visitors–you're attracting visitors who are specifically interested in what your client has to offer.
What to tell your clients: These people are far more likely to convert into paying customers because they are actively searching for a solution to a current problem they are having. This is why SEO will positively impact your bottom line in the long run. And it will keep doing so without necessarily putting in any ad dollars!
Beyond that, SEO can also have many other benefits for your client's business. For example, SEO builds brand awareness and credibility. When potential customers see your client's website appearing in the top search results, they'll start to associate your client with being a leader in their industry, which is essential for any business that wants to succeed online. And as we all know, trust is one of the most important factors when making a sale.
We'll get into those additional benefits of SEO, but first– let's help you explain the basics to your clients. This will help them understand their client SEO reports down the line, so they understand the total SEO ROI impact your agency is making.
Core Benefits of SEO
The baseline for any SEO program starts with organic search metrics.
1. Traffic
The first and most obvious metric is traffic. A well-executed SEO strategy significantly increases the quantity and quality of organic traffic to a website, leading to greater visibility and higher potential to reach the target consumer.
2. Relevant Keyword Rankings
Of course, traffic means nothing if those visitors aren't coming from searches that match what your client has to offer. First page rankings for the right keywords (aka the ones that match the keyword search intent and are likely to drive sales) are a powerful opportunity for any business.
The most important success metric is, of course, sales. This begins with keywords that have proven to convert into leads, not just traffic. Once established, the focus of our SEO efforts is to rank in the top three positions for as many of these keywords / phrases as possible. David Rooks, Agency Owner, Rooks Advertising
3. Improved Credibility
Sites that appear on the first page of search engines are often perceived as more reputable and trustworthy by users. That's because users generally trust search engines to present reliable and relevant results. Websites that rank highly are seen as leaders in their field, contributing to an enhanced reputation and perceived legitimacy.
Agency Tip: Show quick wins early–such as obtaining a #1 ranking for a targeted keyword–and connect the dots between the increased organic presence, leads, and revenue. This will highlight the power of SEO to drive ROI long-term.   
4. Enhanced User Experience
The SEO audit process using top tools, either on its own or as part of a comprehensive website audit, involves making a website more user-friendly and easier to navigate, which can help to improve user engagement and retention. No more broken links that stand between the user and where they want to go, those are a thing of the past with a comprehensive SEO strategy.
5. Low-Cost Conversions
Once you have increased your traffic AND the quality of that traffic, you should see an uptick in conversions (leads, sales, etc.). Compared to paid advertising, SEO is a cost-effective strategy that targets users who are actively seeking specific products or services online, as well as those who may not be in the marketing, yet.
6. Increased Revenue
Finally, the ultimate goal of any business is to make money and generate a positive return on investment. Websites that are easy to navigate and rank highly on SERPs are more likely to convert visitors into customers. And a strong SEO strategy provides an edge over competitors who do not invest in SEO.
Keyword Rankings & Organic traffic growth are critical KPIs, but what we're really measured on is our ability to create bottom-line dollars for the business.

Tyler Krause, Owner, Conversion First Marketing
7. Long-Term Results
Unlike paid advertising, the effects of SEO are long-lasting. With regular updates and revisions, the positive impact of a good SEO strategy can be felt long after the initial effort is made.
But, to successfully execute an SEO program for any client, it's essential to regularly track and measure these data points. That should be a given.
Track All Your Client's Metrics In a Streamlined SEO Dashboard – Try AgencyAnalytics Free for 14 Days.
It's important to remember–especially when trying to sell SEO services to someone who isn't already on board the SEO train–that SEO ROI goes well beyond the core metrics, and there are several reasons why.
What to tell your clients: Tracking core SEO metrics is important for measuring the direct impact of SEO on ROI, but it's only a piece of the puzzle. It's important to keep a view of the other benefits that SEO provides to a business. 
Why Clients Should Embark on an SEO Journey
In today's fast-paced digital world, everyone–including your client–wants everything yesterday. But some clients fail to realize that while it takes time to see ROI results from an SEO program, the benefits of those hard-earned rankings last much longer than any other marketing initiative.
Here are some more of the benefits of SEO that your clients should know: 
8. It's Not Quick, But It's Worth It
One of the most common misconceptions about SEO is that it's a quick fix. Many business owners think they can just throw a few hundred dollars at an agency and see results overnight. Unfortunately, that's just not how it works.
Although fixing your clients' load time, or fixing technical SEO issues can be quick, and can make an impact on the overall user experience and rankings.
Good SEO takes time–usually several months, sometimes even longer. And not every client has the patience to wait for it to kick in. But once your client ranks higher in the search results, they'll begin to see a steady stream of organic traffic coming to their website day after day, month after month, year after year.
And as we mentioned before, that traffic is typically higher quality (as long as you have your keyword targeting done right) which means it has a good chance of converting into sales, revenue, and positive ROI for your client.
Agency Tip: To overcome this objection, include some examples from past clients and show the growth of their organic results over time. That way, they can see for themselves the slow climb up the mountain–but be able to picture the view from the top. 
9. SEO is an Investment, Not a Cost
Another common misconception about SEO is that it's a cost that takes money out of your client's pocket with no guarantee of any return on investment. But if you look at SEO from a long-term perspective, it's easy to see that it's actually a strategic investment in the future of the business.
Yes, there are upfront costs associated with hiring your agency. But those costs will be more than offset by the increased traffic, revenue, and ROI driven by your search engine optimization campaigns.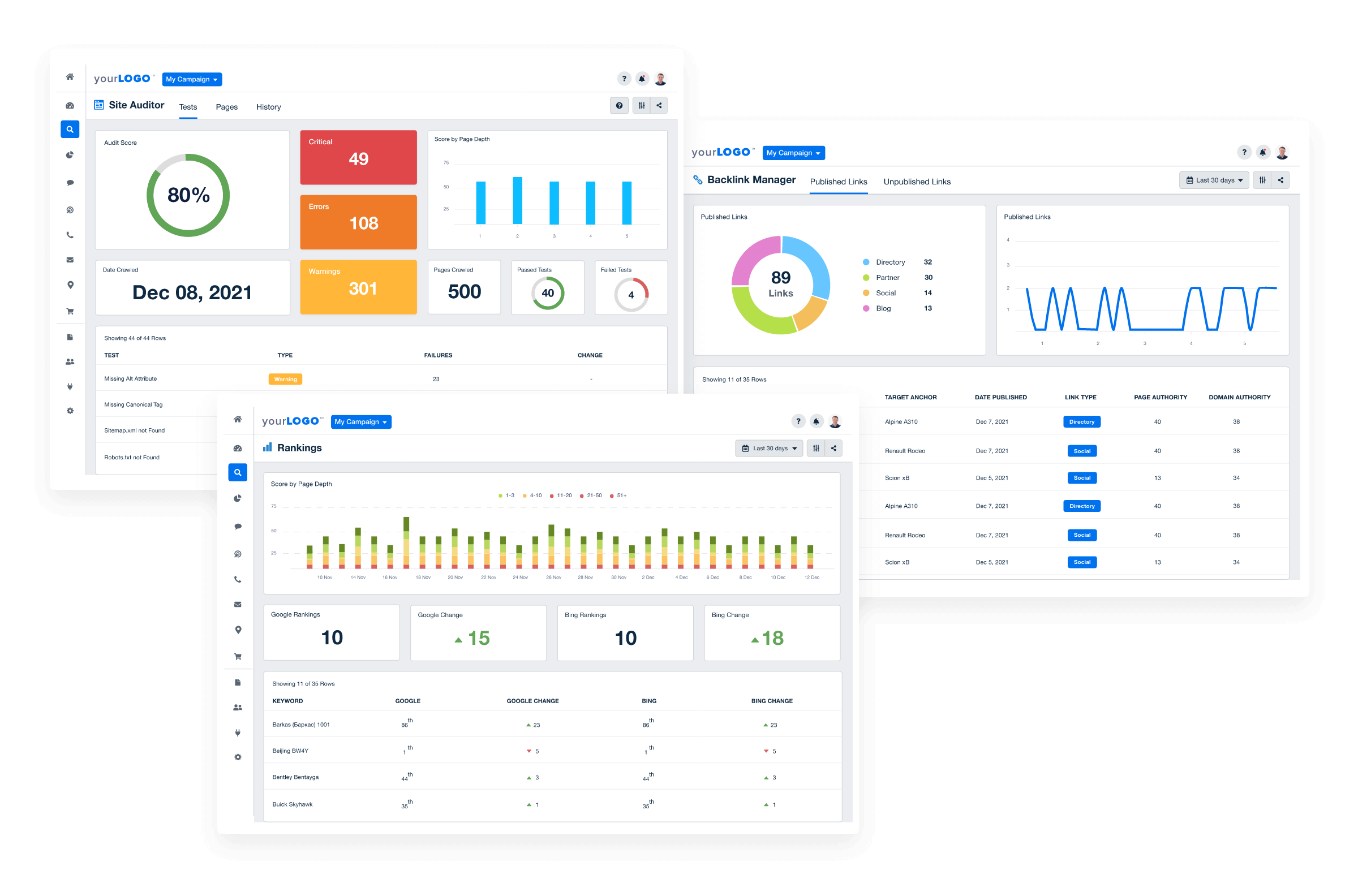 See all of your client's SEO growth using a full suite of SEO tools. Try AgencyAnalytics free for 14 days.
And although they are right that there is no "guarantee" of success in the SEO world, a properly executed SEO strategy will drive results more often than not. 
Think about it this way–if your client spends $5000 on a PPC ad campaign, they might see a bump in sales for the month the ads run. But once that ad campaign is over, so are the benefits.
On the other hand, if they invest $5000 in an SEO program that delivers results over 12 months, they'll continue to see benefits–and traffic and sales–for months or even years down the road.
Agency Tip: Including a Cost/Benefit analysis comparing the ROI of paid demand generation vs. SEO campaigns can help put this investment into perspective. 
10. Google Keeps Changing, but SEO Keeps Getting Stronger
Finally, it's important to remember that search engines like Google constantly changes its algorithm. And with each new update, there's always the risk that your client's rankings could take a hit.
The ever-evolving algorithm used by Google takes into account numerous ranking factors to determine the relevance and authority of a website for a given search query.
Understanding these factors–and keeping on top of them when they change–is essential for businesses and individuals looking to optimize their web presence and climb the search engine results page (SERP).
Here's a quick look at the Top 10 ranking factors that impact the organic results on Google, as they stand now. But keep in mind that this could change tomorrow.
| Rank | Ranking Factor | Description |
| --- | --- | --- |
| 1 | Quality Content | Unique, relevant, authoritative, and valuable content that provides a comprehensive answer to the user's query. This is where Google's E-E-A-T (Experience, Expertise, Authoritativeness, and Trustworthiness) search rater guidelines come into play. |
| 2 | Backlinks | The number and quality of external websites that link to a specific piece of content, indicating authority and trustworthiness. A natural usage of keyword anchor text also plays a part in this ranking factor. |
| 3 | Mobile-friendliness | With Google's mobile-first indexing, the ease with which your website can be accessed and navigated on mobile devices is crucial. |
| 4 | Page Speed | The time it takes for a page to load, affecting user experience and bounce rates. Typically, the slower the site the lower it will rank against competitive pages with equivalent content quality scores. |
| 5 | Secure and Accessible Website | A website that uses HTTPS, is easy to crawl, and provides a safe user experience. That's why Google favors the secure. |
| 6 | | The overall reputation of your website as determined by a number of factors, such as its age, popularity, and content quality. That's why starting SEO processes as soon as possible for a new build is important, as it takes time to build this authority. |
| 7 | User Experience (UX) | The overall satisfaction users have when interacting with your website, including navigation and readability. This is often reflected by average time on page and bounce rate. |
| 8 | On-page SEO | This is the kind of optimization of individual web pages that will typically be included in an SEO site checkup, including titles, meta descriptions, and header tags. |
| 9 | Social Signals | The engagement and activity on social media platforms related to a website or its content. In Google's eyes, sharing is caring. |
| 10 | Keyword Usage | The appropriate use of targeted keywords throughout your content, titles, and meta descriptions. AKA - don't be stingy, but no keyword stuffing! |
Despite all of Google's changes, search engine optimization has only gotten stronger over the years. And as long as you stay up-to-date on the latest SEO trends and best practices, you'll be able to adapt your client's SEO program to whatever changes come down the line.
Agency Tip: An SEO audit is an excellent way to show how well (or poorly) the potential client's current website is perceived by search engines. They may not even realize their SEO shortcomings. 
SEO Is More Than Just Rankings and Traffic: It's Also About Branding, Trust, and More
One of the less tangible benefits of SEO that many clients don't think about is branding.
Top rankings in organic search results give your client credibility. 
Studies have shown that, on average, 70 to 80% of people research a company or product online before making a purchase–so your clients must have a strong SEO program in place if they want to stay ahead of the competition and drive sales.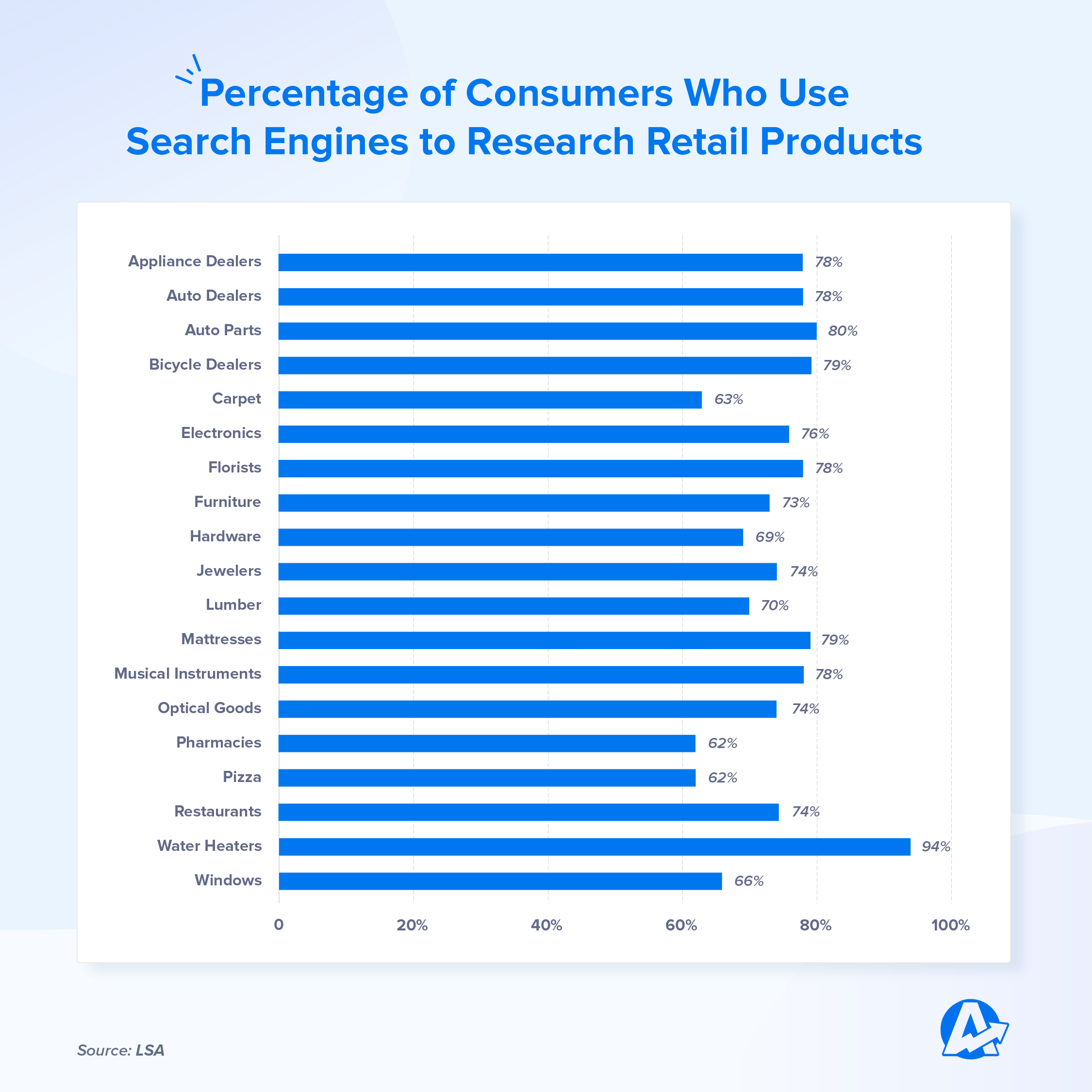 Here are some more points in favor of SEO when setting long-term goals with your clients: 
11. Increased Remarketing Pool
Remarketing is typically one of the most cost-effective advertising methods within the digital marketer's toolbox. That's simply because the user already has expressed an interest in the content, products, or other SEO services provided.
SEO is a cost-effective way to increase the size of your client's remarketing pool. If you can solve a customer's fundamental problems using content or tools, they are more likely to turn to your client when looking for solutions to their more complex problems. Even if you give the target customer a fun way to interact with your client, once they've visited your client's site-they are ripe for remarketing.
Of course, the remarketing approach must align with the original content the audience consumes. Just because someone read a blog post your team created to support the client's SEO strategy doesn't mean that the visitor is ready to buy. Use remarketing to take the user through each step in the typical buyer's journey.
12. Improved PPC Click-through Rates
It's been over a decade since Google first announced that when a site has high organic search results, they are likely to see an increased click-through rate for paid ads on the same search engine results page (SERP). That still holds true today. 
Having both an organic and a paid result on the first page of Google increases the amount of virtual real estate your client owns on that page, and they help support each other by giving a sense of authority to the brand.
After all, if Google thinks your client's website is authoritative enough to rank in the top 10, why would the consumer disagree?
13. SEO Drives Local Foot Traffic (and Phone Calls)
This is one of the biggest benefits of SEO for a local small business. You may never see the clicks involved, but search engine optimization is well-known for driving traffic into a local office or retail storefront and phone calls for local service providers.
People searching for "dentist near me," "buy building supplies," or "best real estate agent" are close to the point of purchase. Your client's business should come up in the results list with the right local SEO strategy, including their location, hours of operation, and phone number.
These users might not even click on the link to visit your client's website, but they may pick up the phone or hop into the car. With the right SEO strategy and proper local schema markups, your client's website appears in these searches–and gets the foot traffic they need to drive sales and increase ROI.
14. Reduced Marketing Spend
The average cost per click on Google ads is between $1.00 and $2.00. And that's typical for low-competition keywords. Some of the highest CPCs can cost your client somewhere in the $40 to $50 range. For example, here are the five most expensive CPCs:
Keyword

Average Cost Per Click (CPC)

Insurance

Average Cost Per Click (CPC)

$54.91

Loans

Average Cost Per Click (CPC)

$44.28

Mortgages

Average Cost Per Click (CPC)

$47.12

Attorneys

Average Cost Per Click (CPC)

$47.07

Credit

Average Cost Per Click (CPC)

$36.06
Source: Wordstream
All else being equal, every click your team can generate via search engine optimization (SEO) versus search engine marketing (SEM) is one less click your client needs to pay for if they want to maintain consistent traffic levels.
Although using paid ads to fill the traffic gap is common, your agency (and your client) can decrease its reliance on paid traffic sources as the organic strategy delivers.
15. Building Authority
A well-executed content marketing plan is a great way to build organic strength and an excellent way to show that your clients are experts in their field.
Think about it. If a user reads a well-written, informative piece about digital media analytics, they are likely to connect that source as an expert on that topic. This is especially helpful in some instances, such as law firm marketing, where restrictions prevent clients from claiming that they are experts. SEO content lets them prove it without ever having to say the words. 
This can help boost the client's authority among a variety of different types of readers, including (but not limited to):
Potential customers

Industry experts

Potential employees

Other publications (web and print) that source the material in their posts
What to tell your clients: If you are not paying attention to how SEO impacts the rest of your business, you might miss out on some growth and ROI opportunities. 
SEO Is an Investment That Keeps on Giving
Countless benefits of SEO–both tangible and intangible–make it well worth the investment for any business, big or small.
When it comes to digital marketing, search engine optimization (SEO) is often considered one of the most effective long-term investments a business can make. While other digital marketing channels, such as pay-per-click (PPC) advertising and social media, can yield quick results, SEO offers a number of unique benefits that can provide lasting value over time.
That's why SEO is essential to any successful online marketing strategy, from increased traffic and sales to improved branding and trust.
16. Long-term ROI
Unlike other pay-for-performance digital marketing channels that require ongoing ad spend, SEO has the potential to generate long-term ROI with a single investment.
While it may take some time to see results from SEO efforts, the benefits can last for years to come. As you continue to optimize the website and create high-quality content, your clients will continue to reap the benefits of improved search engine visibility and organic traffic. This means that the initial investment in SEO can pay off in the form of increased leads, sales, and revenue long past the publication date.
17. Increased Brand Awareness
One of the key benefits of SEO is that it can help improve a brand's awareness and credibility in the eyes of both search engines and potential customers. By optimizing a website for relevant keywords and creating high-quality content, you can increase your chances of appearing on Google's first page of search engine results pages for relevant queries.
Just being in those coveted spots helps establish a brand as an authority in their industry, which increases brand recognition, credibility, and trust over time.
18. Continuous Improvement and Optimization
Another key advantage of SEO to an agency is that it requires continuous improvement and optimization over time. This means that your SEO efforts aren't a one-time investment, but rather an ongoing process of improvement and refinement.
As you continue to optimize your client's website and create high-quality content, you'll be able to adapt to changes in search engine algorithms and user behavior, ensuring that the website remains relevant and competitive in the long term. Success in SEO usually equates to higher client retention rates and better upsell opportunities.
19. A Competitive Moat
Successful SEO strategies are difficult to implement, which means they are difficult for competitors to duplicate. By investing in SEO, your clients gain a competitive advantage over other businesses in their industry.
As you build the website's search engine visibility, organic traffic, and domain authority, not only will your client gain more market share, but they'll create an organic moat that will be difficult for other businesses to cross.
This can be especially valuable in highly competitive industries where every click counts.
If you're not already incorporating SEO into your client's marketing mix, now is the time to start.
Your clients–and their bottom line–will thank you for it.
What to tell your clients: Although SEO takes more time to get the ball rolling than traditional paid ads, once that momentum has been built, it becomes a snowball of ongoing ROI. Avoid any unrealistic expectations with your SEO clients.
The Many Benefits of Hiring an SEO Company
There are countless reasons to hire an SEO agency like yours to help improve a website's search engine rankings. Here are some benefits you should be highlighting within your proposal.
Expertise and Experience

Focus on the Right Things

High-quality Content

Enough Time To Do It Well
First, your agency has the expertise and experience to help the client's business achieve higher rankings on the first page of search engine results. You keep your fingers on the pulse of the latest trends and changes in the SEO landscape and have the tools and resources to stay ahead of the curve.
Second, as an SEO agency, you know how to focus your efforts on the areas that will generate more leads and traffic from organic search. With an eye on SEO ROI, you know how to create a comprehensive digital marketing strategy that targets the right keywords and reaches the right audience. And you track the progress of your SEO programs and measure your results using keyword ranking tools to show exactly how much ROI your client's investment generates.
Third, you have the skills and experience to build a more substantial online presence for your client's business. Your agency understands how to create high-quality content that engages readers and helps clients stand out from the competition. And you know how to maximize the impact of that content by developing effective social media marketing campaigns that amplify that content to help clients connect with new customers. Your clients may be excellent plumbers, but that doesn't make them good writers. 
Fourth, an SEO agency can invest the time and energy required to do things the right way the first time. Most clients simply don't have the time to do this for themselves, which can often lead to cut corners and less-than-ideal SEO practices that will not provide the same long-term ROI benefits.
Five Really Good Reasons Why Clients Should Never Stop Doing SEO
SEO is an ongoing process, not a one-time fix. To maintain and improve your client's rankings, you'll need to continue to work on their SEO. This includes regularly publishing new content, adding new backlinks, and ensuring their website is always up-to-date and provide the best user experience for their potential clients.
When a company stops its SEO efforts, they risk losing its hard-earned search engine rankings to competitors who are continuing their optimization efforts.
But the good news is that once you've established a solid foundation for your client's SEO program, the ongoing work will be much easier–and less time-consuming–than it was initially.
Here are five really good reasons to share with any client who is thinking about putting their SEO efforts on hold.
1. The Algorithms Are Constantly Changing
In a single year, Google typically runs over 600,000 experiments and makes around 4,500 improvements to how it displays search results. That's just a little over 12 changes per day, every day (even on Christmas).
2. If They Don't Do It, Their Competitors Will
If you want to help illustrate that fact, tell your clients to search for practically anything on Google. Pick a term. Any term. For example, a search for "Marketing Agency" brings up 1.7 billion results.
3. How People Use Search Engines Is Also Changing
Between predictive search, personalized results, image search, AI, and voice search, how people use search engines is very different today than it was just a few years ago. And it's not going to stop changing.
4. Things Break When You're Not Looking
There's an old saying that a watched pot never boils. But an unwatched website will break, even if it's in small ways. From links, images, server problems, mobile-friendliness, and site speed problems, you've got to keep a watchful eye on the technical aspects of SEO or things will slowly but surely deteriorate. 
5. Position Still Matters
Out of the millions, or even billions, of results that show up for each and every search that is performed on Google, only a handful of them will ever get clicked. Every day that you're not focusing on your client's SEO is another opportunity for their competitors to push them down in the results (and one less opportunity for you to move them up).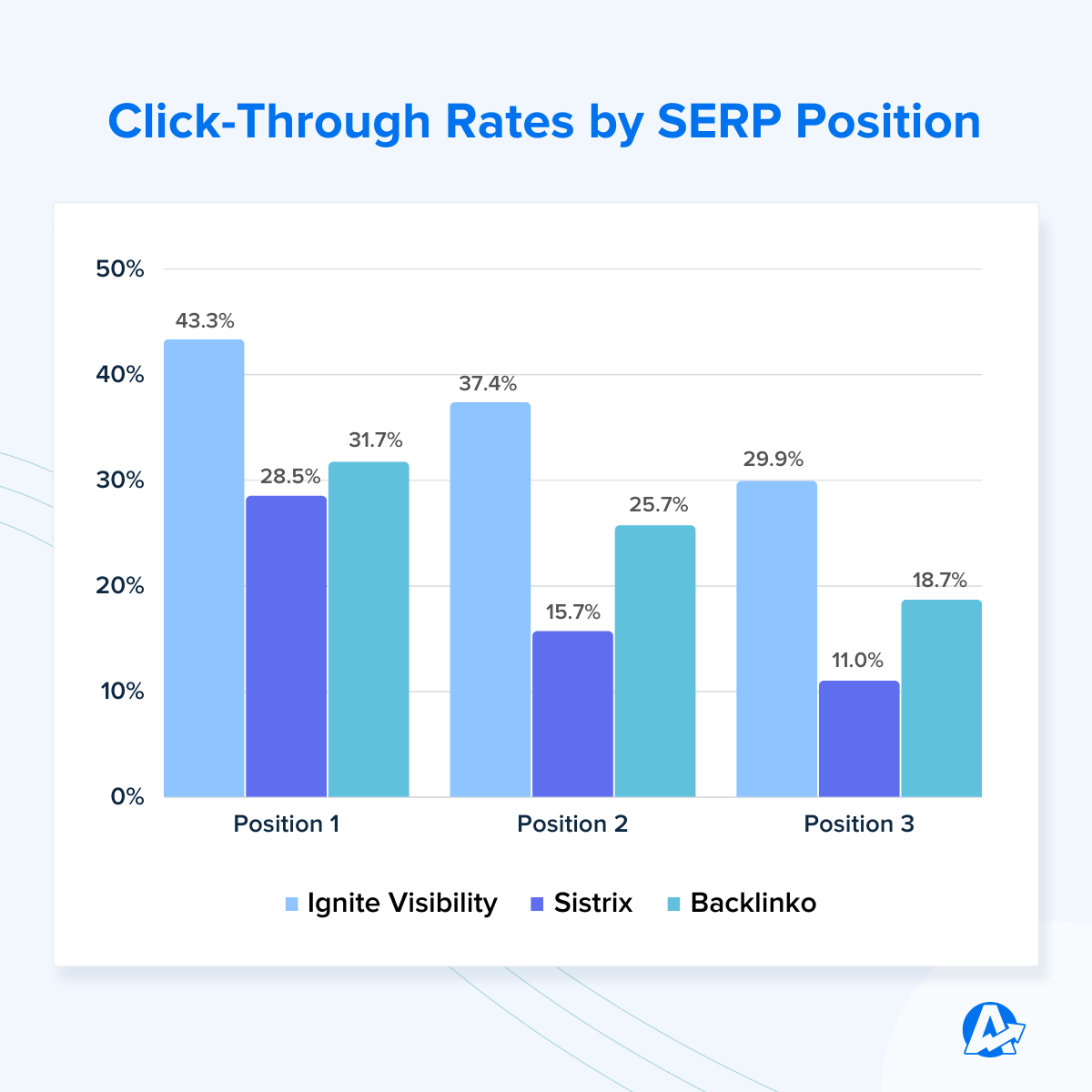 How to Measure the Impact of SEO, Beyond Organic Traffic
While SEO has a lot of benefits, it can be hard to measure the impact if you're only looking at SEO KPIs. Here are a few other ways to use the various metrics and KPIs that come along with SEO analytics to measure the success of your SEO efforts:
Overall Website Visitor Growth
Look at the total number of website visitors each month to see if there has been an increase since starting your SEO efforts.
Leads and Sales
One of the ultimate goals of SEO is to generate leads and sales for your client. Track this by setting up conversion tracking in Google Analytics or another SEO analytics tool. This will help you see the total sales generated and how the trend aligns with the SEO growth, even if they are not directly attributed to keywords or organic traffic sources.
Increased Brand Awareness
Another one of benefits of SEO is improved branding. This can be harder to quantify but look at measures like brand searches as a proxy for improved branding.
Trust and Authority
As your client's website grows in authority, they will see improvements in how users and Google perceive their website. This can improve brand awareness and trust, eventually increasing sales and conversions.
User Engagement
Finally, SEO can improve user engagement on your client's website. This can be measured by looking at the time on site, pages per session, and bounce rate.
All of these metrics are available in the Web Analytics Dashboard from AgencyAnalytics.
By looking at all these factors, get a well-rounded picture of SEO's impact on your client's business, not just their organic traffic numbers.
Adding These Benefits To Your Next SEO Proposal
When trying to sell a potential client on the benefits and ROI of search engine optimization, it's essential to focus on more than just the numbers. While improved traffic and sales are undoubtedly major benefits of SEO, they're not the only growth areas clients will experience from investing in an effective organic search strategy.
Be sure to highlight the other SEO benefits your client may not be aware of, including those discussed above. By doing so, you'll not only differentiate yourself from other agencies pitching similar services but also build trust and credibility with your potential clients by showing them that you understand their business and what they need to improve their bottom line.
Remind your potential client that one of the benefits of SEO is that it's an investment that keeps on giving, with benefits that extend far beyond the shortened timetables of most digital marketing campaigns. Focus on the total impact an effective organic search strategy can have on their business–from increased brand awareness and trust to improved hiring prospects and industry credibility.
Use our free SEO proposal template to run site audits quickly, check backlink profiles, analyze keyword performance, and include benefit messaging.
Measuring organic traffic is easy. Putting the true ROI of SEO in context for a client is something that will help your agency stand above the rest. 
You'll close more deals and build stronger relationships with your clients by focusing on the ROI benefits of SEO beyond the numbers. And that's a win-win for everyone involved.
Read More: What to Include in a Winning SEO Proposal (Plus, A Free Template)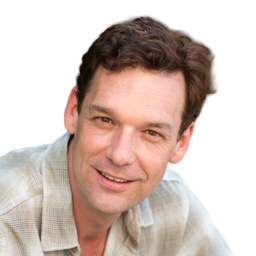 Paul Stainton is a digital marketing leader with extensive experience creating brand value through digital transformation, eCommerce strategies, brand strategy, and go-to-market execution.
Read more posts by Paul Stainton ›
Try AgencyAnalytics risk-free for 14 days. No credit card required.