With any investment, clients want to get their money's worth, and SEO isn't any different. After all, return on investment (ROI) is one of the most important metrics in marketing because it reminds clients why they chose your agency in the first place. 
As Jyles Sosa from Fu Dog Media often says to potential clients, "We're not in the business of costing you money. We are in the business of making you money. It doesn't matter if another company charges half of what we do if they don't deliver results. It's all about ROI. We're going to work hard to get you the results that your company needs, and we're confident that this investment will quickly pay for itself." 
That's a big, bold statement–but determining the ROI of your SEO strategy isn't always as straightforward as one might hope because there are so many different factors that can go into your SEO ROI calculations.
In this article, we'll show you how to prove your agency's SEO ROI to clients and further optimize your campaigns for success, regardless of whether you're calculating ROI manually, using an ROI calculator, or perhaps a bit of both (regardless, your secret's safe with us!).
The Importance of Proving SEO ROI for Agencies
Google's top 3 search results get 54.4% of ALL clicks. If that number alone isn't enough to prove how important SEO is, consider that one of the best things about SEO is that it ends up being much cheaper than paid campaigns in the long run, and if done right, it will continue to pay off long after the campaign has wrapped up. 
At the same time, Google has been obsessed with tweaking its algorithm, so the old tricks for getting your client's website to the top of search engine results pages (SERPs) aren't as effective anymore, so you'll need to stay up-to-date on all the latest changes.
This means SEO is as important as ever, and by calculating the ROI of SEO and your efforts, you're quantifying the overall effectiveness of everything you do for your client's SEO to prove to clients they're getting their money's worth.
Without streamlining your reporting, you will often be fighting nervous clients wanting to know where things are at. You will also be jeopardizing losing that client to other agencies who do have their reporting sorted and can demonstrate their worth.

Oliver Wood, CEO, PWD
At the end of the day, your SEO ROI gives clients an instant snapshot of how successful your agency's efforts with SEO have been while also being an easy number to understand since it's usually either positive (yay!) or negative (needs improvement).
When it comes to digital marketing, clients often want to see results. That's why one of the most useful elements of our digital marketing reports is the section on ROI. This allows clients to see how their investment is paying off in terms of web traffic, leads, and sales

Guy Hudson, Founder, Bespoke Marketing Plans 
Understanding SEO ROI
Calculating SEO ROI in a way that's not only relevant to clients but also reflects all of your agency's hard work often requires a deeper understanding of your client's key SEO metrics, such as where their traffic is coming from and even how their conversions are defined (especially if you're using Google Analytics 4 reporting, as practically any event can be a conversion). 
Tracking and monitoring your client's SEO ROI over time is especially important as your typical efforts with SEO usually don't pay off right away. (It may be helpful to think of SEO less as immediate gratification and more of a slow burn that takes a while to heat up).
If clients get fussy that they're not seeing instant SEO results, make sure to tell them that SEO can take time to see results. Emphasize to clients that once they do start seeing those results, they could be reaping the rewards for years if done right. 
Being able to have the time to show the impact of SEO is really important. Depending on the client, that can take anywhere from 6-12 months, so having the time to build that allows the agency to show ROI. 

Rocky Pedden, President, RevenueZen
A great example of this is stellar evergreen content that might take a while to rank on SERPs, but once it does it consistently drives new leads to your client's website, all the while providing valuable information that increases the chance of conversion and likelihood they'll return to your website for more of that useful content.
To hold clients over in the meantime, we suggest highlighting smaller wins and successes, especially during the early stages when the impact of SEO is more challenging to calculate so then at least you'll have something to show them in your client reports. 
In the beginning, showing them the keywords is essential to show them where they currently rank. They might be on page 10. You are not going to get any leads on page 10! So keyword reports are important to show them the progress month after month as they make their way to page one.

Daniel Molina, Owner, Red Palm Studios Digital Marketing
You should also use Google Analytics 4 metrics to show clients the boost in web traffic generated from their latest blog post, which can be a more immediate, short-term result of your SEO efforts.
Common Challenges in Proving SEO ROI
SEO encompasses so many things, including the creation of high-quality, relevant content (for maximum SEO-friendliness, ensuring your content ticks off every box in our SEO checklist), researching and including important keywords, optimizing page titles and descriptions, shortening your URLs while also making them more descriptive, creating tags and alt text, making your website mobile-friendly, and implementing a backlinking strategy–just to name a few.
But when it comes to communicating the end results, it's important to keep the data story as clear and concise as possible. 
Most clients do not want to get lost in the weeds when it comes to determining ROI for their marketing investment. AgencyAnalytics streamlines data presentation and focuses the client on what's working and what isn't… quickly. Stakeholders–on both sides–appreciate the efficiency this brings to communication.

Jessica Weiss, Director of Marketing & Strategic Partnerships, One Firefly
Then, there are other factors to consider, such as your client's website traffic, their search engine ranking, backlink monitoring, and the time and money being spent on SEO. Yes, these factors are important, but are the key metrics that help validate the revenue being driven by your agency's efforts? 
While rankings are important, they are only a means to an end. We understand that our clients don't just want to rank #1 for a search term, they want leads. This is why we focus on strategies that drive real business results and not just rankings.

Kurt Schell, President, Lithium Marketing
Other common challenges in proving SEO ROI include:
Attribution: It can be hard to determine whether your results are based on SEO alone, or whether it's due to a combination of factors such as SEO, PPC, traditional advertising, and social media. There are several common attribution models that change how much of a particular sale is credited to each channel involved in that purchase. 

Timeline: Businesses are often obsessed with short-term results. Clients want to see ROI increase month over month, quarter over quarter, etc., but SEO doesn't always work like that. This means that short term ROI of SEO can be disappointing, although it generally improves with time.

Measurement: Measuring the impact of your SEO initiatives faces similar challenges to attribution, where it can be hard to tell whether a specific customer action was due to SEO alone–and which element of SEO–or if it depended on multiple factors.

Data Collection: Tracking and monitoring the progress of your SEO campaign can be a time-consuming process that requires ongoing monitoring over the span of weeks, months, and even years. It also requires constant updates to ensure the quality of your data. Platforms like Google Analytics 4 (GA4) aim to make this easier with conversion tracking but it may still require you to create custom SEO metrics or dimensions to ensure you're tracking the right things, which often depends on your client.
And, of course, there's the danger of letting vanity metrics cloud your client reports with data points that don't help move the needle. 
Any metrics that can't be in some way connected to the deep desires of the client are vanity metrics. Probably the most common theme of what has upset clients in the past is reporting on positive-looking metrics that seem to indicate we're making good progress, e.g. rapid ranking increases of keywords with zero search volume, when from the client's point of view, they're getting zero return on investment because those increases aren't driving the results they wanted to see.

Daniel Noakes, Founder, UClimb
That's why it's so important to focus on the critical metrics that clients care about. 
Key Metrics for SEO ROI Reporting
Here are some key metrics to keep in mind when calculating SEO ROI:
Organic Traffic: This refers to the visitors who are directed to your client's website from a search engine. For better insights, analytics platforms such as GA4 allow you to break down your organic traffic by location, search engine, device, and more

Keyword Rankings: Keep an eye on how your clients are ranking for the most important keywords for their business, and track their position over time. That way, you can compare any changes in their ranking to your SEO efforts for a better idea of their impact 

CTR (click-through rate): CTR is particularly useful in measuring the effectiveness of your client's Google Business Profile as it appears in the search results. If your click-through rate high, then congratulations! If it's lower than you want, you need to have another look at the title, snippet, and URL of your client's web pages and see if you can improve the SEO-friendliness

Time Spent on Page: This metric is especially relevant to content such as blogs. You want time spent on page to be higher because it indicates that visitors found your client's content useful and took the time to actually read it. 

Bounce Rate: The bounce rate metric shows the opposite of time spent on page, where visitors clicked on your client's page but quickly closed it because it didn't have what they were looking for. 

Return Visits: The number of return visits can be a great indicator of a successful SEO strategy, especially when it comes to that critical aspect of providing valuable content that resonates with readers because having returning visitors means that they find your content useful as they keep coming back for more.

Total Conversions: This is the total number of conversions from organic search, which can take many shapes and forms, including newsletter sign-ups, subscriptions, completing a form, reading to the end of your blog article, and making a purchase. Sometimes, you might want to focus on specific conversion actions to highlight certain pieces of content that are performing well, for example. Other times, you will want to look at the total conversions of a particular campaign to determine its overall success and ROI. Use an analytics platform like GA4 to set up and track all of these different types of conversions and easily incorporate them into your SEO reporting software.

SEO Campaign Costs and Expenses: These costs and expenses are usually specific to a campaign and are the responsibility of the agency to manage and report to the client. In order to ensure accurate measurement of SEO ROI, it's important to include all costs related to the SEO campaign, such as the agency's SEO fees as well as any pass-through costs such as outsourced video or gaphic design work to enhance the content. By including all costs associated with the SEO campaign in the ROI calculation, the agency can provide the client with a more accurate picture of the return on their investment.

CPA (Cost per Acquisition): This is the cost to acquire a customer or lead from organic search. It is calculated by dividing the SEO Campaign Costs by Total Conversions. Your SEO efforts can affect the CPA for your clients and if they're successful, you can expect to see your client's CPA go down. SEO drives more organic traffic and improves SERP ranking, leading to a higher profile and increased free clicks and conversions compared to pay-per-click and other marketing channels.

CLV (customer lifetime value): This is the total estimated revenue from a customer over their lifetime. A solid SEO strategy will have a positive impact on your client's CLV because it will result in higher-quality leads who are more likely to convert while also encouraging return visits (provided your content is valuable). 

Organic Revenue: This revenue is generated from converting your organic traffic into paying customers. In other words, it's the total revenue generated by organic search and it's a valuable metric for SEO because it shows how much you're making without taking your paid advertising efforts and other forms of marketing into account.
KPIs allow us, as the agency, to demonstrate our value to the client. There are basic KPIs such as spend, clicks, impressions, ranking, etc., but the real KPIs every client wants to know are leads and/or sales. We like to include both in our monthly reports. Ultimately, what is their ROI from our efforts? When you can clearly demonstrate this month over month, it increases your retention rate and keeps clients paying you month after month.

Jacob Hicks, Owner, Magnyfi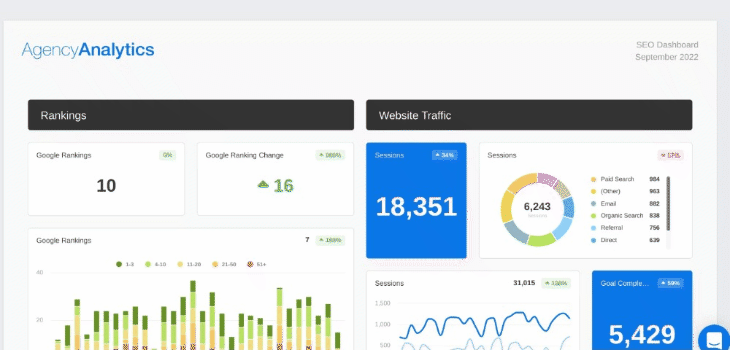 Ready to prove your agency's SEO ROI? Gain valuable insights into your clients' SEO performance and showcase the impact your agency is making to their bottom line with a clear and easy-to-use dashboard from AgencyAnalytics. Start your free 14-day trial now–no credit card required.
Calculating SEO ROI
To calculate your SEO ROI as a percentage, use the following formula:
[(Organic Revenue - SEO Campaign Costs) / SEO Campaign Costs] x 100
While the formula for calculating SEO ROI is straightforward, gathering the necessary data and calculating the ROI accurately can be challenging, especially for agencies that are new to measuring SEO ROI. To help you get started, here are some steps you can take:
Set Up Conversion Tracking: To accurately measure the ROI of your SEO efforts, you need to be able to track conversions from organic search. This means setting up conversion tracking in your analytics platform, such as Google Analytics 4, and defining the conversions you want to track, such as form submissions or product purchases.

Collect Data on Organic Revenue: To calculate organic revenue, you need to know how much revenue is generated from organic search. This can be challenging if your client's business has multiple revenue streams or if they don't have a clear way of attributing revenue to organic search.

Determine SEO Campaign Costs: To calculate the ROI of your SEO campaign, you need to know how much you're spending on SEO. Ths includes not just the cost of your SEO team, but also any tools or software you're using to track and optimize your SEO campaigns, such as keyword ranking tools.

Calculate ROI: Once you have all the necessary data, you can use the formula [(Organic Revenue - SEO Campaign Costs) / SEO Campaign Costs] x 100 to calculate your SEO ROI.

Create SEO Goals: Use custom goals to set targets for your agency's SEO efforts, including traffic, leads, conversion, and revenue. This provides an easy-to-understand visual that highlights your agency's progress and SEO ROI. 
It's worth noting that calculating ROI for SEO is not an exact science, and there are many factors that can impact the accuracy of your calculations. However, by following these steps and using the right tools and techniques, you can get a good idea of how your SEO efforts are impacting your client's bottom line and make data-driven decisions to optimize your campaigns for even better results.
It's quite simple, AgencyAnalytics takes a topic (data/metrics) that can be confusing for clients to understand and presents the information in a clean digestible way. This clarity sets our team members up for success as they walk clients through our performance and ROI for their investment.

Jessica Weiss, Director of Marketing & Strategic Partnerships, One Firefly
Use this exact Google Analytics 4 dashboard template for each of your clients to keep a finger on the pulse. Try it free for 14 days in AgencyAnalytics.
Analyzing and Interpreting Your ROI Results
If you're like many agencies, you're probably calculating your client's SEO ROI on a regular basis whenever you report to them, whether that's monthly, quarterly, or annually.
Keep in mind that your SEO ROI will likely be lower if your campaigns are ongoing or have only wrapped up recently. As previously mentioned, SEO is a long game, so as time goes on, you can expect the SEO ROI to gradually improve.
What's most important here is that you provide clarity to the client on what has happened, why, and how it has improved their bottom line.
Leaders are most prone to frustration when they feel they lack clarity on the ROI of their investments and may be surprised if they find out that new "shiny" addition fails to improve their business's performance. In reality, diving into analytics can provide insights into what's working and what isn't.

Alessandra Torres, Content Manager, Consultwebs
To achieve this, marketing agencies must adopt a comprehensive and data-driven approach when analyzing and interpreting SEO results to reinforce the ROI of their marketing efforts.
By presenting data in an easily digestible format, such as interactive charts or graphs, agencies help clients better understand the insights derived from the analysis.
This visual representation of data not only promotes transparency but also empowers clients to make informed decisions about their marketing investments, leading to improved business outcomes and stronger relationships between agencies and their clients.
It's very difficult to explain the value of a service to a client without visuals. Using the web analytics report and the SEO reports side by side, helps us show our clients a correlation between SEO and Traffic.  We merge this data with a custom template that tracts conversions, and stripe data to show that traffic growth does have an impact on the number of conversions and revenue (their bottom line).

Ruben Roel, President, Investigator Marketing 
Use Case: Proving SEO ROI from Organic Traffic 
Sarah is the owner of a marketing agency that specializes in SEO. She has a new client, a local restaurant, that wants to improve their online visibility and increase their bookings.
Sarah's team performs a comprehensive SEO audit on the restaurant's website and creates a custom SEO strategy for them. 
The website audit and optimization strategy includes understanding the search intent behind local keywords, creating engaging and informative blog posts, improving their website's user experience, and building high-quality backlinks to their site to drive off-page optimization.
Over the next few months, Sarah's team implements the SEO strategy and monitors the restaurant's SEO metrics using tools like Google Analytics and AgencyAnalytics. They track the website's organic traffic, keyword rankings, click-through rates, bounce rates, time spent on page, and conversions from organic search.
As a result of their efforts, the restaurant's website traffic increases by 25%, their keyword rankings improve significantly, and their bounce rate decreases by 10%. In addition, they start receiving more phone calls and online bookings from their website, resulting in a 15% increase in revenue.
Sarah uses the data to calculate the restaurant's SEO ROI, which is 150%. She shares the results with the client and shows them a detailed dashboard that highlights the impact of their SEO efforts. The client is thrilled with the results and decides to continue working with Sarah's agency to improve their online visibility and revenue further.
Reporting and Communicating SEO ROI
The most effective way to communicate SEO ROI to clients is not only presenting them with the cold, hard data, but also bringing the numbers to life in eye-catching data visualizations that can tell the story far better than the numbers alone.
Create custom metrics in your client reports and add them to a goal-tracking bar that's intuitive and to the point! Start your free AgencyAnalytics 14-day trial now.
For real-time SEO updates, you can't beat an SEO dashboard that displays all of your important metrics and SEO KPIs, such as organic traffic, conversions, keyword rankings, and more all in one convenient place. A dashboard can provide real time data to tackle and create strategies while measuring SEO ROI quickly.
The ability to share access to the live dashboards with clients allows them to dive deeper into the analytics without needing us to dig up specific metrics on their behalf. This has reduced the number of requests/calls we receive from clients throughout the month.

Bryan Lozano, Vice President of Operations, Ad-Apt
AgencyAnalytics' SEO tracking and reporting capabilities go even further than that its built-in, SEO report templates will have you churning out professional, branded SEO reports in minutes.
A critical aspect of becoming a king of SEO–a ROI-yal 👑 if you will–involves knowing the true value you're getting from your SEO efforts and figuring out how to maximize the SEO benefits to your clients while also proving that they made the right choice when they picked your agency. Not sure where to begin? Start your 14-day free trial with AgencyAnalytics to streamline your SEO reporting today.
Michael is a Vancouver-based writer with over a decades' experience in digital marketing. He specializes in distilling complex topics into relatable and engaging content.
Read more posts by Michael Okada ›
Try AgencyAnalytics risk-free for 14 days. No credit card required.