One of the benefits of running an SEO campaign over a traditional, offline marketing campaign is the fact that every detail is tracked and waiting to be analyzed.
SEO tracking lets your agency objectively identify what's working with a campaign and what needs improvement.
On top of helping you track the progress of a campaign internally, it clearly demonstrates the value of your SEO services to clients, which ultimately increases client retention.
With all this data at your fingertips, however, it can be challenging to figure out exactly which metrics to track, how often to review your data, and how to present the data to your clients in the most efficient way possible.
In this guide, we're going to review the entire SEO tracking process, including:
Let's get started.
What is SEO Tracking?
Simply put, SEO tracking is the process of measuring the performance and progress of a campaign. 
Regardless of the type of client website you're trying to rank in search engines, SEO tracking is essential to evaluate the success of that campaign. Your agency should have an SEO strategy before starting a client's campaign for optimal results. 
To do so, it's generally good practice to ask your clients a set of questions that will help direct your efforts, such as:
Which of your products and services are most profitable?

What sets your business apart from competitors? 

What types of questions do you usually get from prospective customers? 
Before we get to the specific tracking tools, let's review a few of the most important SEO metrics to keep on your agency's radar. 
5 Essential SEO Metrics Your Agency Should Track
 A crucial part of SEO tracking is adopting a data-driven approach. Be sure to decide on: 
Which metrics you're going to track

How often you're going to review these metrics, and 

How you're going to report the performance to clients
If you're unsure where to begin, here are the top five SEO metrics your agency should keep tabs on.
Keyword Rankings
Search engines are constantly changing, which means that the target keywords rankings for your clients also change often. 
To stay on top of this, a keyword tracking tool will monitor daily keyword rankings in search engines, including Google, Google Maps, and Bing. 
Daily keyword tracking is an excellent way to stay on top of the overall direction of your SEO efforts and also provides a clear snapshot of which pages can be improved.
Keep track of any keyword changes, top queries, and top-performing pages. Try our Rank Tracker Tool on AgencyAnalytics–it's free for 14 days. 
Organic Traffic
One of the strongest indicators that your SEO campaign is performing well is how much organic traffic it's bringing to your client. 
A high volume of organic traffic may lead to higher search engine rankings, increased brand visibility, and a solid brand reputation (provided your client's inbound marketing content is authoritative). 
Organic Conversions
Getting organic traffic is one thing, but ensuring the quality of that traffic is equally important. One of the best ways to measure the quality of organic traffic is by tracking how many conversions it's driving. 
Remember that a "conversion" could be different for each client—for one client, it could be making an online purchase, and for another, it could be a phone call to the business. 
To track conversions and the conversion rate from organic traffic, you'll need to set up a relevant "Goal" in Google Analytics (which we'll also show you exactly how to do in the next section).
Competitor Analysis
In addition to tracking your client's own metrics, tracking competitors is another valuable indicator for any SEO campaign. 
By tracking the keywords your competitors are ranking for, their domain authority, and other SEO metrics, you can identify new opportunities to improve your client's website ranking.
Stay one step ahead by keeping tabs on your client's competitors. Try our full suite of features on AgencyAnalytics–it's free for 14 days. 
SEO Site Health 
A critical factor for rankings is how SEO-friendly the site is, including a way to find and fix common technical issues that could be standing in the way of your client and the top search results.
That's where an automated SEO Site Audit Tool comes into play. With it, run regular SEO health checks to ensure that any pesky technical issues are identified and dealt with.
How To Do SEO Tracking Through the Google Suite
This section will review how to set up two key SEO tracking tools: Google Analytics and Google Search Console.
Google Analytics
As discussed in our guide to SEO analytics, since we're generally trying to rank a website in Google, it makes sense that the first tool to set up is Google Analytics.
Google Analytics is an SEO tracking tool for everything that occurs after someone has landed on your client's website. This includes SEO metrics like the time on site, bounce rate, exit rate, and many more. 
How To Set Up Goals in Google Analytics
Setting up Goals in Google Analytics lets you monitor important events on your client's website, including purchases, email signups, and trial signups. Here are the steps to follow when creating a goal. 
1. Create a New Goal
To get started, click on 'Goals' in the 'Admin' section on the left-hand menu.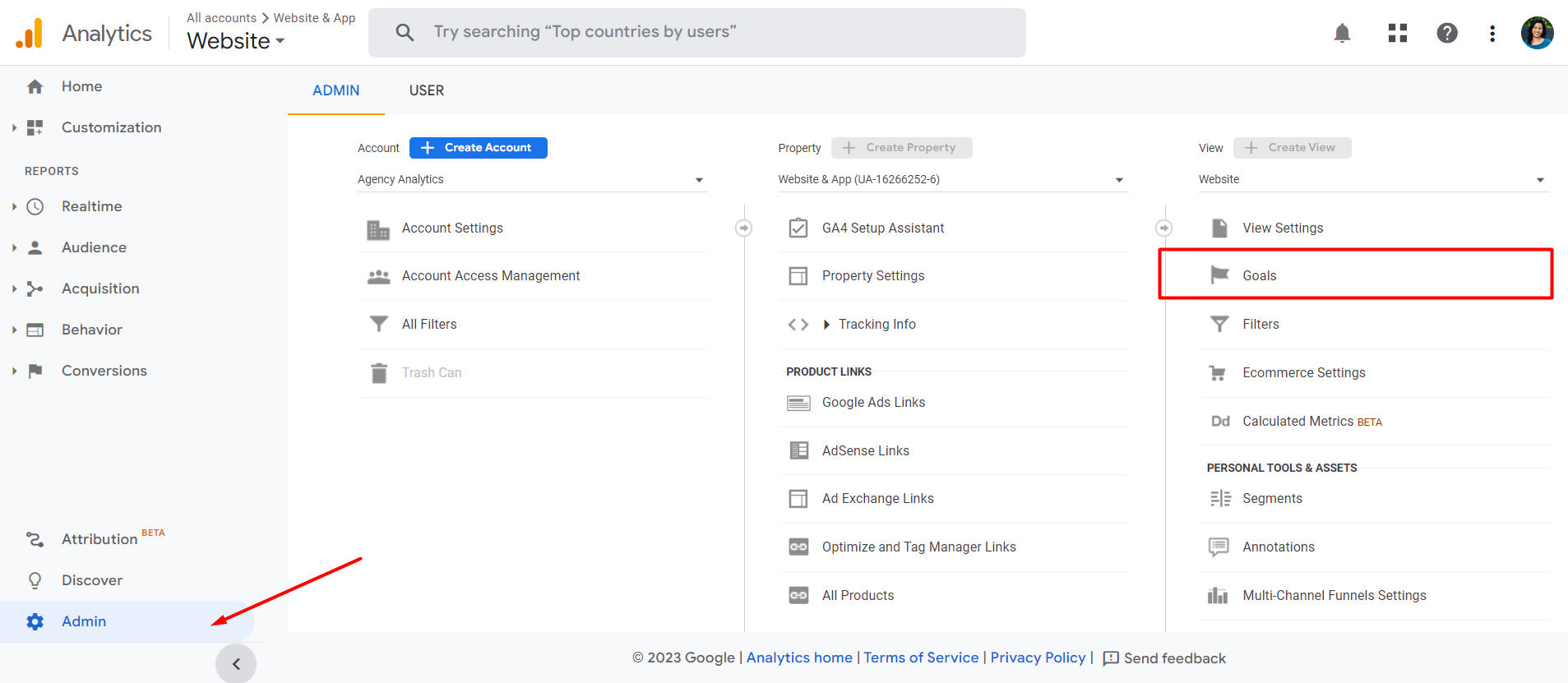 Next, click on '+New Goal' as shown below. 

2. Decide on Goal Type
Now, we have to decide what type of goal we want to build. 
You'll have the option to choose a template or create a custom goal. For this example, we'll use a custom goal. Here are the four types to know about:
Destination: This type of goal treats a pageview or screen view as a conversion.

Duration: This measures user engagement by treating a conversion as a minimum session duration.

Pages/screens per session: This measures user engagement by treating conversions as users who view more than a specified number of pages or screens per session.

Event: This treats a particular user interaction with your site or app as a conversion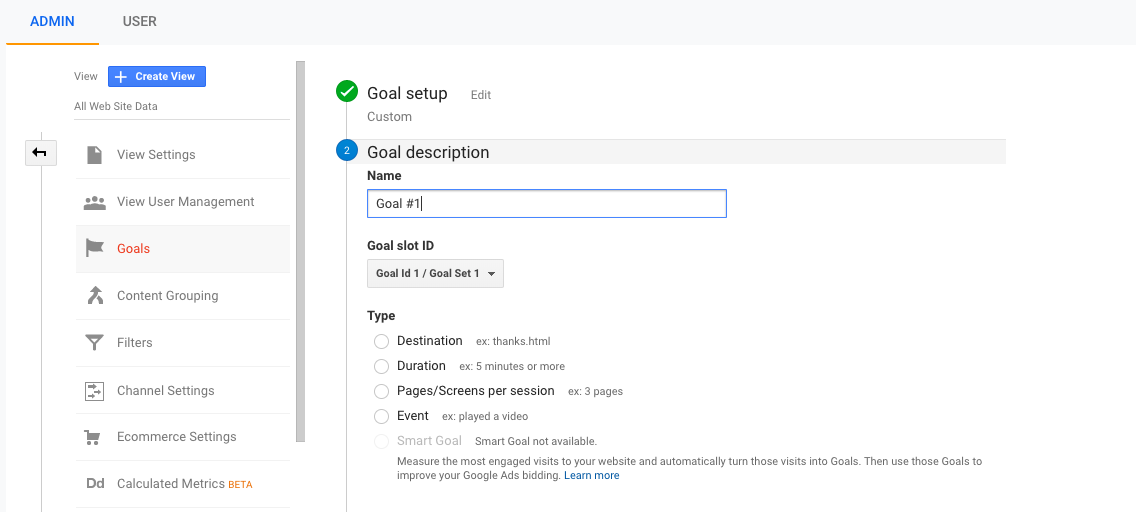 How to Track Organic Traffic With Google Analytics
To give you an example of tracking one of the essential SEO metrics mentioned in the previous section, let's look at how to track organic traffic in Analytics. 
To do so, first, click on "Acquisition" and then "Overview "in the left sidebar of the homepage: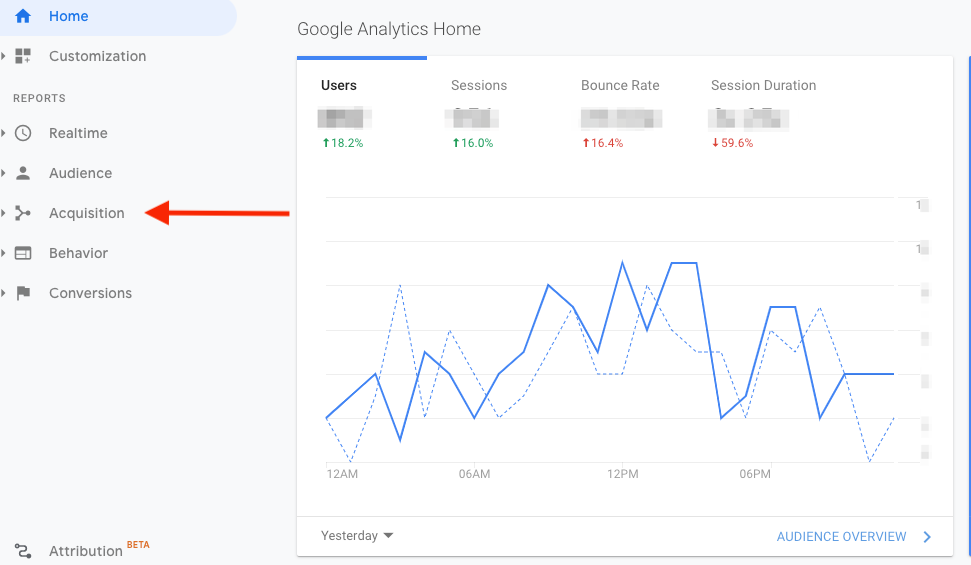 From within the "Acquisition > Overview" tab you'll then find a link for "Organic Search", where you'll find more granular data about the performance of each keyword in search engines, including metrics like bounce rate, pages per session, and goal completions.
No need to dig through all those metrics– use an automated Google Analytics dashboard to save time each month. Sign up for a free 14-day trial of AgencyAnalytics today. 
Google Search Console
Monitor your client's search traffic and performance with Google Search Console (GSC). This free tool lets you pick up on any website issues and optimize for favorable search rankings. 
GSC also tracks SEO-related metrics, including which queries, keywords, and specific pages that drive the most traffic to your client's website.
Here are the SEO metrics your agency should track on GSC.
1. Top Queries
To find the top search terms driving traffic to a website, simply click "Performance" in the left tab. 
From there, the first tab below your performance chart is called "Queries." 
Toggle on "Average CTR" and "Average Position" to review all the data for each query simultaneously.
2. Top Pages
The next tab over from "Queries" is called "Pages." 
Here you'll be able to sort by the highest-performing pages in terms of Impressions and Clicks so that you know which ones to prioritize when optimizing the user experience.
3. Click-Through-Rate (CTR)
CTR is another valuable metric to track over time, as it can often allow you to identify "quick wins." For example, if one of your pages is ranking on the first page and has a high number of impressions but a low CTR, often by simply changing the title and/or meta description can lead to a significant increase in traffic.
Here's what the founder and CEO of GetVOIP had to say about tracking CTR in Search Console:
If you're looking for low-hanging fruit, one of the easiest things you can do in Google Search Console is to look for queries where you're ranking in the top 3 spots, but your click-through rate is less than 10%. In those situations, often you can optimize your meta description and start getting a much bigger percentage of the traffic for that search term.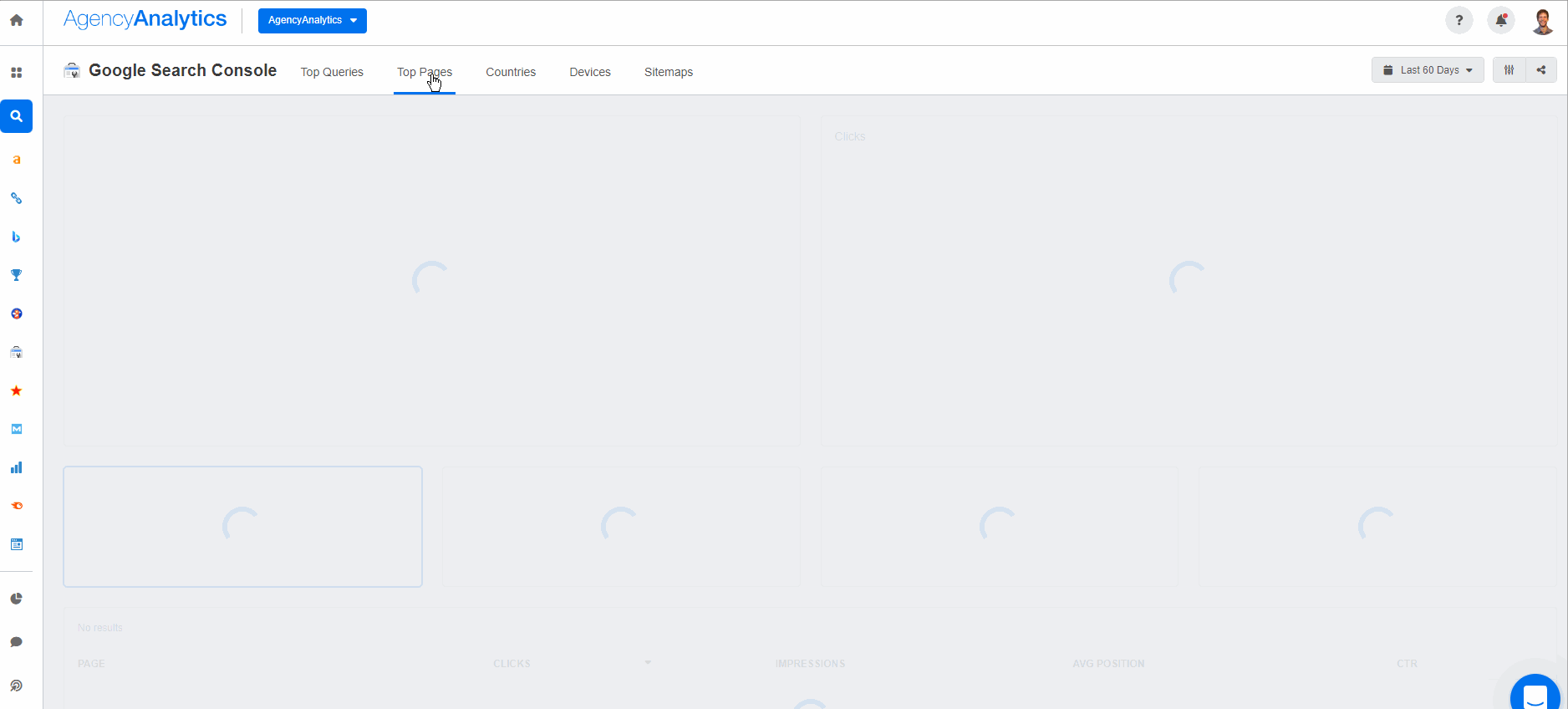 Use a visually appealing Google Search Console dashboard to automate your client's SEO insights– try it when you sign up for a free 14-day trial. 
Now that we've reviewed two useful tools from the Google Suite for SEO tracking, let's look at how you can tie them both together with AgencyAnalytics.
How To Use AgencyAnalytics for SEO Tracking & Reporting
While AgencyAnalytics is known as an all-in-one reporting platform, another one of the features that digital marketing agencies use it for are the built-in SEO tools. 
Combining an SEO reporting platform with the tracking capabilities of the Google Suite, you offer your clients a much more comprehensive service.
Let's review a few of the search engine optimization tracking tools that are built into AgencyAnalytics.
Rank Tracker Tool 
One of the best ways to monitor how your SEO efforts are paying off over time is with a keyword rank tracker. Since search engines are constantly changing due to many factors, this is not something you want to undertake manually.
Instead, using a rank tracker allows you to automatically pull data from various SERPs like Google, Google Maps, and Bing daily. 
Use our rank tracker tool to:
Create data visualizations of how keyword rankings are changing over time

Track keyword rankings based on multiple locations and languages (which is especially useful for local SEO campaigns)

Provide tremendous SEO insights to your clients and prove your worth
Get that extra edge by using our Rank Tracker Tool to monitor your clients' SEO efforts. It's free when you sign up for a 14-day trial. 
Backlink Monitor 
Another key metric to track in any link-building campaign is new and lost links to your client's website. To automate this tracking process, AgencyAnalytics pulls data from the SEO backlink checker Majestic, which gives you a detailed profile of each client. 
On top of just tracking changes in backlinks, this tool can also help you discover which links are the most valuable by tracking more advanced metrics like Trust and Citation Flow. 
Once you've set up the backlink monitoring tool, add these metrics to an automated SEO report that can be delivered daily, weekly, or monthly.
How to Monitor Backlinks in AgencyAnalytics
To monitor backlinks with AgencyAnalytics, first, you need to enable it from within a campaign by clicking on the "Integrations" tab. 
Next, choose "Backlink Manager" and click the "Enable" button.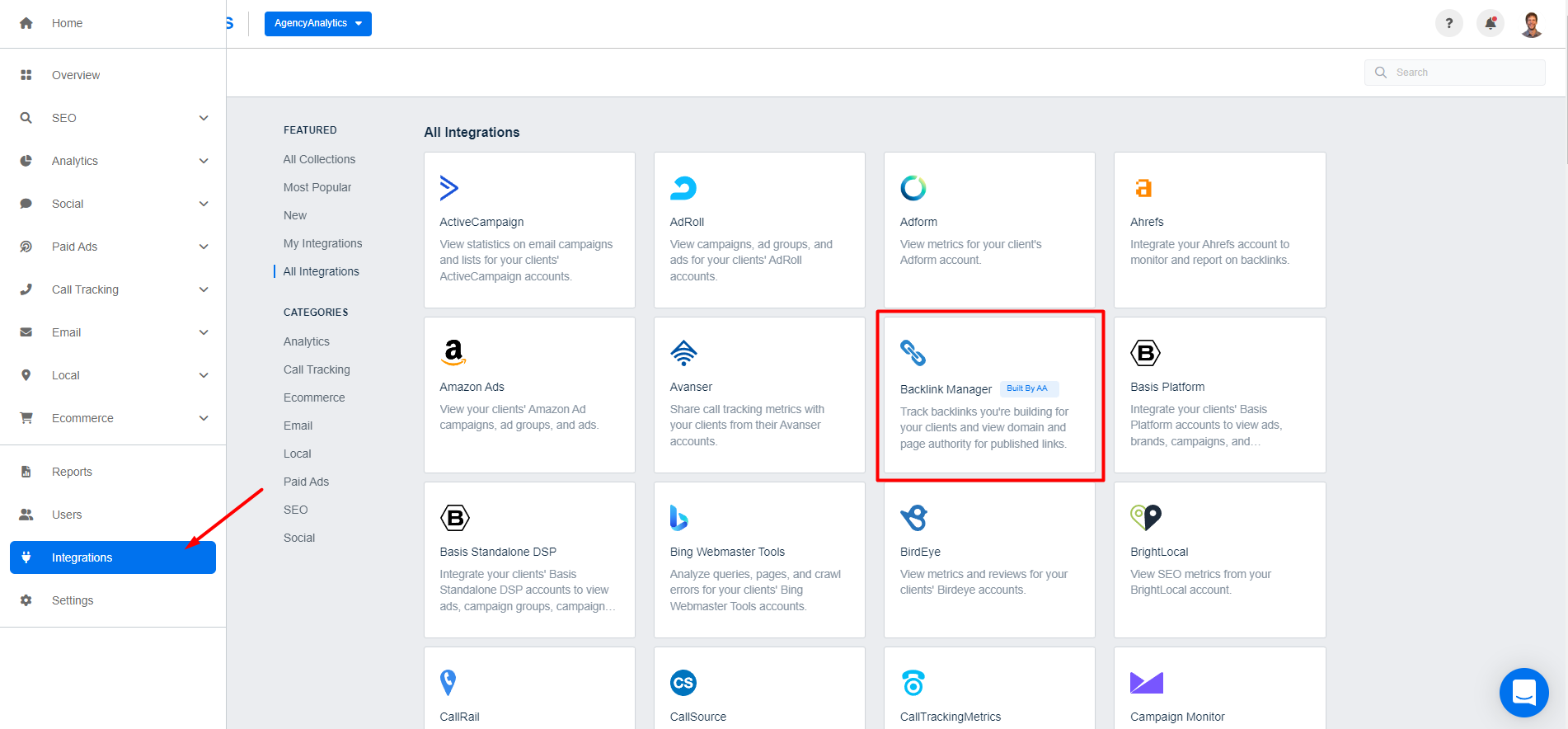 SEO Site Audit Tool
Site audits are one of the best ways to find early SEO wins you can deliver to your clients. 
Our SEO Site Audit Tool allows you to simply enter a URL and analyze, discover, and eliminate any issues affecting rankings. 
Don't spend hours evaluating your client's SEO–let the automated SEO Site Audit Tool do the work for you. Try it on AgencyAnalytics today, free for 14 days.
In particular, a few of the most common website issues that a site audit tool can help with include:
404 errors

Duplicate images

Broken links

And many more
The AgencyAnalytics site audit tool automatically checks over 40 issues that affect website performance. These audits can either be done on a one-off basis or scheduled regularly to ensure you're always on top of the important SEO metrics that influence organic search results.
How To Run a Site Audit with AgencyAnalytics
Here's how you can run a one-time site audit to give you an idea of how this tool works. 
First, enable "Site Auditor" from within the "Integrations" tab.
Next, go to the "SEO > Site Auditor" tab.
Finally, click "Perform Audit" on the top right corner and "Start Crawl" to run the site audit. 
Competitor Analysis
After you've set up keyword tracking, backlink monitoring, and performed a site audit, tracking and analyzing competitors is another valuable tool for any SEO campaign. 
By identifying what your closest competitors are ranking for, you can quickly identify new opportunities that may have otherwise gone unnoticed. A few examples of how you can use this tool include:
Comparing the total number of backlinks for each competitor

Comparing their Trust Flow and Citation Flow

Crawling competitor sites to make recommendations for your clients' site modifications
How to Analyze Competitors to AgencyAnalytics
To analyze competitors for a campaign, first, you need to enable it from within "Integrations". 
Next, go to the "Competition" module under the SEO section.
From there, you'll have the option to "Add Competitors" or choose from our suggested list of competitors. 
Summary: SEO Tracking
As we've discussed, one of the best ways to demonstrate the value of your agency's SEO success is by tracking and reporting the performance over time. 
SEO tracking gives you an objective view of the performance of your campaign so that you know what's working and what needs improvement.
To recap, be sure to:
Start with the Google Suite, including Google Analytics and Google Search Console

Decide on your client's SEO metrics beforehand

Use an automated reporting tool like AgencyAnalytics to simplify and automate your client's most important insights 
Easier SEO tracking is just a click away on AgencyAnalytics! 
Create an SEO dashboard that lets you see the bigger picture. Try the automated tool used by over 5,900 agencies–with a free 14-day trial.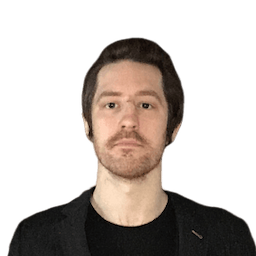 Peter Foy is a content marketer with a focus on SaaS companies. Based in Toronto, when he's not writing he's usually studying data science and machine learning.
Read more posts by Peter Foy ›
Try AgencyAnalytics risk-free for 14 days. No credit card required.