If you're handling SEO for a client, chances are that–at some point–you'll be asked to build backlinks. This is an essential part of the process, and if done correctly, can help improve your client's website ranking on search engines. If done incorrectly, it can cause more harm than good. In order to make the process easier for you, we've compiled a list of the best link-building tools out there!
Let's look at an all-too-common scenario. It's 1 PM at the agency, and you've just finished your second (or maybe third?) cup of coffee. 
You hear that familiar 'ping' sound and glimpse an email notification pop up on your screen. Immediately, you sense your client's anxiety from the heading— "URGENT: Higher Search Visibility Needed!!!" Before even opening the email, one of the first things that come to mind is sending an updated SEO proposal emphasizing the importance of link building. That's one of the reasons that a backlink overview is pre-built into our professional SEO proposal template.
For your clients to succeed in the digital realm, a solid link-building strategy must be part of an overall marketing strategy. But what are the best ways to acquire these links? After all, there are active and passive link-building strategies, both of which have advantages and drawbacks. A passive link-building strategy is a process of acquiring links without actively pursuing them. This can be done by publishing high-quality content that other websites will naturally want to link to. 
You can also promote your client's content on social media and through email marketing to increase the chances that it will get links from other websites. Using a passive link-building strategy, you improve your client's SEO and visibility without investing additional time or resources going after backlinks. 
However, sometimes, a passive link-building strategy isn't enough, and you must go on the offensive. For example, if the website is relatively new or the content isn't generating enough links on its own merits. 
After all, if people can't find your client's content, they won't be able to link to it. Your agency might need to do something to get that link ball rolling. This is where a more active backlink strategy–pursuing links from other websites–comes into play. And to do this efficiently, your agency needs the right link-building tool. 
There are many link-building tools out there, and it may seem like a daunting task to pick one. Perhaps you're looking to serve enterprise clients with many links needed to move the needle, or you're controlling expenses for a smaller business and prefer a budget-friendly (or even free) backlink finder.
Regardless of your preference, we're sure there's an option for you!
In this article, we'll give an overview of:
Buckle your SEO seatbelt– we've got some exciting link building insights on the way!
What is Link Building?
Link building is a commonly used SEO strategy that helps bolster your client's web visibility by acquiring links on other websites. Not only does it establish brand authority for that brand, but it also ticks a checkmark for Google when they're rating the trustworthiness of that website. The more 'checkmarks' a website receives, the higher the possibility of showing up favorably on search rankings. 
Of course, these votes of confidence aren't just automatically tallied once your client's link shows up on other websites. Content must also be credible and relevant for link building to be effective.
"Google can't yet make a qualitative decision about a website. It can tell what it's about but can't tell if it's important or useful just by reading the site. One of the main factors it uses to determine importance is backlinks because these act as "votes of confidence." If it trusts the sites linking to you, you get a portion of those referring sites' trust. It's just that simple." – Jens Rhoades, Founder at Floodlight SEO. 
Let's face it—Google's algorithm is constantly evolving, and there's no one way to guarantee a high search ranking. However (as you know), excellent and relevant content is the way to go. 
When it comes to link building, this factor is even more critical as other web sources will likely link to your client's content if it's credible and informative. It also makes link outreach easier when you are working with high-value content.
Rich, relevant content and trustworthy links are an excellent recipe for ranking success. Rhoades further explains, "Link building effectively moves people up the rankings. Even with new changes to the algorithm which focus more on user metrics, backlinking is still the biggest lever in the SEO arsenal."
Is Link Building Really Worth It?
Link building may seem like extra work, especially when you've already got a lot on your plate. While it may seem time-consuming, link building often pays off in the long run and helps your clients stay one step ahead.
If you're still on the fence about why you should build links for your clients, consider that:
Link Building Improves Search Ranking
It's no secret that Google favors content that aligns with its E.A.T. acronym.
A high volume of backlinks from credible sources gives Google a thumbs up about your client's content, which makes it more likely to show their website on search rankings.
And the data backs it up. The first website on Google's search page has 3.8 times more backlinks than other search results. Putting in that extra effort to create excellent content and strategizing link-building programs will increase your client's keyword ranking over time.
Following SEO best practices is the way to go, but don't forget to remind your clients to remain authentic to their quirks and personalities. Showing personalization lets your client build a personal brand while staying true to themselves.
As Jill Robb, Chief Revenue Officer at Origin, says, "While an understanding of technical SEO is obviously required, the best link builders I know have great PR and content writing passion–not technical passion."
Link Building is a Tangible SEO Metric
The great thing about link building is that it's easily trackable and will show a substantial growth or decline. If you're not sure what type of SEO metric to incorporate into your client's monthly report, here are a few ideas:
The number of new backlinks generated per month

The number of unique domains linking to your client's content

Average monthly cost per link (for paid placements)
As Robb describes, "Historically, backlinks have always been included as an important part of SEO, with their importance only increasing in value as a quality metric. From an impact perspective, high-quality backlinks are key to moving the SEO needle."
Over time, track historical trends to understand what keywords and links work best for your client. Not in the mood to manually track all that data? Use an automated SEO reporting tool to efficiently provide the information your client needs.
Agency Tip: Include the number of new backlinks and referring domains as one of your SEO metrics when delivering your client's monthly report. As you implement the link building tips in this article, you'll be able to clearly outline how your overall strategy is performing while reiterating your agency's value proposition.
A Healthy Inventory of Backlinks Builds Credibility
Credibility is non-negotiable when establishing your client as an authority in their industry. Not only will it affect their search rankings, but it also trickles down to other key metrics such as conversion and referrals.
"Backlinks build the credibility of a website to rank for the industry. As long as they are done carefully, with thought and relevance, it adds a lot of credibility to Google to rank for competitive keywords in verticals." – Peter Magee, Managing Director at Significant Digital.
When reputable sources backlink to your client's website, it reassures future customers that your client's brand is trustworthy. In addition to increased website traction, this translates to real-life actions such as store visits and in-person booking appointments. 
As Matthew Cernik, Head of SEO at King Kong, adds, "The improper use of backlinks can cook a website. The list goes on: low-quality referring domains, keyword stuffing, unnatural backlinks, unrelated domains, poor anchor text usage, and poorly developed content. You can hurt your rankings if you don't know what you're doing."
Link Building Increases Your Client's Confidence
"It's great to build the client's name through the internet and get them featured on relevant sites. They get excited to see a blog written and getting featured. As an agency, we like to see the growth in rankings, exposure, and traffic that the website gets from various keywords due to the backlinks." – Peter Magee
As your client's backlink portfolio grows, so does their brand visibility. This exercise increases website traffic, word-of-mouth referrals, and brand recall. On the softer, 'people' side of things, this reassures clients that their brand is meaningful and has the potential to grow further, leading to positive feelings towards their link building strategy and even the ROI of your agency's services. 
Your clients are passionate about their businesses and love to see that customers love them, too. Often, your clients have built their business from the ground up, and aside from being a financial investment, it's also an emotional one. Therefore, credible link building is a pat on the back for your client working hard in the background to grow their brand.
Agency Tip: Diversify your client's link building strategy by sourcing organic links and investing in credible paid ones. While organic reach is always preferred, a strategically positioned and trustworthy paid link increases brand awareness and outreach.
As Christopher Bailey, Website Design and SEO at D2 Branding explains, "Quality backlinks are essential to SEO to help build value for a website and grow the online footprint. It is important to not only focus on building quality links but also to monitor all backlinks to remove low-quality links."
Bailey goes on to describe, "Diversity in backlinks is also important. A balanced mix of follow/no-follow is a smart practice! Backlinks build value. Value brings high-ranking keywords. And high-ranking keywords bring traffic." 
Link Building Opens Doors to Networking and Collaboration
Collaboration is an overlooked tool that is mutually beneficial for both parties involved. Not only does it strengthen content relevance, but it also leads to new and innovative possibilities.
Beau Walsh, Founder/Creative Director at The Cultural North notes, "Backlinks are tools that not only improve your search engine rankings but serve as a powerful networking tool to build relationships with other collaborators across the web." While link building is an online tactic, it may foster business partnerships in real life. For example, reaching out to a credible industry leader for a guest post may lead to an in-person panel discussion in the future. 
Agency Tip: Networking as a result of link building is great, but don't forget the power of real-life outreach for collaboration. Just as link building can lead to in-person partnership, it can also work the other way around.
As Andy Hill explains, "An eCommerce business can send products for review by online publications and acquire links this way. A home improvement business can request links from suppliers and reach out to relevant website owners. There's no one size fits all."
When and Why Your Agency Should Start Link Building Campaigns
As discussed, creating authoritative content is one way to increase the likelihood of securing those highly coveted backlinks and pivoting your client's brand to SEO success. However, like most things, an active strategy is needed if you want to hone in on those opportunities.
Your agency may face particular situations where it's a bit more challenging to rely solely on generating organic content that may or may not result in backlinks.
Here are a few situations where this may happen:
New Websites
If your client is starting a new website, you're probably hyper-focused on building their social media presence, increasing brand awareness, and putting all those foundational logistics in place. It's much more challenging to secure backlinks if your client's brand hasn't yet gained authority. 
In this case, actively pursuing backlinks can improve your client's search ranking and open up valuable networking opportunities and alliances.
Agency Tip: Want to see this in action for yourself? Add the focus keywords for your link-building campaign to your favorite keyword rank tracker and revisit those rankings every few weeks throughout the campaign.
High-Quality Content With Minimal Links
We're sure you've been in the situation where you created a top-tier piece of content that hasn't generated any traction. After you've done the heavy lifting to make that piece, it's time to focus on disseminating it to the right places. 
In these situations, actively pursuing backlinks can bolster website traffic and give your content the visibility it deserves. Just one backlink can launch your client's content in a significant way.
Offsetting Low-Quality Links
There's no digital realm without spammy bots, unfortunately! This also spills over into backlinks, as many bot-like sites will create 'toxic' links for malicious purposes. 
To offset your client's backlinks getting caught in the tornado of low-quality links, manually pursue backlinks to improve the quality balance. This will allow your client's content to shine without being bogged down by unnecessary noise.
Competitive Metrics
If you've meticulously monitored the competition and noticed they're gaining high-quality backlinks faster than your client, it's a good idea to take a step back and recalibrate. That's where actively pursuing backlinks comes in. 
This tactic adopts a more aggressive stance when trying to outperform the competition and uniquely position your client's brand. It's also an opportunity to strategically shift your client's content above the crowd and into high-quality circles. By incorporating active and passive link building strategies, you'll position your client's brand favorably and closer to SEO success.
Quality vs. Quantity– The Great Link Building Debate
It's a common dilemma. On the one hand, you want to show your agency's efforts by having an impressive backlink KPI when you send that monthly SEO report to your client.
On the other hand, securing those high-quality links can be a bit more arduous. Even if you secured one fantastic backlink in any given month, your client (or even the senior management they report to) might focus only on that singular number rather than quality.
So, the question remains: Is quality or quantity more critical for backlinks? Here's the answer!
Prioritize quality over quantity. A large volume of backlinks is ideal only when they are high-quality.
Furthermore, don't underestimate the power of just one credible link!
"It can take only one website to tip the balance of the scales and make Google sit up and pay attention. It has to be a very authoritative site, but nevertheless, it's not always about quantity." – Andy Robson, Agency Director at Squidgy.
That one, targeted outreach will make a difference over a sea of low-quality backlinks. Take the time to strategize effectively and pursue suitable types of backlinks to make sure you're aligning efforts to keywords and link that support the right keyword search intent. Andy Hill, Managing Director at Distribute Digital, further describes, "A poorly executed backlink strategy can either have no impact, improve rankings and traffic for keywords with no commercial intent that does nothing for the end sales figures for the business or worse, it can backfire."
What Happens If You Do It Wrong (AKA The Dangers of Bad Backlinks) 
The competition is stiff and can result in all types of tactics (both ethical and unethical) just to stay on top of those search rankings. However, taking shortcuts or trying to outsmart the Google algorithm certainly doesn't come without consequences.
There are a few potential consequences of using black hat SEO techniques, the most notable of which is your website being penalized by Google. This means that your site will be downgraded in the search engine results pages (SERPs) and may even be removed from them altogether. 
To put things in context, a few examples of poor backlinking practices include:
1. Utilizing Link Farms
Link farms are websites that are solely created to increase backlinks, including some directories and websites that aren't related to your client's content. Users may sometimes pay for placements on one of these websites to increase backlinks.
2. PBNs (Private Blog Networks)
A PBN is a network of websites used to increase the ranking of a website created to make money. These networks usually consist of expired domains that have preexisting backlinks. The problem with PBNs is that they're often low-quality, spammy websites.
3. Spammy Blog Comments
Blog comments are an easy way to get backlinks, but they're not always practical. This is because some blog owners will approve any comment just to increase the number of comments on their posts, regardless of the quality of the comment or whether it's relevant to the post. In addition, many blog comment sections are now moderated, which means that your comment may never even be seen by the blog owner, let alone approved.
4. Links from Sites That Have No Content Relevance
To avoid penalties through overt tactics (such as link farms), some users may attempt to acquire backlinks to more legitimate-looking websites that don't necessarily have content relevance. This tactic may seem like a good road, but Google's algorithm is intelligent! If there's no logical reason for your client's accounting firm to have a link from a blog about children's toys, Google will sniff that out.
5. Paid Links
Paying for backlinks is against Google's guidelines. If you're caught paying for links, your website could be penalized. In addition, paid links often result in low-quality websites that aren't relevant to your client's content.
These are just a few examples of black hat SEO techniques you should avoid if you want to maintain a high-quality website that generates traffic and sales.
The SEO race to reach the top of search rankings is competitive, but don't lose it by resorting to desperate measures.
What Are Link Building Tools & Why You Need One
Link building is one thing, but what tactics are involved? An effective strategy includes:
Creating relevant and informative content that other credible sources find tremendous value in

Reaching out directly to authoritative sources for backlinking and networking opportunities

Collaborating with other industry leaders for guest features on blogs and other related marketing collateral 
But what if you need more support to keep track of those backlinks, streamline networking opportunities, and monitor competitor backlink performance on a larger scale? That's where a link-building tool comes in.
Think of link building as an SEO tool contributing to your client's overall marketing success. Depending on the link-building tool, there's a range of capabilities that include:
Keeping track of competitors

Identifying broken links

Creating alliances with other businesses

Finding influential websites and contacts

Identifying new opportunities to capitalize on
Not all link-building tools are created equally, though. Like most tools, some have specialization in one particular area, while another may have a broader scope. From link analysis to competitor monitoring to outreach processes, there's an SEO tool that specifically meets your client's needs. 
The Best Link Building Tools for Your Agency
There are a few reasons why you might want to consider using a dedicated link-building tool. First, these tools can make the process of building links much easier and faster. They can also help you track your progress and measure the results of your efforts.
With over 3 trillion backlinks on their index, it's easy to see why an agency would use Ahrefs. This platform is the second most active web crawler with refreshes every 15 minutes, so your client is sure to be on top of their link building game in real-time.

Features to Note:
Backlink Checker: Competitor link analysis and a capability to remove spammy links

Rank Tracker: Monitors Google ranking and competitor keywords

Site Audit: Provides insight on SEO health, including broken and no-follow links
Best for: Agencies with many clients with a large volume of links to build and monitor. Ahrefs also works well if you're looking to fix multiple broken links. Plus, Ahrefs integrates seamlessly with AgencyAnalytics for full-feature client reporting. Finally, consider this platform if you've got clients interested in a wide range of SEO services and link building.
Pricing: Ahrefs' most basic Lite Plan starts from $99/month and goes up to $999/month for an Enterprise Plan. There was previously a 7-day trial for $7, which is no longer available. However, they offer a few free SEO tools, such as a Free Keyword Generator and a Broken Link Checker.
Moz is another highly-used, comprehensive SEO tool with link building capabilities. This tool comes in handy to improve search engine visibility and has a neat Link Explorer feature, as seen below.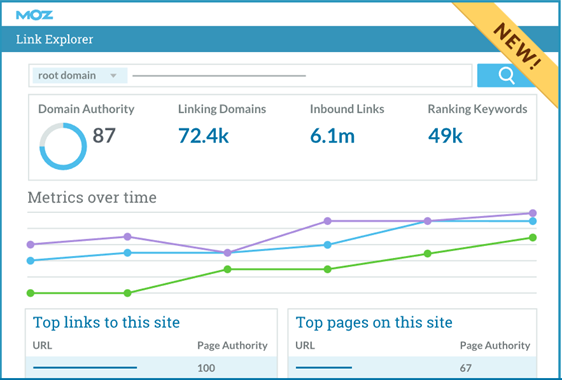 Features to Note: 
Link Explorer: Used to research competitor links, monitor spam scores, keep track of lost links and observe content performance

Keyword Explorer Tool: Used to create keyword lists, monitor competitor keywords, and track keyword metric performance
Best for: Similar to Ahrefs, Moz is excellent for managing a large number of clients with a range of SEO needs. This platform also provides on-page optimization scores if you need an extra hand with content ideas.
Also, with the Moz reporting integration, create detailed dashboards featuring all of your Moz backlink data alongside 75+ other marketing platforms.
Pricing: Their standard package starts from $99/month to $599/month for a premium package. A main distinguishing feature is that Premium clients can access 'Speed Crawl,' where websites are crawled significantly faster. Moz offers a free 30-day trial with a complimentary overview with an SEO Specialist if you're not keen on subscribing without completing a trial first.
After you've worked hard to get those backlinks, it's equally important to ensure they stay live while monitoring any significant changes.
AgencyAnalytics is an excellent option as we've also got top-notch SEO tools to keep you at the top of your link building game. Our automated client reporting tool is built specifically for marketing agencies like you and streamlines the entire SEO tracking process.
As part of our full suite of SEO tools, we also have a seamless built-in Backlinking Monitoring Tool to keep on top of your client's link building campaigns–all in an intuitive, white-labeled reporting format.
"My favorite SEO tool is AgencyAnalytics because it ties all the relevant client reports we need into one convenient dashboard, including rankings, call tracking, reviews, directories, social media, email, and Google Analytics. As our company has grown, the value of seeing a client's overall internet marketing health in less than a minute has increased exponentially." – Kellen Kautzman, Owner of Send it Rising.
Features to Note:
Backlink Monitor: Used to monitor link building campaigns, analyze link profiles, track detailed backlink KPIs, identify high authority domains, and share real-time updates through client login access.

Automated Backlink Reporting: Tracks advanced metrics such as Trust and Citation Flows through a fully customizable, white-labeled report.

White label SEO Audits: Quickly identify and resolve on-site SEO issues to improve rankings.
Best for: Agencies who value report automation and in-depth, advanced backlink monitoring with the click of a button. In addition to robust link-building capabilities, AgencyAnalytics streamlines SEO functions--such as comprehensive website audits--and all marketing reporting efforts in a neat, consolidated format. Our platform is also invaluable for agencies scaling and juggling multiple clients with many backlinks to keep track of. 
Price: Try AgencyAnalytics risk-free for 14-days–no credit card required. AgencyAnalytics starts at an affordable rate of $12/month for freelancers on a budget. Save time and scale your business with an Agency package starting from just $18/month. Contact us for a customizable package if you're a larger agency looking for an Enterprise rate.
Semrush is another well-known SEO tool that provides valuable marketing insights, especially regarding link building. Their robust platform includes key features such as Backlink Analytics and a dedicated Link Building Tool.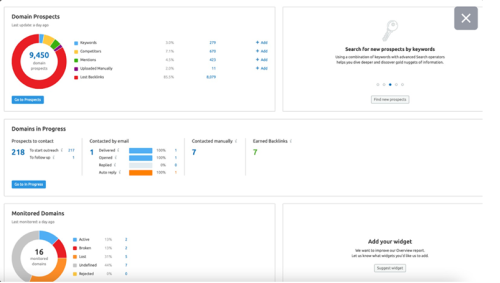 Features to Note:
Geographic Distribution Report: Used to showcase website traffic according to geographic region.

Link Building: Backlink Analytics, Backlink Audit, and Link Building Tool.
Best for: Agencies with clients who rely heavily on local SEO. Aside from tracking the top performing links according to geographic region, this feature takes competitor analysis to another level. With its backlink tools, Semrush is a powerful SEO tool to help your clients achieve their goals. Automate your Semrush backlink reporting with presentation-ready reports and dashboards directly from the AgencyAnalytics platform.
Pricing: Semrush's pricing ranges from $119.95/month for a Pro package to $449.95/month for a Business package (with the option to create a customized plan). For each tier, users can also opt for a free 7-day trial. 
Majestic is an excellent option for a backlink checking tool if you don't want all of the other SEO bells and whistles. The platform also features 'Flow' scores which rate websites on trust, citation, and visibility. Again, these all feed into a link building strategy as meaningful content plays an important role.
Features to Note: 
Bulk Backlink Checker: Used to check the status of up to 1,000,000 URLs simultaneously (yes, you read that correctly)!

Backlink Campaigns: Users can group websites and check for periodic updates.

Topical Trust Flow: Analyzes the industry a website has the most influence.
Best for: Agencies who want a platform focused exclusively on backlink checking. Majestic's 'Tropical Trust Flow' feature is a great built-in feature to source influencers within a particular industry. Majestic is handy if your agency wants to implement scalable link building through its Bulk Backlink Checker. With this feature, it's relatively easy to pinpoint broken links and link building opportunities for a large number of backlinks simultaneously. Seamlessly add Majestic backlink data into customizable client reports with our Majestic SEO integration.
Pricing: Majestic's price range begins from $49.99/month for a Lite plan to $399.99/month for an API plan.  
While this tool isn't a link checker, Hunter.io comes in handy when looking for critical contacts at an organization. As an agency, we're sure you regularly come across authoritative blogs or resources.
It feels like looking for a needle in a haystack when trying to find a valid point of contact, especially when time is of the essence. All it takes is an endorsement from an influential person to bolster your clients' backlinks and increase website traction significantly.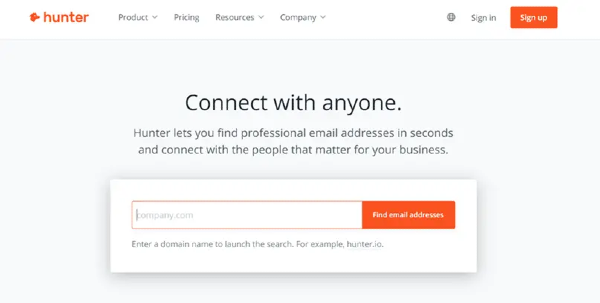 Features to Note:
Domain Search: To find the email addresses of particular companies

Email Finder: To find the email address of a particular professional

Email Verifier:  To verify the accuracy of an email address
Best for: Agencies that conduct a high outreach to companies, consultants, and other influential professionals, or those looking to enhance their client's content marketing strategy. Reaching out to reputable sources for guest posts, podcast features, and other marketing tactics will improve your client's off-page SEO and build those valuable backlinks. 
Pricing: Hunter.io offers monthly searches and verifications for free (with limits). Their starter plan begins at $49 and goes up to $399, which includes more features such as link and custom domain tracking.  
Screaming Frog SEO Spider is a powerful website crawler popularly used for SEO audits (and for a good reason). 

This advanced SEO tool takes the headaches of manually checking each webpage for broken links, which saves time and manual oversight. This is a handy tool if your agency is following a broken backlink echnique, where you locate broken links on a high-value website and recommend content on your client's site to replace that link. Features to Note:
SEO Spider Tool: Website crawler that offers link analysis (such as identifying URL issues) and measures SEO health

App Integrations: Includes Google Analytics, Search Console, PageSpeed Insights, and Link Metrics integrations (only available on the paid option)
Best for: Agencies that manage clients with a high volume of web pages and want a tool explicitly geared towards link analysis.
Pricing: Their free features (such as finding broken links and analyzing metadata) give this platform a competitive edge if you manage costs. Remember that the free version comes with a crawling cap of 500 URLs. Screaming Frog's paid and yearly license comes at $209. 
There's nothing like going back to the source. While this may not have been an initial consideration, Google Alerts is an excellent tool to track what's happening with your clients' keywords (and their competitors). The great thing is that it's a completely free link building tool and easy to use. Use this tool to track new developments, such as recent blog posts, with your client's keywords or mentions from other web sources. 

You have to create a custom alert for a specific keyword or phrase, which will deliver regular updates to your inbox (the frequency of email updates depends on what you've opted for).
Agency Tip: Create multiple Google Alerts for different keyword variations of your client's brand name, service/product offering, and other associated words (such as industry or niche-related terms). That way, track whether any particular combination garners a lot of traction.
Features to Note:
Notifications/Keyword Tracking: Create alerts related to specific topics and keywords (this can also be filtered geographically).

Website Monitoring: Keep track of any developments to your client or competitors' backlinks.
Best for: Most agencies, if not all! 
Price: FREE
Not surprisingly, many credible backlinks come from news sources such as journalists. If you haven't heard about HARO (Help A Reporter Out), it's a free online platform that journalists use to find credible and authoritative sources to back up their stories.
If your client is an industry leader with solid expertise, HARO is an excellent resource for submitting carefully-crafted responses and increasing the likelihood of their website backlinking. Once you opt-in to become a source, you'll receive email requests three times a day that indicates what types of sources and topic insights journalists are looking for. 
If it applies to your client's expertise, craft a well-written response that may be picked up and linked to their website. It results in an additional backlink and links to a credible source, which adds fuel to your client's overall SEO strategy.
Feature to Note:
Journalist or Source Opt-In: Allows journalists and expert sources to foster connections.
Best for: Agencies who serve clients with in-depth knowledge of a specific area. It will lead to PR and networking opportunities if appropriately leveraged. After all, it never hurts for an agency to have key contacts in the media. 
Price: A free package includes the journalist and source opt-ins mentioned above. HARO's standard package starts from $19/month and has additional features such as keyword and text alerts, while their highest tier is a Premium package at $149/month.
BuzzStream is a tool primarily focused on building stellar email campaigns, relationship building, and streamlining the outreach process. After all, it normally takes more than just one email to acquire a backlink.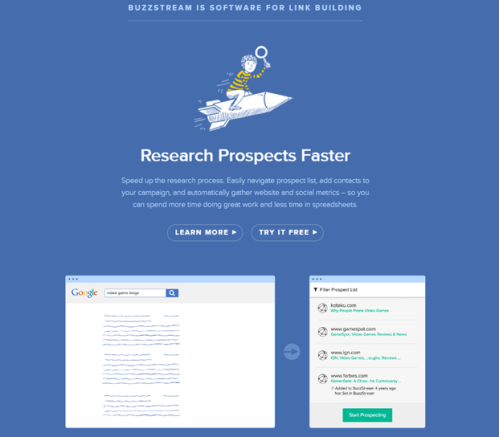 Features to Note:
Link Building Manager: Used to keep track of client campaign progress, team member updates, and the status of received backlinks.

Prospect Research: A built-in tool to gather prospects' website and social media insights.
Best for: Agencies with more than one staff member managing any given account, mainly when there's individual responsibility for monitoring the progress of different links. Because it also functions as a CRM, it works well for clients who may have many customers and backlinks to track at various stages of the sales funnel. BuzzStream is streamlined for email marketing campaigns which means this platform will benefit clients who frequently send out e-blasts or have massive email lists that need regular link analysis.
Price: If you're on a budget, BuzzStream is more affordable with a starter package from $24/month to $999/month for a customized solution.
This is another SEO tool that's dedicated specifically to backlink monitoring. Its interface is user-friendly and straight to the point, which allows you quickly see what's happening with your client's link-building progress.
Features to Note:
Multi-User Support: To enable multiple user access under one Linkody account.

Disavow Tool: To find and disavow any toxic backlinks.

Backlink Monitoring: 24/7 monitoring to quickly point out any significant backlink changes.
Best for: Agencies that want a straightforward, no-fluff backlinking tool. Linkody is also a tremendous resource for identifying any pesky toxic backlinks in real-time.
Pricing: A free 30-day trial is available with Linkody. Their most basic Webmaster package starts from $14.90/month, while their highest tier (Agency XL) is available from $153.90/month.
Strategic outreach to endorse your client's content or brand is essential to link building. NinjaOutreach focuses specifically on Instagram and YouTube influencers, making it a specialized outreach tool.
Feature to Note:
Instagram and YouTube Searches: Quick, easy searches for influencers that can be narrowed down according to industry and geographic location.
Best for: Agencies with clients who frequently have PR events such as product launches, press conferences, and other highly visible campaigns (online, in-person, or both). NinjaOutreach will help to shortlist appropriate influencers who can provide authoritative backlinks. 
Pricing: Try NinjaOutreach free for seven days. If you decide to continue with the platform, a Flex Plan starts from $389/month and goes all the way up to a Pro Plan for $649/month.  You also can take an annual subscription which works out to $155/month for a Flex Plan and $259/month for a Pro Plan.
A tool like BuzzSumo comes in handy to analyze the most engaging content across the web to aid your overall link-building strategy. This platform helps you identify any outreach opportunities while giving you a few content ideas to position your client's brand favorably. There's also a feature to monitor new backlinks (only available on Pro, Plus, Large, and Enterprise Plans).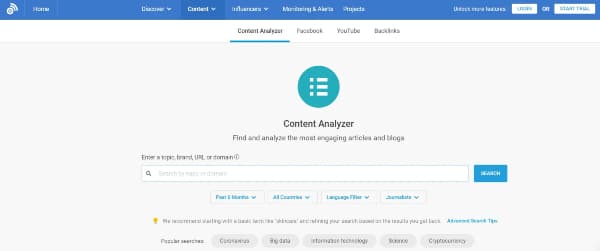 Features to Note:
Content Analyzer: Researches top-performing content across the web.

YouTube and Facebook Content Research: Specifically geared towards finding top-performing content on two major social media platforms.
Best for: Agencies needing ideas to continually churn out fresh, high-quality content while monitoring any changes to acquired backlinks. 
Pricing: A free 30-day trial is available. BuzzSumo's Pro Plan begins at $99/month, while their Large Plan (marketed towards agencies) starts from $299/month. An Enterprise option is also possible upon request. 
Marketed for SEO agencies, Pitchbox is a specialty CRM explicitly built for in-platform outreach to influencers and backlink monitoring. Consolidate your client's networking efforts, perform link analysis, and scale link building within this platform.
Features to Note:
Link Detox: Direct webmaster contact to remove broken links or amend outdated ones.

Broken and Competitor Backlink Checks: Monitors competitor performance and any significant changes to existing backlinks.

In-Platform Outreach: Includes resources to find guest post opportunities and bloggers.
Best for: SEO agencies with clients who want to continuously track their link building progress, manage outreach efforts, and seek new networking opportunities in a consolidated format
Pricing: If you're interested in Pitchbox, book a free demo. Otherwise, their Basic Plan starts from $195/month. An agency package starts from $395/month, which may be the most appropriate option. 
If you're a fan of Chrome extensions, Check My Links is a free link-building tool that may be the ideal backlink checker for your agency. This tool monitors a website for broken links and even has a feature to save a copy to your clipboard. Another great tool for broken link replacement campaigns.
Feature to Note:
Broken Link Checker: Identify any broken links on your client's webpage(s)
Best for: Agencies that want a free platform that works seamlessly in the background to monitor any broken links on client webpages. 
Pricing: FREE
Respona is an all-in-one blogger outreach platform outfitted with all of the necessary tools to set up and launch an email campaign of any kind, be it for link building, digital PR, marketing, or even sales.
It's integrated with Google's search engine for streamlined prospecting and pulls metrics like Domain Rating and Ahrefs Rank directly from Ahrefs.
An easy-to-use email finder is also included, making it extremely easy to find the right person's contact information without having to rely on any other tools.
Respona's intuitive interface guides you through every step of creating and launching your outreach campaigns, keeps track of your performance, and also the status of your conversations with each prospect.
The tool will be especially useful to link builders, as it was initially used to help Visme scale their link-building outreach efforts, helping the website gain over 2 million organic visitors a month.
Automated email outreach

Great for prospecting and finding contact information

Deep personalization

Built-in analytics and reporting
Pricing: Starts at $99/month.
Link Build to Position Your Client's Brand on Top 
Now that you know the best link-building tools and insights for your client's SEO strategy, the only way is up! Setting things in motion will position your client's brand for the long haul and develop an excellent foundation for success.
If it seems like an intimidating process, start small by creating relevant content and building your way up over time. Explore the variety of link-building tools and invest in one to strengthen your client's SEO efforts and derive more long-term SEO benefits. 
As your client's link-building efforts continue to materialize, you'll need to monitor the status of those new backlinks and tie it into your client's SEO KPI reporting. That's where an automated reporting tools comes in.
Deliver customizable, white-labeled reporting that clearly shows backlink-building progress and growth–all with the click of a button. Take a look at our link building template to use for your client reports.
Ready to step up your SEO reporting game? Let's get you on track–try AgencyAnalytics free for 14-days with no credit card required.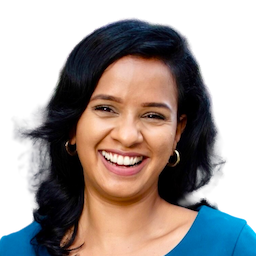 Faryal Khan is an experienced marketer and brand photographer with a passion for content creation. She creates value for brands through storytelling and captivating visuals.
Read more posts by Faryal Khan ›
Try AgencyAnalytics risk-free for 14 days. No credit card required.