Want to win more new clients? Put some extra effort into your marketing agency's SEO proposals!
We all know that SEO agencies are all about optimizing clients' websites to get them top rankings on major search engines. But here's the thing–even if you're super skilled at getting those results, your agency may still struggle to attract new clients.
It's like having a delicious cake, but nobody knows it exists! Maybe you just haven't found your agency's unique selling proposition yet, or–more likely–your SEO proposal template needs work (luckily, that's the one we're covering today).
Plus, the digital marketing industry is pretty cutthroat, so standing out from the competition can be a challenge. Without a solid SEO proposal template and a little bit of charm, even the most talented SEO agency may find themselves stuck in a rut.
But what should be included in an SEO proposal? How long should it be? And how do you create a successful template? We've compiled a list of the most important things to include in an SEO proposal as well as provide a free SEO proposal template for you. These are sure to help you impress your clients during the sales process and seal the deal!
Let's tackle this together, shall we?
What Is an SEO Proposal, Really?
An SEO proposal is essentially your agency's sales pitch—it's your chance to convince a new client that your marketing agency is the perfect fit for them. For existing clients, bringing up search engine optimization is an opportunity to upsell with an SEO project. 
Your prospective client is likely reaching out to multiple SEO agencies, and a clear, actionable SEO proposal template is your chance to stand out from the pack.
An easy-to-understand proposal is also going to save you a lot of headaches down the road, as your clients will know exactly what to expect from you and when they should expect it.
However, you don't need to spend hours crafting the perfect proposal. Use our free proposal template (or create your own) as a starting point. Then add customization for every potential SEO client so that it really speaks to their business goals.
Keep reading to learn everything that you should include in an SEO proposal that will help you win more clients.
What to Include in An SEO Proposal For Your Potential Clients
This list provides a general breakdown of the information your SEO proposal should contain.
Use it as more of a starting point than a set of hard-and-fast rules. As your agency customizes its proposals, you may want to add additional sections or remove others, depending on the prospective client.
1. Introduction & Summary
First off, start your proposal by introducing your agency. Let the client know what makes your agency the best fit for their SEO campaign needs!
Remember: a proposal is essentially a sales pitch. Here is where you'll be selling your SEO agency and building credibility. You also want to focus on the long-term benefits of SEO to the client. Remember, people don't buy SEO packages; they buy a solution to their problems. Their problem isn't backlinks or blog posts; it's low online visibility, not enough traffic, and/or stagnated sales.
Later in the SEO proposal, you'll dive more into the exact deliverables of your agency's SEO solutions as well as the pricing.
A great introduction should:
Show What Differentiates Your Agency: What SEO services do you offer? What's your mission statement? Why should the client choose you?

Highlight Your Agency's Experience: Show your clients that you have what it takes to deliver results. Mention previous clients or link to any case studies and testimonials that reinforce your expertise.  If you've won awards or have certifications, mention those in the proposal.

Focus On the Benefits, Not Just the Deliverables: SEO ROI goes well beyond the core metrics of Domain Authority, organic traffic, and search rankings. It delivers revenue, brand credibility, and much more.

Introduce the Team: Let the client know who they'll be working with and what makes them a qualified account manager who will deliver on their SEO strategy.
The introduction should only take up a page or two of your SEO proposal template. While it's one of the most important parts of the proposal, you don't want to steal the spotlight. Ultimately, the client wants to know exactly how your agency's SEO services will help grow their business.
2. Pitch Specific SEO Insights
This section contains the bulk of the personalization in your proposal and is likely where you'll spend the most time.
Here you want to show specific SEO analytics and insights you've gathered about their current SEO performance on major search engines.
This builds a lot of initial trust and credibility with the client as they see that your agency has taken the time to come up with a suitable SEO plan for their target audience by:
Understanding their business problems and goals

Researching their website

Personalizing the proposal

Completing in-depth competitive analysis

Understanding the target audience, which will inform the keyword research
It doesn't take much time to gather a few SEO insights to include in the proposal.
Insights to include in your research are:
It's important to be transparent and to use language the client understands. Sometimes it's easy to get caught up in "industry talk" that the clients have no idea about.

Kevin Watts, President, Raincross
Quickly do a little keyword research by entering a few target keywords in a rank tracking tool to find out where the website currently ranks and the organic search volume. Include this data in your SEO proposal, as well as insights on which keywords you plan to target.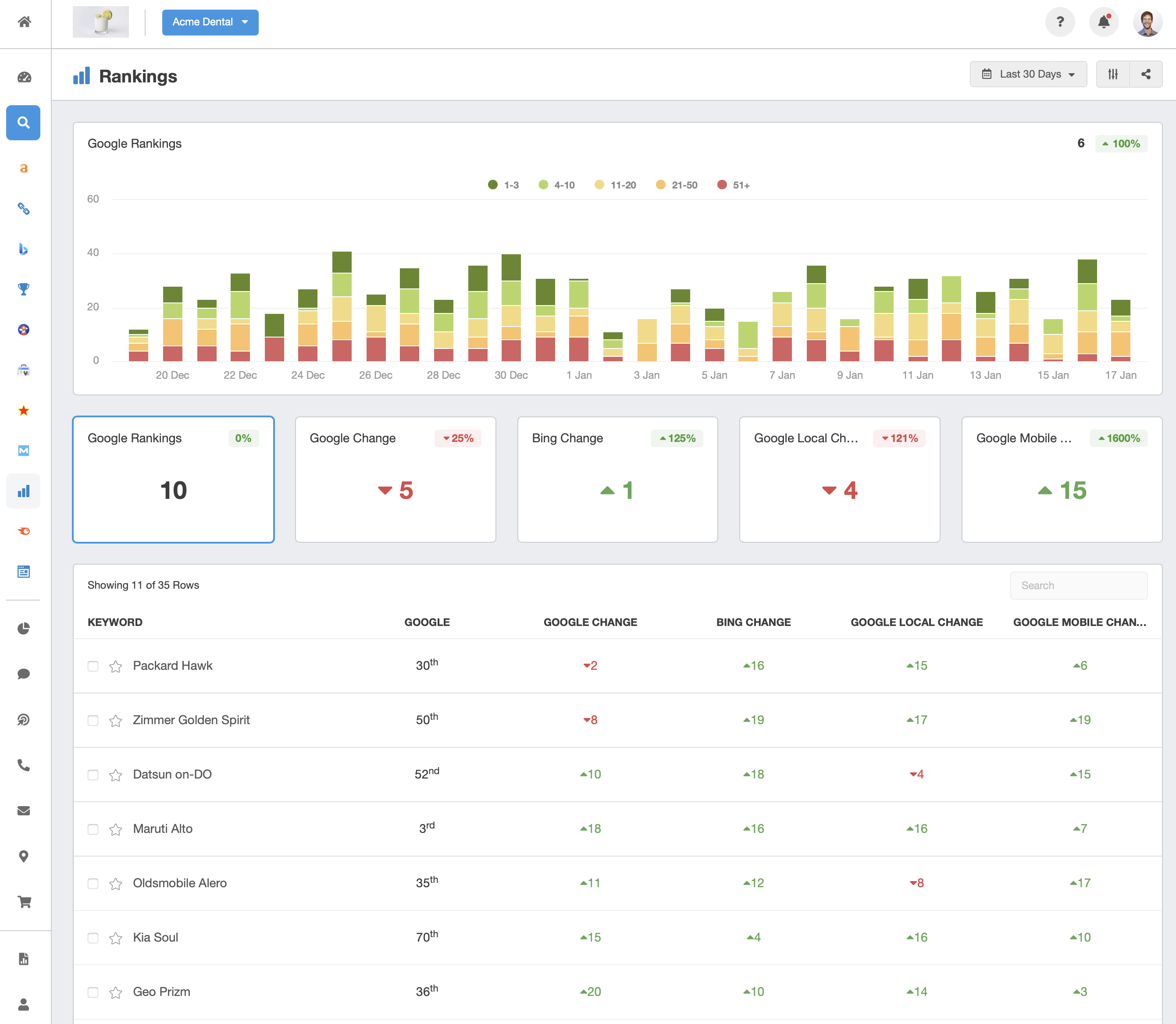 Create your own rank report in minutes using our Rank Tracker tool. Try AgencyAnalytics free for 14 days.
Additionally, consider including keywords their competitors are ranking for in search engines, but they are not. A competitive analysis adds insights into what opportunities they're missing out on and highlights your agency's plan to address them.
You should also review their technical SEO by running a health checkup on your potential client's site to uncover opportunities for on-site improvements. Are they missing meta descriptions? Does their website load too slowly? Or are they suffering from duplicate content issues?
Our jumpstart, remediation, and audit services are all offered with a clearly defined scope, so we are able to offer a fixed fee. This allows our clients to know exactly what they will be getting and how much it will cost and provides our team with the clarity to deliver on time and on budget.

Adam Binder, Founder/CEO, Creative Click Media
Include a high-level overview of their SEO KPIs and current issues, and your agency's plans to fix them. You can run a site audit with AgencyAnalytics' free trial.
Here's an example of an insights page from our SEO proposal template:
3. Solutions & Deliverables
In this section of your proposal, you'll dive into what tasks and projects you'll actually be doing as part of the SEO campaign.
Are you offering link-building services? How many links would you build a month to boost indexing on major search engines? Will your digital marketing efforts involve creating a content strategy for their website? Will you manage their social media marketing alongside their search engine optimization programs? You get the idea.
Research the customer's needs, requirements, and expectations. Show them the competition and what they are up against. Pull all this information together to provide a price that is going to work for both the client and the agency.

Andrew Thomas, Technical Director, HookedOnMedia
Outline the deliverables included in your SEO packages so your client knows what to expect from you on a monthly basis. These should be specific and quantifiable.
For example, if you are recommending content creation for their website, let them know how many pages or blog posts they should expect each month and what conversion rates they can expect. Tieing your efforts directly to revenue is a great way to focus on the investment and the ROI.  
There is a ton of work that has to be done every month if you want to see impactful results. Our monthly model is based on how much content we create. The client loves it because they don't have to hire all the people or find that unicorn employee to be able to be everything they need in one employee.

Daniel Molina, Owner, Red Palm Studios Digital Marketing
Also, include what kind of SEO reporting they should expect each month. If you're giving them access to a live SEO dashboard or using professional SEO reporting templates to monitor results, show these off in the deliverables section of your proposal.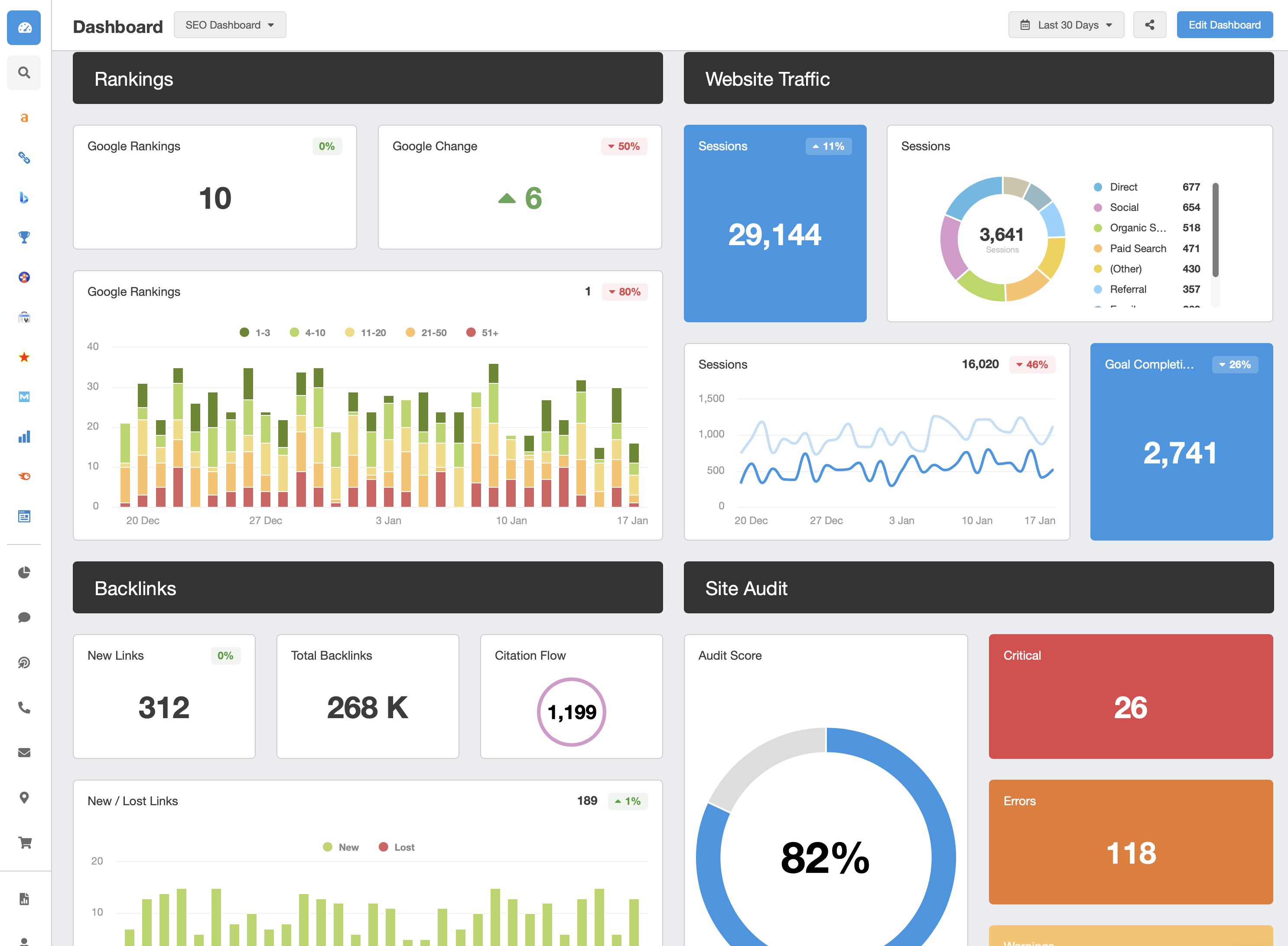 Create your own SEO Dashboard with our template in minutes. Try AgencyAnalytics free for 14 days! 
4. Goals
Set SMART goals that your agency will strive to achieve. A few examples of SEO goals you may include in your SEO strategy are:
To set these types of goals, you'll want to have a general idea of what you know you can achieve based on past clients you've worked with. Don't just grab numbers and goals out of thin air!
While rankings are important, they are only a means to an end. We understand that our clients don't just want to rank #1 for a search term. They want leads. This is why we focus on strategies that drive real business results and not just rankings.

Kurt Schell, President, Lithium Marketing
It is also helpful to get access to their Google Analytics account or have a rough estimate of their current organic traffic prior to sending the SEO project proposal. This will give you a benchmark to set the goals.
5. Project Timeline
SEO takes time, but many people don't know that. Include a timeline in your SEO proposal template so the client knows when they can expect to see results.
Break each of your proposed solutions down into specific, measurable milestones. That way, the client will be able to keep tabs on your progress, even if it takes a while for traffic and other SEO metrics to improve.
Some clients expect a lot of work to be done upfront immediately. Setting a realistic timeline will save a lot of headaches down the road and help you avoid having to end a client relationship.
6. Investment
Once you've made your case for how you can help the client, it's time to talk money.
The investment section of your proposal includes all pricing for your SEO services.
I always prefer referring to the pricing section as an "investment." Your SEO services help their business grow and generate more revenue. It's important to remind the client of that before asking for their credit card. The fees you charge should be viewed as an investment in their business.
Underpricing your services can be detrimental to both your business and the client's success. When you are budget constrained, it can lead to not being able to execute the necessary work to achieve success.

Kurt Schell, President, Lithium Marketing
You may choose to give the client several pricing options to choose from. This reduces sticker shock by giving the client a sense of control over the buying process.
Introduce your standard package, which covers all the SEO services you've talked about in your proposal. Then give the client two other options to choose from: a pared-down, less expensive package, and a deluxe package that involves a few extra SEO services.
7. Call to Action
This is one of the most important sections of your SEO proposal that is too often forgotten!
End your SEO proposal template with a strong call to action that lets the clients know the next steps to get started. It should include your contact information and the next steps in the process.
How Do You Write an SEO Proposal?
The best way to write an SEO proposal is first and foremost, personalization.
To get more clients, spend more time creating the perfect proposal and focus on how your approach differs from other agencies, so your agency stands out from the crowd.
It's okay to use a proposal templates for the overall structure of the proposal, but the content in each section of the proposal should be personalized for every client.
It's usually obvious when a proposal has been copy-and-pasted, and while that approach might save you some time, it won't impress customers.
Remember, your potential clients are probably considering other search engine optimization agencies besides your own, and tailoring your proposals is a powerful way to stand out from the competition. 
It's rarely about price, it is about value. If you can deliver consistent results and ROI, clients will be happy.

David Rooks, Agency Owner, Rooks Advertising
Many SEO proposal templates out there include Terms & Conditions for your client to sign. While you can include this, it's usually best to avoid this in a proposal as it isn't necessarily part of the sales pitch process.
Once the client has decided to come on board, send the invoice and Terms & Conditions to get signed. 
Appearances matter, so pay close attention to your formatting. If your SEO proposal template looks cheap, clients will get a negative impression of your agency, regardless of how well-written the proposal itself is.
Aim for an organized, elegant layout, and incorporate plenty of white space on each page -- this will help you avoid the "wall of text" effect.
Lastly, your client probably isn't an SEO expert, so make your writing as clear and easy to follow as possible. Use a professional but down-to-earth tone, and avoid using too much technical jargon where you can.
If you get stuck, think about how you would explain something to the client in person.
SEO Proposal Template With AgencyAnalytics
If you're ready to create an SEO proposal for a prospect, you can save time by using our Proposal Template. As you can see below, this free SEO proposal template has all the features mentioned in this article and can be customized for each client:
Create your own SEO proposal using our free SEO proposal template in minutes. Try AgencyAnalytics free for 14 days.
Using an SEO proposal template like the one offered by AgencyAnalytics benefits digital marketing agencies by streamlining their client acquisition processes. More clients = more revenue. Here are some reasons why:
Time-savings: Writing a proposal from scratch can be a time-consuming task. Using pre-made templates saves time and resources while delivering a comprehensive and professional proposal to potential clients. The AgencyAnalytics SEO proposal template is user-friendly and customizable to fit the specific needs and preferences of each client.

Professionalism: A polished proposal template creates a great first impression with potential clients. It demonstrates that the agency is serious about its work and committed to providing high-quality services.

Consistency: Consistency is key to building trust with potential clients. By using a proposal template that aligns with the types of white-label SEO reports the clients will receive once onboarded, agencies can establish a sense of reliability and credibility with their clients.

Customization: While the template provides a framework, it is easily customized to fit the unique needs of each client. This way, agencies tailor their proposals to the specific requirements and preferences of each client while still maintaining a consistent format and structure.

Competitive advantage: A well-crafted proposal can be a deciding factor in winning over potential clients. By using a template that is professional, concise, and visually appealing, SEO agencies set themselves apart from their competitors and increase their chances of winning new business. We also wrote a detailed help article that shows you exactly how to set up and customize this report template.
The Takeaway: Best SEO Proposal for Clients
Mastering the art of writing a killer SEO proposal for clients is well worth the time and effort it takes. You'll land more clients when all your proposals are personalized, detailed, and well thought out.
If you want to start improving your proposals today, focus on addressing your client's pain points, clearly communicating how you can help, and building trust.
When you're ready, get started crafting winning SEO proposals using our SEO proposal template with a 14-day free trial.
Joe started his career as a developer and since has created many internet businesses. He has now moved on to the position of CEO and has enjoyed all the challenges it has brought.
Read more posts by Joe Kindness ›
Try AgencyAnalytics risk-free for 14 days. No credit card required.