As an SEO professional, you rely on data.
Data to tell you what's going well, and data to inform you of what needs improvement.
In this guide, we share the top seven SEO KPIs your agency should be tracking in 2023. We discuss what they are, why they are important to your agency and your clients, and how to properly track them, including:
Let's get started.
SEO KPI #1: Organic Traffic
Organic traffic is undoubtedly one of the most important SEO KPIs to track. 
Let's start at the foundation – the primary goal of SEO is to:
Rank for high-value keywords so that…

You drive traffic for high-value keywords so that…

You can increase leads / sales / phone calls from organic traffic
Without traffic, the final result of leads / sales / phone calls won't happen.
That's why organic traffic is one of the foundational SEO metrics. Organic traffic is great because it's specific, and targets high intent customers. It's also the backbone of your client's online presence providing long-term value to their business. According to Google's Economic Impact Report, organic search is 5X more valuable than Google Ads. 
Why Is Organic Traffic an Important SEO KPI?
While paid ads may drive traffic to your site quickly, as soon as you turn those ads off, traffic will slow way down. And there's no long-term return on investment. Organic traffic may take longer to see results, although the ROI can be massive in the long run.
There are two important ways to think about organic traffic as an SEO KPI:
POSITION MATTERS: You could be ranking for 100 of your MOST valuable keywords on page four of Google. But those rankings won't mean anything since you'll likely receive minimal organic traffic – very few people make it to page four of Google results.
Sure, you've done some things "right" with your SEO since you're ranking for keywords. But, it's not enough since it doesn't result in people visiting your client's website.
It's much better to be ranking in the 1st position on page one of Google for two high-value keywords since you know you'll drive relevant traffic to your website.
QUALITY MATTERS: Many SEO professionals love seeing increases in traffic. However, additional organic traffic is only valuable if it's traffic coming from your target audience.
It's better to have 500 engaged organic visitors who fall within your exact target audience per month than have 5,000 organic visitors per month who don't fall within your target audience.
Don't get caught up trying to increase organic traffic for traffic's sake. Hone in on increasing traffic that you know your target audience is searching for. 
For example, as a marketing agency working for a real estate client in San Francisco, you could have 3 options to target for organic search:
Option A:  San Francisco Realtor - Although relevant, the competition for this keyword is very high (the SEMrush Keyword Difficulty score is 70) and you may not be able to crack the first page in the short term. 

Option B: San Francisco Houses - There is a massive amount of volume, but many of these could be people just interested in exploring the unique architecture in the area and may not be in the market to buy or sell.

Option C: Pacific Heights Real Estate - Although the volume is lower, so is the competition for this longer-tail & more specific term (the SEMrush Keyword Difficulty score is 44). It could be a great, high-intent term for your agency to target.
Based on the ability to compete and the relevance matrix discussed above, Option C would be the best approach to SEO optimization. Once that keyword has gained solid ranking, move on to attempt to gain traction behind the other options. 
How Do You Easily Track Organic Traffic?
Organic traffic is easily tracked through Google Search Console.
AgencyAnalytics has an integration with Google Search Console that simplifies the process of tracking and analyzing organic performance.
After integrating your campaign with Google Search Console, easily navigate to the Google Search Console tab. You'll then see something like this.

In the upper right corner, simply toggle between dates to see what this month, or last month, or last year's performance looked like.
You can also, in the upper left corner, toggle between:
Top Queries

Top Pages

Countries

Devices
If you were to toggle to "Top Pages," you'd see something like this: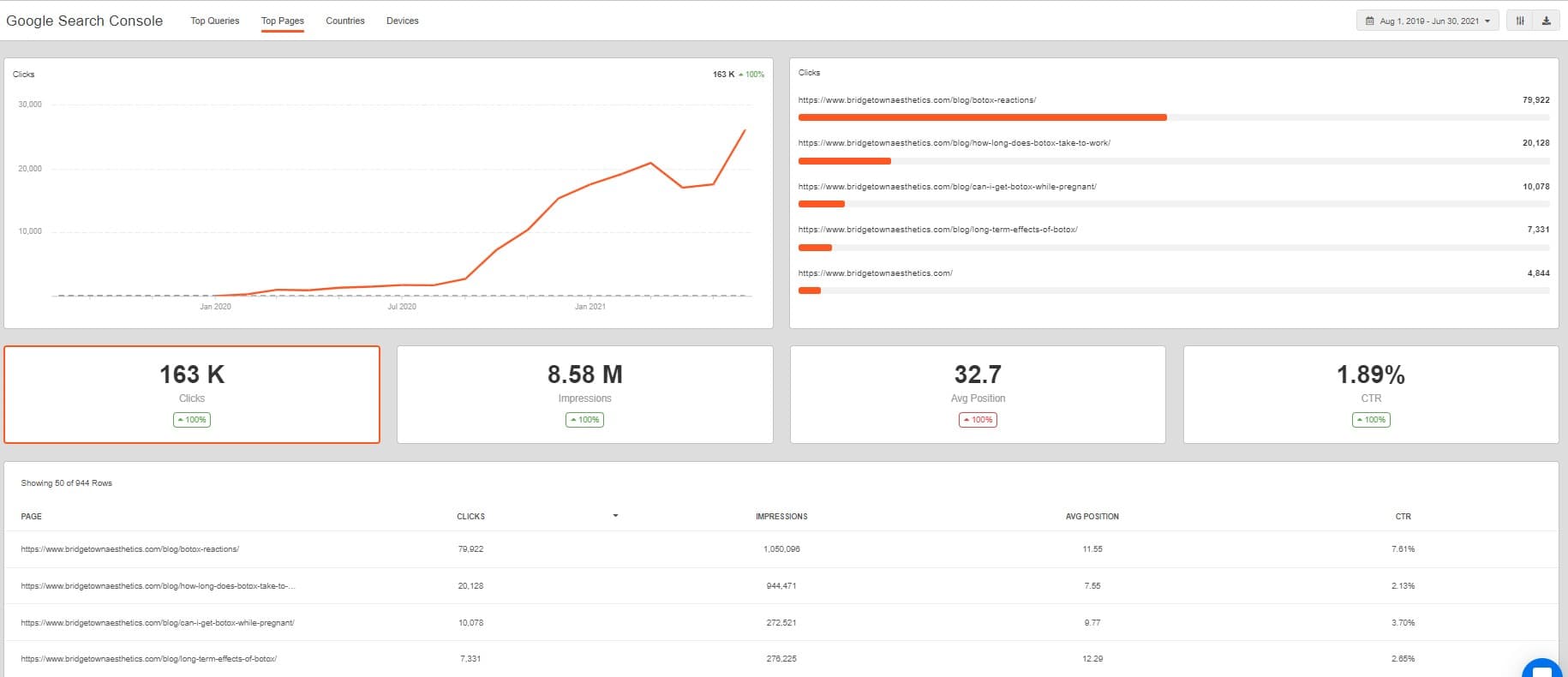 At the bottom of the screenshot above, you get insight into which pages were your top performers during the time period you specified.
In short, the Google Search Console integration gives you the same abilities to track performance as you would within Google Search Console directly, but with a much simpler and easier-to-understand interface.
SEO KPI #2: Keyword Rankings
Keyword rankings are one of the most important SEO KPIs to track. These rankings tell you where your website is positioned in the SERPs for a particular keyword. 
When tracking keyword rankings, tools normally track how the keyword rankings change on a daily basis. 
For example, let's say your client is a naturopathic doctor in Portland, OR. You would likely want to track the following keywords in the Portland area:
Naturopath Portland

Naturopathic doctor near me

Best naturopath in Portland, OR
Your keyword ranking tool might tell you that you're ranking 2nd in Google for "Naturopath Portland" and 9th in Google for "naturopathic doctor near me." This data is important.
The goal for keyword rankings? 
Rank at the top of the SERPs for as many high-value industry-related keywords as possible.
Why Are Keyword Rankings an Important SEO KPI?
Keyword rankings are "lead metrics" for organic traffic. The relationship between keyword rankings and organic traffic is pretty straightforward:
If you're ranking well for a keyword that has high search volume, you can expect a lot of organic traffic for that keyword.

If you're not ranking well for a keyword that has high search volume, you can expect minimal organic traffic for that keyword.
Keyword rankings directly correlate with Click Through Rate (CTR) – the higher your website ranks, the higher your CTR will be for that keyword. 
Here's a breakdown of CTR by ranking position in Google: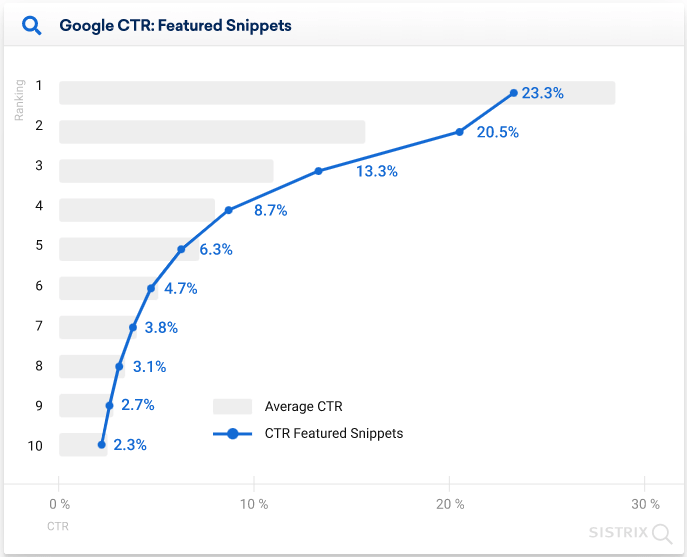 Let's use a clear example of just how important keyword rankings are. For this example, we'll use a software as a service (SaaS) that sells tax-related software.
This SaaS company created a piece of content around the keyword "mistake on tax return already filed." Seems like an odd keyword, but according to the data, this keyword has 880 people searching each month. That's roughly 10,560 people searching each year!
If we use the data above, we can conclude that if this SaaS company ranks first for this keyword, they can expect ~43% of clicks. With 10,560 people searching per year, ~43% of clicks equals 4,540 organic visitors each year. 
By tracking the performance of this keyword (and all other important keywords), marketing agencies gain invaluable insights into what their organic traffic will look like.
How Do You Easily Track Keyword Rankings?
Within AgencyAnalytics, easily track keywords rankings with the Rank Tracker tool.
Using this tool, track hundreds of high-value keywords your brand should be ranking for. 
Quickly see how each keyword is performing on:
Google desktop

Google mobile

Google local (maps)

Bing
Also, get granular by tracking how keywords are ranking based on location. 
For example, if a brick & mortar business is based in Brooklyn, NY and only serves local clients, then that business should only care about how they're ranking for their target keywords in the greater Brooklyn area.
The tool allows you to determine how you're ranking locally – down to the state, county, city, or even zip code – as you can see from the screenshot below:
SEO KPI #3: Google Business Profile Metrics (Only for Local Businesses)
If you're a local business with a physical location, such as a dentist, realtor, lawyer, or restaurant, then Google Business Profile (formerly known as Google My Business) is one of your most powerful marketing tools.
The example below will share just how important your Google Business Profile is:
Let's say someone in Portland, OR is looking for a dentist. They type in "dentist in Portland" into Google. This keyword has about 3,600 people searching per month. That's over 40,000 people each year.
The first thing that shows up in Google is? Something called the Google Local Pack.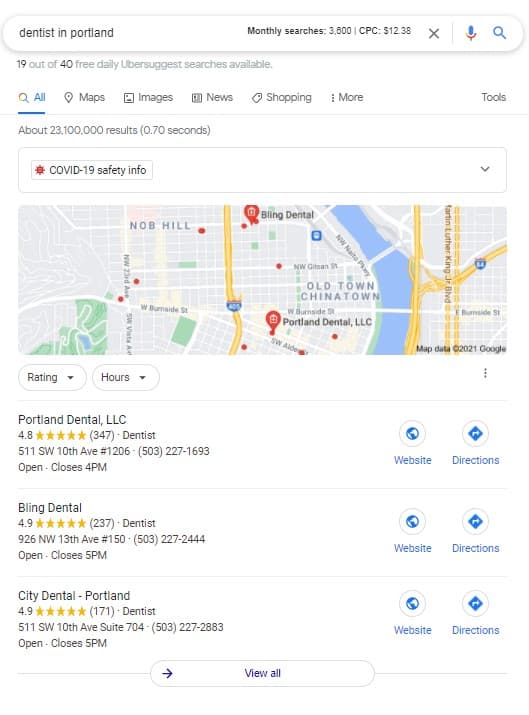 We call the Google Local Pack "beachfront real estate on the internet." 
Why? 
There are over 40,000 people searching for this exact keyword of "dentist in Portland" each year. The three dentists that rank in this Google Local Pack get the most exposure, the most website visitors, and the most phone calls. 
Since Google Business Profile is so important for local businesses, it's critical that certain SEO KPIs are tracked from within Google Business Profile's platform.
Why Are Google Business Profile Metrics an Important SEO KPI?
As we discussed above, ranking locally has a lot to do with your Google Business Profile.
Therefore, local business owners or marketing managers will want their marketing agency to know exactly how their Google Business Profile is performing over time. 
There are 5 main metrics you want to measure.
Searches: The number of times your client's listing was shown in search results.

Views: The number of times your client's listing was viewed on Google Search or Google Maps.

Clicks: The number of times your client's website was clicked via your GMB listing.

Direction Requests: The number of times driving directions were requested via your client's listing.

Calls: The number of times your client's phone number was clicked via your listing.
Different SEO KPIs within Google Business Profile matter for different types of businesses:
If your client is an ice cream shop, you really care about "direction requests." The more direction requests you get, the more people are navigating to their ice cream shop. Nice!
If your client is a lawyer, you care about clicks to the website and phone calls. Since legal services are more expensive, people are likely going to call first. You wouldn't expect someone to request directions and just stop by. 
How Do You Easily Track Google Business Profile Metrics?
Within AgencyAnalytics, track these metrics with the Google Business Profile integration, which looks like this:
Within this dashboard, quickly see how all your key performance indicators for your Google Business Profile are doing.
Easily track performance for specific time periods by changing the date in the upper right corner and comparing performance to previous time periods.
With the dashboard, you will track all the same metrics as you could directly from within Google Business Profile.
SEO KPI #4: Leads / Phone Calls / Sales
As previously discussed, the goal of SEO is to:
Rank for high-value keywords so that…

You drive traffic for high-value keywords so that…

You can increase leads / sales / phone calls from organic traffic
Number three on the list is to increase leads, sales, phone calls, or any other type of conversion from organic traffic.
Organic traffic alone doesn't make money for the brand. Organic traffic that converts to a customer or potential customer is what makes money.
Why Are Leads, Calls, and Sales an Important SEO KPI?
As a marketer, early in a campaign, you make assumptions about how people are going to behave.
You assume that:
If we rank for this keyword, then we'll drive traffic. If we drive traffic for this keyword, then we'll convert users into customers.
But, you can't know that for sure. 
By closely tracking conversions as an SEO KPI, you will be running a data-driven experiment to know if your SEO efforts are paying off. 
How Do You Easily Track Leads, Calls, and Sales?
How you track conversions will, of course, depend on the type of business.
Some brands have elaborate and robust Google Analytics goals set up based on conversion type or a particular step of their customer funnel. 
If you leverage Google Analytics to track conversions, you can use our Google Analytics dashboard integration to easily track this SEO key performance indicator. 
This is just one of the SEO KPIs to track with Google Analytics–we'll get to more later.
Many brands use Hubspot as their CRM to track conversions, leads, sales, and more. AgencyAnalytics has an easy-to-use Hubspot dashboard integration that gives you insights into your conversion performance.
SEO KPI #5: Bounce Rate
Bounce rate, according to Google, is defined as: 
Single-page sessions divided by all sessions, or the percentage of all sessions on your site in which users viewed only a single page and triggered only a single request to the Analytics server.
Basically, a "bounce" is when a user lands on a page of your website and leaves your site without visiting another page.
A high bounce rate means that users probably aren't getting what they need out of your site. Not a good sign.
The goal for any website is to reduce bounce rate so that the user interacts with multiple pages of your website.
Why Is Bounce Rate an Important SEO KPI?
Bounce rate is not a direct ranking factor for SEO.
But, Google clearly cares about a user's experience on your website. In June 2021, Google released its core update called the Page Experience Update.
Bounce rate was never explicitly mentioned as a major factor during this update, but Google continues to advance its algorithm to take a user's experience into account.
A high bounce rate indicates that users may be having a bad experience on your site. This "bad experience" typically falls into one of two categories:
Content Presentation - This could range from the site's design to the time it takes for the page to load. This directly relates to the experience the user has while consuming the content and includes what call-to-action is on the page to move the user to another step in the process. 

Content Relevance - If your client's page is ranking for a keyword that is not relevant, or does not match the search intent, of the user they will likely leave as soon as they realize that the content provided does not match what they were looking for. 
For example, if your client sells clogs for men but you've somehow managed to rank their website for the term "how to get rid of clogs", the people searching for that are more than likely looking for something completely different. 
By tracking your bounce rate, you can determine if you need to make changes to your site to improve a user's experience, the keyword targeting, or the content relevance - which can positively affect your SEO performance. 
How Do You Easily Track Bounce Rate?
This SEO key performance indicator rate is easily tracked through Google Analytics.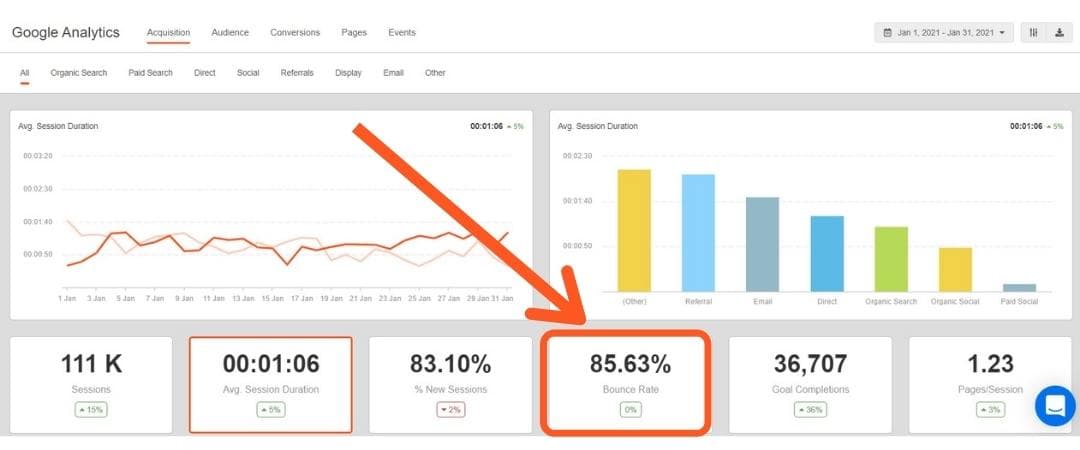 The AgencyAnalytics Google Analytics dashboard integration makes it easy to see your:
Overall website bounce rate

Individual page bounce rate
You can, in the upper right-hand corner of your dashboard, change the dates to see historical bounce rate performance and current bounce rate.
The goal, over time, is to reduce your bounce rate.
SEO #6: High Impression / Low Click Pages
This is an uncommon KPI that you may not have seen before.
However, it's where a lot of the magic happens. If you're ranking on the bottom of page one of Google for a particular keyword, you're not going to get many clicks. But you're going to get TONS of impressions.
Impressions are defined by Google as:
How often someone saw a link to your site on Google. Depending on the result type, the link might need to be scrolled or expanded into view.
These high-impression / low-click pages provide incredible opportunities for SEO growth.
Why Are High Impression / Low Click Pages an Important SEO KPI?
SEO goals are never about having high impressions. They're about having high clicks (organic traffic).
BUT, here's where the opportunity lies …
By closely monitoring pages that have high impressions and low clicks, you can take action to increase clicks.
For example, let's say you're the marketing agency of record for a nationwide yoga studio chain with 100 locations. And you created a piece of content around the high-value keyword of "best yoga poses" which has 1,600 people searching per month.
You discover that you're ranking in position 9 for this keyword with thousands of impressions but only a handful of clicks.
After looking into your content and the competitor's content, you see that your article is about the "5 best yoga poses" while all of your competitors' content includes 10, 15, or even 20+ yoga poses. 
With this knowledge, you optimize your page and add an additional seven yoga poses to make it more comprehensive and valuable to the reader. Two months after optimizing the content, you're now ranking in position 3 for the high-value keyword of "best yoga poses." Now your content has high impressions AND high clicks. A huge win!
Without tracking the KPIs of pages with high impressions and low clicks, you would've missed this opportunity. 
How Do You Easily Track High Impression / Low Click Pages?
Step 1: Within the AgencyAnalytics dashboard, you'll navigate to your Google Search Console integration.
Step 2: From there, we recommend you filter the dates to be the last 30-45 days. See the screenshot below: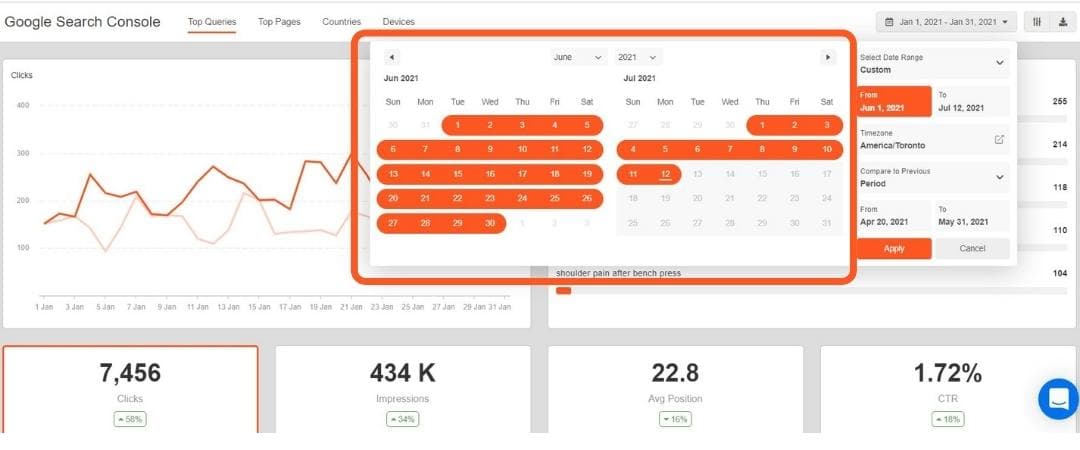 Why this time period? Naturally, keyword rankings (and therefore impressions and clicks) can change frequently with Google's algorithm, competition, and other external factors. If you have a wider time period (say the last 90 days or 180 days), then Google Search Console will aggregate the data. 
There's a good chance that your impressions and clicks from 90 or 180 days ago are much, much different than your impressions and clicks from the last 30 days.
Step 3: Navigate to the "top pages" tab, as seen below:
Step 4: Filter by impressions so that pages with the highest impressions are at the top.
Step 5: Find pages that have high impressions and low clicks. For example, if you look at the screenshot below, you'll notice that the two pages circled have over 40,000 impressions but only ~200 clicks. That's a huge opportunity!
Step 6: From there, analyze why your content is getting high impressions but low clicks. Is your content dated and in need of an update? Are your pages as comprehensive as your competitors' pages? Are the titles and descriptions shown on the results page compelling? Take action to improve your content and you will gradually start to see an increase in clicks.
SEO KPI #7: Core Web Vitals Page Load Speed
Your page load speed refers to how long the pages on your website take to load. This is more of a technical SEO KPI, but it's just as important as the rest of them.
There are two different page load speeds for your website:
Desktop page load speed

Mobile page load speed
Generally, most websites have decent desktop page load speed. However, many websites have low mobile page load speed which can affect your SEO.
Why Is Page Load Speed an Important SEO KPI?
Page load speed (especially mobile page load speed) is particularly important as an SEO KPI for a couple of reasons:
Most users interact with websites from their mobile devices

Google has officially switched to a mobile-first index

Google's June 2022 Page Speed Experience update looks even further into page load speed
What is a good benchmark to follow? Here's what Google set as the standard:
Largest Contentful Paint (LCP): LCP should occur within 2.5 seconds of when the page first starts loading.

First Input Delay (FID): Pages should have an FID of 100 milliseconds or less.

Cumulative Layout Shift (CLS): Pages should maintain a CLS of 0.1. or less.
How Do You Easily Track Page Load Speed?
There are a couple of ways to track your page load speed.
Google has built a free tool called PageSpeed Insights. 
Step 1: Navigate to PageSpeed Insights
Step 2: Type in your website's URL
Step 3: Wait approximately 30 seconds
Step 4: Google's tool will provide a result that looks something like this:
If you've set up your Google Search Console, you will find additional data there.
Step 1: Log in to your Google Search Console
Step 2: Navigate to the Core Web Vitals tab on the left sidebar
Step 3: You'll see something like this populate: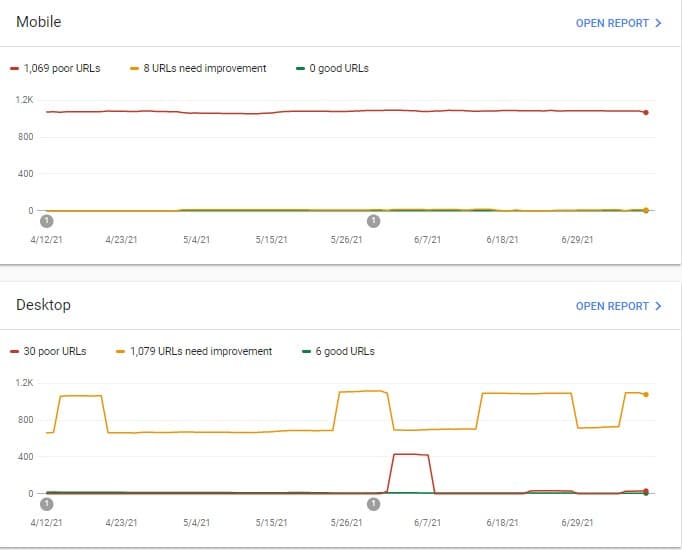 Step 4: Click on "Open Report" for either Desktop or Mobile and you'll see something like this:
Step 5: There are many potential errors that could show up. However, most of the issues that brands experience are related to speed, as you can see from the screenshot above.
SEO KPI #8: Conversions, Leads, and Sales
This one is pretty straightforward. However, many SEO professionals get it wrong.
Most of the KPIs above are what is called leading indicator KPI metrics.
They track metrics that lead to other lagging indicator KPI metrics that are more tangible business results, such as leads and revenue.
Better performance of leading indicators (keyword rankings and organic traffic) will most often translate into better performance of lagging indicators (leads and revenue).
As you can see, it's important to track leading indicators as they will likely improve lagging indicators. But that doesn't mean you shouldn't track lagging indicators altogether!
AKA: track SEO sales.
How Do You Easily Track SEO Conversions?
This isn't an easy question to answer, as it will depend on the type of brand you are:
Local chiropractic clinic

Ecommerce site

SaaS company

Recipe blog

Local ice cream shop
This is where it gets tough:
It's not always easily tracked as the buyer's journey can be twisty and turny. It could look like this:
User hears about your eCommerce product (digital picture frame) from a friend

Months later they search online for "digital picture frame" and you rank

They go to your site but don't buy

A week later they see an Instagram ad for your product and buy

Would that be tracked as an SEO conversion? It's tough to say, it depends on what type of attribution model you use.
However, most of the time, the easiest way is to build goals within Google Analytics, which can be easily reported in your AgencyAnalytics client reports.
No matter your conversion endpoint, you likely can build a "Thank You" page. Such as:
Chiropractor: they schedule an online appointment - boom, redirected to a thank you page

Ecommerce site: they buy your product - boom, redirected to thank you page

Recipe blog: they download your free ebook - boom, redirected to thank you page
Then, within Google Analytics, you can set up a Goal that indicates whenever someone lands on the Thank You page, that counts as a conversion. And Google Analytics can give insight into whether or not that goal was achieved through SEO, referral traffic, social traffic, etc.
Importance of Properly Tracking KPIs
The point of tracking these SEO KPIs is to see how they change over time. Your goal, of course, is to see improvement over time.
If these metrics are moving you away from your goals, pivot and change them.

If these metrics are moving you toward your goals, double down on your efforts.
How To Track SEO Performance
With the AgencyAnalytics platform, easily compare these metrics to previous time frames. 
For example, if you're analyzing how the SEO KPI of "organic traffic" is performing during the month of June 2023, you can compare organic traffic metrics against the previous month of May 2023. Or, compare against the previous year to see how year-over-year performance is going.
You simply toggle dates – see the screenshot below. Simple as that!
These SEO KPIs are fluid. They're constantly changing. 
Therefore, to properly analyze how performance is going over time, you need the flexibility to compare KPIs against historical performance. 
Summary: SEO KPIs 
Successful SEO campaigns are built on a foundation of data. In this way, marketers and SEO professionals, at times, operate more like scientists than creatives.
Diligently tracking and analyzing SEO KPIs using an SEO reporting tool allows marketers to make intelligent decisions that lead to results. 
To solve this, AgencyAnalytics gives marketers and SEO professionals access to their data in one place. The data is highly visual, easily manipulated, and tells a compelling story that allows marketers to succeed in reaching their goals.
You might also be interested in: How to Use SEO Site Checkers the Right Way
Joey Randazzo is the Founder and CEO of Portland SEO Growth. He has a team of 20+ women (mostly military spouses) that produce over 2 million words of SEO-focused content each year. They've worked with enterprise-level clients like Autodesk, WebMD, and NexEra. Read more about how he scaled his marketing agency using remote work!
Try AgencyAnalytics risk-free for 14 days. No credit card required.