In the dynamic world of an SEO agency, data is the compass that guides the course of action for your client's content marketing and organic search optimization strategies. As an agency owner, you need this compass to articulate clear and compelling value to your clients.
This article aims to empower you with a focused understanding of the SEO KPIs crucial for client success. More than that, it's about optimizing your agency's workflow by streamlining and automating the KPI tracking process at scale. 
Our discussion will extend to SEO strategies for efficiently retrieving data, interpreting it with clarity, and presenting it in a way that underscores your agency's worth and the tangible ROI from SEO efforts as you improve search visibility and optimize your SEO strategy to put your clients at the top of the search engines. 
Ready to enhance your agency's KPI tracking prowess and substantiate your SEO ROI narrative? 
Let's get started.
How SEO KPIs Impact Marketing Agencies 
As marketing agencies strive to enhance their client's online presence and drive organic traffic to their websites, measuring and evaluating their SEO efforts becomes paramount. This is where SEO key performance indicators (KPIs) come into play.
SEO KPIs provide valuable insights and metrics that enable marketing agencies to gauge the success of their optimization strategies and validate their worth to clients. 
By analyzing and interpreting these performance indicators, agencies can track the progress of their SEO campaigns and demonstrate the return on investment (ROI) generated through their efforts.
With the abundance of available data, marketing agencies need to decide which SEO KPIs are worth tracking and reporting on to:
Benchmark for success,

Refine their strategies,

Optimize their clients' online presence, and ultimately,

Drive business growth. 
Tracking Your Clients' SEO KPIs at Scale
Your agency constantly seeks ways to increase search engine visibility, gain a competitive edge, and deliver high-quality service to its clients–am I right?
A crucial element to showing up on the search engines and reporting the progress of your SEO strategy is effectively tracking their SEO KPIs. 
However, this process is often burdened with inefficiencies and challenges that can affect an agency's productivity and client satisfaction. Not to mention, manually tracking SEO metrics takes away time from your agency's search engine optimization efforts. 
Let's make a quick comparison between manually tracking SEO key performance indicators and automating the data retrieval and analysis:
Manually Tracking Key Performance Indicators

Automating Retrieval of Key Performance Indicators 

Manually Tracking Key Performance Indicators

Manual data handling opens the door to human error, leading to inaccurate reporting and misguided decision-making.

Automating Retrieval of Key Performance Indicators 

Automation reduces the chance of human error, ensuring accurate and reliable data.

Manually Tracking Key Performance Indicators

With many metrics to track across various platforms, agencies can dedicate too much time to this task. This time could be better spent on strategizing and optimizing SEO efforts.

Automating Retrieval of Key Performance Indicators 

Automation handles large volumes of data across various platforms, freeing time to focus on strategic activities.

Manually Tracking Key Performance Indicators

Keeping up with real-time data and changes in SEO metrics manually can be nearly impossible, potentially leading to missed opportunities.

Automating Retrieval of Key Performance Indicators 

Automated systems provide real-time data, enabling quick reactions to changes and effective SEO strategy optimization.
Enhance Client Communication and Satisfaction by Proving Your SEO Efforts Are Paying Off
Streamlining the tracking of your clients' important SEO KPIs also directly impacts client communication and satisfaction.
Clear Communication: With automated and streamlined data retrieval and analysis, agencies can present clear, concise, and understandable reports to their clients. This transparency helps clients understand the progress and impact of SEO efforts.
Instant Access to Data: Automated tracking systems often come with client-accessible dashboards. These allow clients to view real-time data whenever they wish, fostering trust and openness. Imagine their delight as they see their ranking rising in search engine results pages! 
Demonstrate SEO ROI Effectively: By streamlining your tracking, you can more accurately track and showcase the return on investment (ROI) of your SEO efforts, solidifying your value in the eyes of your clients. Ultimately, this is one of the most important SEO KPIs to track, as clients are always looking for their bottom-line impact. 
Streamlining and automating SEO KPI tracking is about empowering your agency with the right SEO tools and methods to deliver exceptional service to your clients, enhancing their satisfaction, and establishing long-term relationships.
SEO KPIs are fluid. They're constantly changing. Therefore, to properly analyze how performance is going over time, you need the flexibility to compare KPIs against historical performance. 
With the AgencyAnalytics platform, it's easy to report your SEO success by comparing SEO metrics to previous time frames.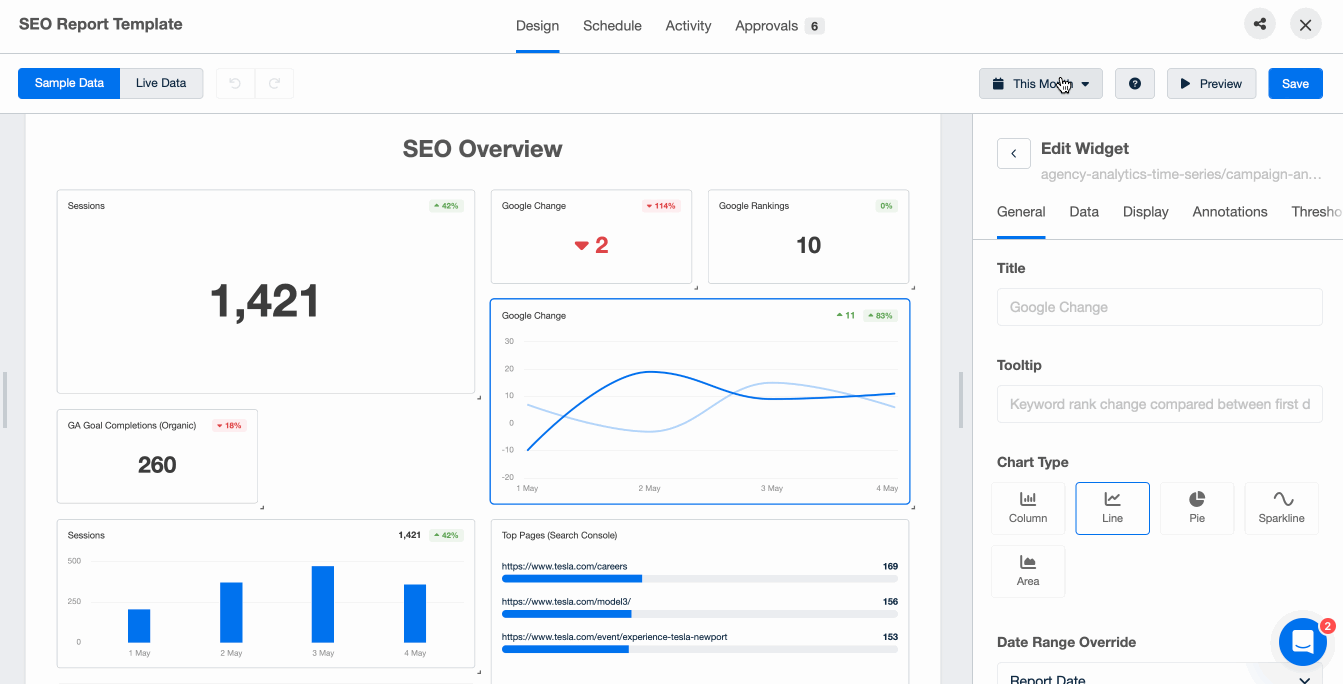 For example, if you're analyzing how organic traffic is performing during the current reporting period, compare it against the previous month or year to see how year-over-year performance is going. Simply toggle the dates to see the results!
8 Most Important SEO KPIs Your Agency Should Be Tracking
Now that we've covered how to prove SEO success efficiently let's explore the most important SEO metrics to include in your dashboards and reports to improve your clients' search visibility and boost their SEO performance. 
1. Organic Search Traffic 
As an established marketing agency, you're no stranger to the concept of organic traffic. However, it's worth revisiting why this particular metric holds such immense value in the complex fabric of your clients' digital success.
Let's consider SEO as a journey: It begins by targeting high-value keywords to secure a robust ranking position. This, in turn, drives traffic specific to these keywords, subsequently translating into tangible outcomes–leads, sales, or phone calls. Organic traffic, therefore, is not merely a milestone but a critical driver of this journey.
This metric stands out because of its inherent specificity and capacity to attract high-intent customers if the research has identified the keywords with the right search intent. It's not about drawing in the masses; instead, it's about engaging a targeted audience who are more likely to convert because they are actively seeking the products or services your clients offer–and seeing them in search engine results pages. 
Getting more site visitors is the lifeblood of your client's online presence, supplying long-term value to their business. It breeds customer trust and brand credibility–elements paid strategies may struggle to achieve in isolation.
In essence, as an agency, it is crucial to emphasize how you're bringing in more organic traffic from top search engines to client sites as a core focus to measure the success of your SEO strategy. By doing so, you'll be equipping your clients with a robust foundation for sustainable online growth.
A Long-Term Investment vs. The Instant Gratification of Paid Ads
While paid ads may drive traffic to your client's site quickly, as soon as you turn those ads off, traffic from search engines will slow down substantially. There's not as much of a long-term return on investment like there is with SEO. While it generally takes longer to prove your marketing efforts to get more organic traffic to your clients' sites, ROI can be massive in the long run.
There are two critical ways to think about organic traffic as an SEO KPI in terms of search engine results pages:
Consideration #1: Position Matters In Search Engines 
You could be ranking for 100 of your MOST valuable keywords on page four of Google. But those rankings won't mean anything since you'll likely receive minimal organic traffic–very few people make it to page four of Google results.
Sure, you've done some things "right" with your search engine optimization since you're ranking for keywords. But, it's not enough since it doesn't result in people visiting your client's website.
Consider the following stats:
It's much better to be ranking in the 1st position on page one of Google for two high-value keywords since you know you'll drive relevant traffic to your website.
Agency Tip: Optimize your clients' Search snippets. Provide concise descriptions in the hopes that Google displays them beneath the SERP result. They offer prospective visitors a snapshot of a website's content, guiding users on whether to explore the result further by clicking on it.
Consideration #2: Quality Matters 
Many SEO professionals love seeing traffic increases. However, additional organic traffic is only valuable if it comes from your target audience. That's why it's called search engine optimization. You're always iterating to get better quality traffic that will result in higher user engagement and, eventually, paying clients. 
It's better to have 500 engaged organic visitors who fall within your client's target audience per month than to have 5,000 organic visitors who don't fall within your client's target audience.
Don't get caught up trying to increase traffic for traffic's sake.
Understanding the different types of keywords user search for helps you hone in on increasing traffic within the target audience. For example, as a marketing agency working for a real estate client in San Francisco, you could have three options for search queries: 
Option A: "San Francisco Realtor"
Although relevant, the competition for this keyword is very high (the SEMrush Keyword Difficulty score is 70), and you may not be able to crack the first page in the short term. 
Option B: "San Francisco Houses"
There is a massive amount of volume, but many of these could be people just interested in exploring the unique architecture in the area and may not be in the market to buy or sell.
Option C: "Pacific Heights Real Estate"
Although the volume is lower, so is the competition for this longer-tail & more specific term (the SEMrush Keyword Difficulty score is 44). It could be a great, high-intent term for your agency to target. 
Based on the ability to compete and the relevance matrix discussed above, Option C would be the best approach to optimizing search results. Once that keyword has gained a solid ranking in the search engine results pages, move on to attempt to gain traction behind the other options. 
How to Easily Track Traffic from Organic Search
AgencyAnalytics has an integration with Google Search Console that simplifies the process of tracking and analyzing organic performance.
The integration allows you to navigate the metrics easily. In the upper right corner, toggle between dates to see what this month, last month, or last year's performance looked like.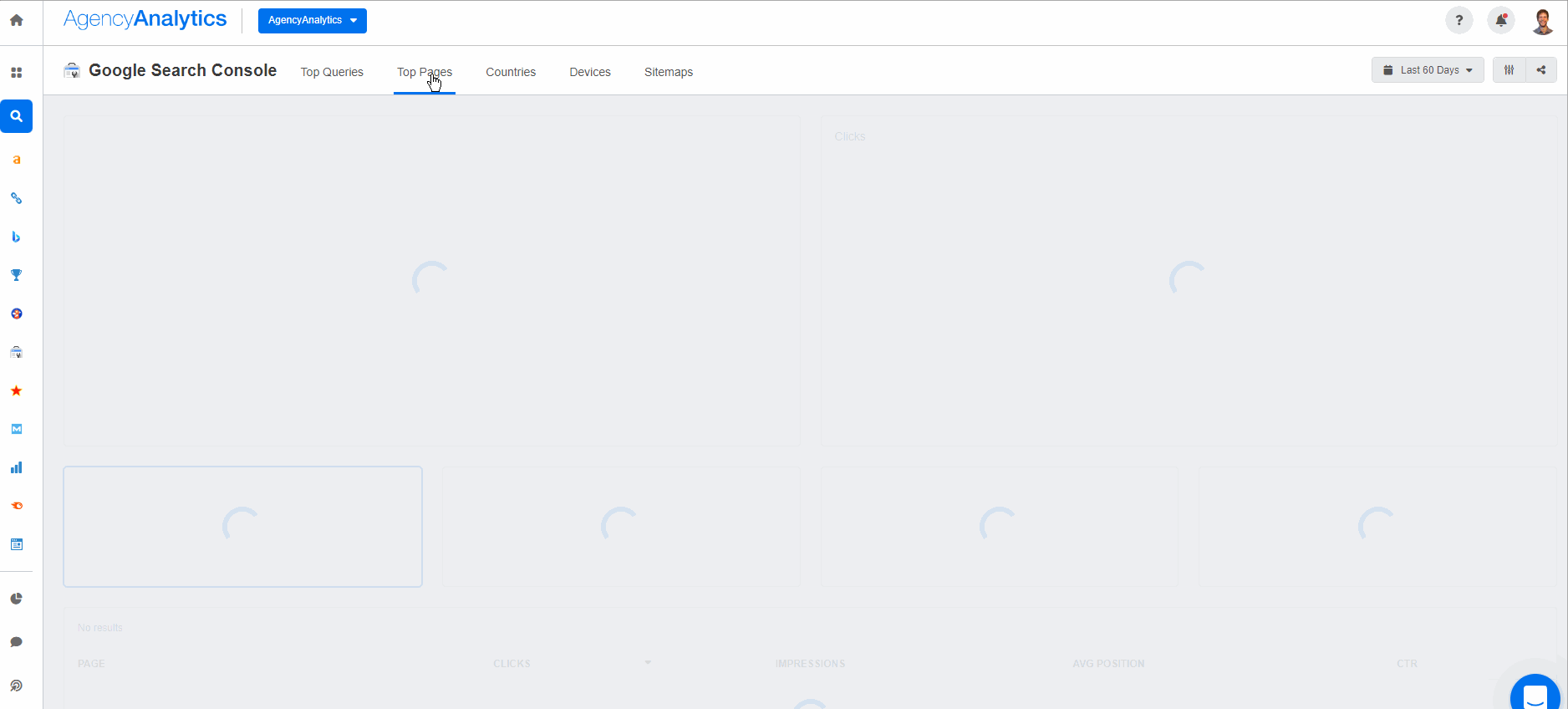 In the upper left corner, you can also toggle between countries, devices, top search queries, and top pages to get insights into which pages were your top performers during the period you specified.
In short, the integration gives you the same ability to track performance as you would within the platform but allows you to report your progress to clients in an easy-to-understand interface.
2. Keyword Rankings
Keyword rankings are one of the most important SEO KPIs to track. These rankings tell you where your client's website is positioned in the SERPs for a particular keyword. 
When tracking keyword rankings, these SEO tools typically track how the keyword rankings change daily. For example, let's say your client is a naturopathic doctor in Portland, OR. You would likely want to track the following keywords in the Portland area:
"Naturopath Portland"
"Naturopathic doctor near me"
"Best naturopath in Portland, OR"
Your keyword ranking reports might tell you that you're ranking 2nd in Google for "Naturopath Portland" and 9th in Google for "naturopathic doctor near me." This data is important. The goal for keyword rankings? Rank at the top of the SERPs for as many high-value, industry-related keywords as possible.
Why Are Keyword Search Rankings Important?
Search engine ranking is a lead metric for organic traffic. And the connection between keyword rankings and organic traffic is simple:
When you rank highly for a popular keyword, you'll receive significant organic traffic related to that keyword. Conversely, if you don't rank well for a highly searched keyword, you'll receive very little organic traffic.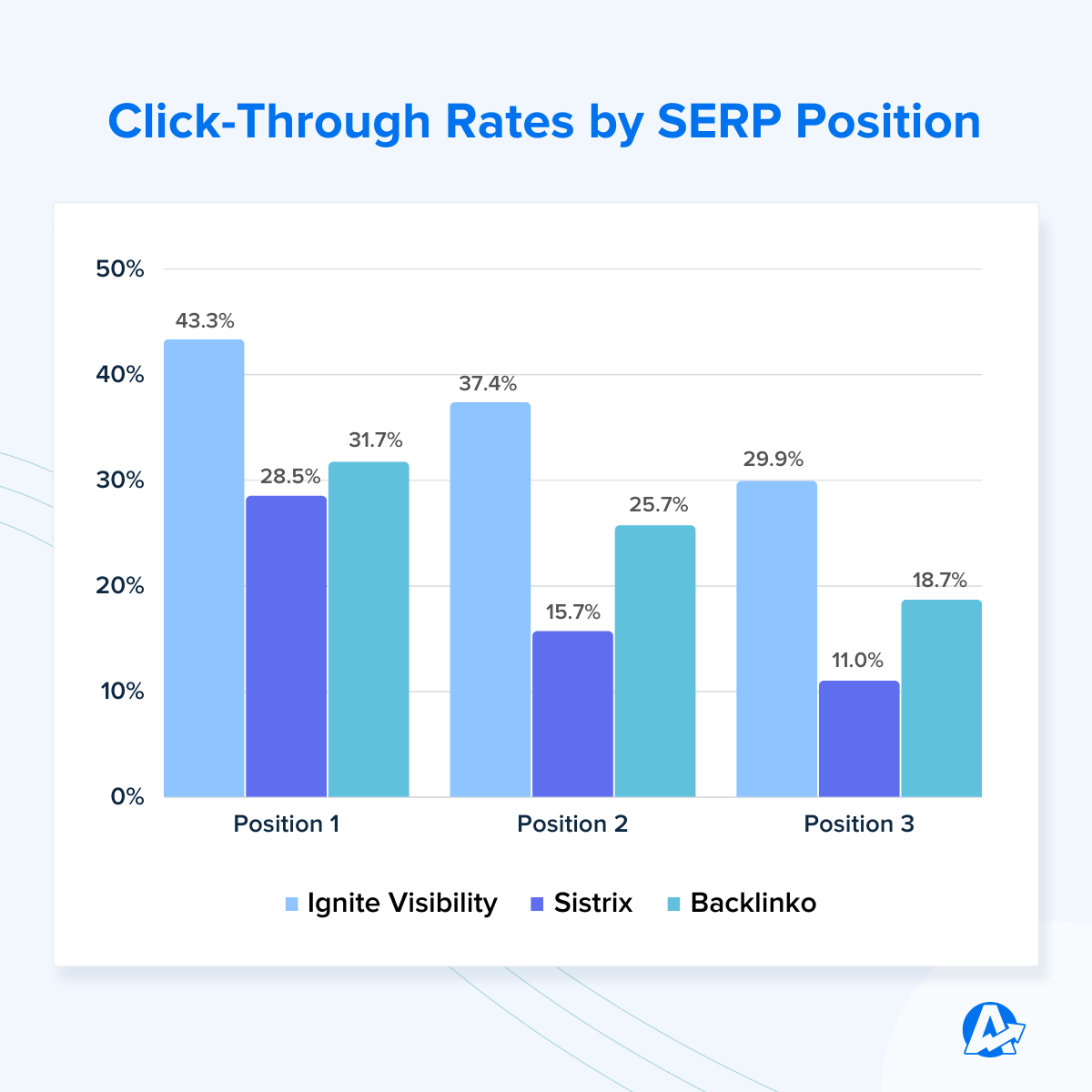 As you can see in the graphic above, search rankings are directly related to click-through rate (CTR)–the higher your website ranks, the higher your CTR will be for that keyword. 
A Case Study for Relevant Keywords as an Essential SEO Metric 
Let's use a clear example to illustrate how important ranking for relevant keywords is. For this example, we'll use a software as a service (SaaS) company that sells tax-related software.
This SaaS company created content around the keyword "mistake on tax return already filed." It seems like an odd keyword, but according to the data, this keyword has 880 people searching each month. That's roughly 10,560 people searching each year!
If we use the data above, we can conclude that if this SaaS company ranks first for this keyword, it can expect ~43% of clicks. With 10,560 people searching per year, ~43% of clicks equals 4,540 organic visitors each year. 
By tracking the performance of this keyword (and all other important keywords), marketing agencies gain invaluable insights into what their search engine visibility will look like. If you want a more granular level and measure which of the on-page or off-page SEO is contributing to rankings, you can track your link-building campaigns, perform on page SEO audit, and make sure that both of them are aligned.
How to Easily Track Keyword Rankings
One of the easiest SEO tools to easily track keyword rankings is AgencyAnalytics' built-in Rank Tracker tool.
It tracks hundreds of high-value keywords your brand should be ranking, allowing your account managers to see how each keyword is performing quickly on Google Desktop, Google Mobile, Google Local (Maps), and Bing. More granular data can be found by tracking how keywords rank based on location. 
For example, if a brick & mortar business is based in Brooklyn, NY, and only serves local clients, then that business should only care about how they're ranking for their target keywords in the greater Brooklyn area.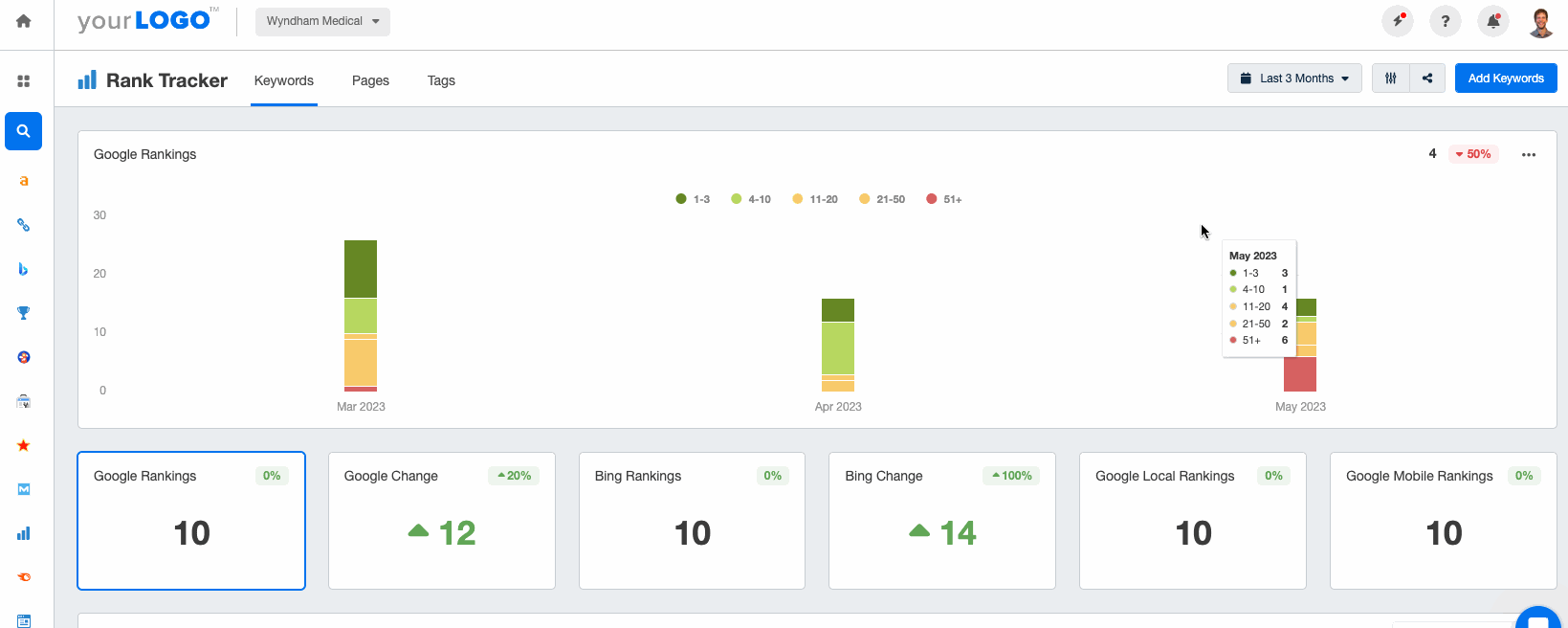 The tool allows you to determine how you're ranking locally–down to the state, county, city, or even zip code.
You Might Also Like:  Pros & Cons of the Best Keyword Rank Tracking Tools
3. Google Business Profile Metrics (Only for Local Businesses)
If your client is a local business with a physical location, such as a dentist, realtor, lawyer, or restaurant, then Google Business Profile (formerly known as Google My Business) is one of your most powerful marketing tools.
The example below will share just how important your client's Google Business Profile (GBP) is.
Let's say someone in Portland, OR, is looking for a dentist. They type "dentist in Portland" into Google. The first thing that shows up on Google is something called the Google Local Pack.
We call the Google Local Pack the "beachfront real estate on the internet." Why? Over 40,000 people search for this "dentist in Portland" keyword each year. But the three dentists that rank in this Google Local Pack get the most exposure, website visitors, and phone calls. 
Why Are GBP Metrics an Important SEO KPI?
As we discussed above, ranking locally has a lot to do with your Google Business Profile. Therefore, local business owners or marketing managers will want their marketing agency to know exactly how their Google Business Profile is performing over time. 
There are five main metrics you want to measure.
1. Local Organic Traffic Searches: The number of times your client's listing was shown in search results.
2. Views: The number of times your client's listing was viewed on Google Search or Google Maps.
3. Clicks: The number of times your client's website was clicked via your GMB listing.
4. Direction Requests: The number of times driving directions were requested via your client's listing.
5. Calls: The number of times your client's phone number was clicked via your listing.
Different SEO KPIs within Google Business Profile matter for different types of businesses. If your client is an ice cream shop, you really care about "direction requests." The more direction requests you get, the more people are navigating to their ice cream shop. Nice!
If your client is a lawyer, you care about clicks to the website and phone calls. Since legal services are more expensive, people are likely going to call first. You wouldn't expect someone to request directions and just stop by. 
How Do You Easily Track Google Business Profile Metrics?
Within AgencyAnalytics, track and report on these metrics with the Google Business Profile integration, which looks like this:
Within this dashboard, all your key performance indicators for your Google Business Profile are available at a glance.
Easily track performance for specific time periods by changing the date in the upper right corner and comparing performance to previous time periods. With the dashboard, you will track all the same metrics as you could directly from within Google Business Profile.
4. Leads, Phone Calls, and Sales
As previously discussed, the goal of SEO is to:
Rank for high-value keywords, so that you
Drive traffic for high-value keywords, in order to
Increase leads/sales/phone calls from organic search traffic. 
Organic traffic alone doesn't make money for the brand. It's what converts to a customer or potential customer that makes money.
Why Are Leads, Calls, and Sales Some of the Most Important SEO Metrics?
As a marketer, early in a campaign, you make assumptions about how people are going to behave. Your clients might assume, "If we rank for this keyword, then we'll drive traffic. If we drive traffic for this keyword, then we'll convert users into customers."
But you can't know that for sure. By closely tracking organic conversions as an SEO KPI, you will run a data-driven experiment to determine if your SEO efforts are paying off. 
How To Easily Track Leads, Calls, and Sales
How you track conversions will, of course, depend on the type of business. Some brands have elaborate and robust Google Analytics goals set up based on conversion type or a particular step of their customer funnel. 
If you leverage Google Analytics to track conversions, you can use the AgencyAnalytics Google Analytics dashboard integration to track this SEO key performance indicator easily.  This is just one of the SEO KPIs to track with Google Analytics–we'll get to more later.
Many brands use Hubspot as their CRM to track conversions, leads, sales, and more. AgencyAnalytics has an easy-to-use Hubspot dashboard integration that gives insights into your clients' conversion performance and makes it easy to report on.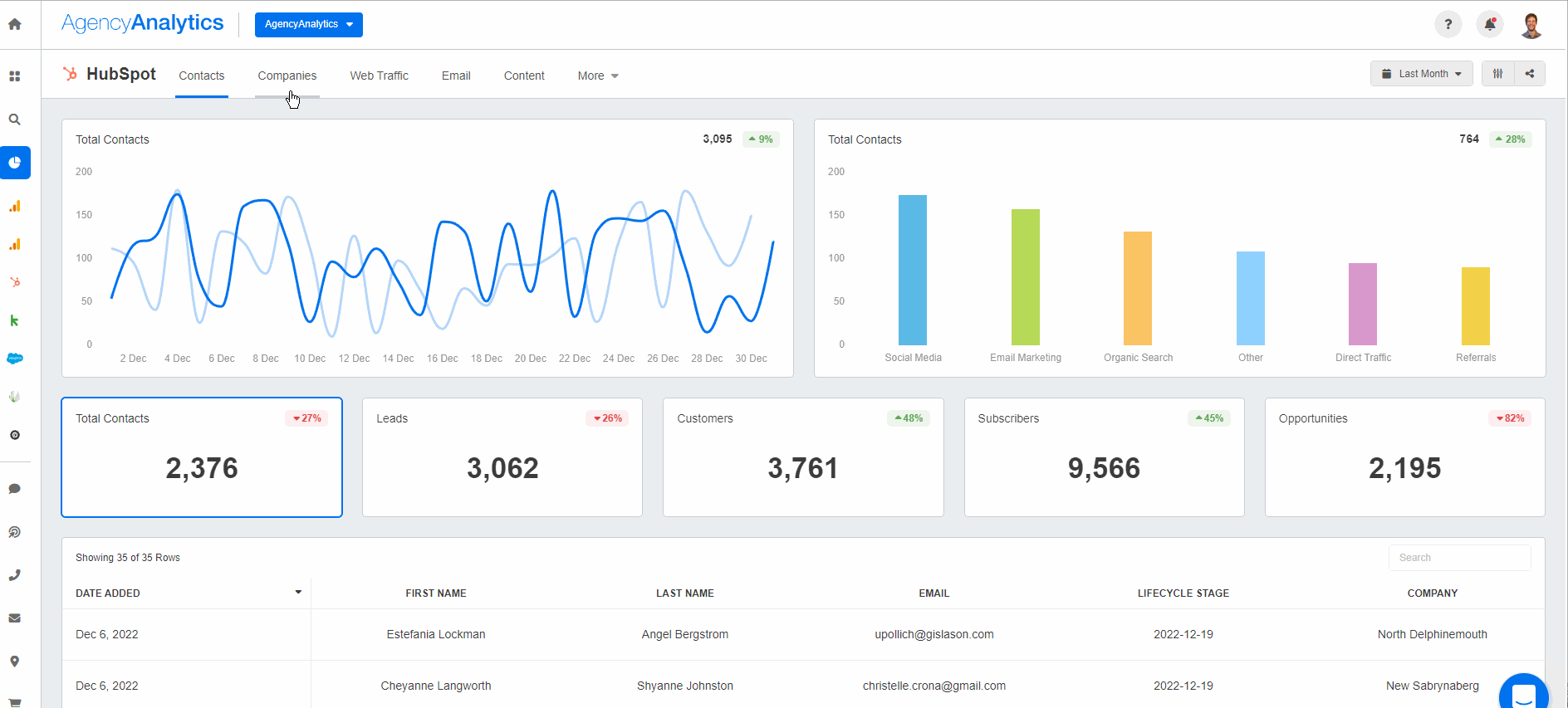 5. Bounce Rate
A "bounce" is when a user lands on a page of a website and leaves the site without visiting another page. So A high bounce rate means that users probably aren't getting what they need out of your site… which is not a good sign.
The goal for any website is to reduce the bounce rate so that the user interacts with multiple pages of your website.
Why Is Bounce Rate Important?
For years, there has been an ongoing debate among SEO experts regarding the significance of Google Analytics' bounce rate in relation to search engine ranking. Bounce rate is not a direct ranking factor for SEO. 
Google clearly cares about a user's experience on your website. In June 2021, Google released its core update called the Page Experience Update.
Bounce rate was never explicitly mentioned as a major factor during this update, but Google continues to advance its algorithm to consider a user's experience.
A high bounce rate indicates that users may be having a bad experience on your site. This "bad experience" is typically due to one of two factors.
Content Presentation
This could range from the site's design to the time it takes for the page to load. This directly relates to the experience the user has while consuming the content and includes what call-to-action is on the page to move the user to another step in the process. 
Content Relevance
If your client's page is ranking for a keyword that is not relevant or does not match the search intent of the user, they will likely leave as soon as they realize that the content provided does not match what they were looking for. 
For example, if your client sells clogs for men but you've somehow managed to rank their website for the term "how to get rid of clogs", the people searching for that are more than likely looking for something completely different. 
By tracking your bounce rate, you can determine if you need to make changes to your site to improve a user's experience, keyword targeting, or content relevance–which can positively affect your SEO performance. 
How Do You Easily Track Bounce Rate?
This SEO key performance indicator rate is easily tracked through the AgencyAnalytics Google Analytics dashboard integration, making it easy to see your overall website bounce rate and individual page bounce rate.
The upper right-hand corner of your Google Analytics dashboard allows you to change the dates to see historical bounce rate performance and current bounce rate and report that your agency is reducing it over time. 
How to track bounce rate is GA-4 has changed slightly, but the metric remains one of the core usability and engagement data points. Check out other website performance metrics to identity the root cause of your bounce rates.
6. High Impression/Low Click Pages
This is an uncommon KPI that you may not have seen before.
However, it's where a lot of the magic happens. If you're ranking on the bottom of page one of Google for a particular keyword, you're not going to get many clicks. But you're going to get TONS of impressions.
Impressions are defined by Google as how often someone saw a link to your site on Google. Depending on the result type, the link might need to be scrolled or expanded into view. These high-impression / low-click pages provide incredible opportunities for SEO growth.
Why Are High Impression/Low Click Pages Important for a Search Engine? 
SEO goals are never about having high impressions. They're about having high clicks (organic traffic) from relevant keywords. But here's where the opportunity lies: by closely monitoring pages that have high impressions and low clicks, you can take action to increase clicks.
For example, let's say you're the marketing agency of record for a nationwide yoga studio chain with 100 locations. And you created a piece of content around the high-value keyword of "best yoga poses" which has 1,600 people searching per month.
You discover that you're ranking in position 9 for this keyword with thousands of impressions but only a handful of clicks. After looking into your content and the competitor's content on other websites, you see that your article is about the "5 best yoga poses" while all of your competitors' content includes 10, 15, or even 20+ yoga poses. 
With this knowledge, you optimize your page and add an additional seven yoga poses to make it more comprehensive and valuable to the reader. Two months after optimizing the content, you're now ranking in position 3 on your search engine of choice for the high-value keyword of "best yoga poses." Now your content has high impressions and high clicks. A huge win!
You would've missed this opportunity to increase your client's organic sessions without tracking the KPIs of pages with high impressions and low clicks. 
How to Easily Track High Impression/Low Click Pages
Within the AgencyAnalytics dashboard, navigate to your Google Search Console integration. From there, we recommend you filter the dates to be the last 30-45 days.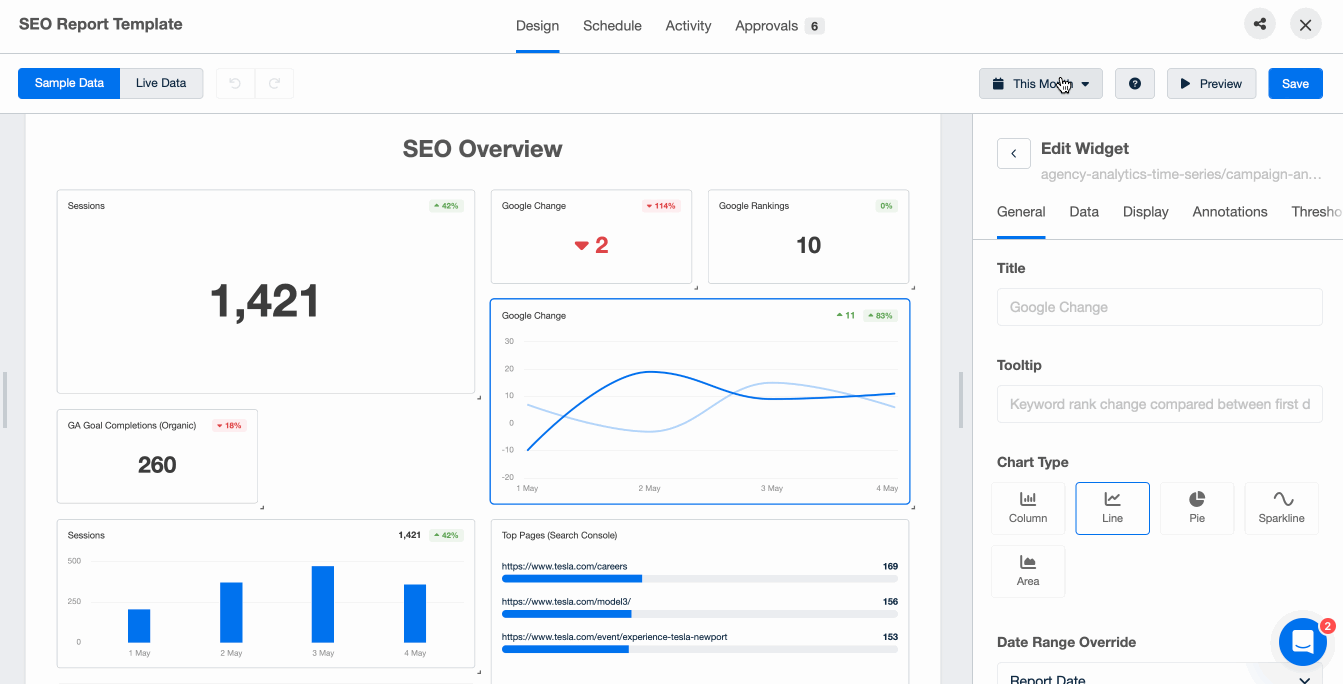 Why this time period?
Naturally, keyword rankings (and therefore impressions and clicks) can change frequently with Google's algorithm, competition from other websites, and other external factors. If you have a wider time period (say the last 90 days or 180 days), then Google Search Console will aggregate the data.
There's a good chance that your impressions and clicks from 90 or 180 days ago are much, much different than your impressions and clicks from the last 30 days.
Next, navigate to the "top pages" tab and filter by impressions so that the pages with the highest impressions are at the top. Find pages that have high impressions and low clicks.
For example, if you notice that a page has 40,000 impressions but only ~200 clicks, that's a huge opportunity! From there, analyze why your content gets high impressions but low clicks.
Is your content dated and in need of an update? Are your pages as comprehensive as your competitors' pages? Are the titles and descriptions shown on the results page compelling? Take action to improve your content, and you will gradually start to see an increase in clicks.
7. Core Web Vitals: Page Load Speed
Your page load speed refers to how long the pages on your website take to load. This is more of a technical SEO metric, but it's just as important as the rest of them because a search engine will penalize a site for having slow site speed. (Not to mention, it seriously affects user engagement and average time on page). 
There are two different page load speeds: desktop page load speed and mobile page load speed. Generally, most websites have decent desktop page load speed. However, many websites have low mobile page load speed, affecting your SEO.
You Might Also Like: An Agency Guide to Google Lighthouse
Why Is Page Load Speed Important From a Search Engine Perspective?
Page load speed (especially mobile page load speed) is particularly important as an SEO KPI for a few reasons:
- Most users interact with websites from their mobile device
- Google has officially switched to a mobile-first index
- Google's June 2022 Page Speed Experience update looks even further into page load speed
What is a good benchmark to follow? Here's what Google set as the standard:
Largest Contentful Paint (LCP): LCP should occur within 2.5 seconds of when the page first starts loading.
First Input Delay (FID): Pages should have an FID of 100 milliseconds or less.
Cumulative Layout Shift (CLS): Pages should maintain a CLS of 0.1. or less.
How Do You Easily Track Page Load Speed?
There are a couple of ways to track your page load speed. One way is through Google's free tool called PageSpeed Insights.
Step 1: Navigate to PageSpeed Insights
Step 2: Type in your website's URL
Step 3: Wait approximately 30 seconds
Step 4: Google's tool will provide a result
You will find additional data if you've set up your Google Search Console:
Log in to your Google Search Console and navigate to the Core Web Vitals tab on the left sidebar. You'll see something like this populate:
Click on "Open Report" for either Desktop or Mobile, and you'll see something like this:
There are many potential errors that could show up. However, most of the issues that brands experience are related to speed, as shown in the screenshot above.
You Might Also Like: How To Use SEO Site Checkers the Right Way
8. Conversions, Leads, and Sales
This one is pretty straightforward. However, many SEO professionals get it wrong. Most of the KPIs above are what are called leading indicator KPI metrics. They track metrics that lead to other lagging indicator KPI metrics that are more tangible business results, such as leads and revenue.
Better performance of leading indicators (keyword rankings and organic traffic) will most often translate into better performance of lagging indicators (leads and revenue).
As you can see, it's important to track leading indicators as they will likely improve lagging indicators. But that doesn't mean you shouldn't track lagging indicators. It's recommended that you track SEO sales just as much as you'd track search visibility.
How Do You Easily Track SEO Conversions?
This isn't an easy question to answer, as it will depend on the type of brand your client is. Are they a local chiropractic clinic, an eCommerce site, a SaaS company, a recipe blog, or a local ice cream shop?
Although there can be overlap, KPIs for a professional service company will often differ from the core KPIs used for eCommerce businesses.
This is where it gets tough: SEO conversions aren't always easily tracked, as the buyer's journey is rarely straightforward.
It could look like this:
1. The user hears about your eCommerce product (digital picture frame) from a friend
2. Months later, they search online for "digital picture frame," and you rank
3. They go to your site but don't buy
4. A week later, they see an Instagram ad for your product and buy
Would that be tracked as an SEO conversion? It's tough to say; it depends on what type of attribution model you use. However, most of the time, the easiest way is to build goals within Google Analytics, which can be easily reported in your AgencyAnalytics client reports.
For example, no matter your conversion endpoint, you can likely build a "Thank You" page, whether your client is a:
Chiropractor: Clients schedule an online appointment – boom, redirected to a thank you page.
E-commerce site: Customers buy your product - Boom, redirected to thank you page.
Recipe blog: Visitors download your free ebook - Boom, redirected to thank you page.
You get the picture.
Then, within Google Analytics, you can set up a Goal that indicates whenever someone lands on the Thank You page, they are counted as a conversion. Google Analytics then gives insight into whether or not that goal was achieved through SEO, referral traffic, social traffic, etc.
Seamlessly track conversion from organic rankings with AgencyAnalytics' goals feature. Start your free 14-day trial today!
Summary: The Importance of Properly Tracking KPIs
The point of tracking SEO key performance indicators is to see how they change over time. Without this long-term view, how does your agency prove that its marketing efforts are paying off, let alone report SEO success to clients? 
Ask yourself:
Are the metrics moving you away from your clients' goals? If so, pivot and change them.
Are the metrics moving you toward your client's goals? If so, double down on your efforts.
Successful SEO campaigns are built on a foundation of data. In this way, marketers and SEO professionals sometimes operate more like scientists than creatives. Diligently tracking and analyzing SEO KPIs using an SEO reporting tool allows marketers to make intelligent decisions that lead to results. 
To this end, AgencyAnalytics is a smart SEO investment that gives you access to all your clients' SEO analysis data in one place. It's highly visual, easily manipulated, and tells a compelling story that allows marketers to succeed in reaching their goals.
Agencies quickly flip this data into custom monthly SEO reports in minutes instead of hours using report templates.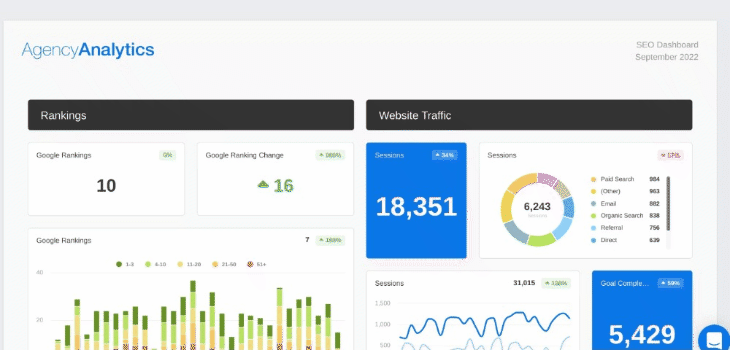 Automate your clients' data retrieval in live SEO dashboards, and flip them into reports in minutes! Try AgencyAnalytics free for 14 days–no credit card required.
Joey Randazzo is the Founder and CEO of Portland SEO Growth. He has a team of 20+ women (mostly military spouses) that produce over 2 million words of SEO-focused content each year. They've worked with enterprise-level clients like Autodesk, WebMD, and NexEra. Read more about how he scaled his marketing agency using remote work!
Try AgencyAnalytics risk-free for 14 days. No credit card required.